28+ Small Kitchen Lighting Ideas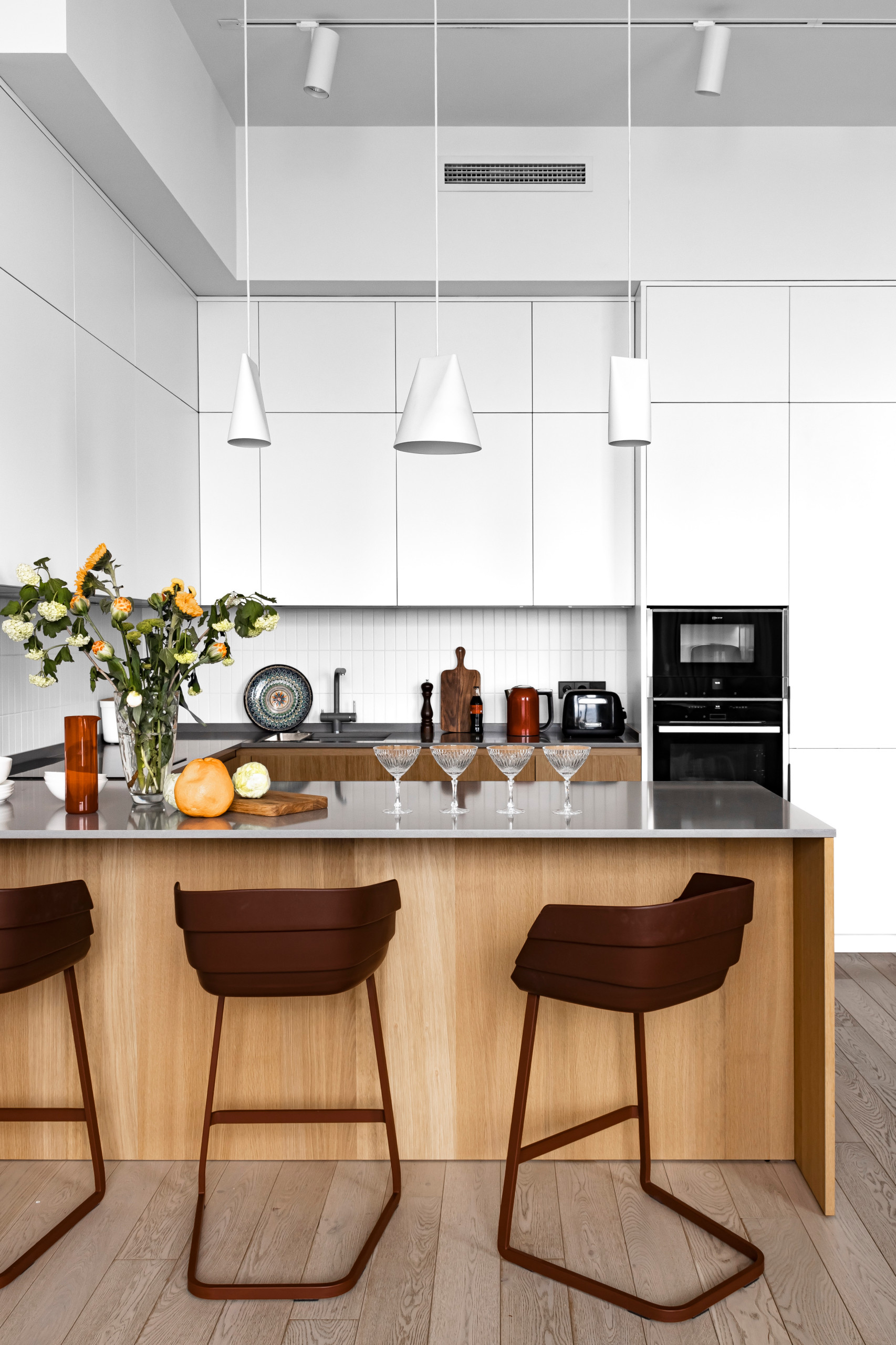 ID# 172703 | Houzz.com – Credit | © Varvara Chesnokova
---
Small Kitchen Lighting Ideas for Open-concept Design
This small open-plan kitchen benefits from the serene palette of shades of white that introduces brightness to the space while the main kitchen zone is defined by a breakfast bar with natural wood cabinets! Complementing them are the gray countertops, a trio of white pendants and brown counter stools. Especially, the white upper cabinets and the choice of glass for the white stacked subway tile backsplash bring visual lightness to the design and the pendants create a seamless look with the other white features that are used for the upper levels!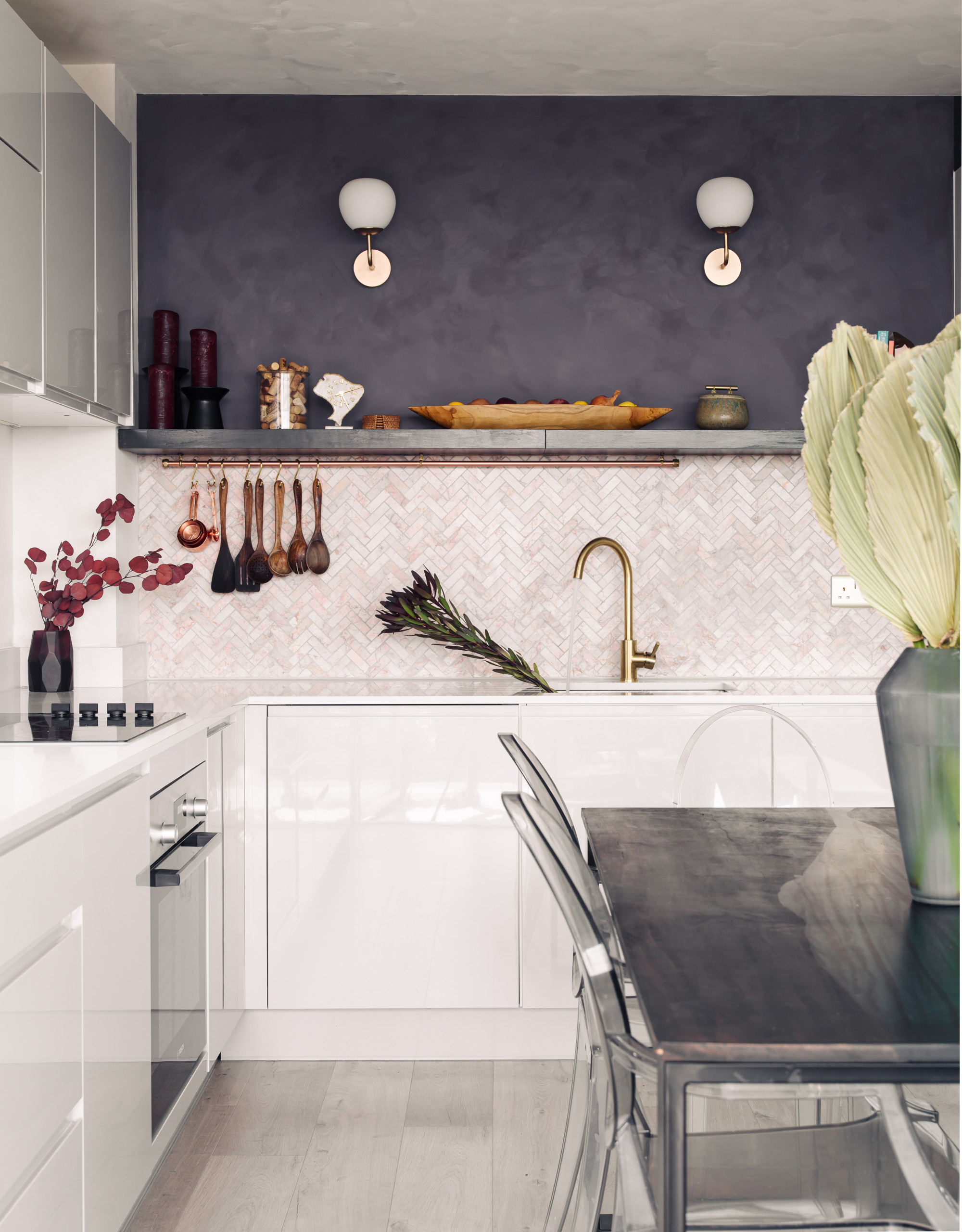 ID# 172718 | Houzz.com – Credit | © COR London
---
Small Kitchen Lighting Ideas with Black and Black-and-white Color Scheme
The dramatic impact of dark modern cabinets merges with the soothing aesthetics of the white shades in this minimalist kitchen. The marble backsplash running short on the wall and the lack of overhead cabinets encourage the kitchen to feel larger and leave plenty of room for wall lights to make a statement. And here we have a duo of globe wall lights that suit the minimalist and contrasting theme of the kitchen. The fixtures' swivel-like brackets add flexibility, allowing homeowners to alter the direction of the lights conveniently, while the rose gold details of the sconces bring even more interest to it.
Small Kitchen Lighting Ideas
Providing any space with layers of lighting is essential to make use of the space to the fullest and not leave any dark corners. This even gets more vital in small kitchens as they are intensively used and filled with cabinets to maximize storage to compensate for the smallness of the square footage. Unfortunately, maximizing the number of cabinet units might end up darkening the space. To avoid that, what the space needs are small kitchen lighting ideas that encompass a variety of lighting systems, including recessed lighting, wall sconces, flush mounts, and pendants.
Creative Lighting Fixtures for Small Spaces
Depending on the needs of the space, the color palette, and how much natural light it receives, you may need to incorporate different layers of lighting and make the least light-receiving areas your main target. Particularly, it is the islands and perimeter countertops that don't receive enough light, requiring more attention and task lighting. Besides, as lighting also improves our mood and well-being, we should extra invest in thinking and planning the lighting fixtures to ensure the wellness of the space and avoid any accidents that may occur due to the lack of enough lighting. This roundup offers you a list of 20+ small kitchen lighting ideas that introduce you to the different lighting systems and showcase how they help us make the most use of the space.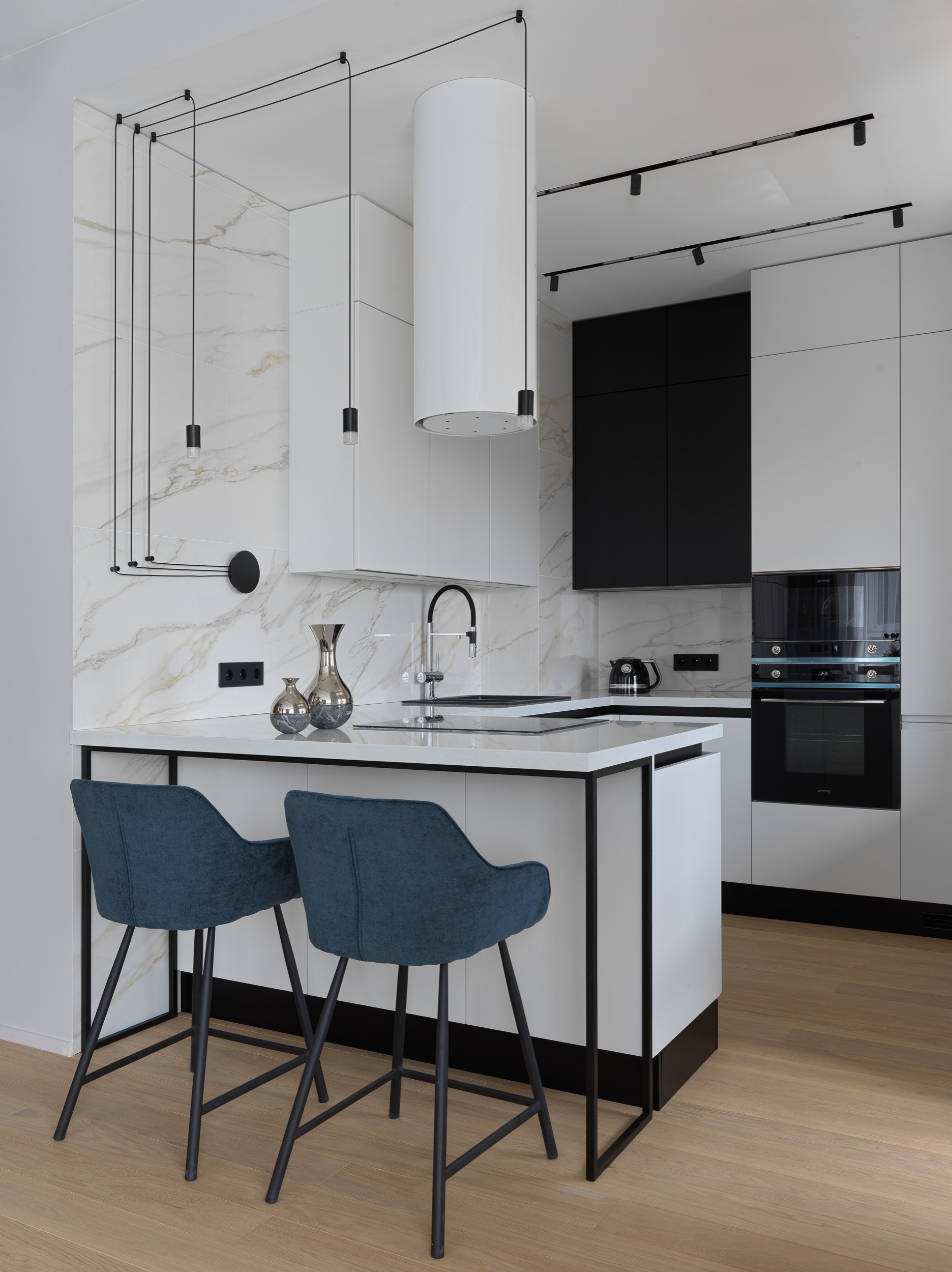 ID# 172701 | Houzz.com – Credit | © Рожкова Полина
---
Small Kitchen Lighting Ideas for Monochromatic Contemporary Kitchens
For kitchens short on square footage, monochromatic color palettes work as a space-enhancing factor as here. Awash with white furniture pieces, including white flat-front cabinets, a range hood, and a peninsula, this kitchen orchestrates a soothing design theme. It only added contrast with black upper cabinets, black stainless steel appliances, and modern lighting fixtures, while the hardwood flooring injects a healthy dose of warmth to break up the uniform look. Lucky to have flush mount lights, this small kitchen also uses white and a statement accent lighting fixture for the peninsula to enrich the brightness of the kitchen.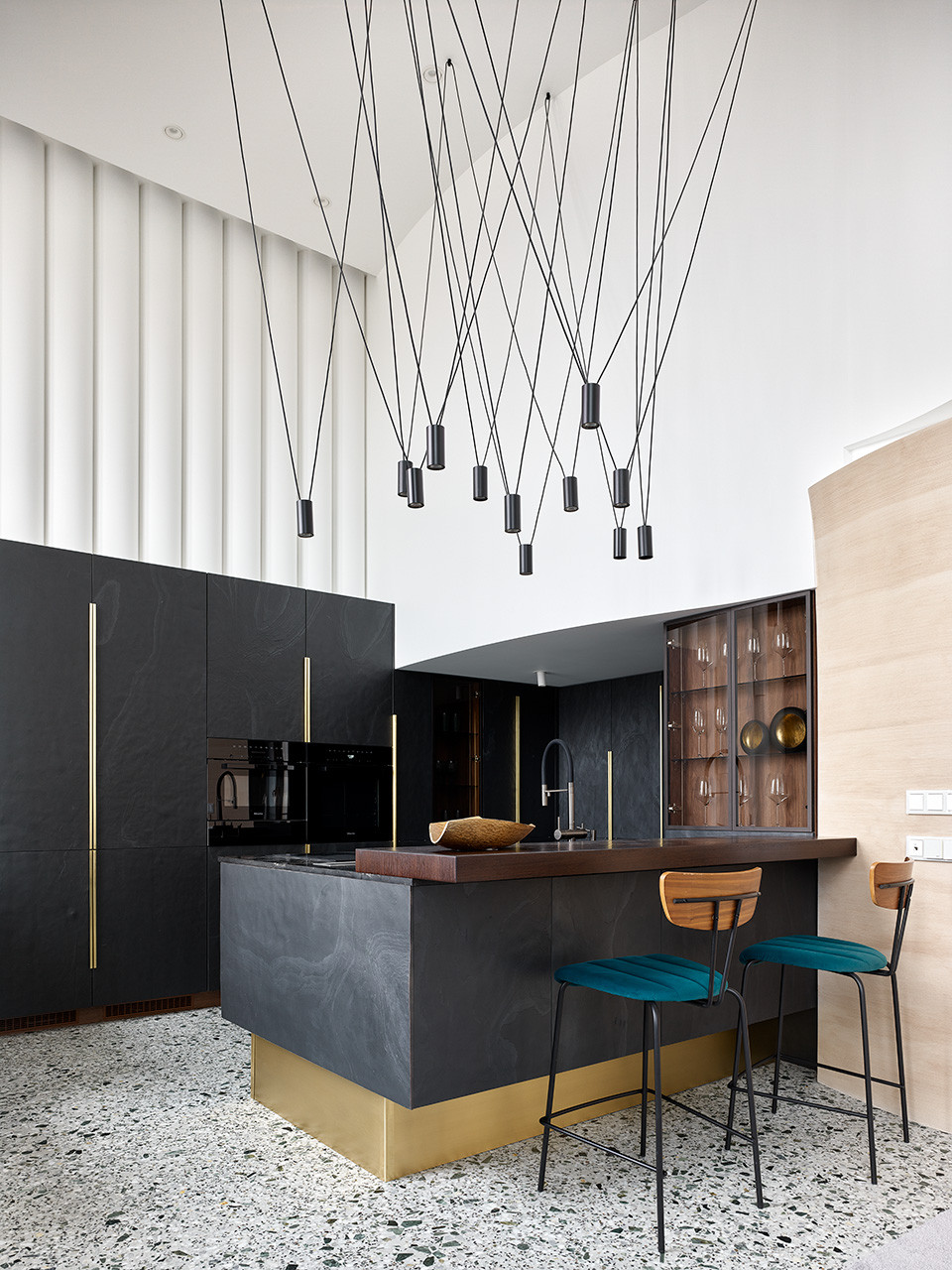 ID# 172702 | Houzz.com – Credit | © Рожкова Полина
---
High-ceiling Contemporary Kitchen with White Terrazzo Floor Tiles
This contemporary kitchen already feels light and fresh thanks to the high ceiling and white painted walls! The two-level height of the kitchen is illuminated by an eye-catching black lighting fixture that looks like an art piece! The black kitchen cabinets create a cohesive look with the dramatic appeal of the lighting fixture while the white terrazzo tiles adorned by black flakes add another layer of texture to enhance the overall look.
How do you light a small dark kitchen?
Illuminating small dark kitchens requires cohesive layered lighting that is essential to make the space larger and the edges of the kitchen softer. To achieve that, you need three types of lighting: accent, ambient, and task. The accent lighting generally encompasses the inside cabinet spotlights, track lighting, and wall sconces used to highlight certain features of the space and create a cozy and pleasant atmosphere.
Secondly, ambient lighting encompasses the ceiling-mounted spotlights and flush mounts that target the whole space to illuminate. Lastly, work areas like countertops and islands require task lighting that exposes the target area to direct lighting for a well-functioning work environment. Above-counter spotlights, counter lamps, and pendants over an island, peninsula, and countertop are all examples of task lighting, that help increase the efficiency of the space. By arranging layered lighting, you can customize the lighting system and use whatever comforts your working space during the time of the day.
Evaluate the Island Area
Apart from that, if you have a kitchen island, you can consider lighting fixtures specifically designed for it, which come in various sizes and styles. Additionally, pendants are other stylish options that you can use to define the island zone. Depending on the size of the island and lighting fixtures, you can get a trio or a duo of them, which also gives a focal point to the kitchen.
Last but not least, while planning your lighting system, also keep your focus on the architectural features of the space (E.g., whether you have a sloping roof or tall ceilings). If you have a low ceiling, for instance, it is better to avoid the pendants that will occupy the overhead space already reduced to the slope. But for tall kitchens, pendants are great to add a decorative piece for a visual statement.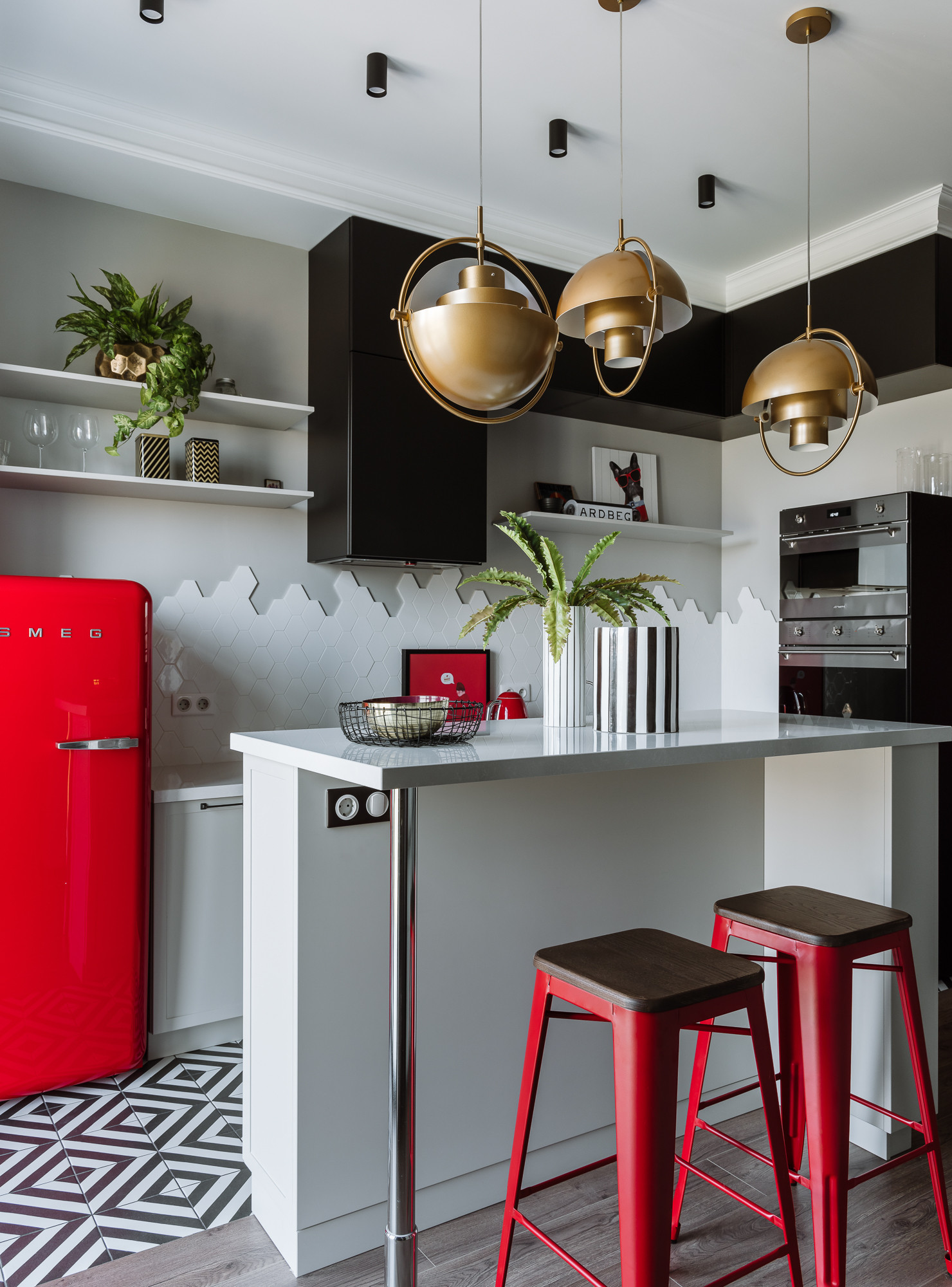 ID# 172704 | Houzz.com – Credit | © Анна Моджаро
---
Black and White Kitchen Design with Red Accents
When choosing a lighting fixture, paying attention to the material makes a huge difference. Here, for example, antique brass pendants add a visual drama overhead. Overall, the combination of black and white kitchen cabinets with eye-catching red accents endows this modern kitchen with a soothing yet engaging aesthetic tinged with an industrial feel. For the rest, the white hexagon tile backsplash perfectly complements the quirky overall design with its uneven finish while the black and white floor tiles define the kitchen area and add another layer of texture.
ID# 172705 | Houzz.com – Credit |© Brick buro
---
Small Kitchen Lighting Ideas for White and Wood Cabinets
Track lighting is a fantastic substitute for ceiling spotlights since it can be pointed in any direction to make it simple for homeowners to determine the direction of the light source! The clean white cabinets give the ideal backdrop for the lights to reflect off of and enhance the brightness of the kitchen. The white track lighting provides ambient lighting to match the white and wood cabinets and a gray chevron backsplash.
What type of lighting is best for a small kitchen?
Whether for a glow, warm ambiance, or pop of color, a good plan of lighting is required in small kitchens. Ranging from spotlights to backlighting, cabinet and drawer lighting, chandeliers, and wall lights, a wide range of lighting options is available for small kitchens. Each one is significant on its own, providing task, ambient, and accent lighting depending on the place and purpose they are used. Thus, what homeowners need to do is to understand the needs of the kitchen first and plan accordingly. Also, it is important to keep in mind that lighting fixtures are great decorative additions to add personality to the kitchen.
Pendant Lights for Small Kitchen
Pendant lights are great options for accent and task lighting. You can benefit from them over kitchen islands to illuminate the countertops and eating spaces. Whether minimal or oversized, the pendant lights are welcome in small kitchens and can be used as statement pieces with dimmers to create a pleasant atmosphere and visual drama.
Plus, as pendant lighting fixtures are easier to spot, they draw eyes upwards to give the illusion of a larger space. By using an oversized pendant over the eating space or the island, you can create a perception of space and define specific spots effortlessly. To enhance the impact, you can get them in coppers and metallics that will also enlarge the space visually.
Additionally, if you have a sloping roof, double-volume space, and wooden beams framing a gabled roof, pendant lights are extremely suitable for such dramatic spaces. You can get the ones with flexible joints and easily mount them on pitched roofs.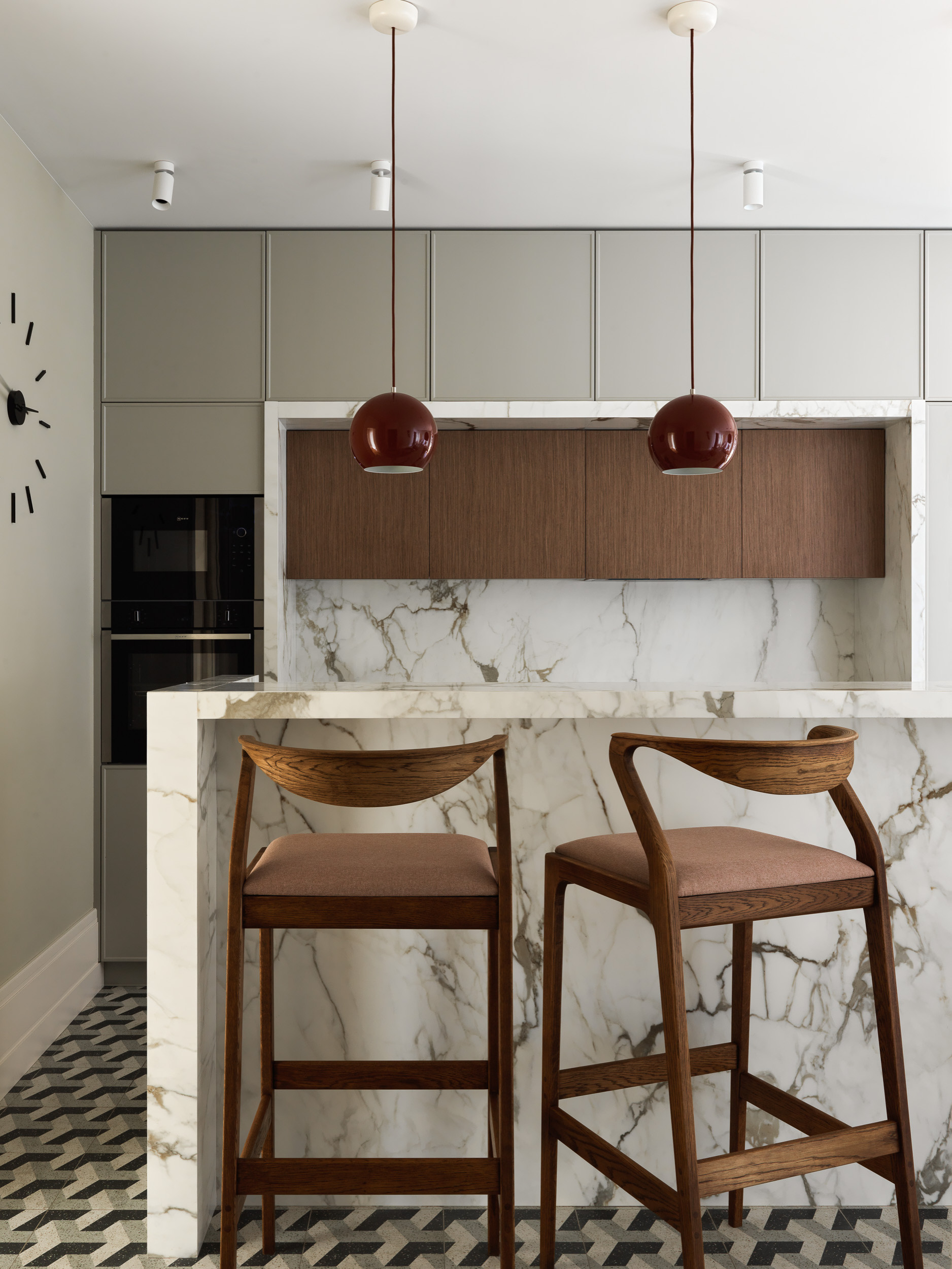 ID# 172706 | Houzz.com – Credit | © Екатерина Федорова
---
Calacatta Gold Marble Backsplash and Countertops with Two-tone Cabinetry
Featuring a soft earthy color palette, this eat-in kitchen is crowned by cherry red globe pendant lights, which capture a vintage flair. The overall scheme executes a design that slows down the time and feels like an escape from the dense schedules of urban life. What proposes this escape is the profundity of light gray and wood cabinets and eye-catching marble slabs as a backsplash, countertops, and island, complemented by the track lighting that composes another layer of a lighting system to constitute a well-lit space.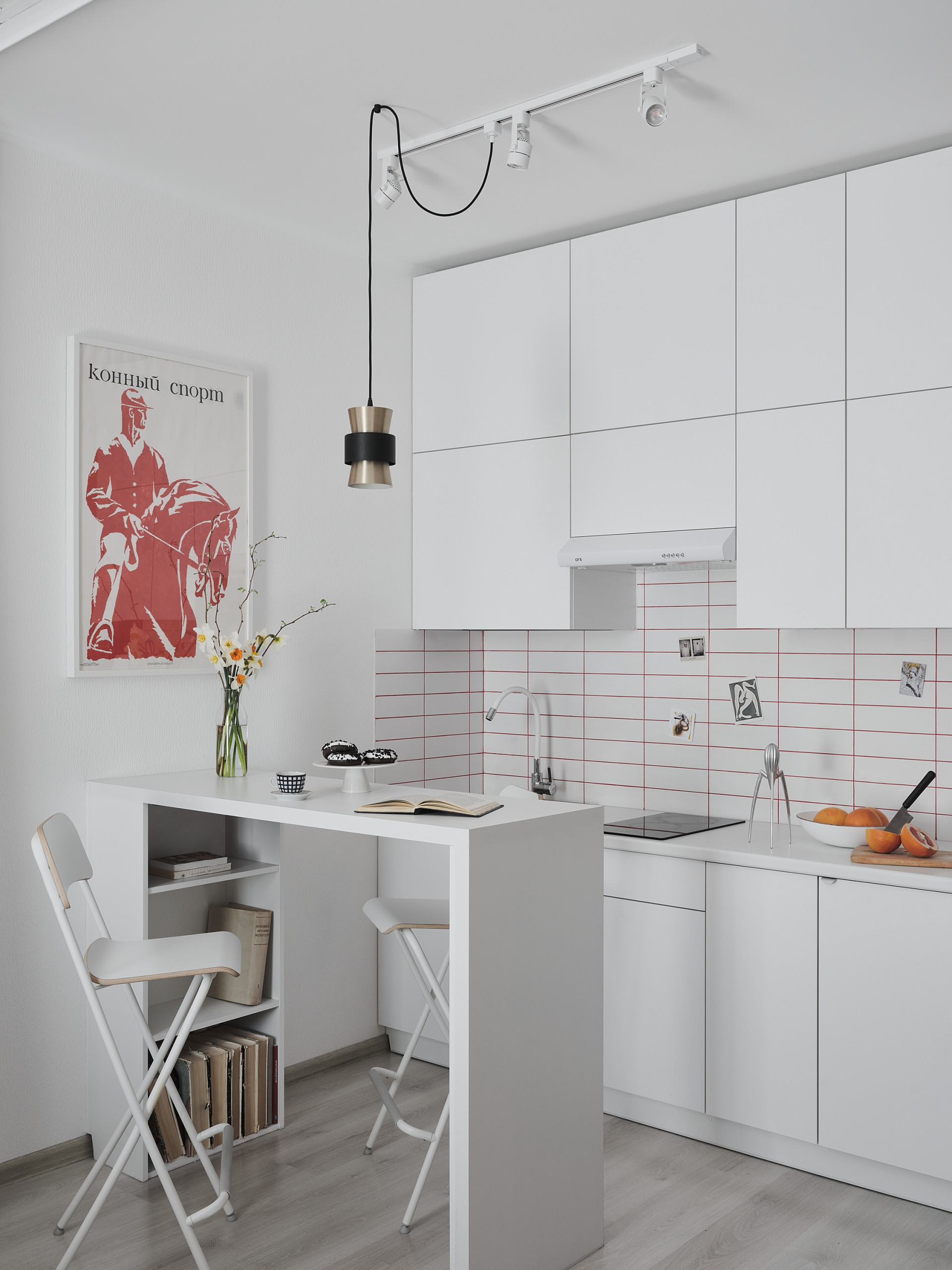 ID# 172707 | Houzz.com – Credit | © AY STUDIO
---
All-white Kitchen Design with Black and Metal Pendant Light
What breaks the uniform look of this achromatic kitchen are the pink accents like the grout of the white backsplash and the pink painting and the black pendant lights with a metallic accent. Offering task lighting for the small peninsula, this lighting fixture accentuates the ceiling to add a punch of contrast that defines the island zone.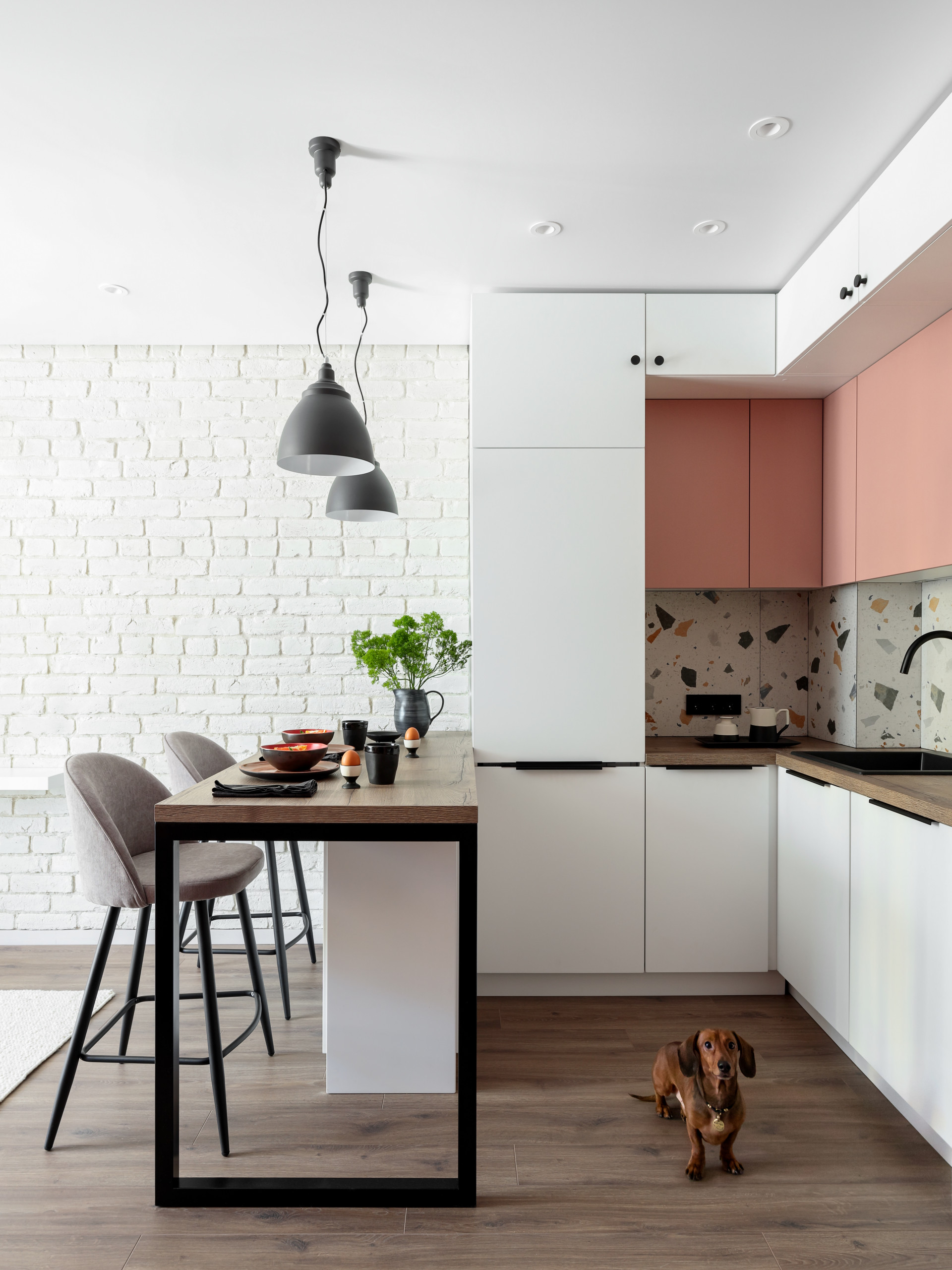 ID# 172708 | Houzz.com – Credit | © Maxim Maximov
---
Scandinavian Kitchen with Pink and White Cabinets and Wood Countertops
The pink upper cabinets and the terrazzo backsplash bring movement between the plain appeal of the white cabinetry while the kitchen peninsula serves as a visual connection to the adjacent room. The wooden countertops bring the rustic feel, supported by a duo of gray pendants. They add a minimal touch proportionate to the smallness of the space, providing enough light to illuminate the peninsula area.
How many can lights for a small kitchen?
For ambient lighting, it is recommended to have a spotlight for every 4 to 6 square feet of ceiling space or in other words, space the recessed lights 4 feet apart for a well-illuminated space. Secondly, add task lighting for the perimeter counters; installing LED strip lighting along the perimeters will give you an efficient food preparation area. If you have an island, you can pair it with pendants. More importantly, if you get lighting fixtures with dimmers, you can adjust the light depending on the time of the day and create different moods when needed.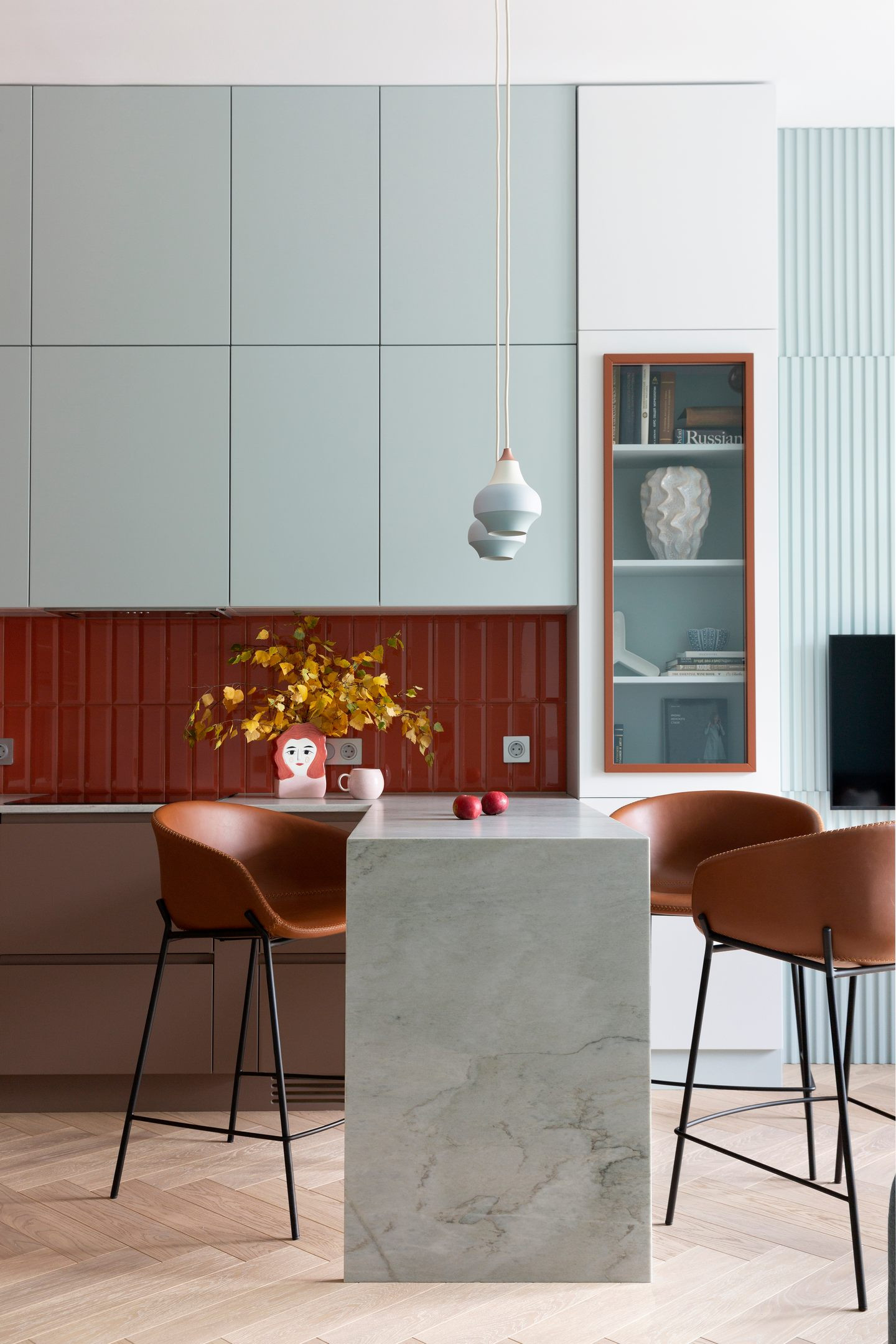 ID# 172709 | Houzz.com – Credit | © Константин Малюта
---
Small Kitchen Lighting Ideas for Colorful Design Scheme
Working your scheme around colors in small kitchens, surely, works well! Here, the light blue and beige cabinets with gray marble countertops and orange backsplash tiles create a very sensible design. The leather counter stools complement the warm appeal of the vertically stacked backsplash tiles. Plus, the luxurious texture of the marble countertops adds movement, highlighted by the pendant lighting fixtures that capture the beauty of the colors!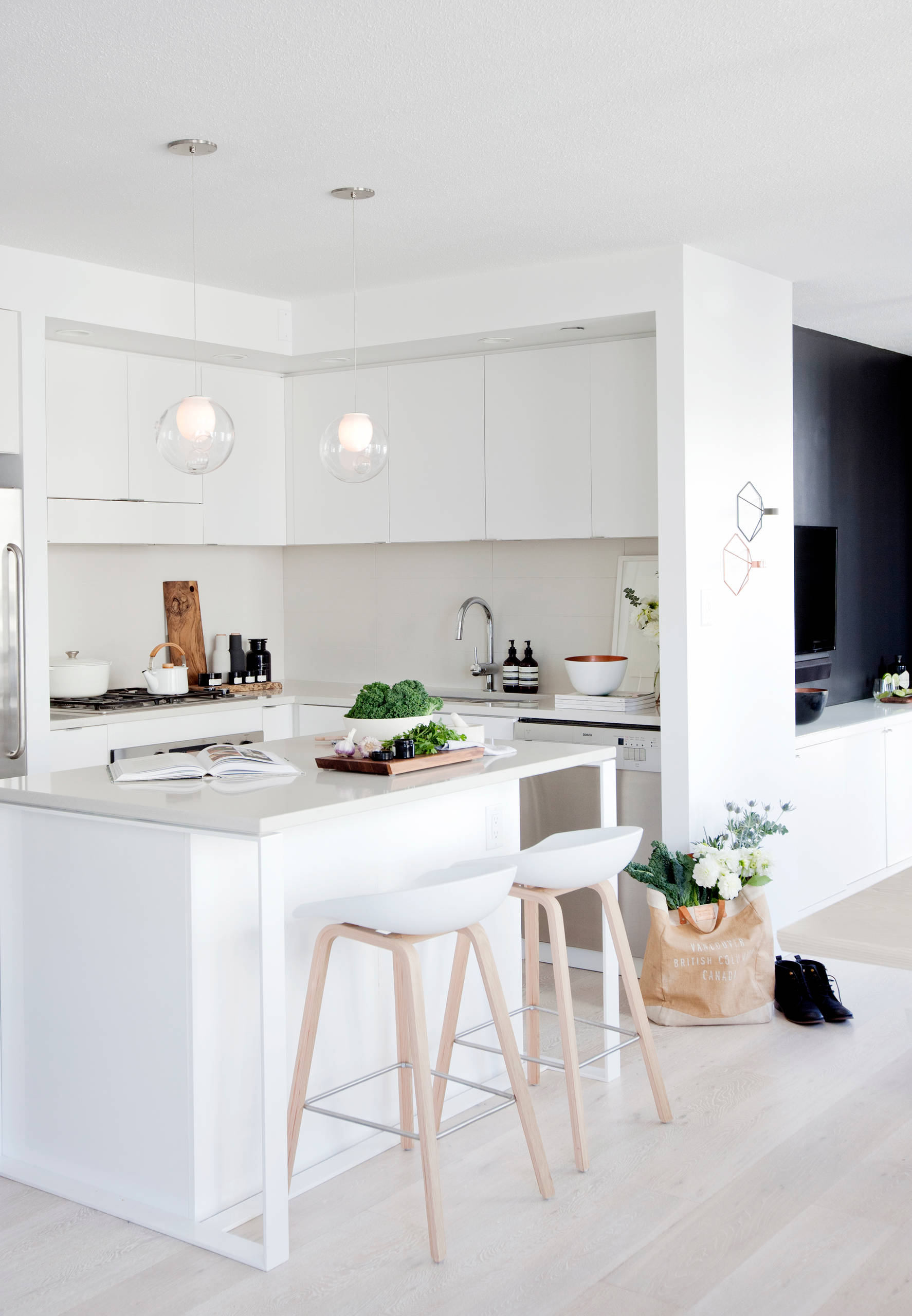 ID# 172710 | Houzz.com – Credit | © Gaile Guevara
---
All-white Kitchen with Glass Globe Pendant Lights
What colors this otherwise too-white kitchen are the wood legs of the counter stools and the chrome faucet that create a statement corner, drawing all the attention to the sink zone. The rest is complemented by white shaker cabinets and sleek stainless-steel appliances that make for a well-balanced look. The clear glass pendant lights in a globe shape perfectly complement this open and airy feel.
Small Kitchen Ceiling Lights
Ceiling lights encompass track lighting, flush mounts and recessed lighting features that ensure the whole space is well-lit! Depending on the style of the room, you can choose what suits the overall look better. Track lighting for instance, is getting more and more popular in contemporary kitchens, accentuating the ceiling, whereas recessed lighting features emphasize the sleek character of the space. As for flush mounts, they execute a more basic form that is simple yet stylish!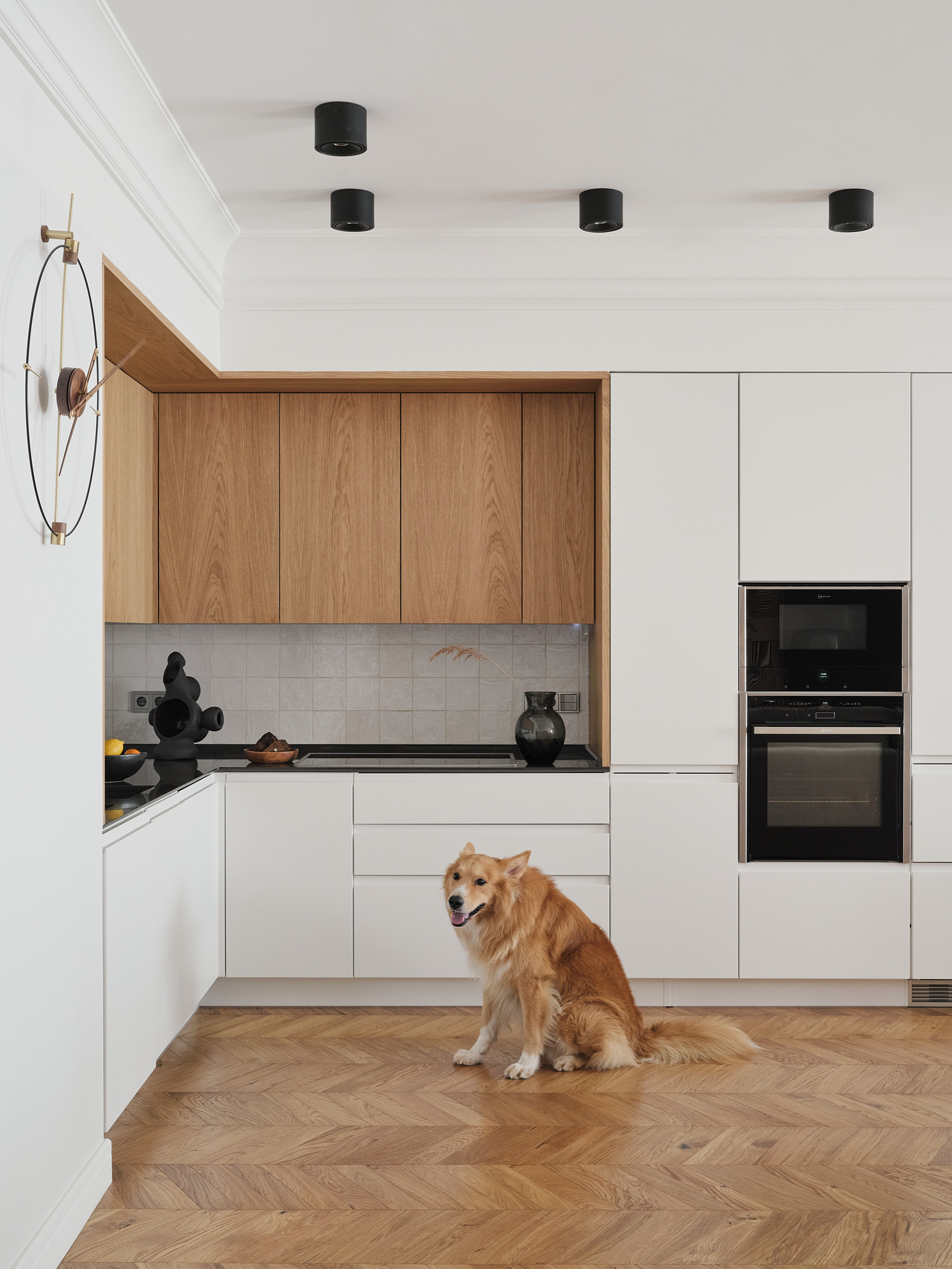 ID# 172711 | Houzz.com – Credit | © AVDEEV ARCHITECT. Архитектура и интерьеры
---
White and Wood Cabinets with Black Countertops and White Backsplash
Looking for a statement piece to draw attention to the ceiling? What about these ceiling-mounted black lighting fixtures? It beautifully complements the black appliances and black countertops that portray a solid contrast to the white cabinets, bringing a modern and industrial feel to the design. white square tile backsplash complements the bright appeal of the cabinetry while the wood cabinets and chevron patterned flooring bring a dose of warmth to the black and white contrast.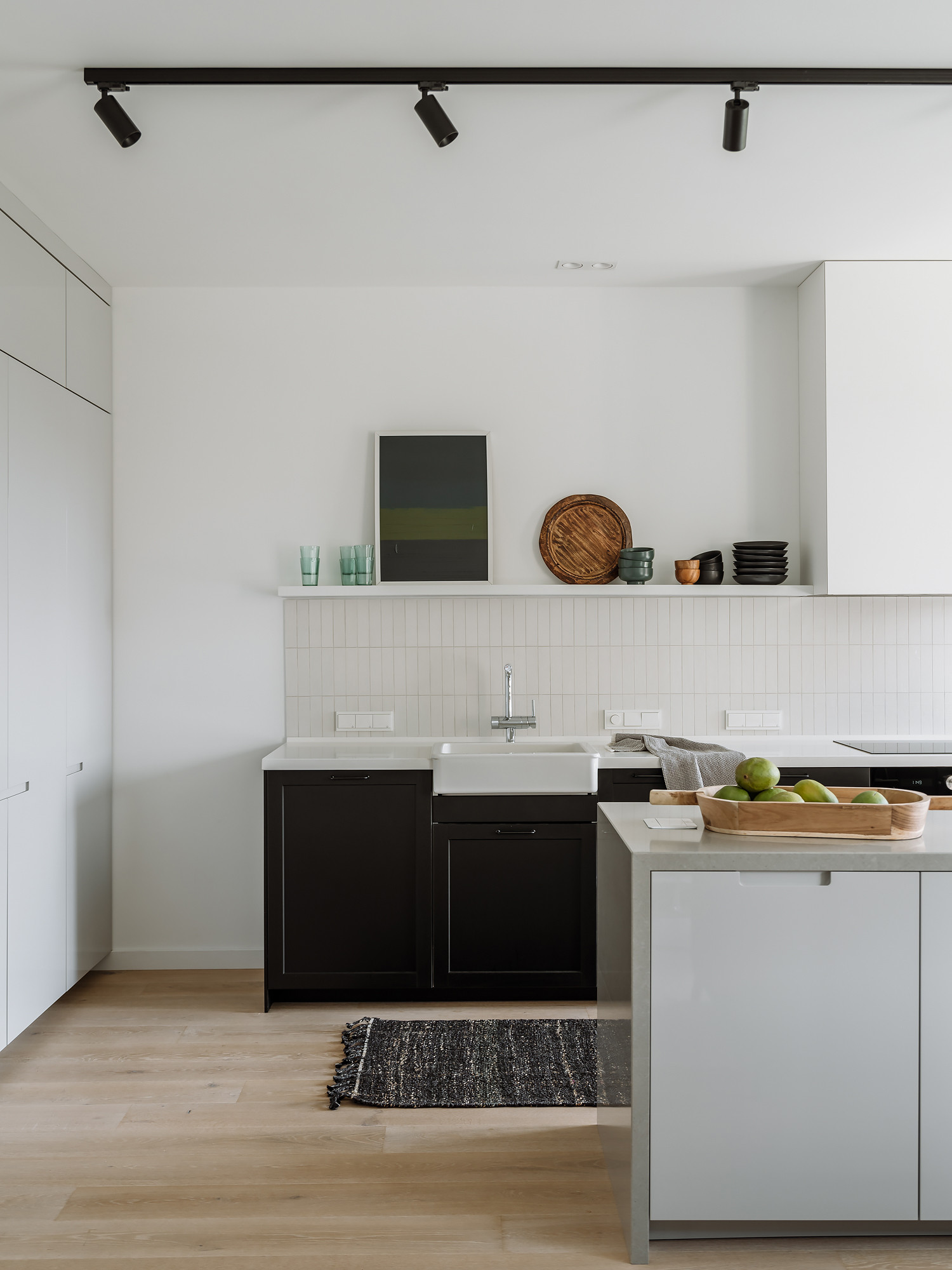 ID# 172712 | Houzz.com – Credit | © Style By Sorensen
---
Black Kitchen Cabinets with Whtie Stacked Tile Backsplash
Complemented with the black and white color scheme, this linear ceiling lighting fixture draws attention through the white ceiling. The best advantage of these track lights is that you can aim the spotlights where needed! Below, the white stacked tile backsplash and quartz countertops create a seamless look with the white walls while the black shaker cabinets bring depth to the space.
What gives the best light in a kitchen?
Ceiling recessed lighting and flush mounts are essential to ensure the even distribution of lights throughout the space. But they need to be supported by task lighting that illuminates the counters, sinks, and faucets. Such key areas need direct exposure to make use of most of the space, and under-cabinet lighting is one of the best ways to achieve that. This way, you can eliminate the shadow areas that might occur between you and the countertops.
For those looking for alternatives to recessed lighting, track kitchen lighting could also serve as a modern and very functional addition. This lighting fixture consists of a strip of lights arranged in a linear pattern, creating an excellent focus light. These adjustable lighting fixtures can be oriented in different directions according to the need, which is one of their most favorable features.
Apart from those, it is also recommended to ensure that the color temperature of the lamping in all the fixtures is the same for a sense of consistency. Additionally, if you want to improve the ambiance and create different moods for different occasions, you can get dimmer switchers. You can also decide the color of the light depending on the backsplash. If it has a neutral vibe, you can use warm light to soften it. And for cool backsplashes, you can keep the light white and cool.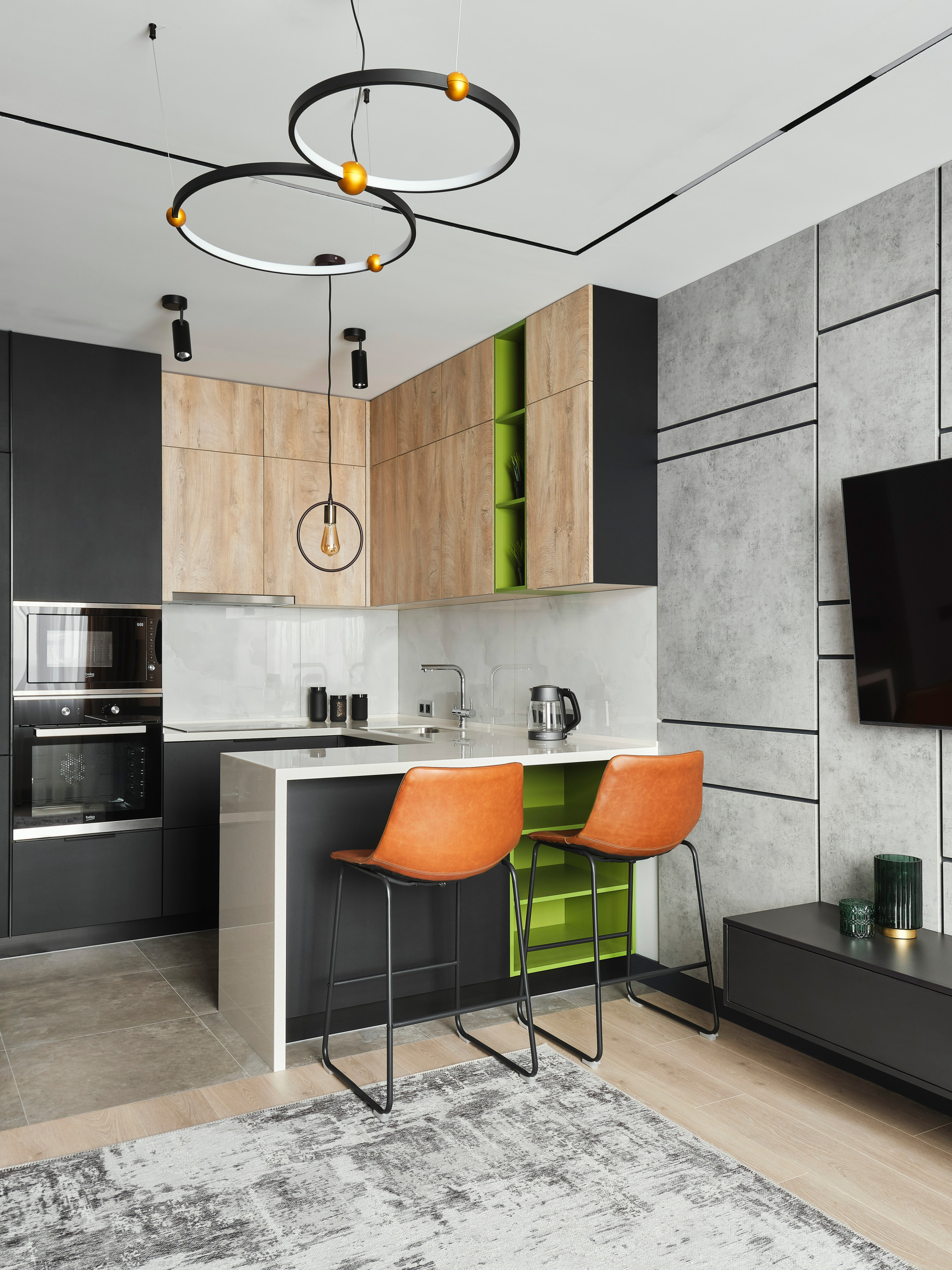 ID# 172713 | Houzz.com – Credit | © "MARIA-ART" студия архитектуры и дизайна
---
Small Kitchen Lighting Ideas for Rustic Industrial Design
Clad in neutral earthy shades, this astonishing industrial kitchen chooses to go with different types of lighting fixtures to enhance the overall look! The black task lights on the ceiling allow you to aim the spots where needed while the black pendant light highlights the peninsula. These modern lighting fixtures are complemented by black and wood cabinets, white backsplash and sleek black appliances. The green open cabinets make an unexpected twist that brings a quirky vibe to the room!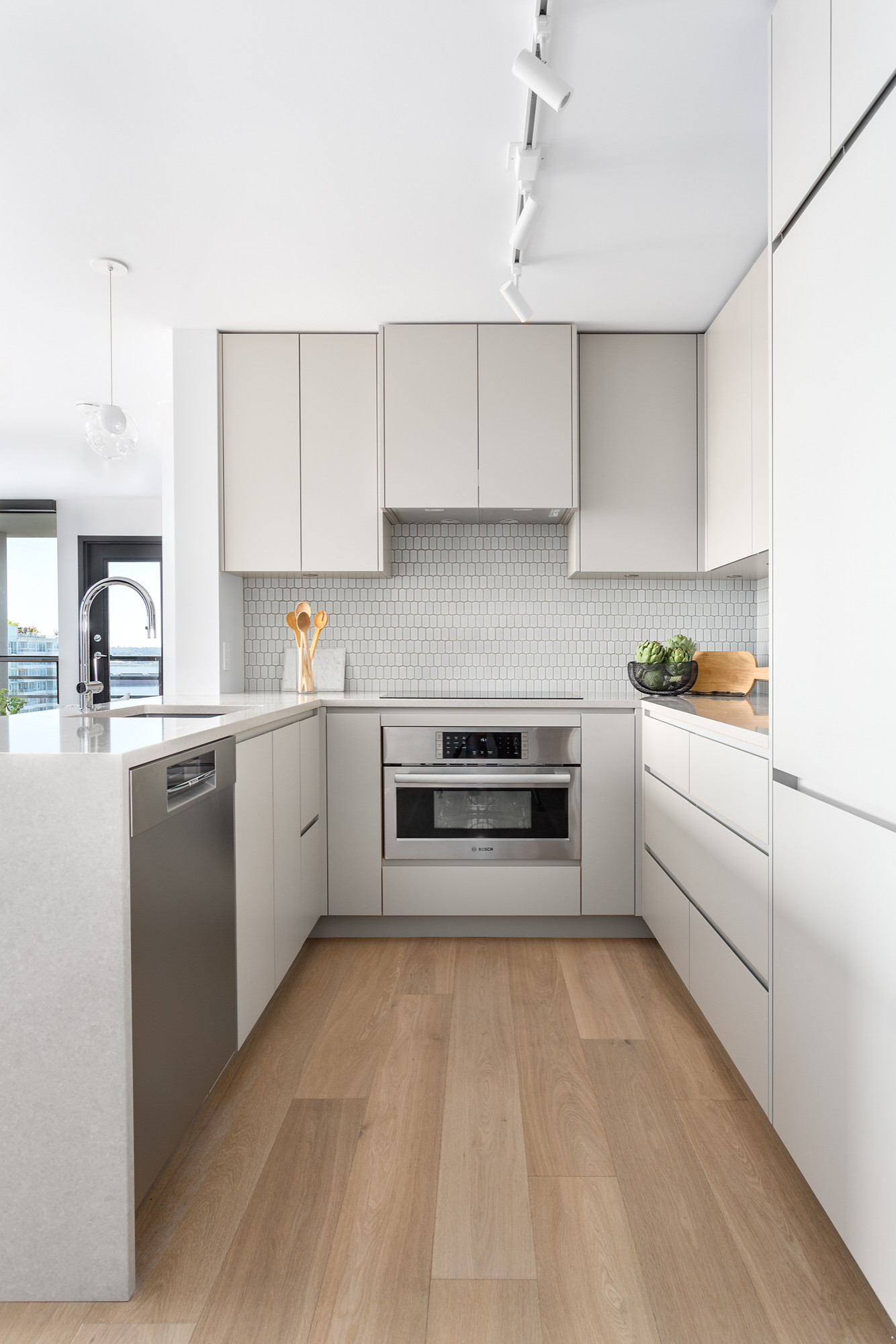 ID# 172714 | Houzz.com – Credit | © Beyond Beige Interior Design Inc.
---
Small Kitchen Lighting Ideas for Beige Cabinets and Hex Tiles
When designing a small kitchen, lighter color schemes are always your best companion as you can see in this kitchen. Here, the soft beige kitchen cabinets provide a sleek base for the space while the white elongated hexagon tile backsplash and white quartz countertops complement the bright and fresh appeal of the cabinetry. Above, the white linear ceiling light creates a seamless look with the white ceiling.
Recessed Lighting for Small Kitchen
Recessed lights are especially great for areas where no natural light can penetrate. So, you can use them in areas that need light the most. To create an atmosphere, you can even get the ones with dimmer switchers. This way, you can use them for both ambient, task, and accent lighting according to your needs. Plus, as recessed lights don't take up any space, they can confidently be used without causing any clutter. The top display shelves, cabinet shelves, and under-cabinets can feature recessed lighting, which can serve more than one function. Under-cabinet lighting, for example, first, functions as accent lighting to highlight the splash-back and counters, and second, as task lighting while preparing food.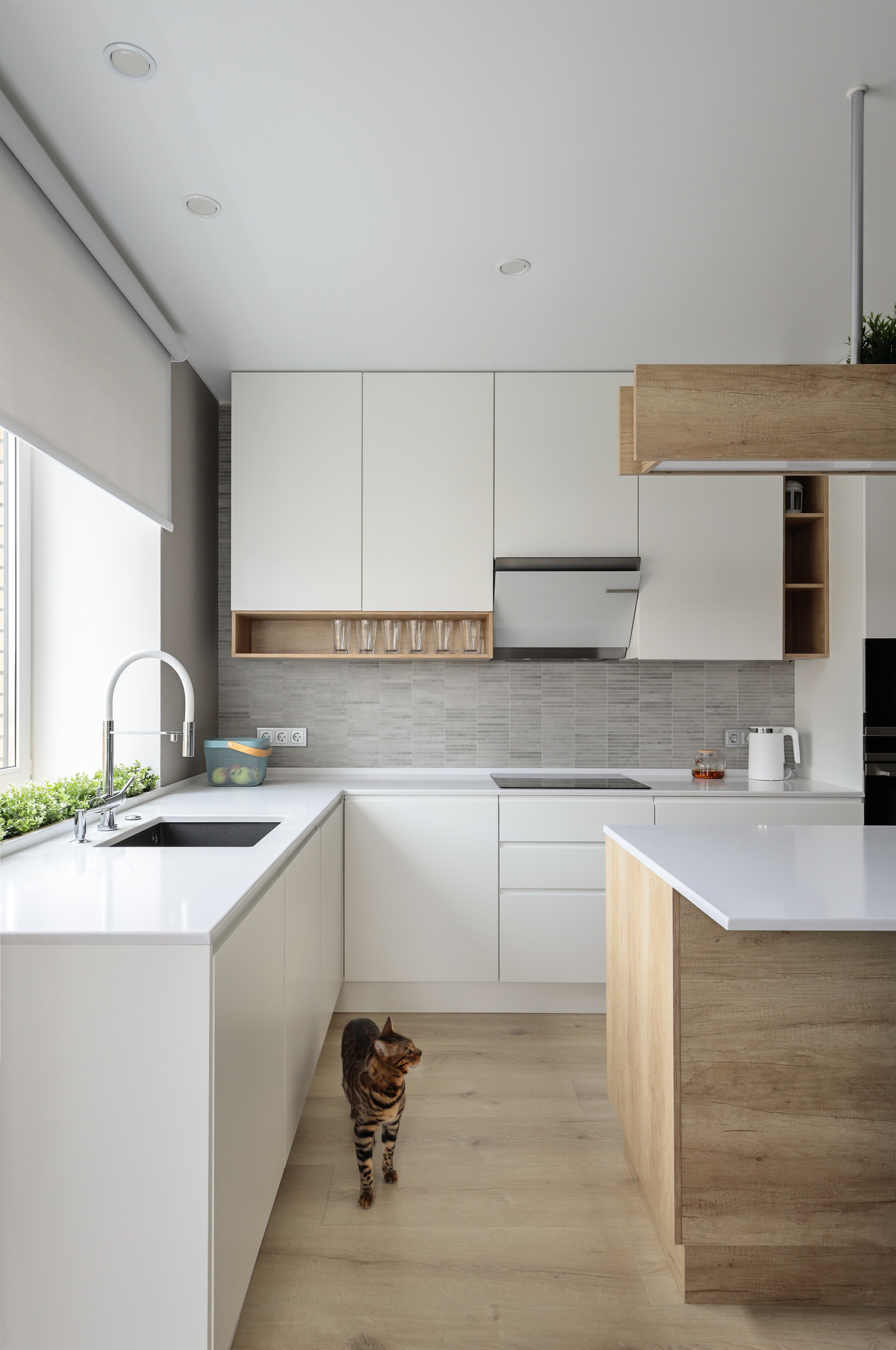 ID# 172715 | Houzz.com – Credit | © Maxim Maximov
---
Scandinavian Kitchen with White Cabinets and Wood Island
Spotlights are popularly used lighting systems that have become better and better over time with the advancement of technology and the introduction of LEDs that save on energy bills. This kitchen design employs them for ambient lighting to ensure the even distribution of light throughout and accent lighting to highlight certain features of the space. White full-height cabinets and bright white quartz countertops couldn't have been used in a better way to expand such a small kitchen. The door style, which is flat-front and handle-free, helps light diffuse smoothly without bumping into any barrier.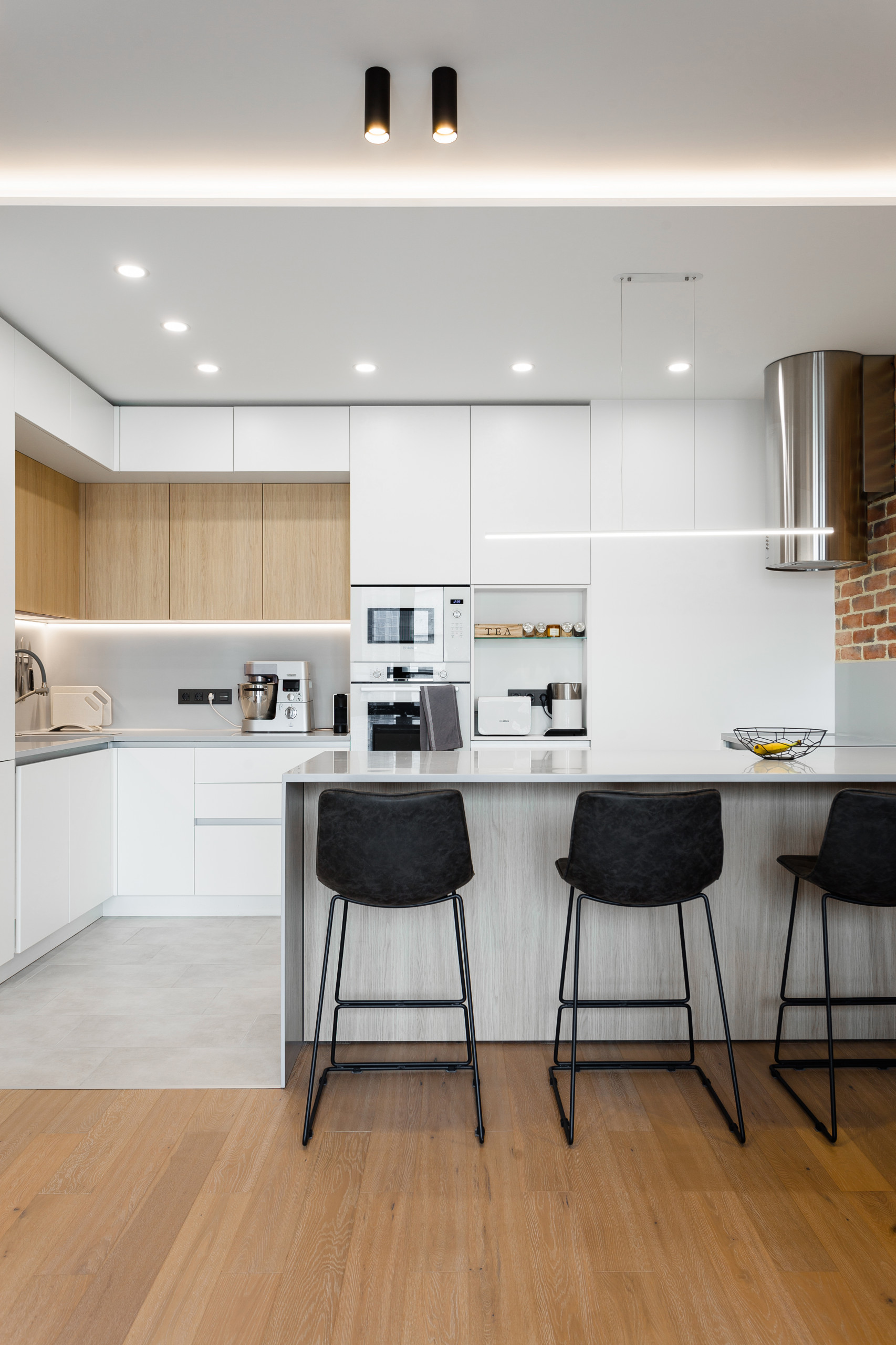 ID# 172716 | Houzz.com – Credit | © ЦехДизайн
---
Ceiling-mounted Small Kitchen Lighting Ideas with White Cabinets
The spotlights are used as under-cabinet lighting while the LED-strip lighting creates a cozy ambiance, and track spotlighting serves as ambient lighting. Adorned by a glossy finish, the white cabinets provide a spacious atmosphere. The same goes for the under-cabinet lighting and a white glass-sheet backsplash that ensures the light flow throughout.
How do I brighten up my kitchen?
The color palette and thoughtfully planned lighting system are two key strategies to brighten up the kitchen. Using shades of light, cream and yellow lightens up the interior, enhancing the openness of the space.
Apart from those, minimizing the number of wall units and replacing them with floating shelves opens up the space and makes it breathe! But if overhead cabinets feel like a must to you, you can use glass-front cabinets to reflect the light. To complement them, you can use high-gloss finish walls and mirror installment in key points which make a huge difference.
If the kitchen is not receiving enough light but the adjacent rooms do, you can add a window as a connecting piece rather than a full-height wall. This way, you can borrow some light from the adjacent room, letting ambient lighting spill in.
Also, the use of reflective surfaces, glass sheet backsplashes, and copper and metallic lighting fixtures expand the impact of the natural and artificial lights, brightening up the kitchen and letting lights bounce around the room.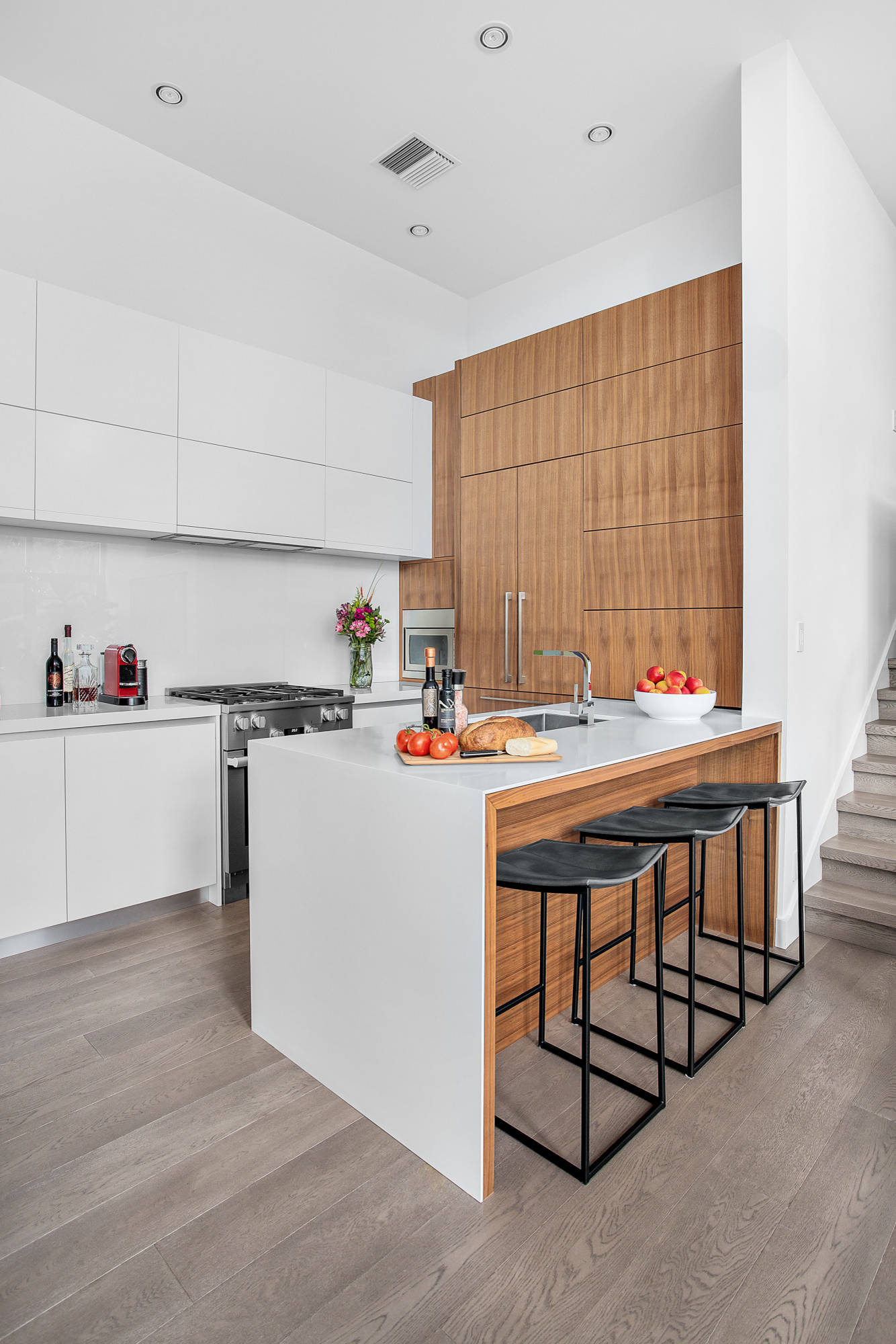 ID# 172717 | Houzz.com – Credit | © Beyond Beige Interior Design Inc.
---
Richly Stained Walnut Cabinets with Spotlights
Richly stained walnut tall cabinets and the kitchen peninsula create layered materiality with a dramatic impact which is enhanced by downlighting. For the rest, white color dominates the cabinets, countertops, and backsplash to provide a spacious atmosphere for this small open-concept kitchen.
Small Kitchen Wall Lights
Kitchen wall lights are essential to create feature walls and accentuate the specific architectural features of the space! Often installed above the windows and floating shelves or flanking the range hood, wall lights are mainly used for accent and task lighting. But even more importantly, they are great additions as decorative pieces and inject personality into your kitchen! Also, keep in mind that the experts recommend wall lights be installed and pre-planned before the incorporation of other elements.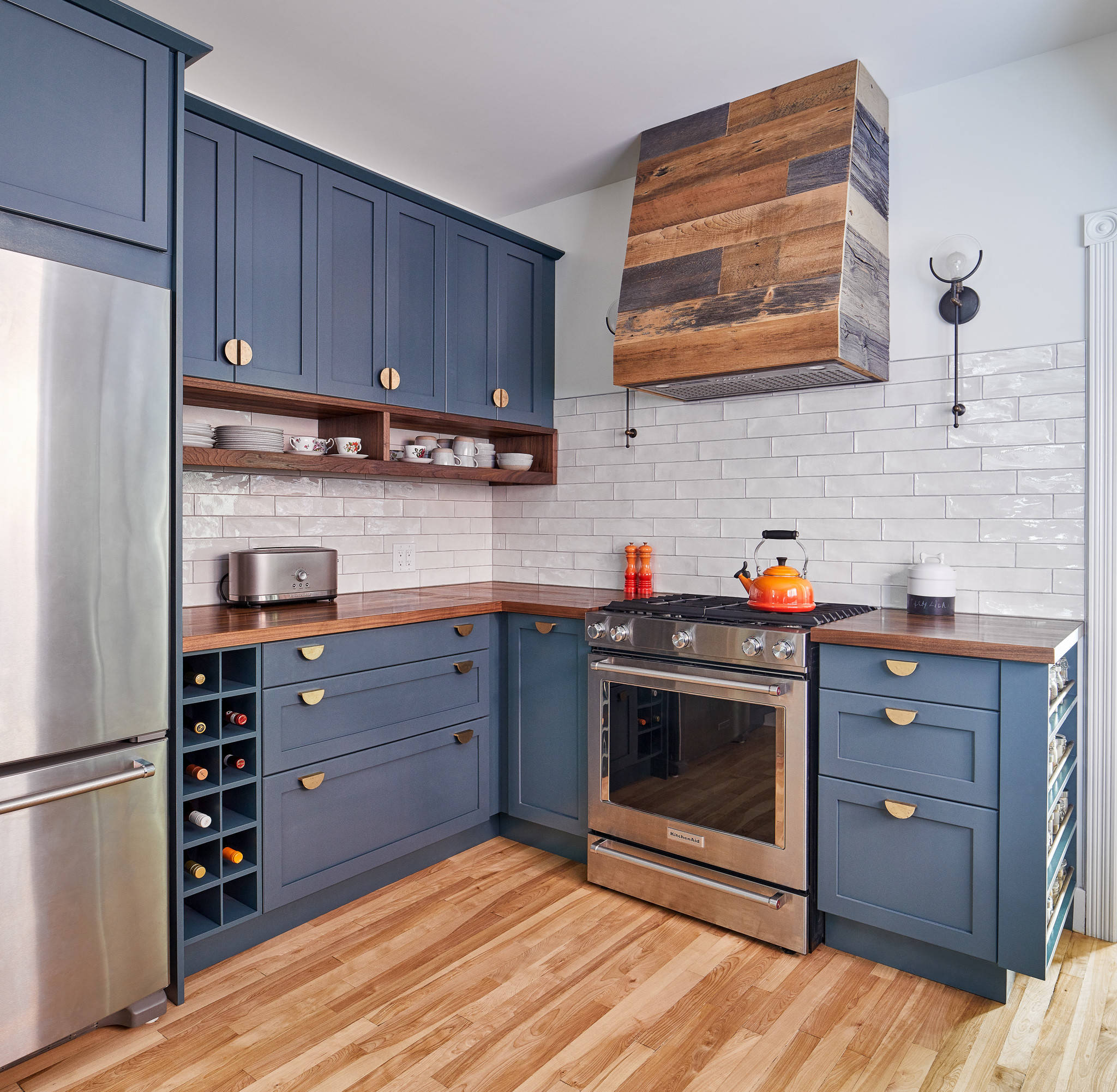 ID# 172719 | Houzz.com – Credit | © Grassroots Design
---
Transitional Kitchen with Blue Cabinets and Wood Range Hood
Characterized by soothing blue cabinets and a custom-designed fluted wooden range hood, this transitional kitchen imparts a sense of calmness to its users! Its dominant white color palette on the subway tiles and upper walls lightens up the space, supported by two black sconces. The wood countertops and open cabinets complement the rustic flair of the range hood while the brass hardware makes a cohesive final touch that adds a dose of sparkle.
Are spotlights good for small kitchens?
Without taking up any place, spotlights create a sleek look, serving different lighting functions. For example, you can install them above the counter and sink to provide task lighting or on the ceiling as ambient lighting to distribute lights evenly. The strategic spots like counters and sinks don't get blocked thanks to the spotlights because as you move you can happen to block the light source and create an undesired shadow.
Also, if you don't like pendants dropped down, you can just stick to the spotlights that save a lot of space. Contemporary kitchens, particularly the small ones, incorporate spotlights not to compensate for the sleek outlook of the space, adding another layer of a decluttered line of lights with the help of spotlights.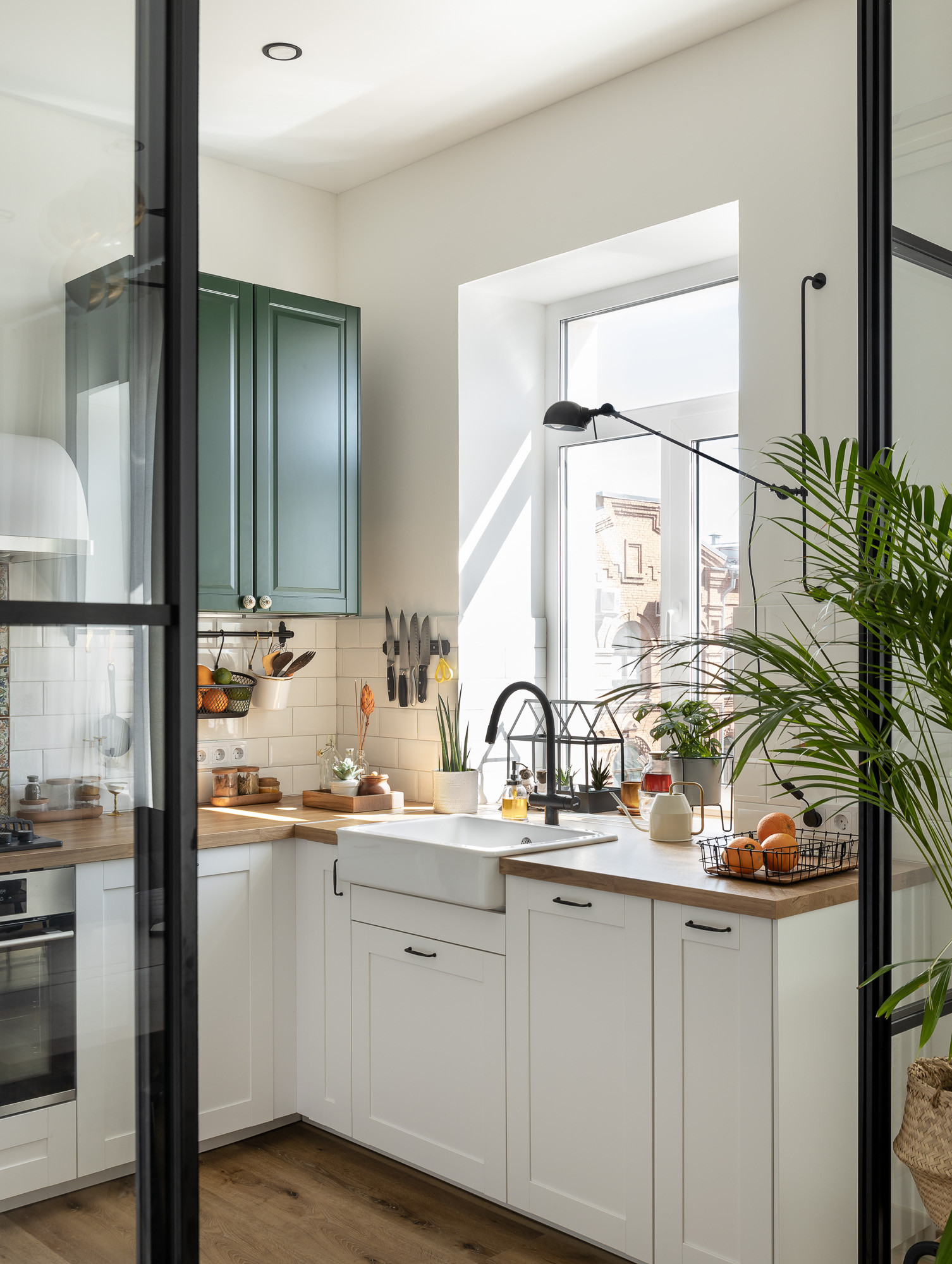 ID# 172720 | Houzz.com – Credit | © Сафина Светлана
---
Black Small Kitchen Lighting Ideas for White Subway Tile Backsplash
Sometimes what puts you at a disadvantage when designing your home could be the dysfunctional placement of windows, columns, and doors. This kitchen, for example, has a similar handicap due to the window but no need to despair as it can be turned into an advantage. Even though the area around the window looks like a dull space, these blank white walls are illuminated by a black wall sconce as an accent lighting to put the exhibited personal decorations in the spotlight. This way, a dysfunctional zone transforms into something aesthetic and functional.
Small Kitchen Island Lighting
Kitchen islands are used for preparing food, cooking, and entertaining, thus needing a pleasant atmosphere that will make it more welcoming. To achieve that, all you need is well-planned kitchen island lighting to create a visual focus. Ranging from chandeliers to linear sleek lighting fixtures, spider pendant lights, slim LED lights, and a row of pendants, a kitchen island welcomes a wide array of lighting fixtures. The smallness of the space doesn't necessarily become a handicap, but to avoid clutter, you may use sleek and minimalist forms. However, if you want to make a statement, you can also get an oversized pendant or chandelier to define the island zone with a statement feature.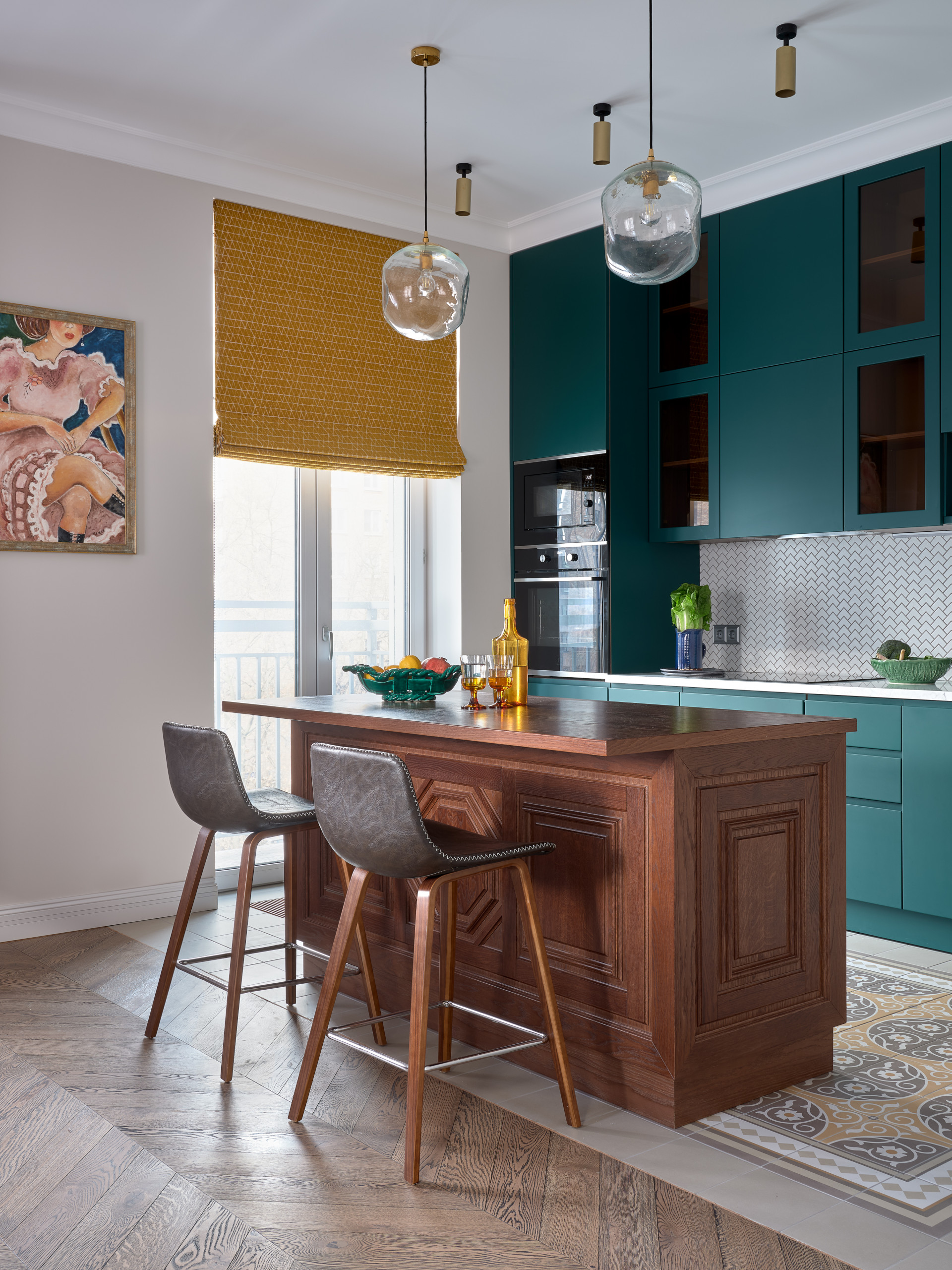 ID# 172721 | Houzz.com – Credit | © Natalie Vershinina
---
Eclectic Kitchen with Green Cabinets and Herringbone Backsplash
It doesn't always happen to come across such fabulous eclectic kitchen designs rich in textures, materials, and statement features. Starting from green cabinets to the custom-made kitchen island, herringbone backsplash, patterned floor tiles, and brass detailed lighting fixtures, each element orchestrates a unique flair that feels casual and sophisticated at the same time. But of course, to highlight all these elements, what you need is an expressive layered lighting system. Here we have glass pendant lights over the island and brass ceiling lights as task lighting. Each one adds a new dimension both as physical features and by emitting lights. If you would like to expand the impact of the pendants, you can give a gloss finish to the countertops just like the glazed wooden countertop of the island.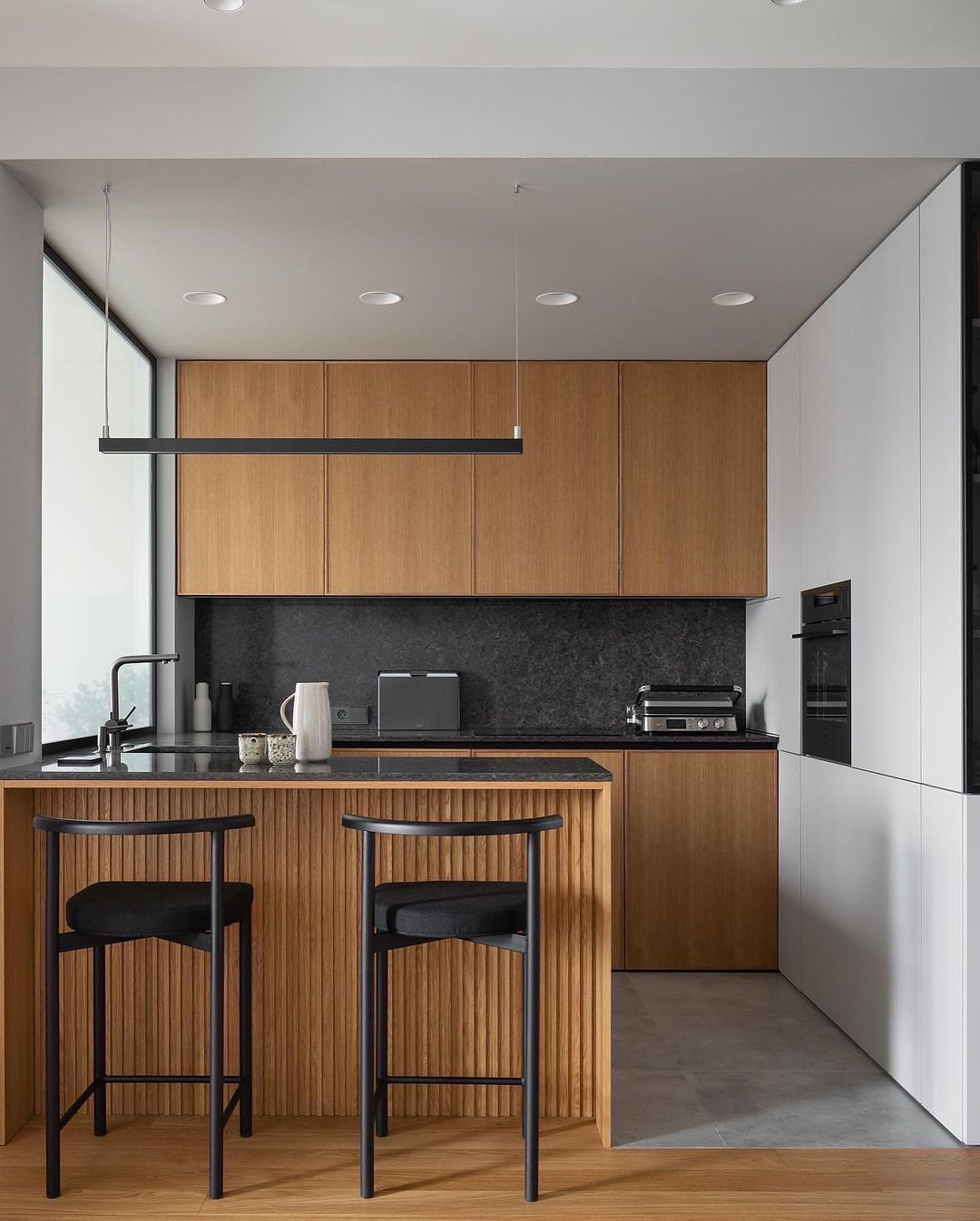 ID# 172722 | Houzz.com – Credit | © Миксон — мебель на заказ
---
Modern Small Kitchen Lighting Ideas for Wood Cabinets
The contrasting shades of wood and black are used throughout this contemporary kitchen to designate the different functions of the specific areas! For example, the backsplash and countertops are all kept black while the cabinets are all wood to signify the storage cabinets. What complements them is the linear pendant over the peninsula that provides efficient task lighting to bring a simple yet stylish touch.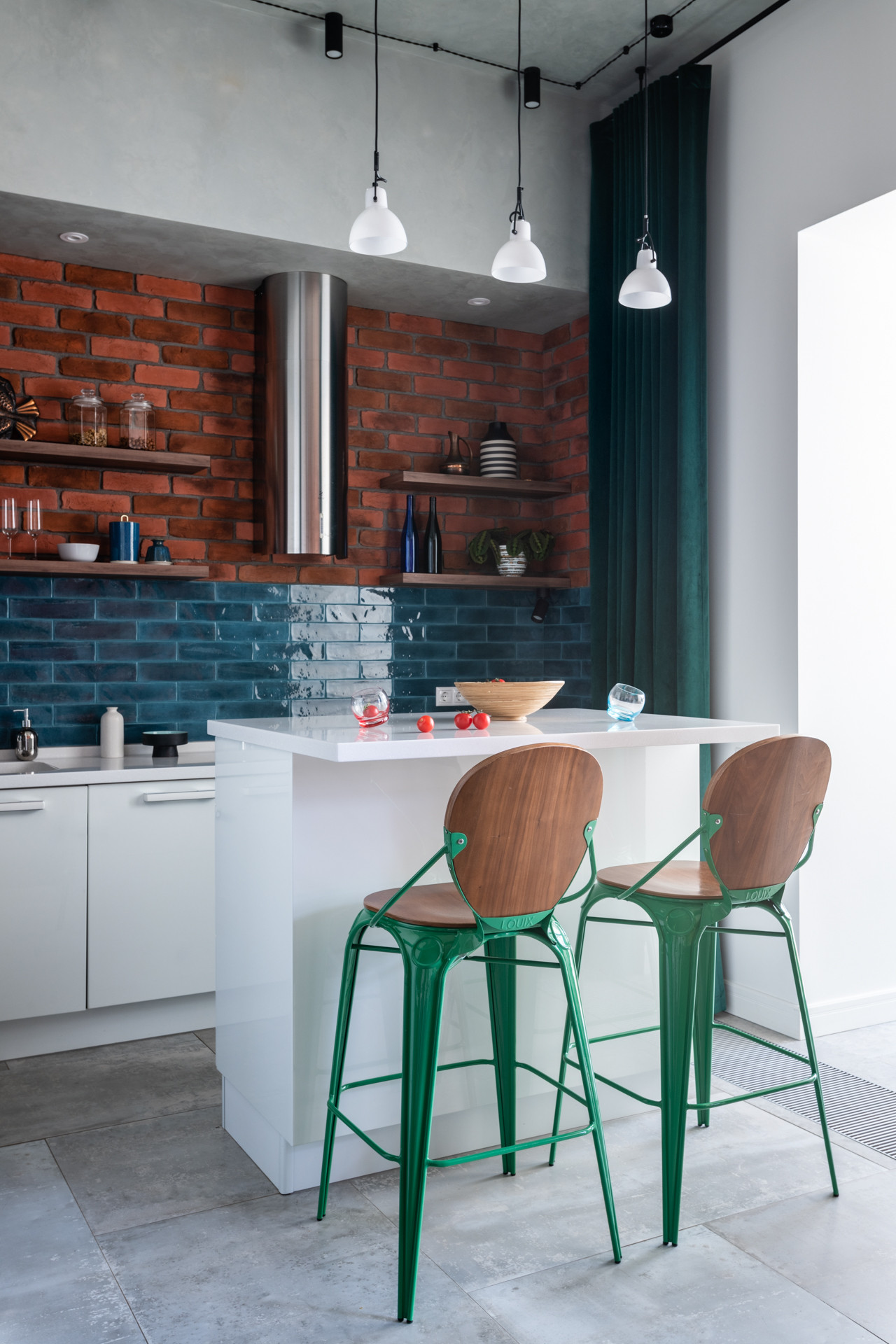 ID# 172723 | Houzz.com – Credit | © Князева Вероника /студия "ProIntDesign"
---
Small Kitchen Lighting Ideas with Blue Backsplash and White Cabinets
This contemporary one-wall kitchen has a very ambitious design with a brick exposed wall and a blue subway tile backsplash, along with wooden cabinet shelves, white countertops, and white cabinets. And each element is repeated and forms part of another piece of furniture to create a continuous design. The same goes for a trio of white pendants dropped over the island for task lighting, which is coordinated with white features.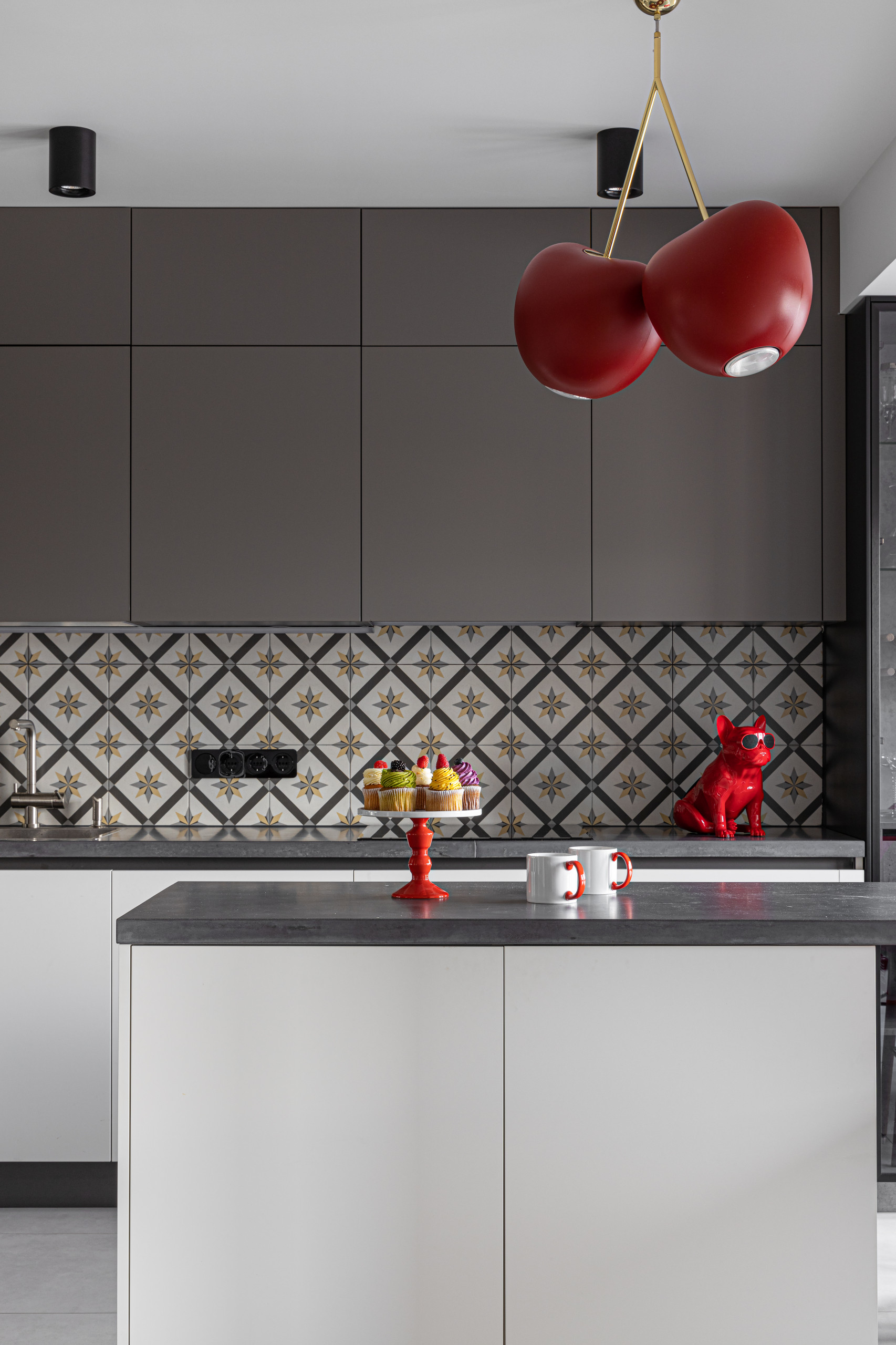 ID# 172724 | Houzz.com – Credit | © Ирина Чернейкина
---
Cherry-shaped Red Lighting Fixture with Two-tone Cabinets
What a cheerful design this modern kitchen offers with a multi-colored backsplash and red accents! Ranging from shades of yellow to gray and black hues the patterned backsplash tiles showcase a design that experiments with colors and patterns. The dark gray and white cabinets and gray granite countertops provide a sleek and elegant appeal that allows the backsplash tiles to stand out. The sleek overall look is championed by the red cherry-shaped lighting fixture introducing task lighting and bringing a quirky vibe to the room.
Where should you put lights in the kitchen?
Lights should be evenly distributed throughout the space to eliminate any dark corners, which can be accomplished with ambient lighting. And for that, what you need is a chandelier, flush mount, or spotlights at the center of the ceiling or above the island. If you decide to go with spotlights, try to position them above the countertops to eliminate any possibility of shadows.
For task lighting, LED-strip lighting under the overhead cabinets is another essential lighting feature that will create an efficient and well-lit working space for you. So, decide which spots you use most to cut onions or prepare food and add extra lighting for these most-used countertops. You can even place a countertop lamp if you have some space on the worktop.
The LED strips can also be used in deep corner cabinets to find what you are looking for easily. Also, those who would like to display their essentials on the floating shelves or display cabinets can use wall sconces to put them in the spotlight.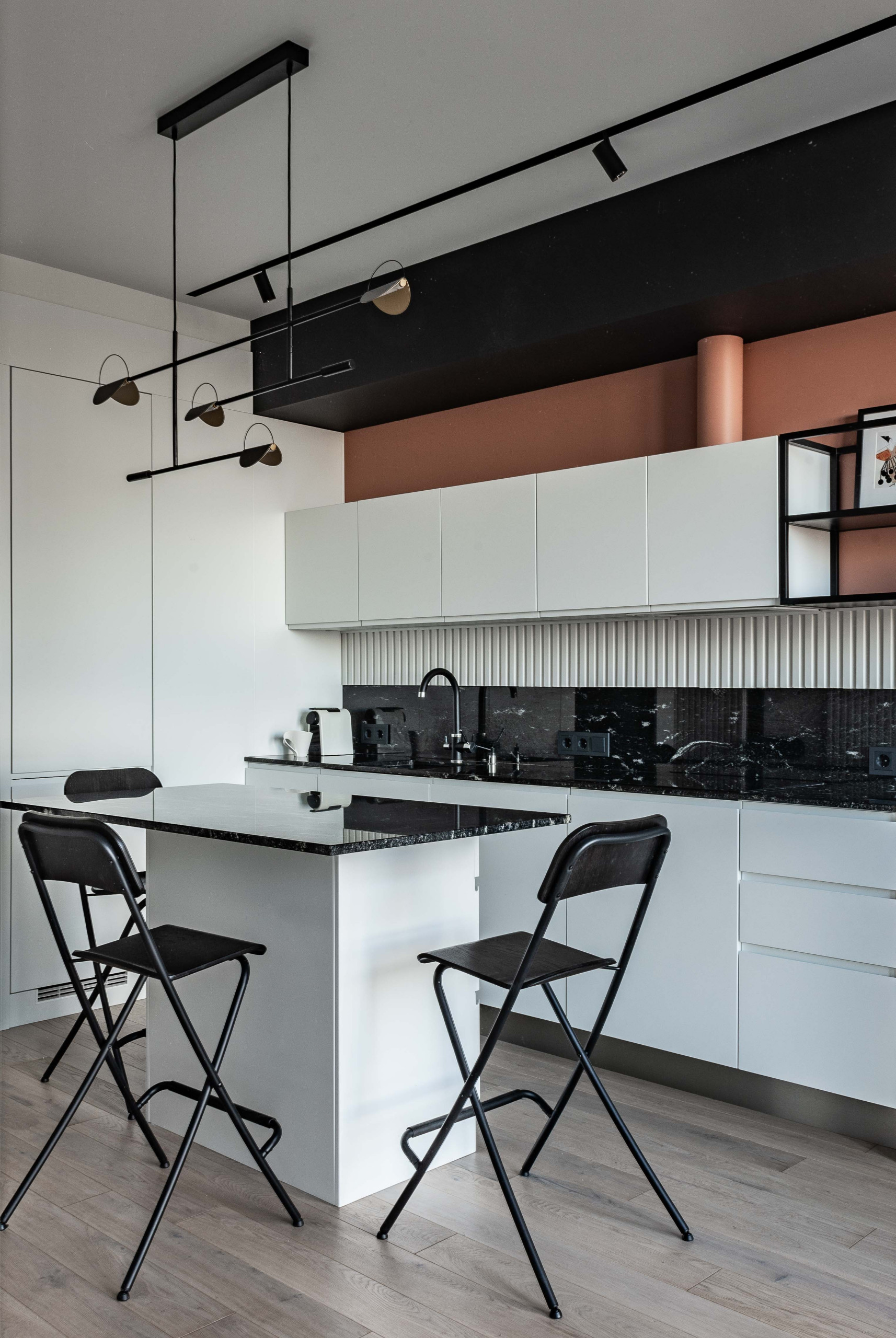 ID# 172725 | Houzz.com – Credit | © АСЯ БОНДАРЕВА
---
Minimalist Modern Kitchen with Pink-painted Walls
Minimalist and classic, the black wall light just brings the right amount of contrast to the white walls and cabinets, coordinating with black granite backsplash and countertops. The pink-painted upper walls and hardwood floor warm up the space perfectly.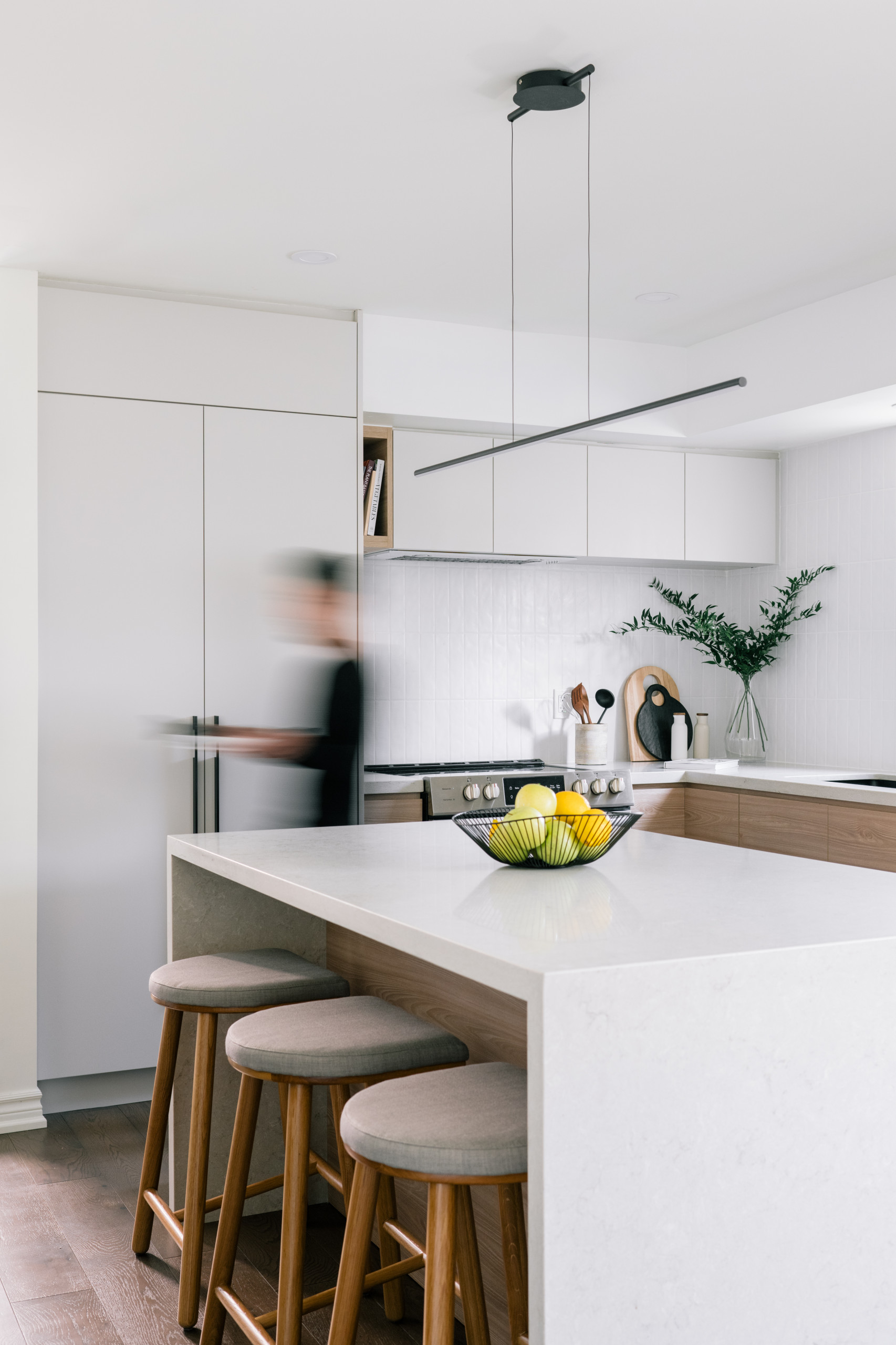 ID# 172726 | Houzz.com – Credit | © Ke Design Collective Inc.
---
Small Kitchen Lighting Ideas with Glazed Tile Backsplash
The subtle color palette of this cozy kitchen springs from the wood base cabinets and white quartz countertops. The white upper cabinets and white glazed tile backsplash provide a blank canvas that enhances the spaciousness. The natural wood kitchen cabinets warm up the space while the all-white background just serves as a white canvas for the black wall light to own this space.
Small Kitchen Light Above Sink
Small kitchen lights above sinks are essential to provide task lighting, add a stylish element, and define the sink zone. Whether you use pendants, wall sconces, or chandeliers, as long as they supply the light necessitated to work efficiently, your kitchen will not have dark corners. Plus, their aesthetic value injects extra personality into the kitchen. Depending on the style of the room, you can choose sleek, retro, industrial, or more elaborate design lighting fixtures to give a facelift to the kitchen.
ID# 172727 | Houzz.com – Credit | © Remodel
---
Dark Gray Cabinets with Wood Countertops and Tiled Range Hood
White ceiling lights above the undermount sink provide task lighting for this L-shaped kitchen layout. Dotted by off-dark gray cabinets, this contemporary kitchen uses white ceiling lights not only as task lighting but also to complete the bright and fresh look of the white upper walls and white tiled range hood. Below, the stacked tile backsplash adorned by the tonal variations of gray complement the cabinets while the wood countertop adds a rustic flair.
What type of lighting is best for a small kitchen?
In a tiny kitchen, under-cabinet lighting such as LED strips or puck lights brings targeted task lighting and a warm ambiance to counters, while recessed lighting gives even illumination without taking up visible space. Task lighting and a fashionable touch are provided by pendant lights, which are both utilitarian and aesthetically pleasing over the kitchen island or sink.
Ambient lighting is provided by flush mount fixtures that hug the ceiling instead of taking up precious overhead space. Strategically placing lighting strips—for example, along open shelves or above cabinets—adds coziness and makes the room appear larger.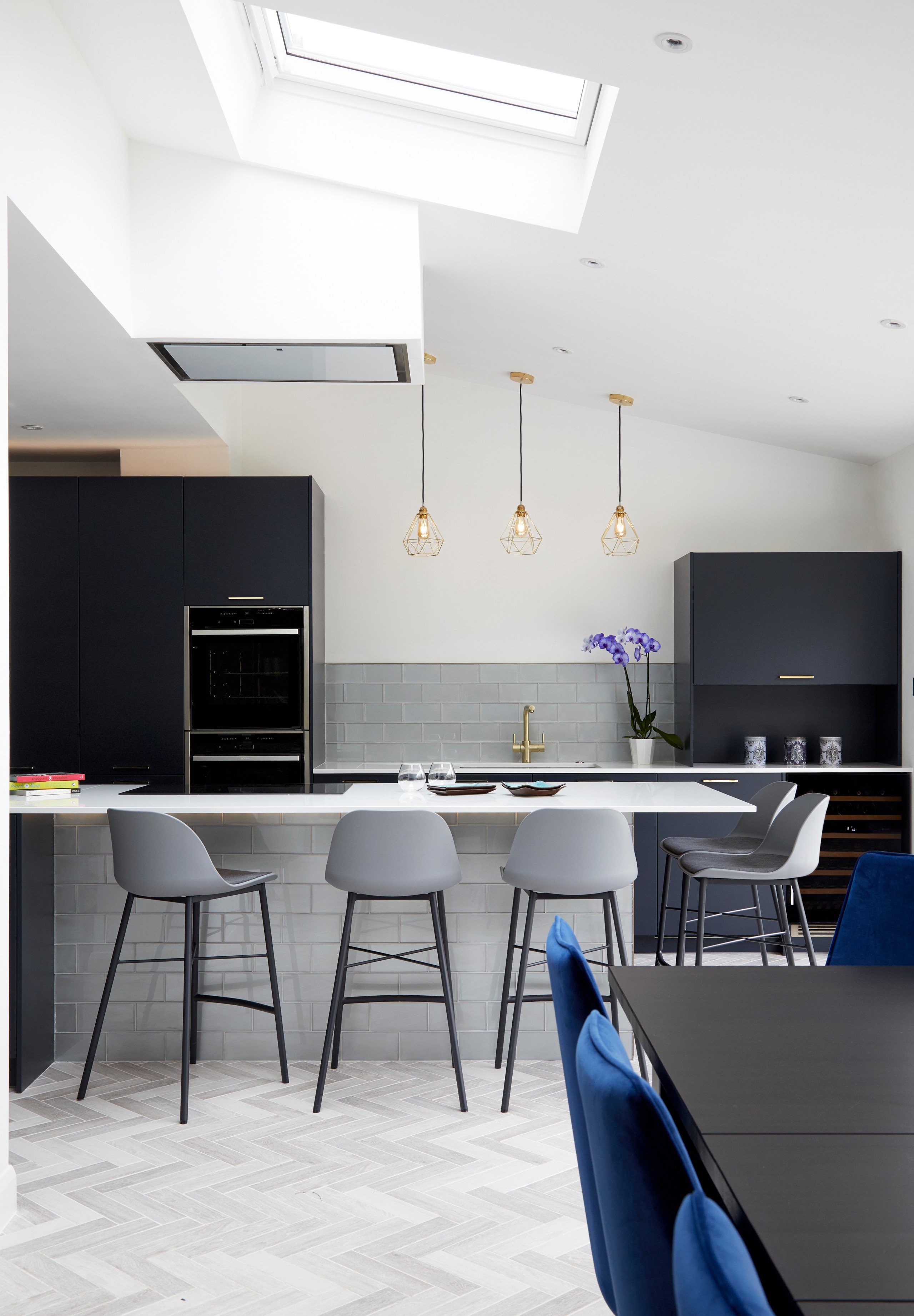 ID# 172728 | Houzz.com – Credit | © Monita Cheung Design Ltd
---
Small Kitchen Lighting Ideas for Glass Subway Tile Backsplash
Adorned by sleek black flat panel cabinets that command attention, the kitchen exudes modern sophistication! A backsplash made of gray glass subway tiles gives the room depth and texture. Above the tiles, the geometrical-shaped pendant lights draw attention to the sink area. White counters provide an eye-catching visual balance by providing a clear, uncluttered contrast to the dark cabinets. Completing the kitchen's modern style, the tiled island uses the same subway tiles as the backsplash for a unified look.