49+ Wood Kitchen Countertops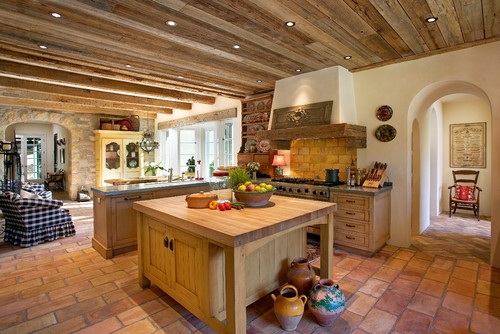 ID# 118305 | Houzz.com – Credit |  © Giffin & Crane General Contractors, Inc.
---
French Country Kitchen with Terra Cotta Floor Tiles and Wood Ceiling
The terra cotta floor covering gives the feeling of walking on the streets of France and gives a strong characteristic appearance to the country-style open concept kitchen. wood cabinets, wood kitchen island with the reclaimed wood countertop, and dark wood ceiling create a warm and cozy atmosphere.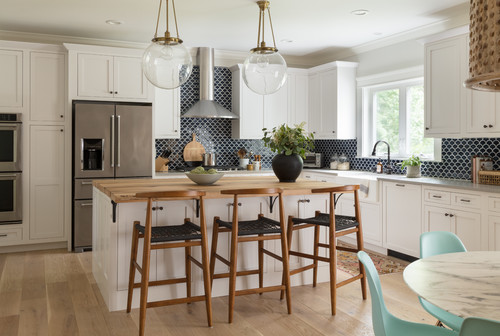 ID# 118330 | Houzz.com – Credit |  © Jamie Keskin Design
---
White Cabinets with Navy-blue Mermaid Backsplash Tile
In this farmhouse-style kitchen white shaker cabinets with gray countertop and matte bronze pulls, create a timeless and classic backdrop. The navy-blue backsplash tile is a show-stopping piece laid on the mermaid pattern and brings a wow factor between the cabinetry. Wood floor enhances the farmhouse feel, while counter stools and reclaimed wood countertop of the island add a midcentury modern sensibility. Large glass bubble pendant lights hung above the island.
Warm and Inviting Rustic Wood Countertops
Rustic style has an undeniable charm and is full of character. There are several options to create a rustic kitchen and rustic wood countertops are one of them. Scroll down and search how to incorporate the rustic wood countertops in your kitchen!
Add charm to your kitchen with a rustic wood countertop
If you are a fan of the rustic style but you don't want to go with an all-rustic kitchen, a rustic wood countertop will give you the intimate atmosphere that you want. Wood is a natural material that has plenty of different types in color, pattern, and tone. Thanks to this variety of rustic countertops offer a unique look which you will not find the same. Whether you will choose an American hardwood or reclaimed wood or walnut, rustic wood kitchen countertops will instantly add a character and create a warmer, cozier, and comfier atmosphere. Here, we gather out the best rustic wood countertops that will inspire you!
If you are remodeling your kitchen, every type of rustic countertop can lend charm and depth to your kitchen.