66+ Wood Kitchen Countertops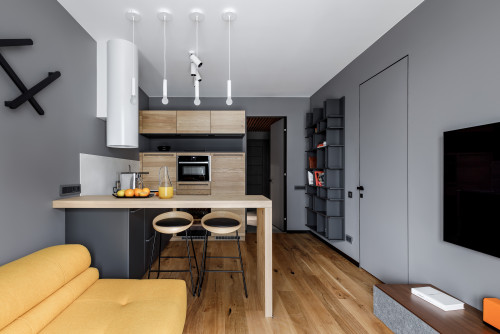 ID# 116815 | Houzz.com – Credit |  © Zina Malysheva
---
Black and Wood Cabinets with Gray Walls and White Range Hood
Refined textures of the wood and cold shades of gray create a truly minimalistic atmosphere in the kitchen. The gray walls provide a sleek backdrop for the kitchen white wood cabinets and countertop standing out next to the grays. The black kitchen cabinets complement the gray walls. The white range hood, backsplash, and pendant lights above the peninsula bring a bright appearance between the dark tones and contrast with them.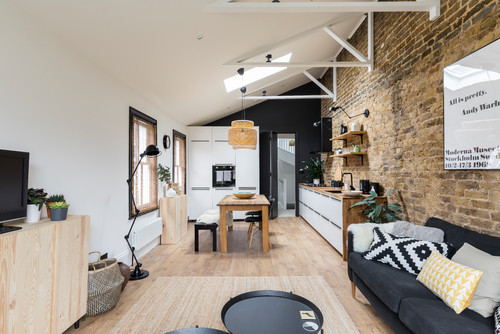 ID# 116811 | Houzz.com – Credit |  © Buildup London Limited
---
Industrial Kitchen with Brick Wall and Wood Floor
No internal walls, partitions, maximum space, and freedom! The open concept living spaces offer a cozy home atmosphere. In this industrial kitchen, the combination of the blacks, whites, natural materials, and patterned textiles offers a welcoming and livable space. The brick wall provides a characteristic backdrop and is accentuated by a black wall which creates strong contrast with the white cabinets. The waterfall solid wood kitchen countertops, wood dining table, wood shelves, and wicker pendant lights bring warmth while blacks and whites creating a modern appearance.
A Timeless Classic: Wood Kitchen Countertops
Wood kitchen countertops are a timeless classic alongside constantly evolving and changing materials and styles. The natural feel of the wood will add warmth and interest to your kitchen. Here are some examples of wood kitchen countertops in different styled kitchens!
Beautiful appearance with durability in wear
Wood kitchen countertops are a popular choice for homeowners because of their sheer number of options and styles. From butcher block to walnut, Brazilian cherry to maple there is plenty of choices that add beautiful warm textures to the kitchen. Thanks to this variety, from modern to rustic, this wood material can easily combine with different styled kitchens. Besides their beautiful appearance, wood countertops also provide durability in wear with their soft surface. You can protect your wood counters by laying down a protective coating such as mineral oil, tung oil, water-resistant. But not all wood species good for countertops. If you want to more about wood countertops, scroll down and check out our gallery to choose a perfect countertop for your kitchen!
Wood countertops are a great surface for preparing your meals while providing a cool, cozy, and timeless look for kitchens.