26+ Farmhouse Kitchen with White Backsplash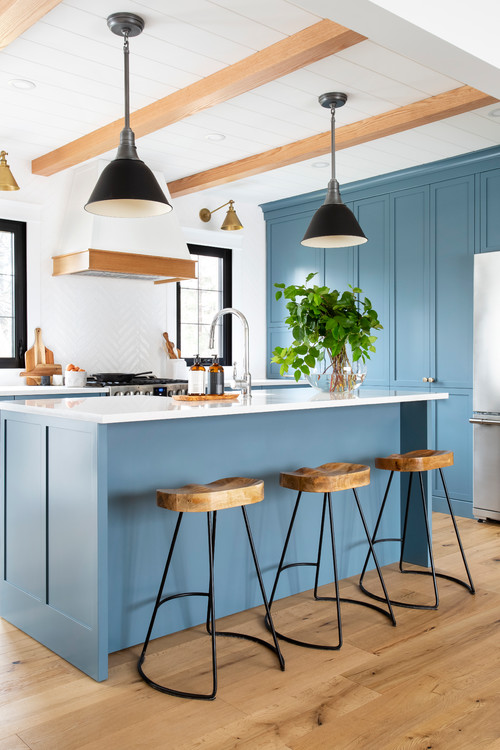 ID# 146702 | Houzz.com – Credit | © Hibou Design & Co.
---
Blue Cabinets with Wood Beams and White Countertops
Vibrant colors such as blue azure are not only for modern and transitional kitchens. This farmhouse-style kitchen also lays its foundation upon a blue shaker joinery that energizes its users right away. The exposed wooden ceiling beams, wooden stools, and other timber accents make sporadic natural injections to emphasize the cottage flair of the kitchen under the whitewashed shiplap ceiling. The white quartz countertops and a white herringbone pattern backsplash lighten up the interiors. The subway tiles laid in a herringbone pattern interlock with each other like puzzle pieces, further modernizing the kitchen.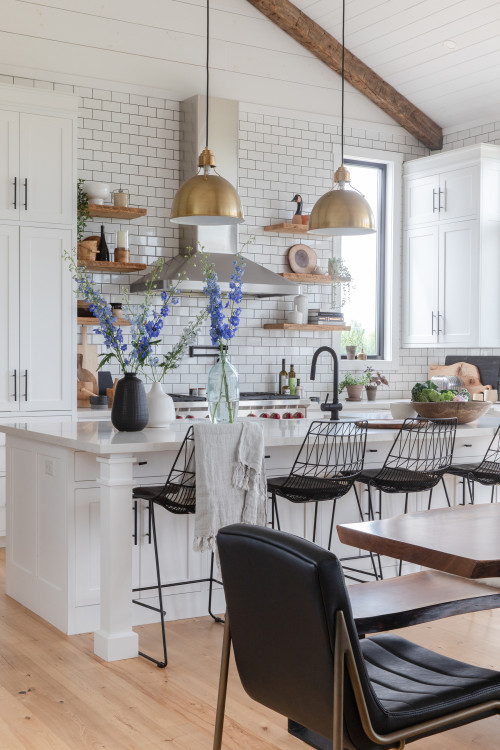 ID# 146718 | Houzz.com – Credit | © Karin Kolb Interiors
---
Farmhouse Kitchen with White Backsplash and Brass Pendants
Feeling at home under the gabled shiplap ceiling, this farmhouse kitchen, unlike the previous ones, has a more crowded look, which makes the kitchen feel lived-in. First, in the background, the white subway tile backsplash with black grout creates a graphic look, punctuated by small floating shelves filled with personal accessories that add a whimsical look. These small additions peek out behind a duo of oversized brass pendants overhanging the island. And what is downplaying this overcrowded look are the white shaker cabinets that provide a neutral backdrop to let the accessories do the whole talking. The black hardware and black wire bar stools further stylize the kitchen. The wood floor finish and exposed beams on the ceiling add bonus textures, taking the kitchen users on a visual and tactual journey.
Farmhouse Kitchen with White Backsplash
Ranging from rustic farmhouse kitchens celebrated for their repurposed treasures to modern and classic farmhouse kitchens with shiplap ceilings and light-earthy shades, farmhouse kitchens know how to pull the last trigger to make themselves an all-time favorite. Even though modern and contemporary kitchens look more popular for their sleek lines nowadays, farmhouse kitchens also have updated themselves accordingly. No matter which farmhouse look you want to go for, a white backsplash can be your backsplash type. And a farmhouse kitchen with white backsplash can help you create any look you desire.
Available in a wide range of materials and design options, white backsplashes find always a way to contribute to the overall design aesthetic. First, they make the space feel larger and brighter. Secondly, they usher in calmness and tranquility. And thirdly, they provide a neutral backdrop, letting homeowners jazz up the complementary features as they wish. If you are looking for some solid ideas, here we compiled inspiring design projects centered around a farmhouse kitchen with a white backsplash. Read on to discover some of the farmhouse kitchen backsplash ideas and note down what works for you for your next home-upgrading projects.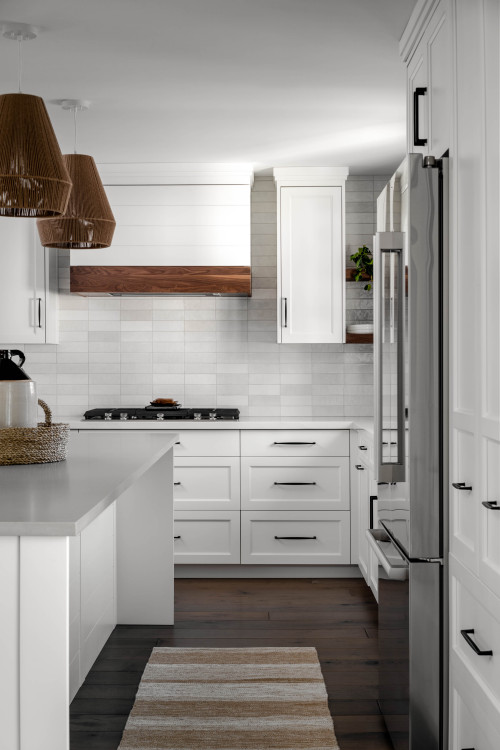 ID# 146701 | Houzz.com – Credit | © Cranberry Hill Kitchens
---
Modern Farmhouse Kitchen with White Backsplash and Wood Accents
Embracing modern design tenets, today's farmhouse kitchens feel much more contemporary, going with monochromatic color schemes defined by refined lines- as showcased by this modern farmhouse kitchen. Here, the horizontally stacked white subway tile backsplash (rather than lying in a running-bond pattern) gives the kitchen a modern spin instantly, while the clean line shaker cabinetry keeps it aligned with farmhouse looks. Likewise, the shiplap-board range hood fixture both feels modern and traditional. The further enriching elements include wood trim of the hood, wooden open shelves, and medium-tone wood-floor finish that inject a sense of drama while adding an organic flair.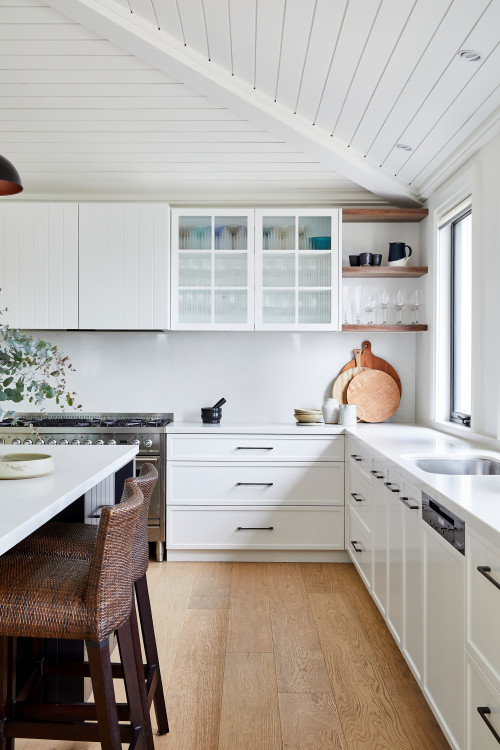 ID# 146703 | Houzz.com – Credit | © Blue Tea Kitchens and Bathrooms
---
Monochromatic Kitchen with Fluted Glass Display Cabinets and V-Groove Cabinetry
Even if you prefer to keep the color scheme monochromatic, you can enrich the overall look by toying with the textures of furniture pieces. Here, for example, from the V-groove cabinetry to the slimline shaker base counters, fluted glass units, and shiplap ceiling, almost everything generates a sense of movement throughout the space. By contrast, the Carrara marble backsplash and countertops ooze elegance and freshness, providing a contrasting seamless look. And lastly, to complement them, wicker bar stools and timber shelves bring warmth to the otherwise all-white kitchen.
What backsplash goes with the farmhouse kitchen?
Backsplash options for farmhouse kitchens are various, ranging from brick and wood backsplashes to marble slabs, ceramic tiles, geometric patterned tiles, subway tiles, and many more. If you love natural looks, brick splash-backs, wood panels, and rock backsplashes can give your kitchen a texture-rich background. But something for something more sophisticated, you can go with a marble backsplash while for something more casual, ceramic tiles provide you with almost limitless options.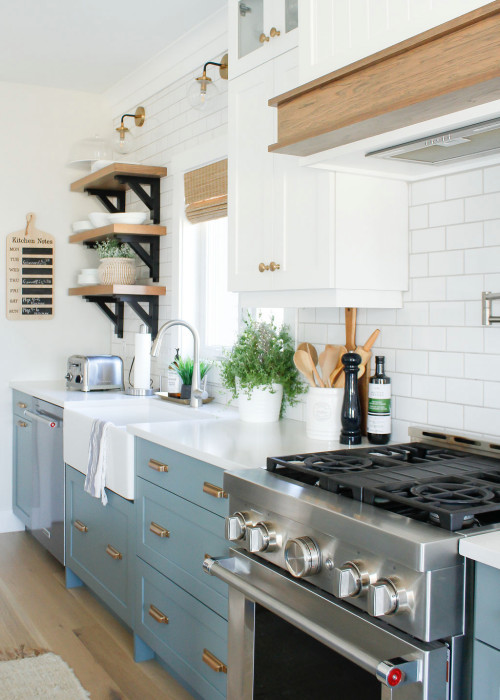 ID# 146704 | Houzz.com – Credit | © Blended Interiors
---
White Subway Tile Backsplash with Brass Hardware and Blue Cabinets
Whether old-style or modern, each farmhouse kitchen's Achilles heel is a white subway tile backsplash. It is because not only that the subway tile backsplash adds a sense of timelessness but also contributes to the casual atmosphere of the kitchen that feels necessary for farmhouse kitchens. And here, taken up to the ceiling, subway tiles create a movement on the horizontal axis, standing out between the blue and white cabinets. The brass hardware and timber floating shelves puncture the kitchen while making it look more approachable and cozier.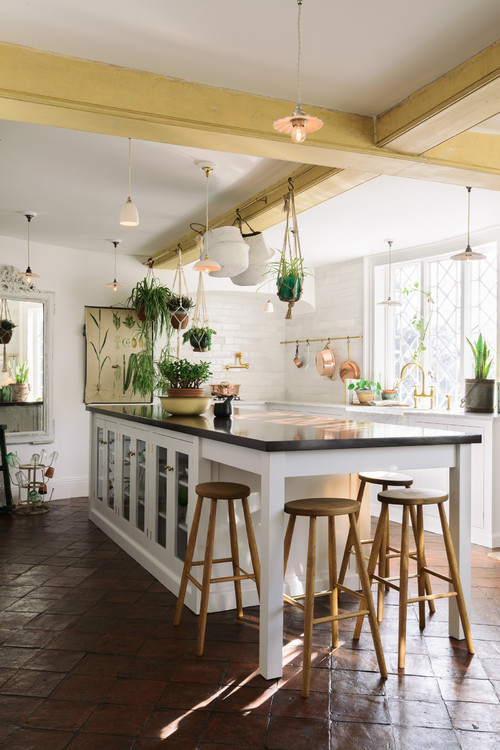 ID# 146705 | Houzz.com – Credit | © deVOL Kitchens
---
Farmhouse Kitchen with White Backsplash and Black Countertops
The arresting look of this farmhouse kitchen springs from the weathered yellow-painted beams, dark brown terracotta floor tiles, and the kitchen plants sprinkled throughout the kitchen. The brass plumbing fixtures, copper cookware, and vintage-style lighting fixtures pack a punch of character. The oversized island offers a hefty black countertop that dominates the kitchen, anchoring all the flashy elements, while the white tile backsplash provides a neutral setup for all the design ingredients to blend harmoniously.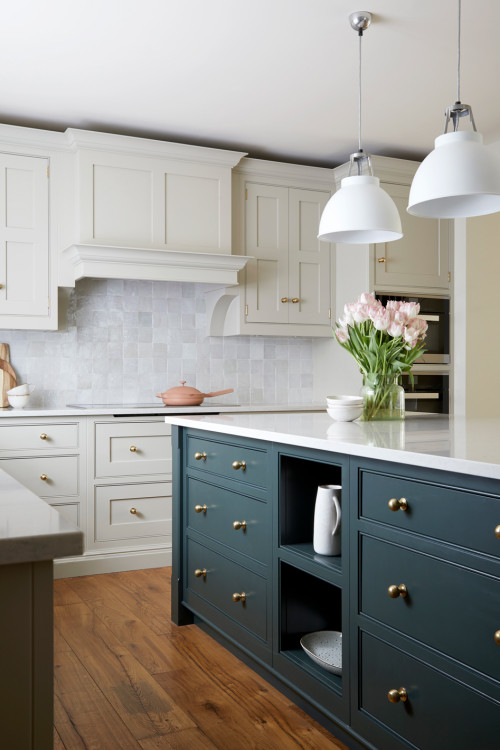 ID# 146706 | Houzz.com – Credit | © Born & Bred Studio
---
Off-White Cabinets with Contrasting Kitchen Island and Ceramic Square Tile Backsplash
In this farmhouse-inspired kitchen, while the off-white cabinets with yellow undertones emanate warmth, the blue kitchen island adds a contrasting splash of color to create a focal point. In the background, the ceramic square tile backsplash with alternating shades makes for a more intriguing background that feels more authentic rather than too manufactured and too matchy. The brass cabinet knobs further introduce warmth along with the hardwood floor, and the oversized white pendants overhang the island to command attention to the center.
Material Options for White Backsplash
Ceramics, porcelain, glass, marble, wood, brick, stone, and quartz are some of the most common material options for white backsplashes. But in this blog, we will be focusing on the most popular of the popular options that encompass white ceramic and marble splash-backs. These two sought-after materials can give a kitchen any look, whether the aim is to look classic and timeless, sleek and clean, or sophisticated and contemporary.
Farmhouse Kitchen with White Ceramic Tile Backsplash
Affordable and highly customizable, ceramic tile backsplashes are in a wide array of pattern, design, and color options. Thus, they open up limitless design possibilities to suit farmhouse kitchens. Plus, ceramic tiles are easy to clean and maintain and don't require sealing, unlike natural stones. They are also suitable to be used as stove backsplashes; thus, if you wish, you can use them as wraparound backsplashes.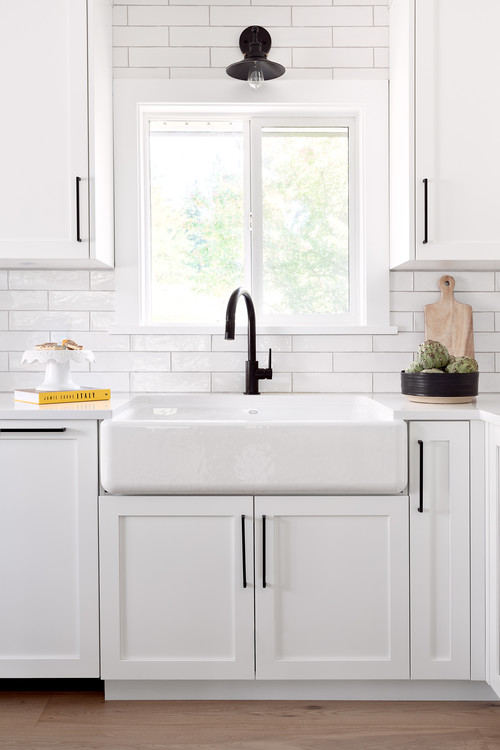 ID# 146707 | Houzz.com – Credit | © Beyond Beige Interior Design Inc.
---
Farmhouse Kitchen with White Backsplash and Black Hardware
Farmhouse kitchens don't necessarily offer acquired-over-time looks. Rather, they can feel modern and achromatic without compromising their farmhouse flair. Here, for example, this farmhouse kitchen is outfitted with white clean-line shaker cabinets and a subway tile backsplash taken up to the ceiling. The white countertops continue to lighten up the kitchen while ensuring a visually lightweight kitchen theme. The black hardware and black wall sconces accentuate the design, and the white fireclay farmhouse sink creates a focal point. If you would like to add a homey vibe, you can place a runner in front of the sink cabinet. This way, you also protect the wood-clad floor finish against potential water splashes.
Is white backsplash good for farmhouse style?
White backsplashes are good for any kitchen style, including farmhouse-design kitchens. Whether they come in the form of ceramics, marble, porcelain, glass or slab formats, subway tiles, or geometric patterns, white backsplashes make great additions in all those versions. Especially, considering that nowadays farmhouses are upgraded with modern touches, the white backsplash options have also increased, aiming to create chic, luxurious, and visually lightweight looks.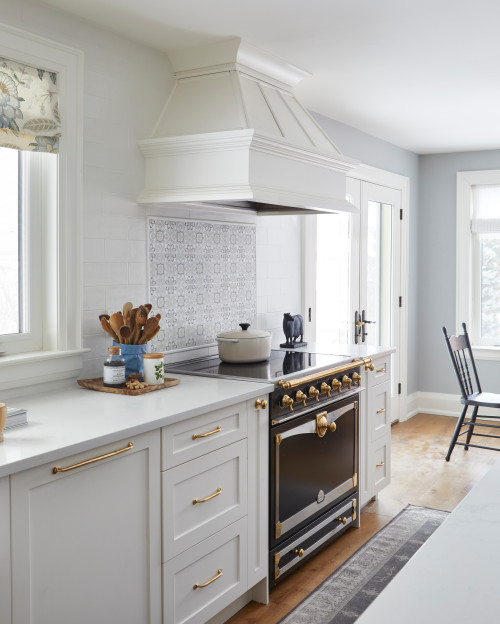 ID# 146708 | Houzz.com – Credit | © Master Edge Homes
---
White Cabinets with Statement Stove and Brass Hardware
This well-appointed kitchen lives up to its farmhouse potential to the fullest, thanks to the bulky range hood and vintage-style statement stove that pays a strong contrast to the white-dominant kitchen. The white shaker cabinets, on the other hand, propose a soothing aesthetic warmed up with brass hardware that coordinates with the brass accents on the black stove. The Mediterranean-inspired stove backsplash with subtle hints of color further draws attention to the stove, while the rest of the walls is clad in white subway tiles until the ceiling. On the floor, the dark weathered-looking runner brings warmth and texture underfoot. Likewise, the window is treated with floral pattern window shades that bring spring to the kitchen.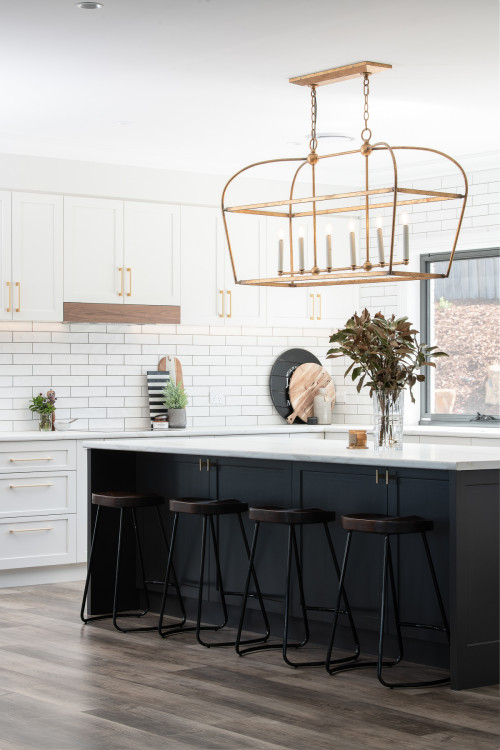 ID# 146709 | Houzz.com – Credit | © Prime Design Tasmania Pty Ltd
---
Chic Farmhouse Kitchen with White Ceramic Tile Backsplash and Cage Pendant
Recognized and celebrated for their rustic vibes, farmhouse kitchens can also offer chic and luxurious looks -as demonstrated by this kitchen. Here, the statement cage chandelier overhangs the black island topped by white countertops, turning it into a true statement piece of the entire kitchen. This central point of the space oozes a sense of drama and opulence. The black backless stools tucked into the island unit assist this atmosphere without stealing any space from the walkway and increasing the utilitarian aspect of the kitchen. In the background, the white subway tile backsplash ensures the timelessness of the design, while the brass hardware pulls the design together. This way, the island paired with a brass chandelier is put into dialogue with the perimeter counters.
Farmhouse Kitchen with White Marble Backsplash
A high-end material itself, a white marble backsplash can elevate any kitchen style, including farmhouse kitchens. Available in slab and tile formats, white marble backsplashes also provide multiple design options to create sleek and sophisticated backgrounds. To expand and maximize their impact, they can be taken up to the ceiling and ditch the upper cabinetry for the sake of a more breathable interior design.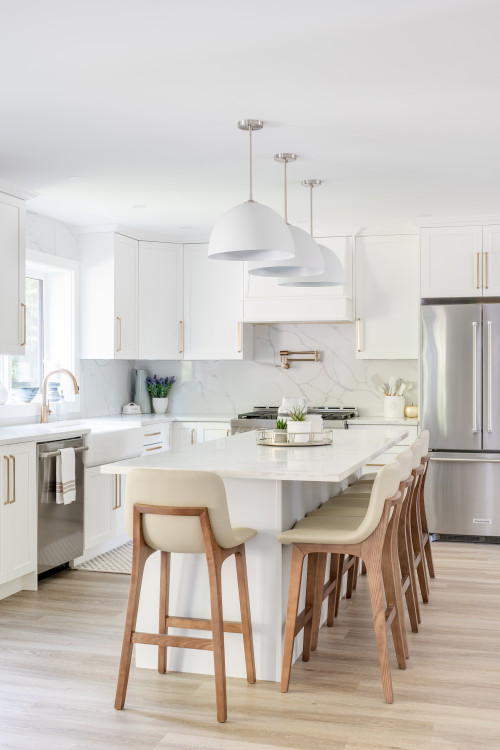 ID# 146710 | Houzz.com – Credit | © Celisse Renee Creative Studios
---
Farmhouse Kitchen with White Backsplash and Sleek Appliances
If you prefer a farmhouse kitchen with a modern look, use a seamless backsplash and high-end appliances just like this kitchen does. Here, the slimline white shaker cabinetry already presents an easy-going and modern look with a clean feel. The seamless white marble backsplash adds to it while bringing elegance. The high-end stainless-steel appliances also add to the modern feel of the kitchen, while the brass hardware accentuates the design to give it a healthier look. The island vertically placed to the stove zone is wide enough to host a large group of people, paired with cream-shade stools with wood legs that soften the white-dominant color scheme.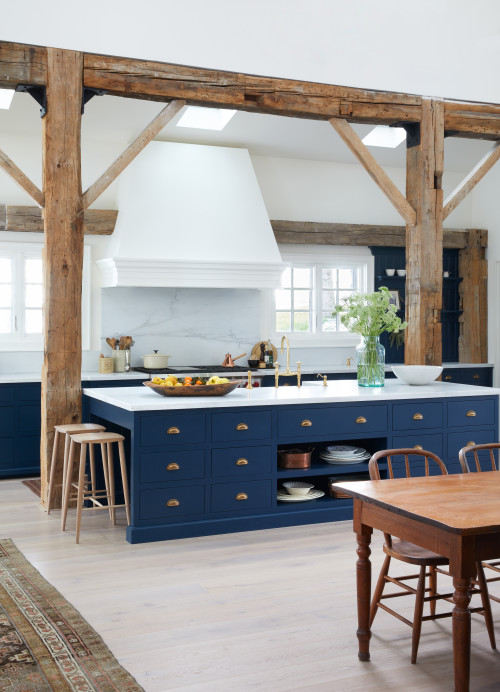 ID# 146711 | Houzz.com – Credit | © Bloomsbury Kitchens and Fine Cabinetry
---
White Marble Backsplash with Blue Island and Wood Beams
How would you make your kitchen look both rustic and chic? Well, this farmhouse kitchen definitely goes for that look and knows what it is doing. First, it starts by using salvaged wood beams integrated with both vertical and horizontal forms to give the kitchen a better definition and distinguish the cooking space from the dining area. Secondly, it uses a white bulky range hood that accentuates the far wall, pairing it with a white Carrara marble backsplash whose understated veins bring elegance.
The cabinets and island bombard the kitchen with blue shades, while this oversized island runs parallel to the counters, characterized by the open cabinet shelves that exhibit stunning copper cooking ware. Opposite the island sits a wooden table paired with wood spindle stools that give the kitchen a rustic allure along with the brass hardware that softens the white and blue union.
Is the farmhouse still in style for 2022?
Farmhouse kitchens are still in style for 2022. But rather than going with super rustic elements, they have started to feature more timeless and modern aesthetics with achromatic color schemes, vintage pieces, and light earthy shades. They also borrow from different design looks such as minimalism, organic modernism, industrialism, and contemporary kitchens to adjust themselves to on-trend looks. Thus, some also feel Bohemian from time to time. As such, you can also feel free to combine different elements to create your own farmhouse look to make it yours.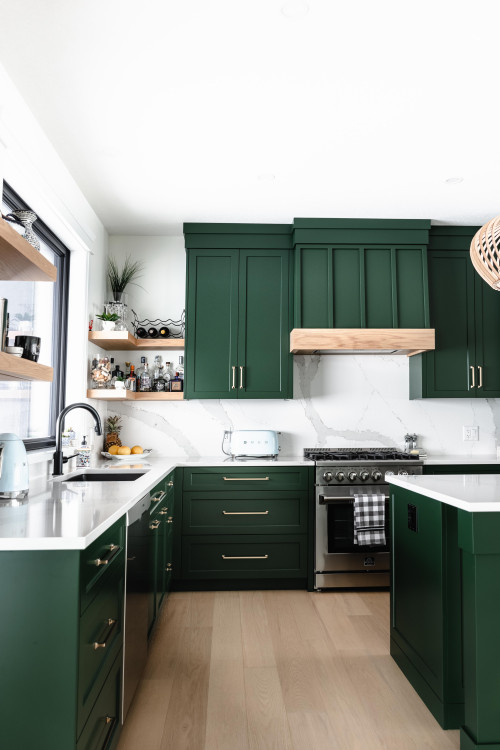 ID# 146712 | Houzz.com – Credit | © Chervin Kitchen & Bath Inc.
---
Green Cabinets and White Backsplash with Timber Floating Shelves
The forest green cabinets give this kitchen an instant farmhouse look, while their dark shades build a visual drama of sorts and balance out the white marble backsplash and countertops. The timber floating shelves and wood trim of the hood don't forget to bring extra country charm. And brass cabinet handles add a touch of sparkle, communicating a sense of luxury. Not to mention the natural lighting fixtures that bring a bohemian edge to the overall farmhouse design aesthetic that feels complete with light wood, creating a well-balanced look with dark green cabinets.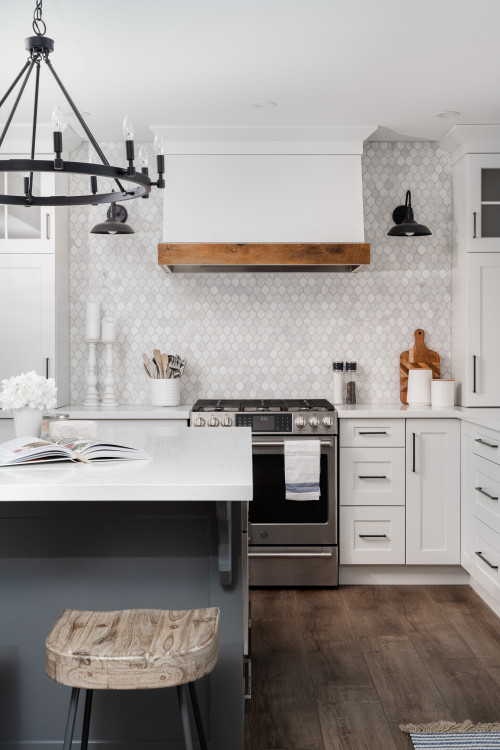 ID# 146713 | Houzz.com – Credit | © Lindsay Schultz Kitchens and Cabinetry
---
White Marble Hexagon Tile Backsplash with Gray Island and Rustic Floor
This dramatic country kitchen is mainly characterized by white shaker cabinets and white countertops that create a blank canvas, playing up the dramatic and organic additions to its color and material repertoire. To start with, the black wall sconces flank the hood with a symmetrical placement to offer comfort for the eyes. To accompany them, the white marble hexagon tile backsplash goes up to the ceiling and evokes visual interest, while the blue island with gray undertones injects a level of edginess and moodiness. Additionally, the reclaimed wood bar stools and black cottage-style pendant anchor the island to the overall country aesthetic of the kitchen. And finally, the rustic dark wood floor finishes partially clad with a blue-lined runner finalize the total look with bonus texture and warmth.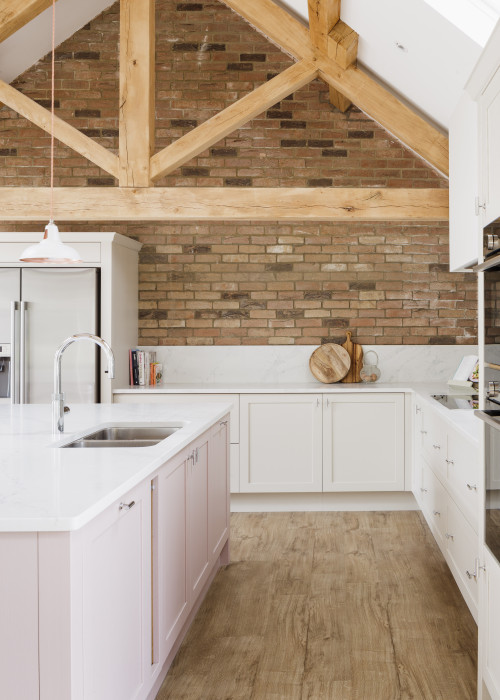 ID# 146714 | Houzz.com – Credit | © Dormer & Co. Chartered Architects
---
Open-Plan Farmhouse Kitchen with White Backsplash and Brick Wall
You are more than lucky if you have exposed brick walls and wood beams as part of the architectural heritage of the kitchen. And what you can do is just use them to your advantage by keeping them exposed in their natural tones rather than whitewashing them. This kitchen does the same and integrates the brick feature wall and the wood trusses into the design. And as for the rest, it keeps everything white, including the cabinets, backsplash, and marble countertops. This way, it ensures that the space is bright and looks fresh enough to lure its users for longer stays. To jazz up this freshness, the sleek appliances and the clean look of the white furniture get softened by natural materials in light earthy shades.
Farmhouse Kitchen with White Subway Tile Backsplash
Having been popular for decades, white subway tile backsplashes, depending on the context, can also give your kitchen a modern update and urban look. Especially, if you are after on-trend looks, you can stack them horizontally or vertically and lay them in a chevron or herringbone pattern. Or you can use a different grout color such as black or gold /pink to create contrast or make the kitchen feel cozier and homier, respectively. But for a more classical and timeless look, you can stick to a white subway tile backsplash laid in an offset/ running-bond pattern.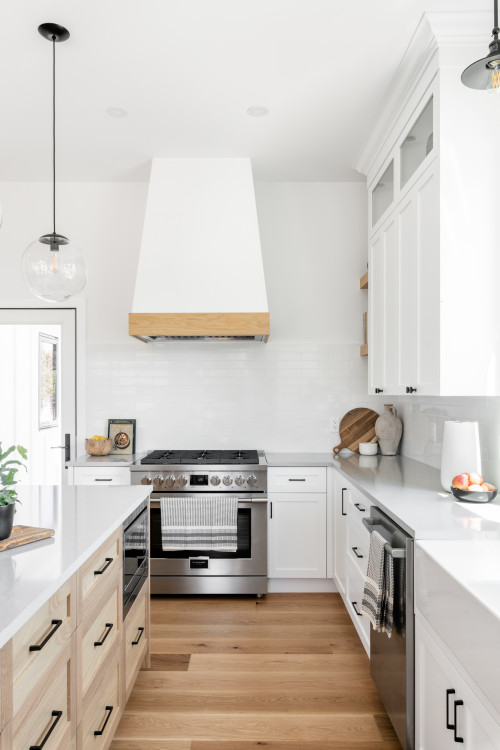 ID# 146715 | Houzz.com – Credit | © MAVERICK DESIGN
---
White Subway Tile Backsplash with White Cabinets and White Oak Island
Using wood is one of the best ways to accentuate and soften all-white looks. It can be introduced by an island, floating shelves, floor-coating, and a timber trim of range hood, suiting farmhouse kitchens best. Here, for example, this modern farmhouse kitchen in Vancouver is outfitted by white cabinets and a white oak island, featuring a well-balanced look. The black hardware punctuates the kitchen throughout, while the white subway tile backsplash taken up to the ceiling is used as a wraparound backsplash to pull the space together. The glass globular pendants and stainless-steel appliances stand out to be the further enriching elements. If you also want your kitchen to feel modern and farmhouse, you can steal inspiration from this look and copy some of the forms.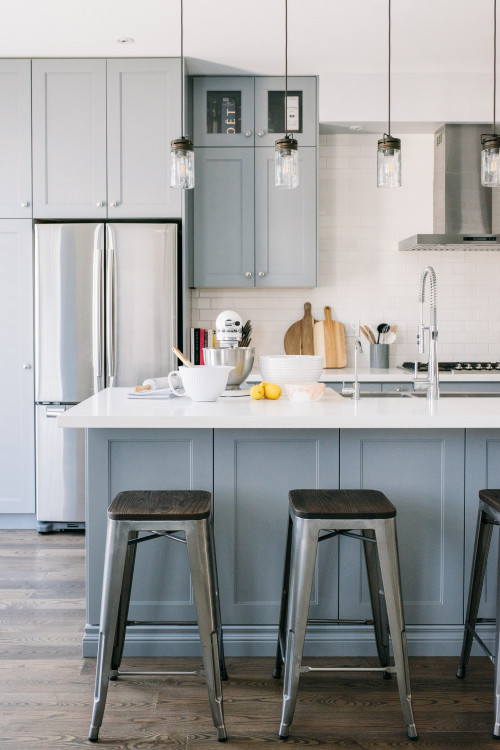 ID# 146716 | Houzz.com – Credit | © Ke Design Collective Inc.
---
Farmhouse Kitchen with White Backsplash and Blue Cabinets
If you love moody vibes, why not integrate an industrial look into a farmhouse kitchen? And if you are looking for inspiration, check this kitchen out closely that brings in black industrial-style stools and a commercial faucet to create a farmhouse-industrial look. Here, the main features of the kitchen rest on the dusted-looking blue cabinets and gray countertops that build upon the edgy mood of the design. On the other hand, the white subway tile backsplash reaching up to the ceiling delivers a sense of freshness, while the stainless-steel appliances contribute to the upscale character of the kitchen. The industrial-style pendants add a quite basic element, hanging over the island. And the dark wood floor coating incorporates a country charm to soften the industrial look.
Is a white backsplash a good idea?
White backsplashes are an all-time favorite and always a good idea. They present clean looks while making the kitchen brighter and feel more spacious. Thus, they make great additions, especially in kitchens that feel enclosed and small. In terms of aesthetics, they can easily match them with any color, material, and design. Whether you aim to create contrasts or add pops of colors, you can do both with a white backsplash as it provides a neutral backdrop for any other element to feel at home.
Also, just because it is white, it doesn't have to look boring or jarring at all. With intriguing material use and textured-rich white backsplashes, you can always evoke visual interest. For example, you can whitewash bricks or stones to lighten up the atmosphere without compromising their tactual look. White glass sheets, by contrast, offer seamless surfaces that feature a beautiful sheen, whereas white marble slabs ooze opulence with feathery or pronounced veins. This list just continues to outgrow itself over time, which makes a white backsplash a great idea.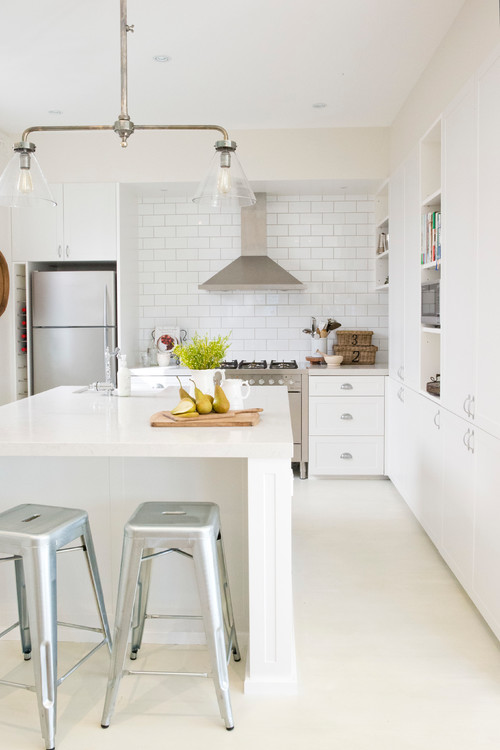 ID# 146717 | Houzz.com – Credit | © Sue Stubbs Photographer
---
Soothing Kitchen Design with Cream Cabinets and Chrome Hardware
If you don't want your farmhouse kitchen to look too rustic, use a monochromatic color scheme. This kitchen, for instance, keeps the walls and the cabinets almost in the same shade so that the cabinets blend into the background seamlessly. And it creates a change with a white ceramic subway tile backsplash punctuated by a stainless-steel stove and range hood. The light-cream cabinets envelop this visual focal point with a sense of warmth, while at the center, the kitchen island creates a social hub of sorts to provide a more intimate seating space. The silver-colored industrial-style bar stools accompany the island. This time, in this context, they come as a stylish element, sitting in synchrony with household appliances. As for the lighting fixture, the double-head glass shade adds a modern yet industrial flair that harmonizes with the overall aesthetic of the kitchen.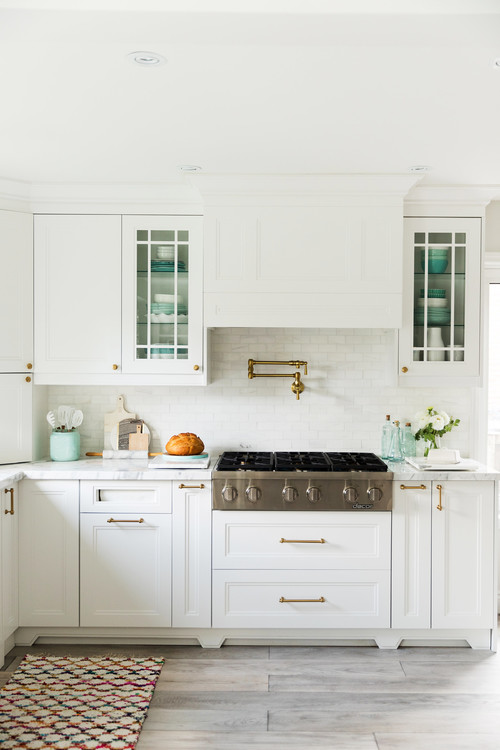 ID# 146719 | Houzz.com – Credit | © Simply Beautiful Eating
---
White Cabinets with Brass Hardware and Subway Tile Backsplash
To introduce color into your kitchen without giving up on all-white looks, get display cabinets and place your colorful kitchenware so that they can say "hello" and add a splash of color without making it too obvious. This farmhouse kitchen, likewise, exhibits its blue plates in glass-front cabinets that jazz up the achromatic look defined by white shaker cabinets. The white ceramic subway tile backsplash and countertop also continue to whiten the interiors, while brass cabinet handles and the pot filler radiate warmth. The light-shaded parquet flooring furthers the white color scheme, and the colorful patterned runner adds warmth and a dash of color to accompany the kitchenware. Yet above all, the best part of these colorful additions is that when you get bored of them, you can easily replace them, which won't cost you an arm and a leg.
Modern Farmhouse Kitchen with White Backsplash
Having adjusted themselves to the modern needs of the kitchen, modern farmhouse kitchens are upgraded versions of old farmhouse looks. And these new versions feature sleeker lines and cleaner looks with a timeless aesthetic. Thus, white backsplashes serve this new modern mood better, enhancing the openness and lightness of the kitchen.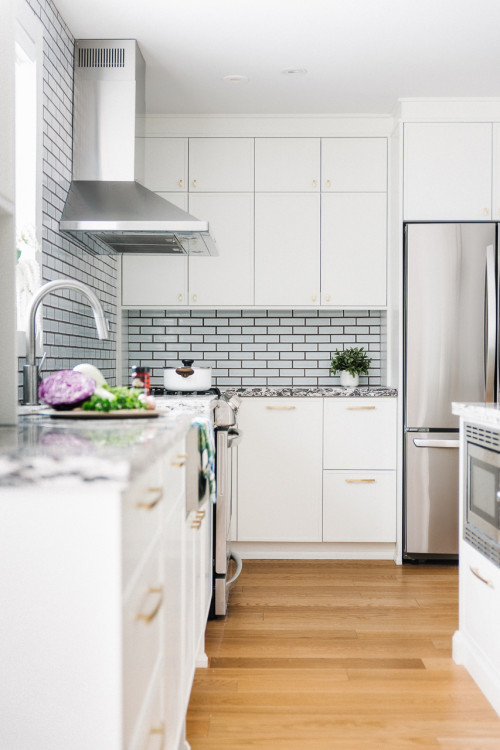 ID# 146720 | Houzz.com – Credit | © Bobeche Interiors
---
Modern Farmhouse Kitchen with White Backsplash And White Cabinets
This used-to-be Victorian home is given a modern makeover that aligns itself with the new era looks, feeling airy and fresh. Recontextualized as a modern farmhouse kitchen, it is outfitted with white clean-line cabinetry and high-end appliances. But its modern vibe is mostly evident in the black grout between the white subway tiles that give the kitchen an instant upgrade. This grout shade is also put into dialogue with the busy-pattern countertops that feature black streaks on a white base. What softens them is the brass hardware, blue pendants over the island, and wood floor finish. And the final product is a well-executed design that caters to the needs of modern family life. It feels open, welcoming, and sociable enough to pack family members together not only for eating or cooking but also for hanging around.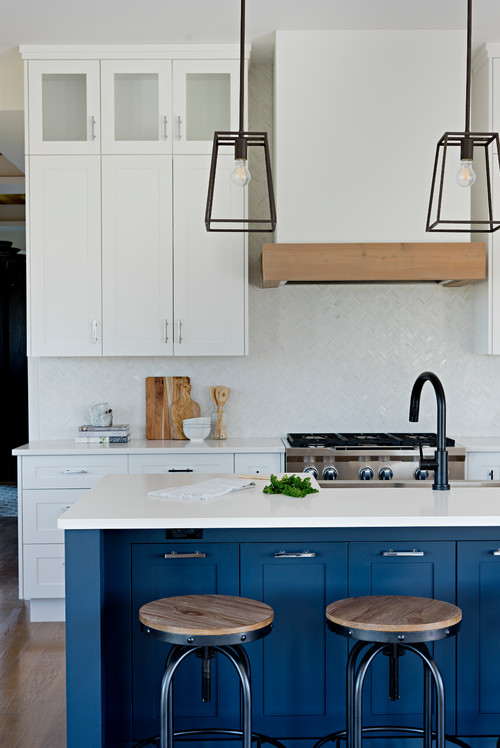 ID# 146721 | Houzz.com – Credit | © Soda Pop Design Inc.
---
White Herringbone Tile Backsplash and Blue Island with Black Pendants
Sometimes all you need is a pair of periodic lighting fixtures that will give the kitchen a new vibe instantly. Here, for example, it is the black cage pendants mimicking the cast-iron fixtures decorating the farmhouse kitchens. Yet, in this modernized farmhouse kitchen, they have recessed features, looking more minimalist and modern and anchoring the blue island to the kitchen. And in the background, the white shaker cabinets, a white herringbone tile backsplash, and white countertops create a neutral setup for other statement elements to shine truly. The wood trim of the hood dressing, black faucet, chrome hardware, and wood stools with black legs complement the total look, enmeshing different vibes and yet somehow blending.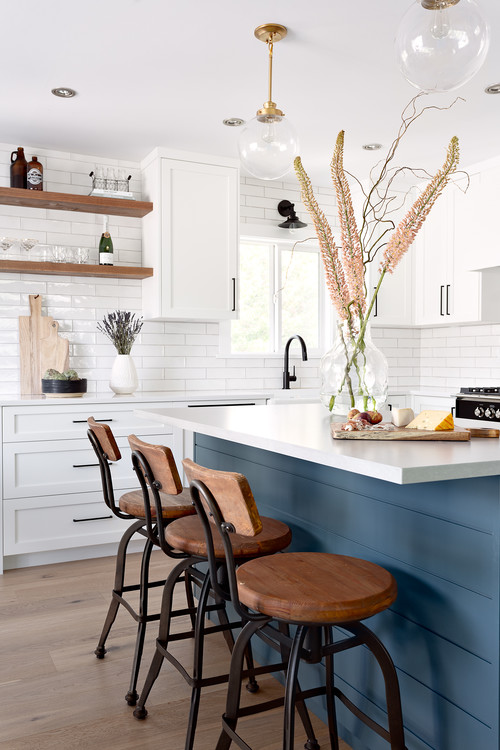 ID# 146722 | Houzz.com – Credit | © Beyond Beige Interior Design Inc.
---
Blue Shiplap Island with White Cabinets and Black Hardware
Amp up your kitchen's look by using a kitchen island to introduce color. Here, this country kitchen in Vancouver goes with a blue island clad in shiplap boards to grow akin to the white subway tiles laid in an offset pattern. This way, the kitchen feels much more coordinated and achieves a rhythmic movement on the horizontal axis. The timber floating shelves also add to this, while the white shaker cabinets dot the perimeter side of the kitchen. To complement them, the black hardware, brass accents, glass globular pendants, and wooden bar stools give the kitchen more liveliness and casualness. Also, the dry plants placed in ceramic and glass vases suggest the farmhouse vibe perfectly, giving clues about the homeowners' interests.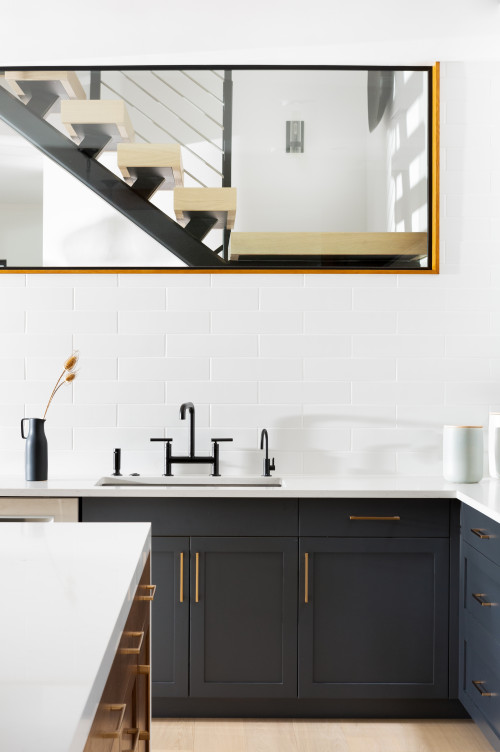 ID# 146723 | Houzz.com – Credit | © Synthesis Design Inc.
---
Dark Cabinets with White Countertops and Brass Hardware
Forgoing upper cabinetry in favor of backsplash not only brightens up the kitchen but also creates a more minimalist look. Yet, for this kitchen, it does more than that. Here, a picture window intersperses the wall to lend a view from the inside of the house – the floating steps of the staircase-. And inside the kitchen, the white countertops and white subway tile backsplash keep the top half visually lightweight, while the dark cabinets with brass hardware anchor the overall look. The minimalist accessories stylize the countertops without causing any visual clutter.
Rustic Farmhouse Kitchen with White Backsplash
Distressed metals, dusty or weathered cabinets, salvaged wood, reclaimed stools, wooden beams, and cast-iron lighting fixtures, and many more are some of the key features of rustic farmhouse kitchens. And when you have such dramatic and statement materials in your kitchen, you can get a white backsplash that will lighten up the kitchen and tie the space together. Ceramic subway tile backsplashes laid in an offset pattern make great additions to these kitchens.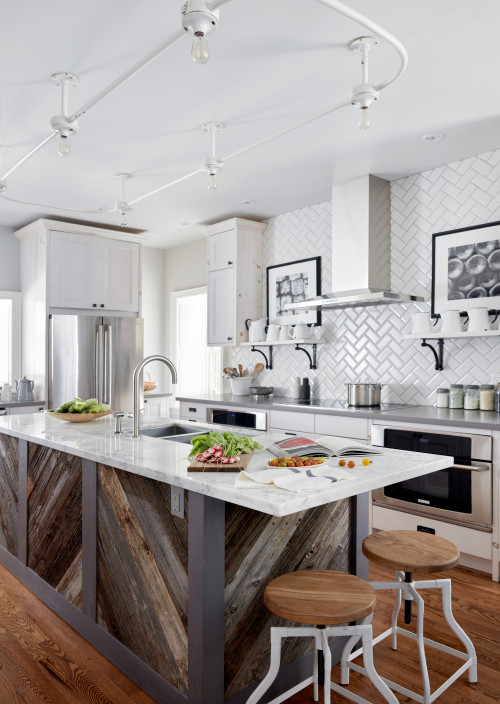 ID# 146724 | Houzz.com – Credit | © Kim Jeffery Photographer
---
Rustic Farmhouse Kitchen with White Backsplash and Reclaimed Island
Have you ever considered matching your backsplash tiles with your island? Well, this kitchen has. Here, the white subway tiles laid in a herringbone pattern are in total synchrony with the salvaged wood slats brought together in herringbone patterns to create an island base. They orchestrate a consistent visual scheme to evoke extra interest. And the rest of the kitchen is outfitted with discolored white cabinets, floating shelves, gray countertops, and intriguing paintings. Though the stainless-steel appliances give the kitchen a modern spin, the discolored cabinets and the reclaimed island balance out the modern flair, replacing it with a rustic and lived-in feel. The resulting scheme is more than satisfactory for those who love rustic farmhouse looks without feeling over the top.
Is white backsplash hard to clean?
It mainly depends on the backsplash material, tile size, and finish. For example, white glass, ceramic and porcelain, and quartz backsplashes are easy to clean thanks to their pore-free and solid structure. And if you want to make this cleaning process much easier for you, you can give a high-gloss finish to the backsplash. This way, you can achieve a smoother surface that will be easy to clean. Also, since small tile backsplashes mean more grout, they are harder to clean. To minimize grout cleaning concerns, you can just go with large tiles, slabs, and glass sheets.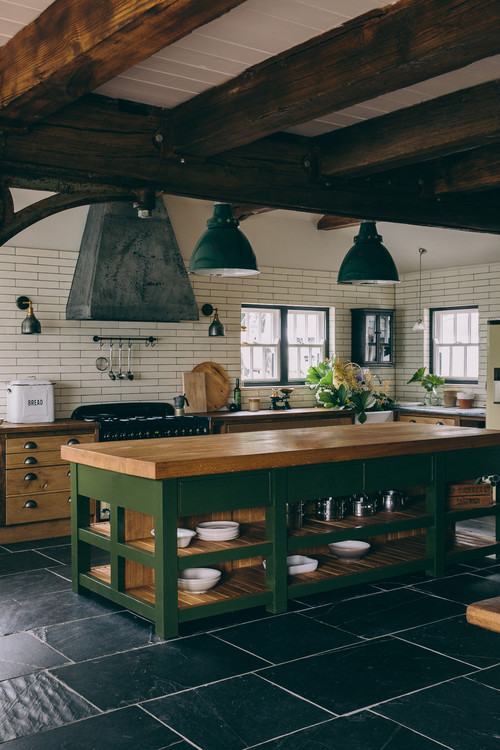 ID# 146725 | Houzz.com – Credit | © Field Day Studio
---
Butcher Block Countertops and Green Island with White Backsplash
Rustic kitchens have a world of their own, which is deftly showcased by this kitchen. It charms you right away, filled with statement pieces, ranging from the wide wooden beams to the dusty range hood, the butcher block countertops, and the black stone-look floor tiles. Plus, it is bountiful with wooden elements that create a natural and user-friendly environment with the green island unit that has open cabinet shelves. The white subway tile backsplash and white-washed shiplap ceiling encourage the brightness of the kitchen without stealing anything from the kitchen's visual drama. Overall, it is practical, visually well-articulated, and utilitarian. If you are going to go for a rustic farmhouse kitchen, this look is just one of the best.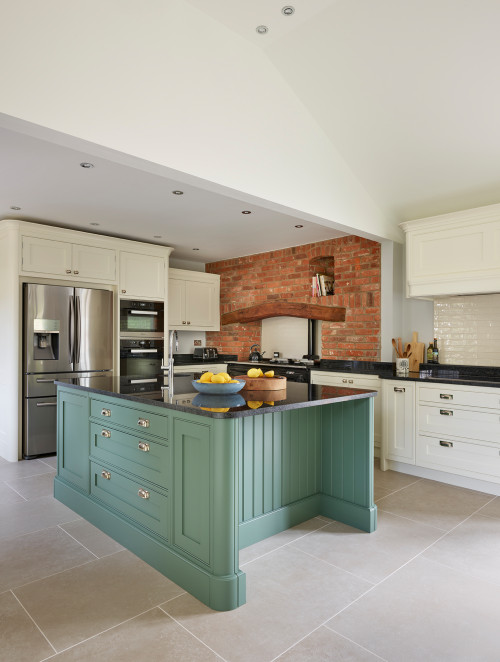 ID# 146726 | Houzz.com – Credit | © Davonport Kitchen & Home
---
Brick Backsplash with Green Island and Black Countertops
Whether faux or original, brick backsplashes are great additions to rustic farmhouse looks, especially when they are used to define the stove station. To balance them out, a white subway tile backsplash can be used- as put into praxis in this kitchen. You can complement the rest with cream cabinets for further warmth and anchor the look with black countertops. Here, this kitchen gives the countertops extra treatment with a polished finish to cancel their darkening effect. And in the center, the green island adds a ripple of color, neighboring the sleek appliances gathered all together.