31+ Farmhouse Bathroom Backsplash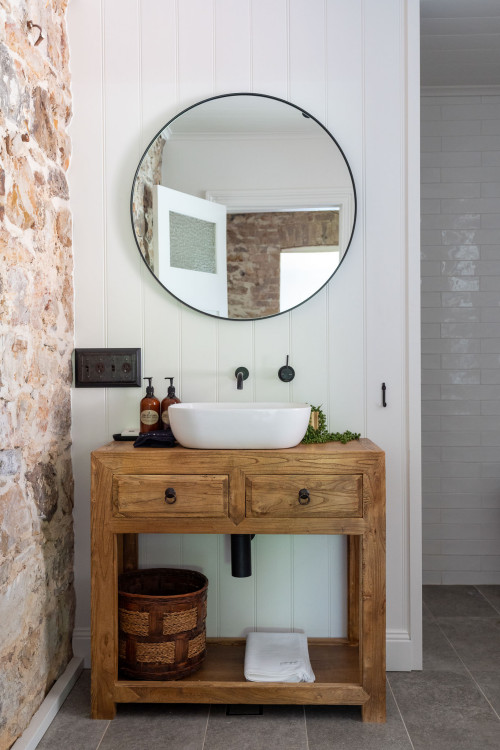 ID# 160413 | Houzz.com – Credit | © Jon Harris Photography
---
Shiplap Backsplash and Country Style Bathroom Combined with Stone Walls
This bathroom creates quite a stir, both in its appearance and feel. The unique combination of natural materials, handmade shiplap, and a wooden vanity creates a country-style aesthetic that is gentle on the eyes. Through careful craftsmanship and thoughtful blending of old and new materials, a beautiful transition is created from the moving surface to the white shiplap along the edge of the stone wall. A harmonious relationship between the floor, walls and ceramic sink arises combining various textures inspiringly with white to create a soothing escape.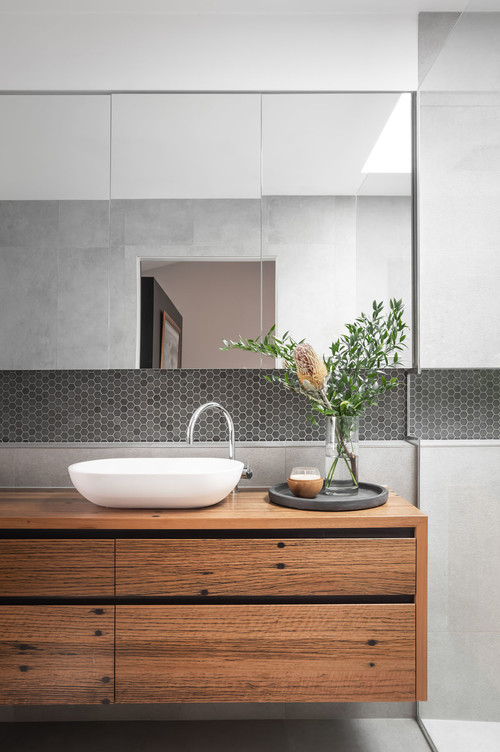 ID# 160420 | Houzz.com – Credit | © Lydia Maskiell Interiors
---
Bathroom With Backsplash Effect in a Modern Farmhouse
The areas created by the impressive and bold designs are easily separated from the others! This bathroom which has an exemplary design has an interesting atmosphere as a modern farmhouse bathroom. The combination of the hexagonal backsplash used and matte gray ceramics is made even stronger by a mirror like clear material. Wooden bathroom furniture and a white sink are the main elements in the space, while fine and small details on the gray toned background prove how well each area is designed. While the gray backsplash creates a clear line, it divides the bathroom into two vertically, indicating the functions in the space.
Farmhouse Bathroom Backsplash
Farmhouse-style bathrooms have become increasingly popular in recent years, and one key design element that can really bring this aesthetic to life is the backsplash. Farmhouse bathroom backsplash often features natural materials such as brick, stone, or wood, which help create a warm and inviting atmosphere. Rustic tiles with subtle patterns or earthy tones can also be a great choice for adding texture and character to the space.
When it comes to selecting a farmhouse bathroom backsplash, it's important to consider the overall design and color scheme of the space. A backsplash with bold colors or intricate patterns may overwhelm a bathroom that is meant to have a more subdued and relaxed feel. Instead, opt for backsplash materials that are in keeping with the overall farmhouse aesthetic, such as subway tiles, beadboard, or shiplap. These materials not only look great in a farmhouse-style bathroom, but they are also practical and easy to maintain. Overall, a well-chosen backsplash can be a fantastic way to add personality and charm to any farmhouse bathroom design.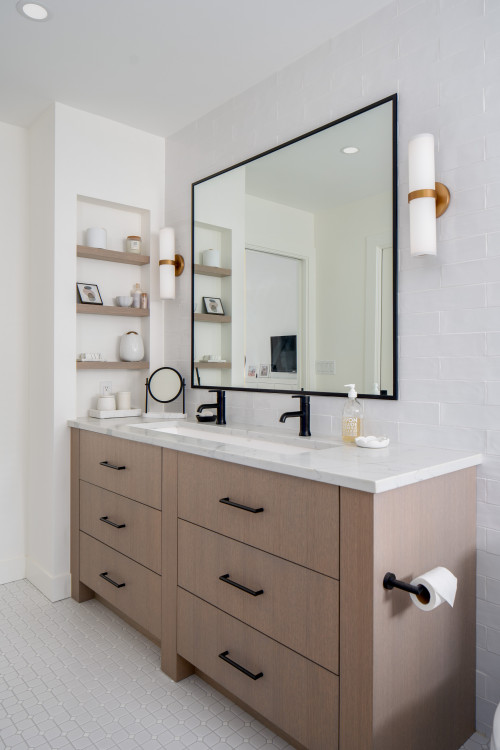 ID# 160401 | Houzz.com – Credit | © NOVERO Homes and Renovations Ltd.
---
White Farmhouse Backsplash and Country Style Bathroom
This charming country-style bathroom boasts a dazzling white brick backsplash, providing a simple yet elegant look! The medium-shine backsplash in combination with wooden furniture, marble sink and fragmented ceramics on the floor, creates a soothing and spacious atmosphere in the room. Meanwhile, the niche shelves with wooden details further contribute to the overall composition of the bathroom, with the additional touch of black mirror and faucet details giving it a unique sophistication. The use of a diverse color palette adds a delicate sensibility, amplifying feelings of calm and peace.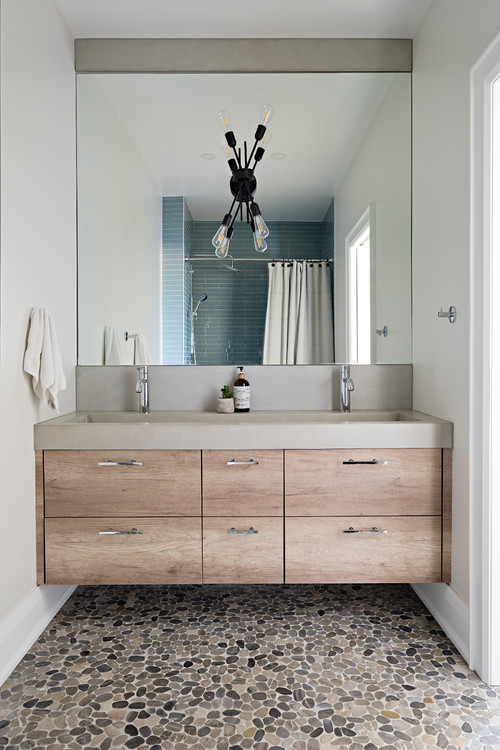 ID# 160402 | Houzz.com – Credit | © Soda Pop Design Inc.
---
Earth Tone Concrete Backsplash and Country Style Bathroom Design
Simple, stylish, and eye-catching! Showcasing the farmhouse style in a new generation way, this bathroom reflects the importance of material choices. The bench and backsplash combined with a large one-piece mirror on a wooden floating bathroom cabinet soften the earth tones and blend them into the space. Combined with an earth-toned concrete backsplash and countertop, the bathroom is powered by simplicity and elegantly incorporates the backsplash material into the design. The mosaic stones on the floor add earth tones to the bathroom in a mixed way, creating a warm atmosphere. The bathroom which creates a stylish and useful space with the lighting on the mirror is user-friendly and simple solutions meet all needs.
What backsplash goes with the farmhouse?
Farmhouse-inspired bathrooms provide a cozy ambiance with natural materials like brick, stone, or wood for backsplashes. Subway tiles with simple, understated styling as well as beadboard and shiplap make for a charming look that radiates warmth and coziness. Your creative eye can make the bathroom even more inviting by exploring various colors and finishes for the subway tiles and using the beadboard to add texture, depth, and character. Meanwhile, the shiplap with its rustic feel offers the perfect complement to a farmhouse-style bathroom—paint it in warm, inviting tones to create a homey atmosphere.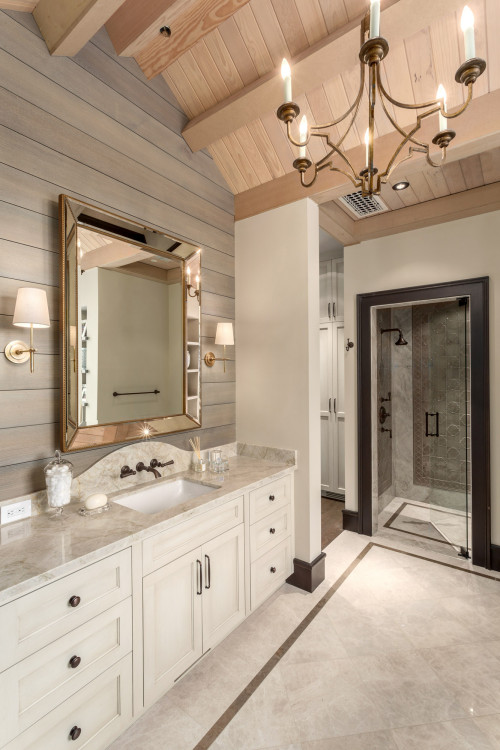 ID# 160403 | Houzz.com – Credit | © Bowerman's Handcrafted Furniture & Cabinetry
---
Wood Look Backsplash Effect in Luxury Farmhouse Bathroom
This bathroom design, which combines luxury and country style, creates a feeling that everyone will love with its eye-catching appearance. The warm and inviting atmosphere arising from the meeting of the quality of the materials used with the design instantly draws the user in. Marble floor tiles and countertops create bright spaces, while the backsplash refers to the building's building block, wood. Complying with the overall building design with a wood-like backsplash, the bathroom manages to reflect the country style without giving up its luxurious feel.
The wooden roof elements appear bare, while the warm wood tone offers a more relaxing space. Black door frames and skirting allow the bathroom to incorporate some of the general designs of the house. While the material used as the backsplash creates the intermediate tone in the space, it stands out with the lighting and bathroom details and creates the room point. The design provides many possibilities to the users and offers ease of use while pleasing the eye.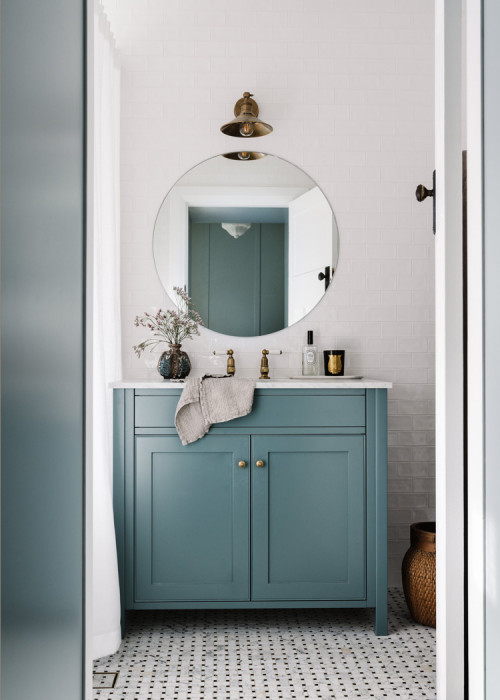 ID# 160404 | Houzz.com – Credit | © The English Tapware Company
---
White Backsplash Harmony Farmhouse Bathroom With Blue Cabinets
This bathroom design offers a tranquil atmosphere by bringing together simplicity, subtle materials and comforting textures. The blue hues create a calming space, enhanced by the white backsplash, and it feels as if little moments of joy have been carefully curated. Marble sinks, bathroom cabinets, patterned ceramic floors and stylish lighting express a sense of comfort and peace, while the contrast of the mirror and the backsplash add a feeling of grandeur and balance. As it reflects upon the room, the mirror further emphasizes the spaciousness of the design. All of this comes together to bring an air of serenity and solace.
Material Options for Farmhouse Bathroom Backsplash
Farmhouses provide the perfect opportunity to create a timeless aesthetic, with different materials and styles combining harmoniously to create a unique look. In the bathroom, the backsplash provides the perfect source of inspiration, full of variety and adaptability to suit any style. From ceramic, marble, stone and wood, each material can come together to form a perfect blend of simplicity and elegance in the bathroom. Furniture and decoration elements further enhance the farmhouse backsplash, bringing a sense of warmth and comfort to the space!
Ceramic Farmhouse Bathroom Backsplash
Ceramics has the potential to truly transform wet floors into something more than just functional and practical. With its wide range of styles, designs and textures, ceramics perfectly complements the décor – creating comfortable, inviting and aesthetically pleasing spaces. With its ease of use and versatility, ceramics is truly the best choice to make wet areas inspiring and special.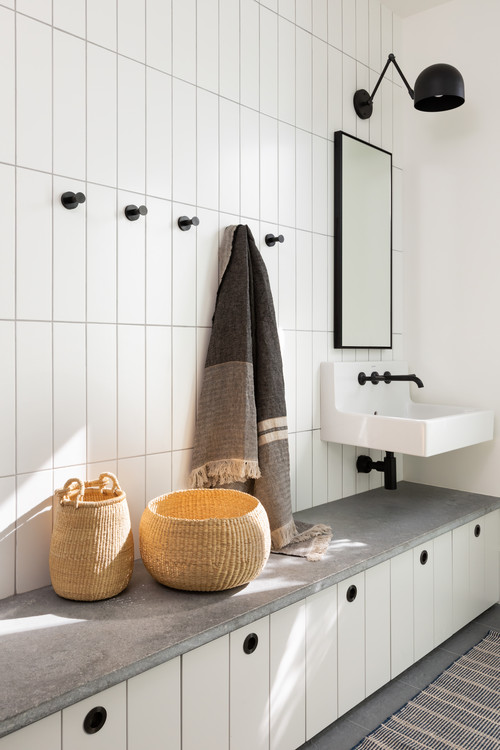 ID# 160405 | Houzz.com – Credit | © E2 Homes Ltd
---
Farmhouse Bathroom that Stands Out with White Ceramic Backsplash
This bathroom design offers a feeling of comfort and spaciousness, with its white 30×10 cm backsplash taking centrestage. The contrast of dark and light tones created by the concrete countertop and floor tiles adds a sense of lightness. The black decorative elements provide a sharp yet harmonious transition from black to white, and the white floating sink and mirror give an individual touch. This bathroom projects stylishness and serenity with its striking and relaxing aesthetic – a place of great beauty and pleasure.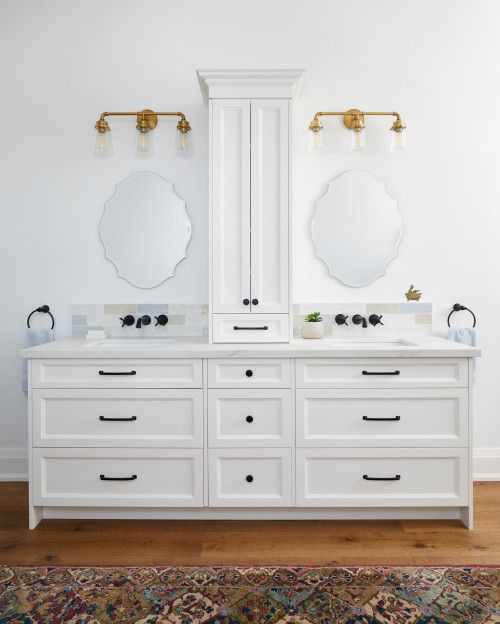 ID# 160406 | Houzz.com – Credit | © Master Edge Homes
---
Farmhouse Bathroom that Blends White Cabinets with Ceramic Backsplash
The bathroom stands out with its unique design with the half-ceramic backsplash and white cabinets that simulate a warm, comforting atmosphere. The white countertops, sinks, and cabinets all in one color create a livelier space, while the backsplash with different hues brings movement. The wooden parquet and floor coverings connecting the bathroom as one gives a distinctive perception of the space. The black handle and faucet accents against the cabinets complete the design in a harmonious feel. This country-style bathroom invokes a sense of belonging and coziness.
Are backsplashes in the bathroom outdated?
Backsplashes in bathrooms are timeless! After all, they provide such a useful and aesthetically pleasing boost to any bathroom space. What's more, the size, shape, and material can be varied to suit any design style. So, for a touch of timelessness, a bathroom backsplash is an ideal choice that can be with you for years to come, providing both functional and decorative value with every passing day.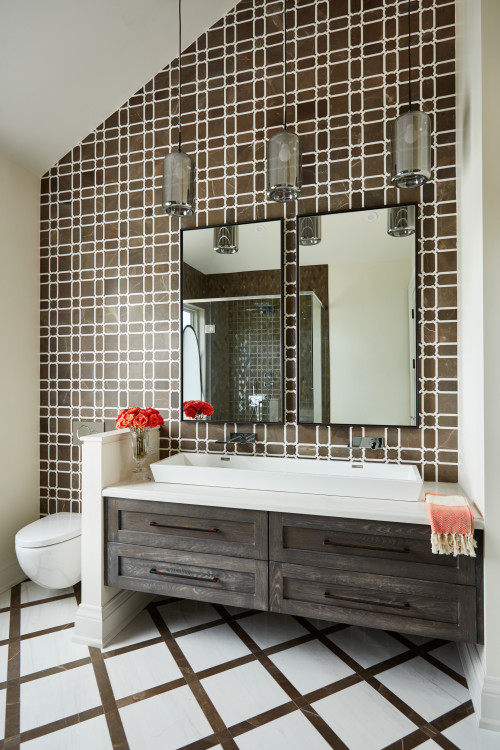 ID# 160407 | Houzz.com – Credit | © M-Squared Contracting Inc.
---
Bathroom Design with Brown Ceramic Backsplash Effect
The bathroom has its own unique design with classical lines, emphasizing a strong style! The brown and white embroidered ceramic backsplash is a main design accent, creating a feeling that's present throughout the area. The white counter and sink combined with the wooden floating cabinet and contrasting floor and backsplash, blend together seamlessly. The white and brown ceramics on the floor tie in with the backsplash and complement the overall atmosphere eliciting a cozy and inviting atmosphere. This engaging design evokes a warm and comforting feeling, bringing vibrancy and life to the bathroom.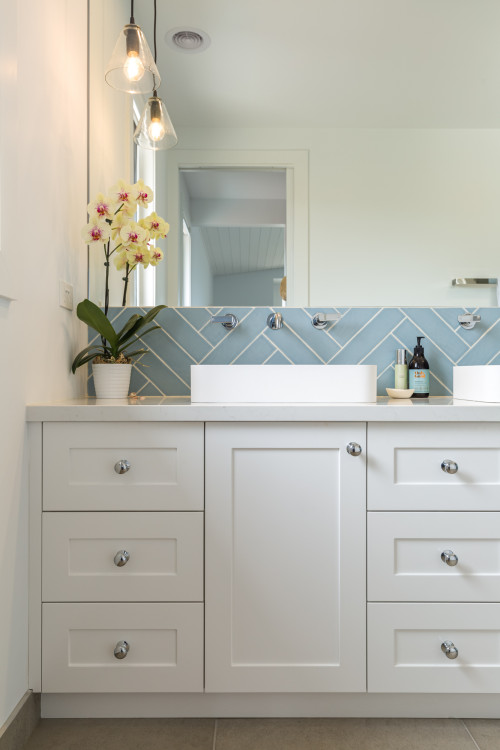 ID# 160408 | Houzz.com – Credit | © Roger Thompson Photography
---
Farmhouse Bathroom Design with a Feeling of Spaciousness with a Blue Backsplash
The bathroom design, which is an example of the unique combination of white and blue, looks like a view from the seaside with its calm and refreshing feeling. The blue cross-patterned ceramic backsplash combined with the stylish white cabinets divides the space into two, creating a spacious space thanks to its color. The design, which makes the space look wider with the whole mirror, both uses simplicity and creates an animated design with a patterned backsplash. The earth-tone ceramic on the floor shifts the focus to the bathroom cabinets and backsplashes, while its calm and stylish texture takes the bathroom to a higher quality level.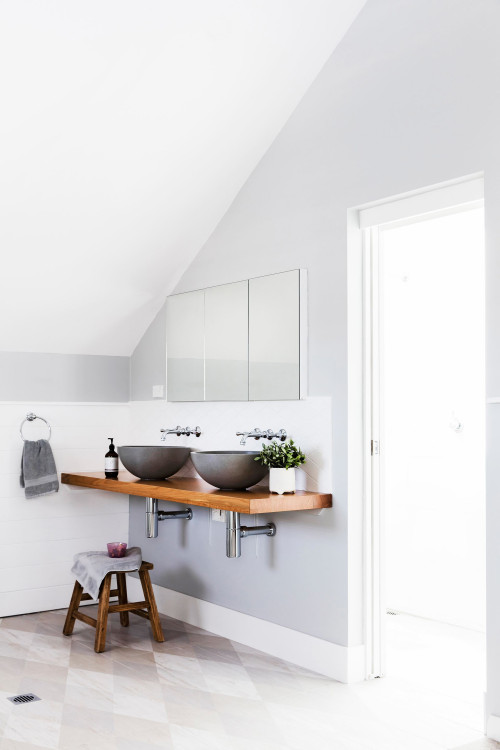 ID# 160409 | Houzz.com – Credit | © apaiser
---
Country Bathroom Design Complete with Ceramic Backsplash
The bathroom offers a feeling of peacefulness, with its soothing combination of white and gray. The ceramic backsplash blends nicely with the walls, creating a distinct yet elegant look. Wooden floating countertops and stone sinks complete the room, providing simplistic yet practical design solutions that create an expansive and tranquil environment. Furthermore, the mirrors cleverly placed in vertical orientation make the bathroom appear even more spacious and inviting, giving the user a truly pleasant experience.
Shiplap Farmhouse Bathroom Backsplash
Shiplap backsplash material is a type of material that is both decorative and easy to apply. It can be used to create a natural effect in designs. In addition to its natural appearance, it can be dyed to the desired color, which is one of its plus features. There are plastic-based varieties such as wood bent or PVC. It is a material with very high ease of application. Its stylish appearance and structure suitable for most designs make it a frequently preferred material. Adapting to new designs makes it a material that stands out both as useful and decorative and allows it to be preferred at an affordable cost.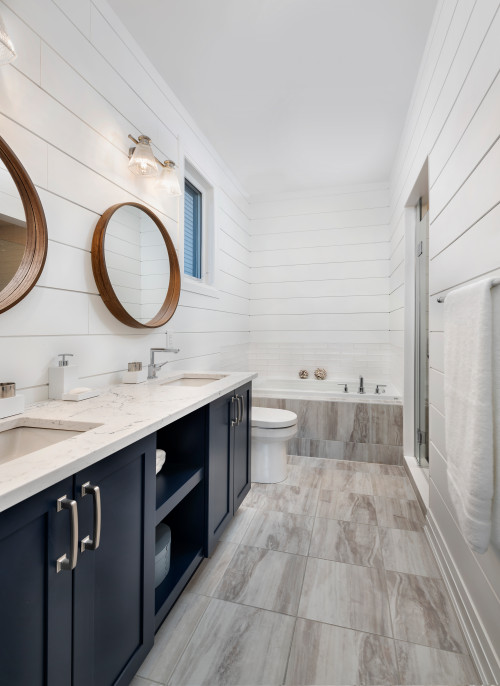 ID# 160410 | Houzz.com – Credit | © Darren Walker – Kitchen Craft
---
Bathroom Design with Shiplap Backsplash in White and Navy Blue Colors
The bathroom design, with its combination of navy blue and white colors, evokes feelings of a simple and elegant look. The shiplap backsplash tempers the coolness of the veined stone ceramic flooring and brings a touch of luxury to the bathroom. The contrast between the warm and cool materials, as well as the wooden mirror details and dark blue cabinets, create a stunning scene. Lastly, the stylish and classic lighting further enhance the bathroom and make it feel airy and spacious. This bathroom is both warm and functional, providing a cozy and inviting atmosphere.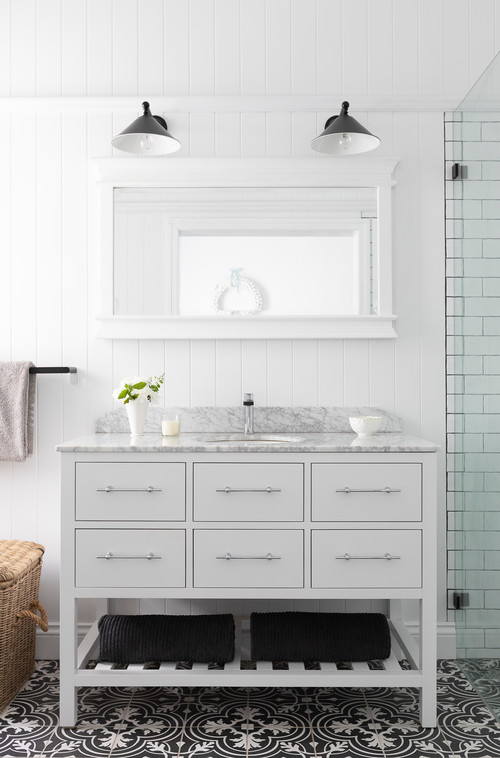 ID# 160411 | Houzz.com – Credit | © Vanity By Design
---
Farmhouse Bathroom With White Shiplap Backsplash Effect
The bathroom design, in which the white vertical shiplap backsplash equips the space, stands out with its simple bathroom elements and patterned floor ceramics. The resulting design creates a useful space under simple headings and includes a combination that will appeal to every eye. The harmony of the white marble countertop and sink with the backsplash has achieved both a simple and refined look. The vertically positioned shiplap backsplash makes the bathroom look more spacious and with higher ceilings. The wonderfully patterned ceramics on the floor are preferred as a movement and difference in the generally white bathroom. This bathroom design, full of spacious and relaxing elements, offers an unforgettable experience to the users with its inviting atmosphere.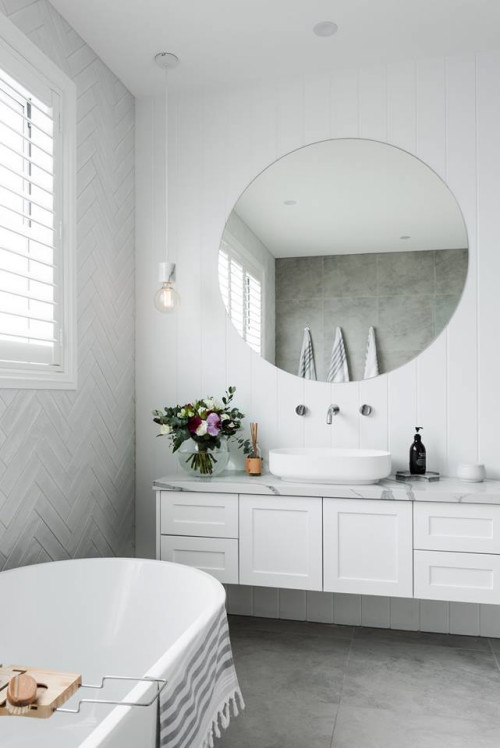 ID# 160412 | Houzz.com – Credit | © Apex Constructions N.S.W
---
Farmhouse Bathroom and White Shiplap backsplash in White Tones
The bathroom is a haven of tranquility, with white hues adorning every inch of the space! It creates a soothing environment that is sure to leave a lasting impression on its users. The shiplap backsplash with vertical lines adds a touch of sophistication to the walls, lending an air of elegance to the entire bathroom. This clever use of different materials not only creates movement but also provides variety to the overall look and feel of the space. The smoke-colored ceramic flooring casts a soft shadow on the white areas lending a more natural appearance
Marble Farmhouse Bathroom Backsplash
Marble is a quality, durable and healthy material beloved by many from the past to the present! Its frequent commonplace in our homes as a backsplash establishes it as an aesthetically pleasing choice in any style, from traditional farmhouses to modern abodes. With its wide usage areas and ability to adapt to different material tones and textures marble is a material that evokes gratitude and admiration for its extensive beauty.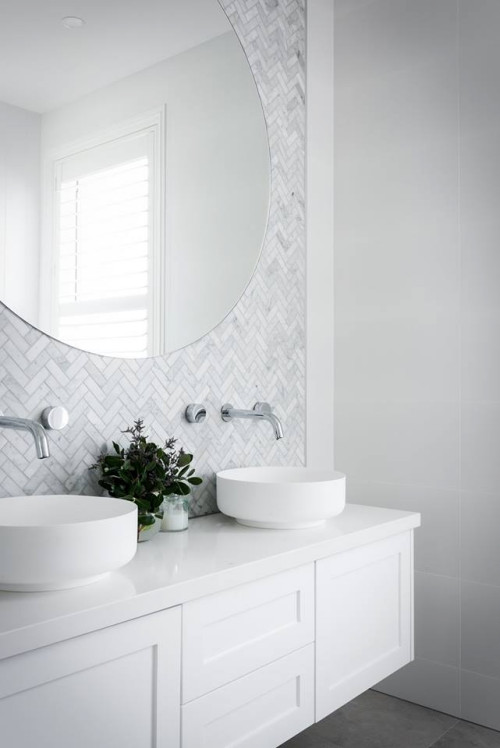 ID# 160414 | Houzz.com – Credit | © Apex Constructions N.S.W
---
Farmhouse Bathroom With White Marble Backsplash Effect
The marble backsplash applied with skillful craftsmanship makes the bathroom design look exceptionally elegant. The subtle country elements of the white marble backsplash exude a sense of high quality and stylishness, while also creating a calming and spacious atmosphere. The use of white floating cabinets and countertops creates a gorgeous focal point and the gray floor ceramics beautifully contrast and bring a more natural tone to the scenery, making it more inviting. The presence of the reflective mirror, placed just in front of the marble backsplash, further amplifies the exquisite atmosphere. Altogether, this combination of design elements makes one feel drawn in and completely immersed.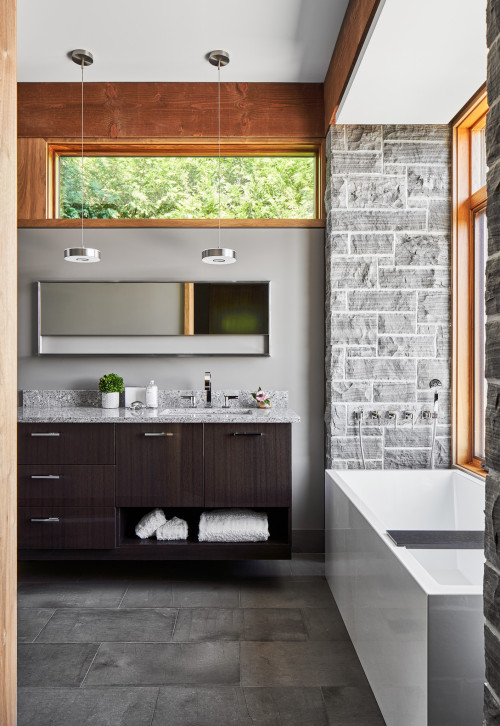 ID# 160415 | Houzz.com – Credit | © Astro Design Centre
---
Spacious Farmhouse Bathroom Crowned with a Marble Backsplash
This bathroom evokes unique feelings with its stunning design, utilizing a marble backsplash that resembles art! Its simple blend of wood and stone textures blend in perfectly together, creating a unified color tone that carries throughout. The bathroom smartly intertwined wood and stone walls and windows, taking into consideration the structural features of the house to create a naturally unifying ambiance. Natural lighting and hanging ceiling lights create a luminous atmosphere with ample amounts of light from the windows. The bathtub made from white ceramic, clearly delineates the different areas, all of which are aesthetically pleasing.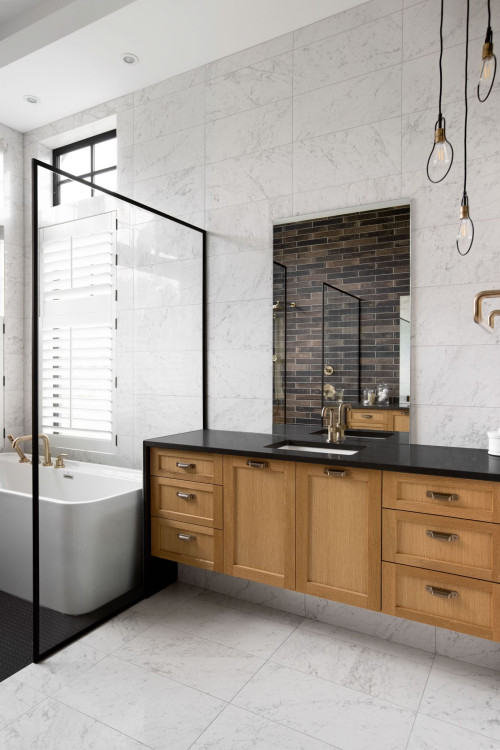 ID# 160416 | Houzz.com – Credit | © Spaciz Design Company Inc.
---
Marble Effect in Country Style Bathroom
This bathroom, in which marble is used abundantly, emphasizes the material in a calm language and allows combinations with other design elements. The bathroom, which is decorated with wooden cabinets, black countertops, and lighting, uses marble as the main material. Marble used as a backsplash and floor material both adds simple elegance and creates a user-friendly space thanks to its useful features. The design contributes to this design with glass partitions that create space boundaries with the different floor textures in the shower area. The bathroom, which has a simple and clear design, limits each area in its way, allowing the user to achieve a clearer sense of use.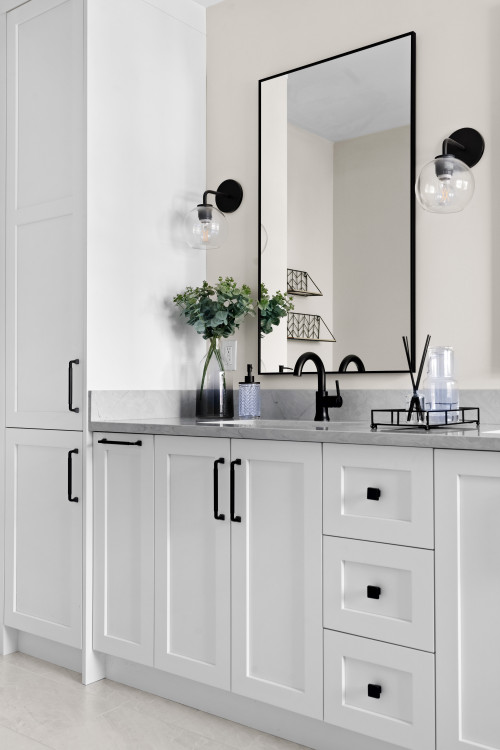 ID# 160417 | Houzz.com – Credit | © Elle Cherie | Inspired Interiors
---
Marble Backsplash Bathroom Design with White Framed Cabinets
The bathroom provides an inviting, simple and stylish space, with its white framed cabinets, marble countertop and backsplash, and cream toned floor tiling that complement rather than draw focus. Materials come to life in this bright area, producing a luxurious feel with small details. One can almost feel the experience this room will offer just from the cheerful photo. Meeting each and every need of the user, this bathroom is a livable space of high-quality materials and a visual simplicity that invokes warm and comforting human feelings.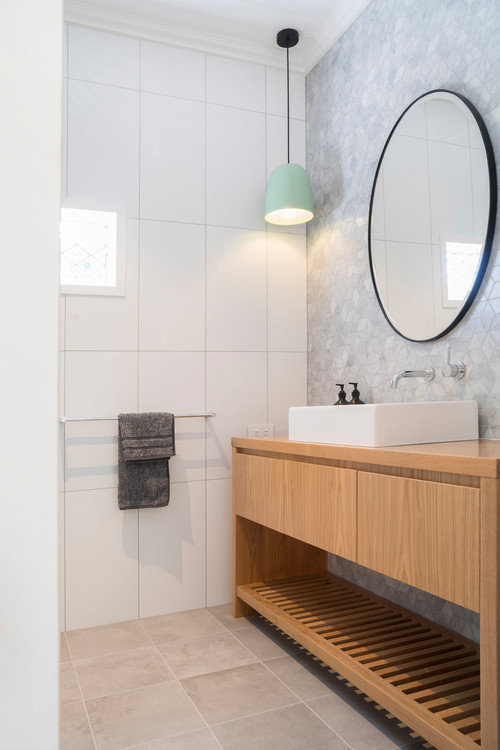 ID# 160418 | Houzz.com – Credit | © Luci.D Interiors
---
Marble Backsplash Effect in Country Style Bathroom
The bathroom design, where 3 different materials are combined, both gains strength from the unity, and harmony of different materials making the space more pleasant. The marble backsplash, which is used as the main material of the design, gives the space a higher quality feel, while the wooden-looking bathroom furniture adds warmth to the bathroom with its warm tone. The white sink creates an intermediate tone between gray and wood texture. While the warm-toned ceramic on the floor creates a difference, the white ceramic and marble backsplash combine to bring the design together in a common language.
Different Styles for Farmhouse Bathroom Backsplash
Farmhouse-style bathrooms have a timeless appeal that can be enhanced by the right backsplash. One popular style for farmhouse bathroom backsplashes is the classic subway tile, which adds a simple yet stylish touch to the space. Another popular option is beadboard, which can create a textured, rustic feel that is perfect for farmhouse-style bathrooms. For those looking to add a touch of elegance, marble or mosaic tile backsplashes can provide a luxurious finish. Additionally, reclaimed wood or brick can add a unique and authentic touch to a farmhouse-style bathroom. Ultimately, the best style of backsplash for your farmhouse bathroom will depend on your individual taste and the overall design scheme of your space!
Modern Farmhouse Bathroom Backsplash
Combining old and new in a unique way, we can create a design that honors and respects both the timeless beauty of classic farmhouse style, as well as the modern designs of today. When choosing materials for this type of design, versatility is key, so one can create a vibrant, warm and inviting atmosphere all around. Utilizing these materials, we can give life to the beautiful designs and make them a unique statement of both old-world charm and modern sensibility.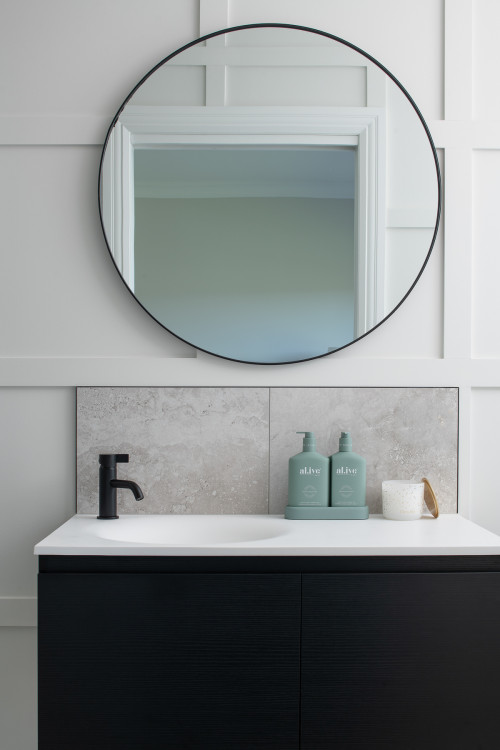 ID# 160419 | Houzz.com – Credit | © Prime Design Tasmania Pty Ltd
---
Backsplash Preference in a Gorgeous Different Bathroom with Black, Gray, and White
This bathroom exudes a tranquil yet striking vibe; its harmonious blend of black cabinets, a round mirror and a gray ceramic backsplash creates a sense of dynamic peace. The clever design of a small space brings out the beauty, like a pearl coming to life, and effectively blends consistent hues and assorted textures. Just looking at it could bring a sense of admiration and delight.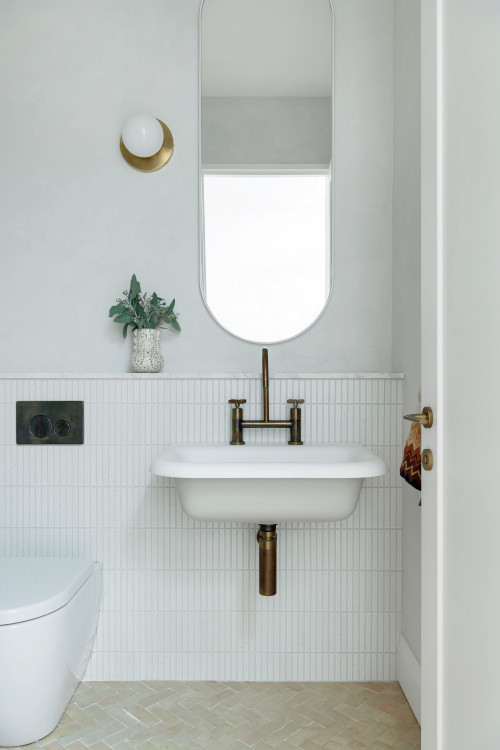 ID# 160421 | Houzz.com – Credit | © Arcologic Design
---
Farmhouse Bathroom with Different Use of White Backsplash
The backsplash can completely change the mood of the bathroom and this effect affects the most basic elements of the design. In other words, it appears as a title that shows the importance of material choices in the designs made. The small-sized backsplash in this bathroom is an example of how a normal material can be made differently with its shape and flooring style. Integrating with the plain beauty of the backsplash, the calm bathroom creates a whole by providing this simplicity in every area. The calm form of the mirror used, the calm paint on the walls, and the simple bathroom elements offer a simple and elegant environment.
What is the most timeless backsplash?
Subway tile is a timeless and beloved choice when it comes to backsplashes. It's classic design has charmed homeowners for generations, and its versatility offers plenty of possibilities to make it your own. From subtle monochrome to vibrant hues and a range of finishes, there is no limit to the look you can create with subway tile. With installation patterns like herringbone and basketweave, you can have a unique and stylish edge to your backsplash. Moreover, its timelessness ensures that this cherished option will bring years of style, joy, and comfort to your kitchen or bathroom.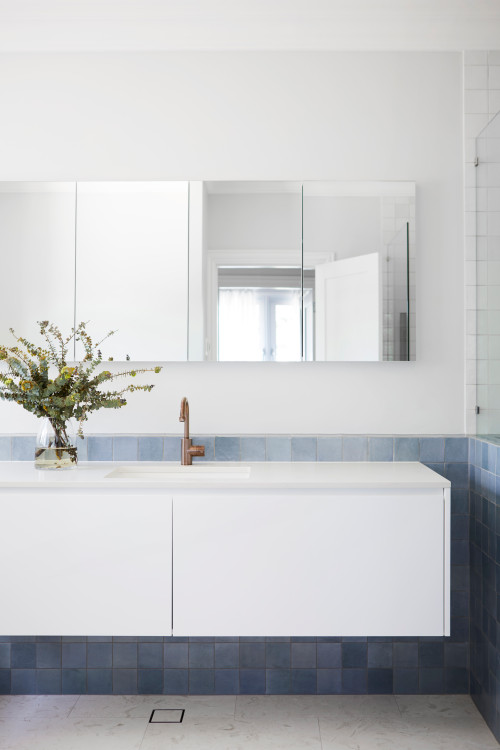 ID# 160422 | Houzz.com – Credit | © Jess Hunter Interior Design
---
Stylish and Simple Country Style Bathroom Design with Blue Backsplash
This design exudes a sense of serenity with its blue backsplash serving to center the attention on the simple and elegant floating bathroom cabinet and its flat doors – a choice made to keep functionality intact and to let the distinct texture of the backsplash take charge. The blue portions then draw attention to the plain and unpretentious ceramic tiles on the floor, creating a beautiful, calming atmosphere as if one were to take in a country breeze. This attractive bathroom offers a peaceful, spacious feeling to any home.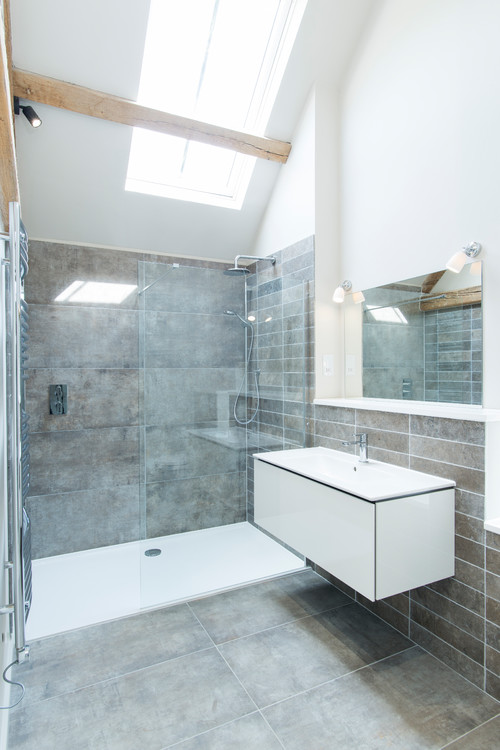 ID# 160423 | Houzz.com – Credit | © Castellum Design and Build
---
Country Style Bathroom Design with Stone-Look Backsplash
The stone-like bathroom design, which dazzles with its stone look and stands out with its backsplash, attains elegance with its plain and simple appearance! The resulting design reveals the combination of a single material very beautifully with simplicity. The white floating bathroom cabinet is positioned on the stone backsplash without being ostentatious and the design, which has effects on functionality with its small mirror, offers a simple but stylish space. The bathroom, which is illuminated with natural light in the designed bathroom, has a spacious and relaxing atmosphere.
Rustic Farmhouse Bathroom Backsplash
The backsplash lends its signature rustic designs a unique visual and tactile appeal; its varied colors and textures create inviting and warm ambiances while maintaining the functionality of the space. These distinctive features of the rustic designs bring a sense of comfort and coziness, differentiating the environment from the rest, while still conveying a stylishness to the space.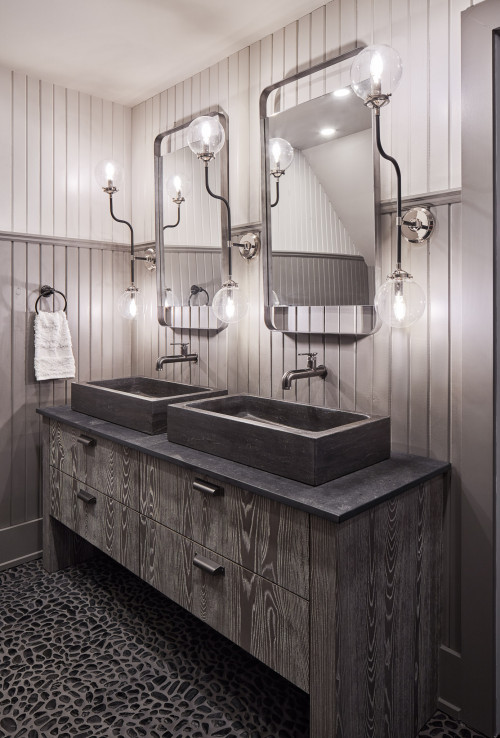 ID# 160424 | Houzz.com – Credit | © Astro Design Centre
---
Rustic Bathroom Design with Two-Tone Backsplash
This luxurious yet rustic design of the bathroom creates an air of sophistication, thanks to its unique combination of wood textures, slatted backsplash material, and mirrors and lighting. The dark wood color and two-tone backsplash material offer the perfect harmony between form and function, while the mosaic flooring on the floor mirrors the overall design lines of the building – providing a touch of rustic charm that evokes feelings of comfort and coziness.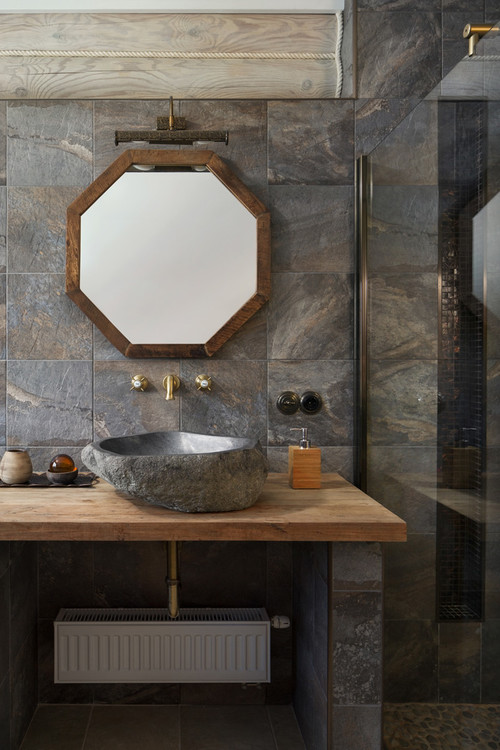 ID# 160425 | Houzz.com – Credit | © ART-LABS Interiors
---
Backsplash in a Rustic Style Bathroom with the Perfect Harmony of Stone and Wood
The rustic-style bathroom has an awe-inspiring cave-like ambiance, with its stone-like backsplash. Its unique design captivates with its extraordinary aura and offers a distinctive experience. Its original elements and details, such as the wooden bench and the natural stone sink, further enhance its rustic character. The warm natural yellow light also amplifies the effect of the stone texture. This design stands out, creating a memorable experience for the user.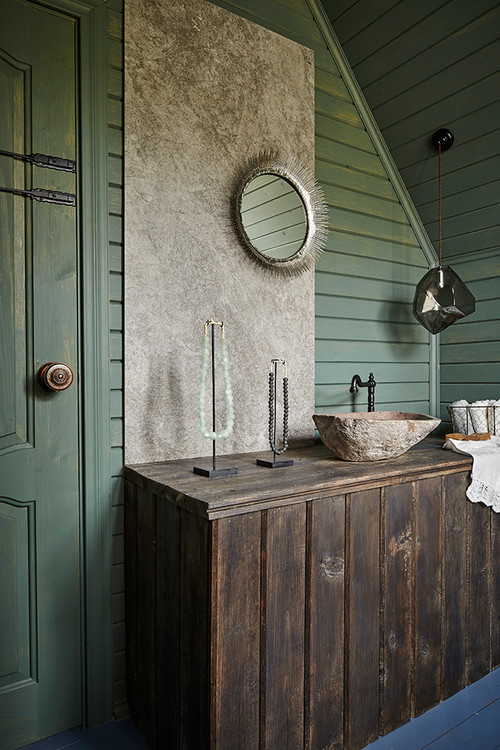 ID# 160426 | Houzz.com – Credit | © IN-DECO
---
Rustic Bathroom with Stone-Look Backsplash Between Green Walls and Wooden Cabinetry
The rustic farmhouse bathroom boasts an exquisitely crafted design with its vibrant green color and unique material choices. Although the materials used define the essential design elements, a comfortable and functional layout was achieved. The vertical backsplash walls provide a subtle but captivating contrast with its stylish stone texture and diverse colors, creating a delightfully stimulating ambiance. The walls naturally blend in with their bright green hues while the ceramic blue flooring stands out in all its charming glory. As a wonderfully harmonized element, the mosaic tile backsplash brings a cozy, homely feel!
Can you use shiplap as a backsplash?
Shiplap backsplashes can add to the cozy, welcoming ambiance of a room thanks to their pleasing aesthetics and practical use. Installation is easy, making this product a great choice for your backsplash. It'll give your space a sense of hominess and comfort that makes it feel like home.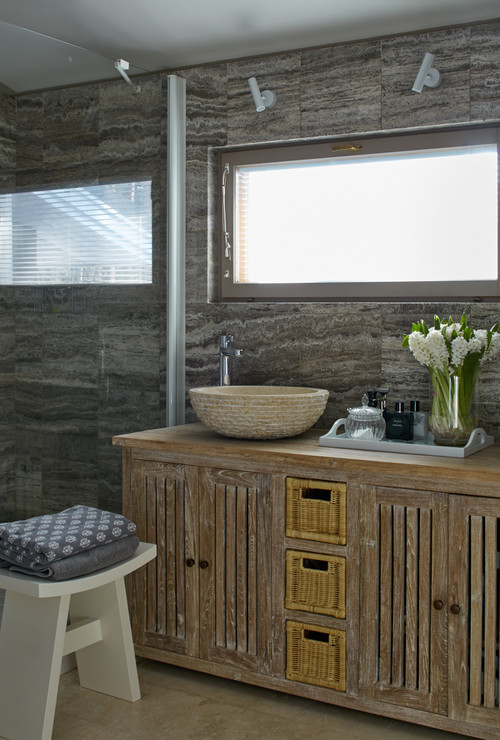 ID# 160427 | Houzz.com – Credit | © AlexInteriorGroup
---
Rustic Bathroom Design With Stone Look Backsplash
The bathroom, which reflects the stone texture to the marrow, leaves strong effects on the atmosphere it creates and offers a comfortable space to the user. The stone-look backsplash and wooden bathroom cabinetry harmonize in warm tones to match an overall color palette. The window located behind the sink and the natural light area creates a relaxing bathroom with a spacious and also warm feeling.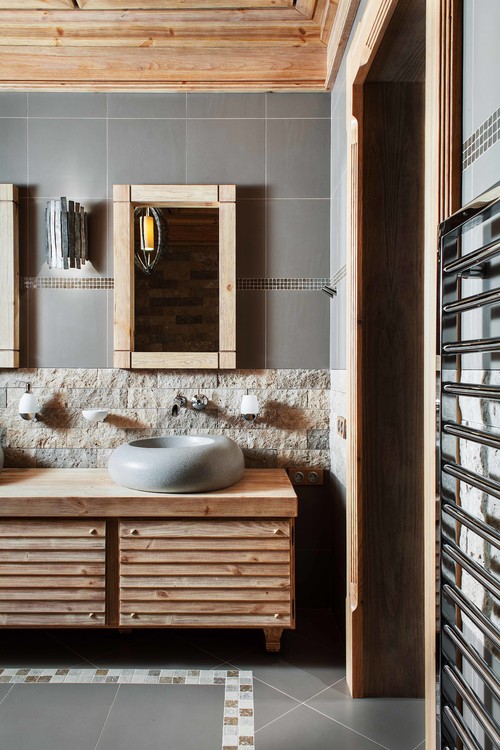 ID# 160428 | Houzz.com – Credit | © Стащук Татьяна
---
Stone Backsplash Effect in Rustic Bathroom
A warm bathroom design formed by the combination of stone, ceramic and wood. The stone backsplash used brings balance to the design, allowing for a more whole space. The bathroom, which has a balanced color palette with the warm texture of the wood used and gray ceramics, provides a warm and inviting atmosphere to the users. While the resulting design has rustic lines in every direction, it does not lose anything from its new feel. The warm, comfortable, and also inviting bathroom offer users a unique experience.
White Farmhouse Bathroom Backsplash
White backsplashes evoke strong human feelings of enduring harmony and timeless simplicity, making them a commonly preferred choice among designers and users alike. The power of white backsplash materials lies in how they can transport us to different worlds with their lack of color and ability to evoke a dreamy ambiance in any living space. Allow the palette of white to instantly bring about a calming atmosphere and fill the room with endless possibilities for creative customizations.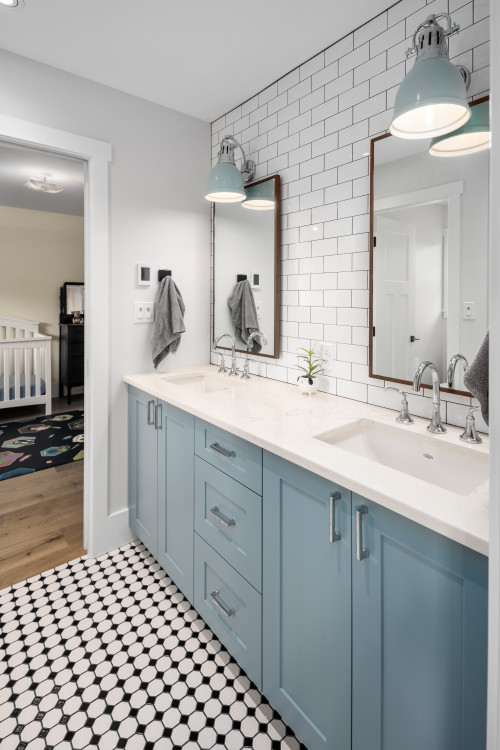 ID# 160429 | Houzz.com – Credit | © Made To Last Custom Homes Ltd.
---
White Backsplash in Harmony with Blue Cabinet in Farmhouse Bathroom
This bathroom design, which contains one of the most basic uses of white, immediately conveys its visually appealing effect to the user! Combined with blue cabinets and lighting, the bathroom stands out even more with its white backsplash and presents itself as if it were a sea view. While creating a spacious and comfortable atmosphere in the bathroom the materials used carefully complement each other. The black and white floor tiles also provide movement and create a design that is far from boring.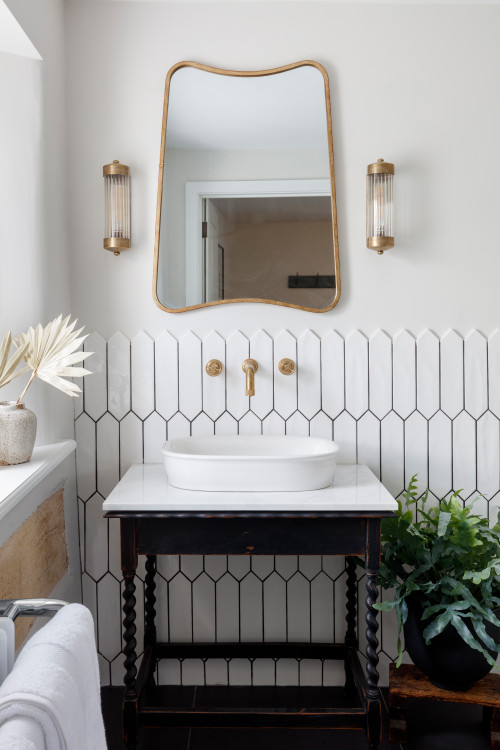 ID# 160430 | Houzz.com – Credit | © Run for the Hills
---
Jewel-Like White Backsplash and Farmhouse Bathroom
The
elongated hexagonal backsplash
steals the show like a precious gem – radiating a simple yet highly stylish aura. By leaving the bottom of the white contoured countertops and sinks bare, the backsplash is enticingly highlighted, resulting in an aesthetically-pleasing composition that seamlessly blends with the bathroom. It also evokes delightful feelings of warmth and contentment.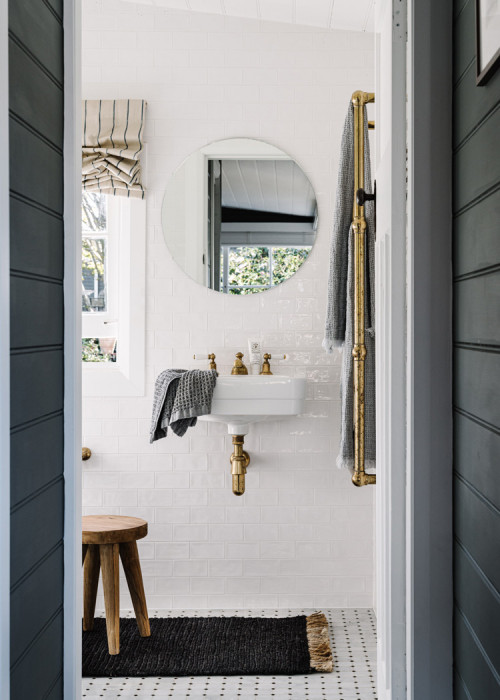 ID# 160431 | Houzz.com – Credit | © The English Tapware Company
---
Country Style Farmhouse Bathroom with White Reflective Backsplash
The white color palette and the contrast of different textures create a warm and welcoming atmosphere in the bathroom. The glossy white backsplash bounces light around the room and makes the space more unified. It also creates a country-like ambiance with golden accents which adds an inviting, cozy feeling. This harmonious design also brings pleasure and comfort to the user.