31+ Farmhouse Bathroom Backsplash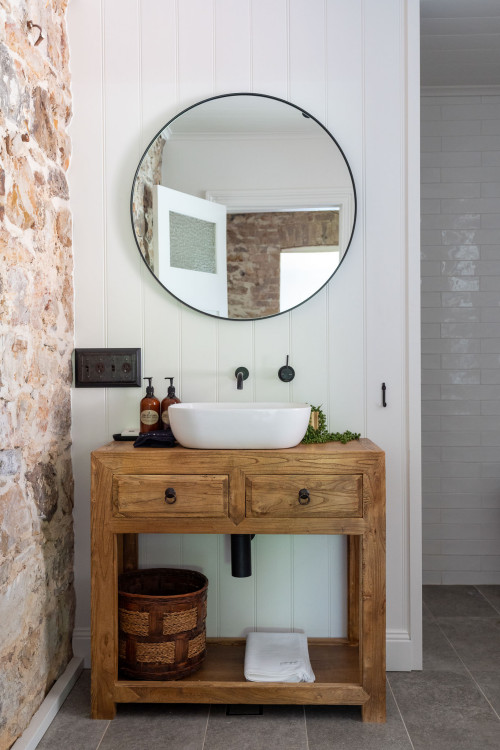 ID# 160413 | Houzz.com – Credit | © Jon Harris Photography
---
Shiplap Backsplash and Country Style Bathroom Combined with Stone Walls
This bathroom creates quite a stir, both in its appearance and feel. The unique combination of natural materials, handmade shiplap, and a wooden vanity creates a country-style aesthetic that is gentle on the eyes. Through careful craftsmanship and thoughtful blending of old and new materials, a beautiful transition is created from the moving surface to the white shiplap along the edge of the stone wall. A harmonious relationship between the floor, walls and ceramic sink arises combining various textures inspiringly with white to create a soothing escape.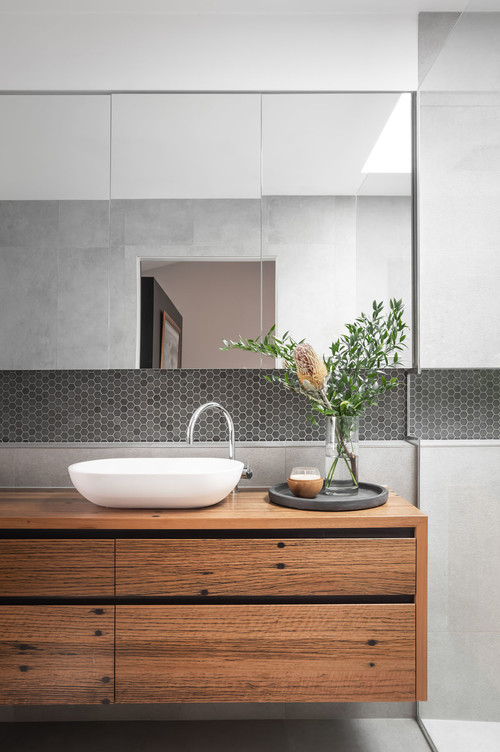 ID# 160420 | Houzz.com – Credit | © Lydia Maskiell Interiors
---
Bathroom With Backsplash Effect in a Modern Farmhouse
The areas created by the impressive and bold designs are easily separated from the others! This bathroom which has an exemplary design has an interesting atmosphere as a modern farmhouse bathroom. The combination of the hexagonal backsplash used and matte gray ceramics is made even stronger by a mirror like clear material. Wooden bathroom furniture and a white sink are the main elements in the space, while fine and small details on the gray toned background prove how well each area is designed. While the gray backsplash creates a clear line, it divides the bathroom into two vertically, indicating the functions in the space.
Farmhouse Bathroom Backsplash
Farmhouse-style bathrooms have become increasingly popular in recent years, and one key design element that can really bring this aesthetic to life is the backsplash. Farmhouse bathroom backsplash often features natural materials such as brick, stone, or wood, which help create a warm and inviting atmosphere. Rustic tiles with subtle patterns or earthy tones can also be a great choice for adding texture and character to the space.
When it comes to selecting a farmhouse bathroom backsplash, it's important to consider the overall design and color scheme of the space. A backsplash with bold colors or intricate patterns may overwhelm a bathroom that is meant to have a more subdued and relaxed feel. Instead, opt for backsplash materials that are in keeping with the overall farmhouse aesthetic, such as subway tiles, beadboard, or shiplap. These materials not only look great in a farmhouse-style bathroom, but they are also practical and easy to maintain. Overall, a well-chosen backsplash can be a fantastic way to add personality and charm to any farmhouse bathroom design.
What backsplash goes with the farmhouse?
Farmhouse-inspired bathrooms provide a cozy ambiance with natural materials like brick, stone, or wood for backsplashes. Subway tiles with simple, understated styling as well as beadboard and shiplap make for a charming look that radiates warmth and coziness. Your creative eye can make the bathroom even more inviting by exploring various colors and finishes for the subway tiles and using the beadboard to add texture, depth, and character. Meanwhile, the shiplap with its rustic feel offers the perfect complement to a farmhouse-style bathroom—paint it in warm, inviting tones to create a homey atmosphere.
Material Options for Farmhouse Bathroom Backsplash
Farmhouses provide the perfect opportunity to create a timeless aesthetic, with different materials and styles combining harmoniously to create a unique look. In the bathroom, the backsplash provides the perfect source of inspiration, full of variety and adaptability to suit any style. From ceramic, marble, stone and wood, each material can come together to form a perfect blend of simplicity and elegance in the bathroom. Furniture and decoration elements further enhance the farmhouse backsplash, bringing a sense of warmth and comfort to the space!
Ceramic Farmhouse Bathroom Backsplash
Ceramics has the potential to truly transform wet floors into something more than just functional and practical. With its wide range of styles, designs and textures, ceramics perfectly complements the décor – creating comfortable, inviting and aesthetically pleasing spaces. With its ease of use and versatility, ceramics is truly the best choice to make wet areas inspiring and special.
Are backsplashes in the bathroom outdated?
Backsplashes in bathrooms are timeless! After all, they provide such a useful and aesthetically pleasing boost to any bathroom space. What's more, the size, shape, and material can be varied to suit any design style. So, for a touch of timelessness, a bathroom backsplash is an ideal choice that can be with you for years to come, providing both functional and decorative value with every passing day.
Shiplap Farmhouse Bathroom Backsplash
Shiplap backsplash material is a type of material that is both decorative and easy to apply. It can be used to create a natural effect in designs. In addition to its natural appearance, it can be dyed to the desired color, which is one of its plus features. There are plastic-based varieties such as wood bent or PVC. It is a material with very high ease of application. Its stylish appearance and structure suitable for most designs make it a frequently preferred material. Adapting to new designs makes it a material that stands out both as useful and decorative and allows it to be preferred at an affordable cost.
Marble Farmhouse Bathroom Backsplash
Marble is a quality, durable and healthy material beloved by many from the past to the present! Its frequent commonplace in our homes as a backsplash establishes it as an aesthetically pleasing choice in any style, from traditional farmhouses to modern abodes. With its wide usage areas and ability to adapt to different material tones and textures marble is a material that evokes gratitude and admiration for its extensive beauty.
Different Styles for Farmhouse Bathroom Backsplash
Farmhouse-style bathrooms have a timeless appeal that can be enhanced by the right backsplash. One popular style for farmhouse bathroom backsplashes is the classic subway tile, which adds a simple yet stylish touch to the space. Another popular option is beadboard, which can create a textured, rustic feel that is perfect for farmhouse-style bathrooms. For those looking to add a touch of elegance, marble or mosaic tile backsplashes can provide a luxurious finish. Additionally, reclaimed wood or brick can add a unique and authentic touch to a farmhouse-style bathroom. Ultimately, the best style of backsplash for your farmhouse bathroom will depend on your individual taste and the overall design scheme of your space!
Modern Farmhouse Bathroom Backsplash
Combining old and new in a unique way, we can create a design that honors and respects both the timeless beauty of classic farmhouse style, as well as the modern designs of today. When choosing materials for this type of design, versatility is key, so one can create a vibrant, warm and inviting atmosphere all around. Utilizing these materials, we can give life to the beautiful designs and make them a unique statement of both old-world charm and modern sensibility.
What is the most timeless backsplash?
Subway tile is a timeless and beloved choice when it comes to backsplashes. It's classic design has charmed homeowners for generations, and its versatility offers plenty of possibilities to make it your own. From subtle monochrome to vibrant hues and a range of finishes, there is no limit to the look you can create with subway tile. With installation patterns like herringbone and basketweave, you can have a unique and stylish edge to your backsplash. Moreover, its timelessness ensures that this cherished option will bring years of style, joy, and comfort to your kitchen or bathroom.
Rustic Farmhouse Bathroom Backsplash
The backsplash lends its signature rustic designs a unique visual and tactile appeal; its varied colors and textures create inviting and warm ambiances while maintaining the functionality of the space. These distinctive features of the rustic designs bring a sense of comfort and coziness, differentiating the environment from the rest, while still conveying a stylishness to the space.
Can you use shiplap as a backsplash?
Shiplap backsplashes can add to the cozy, welcoming ambiance of a room thanks to their pleasing aesthetics and practical use. Installation is easy, making this product a great choice for your backsplash. It'll give your space a sense of hominess and comfort that makes it feel like home.
White Farmhouse Bathroom Backsplash
White backsplashes evoke strong human feelings of enduring harmony and timeless simplicity, making them a commonly preferred choice among designers and users alike. The power of white backsplash materials lies in how they can transport us to different worlds with their lack of color and ability to evoke a dreamy ambiance in any living space. Allow the palette of white to instantly bring about a calming atmosphere and fill the room with endless possibilities for creative customizations.