25+ Easy to Clean Backsplash Ideas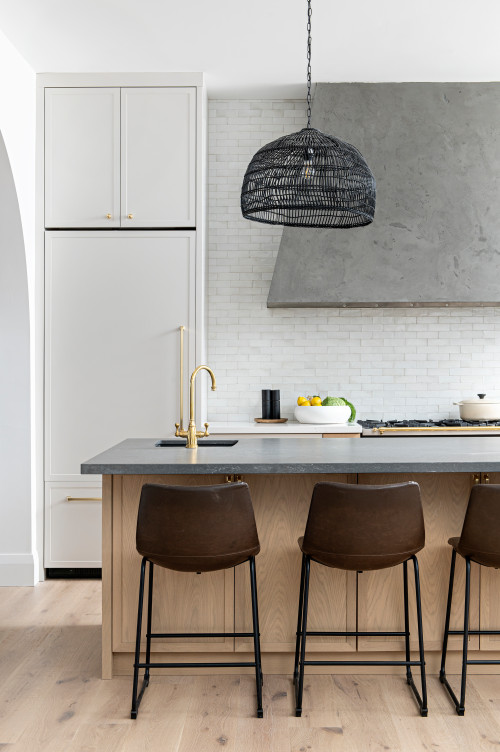 ID# 161102 | Houzz.com – Credit | © Cambro Contracting
---
White Shaker Cabinets with Oversized Range Hood
One of the first things you'll notice is the oversized gray range hood, which is truly a statement maker and draws the eye upward! This hood is perfectly complemented by the white shaker cabinets which provide a classic yet timeless look. The wood island with a concrete top adds warmth and texture, while the white subway tile backsplash brings a touch of timeless elegance to the space.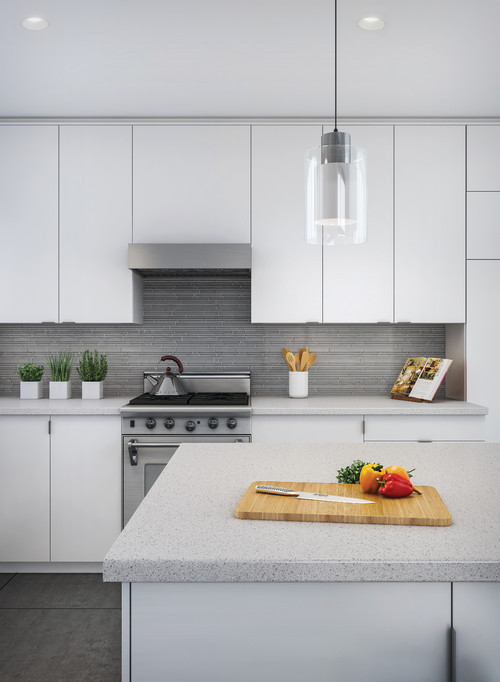 ID# 161116 | Houzz.com – Credit | © Arborite Australia
---
Modern White Cabinets with Glass Easy to Clean Backsplash Ideas
This modern white kitchen is the epitome of sleek and stylish design! The white flat panel cabinets offer a clean and minimalistic look while the gray glass backsplash adds a subtle touch of texture and visual interest. The white granite countertops provide ample space for meal preparation and serve as a durable and low-maintenance option for busy kitchens. Stainless steel appliances complete the modern look, adding a polished finish to this sophisticated space!
Easy to Clean Backsplash Ideas
We all know that kitchens are the heart of our homes and the most tend-to-get-dirty spaces that are prone to water splatter, everyday spills, and grease. And what saves our kitchen walls from all this mess is without a doubt the kitchen backsplashes. Whether you are an avid cook or careful not to create any mess, unfortunately, messing up the kitchen is just sometimes unavoidable, which leads homeowners to search for easy-to-clean backsplash ideas.
Create Hygienic Surfaces with Easy to Clean Backsplash Tiles
Even if your heart lies in another statement finish that is harder to clean, what you can do is choose an easy-to-clean backsplash behind the stove since the cooking zone tends to create chaos more than any other kitchen area. As long as you don't go for anything that has plenty of texture like a real brick and stone but rather easy-to-clean backsplash tiles like ceramic and porcelain, you will have an easy-to-maintain backsplash that will save you from a lot of work at the end of the day.
In this blog, we will introduce you to easy-to-clean backsplash ideas with easy-to-clean backsplash tiles and materials that can still look stylish and become visual focal points effortlessly. So, read on to discover some easy-to-maintain backsplash options which you can steal inspiration from.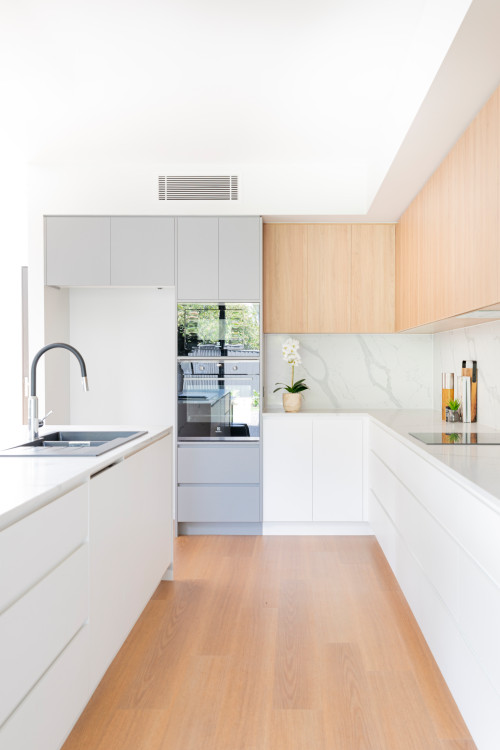 ID# 161101 | Houzz.com – Credit | © DCM Building Design
---
Contemporary Kitchen with Easy to Clean Backsplash Ideas
A three-tone contemporary kitchen with white base, wood upper and light gray tall cabinets would look very stylish and modern. Using quartz for the backsplash and countertops would create a sleek and durable surface that is easy to clean. Additionally, the light-reflecting properties of quartz would brighten up the space and create a more open feeling. Choosing easy-to-clean surfaces like quartz would make it easier to maintain the kitchen's pristine appearance over time!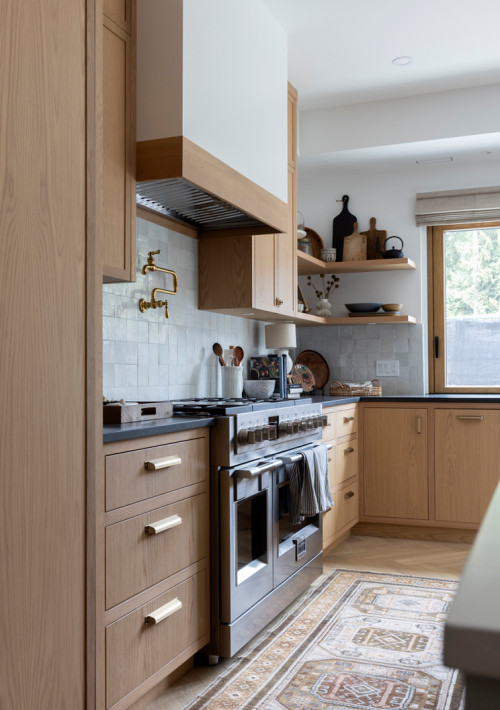 ID# 161103 | Houzz.com – Credit | © Oliver Simon Design
---
Natural Wood Kitchen Cabinets with Black Granite Countertop
This amazing kitchen boasts natural wood cabinets that imbue the space with a cozy and welcoming atmosphere! The black granite countertop adds a sense of contrast and dimension to the overall design while the white square tile backsplash creates a timeless and elegant appearance. The glazed finish of the backsplash guarantees easy to clean surfaces. Additionally, incorporating wooden open shelves not only enhances the functionality of the area but also accentuates the overall style.
What is the easiest backsplash for a kitchen?
Backsplashes are the ideal places to make a statement and showcase craftsmanship, especially because they are installed at eye level and easily become visual focal points. But of course, aside from their aesthetic benefits, their functionality is as important as their decorative aspects. Since they tend to get dirty easily, the homeowners are on the side of backsplashes that are easy to clean and maintain.
When choosing the easiest backsplash, the key points that need to be considered are the ease of its installment and the material itself which comes with a less porous texture. And in these categories, we can include peel-stick, faux brick veneer, beadboard, and shiplap board backsplashes that are easy-to-install materials at affordable prices. Real metal tiles are also great options for stove backsplashes, providing heat-resistant backgrounds. Likewise, ceramic and porcelain tiles make a great alternative.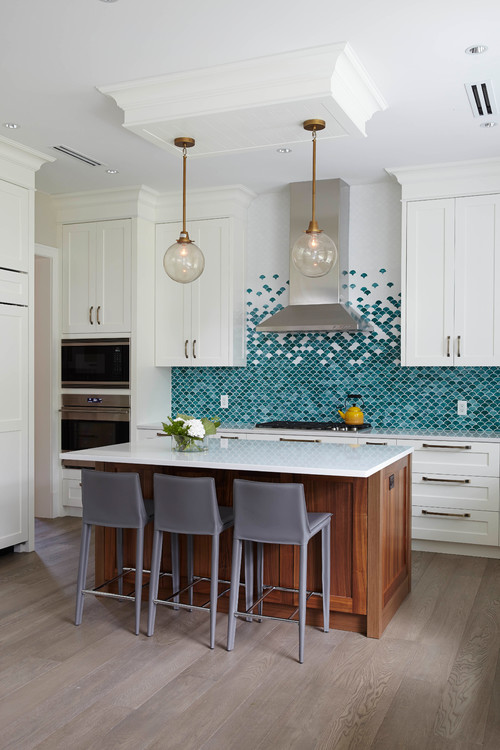 ID# 161104 | Houzz.com – Credit | © Dakota Homes
---
Blue Mosaic Tiles with White Shaker Cabinets and Brass Hardware
This transitional kitchen boasts an eye-catching mosaic tile backsplash that adds a pop of color and texture against the white shaker cabinets. The density of the blue fish scale tiles decreases through the ceiling and perfectly blends with the white wall paint. The wood island with a sleek countertop contrasts with the white cabinetry and is complemented by the brass hardware. Above the island, glass pendant lights add a touch of elegance and style!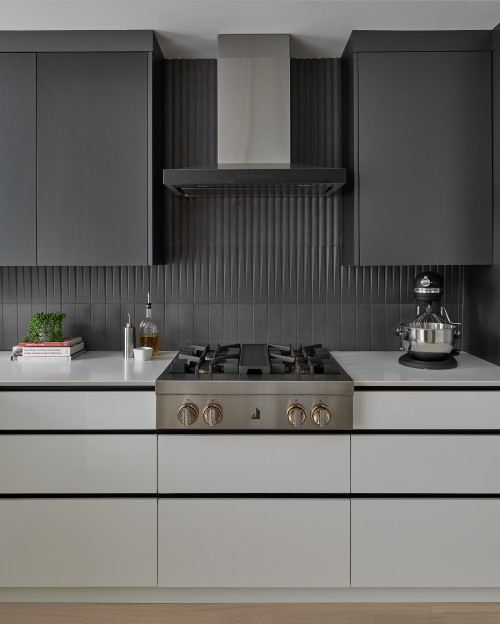 ID# 161105 | Houzz.com – Credit | © Flux Developments Inc.
---
Gray Easy to Clean Backsplash Ideas for Modern Kitchens
In this sleek modern kitchen design, the base cabinets in a subtle shade of light gray create a serene and welcoming ambiance, whereas the upper cabinets in a deeper gray tone lend a hint of opulence and elegance! The backsplash, crafted from ceramic, can be effortlessly cleaned and boasts a lovely dark gray hue that perfectly resonates with the cabinet colors. The countertop, in a pristine white tone, provides an exquisitely striking contrast to the rest of the kitchen. The modern vibe of this space is gracefully enhanced with the incorporation of stainless steel appliances.
Is matte backsplash hard to clean?
Though offering a better grip and being better at hiding stains and watermarks, matte finish backsplashes are much harder to clean when compared to glazed finish backsplashes due to their rough texture. But the good part is that they demand less maintenance thanks to their high capacity to conceal stains.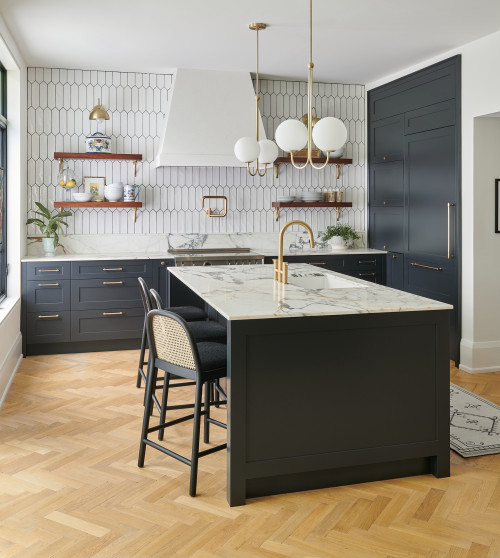 ID# 161106 | Houzz.com – Credit | © Avalon Interiors
---
Dark Gray Shaker Cabinets with Full-Height Hexagon Tiles
This magnificent Mediterranean kitchen is a true masterpiece that features shaker cabinets in a luxurious and elegant dark gray color! The elongated hexagon-shaped tiles have been ingeniously chosen to create a full-height backsplash, giving a unique touch to the timeless design. The marble look quartz countertops and matching 4-inch backsplash flawlessly blend with the radiant beauty of the tiles. To create an open and airy atmosphere, floating shelves have been used instead of upper cabinets. The natural wood material of these shelves further enhances the warm feeling of the monochrome color scheme.
Easy to Clean Backsplash Materials
Glass, metal, ceramic, and porcelain are considered among the easy-to-clean backsplash materials thanks to their pore-free nature. Also, going with large format tiles of these materials gives you less fraction and less grout to worry about while expanding the visual scheme as well.
Ceramic or Porcelain Tile Backsplash
Tile is one of the most common backsplash materials that comes in various shades, patterns, and designs. And this variety even gets more expanded with highly customizable ceramic and porcelain tile backsplashes. Extremely durable material with high-level resistance to heat and mildew, the ceramic and porcelain tiles are low-maintenance materials that save homeowners time and effort. Even better, they can even mirror, marble, stone and wood backsplash patterns, offering great alternatives for those looking for an easy-to-clean backsplash material that looks like a natural material as well.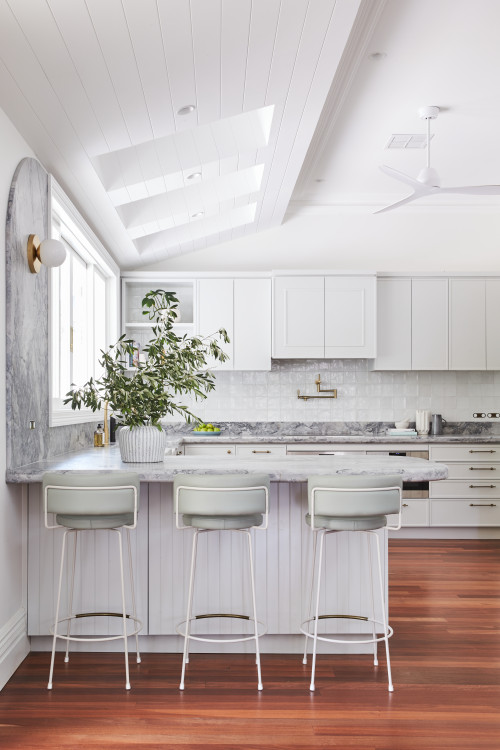 ID# 161107 | Houzz.com – Credit | © Danielle Victoria Design Studio P/L
---
Traditional White Kitchen with Gray Marble Countertops
This traditional kitchen perfectly blends different materials and finishes to create a one-of-a-kind appeal! The crisp white kitchen cabinets provide a clean and fresh backdrop while the marble countertops and 4-inch backsplash add a dose of luxury. On the other hand, the square tiles complete the bright appeal of the cabinetry. The glossy finish of the tiles makes them an easy to clean backsplash ideas. Thanks to the u-shaped layout and the peninsula, the kitchen not only creates a stylish appeal but also offers a functional cooking space!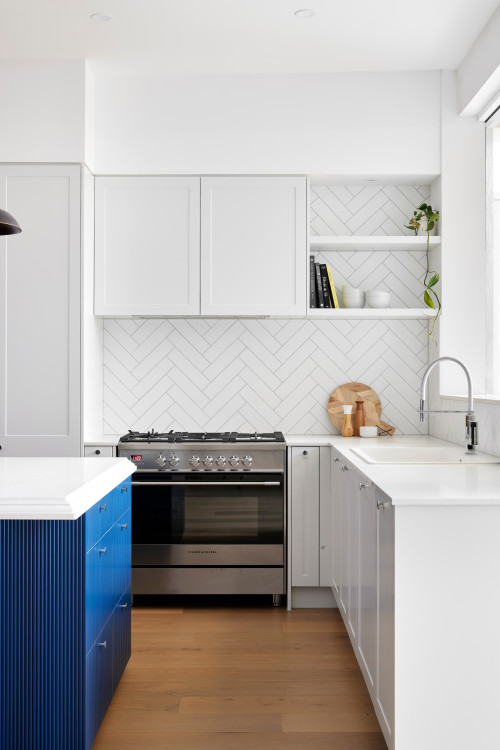 ID# 161108 | Houzz.com – Credit | © smarterBATHROOMS+
---
Ceramic Easy to Clean Backsplash Ideas with Blue Island
This stylish kitchen design blends the homely feeling of traditional designs with modern elements for a timeless look! White shaker cabinets, white herringbone tile backsplash and quartz countertops create a bright and spacious atmosphere. The kitchen island adds a splash of color to the white dominance with its vibrant blue shade and creates a striking focal point.
How to clean a kitchen backsplash?
How to clean a kitchen backsplash is mainly dependent on what the backsplash is made of. But mainly a soapy sponge soaked in warm water is enough to remove the dust, dirt, and grease. And for stubborn stains, vinegar and baking soda paste could be used. After spreading one of these mixtures, you can wait for a few minutes for the mixture to do its job and dissolve the stains. Then with a soft brush, you can scrub the surface and complete the cleaning by rinsing and drying the surface with a soft cloth.
When cleaning backsplashes, it is important to avoid abrasive cleaning products that might damage the sealing and cause scratches on the backsplash surface. Plus, it is no secret that the longer stains sit, the harder it will be to remove them. Thus, as long as you do regular cleaning, you won't have to deal with stubborn stains, which will keep the cleaning process much easier for you.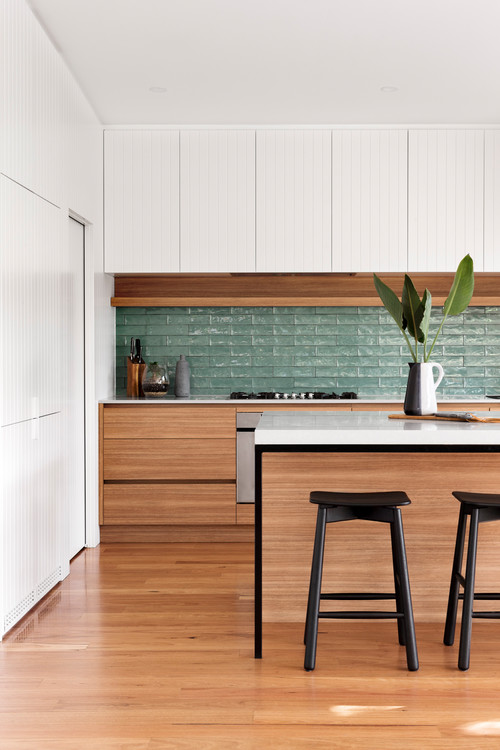 ID# 161109 | Houzz.com – Credit | © GIA Bathrooms & Kitchens
---
Two Tone White and Wood Cabinets with Green Ceramic Tile
This contemporary kitchen features a stunning two-tone cabinet design, with wood base cabinets and white upper ones. The beadboard style of the upper cabinet doors adds another layer of the overall look. The wood cabinets provide a warm, natural touch while the white upper cabinets offer a bright and airy feel. Additionally, the glossy green subway tile backsplash adds a pop of color and brings a lively feel to the space!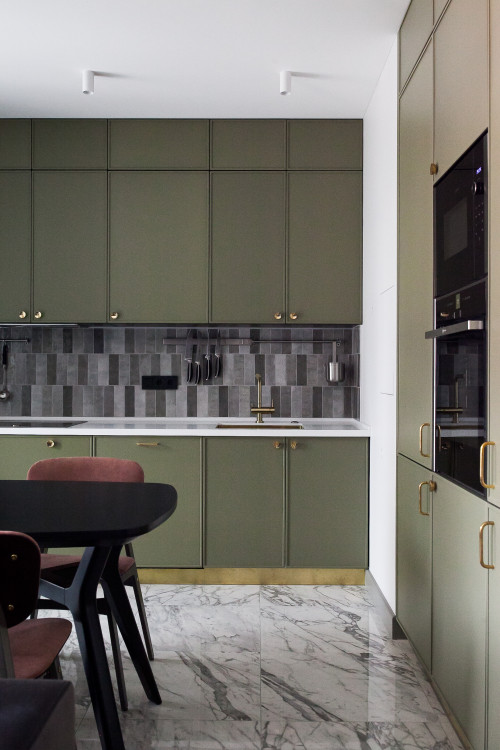 ID# 161110 | Houzz.com – Credit | © BW buro
---
Dark Green Cabinets with Marble-Look Floor Tiles
This elegant contemporary kitchen boasts dark green cabinets that bring a touch of sophistication and depth to the space! The ceramic tile backsplash with gray shades complements the cabinets perfectly, creating a harmonious and chic color palette. The vertical layout of the subway tiles enhances the modernity of the overall look. A crisp white countertop adds a clean and timeless touch while the marble-look porcelain floor tiles elevate the overall elegance of the room.
Are stone backsplashes easy to clean?
Due to their nooks and crannies, stone backsplashes are not very user-friendly materials. They need constant care and sealing. Because of their imperfections and staggered edges, they have the perfect spots for the dust and dirt to accumulate, which also makes the cleaning process harder, especially reaching those tiny gaps.
But if you think that you can't give up on stone backsplashes, you can get a layer of plexiglass to cover the stove zone. This way, you can protect at least some part of your backsplash from splatter and grease and provide an extra translucent cover for the natural lights to play while expanding the kitchen scheme and creating a mirror effect at the same time.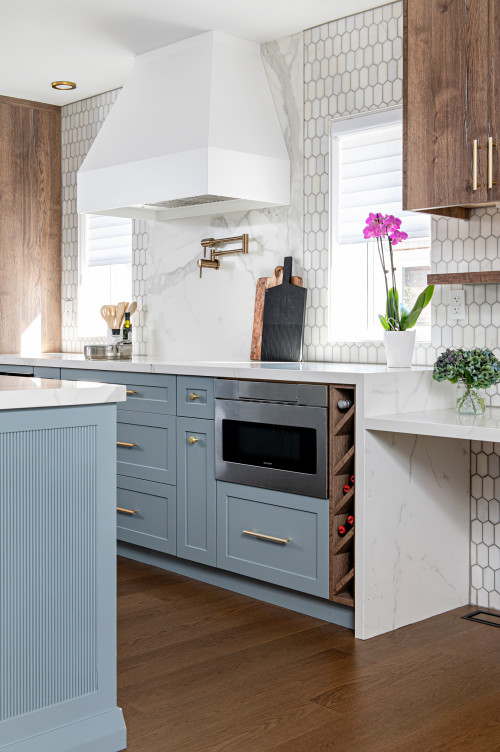 ID# 161111 | Houzz.com – Credit | © Soda Pop Design Inc.
---
Blue and Wood Cabinets with White Hexagon Tiles
This kitchen has a distinct vibe, courtesy of its mix of baby blue and wooden cabinets. The smart cabinet design includes a built-in wine rack and open shelving, ensuring that style and functionality go hand in hand. A white hexagon backsplash with gray grout adds a subtle yet attractive design element while the white quartz slab behind the stove steals the show as a stunning focal point. Also, using a quartz slab for this area is a great choice to create an easy to clean surfaces.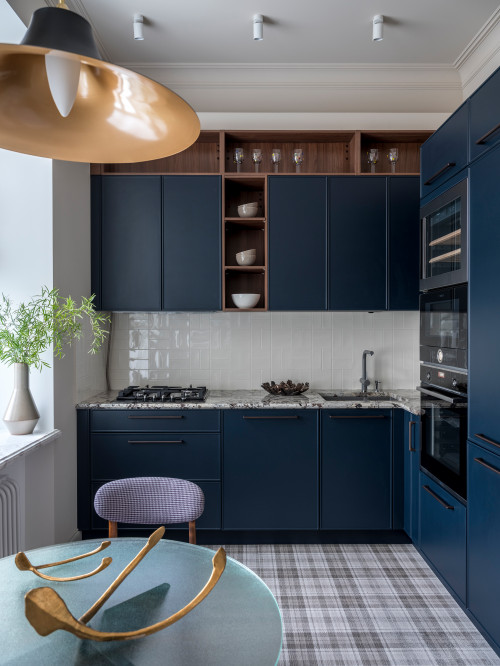 ID# 161112 | Houzz.com – Credit | © Анна Кларк
---
Easy to Clean Backsplash Ideas with Glossy Finish
This stunning kitchen design expertly blends modern and classic features to create a transitional masterpiece! The rich, navy blue cabinets are perfectly paired with warm, wooden open shelves, giving the space a touch of texture and personality. The smooth, gray granite countertop brings a refined air of sophistication while the delicate white basketweave backsplash adds a subtle and tasteful pattern. The glossy finish of these tiles enhances the spacious feel of the room. The cozy plaid patterned flooring is a unique and charming element that pulls everything together.
Glass Backsplash
As eco-friendly and easy-to-customize materials, glass backsplashes have various finishes, formats, and designs, which make each piece unique. Ranging from mirrored glass to antique glass, glass sheet, glass tile, and frosted, and etched glass versions, glass offers all sorts of looks, letting you choose the best version for your kitchen theme easily.
But above their stylish looks, they are also favored for their practical use and ease of maintenance. Glass backsplashes don't even require any sealing, which makes them a low-maintenance and kitchen-friendly material.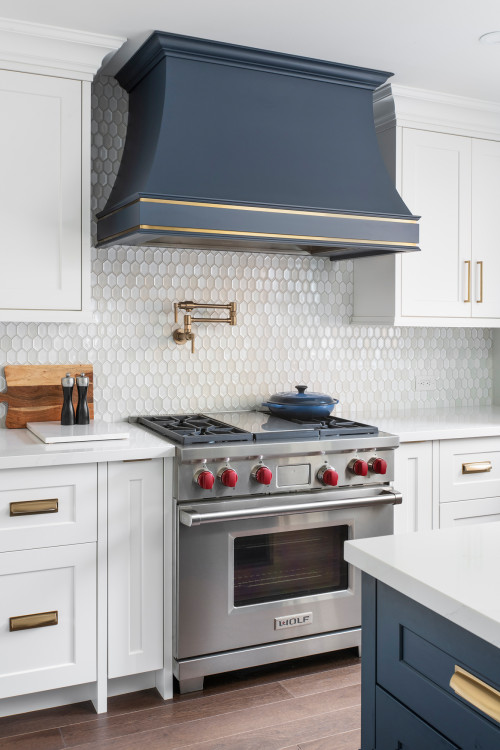 ID# 161113 | Houzz.com – Credit | © Ryan Fung
---
Glass Easy to Clean Backsplash Ideas with White Cabinets
This traditional kitchen exudes timeless charm with its white shaker cabinets, creating a bright and airy space! A stunning glass hexagon tile backsplash adds texture and visual interest while the navy blue range hood with gold details becomes a captivating focal point. If you are looking for some easy to clean backsplash ideas, glass tiles are the way to go! Brass hardware adds a touch of elegance and complements the gold details on the range hood.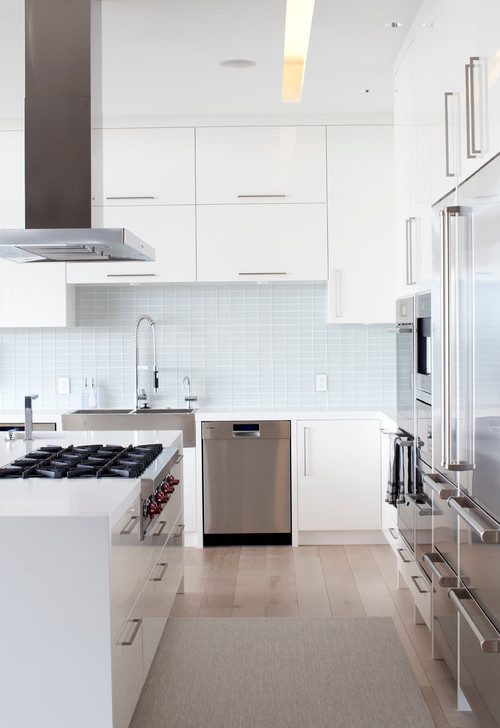 ID# 161114 | Houzz.com – Credit | © Tanya Schoenroth Design
---
Contemporary White Kitchen with Stainless Steel Appliances
This kitchen features a chic and contemporary layout highlighted by its lustrous, high-gloss white cabinets that create a refined and crisp ambiance within the space. A white glass tile backsplash enhances the aesthetic value of the walls and creates a subtle texture for visual interest. In contrast, the stainless steel appliances lend an industrial edge to the kitchen's overall atmosphere. The light wood flooring is an ideal addition to the color scheme, bringing in warmth to the area!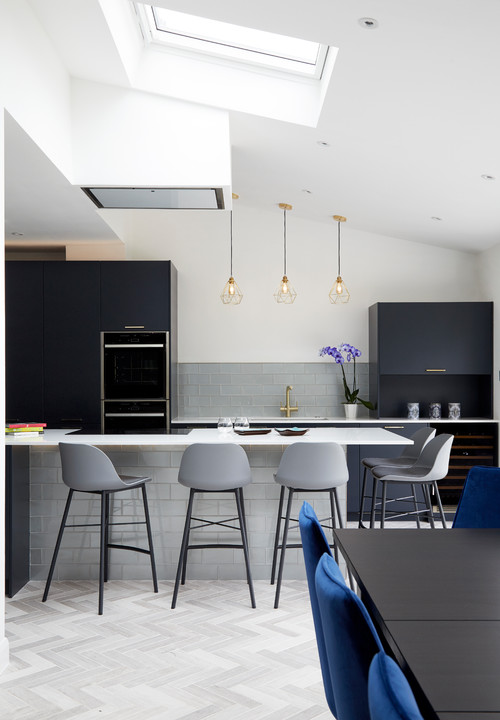 ID# 161115 | Houzz.com – Credit | © Monita Cheung Design Ltd
---
Modern Black Cabinets with Gray Glass Subway Tiles
In this exquisite kitchen, a chic and contemporary design reigns supreme. The black cabinets and black stainless steel appliances emit an aura of sophistication and modernity. Meanwhile, the use of gray glass subway tiles for the backsplash infuses the space with a subtle touch of texture and depth. The same tiles on the kitchen island serve to harmonize and unify the overall aesthetic. Get ready to cook in style and be inspired to create your own unique culinary masterpieces in this refined kitchen!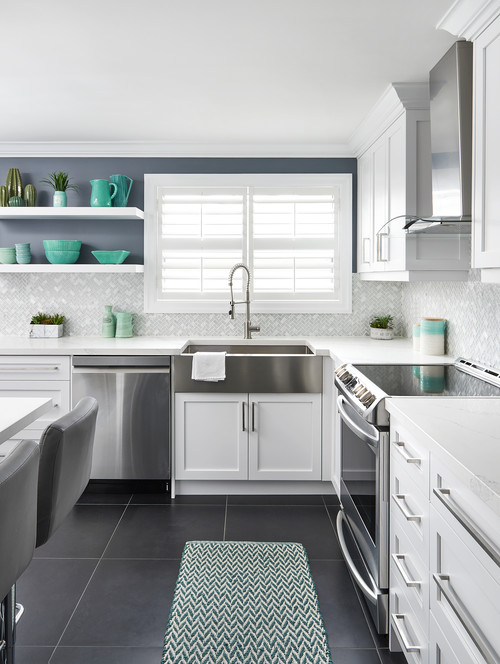 ID# 161117 | Houzz.com – Credit | © Casa Moderna Designs Inc.
---
White Shaker Cabinetry with Stainless Steel Farmhouse Sink
This contemporary kitchen design features a bright and clean aesthetic with white shaker cabinets and a stunning white glass backsplash in a chic herringbone pattern! The stainless steel farmhouse sink serves as a striking focal point while stainless steel appliances provide functionality and modern appeal. The dark gray wall paint above the backsplash adds a touch of drama to the space while black floor tiles add a stylish contrast.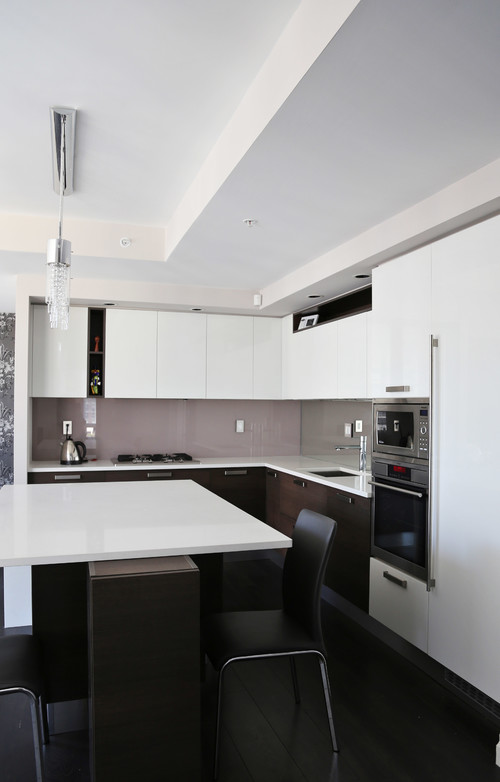 ID# 161118 | Houzz.com – Credit | © European Kitchen Art
---
White and Wood Cabinets with White Quartz Countertops
This contemporary kitchen exudes modern elegance with its high gloss white lacquered finish and sleek wooden base cabinets! The white Caesarstone quartz countertops add a touch of luxury and sophistication while the beige glass sheet backsplash provides a subtle yet stylish backdrop for the cooking area. The dark wood floor grounds the space and brings depth to the space.
Metal Backsplash
From warm copper to cool stainless steel, zinc, silver, and glowing brass, metal backsplashes come in various shades and materials, thus differing in their durability and aesthetic benefits too. Today, unlike in the past, metal backsplash ideas are not only preferred for their functionality but for their ability to sport luxe metallic styles. With oxidized and aged-looking versions, you can even build up a rustic effect with them.
As naturally anti-bacterial and non-porous materials, zinc, copper, and stainless steel have extra benefits when compared to many other materials. But they tend to develop a patina over time. If you want to avoid that and maintain their shiny surface, you need to seal them regularly. For those looking for alternatives, faux metal backsplashes and porcelain tiles that mirror metal textures and shades are also available on the market at affordable prices.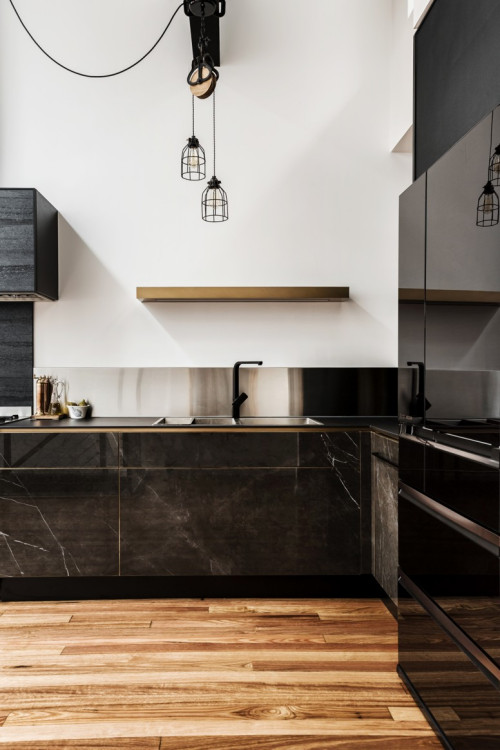 ID# 161119 | Houzz.com – Credit | © 5rooms
---
Dramatic Kitchen with Metal Easy to Clean Backsplash Ideas
This unique kitchen design serves an industrial style with a punch of luxury! The dark brown kitchen cabinets offer an elegant and dramatic appeal with their stone-like textures. The stainless steel backsplash and countertop enhance the modern vibes while the black appliances perfectly complete these vibes.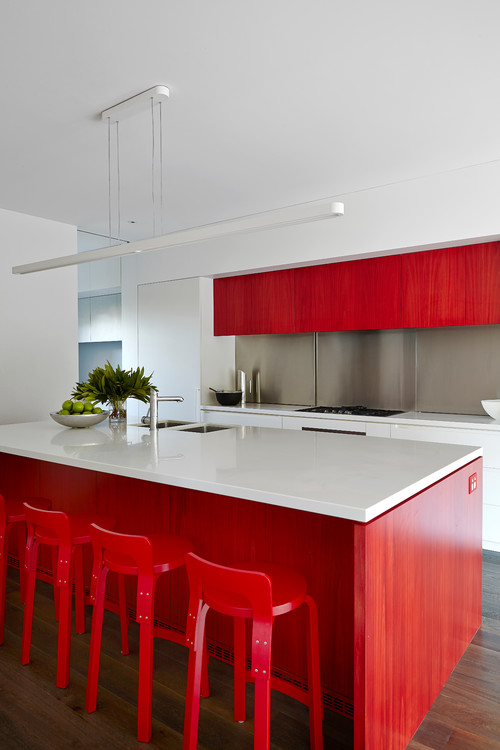 ID# 161120 | Houzz.com – Credit | © Nexus Designs
---
Stunning Red Kitchen Design with Metal Details
Wow, what a stunning red color! This contemporary kitchen serves a one-of-a-kind appeal with its vibrant red cabinets. The white base cabinets and white Corian quartz countertops balance the vibrant shades of red and provide a clean and simple appeal. Incorporating a consistent red motif, the dining area is enlivened by the presence of matching chairs that bring a vibrant burst of color to the space. Furthermore, the sleek and contemporary aesthetic is elevated by the inclusion of a metal backsplash, offering both practicalities through its ease of maintenance and a touch of industrial opulence to the overall setup.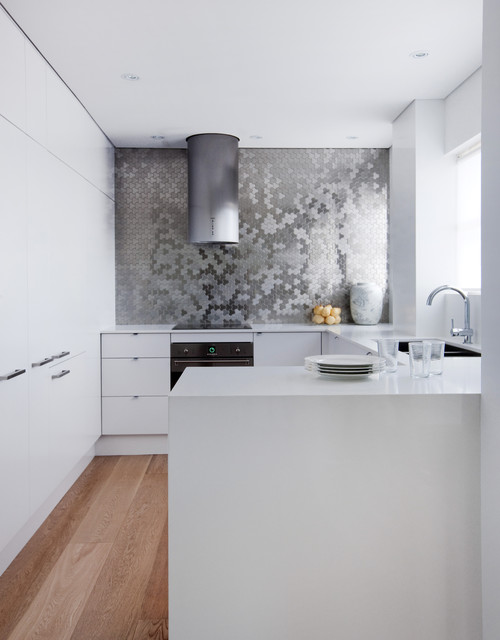 ID# 161121 | Houzz.com – Credit | © ALLOY Solid Metal Tiles
---
Metal Full-Height Backsplash Design with White Cabinetry
This metal backsplash is truly captivating! The distinct shapes of the metallic tiles and the varying nuances of gray shades produce a one-of-a-kind backdrop that sets the stage for this modern kitchen. The circular range hood flawlessly matches the contemporary allure of this low-maintenance backsplash. The flat-panel cabinets in white and the countertop contribute to the overall neat and streamlined appearance.
Is glass backsplash easy to clean?
With a nice sheen and modern appeal, glass backsplashes are easy to clean and maintain. Thanks to their pore-free texture, they provide one of the best and most solid backdrops without any need for regular sealing. Especially with glass sheet backsplashes, you won't have to worry about the grout lines and the dirt that may accumulate in these joints.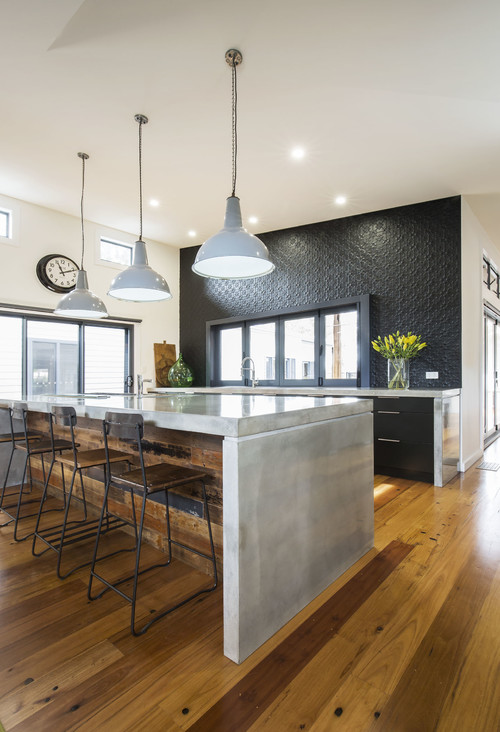 ID# 161122 | Houzz.com – Credit | © Dan Kitchens Australia
---
Eclectic Industrial Kitchen with Stunning Island Design
This industrial eclectic kitchen design features bold black cabinets that exude modernity and sophistication! The concrete waterfall countertops add an edgy and raw touch that perfectly complements the reclaimed timber bar backing. The full-height pressed metal splashback adds texture and visual interest to the space while the rustic bar stools provide a charming contrast to the sleek industrial elements.
Slab Backsplash
Slab backsplashes may provide easier-to-clean surfaces than tiles because of their grout-free surface. But if you are using natural stone slabs such as marble, soapstone, quartzite, and granite, these stones require special care routines such as sealing and cleaning products specifically produced for the concerned natural stones because of their porous nature, which makes them harder to maintain when compared to ceramic or porcelain tiles. Of course, it is an undeniable fact that these natural stones bring in enviable aesthetic features and durability for generations as long as they are sealed regularly and taken care of.
Overall, though slab backsplashes are much more demanding than other easy-to-clean tile backsplashes like ceramics and porcelains, they still offer an easy-to-clean surface, creating a user-friendly environment for sure, despite their special care requirements. But, if you don't want to deal with sealing, engineered product quartz offers you an alternative with ease of maintenance.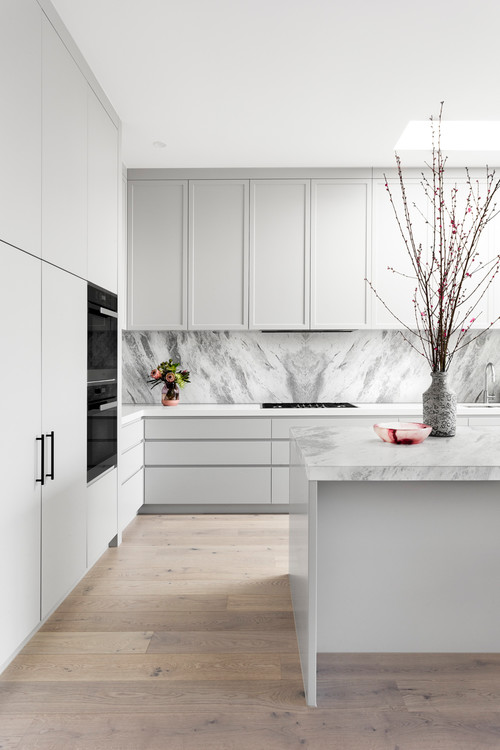 ID# 161124 | Houzz.com – Credit | © GIA Bathrooms & Kitchens
---
Handle-less Gray Cabinets with Bookmatched Marble Slabs
This contemporary kitchen boasts sleek and stylish light gray shaker cabinets, featuring a handle-less design that exudes a minimalist vibe! The showstopper of this kitchen is the stunning bookmatched backsplash which creates a striking focal point with its symmetrical design and natural veining patterns. Black stainless steel appliances provide a modern touch while also complementing the gray tones of the cabinets and backsplash.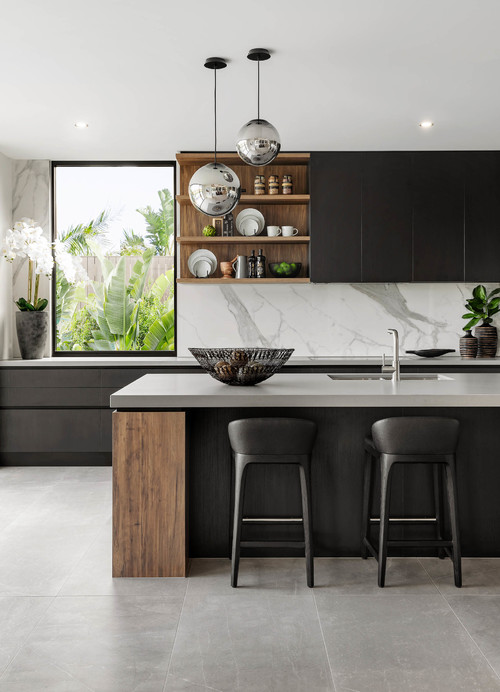 ID# 161124 | Houzz.com – Credit | © Metricon
---
Contemporary Kitchen with Earthy Color Scheme
This modern cooking area boasts a warm color palette that seamlessly blends both industrial and natural elements. The striking black cabinets and island act as a bold contrast against the light gray flooring, while the wooden open-shelves introduce a cozy texture to the overall design. The polished white quartz backsplash and counters give off a sleek and contemporary vibe that complements the space perfectly. To add a touch of industrial charm, metal pendant lighting fixtures were incorporated into the area.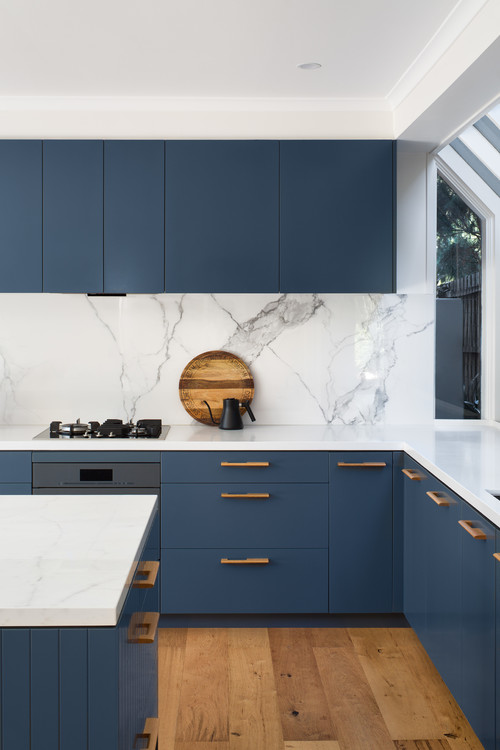 ID# 161125 | Houzz.com – Credit | © GIA Bathrooms & Kitchens
---
Easy to Clean Backsplash Ideas for Blue Kitchen Cabinets
This kitchen boasts modern elegance in its striking blue cabinetry and inviting wood accents. Its clean lines are accentuated by a gleaming white quartz backsplash and countertops and achieve a fresh and classic aesthetic. The overall warmth of the space is amplified by the rich wood flooring, making it an attractive and comfortable spot for cooking and socializing. Whether you're hosting a company or enjoying a family dinner, this kitchen promises to dazzle with its sophisticated style!