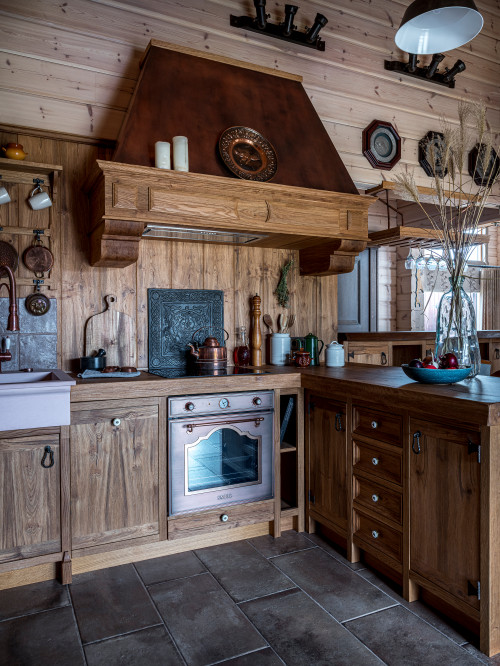 ID# 123302 | Houzz.com – Credit | © Татьяна Трофимова
---
Rustic Kitchen with Wood Features and Concrete Floor
In this rustic kitchen, wood shaker cabinets are paired with wood countertops and wood backsplash. The large bronze range hood is finished with wood trim. The sculptural shape of the range hood makes a statement. The wood trim is accentuated by a wood backsplash which offers a continuous look. Using a lighter shade of wood for the upper walls makes the space height taller.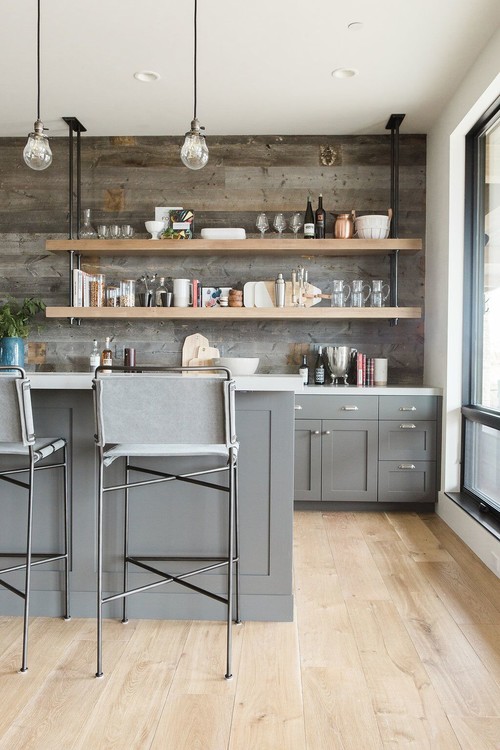 ID# 123326 | Houzz.com – Credit | © DsignVisual LLC
---
Farmhouse Kitchen with Gray Shaker Cabinets and Open Shelving
This transitional kitchen looks stunning with the gray-toned wood backsplash and floating shelves. The black stands of the open shelves give an industrial feeling while gray shaker cabinets and white countertops create an elegant look.
Wood Backsplash
Wood is a natural material that can be used for different kitchen applications from wall cladding to cabinets. But what about the backsplash? With its natural beauty, a wooden backsplash can bring an organic warmth and elevate the overall look of the kitchen. However, you may have concerns about the durability of the wood. Yes, wood is not the most durable material. It is porous that can absorb liquids and it is flammable. But, when it is properly maintained and sealed, the wood backsplash can keep its fresh look for many years.
Whether your kitchen style is modern or rustic, traditional or contemporary, a wood backsplash work with different design aesthetics and offers to make a big impression by the natural textures and grains. Rough wood surfaces or more suitable to create a rustic appeal while polished woods are perfect to add a warm yet chic look. If you are looking for more information, scroll down and find the best 53 wood backsplash design ideas with different styles.
Can you use wood as a backsplash?
Wood is not the most durable material but when it is properly and regularly maintained and sealed, it can be a perfect material as a backsplash. The warm appeal of the wood can work with different kitchen styles. From reclaimed wood to shiplap, Barnwood to beadboard, wood material comes in different colors, textures, and grains that create a unique look to elevate the overall look of the kitchen.
Reclaimed Wood Backsplash
Today, reclaimed wood or lumber becomes more and more popular for interior designs. Reclaimed wood is wood that has been repurposed for other applications. Most reclaimed woods come from warehouses, barns, and factories. The most beautiful advantage of these woods is, they do not require any new trees to be felled which makes them an environmentally friendly material. So, you can create both functional and aesthetically pleasing backsplash by using reclaimed wood.
Wood Look Tile
Yes, wood has an undeniable beauty and it provides organic warmth to any space. But, if you have a concern about the maintenance of the wood as a backsplash, wood-look tile can be a great alternative. Wood-look tiles come in a wide range of color and texture options that you can incorporate into any kitchen and reflect the beauty of the wood while providing more durability.
Pallet Wood Backsplash
A pallet wood backsplash is consists of woods from old pallets. The natural beauty of the raw weathered wood can instantly change the atmosphere and bring a rustic vibe to any kitchen. Making a wooden backsplash from the pallets might be a great DIY project.
Wood Plank Backsplash
Using wood planks in interior designs, especially kitchens, is a great way to add a texture to the walls. You can keep the natural texture of the wood, or you can paint them into your favorite color. Whatever your choice is, a wood plank backsplash will create a warm atmosphere and beautiful backdrop for your kitchen. For a DIY project, purchase wood planks from your local home equipment stores or use reclaimed woods to create a wood plank backsplash.
White Wood BacksplashBacksplash
If you want to create a clean and fresh backdrop but still can't give up the natural textures of the wood, painting the wood in white is the best solution for your kitchen. White wood backsplash can work well with any kitchen style and offers a bright and fresh look between the cabinetries.
How to protect wood backsplash?
Wood is a porous material that can soak up liquids easily and it can cause an unpleasant look and unhygienic surfaces. To avoid that, you need to protect your wood backsplash against water and food spills with a sealing. After the sealing, you need to finish it with varnish or oil. It is important to seal and finish the wood before the installation. This will help to prevent stains and permanent marks.
Gray Wood Backsplash
Gray is versatile that can combine with all colors, patterns, and styles. Because of that, this color is a popular choice for kitchen backsplashes. From glossy glass tiles to concrete, there are plenty of ways to incorporate gray into the kitchens. Besides the gray, if you want to add a natural texture to your backsplash, a gray wood backsplash is a perfect alternative. Gray wood backsplash can provide the cool look which you want in your kitchen.
Rustic Wood Backsplash
Rustic décor is a very popular design element for kitchens and using a wood backsplash is a great way to give this rustic vibe. You can pair your backsplash with wooden cabinets to create a totally rustic kitchen or make a twist in your modern kitchen. Whatever your taste is, a rustic wood backsplash offers a warm and welcoming atmosphere with its rough textures.
Herringbone Wood Backsplash
Herringbone is a traditional technique that laying parquet blocks for flooring. The zig-zag placement of the planks creates a distinctive pattern. This pattern is used also for tiles but using this technique with its traditional material on the kitchen backsplash is a great way to add texture and style to your kitchen without overwhelming and you can't go wrong with a herringbone wood backsplash.
Modern Wood Backsplash
Modern style is known for clean lines, sharp edges, geometrical shapes, and neutral color schemes. And wood backsplashes come in a wide range of color and pattern options that can be suitable for different styles. When the sleek appearance of the modern style meets with the warmth of the natural wood, the result is warm yet elegant!