25+ Black vs Stainless Steel Appliances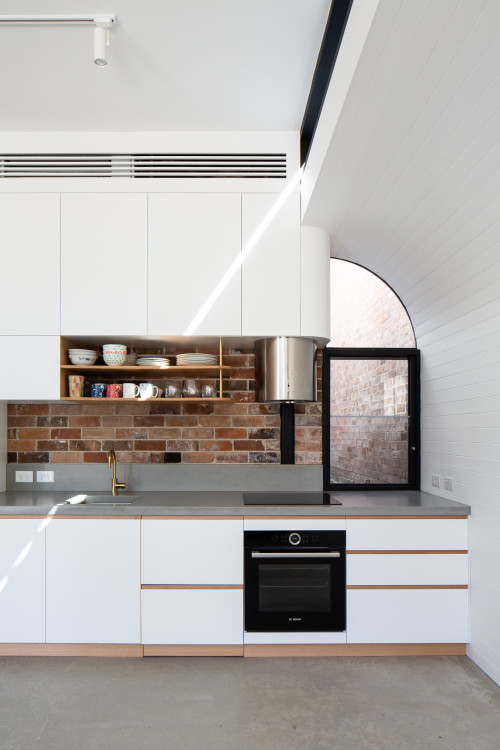 ID# 157303 | Houzz.com – Credit | © Adriano Pupilli Architects
---
Which One for This Kitchen? Black vs. Stainless Steel Appliances
The white flat-panel cabinets with light wood details give off a refreshing and tidy vibe, while the gray countertops impart an air of elegance. The brick tile backsplash brings a sense of comfort and texture, crafting a warm and inviting atmosphere. The black appliances present a daring and eye-catching contrast against the lighter components in the kitchen, resulting in a visually captivating and harmonious appearance. Swapping out the black appliances for stainless steel would completely transform the kitchen. The stainless steel appliances would inject a modern and smooth feel into the space, while still meshing well with the gray countertops and light wood features in the cabinets. The brick tile backsplash would still generate a cozy and welcoming touch, while the white cabinets and stainless steel appliances would manufacture a bright and modern look.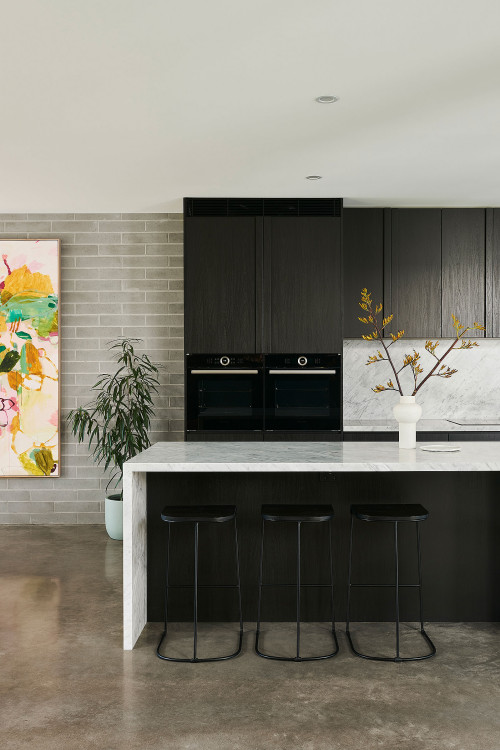 ID# 157322 | Houzz.com – Credit | © Charles Maccora Design
---
Modern Kitchen with Natural and Sleek Design
This kitchen is simply stunning – a perfect fusion of black and white! The black wood cabinets and appliances exude a chic and refined feel, while the white stone slab backsplash and countertop on the island offer a pure and crisp contrast. The addition of the black island with its superb waterfall edges provides a lavish touch, and the gray brick tile accent wall adds texture and depth to the area. Finally, the gray floors serve as the glue creating a seamless and attractive look. It's impossible not to feel impressed by this modern, elegant kitchen.
Black vs Stainless Steel Appliances
Deciding on the perfect appliances for your kitchen can be a daunting task. With two popular options black and stainless steel appliances, it's important to weigh the benefits and drawbacks of each. In this article, we gather out pros and cons of these two types. Scroll down and find the right one for you – black vs stainless steel appliances!
Black appliances have been a classic choice for many years, radiating an enduring sophistication and elegance. The color black seamlessly blends with other finishes and colors, making it a favored option. However, stainless steel appliances are becoming increasingly popular as a modern alternative. They bring a fresh and contemporary flair to any kitchen style, whether it is traditional or modern. Besides, stainless steel appliances are exceptionally low-maintenance, making them perfect for busy individuals. Moreover, the reflective surface of stainless steel appliances creates an illusion of spaciousness and brightness in the kitchen, making it appear more expansive and well-lit.
Overall, choosing between black vs. stainless steel appliances boils down to personal preferences and priorities. While black appliances offer a timeless and effortless look, stainless steel appliances portray a modern and contemporary feel that exudes luxury. So, choose wisely between black vs stainless steel appliances and create your dream kitchen with the appliances that best suit your style and convenience!
Is stainless steel vs black stainless steel better?
Deciding between black vs stainless steel appliances can be a tough call – it all boils down to your personal taste and needs. For ages, stainless steel has been the go-to choice, thanks to its sleek appearance and ruggedness that keeps scratches and dings at bay. Moreover, stainless steel is highly adaptable and can easily complement any kitchen style.
On the other hand, black stainless steel appliances offer a more contemporary and daring look in contrast to traditional stainless steel. Additionally, they don't reveal smudges and fingerprints easily, making them a popular option for folks who prefer a low-maintenance kitchen. To those who desire to create a standout kitchen, black stainless steel appliances can offer that bold and cutting-edge look that sets them apart from conventional stainless steel appliances.
In terms of durability, both traditional stainless steel and its dark counterpart can last for many years. Nevertheless, some people believe that black stainless steel is more vulnerable to scratches compared to traditional stainless steel, which is worth considering for those who prioritize having an appliance that looks good for a long time.
Black vs Stainless Steel Appliances – Which One Is Better?
Choosing between black and stainless steel appliances ultimately comes down to personal taste, budget, and style. It's all about what you love and what works best for you. If you're looking for a bold and dramatic look, black appliances might be the way to go. They are often more affordable and can be easily matched with other black elements in your kitchen. Plus, keeping them clean is a breeze as they are less prone to showing fingerprints and smudges.
But if you're after a modern and sleek aesthetic, stainless steel appliances are a popular choice. They do come with a higher price tag but are incredibly durable, meaning they'll last for years to come. And for those with a contemporary style, stainless steel adds a touch of luxury and sophistication to any kitchen.
Ultimately, the best option for you depends on your specific needs and preferences. It's all about finding what brings you joy and fits your lifestyle.
Stainless Steel Appliances
Stainless steel appliances have captured the hearts of many homeowners thanks to their sleek and sophisticated appearance – adding a touch of modern beauty to kitchens. These functional devices are loved not only for their stylishness but their longevity, as they have a reputation for withstanding damage from scratches and dings, making them an ideal choice for those looking for appliances that can last for years to come.The versatility of stainless steel appliances is another key feature that makes them a hit. They seamlessly blend with various kitchen designs, from the traditional and rustic to the modern and contemporary. They also come in different sizes and styles, which makes it easy to customize your kitchen to suit your tastes.
Despite their countless benefits, the cost of stainless steel appliances can be a significant factor to consider for those working with a tight budget. Another consideration is the upkeep required to keep them looking their best, as they are susceptible to fingerprints and smudges.
In the end, one cannot deny the satisfaction that comes from owning stainless steel appliances, which provide both sophistication and functionality to any modern kitchen.
Are black appliances out of style?
Since black is a versatile color and we expect to see bold choices in the kitchens, black appliances will be in the line after white appliances.
What is the best color for appliances?
Choosing the perfect color for your kitchen appliances is a personal decision that can be daunting. That's why understanding your style is key when picking between the black vs stainless steel appliances. If you're going for a sleek and timeless look, stainless steel appliances can make your kitchen look chic and fashionable. They also blend smoothly with any countertop or backsplash. However, if you're seeking to make a statement, black appliances can turn your kitchen into a modern and elegant space, especially when paired with lighter-colored cabinets and countertops. And when it comes to black stainless steel appliances, they provide a contemporary touch and the durability you want in your kitchenware. Ultimately, choosing the right color for your appliances depends on your personal style and the overall design of your kitchen, so go ahead and make a choice that feels like home!
Black Appliances
Black appliances have become a stylish trend in recent years and they are here to stay! They bring a touch of elegance and modernity to any kitchen with their bold, dark color providing a striking contrast against light-colored cabinets, countertops, and backsplashes. The color enhances a neutral palette with its depth, making it an ideal choice for contemporary kitchens. Black appliances are incredibly versatile as they can match almost any style or color scheme.
Regardless of whether you have white, wood, or colored cabinets, a black appliance will complement your kitchen's overall look. The beauty of black appliances is that they work harmoniously with different interior design styles ranging from farmhouses to mid-century modern. They are also low-maintenance and easy to clean, unlike stainless steel appliances that are vulnerable to fingerprints and smudging. With their adaptability, durability, and effortless maintenance, they are a go-to option for homeowners and interior designers alike. Whether you're a fan of modern kitchens or traditional ones, black appliances will undeniably make a bold statement and elevate your space's overall appearance.
Can you mix black and stainless steel appliances?
If you can not decide between black vs stainless steel appliances, don't worry, it's possible and can actually look great! The key is to pay attention to the finish and style of each appliance. If you mix matte black and shiny stainless steel, the overall look may be less cohesive. Instead, consider mixing black stainless steel with regular stainless steel, as they have similar finishes. It's also important to ensure that the appliances have similar styles. If one is more modern and the other is more traditional, it may look mismatched. But, if you select appliances with similar finishes and styles, mixing black and stainless steel can be a stylish and intentional design choice for your kitchen. So, don't be afraid to mix things up and create a kitchen that truly feels like you!
What color appliances are in style 2023?
If you're looking to add a touch of elegance to your kitchen, then white ice appliances are the way to go in 2023. They not only provide a sense of sophistication but also showcase cleanliness, making your kitchen appear spotless at all times. However, if you're feeling bold and adventurous, opting for daring options like a blue refrigerator can add a pop of color and personality to your space, full of life and uniqueness. Either way, finding the perfect color for your kitchen appliances can bring a sense of joy and excitement, making cooking and entertaining even more enjoyable.
Does black stainless steel scratch easier than stainless steel?
Black stainless steel appliances can scratch and show fingerprints more easily than traditional stainless steel due to their matte finish. However, it is important to note that this may vary between brands and the type of black stainless steel finish used. Some brands offer protective coatings or finishes that are more resistant to scratches and fingerprints. It is always a good idea to do your research and choose a brand that offers the best protection for your needs. Additionally, regular cleaning and maintenance can help minimize the appearance of scratches and fingerprints on black stainless steel appliances.
Do black stainless steel appliances show fingerprints?
Yes, black stainless steel appliances can show fingerprints, just like regular stainless steel appliances. This is due to the finish on the surface of the appliance, which can attract and show smudges and fingerprints. To keep black stainless steel appliances looking clean, it's important to regularly wipe them down with a soft cloth and a cleaning solution specifically designed for stainless steel. Some manufacturers offer anti-fingerprint or smudge-proof finishes that can help reduce the visibility of fingerprints on the surface of the appliance.