29+ Kitchen with Black Stainless Steel Appliances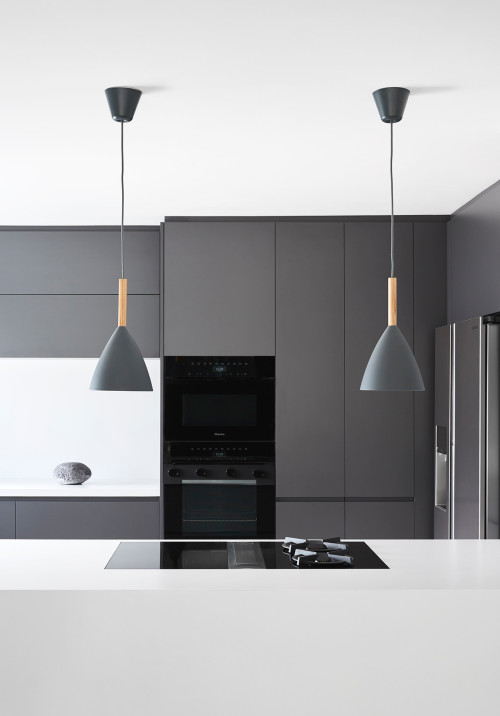 ID# 160014 | Houzz.com – Credit | © Collaroy Kitchen Centre
---
The Modernism Of Dark Kitchen Cabinets With Black Stainless Steel Appliances
This minimal modern kitchen is very sleek and elegant with its beautiful dark gray kitchen cabinets. The dark kitchen cabinets with black stainless steel appliances make this kitchen timeless and trendy. The black appliances highlight the dark gray cabinets by increasing their elegance. White countertops and the white ceramic backsplash invite brightness to the space. Thus, the dark gray cabinets and black appliances do not create a dark or suffocating kitchen environment.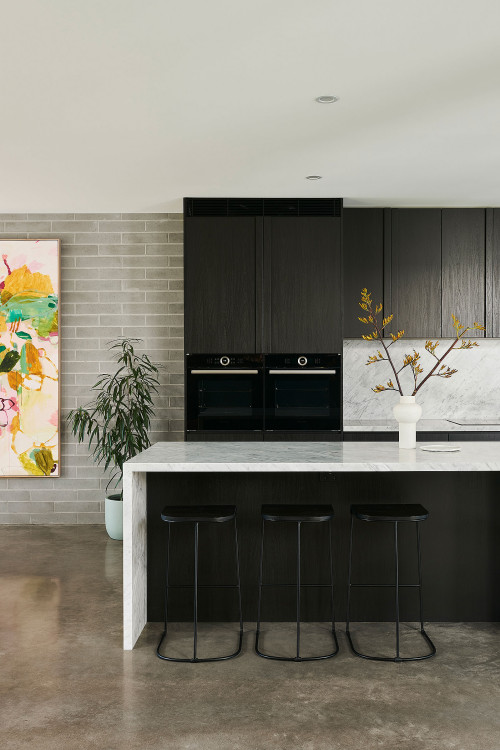 ID# 160015 | Houzz.com – Credit | © Charles Maccora Design
---
The Beauty Of Dark Hardwood Flat-Panel Kitchen Cabinets 
The dark kitchen cabinets with black stainless steel appliances make this contemporary kitchen stylish and classic. The hardwood cabinets balance the light color scheme in the kitchen general by adding warmth. The black stainless steel appliances draw attention to the beauty of the dark hardwood flat-panel cabinets. The white marble backsplash and countertops add elegance to the space. The subway-tile wall with a colorful painting on it invites movement and depth to the kitchen. Also, the plants on the kitchen island and floor include a naturalistic feeling to the space.
Kitchen with Black Stainless Steel Appliances
If you are renovating your house or building one, a kitchen with black stainless steel appliances may be one of your trendiest kitchen options. Not many interior designers are fond of black stainless steel appliances yet they are timeless and chic. The only difference between silver shiny stainless steel and black stainless steel is that one. Both are constructed using a special alloy of iron, chromium, silicon, nickel, and carbon that transforms corrosive steel into a component that is rust-proof. The distinction is that black stainless steel has a layer of extremely robust, shielding, polymer-based black paint.
When matte and black are combined, commonplace ranges and washers become works of home art, amplifying their cool impact. Matte finishes are practical and fashionable since they make fingerprints and other small stains disappear or be less noticeable on flat surfaces. Additionally, some kitchen designers choose to combine black and silver stainless steel appliances, which can complement accent pieces or silver appliances with black trim or control panels.
Modern and Sophisticated Appeal of Black
Black is a neutral color that works with all variations of fashion. Although it does experience modest ups and downs in design trends, it is probably the most ageless hue available. Black stainless steel appliances can be used as a background for other colors or as a standout statement color. Also, you can combine other colors with black stainless steel appliances easily. Gray, brown, white, beige, and blue are complementary colors. Particularly with white cabinetry, a kitchen with black stainless steel appliances provides a contemporary aesthetic and a sleek kitchen look. However, pairing your black appliances with blue cabinetry or other colors like green can provide a splash of color to your kitchen while maintaining a traditional appearance.
Additionally, black stainless steel appliances are easier to keep clean than traditional stainless steel appliances. This is a huge advantage of a kitchen with black stainless steel appliances. Overall, black stainless steel appliances offer an elegant and clean kitchen look that every homeowner wishes to have.
What color cabinets go with black stainless steel appliances?
For the most spectacular kitchen design, it is best to either contrast or match the cabinet colors with the black appliances. If you like natural wood cabinets, dark oak complements kitchens with black stainless steel appliances. Your devices will look sleeker and have a more elegant feel with the help of the deep chocolate undertones in the rich brown oak. Also, bright and lively yellow would be a striking and brilliant contrast to your black stainless steel equipment for color aficionados. By providing a splash of color and blending harmoniously with black stainless steel finishes, yellow highlights your kitchen's premium appliances.
Another cabinet color option is white. Particularly in a kitchen, black and white have always been a timeless and traditional color combination. The magnificent contrast that makes your refrigerator, cooktop, and dishwasher stand out is one of the nice things about having black stainless steel appliances with white cabinets. Since white is such a timeless neutral color that never goes out of style. It heightens the appeal of the black stainless steel finish and increases the depth of your kitchen, giving the impression that the space is larger. Brass hardware will give your cabinetry a vintage touch, which is perfect if you're going for a more conventional or cottage style.
Are black appliances outdated in 2023?
It's a misconception that black is a trendy color!! In reality, black is a classic shade that never goes out of style. Opting for a black matte finish for your kitchen appliances is a surefire way to ensure that your kitchen design stays timeless for years to come. While stainless steel appliances have dominated the market, a black matte finish will withstand any trend and give your kitchen an elegant edge.
Are black or stainless steel appliances better?
Are you tired of constantly scrubbing your stainless-steel appliances? Well, have you considered upgrading to a sleek black appliance? These appliances not only make cleaning a breeze, but they also have the added benefit of hiding pesky stains and damage. Plus, they give your kitchen a classic yet modern touch, adding contrast and warmth to the heart of your home. Trust me, black stainless steel appliances are the way to go if you want an appliance that not only looks great but also makes your life easier.
White Kitchen with Black Stainless Steel Appliances
A white kitchen is one of the most trendy kitchen styles that is simple and timeless. It will never go out of style and works with any design theme, whether country, traditional, modern, or antique, as long as you choose the appropriate kind of cabinet doors and kitchen appliances. White also creates an airy and fresh atmosphere in the kitchen by reflecting light and enlarging the space. It symbolizes purity and has a clean appearance. In addition, it blends nicely with other neutrals like grey, beige, and black. You can have a stylish white kitchen with dark color touches. For instance, a white kitchen with black stainless steel appliances offers you a contrastive and trendy kitchen look. This kitchen style prevents your kitchen from looking ordinary and boring.
Does black stainless steel scratch easily?
Black stainless steel is the rockstar of metal. It's tough and can take a beating without losing its luster! The coarse black oxide exterior gives it an edgy, rebellious vibe. It won't let anyone touch its surface with greasy fingers, as it's smudge-proof. But like every rockstar, it may go through wear and tear over time. It could peel and get scraped from excessive use. However, don't think that you can scratch it easily, as it's one badass material that won't give up without a fight.
Black Kitchen with Black Stainless Steel Appliances
Black is a color that exudes power, style, and an air of mystery. With an array of distinctive shades and a variety of materials available, the possibilities are endless. Whether you're going for a modern or traditional interior design, there is always a kitchen that will complement your aesthetic. Despite its subtle nature, black adds unique value to any space it graces. Picture a kitchen with black stainless steel appliances in this color, which creates an unmistakable air of sophistication and style. This pairing elevates your kitchen to a high-end look without glaringly demanding attention from the rest of the room.
Is black stainless steel reliable?
Absolutely! Black stainless steel is an incredibly reliable material for home fixtures and appliances, particularly in the kitchen. Just like its regular stainless steel counterpart, black stainless steel exudes stability and durability. Indeed, it goes above and beyond to provide you with a steadfast and long-lasting addition to your home.
Dark Kitchen Cabinets with Black Stainless Steel Appliances
Your kitchen cabinets color is quite important for boosting the aesthetic appeal of your storage. Dark cabinets are a great option for a variety of reasons, even though some homeowners would choose a set of white cabinets to give a touch of vibrant ambiance to their kitchens. You can combine your dark cabinets with black stainless steel appliances for a stylish kitchen look. Dark kitchen cabinets with black stainless steel appliances let you have a more upscale and chic space. To avoid dark or suffocating kitchen look you can match light-colored countertops or backsplashes with dark cabinets with black stainless steel appliances.
Are black stainless steel appliances more expensive?
Yes, they are. Yet, black stainless steel appliances are a great investment for your house. They can increase the value of your house.
Modern Kitchen with Black Stainless Steel Appliances
Are you in search of a way to enhance your kitchen's look? Why not give black stainless steel appliances a try, the latest kitchen trend? This modern finish provides the same level of strength as the typical stainless steel but with a stylish and sophisticated twist. The sleek stainless steel handles and subtle darker tones are even fingerprint-resistant. Black stainless steel appliances will give your kitchen a trendy and timeless appearance that is guaranteed to make an impression. Stay ahead of the game and don't pass up on this state-of-the-art kitchen trend!
Is it OK to have black and stainless steel appliances?
It's totally fine to incorporate both black and stainless steel appliances in your kitchen. Blending these two colors of appliances creates an exceptionally unique and trendy look. Although the decision of which appliances to pair up is all yours, remember to go for the combination that truly resonates with your personal preference and style!
Farmhouse Kitchen with Black Stainless Steel Appliances
The farmhouse kitchen can be a source of joy and fulfillment for many homeowners! It offers a practical, well-lit, and sophisticated kitchen area that can suit any taste – whether you prefer the warmth of traditional decor, the rugged charm of a rustic design or the sleek simplicity of modern styles. When done right, a farmhouse kitchen can make you feel stylish and fabulous every time you step inside.
Small Kitchen with Black Stainless Steel Appliances
Black stainless steel appliances can practically be used in any design or type of kitchen. Many people believe that black stainless steel appliances are only ideal for medium-sized or large kitchens. Yet, it is completely not true. You can have a spacious small kitchen with black stainless steel appliances. All you have to do preferring light-colored color schemes for cabinets, countertops, and backsplashes. You can prefer white, light hardwood, or neutral-colored kitchen cabinets. Also, you can use dark cabinets with light countertops. Thus, you can create a stylish and open small kitchen space with gorgeous black stainless steel appliances.