21+ White Penny Tile Backsplash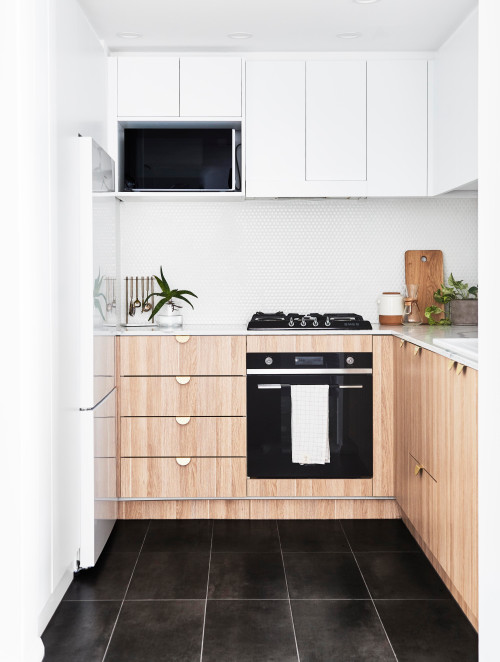 ID# 149408 | Houzz.com – Credit | © STUDIO OSCAR LEA.
---
Contemporary Kitchen Design With Penny Tile Backsplash 
Black, white, and wood are in perfect harmony together. Plain wooden base cabinets with elegant gold handles are complemented by a white countertop and black stainless steel appliances. White penny tile backsplash with white grout dazzles with its shine and stands out. The black tiles used on the floor, on the other hand, make the kitchen stand out with the contrast it creates. The flat panel door style of the cabinets gives a modern appeal to this kitchen while creating a clean and sleek look.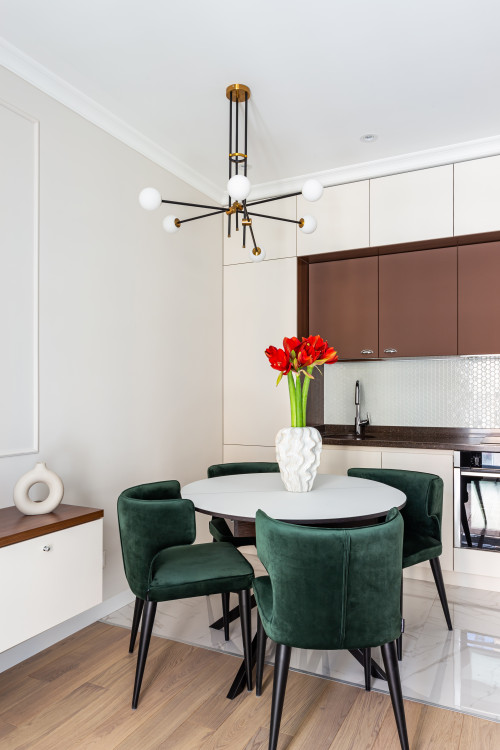 ID# 149414 | Houzz.com – Credit | © Марина Светлова
---
Small Open Concept Kitchen with Two Tone Cabinets
Step into this modern kitchen design, where understated flat cabinets in soothing white and warm coffee hues come to life with the addition of a crisp white ceramic penny tile backsplash. A harmonious blend of function and style, this kitchen is divided into two distinct areas: a dining space and a food preparation space, delineated by contrasting flooring. A centerpiece dining table, with luxurious velvet armchairs, captures the eye and seamlessly facilitates the transition between the two distinct zones.
White Penny Tile Backsplash
A white penny tile backsplash is a timeless and versatile choice for any kitchen or bathroom design. Its small, round tiles arranged in a grid pattern create a classic and clean aesthetic that complements various styles, from traditional to modern. The white color of the penny tiles brightens the space, making it feel fresh and inviting. The small size of the penny coin tiles allows for intricate designs and patterns, adding visual interest to the backsplash. So, if you want to dive into the penny tile world, scroll down and find the inspirational design ideas that will blow your mind!
In addition to its aesthetic appeal, a white penny tile backsplash is also practical. It is easy to clean and maintain, making it a functional choice for busy areas such as kitchens and bathrooms. The durability of the tiles ensures that the backsplash will stand up to daily wear and tear, maintaining its pristine appearance for years to come. Moreover, the white color of the penny tiles creates a versatile backdrop that pairs well with a wide range of countertop materials and cabinet finishes, giving homeowners the freedom to customize their space according to their personal style.
Whether used as a focal point or as a subtle backdrop, a white penny tile backsplash adds a touch of elegance and sophistication to any space. Its timeless design, easy maintenance, and versatility make it a popular choice for homeowners looking to create a stylish and functional kitchen or bathroom.
Is penny tile good for the kitchen backsplash?
Penny tile can be an excellent choice for a kitchen backsplash. With its small, round tiles arranged in a grid pattern, penny tile adds a classic and clean aesthetic to the kitchen! The unique look of penny tile can create visual interest and make a statement in the kitchen design. Additionally, penny tile is durable and easy to clean, making it practical for busy kitchen areas. Its versatility allows for various design options and color choices, making it suitable for different kitchen styles. Whether used as a focal point or a subtle backdrop, penny tile can be a great option for a stylish and functional kitchen backsplash.
Grout Options for White Penny Tile Backsplash
Grout in black, white, or gray can be used for the penny tile backsplash. In this way, penny tiles can adapt to any style, from modern to transitional, farmhouse to mid-century. With the grout options, a different look can be achieved each time with the white penny tile backsplash. While the white penny tile backsplash stands out more with contrasting colors, a simpler and more elegant look can be achieved by using the same color.
White Penny Tile Backsplash with Gray Grout
Gray is a versatile color that can look both warm and cool. The harmony of white and gray is widely accepted. Accordingly, perfect designs can be obtained with white penny tile backsplash with gray grout. It offers a soft white appearance on gray and can be easily used with many different colors. With this choice, almost any color kitchen cabinet can be used together easily, and therefore it can be a good option for those who love different styles.
Is white penny tile hard to clean?
Penny tile maintenance can be a bit of a challenge. Because the pieces are small, the grout around them collects buildup and grime over the years and it can be difficult to clean them.
White Penny Tile Backsplash with White Grout
White is a timeless, refreshing, and bright color that can be used anywhere and anytime. It is indispensable for kitchens. Therefore, white penny tile backsplash with white grout can adapt to any style, and depending on the material used, it can be the star of the kitchen with its shine. It can be used with any color in the foreground and the background whenever desired and timeless designs can be created. White represents clarity and cleanliness. Perfect spaces can be created with this cute penny tile, which has the potential to create a lively and cheerful design wherever it is placed.
Is penny tile timeless?
You can create a timeless and stylish kitchen with these tiles with their light texture. With the penny tile, designs suitable for almost any style can be created. Thus, the penny tile can be called timeless.
Can you use penny tile in a kitchen?
Absolutely! You're in luck as there are numerous design ideas that incorporate this style. It's a popular choice for kitchen design and fortunately, it comes in a range of colors and materials to suit many personal preferences. Best of all, it can seamlessly blend in with various design themes for a cohesive aesthetic!!
How to install penny tile backsplash?
Installing a penny tile backsplash can be a DIY project for those with some experience in tile installation. To begin, gather the necessary tools and materials, including penny tiles, tile adhesive, a notched trowel, tile spacers, a tile cutter, grout, a grout float, and a sponge. Start by preparing the surface, ensuring it is clean, smooth, and dry. Apply tile adhesive to the backsplash area using a notched trowel, and then carefully press the penny tiles onto the adhesive, using tile spacers to maintain consistent spacing between tiles. Use a tile cutter to trim tiles to fit along edges or around outlets.
Once the adhesive has dried, apply grout with a grout float, pressing it into the gaps between the tiles. Wipe off excess grout with a damp sponge and allow it to cure for the recommended time. Finally, clean the tiles and apply any necessary sealant for added protection. Following these steps, a beautiful and unique penny tile backsplash can be installed to enhance the aesthetic appeal of any kitchen. However, it is recommended to consult professional help if unsure or inexperienced with tile installation to ensure a successful and durable result.
White Penny Tile Backsplash with Black Grout
The purity of white and the refinement of black! Retro style can be reflected very well with white penny tile backsplash with black grout. Black has a characteristic look that can instantly change the whole atmosphere in the room. If you want to emphasize this appeal, even more, you can finish your white penny tile backsplash with black grout. This strong contrast will add a unique and eye-catching appeal to your backsplash.
Materials for White Penny Tile Backsplash
There are several materials that can be used for a white penny tile backsplash. One popular option is ceramic, which is affordable, easy to clean, and comes in a wide range of styles and finishes. Ceramic penny tiles are known for their durability and resistance to moisture, making them ideal for use in kitchen backsplashes. Another common material is porcelain, which is known for its strength, stain resistance, and low maintenance requirements. Porcelain penny tiles often have a more refined and polished appearance compared to ceramic tiles, adding a touch of elegance to the backsplash. Additionally, glass penny tiles can also be used to create a stunning and modern look, with their glossy and reflective surface adding a touch of sophistication to the kitchen.
Ultimately, the choice of material for a white penny tile backsplash will depend on personal preferences, budget, and desired style, but all these materials offer durability and versatility to create a beautiful and functional backsplash in any kitchen!
White Ceramic Penny Tile Backsplash
Ceramic is a material that can be applied easily due to its structure and is widely used as a backsplash in kitchens. It is possible to use this material in many different models and colors. Thus, the white ceramic penny tile can be easily used as a backsplash. With this material option, perfect designs can be obtained as penny tile backsplash.
White Marble Penny Tile Backsplash
A great way for homeowners to enjoy the look of marble at a lower cost and less worry about maintenance. One of the best ways to add personality to your kitchen is with a white marble penny tile backsplash. Marble can also be easily preferred because it is a material that is easy to clean and use.
How do you seal penny tile grout?
Seal the penny round tiles with a quality sealer once they are installed. This will help protect them from liquids that can seep out of penny-round tile joints and cause staining. To keep them looking like new, penny rounds can be sealed with an impregnating sealer every few years.