50+ Laundry Room Backsplash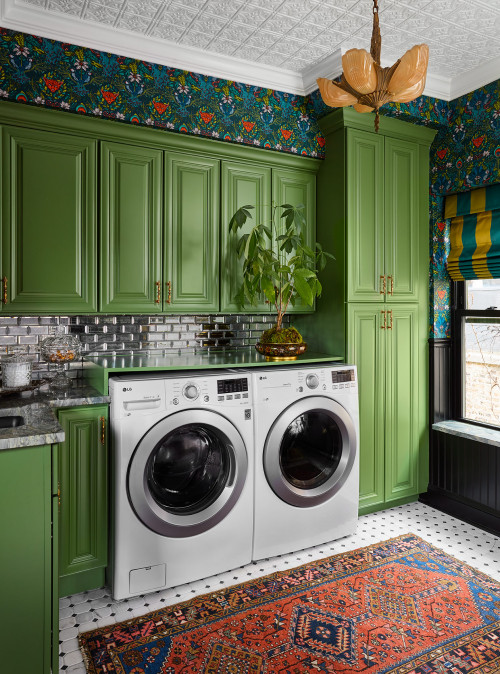 ID# 128906 | Houzz.com – Credit | © Crystal Blackshaw Interiors
---
Green Cabinets with Colorful Wallpaper and Mirror Subway Tiles
Different patterns and textures, and vibrant colors perfectly blend in this traditional laundry room. Even if there is a lot of different styles, because of the right choices, the overall look doesn't look overwhelming! The green raised-panel cabinets and the colorful wallpaper gives a unique traditional look while the mirror backsplash brings a fresh look and creates a visual illusion.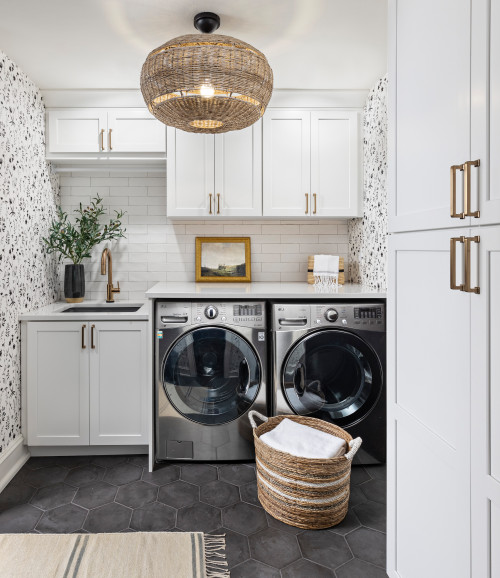 ID# 128929 | Houzz.com – Credit | © Decorlift Design Co
---
White Shaker Cabinets with Subway Tile Laundry Room Backsplash
The clean and fresh look of the white shaker cabinets and the white subway tile backsplash is accentuated with black and white wallpaper. The flower patterns of the wallpaper bring some romantic feel while the hexagon tiled floor serves a modern look. The gray dryer and washer complement this modernity.
Laundry Room Backsplash
Laundry might be a boring household task for many people but it doesn't mean that your laundry room has to be boring too! There are many ways to make your laundry room a more joyful space without sacrificing functionality, and a backsplash is one of the best ways. Just like the kitchens, backsplashes also make a big difference in laundry rooms. Here, we gather stylish laundry room backsplash ideas that will elevate your design!
When it comes to laundry room design, functionality is the main aspect. However, a laundry room can be functional and stylish at the same time. And thanks to their endless variety of color, shape, pattern, and texture options, backsplashes are a great way to make a personal touch and create one-of-a-kind rooms. On the other hand, the laundry room is a wet area and walls can be damaged by water spills. Besides its visual impact, a laundry room backsplash also provides protection. So, using a backsplash might be a good idea to keep the fresh look of the room over the years. If you want to learn more about laundry room backsplashes, keep reading and find some inspirational design ideas which are full of joy!
Colors of Laundry Room Backsplash
When it comes to laundry rooms, bright colors like white or blue are the first ones that come to mind. However, a laundry room is a perfect place where you can play with different colors. And because of their wide range of color options, backsplash allows you to get creative! Keep reading and find different color options!
White Laundry Room Backsplash
Because of its clean and fresh feel, a white backsplash is the most popular option for all laundry room types. From classic subway tiles to modern hexagons, there are plenty of different alternatives for a white laundry room backsplash!
Do you put a backsplash in the laundry room?
Using a backsplash in a laundry room is a personal choice. However, because laundry rooms are wet areas, a backsplash is recommended for these rooms. Whether it is a tile or wallpaper, wall panel, or stone, creating a protective layer for the walls will help you to maintain the clean look of your design.
Blue Laundry Room Backsplash
Because of its serene and calming feel, the blue color is another popular choice for utility rooms. From very light blues to dark navy blue, the blue laundry room backsplash comes in a wide range of shades and hues. Lighter shades are perfect to create a bright and spacious atmosphere and if you want to create a dramatic look, dark shades like navy or cobalt will be perfect.
How to install a backsplash in the laundry room?
The backsplash installation varies from type to type. Wallpapers and wall panels are easier to install than tiles. You can install them with a few tools which you can find in your local home improvement store.
If you are working with tiles, you need painter's tape, measuring tape, scraper, notched trowel, pencil, tile cutter, tile adhesive, spacers, grout float, sponge, and grout. Before the installation, you need to prepare the walls. Take out any bumps along the walls with a scraper to create a smooth surface for tiles. Then you need to measure the backsplash area to find whether you need to do any cuts. If you need to cut tiles, you need to use a specialized tool. For example, a simple tile cutter can be enough for ceramic tiles but if you working with marble or glass tiles you need to use a wet saw to prevent cracks.
After the preparation, now it is time to start the installation. First, define the limits with a painter's tape, mix the adhesive according to manufacturers' instructions, and apply the adhesive in small sections by using the trowel. Lay your first tile and move upwards from there. Don't forget to use spacers to hold the tile in place. Once you lay all the tiles, leave them overnight to dry. Now that the tiles are dried, prepare the grout and remove the spacers. Apply the grout with a float by using 45 angled motions. One applied the grout, clean the tile surfaces with a damp sponge. According to the material, you may also need to seal your laundry room backsplash.
Gray Laundry Room Backsplash
Gray is a versatile color that can be used for many interior design projects. And thanks to this versatility, it works well with different color schemes and design aesthetics. A gray laundry room backsplash is sophisticated, elegant, and sometimes very simple. You can make your gray backsplash is the centerpiece of your design or create a cohesive look with other neutral shades!
Colorful Laundry Room Backsplash
As we mentioned, laundry rooms are the perfect places where you can get creative by playing colors and backsplashes give this opportunity with their endless color options! Incorporate vibrant color through with backsplash to liven up your design!
Backsplash Types for Laundry Room
In today's market, there are plenty of different alternatives for a laundry room backsplash. From different tile designs to colorful wallpapers and wood wall panelings, you can incorporate these options according to your taste and the style of your design.
Subway Tile Laundry Room Backsplash
Subway tiles are an all-time favorite for kitchen and bathroom backsplashes and this is the same for laundry rooms. With their clean and fresh look and effortless beauty, a subway tile laundry room backsplash is a great way to create a timeless appeal. Also, thanks to their simple and minimalistic look, these tiles can work with all design aesthetics!
Herringbone Tile Laundry Room Backsplash
Just like the classic off-set layout, herringbone is also one of the most popular backsplash styles. The simple twist on the classic subway tiles makes a huge difference and creates distinctive focal points.
Beadboard Laundry Room Backsplash
You often see a beadboard backsplash in kitchens, bathrooms, and laundry rooms, because it is a beautiful alternative for backsplash tiles. The easy installation of the beadboard backsplash makes it a popular choice for many homeowners. Also, it is an inexpensive material. You might think that wood is not suitable for the backsplash but with the right material and right maintenance, you can use these panels in your laundry rooms.
Wallpaper Laundry Room Backsplash
If you want to add a bunch of texture, color, and patterns at the same time, using wallpaper as a backsplash is a great way to achieve unique designs. But, besides the appeal, durability is the other important aspect. So, you need to be careful about the type of wallpaper. Because the laundry room is a wet area, you need to protect walls against the water damage. In today's market, there are several wallpaper options with waterproofing.
How tall is a typical laundry room backsplash?
The original laundry room backsplash height is 4-inches. However, it can be altered depending on your needs and taste. In recent days, a full-height backsplash offers more modern appeal, and covering your walls all the way to the upper cabinets or ceiling is a better way to protect your walls against damages.
Ceramic Tile Laundry Room Backsplash
Ceramic tiles come in a wide range of color, texture, and pattern options at affordable prices. These low-price tags make ceramic tiles a popular choice for many homeowners and interior designers. You can go bold with a ceramic tile laundry room backsplash or create a simple look. Whatever your taste and style are, there is a ceramic tile for everyone!