22+ Small Laundry Room Ideas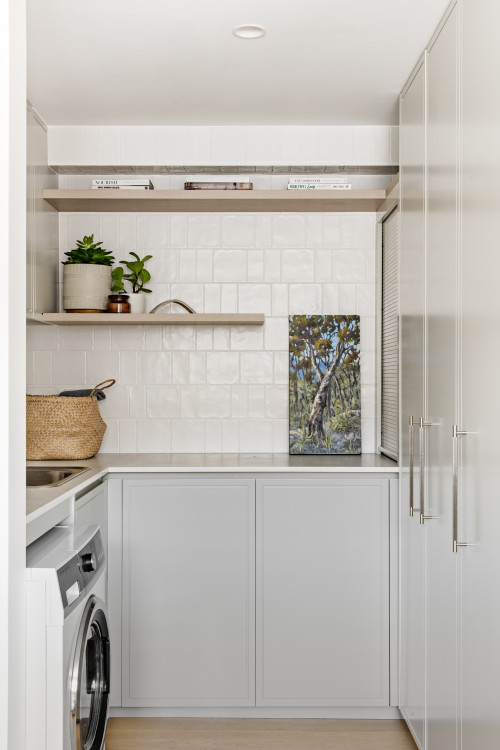 ID# 152411 | Houzz.com – Credit | © NESTED PROJECTS
---
Scandinavian Style for a Small Laundry Room Backsplash and White Countertops
The light gray flat-panel cabinets offer generous storage while beautifully completing the overall look. The white quartz countertops create an air of sophistication and enhance the warmth of the inviting light wood flooring. The light wood floating shelves bring both style and practicality to the room, a smart way of organizing and displaying belongings. The
white subway tile backsplash exudes a classic
touch, and the shining chrome hardware for the full-height cabinets gives the space a modern touch, creating a cohesive, polished look. All of these elements come together to make the room feel complete and provide a sense of comfort and joy.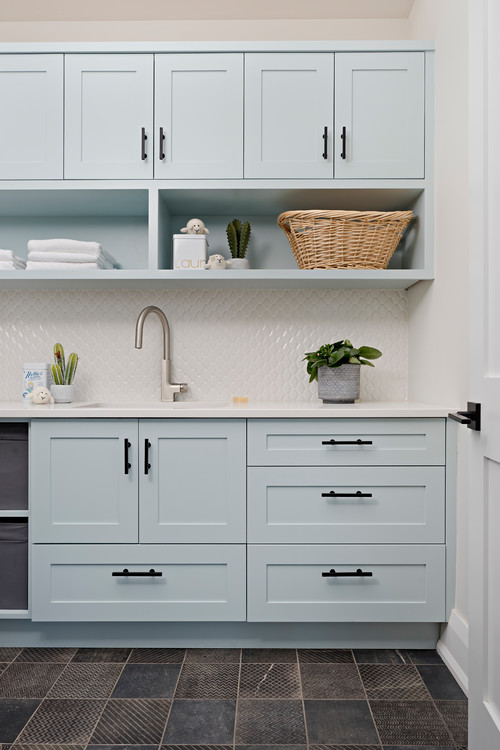 ID# 152420 | Houzz.com – Credit | © Soda Pop Design Inc.
---
Country Style for Small Laundry Room Storage Ideas
The open shelving with cabinets provides a much-needed storage and display area while contrasting nicely with the pale blue shade of the cabinetry. The warm brown and gray floor tiles give the room character and also tie in beautifully with the pale blue cabinets. The white walls ensure the space remains airy and bright, and the white tile backsplash brings a sparkle to the room. The white countertops harmonize with the cabinets and backsplash and the chrome tapware adds a modern and graceful feel. All in all, this combination of features brings a sense of contentment and peace to the room.
Small Laundry Room Ideas
A small laundry room ideas can be just as functional and stylish as a larger one with the right approach. Interior designers and home decorators have come up with clever ways to optimize small space laundry rooms, from smart layouts and storage solutions to attention-grabbing decor. One way to make the most of a small laundry room is to maximize vertical space with floor-to-ceiling cabinetry. This not only provides ample storage but also keeps the space feeling open and uncluttered. Another solution is to use stacked washer-dryers, which save valuable floor space. A small laundry room can also be incorporated into a mud room or bathroom to create a multi-functional hub.
When it comes to decor, the possibilities are endless. You can add bold wallpaper, a patterned tile backsplash, beautiful paint color, or layered lighting to give the space a personal touch. A stealth laundry space can also be created by installing louvered closet doors, a barn door, or a secret cabinet. You can even turn the dead space under the stairs into a functional laundry area. Well-designed and decorated small laundry room ideas can make the household chore of doing laundry much more enjoyable. Whether you find enjoyment in the ritual of washing clothes or simply want to improve the experience, a well-organized and stylish laundry room can make a big difference. Take inspiration from these modestly proportioned, user-friendly spaces and make the most of your small laundry room ideas.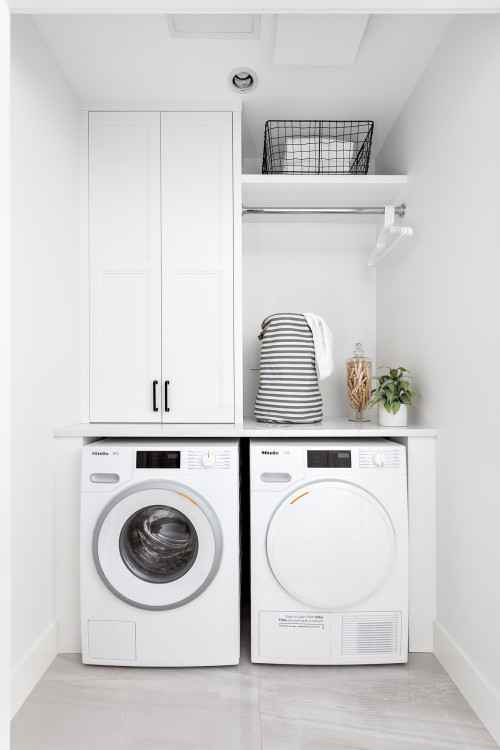 ID# 152401 | Houzz.com – Credit | © Beyond Beige Interior Design Inc.
---
Small Laundry Room Ideas with White Cabinets and Countertops
The white quartzite countertops bring a sense of indulgence and sophistication while the black hardware gives a smooth, contemporary contrast. The grey porcelain tiles bring in a soothing and harmonious atmosphere, and the stacked washer and dryer make use of space sensibly and make the room seem neater. The white walls and ceilings contribute to a clean, pristine ambiance, generating the impression of a larger, lighter space. It is the mix of natural materials, like quartz and tile, the use of neutral colors and its simple design that rejuvenates the room with a unified, lavish atmosphere.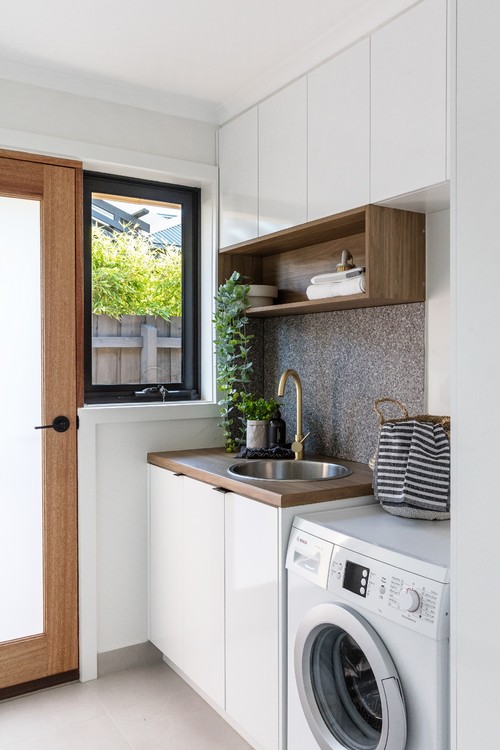 ID# 152402 | Houzz.com – Credit | © HX Design
---
Modern and Warm Appeal with Wood Countertops and Shelves
This modern laundry room offers a stunning, functional design with a blend of natural and contemporary elements. Rich
wood countertops
bring warmth and texture, while bright white flat-panel cupboards provide plenty of storage plus an elegant look. The exposed wooden shelving brings a rustic charm and offers easy access. Soft gray-hued tiles on the backsplash add a touch of sophistication and depth, complemented by a hint of brilliance from sleek brass hardware. The light beige floor tiles act as a unifying backdrop, allowing for the other elements to pop. It's a space sure to make you feel cozy, stylish and organized.
How do I maximize my small laundry room?
Maximizing a small laundry room can be an intimidating task, but these strategies can help you maximize the small space you have. Utilize the vertical space by installing shelves or a rod for hanging clothes, use multi-purpose furniture for storage and folding, opt for a light color scheme, keep it clutter-free and add lighting, incorporate mirrors for a larger feel, store laundry supplies outside the room, and make use of the back of the door for essentials. With these tips, you can create an efficient and organized laundry room in the small space you have.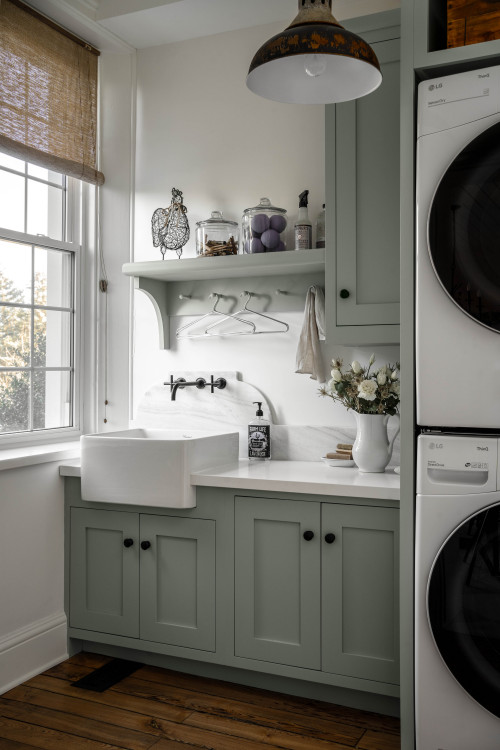 ID# 152403 | Houzz.com – Credit | © Cranberry Hill Kitchens
---
Green Shaker Cabinets for Small Laundry Room Ideas
The pale green shaker cabinets and the black hardware offer a striking contrast, making this small laundry room modern and stylish. The natural beauty of the wood floors adds an inviting warmth, while the farmhouse sink, white marble countertops, and slab backsplash create an intimate yet luxurious atmosphere. The white walls and ceiling give it a refreshing, clean look that further highlights the pale green cabinetry. Altogether, it offers a feeling of coziness and comfort.
Small Laundry Room Cabinets
Designing a compact laundry room can be daunting with limited storage options. An excellent choice to maximize the use of space and maintain an organized look is to include small laundry room cabinets. Wall-mounted systems offer a great variety of styles and sizes, so you can find the perfect match for your layout. Additionally, under-cabinet storage can incorporate shelves or drawers for storing cleaning materials, detergents and other essentials for the laundry area.
Organizer cabinets improve the efficiency of this room, by including pull-out hampers, adjustable shelves, and more. Installing a vertical cabinet or shelving unit can also make a tremendous difference, maximizing vertical space to ensure all needs are met. To further accommodate your needs, why not incorporate a pull-out ironing board within a cabinet to conveniently store in between uses? Making the most of storage ideas in your small laundry room can have you feeling organized and at ease.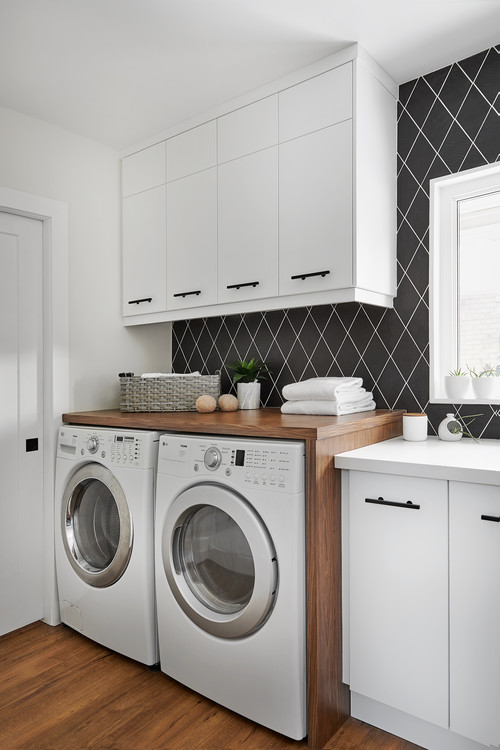 ID# 152404 | Houzz.com – Credit | © Soda Pop Design Inc.
---
Small Laundry Room Cabinets with White Flat Panels
This contemporary laundry room elicits an abundance of human emotion. The white flat-panel cabinets bring a clean and crisp look to the space, while the wood countertops add a warmth and comforting natural element. The stylish and unique waterfall design for the washer and dryer injects a modern touch, while the harmonious balance of wood and white creates a sense of serenity. To complete the contemporary aesthetic, the black hardware and black
diamond tile backsplash
incorporate a subtle contrast to the overall palette, resulting in a sophisticated and inviting room.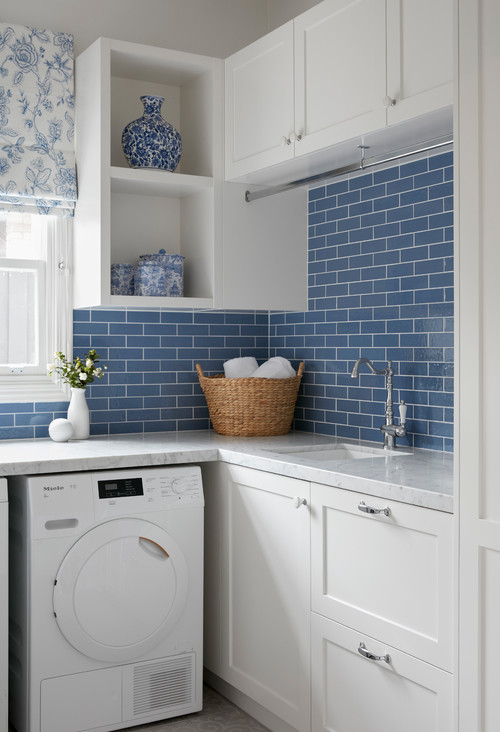 ID# 152405 | Houzz.com – Credit | © smarterBATHROOMS+
---
Blue Subway Tile Backsplash and White Marble Countertops
The white beaded inset cabinets exude a traditional charm, while the chrome hardware adds a modern and sleek feel, creating a wonderful harmony in the room. The luxurious and high-end white marble countertops evoke a feeling of sumptuousness, thanks to their durability and easy maintenance, making them ideal for a busy laundry room. The addition of the blue subway tile backsplash with the white grout adds a bit of color and texture to the space, all uniting the countertops into one pleasant visual. The white grout highlights the blue tile and draws attention to it, delivering a tranquil, calming atmosphere.
What is the smallest laundry room size?
The smallest laundry room size can be challenging to fit all that's needed into such a limited space. To make the best of it, you will likely require a stackable washer and dryer, or a combo unit, and vertically use the space for storage. You may have to get creative with storage, like hanging racks and shelves, to best use the small area.
Having a laundry room this small is not recommended, however, as it feels too cramped and uncomfortable to work in. To be more comfortable and functional, it's best to look at a laundry room of at least 6 to 8 square feet. This way, you'll have enough space for a full-size washer and dryer, storage, and a folding area.
It can be quite a daunting task to make a small laundry room work, but with clever design choices and imaginative storage options, it certainly is possible.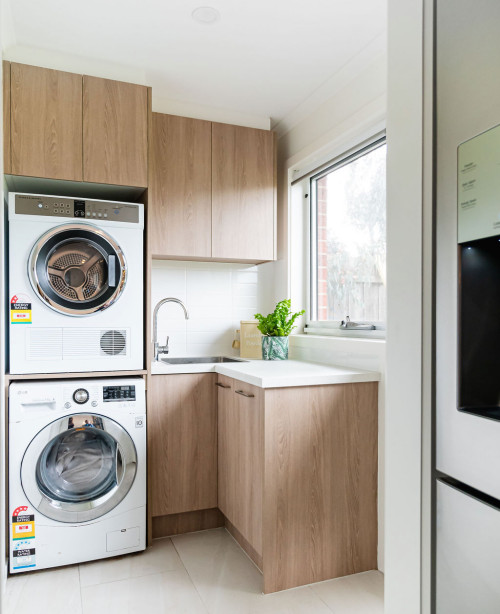 ID# 152406 | Houzz.com – Credit | © The Kitchen Designer
---
Small Laundry Room Cabinets with Wood Flat Panels and White Countertops
This stylish, modern and compact laundry room, with its light wood flat-panel cabinets, white quartz countertops, drop-in sink, chrome tapware, black hardware and stacked washer and dryer, is a beautiful space that radiates elegance. The light wood and white elements, combined with the black hardware and tapware, create a clean, modern-looking environment that exudes harmony and serenity, inviting you to spend time here with pleasure. The stacked washer and dryer design is a genius solution to make the most use of the limited space, ensuring this laundry room is both practical and efficient.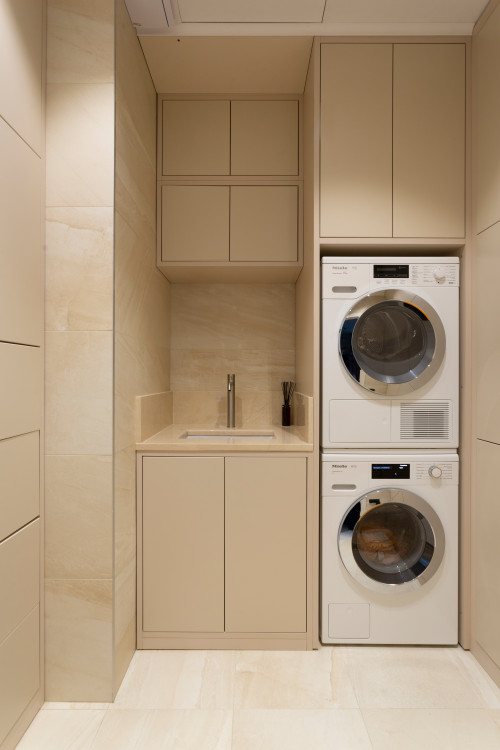 ID# 152407 | Houzz.com – Credit | © Константин Малюта
---
Contemporary Style with Beige Flat Panels
This contemporary laundry room with its beige tones creates an atmosphere of serenity and unity. The beige flat-panel cabinets, countertops, and stone walls evoke a sense of calmness and continuity, while the stacked washer and dryer harmonize the space. The beige motif gives the room a feeling of spaciousness and airiness, evoking a tranquil, cozy feeling. Every aspect of this room thoughtfully combines to create a unified and peaceful space.
How much does it cost to build a small laundry room?
The cost of building a modest laundry room can vary extensively, hinging on factors such as location, material, and labor costs. Moreover, the price of a small laundry room may also be dependent on the size and features chosen for the project. Typically, the expense of a small laundry room renovation can range from $2,000 up to $5,000, though it can rise with higher complexity levels. This amount will incorporate materials and labor costs such as flooring, cupboards, countertops and equipment.
If you're installing a stackable washer and dryer as opposed to a regular full-size unit and using a pre-existing cabinet system, the cost will be more economical. Bear in mind that any additional features you may choose to include – such as a sink, countertops, or expanded storage – will also contribute to the total cost. It is genuinely best to get a quote from a professional contractor to have a more precise understanding of the cost of your small laundry room revamp. They can supply you with a comprehensive outline of expenditures and assist you in budgeting for the project.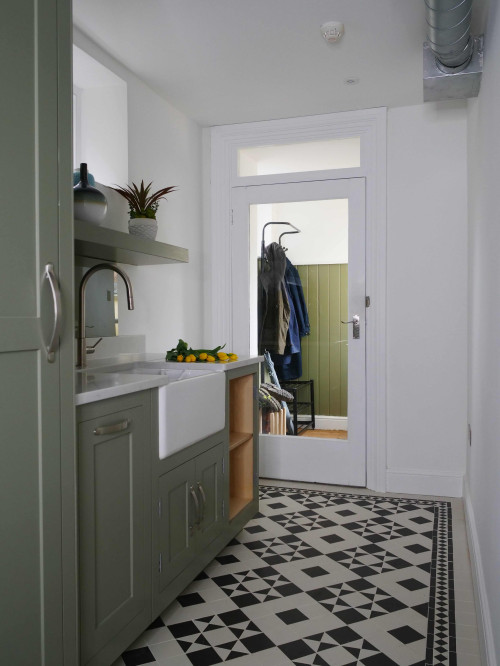 ID# 152408 | Houzz.com – Credit | © LNDesigns
---
Small Laundry Room Cabinets with Black and White Floor Tiles
The white countertops offer a crisp and refreshing contrast to the olive green cabinets, giving the room a unified look. The white farmhouse sink adds an air of elegance and vintage charm, with its generous size providing plenty of room for laundry duties. The combination of a washer and dryer in one integrated design is a practical selection for a laundry room, allowing for a visually pleasing look and optimizing the space available. Black and white ceramic tiles on the floor give the room a stylish, unique touch – the geometric pattern imparts a visually pleasing aesthetic, while the contrast of black and white brings an extra, delightful dimension. The all-white walls provide the right balance to all the other features so that the room has a light and open atmosphere.
Small Laundry Room Backsplash
Designing a small laundry room requires pondering the impact of the chosen backsplash. A classic subway tile is a great option to select owing to the range of colors and potential for assorted patterns. The small size keeps the space airy and open. A mosaic tile backsplash is a brilliant option for adding excitement, meanwhile, the small size allows for the same spatial feel. A glass tile backsplash is a desirable alternative; its reflection of light has the effect of enlarging the room. For a more rustic and industrial look, brick comes in a variety of colors, such as white, gray, or red. Ultimately, finding the right backsplash provides style, function, and emotion to a small laundry room.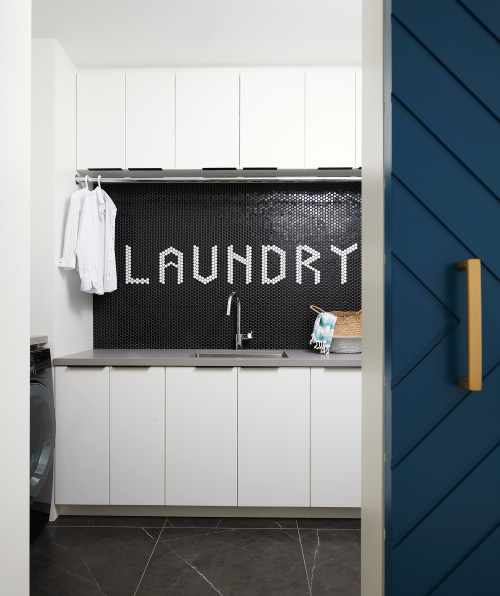 ID# 152409 | Houzz.com – Credit | © avenue design inc
---
Small Laundry Room Backsplash with Mosaic Tiles
Creating a focal point is one of the ways you can use it for a small laundry room backsplash design. The white flat-panel cabinets and the minimalistic black hardware design provide a contemporary appeal while the mosaic tiles add a stylish joke! The "laundry" writing with the white and black mosaic tiles looks eye-catchy and brings a contrasting look. This look is boosted by the black tile floors and the white cabinetry design with the black hardware. Gray countertops add also a neutral backdrop that balances the contrasting look with a monochromatic touch.
Do I need a sink in my laundry room?
A sink in the laundry room may be a convenient addition but can be seen as a luxury, based on individual needs and preferences. It may be useful for hand-washing delicates, rinsing out stains or filling a bucket or watering can, and making any spills or messes easier to clean up. The installation of a laundry sink may come at an additional cost and require extra plumbing, so it's important to consider the pros and cons before making a decision. Ultimately, it boils down to personal preference and what you consider essential for your laundry room.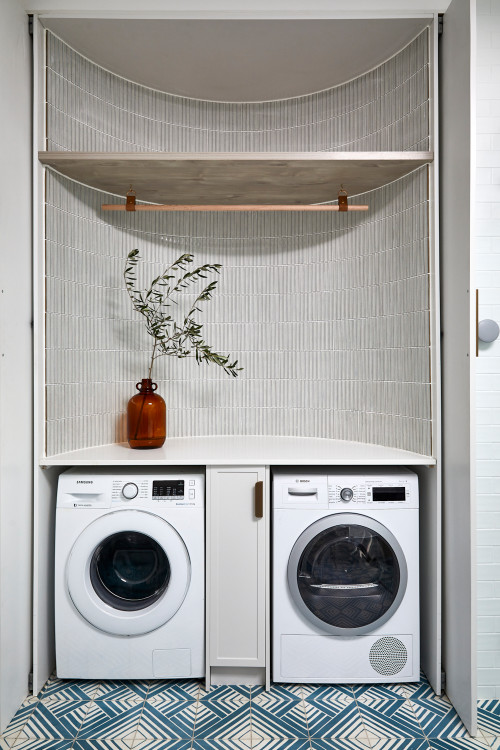 ID# 152410 | Houzz.com – Credit | © Blue Tea Kitchens and Bathrooms
---
Beach Style with a Curvy Niche and White Stacked Tiles
This laundry room invites feelings of contentment and relaxation with its stunningly curved niche that provides a simplistic yet sleek double washer and dryer set up. The blue and white floor tiles create a clean and calming atmosphere, while the delicate white stacked tiles on the niche wall add a gentle, homely touch. Coupled with the pure white color of the walls, this laundry room is a calming and stylish space. Not only does it provide a lovely, peaceful atmosphere, but this combination of
functionality and style
makes it a pleasant and enjoyable place to do your laundry.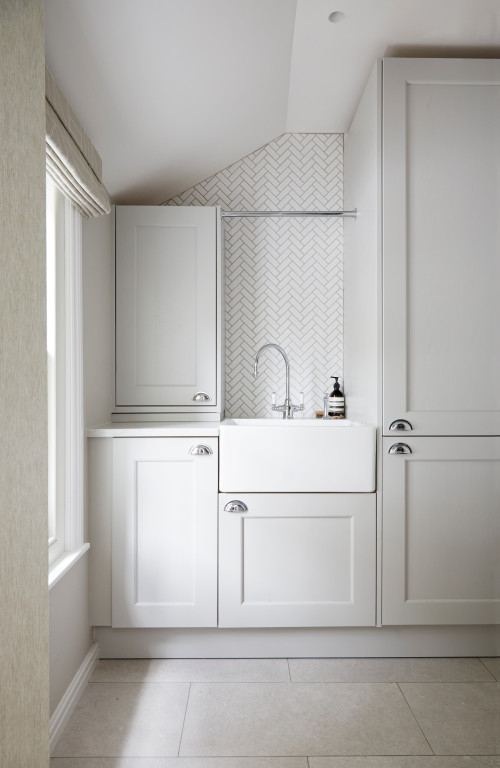 ID# 152412 | Houzz.com – Credit | © Kia Designs
---
Contemporary and Warm Brightness with Shaker Cabinets
This small laundry room imbues a timeless and classic sentimentality. The light gray shaker cabinets are beautiful and practical, while the chrome hardware adds an inviting sparkle. The white countertops enhance the cabinet's aesthetic and make cleaning a breeze. The white farmhouse sink and chrome tapware give an enchanting and evergreen look. The light gray floor tiles bring a contemporary touch and match the overall color pattern. The white walls create a refreshing and open atmosphere, and the white herringbone tile mosaic backsplash brings a pleasing texture to the room.
Small Laundry Room Shelving
Organizing and making the most of a small laundry room can seem daunting. But with creative and thoughtful shelving options, you can feel confident knowing that your space is both functional and stylish. Floating shelves are a great option for people with small laundry rooms. Not only do they take up minimal floor space, but they create the perfect spot for laundry supplies and a few decorative touches. Ladder shelves add a unique visual element and work well for storing laundry baskets and folded linens. If hang-drying is your preferred method of laundry care, a wall-mounted drying rack is the way to go. This type of rack is unobtrusive, saving valuable floor space, and can be easily folded away when not needed.
All in all, small laundry room shelving designs like these can bring a little order to an often chaotic space. With the right storage solutions and a little imagination, you can have an efficient and aesthetically pleasing laundry room.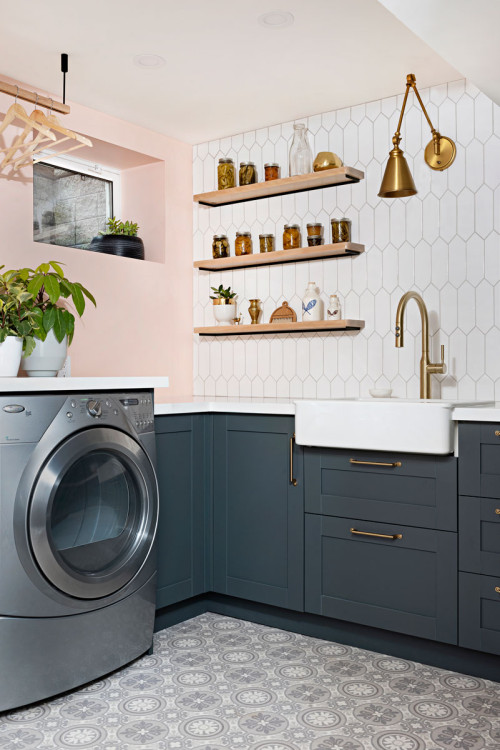 ID# 152413 | Houzz.com – Credit | © Four Blocks South
---
Small Laundry Room Shelving with Floating Wood Shelves
The contrasting grey and white floor tiles evoke feelings of modernity and vibrancy within the space. The grey shaker cabinets provide a
practical storage solution
while blending in seamlessly with the other hues. The warm and homely brass hardware adds a vintage charm to the area. The crisp white countertops and easy-to-clean surface pair perfectly with the cabinets' tone. The classic elegance of the white farmhouse sink and white picket tile backsplash make for a beautiful setting. Natural tones and texture fill the space with the light wood floating shelves for additional storage and display purposes. It is truly a masterpiece of a kitchen with something for everyone's taste.
What is the most popular color for a laundry room?
The most popular color for a laundry room really depends on personal preference and design style. But, there are a few shades that often create a sense of comfort, calmness and even an inviting atmosphere. White and light gray has a bright and clean effect, while blue brings a relaxing vibe. Neutral tones such as beige can help create a warm atmosphere. Accent colors like yellow, green and pink can be used for a splash of color. Ultimately, choosing the right hue for your laundry room comes down to the feeling you want to evoke.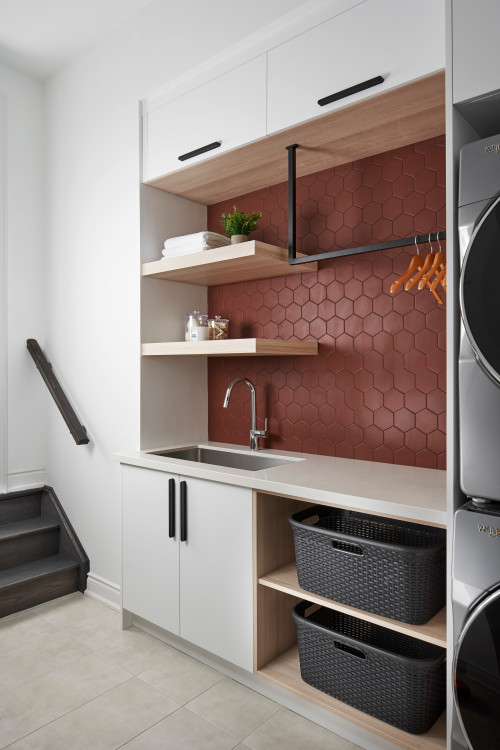 ID# 152414 | Houzz.com – Credit | © avenue design inc
---
Red Hexagon Tiles with Light Wood Cabinets
This laundry room welcomes you with a stylish look. The most eye-catchy design element is the red hexagon tile backsplash, of course. The light wood cabinets and floating shelves make the backsplash stand out. The black hardware provides a striking contrast with the light wood cabinets. The white countertops brighten up the backsplash making it the focal point in the laundry room. Light wood floating shelves harmonize with the cabinetry design creating extra storage and design space for the laundry room cabinetry design.
Small Laundry Room Sink
In a small laundry room, every inch of space counts. But when it comes to finding the perfect sink for your space, it can be a challenge.
Wall-mounted sinks:
Whether you pair it with a countertop or shelf, a wall-mounted sink allows you to have a functional sink without using up valuable floor space.
Corner sinks:
Perfect for making use of otherwise unused space, this type of sink is designed to fit into the corner of a room and it can also be a great option if you have limited counter space.
Pedestal sinks:
Smart and stylish, here's a sink that takes up minimal floor space. It can also be paired with a small countertop or shelf and is a great option if you want to add a touch of vintage style to your laundry room.
Console sinks:
Give yourself a bit more counter space by opting for a console sink. It has legs that hold up a countertop and can be a great option in a small laundry room.
Undermount sink:
Installed under the countertop, an undermount sink provides a sleek and seamless look and leaves more counter space.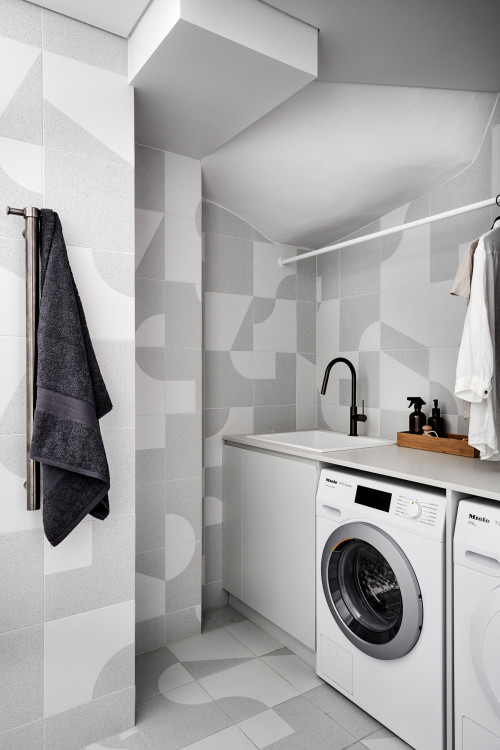 ID# 152415 | Houzz.com – Credit | © Ryan Linnegar
---
Small Laundry Room Sink with Gray Countertops and Cabinets
The Scandinavian laundry room has a sophisticated and elegant look, thanks to its light gray countertops, flat panel cabinets and integrated washer and dryer. The gray and white tiled floors create a subtle texture and contrast nicely with the countertops while the neutral-colored walls set the stage for the other design accents, such as the black faucet and accessories, to truly shine. Every element of the space comes together beautifully to create a sense of luxury and comfort, making it a perfect spot to enjoy some much-needed relaxation while doing the laundry.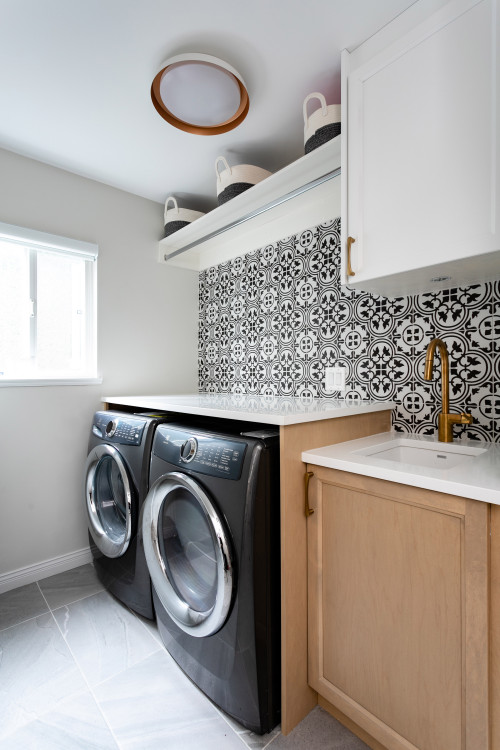 ID# 152416 | Houzz.com – Credit | © SGDI – Sarah Gallop Design Inc.
---
Light Wood Cabinets with Brass Accents and Black and White Tiles
The light wood cabinets in the laundry room bring a warm, natural feeling to the space, while the practical, space-saving side-by-side washer and dryer add a sense of functionality. The white countertops create a fresh, clean look that beautifully complements the light wood cabinets and the small under mount sink indulges in the luxury of the brass tapware and hardware. The combination of white uppers and shelves and light gray walls promote a feeling of roominess and brightness throughout the area, while the black and white floral pattern backsplash creates a delightful feeling of charm and character. The light gray floor tiles add to the sense of togetherness, as they flawlessly match the color of the walls. Together, these features create a pleasant atmosphere in the laundry room.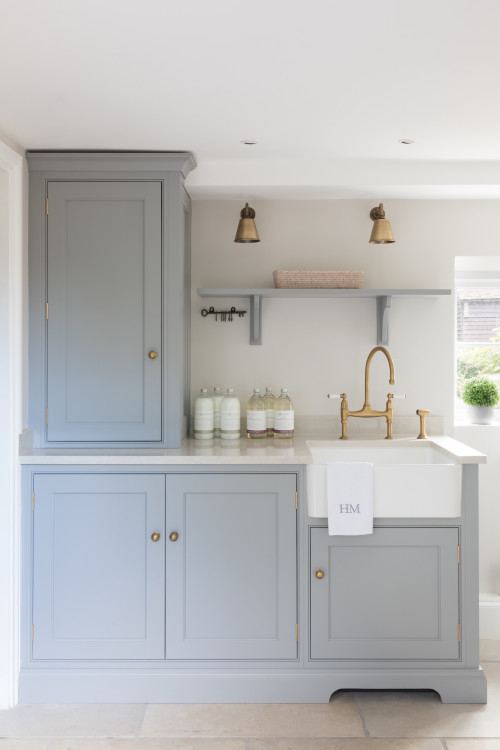 ID# 152417 | Houzz.com – Credit | © Humphrey Munson
---
Small Laundry Room Sink Ideas with Gray Shaker
The light gray shaker cabinets with a pale blue undertone create an inviting, tranquil atmosphere in this laundry room. The gleam of the brass accents, such as the tapware, hardware and sconces, enhances the space with a hint of elegance. White countertops and a small white farmhouse sink give a crisp, fresh feel, while the white walls keep the space feeling open and airy. The warm beige floor tiles provide a cozy, neutral base and also unify the color palette of the room!
Small Laundry Room Storage
A small laundry room can be an intimidating challenge for many, especially when it comes to storage. With a limited area, it can be tough to fit all the necessities and still have enough room to move around. But, it's not all doom and gloom; with a bit of creativity and smart design decisions, creating a functional and organized space in the smallest of rooms is possible. For instance, adding floating shelves to the walls can provide extra storage without taking up any floor space. If line storage is needed, baskets and bins can be placed. Don't forget to take advantage of the area above the washer and dryer either; a shelf or hanging rod can really come in handy. For additional storage, consider installing a hanging rack on the wall to hang clothes, or a fold-down ironing board if a full-size one won't do.
Creative Storage Solutions
Finally, utilizing the vertical space in the laundry room makes a huge difference – perhaps a ladder-style drying rack or a pegboard to store laundry baskets. It can be tough to maximize storage in a small laundry room, but with the right ideas and solutions, it is possible. With a determined and creative mindset, those limited spaces can become decluttered, organized and functional areas. Walls, ceilings and vertical spaces can play a big role in helping to make the most of even the most limited space. You don't have to compromise on storage to feel comfortable and satisfied with your laundry room – it just takes a bit of effort and thought.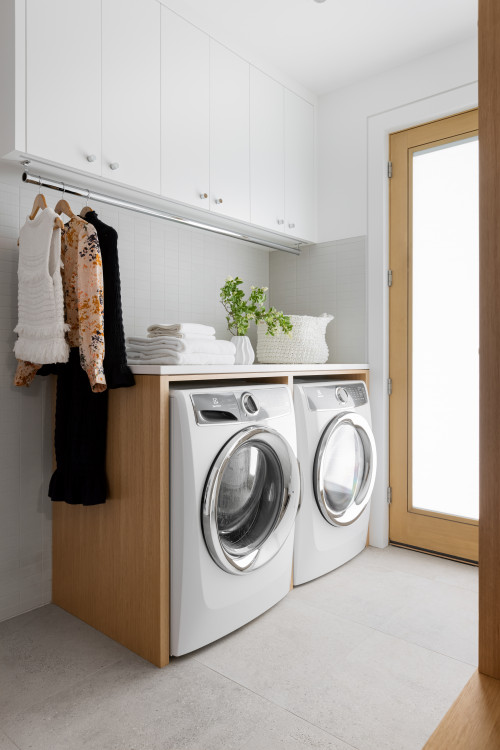 ID# 152418 | Houzz.com – Credit | © Jenny Martin Design
---
Small Laundry Room Storage Ideas with White and Light Wood Cabinetry
This contemporary laundry room has a beautiful, modern look featuring light wood cabinetry and a convenient side by side washer and dryer, perfect for saving space! The white countertops perfectly complement the cabinetry and give the room a fresh, bright feel. The upper flat panel cabinets offer extra storage, something everyone can appreciate. The neutral grey floor tiles complete the look, while the white walls contribute to a bright and spacious atmosphere. Overall, this makes you feel happy, cozy and organized.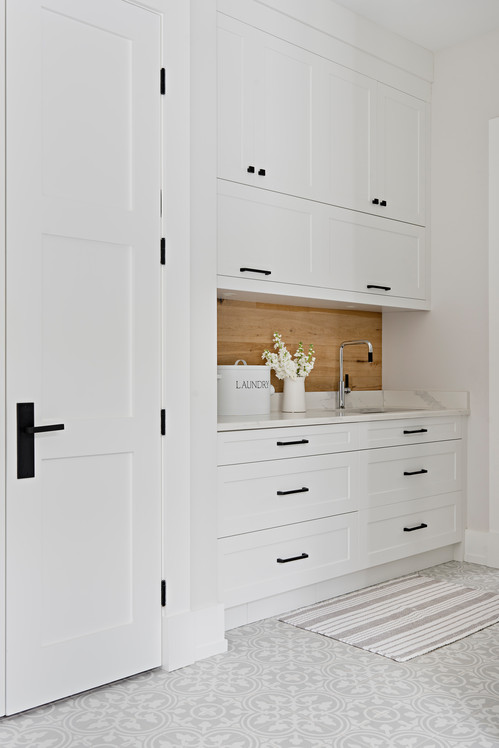 ID# 152419 | Houzz.com – Credit | © NFG Designs
---
White Shaker Cabinets and Black Hardware with White Countertops
This transitional bathroom design exudes a feeling of serenity, with its subtle and balanced combination of cool whites and warm grays, and its classic full-height shaker cabinets. The white quartz countertops add durability and sophistication, while the wood-look backsplash adds warmth and texture to the space. The black hardware is a natural contrast to the white cabinetry, creating a sleek and sophisticated look. The light gray flowers on the floor tiles introduce a touch of charm, and the very light beige walls provide a neutral backdrop. This calm and harmonious color scheme gives the bathroom a cohesive, comfortable atmosphere that is both practical and pleasing to the eye. Refined, clean and serene – a perfect balance of form and function.
Does a large laundry room add value?
A spacious laundry room will bring comfort, convenience and value to any home. It's a desirable feature that is often seen as a big plus for potential buyers. It can help make doing laundry an easier and more pleasant activity, giving buyers the space they need for appliances, storage and folding areas. Moreover, it can also double up as a multifunctional room, like a mudroom, which can add even more appeal to those looking to invest in a new home.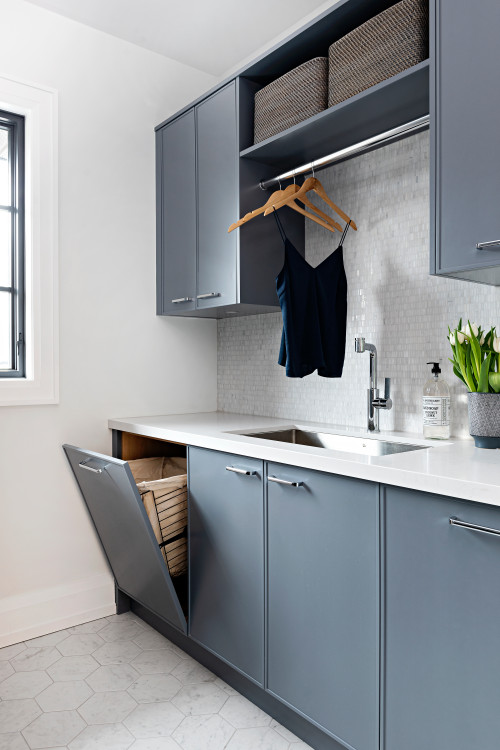 ID# 152421 | Houzz.com – Credit | © NFG Designs
---
Gray Flat Panels and Chrome Hardware with White Countertops
This laundry room design creates an awe-inspiring vibe with its galley gray flat-panel cabinets that bring a sleek, modern look. The white quartz countertops impart a sense of durability and elegance, while the chrome hardware exudes a brilliant shine with its contrast against the gray cabinets. Alluringly, the white hexagon tile floors bring a playful pattern and the white walls generate a spacious and vivid atmosphere. Moreover, the mosaic tile backsplash adds a burst of vibrancy and texture, and the chrome faucet shows off a modern feel with its glinting sheen.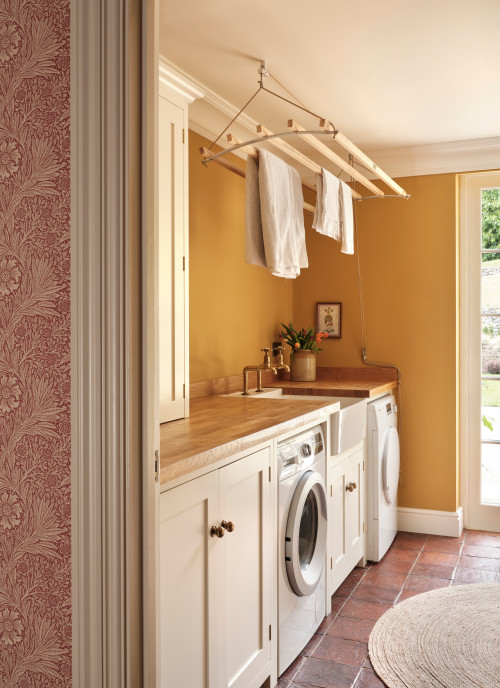 ID# 152422 | Houzz.com – Credit | © Maddalena Minerva
---
Warm Country Touch for Small Laundry Room Storage Ideas
This country-style room radiates warmth and a feeling of home. Its mustard-yellow walls evoke a sense of coziness, while the butcher block countertops evoke a rustic and natural look. The brass hardware and faucet add a touch of elegance, and the white apron sink brings a vintage charm that contrasts the butcher block nicely. Besides, the light beige shaker cabinets are a picture of clean and classic elegance. And the integrated dryer and washer are both space-saving and convenient. Last, but not least, the light wood cloth hanger brings a practical and stylish extra touch to the room.