Room Ideas
Homes are our private sanctuary. We can design it according to our dreams and reflect our personalities, tastes, and styles. It is all about making space feel like home and create fully functional designs for day-to-day living. The interior design of rooms should answer the needs of individuals living.
A well-planned room provides both style and functionality and also improves the quality of your life. Scroll down and find more inspiration for living rooms, kids' rooms, dining rooms, game rooms, basements, laundry rooms, and more room ideas.
1. Living Rooms
Much like the kitchens, living rooms are also the hearth of homes. Living rooms are places where friends and family gather the most in a home. From comfortable sofas to eye-catching decoration pieces, there are limitless ways to add some joy to the living rooms that will make them the most inviting, relaxing, and blissful place in your house.
Living rooms must provide both style and function. Living rooms should be outfitted with the right furniture and decorative accessories. A well-decorated living room can instantly pull the attention while also being a practical and functional space.
Starting with the bones of the room, you need to decide the color scheme and flooring. If you have a small space, you can use brighter shades like whites, creams, or light grays. In this way, you can achieve a spacious atmosphere. if you are working on a larger room, you can easily incorporate darker colors.
When it comes to choosing living room furniture, you need to consider how you will use the space and what is the best layout for it. The right furniture can make a big difference in the room. So, the scale of the rooms is important, you do not want tiny furniture drowning in a large living room.
And finally, you can get to the accessories and textiles. This is the fun part of designing a room but also you need to be careful. Curtains, rugs, pillows, cushions, paintings, and more. These final touch elements can easily make or break your design.
Living Room Cost
Living rooms are generally the largest rooms in the house and hosts the most furniture and of course, you are wondering that how much costs designing a living room? Your budget will vary based on the size of your room and the quality of the furniture. For a standard project you may expect a $15,000 average and for a high-end custom project, this price may go up to $50,000.
2. Game Rooms
Who wouldn't want a space in their home solely devoted to the purpose of having fun? If you have enough space in your home, you can easily create your very own game room.
Game room plans have various features, taking into account a specific target audience. You can go with high-tech features like televisions, computer screens, and game consoles for video gaming, or more traditional features like a ping-pong table, arcade machines, and pool tables or you can combine these features. Whatever your choice is, game rooms allow you to create a space that can spend entertaining time with your family and friends.
You can design a gamer's bedroom, or evaluate an unused corner of your garage or living room, or design a dedicated room in your basement. You just need to consider that the gaming area should strike a balance between functionality and comfort.
Game Room Cost
The cost of your game room remodel depends on the size of the room and what activities you want in it. The average cost of a gaming room is around $3,000 but of course, the limit is the sky. If you want to add high-tech gamer equipment or a pool table the price will go up.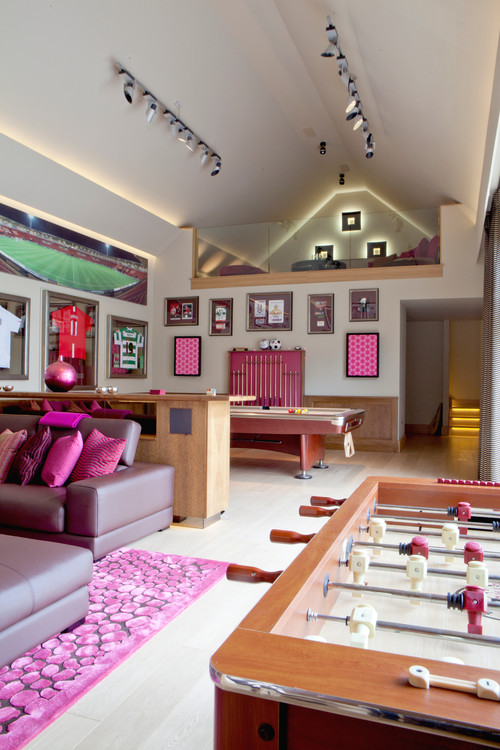 Houzz.com – Credit | Carolyn Parker Interior Design Ltd. | © Emma Lewis
3. Home Bars
Isn't it the dream that having a bar at home? Our answer is definitely yes! Home bars not only provide storage space for beverage collections but also help to create an entertainment space luxuriously. The powerful impact of the home bar instantly creates a sense of luxury and comfort for your family or friends.
A home bar is an impactful design statement that offers both style and function. Whether you are working on a small or large space, you can create your very own bar with a clever organization and the right material choice. Because they are designed with unwinding in mind, you can always get creative on your home bar. From elegant cabinets in an unexpected color to distinctively patterned wallpapers, extravagant lighting fixtures to beautiful countertops. Whatever your choice and style are, a bar can bring a personality to your home.
If you're designing a home bar, the first thing to consider is whether you want a wet bar or a dry bar. A wet bar has a sink with running water and a dry bar only has a place where you can prepare drinks and no sink. Wet bars provide more functional and practical workspaces but they are much more expensive. So, before you decide you need to define your needs.
The drink prep area needs good lighting, just like kitchen prep areas. Besides the beautiful pendant lights or chandeliers, backlit lights or under-cabinet lighting also work well in bar areas.
Home Bar Cost
The cost of building a bar at home will depend firstly on where you decide to build it and what are the size and style. A home bar costs $8,000 on average but depends on how elaborate your features are, this price can go up to $20,000 or even more.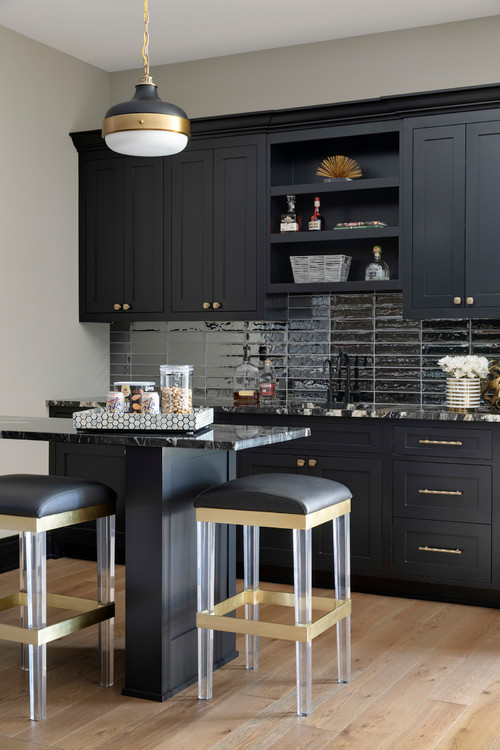 Houzz.com – Credit | ADŌR Homes | © Spacecrafting
4. Sunrooms
Sunrooms, also known as a four-season room, are one of the strongest bonds between outdoor and indoor. So, is there any better place filled with sunshine and comfortable chairs to grab a coffee and get relaxed? 
A sunroom is a structure usually built onto the side of a house and allows you to enjoy nature while being protected from the bad weather conditions. From living space to a dining room, office to a game room, you can use your sunroom for different purposes. Besides their function and stylish appearance, sunrooms also add value to your property.
Sunrooms bring beautiful nature and warm natural light with interior comforts. There is a wide variety of materials and styles for sunrooms. You can build a wood sunroom with a cozier and warmer atmosphere or use brick walls to create a more industrial or rustic vibe or build it out of glass. With a clever organization and the right layout, you can transform your sunroom into the most popular spot in your house.
Sunroom Costs
The sunroom costs greatly depending on the type of the room, the materials used, and labor costs. The average cost to build a sunroom ranges from $35,000 to $55,000. This price can go up as high as $90,000 for a custom design with high-end materials.
5. Wine Cellars
If you are a wine collector, investing in a wine cellar where you can display and protect your collection, might be worth it. Wine cellars are aesthetically pleasing spaces that showcase your entire wine collection safely in one setting.
A wine cellar or wine room has been found in houses since the time of the ancient Greeks. The wine cellar, which used to be only in the homes of distinguished people, is now in everyone's house. From glass to stone, wood to metal, with a wide range of materials wine cellars offer both an elegant luxurious feel and functionality. And thanks to this variety wine cellars can be suitable for all styles.
When designing a wine cellar, the first consideration should be maintaining the right conditions all the time. You need a proper wine cooling system that controls the temperature and humidity. If you don't have a proper climate control system, you'll have ruined its taste and your investment. For large wine cellars, needs more work in climate conditioning compared to a small wine cellar.
Wine Cellar Costs
On average, residential wine cellars cost about $40,000 in the USA. However, that price can change significantly based on size, material, and installation. If you have a budget you can go with inexpensive materials and decrease this price down to around $15,000. But if you want to build an entire room with custom cabinets, a high-tech cooling system, and high-end materials this price can easily go up to $180,000.
6. Laundry Rooms
Generally, laundry rooms are the last spaces to get a much-needed refresh in the home but with a little effort, the laundry room can be just as stylish and organized as the rest of the house. When it comes to keeping things clean, laundry rooms are essential. From space-saving designs to smart storage solutions you can check out our laundry room ideas to find more tricks and tips.
Usually, small spaces are chosen as a laundry room which means that you have to optimize the space. Well-designed cabinets, drawers, open shelves, and cloth racks can help you to create clutter-free spaces.
Also, laundry rooms don't have to be boring spaces full of dirty laundry. From painted cabinets to eye-catching wallpapers, beautiful tiling to unique hardware, there are plenty of ways to spruce up your laundry room that can turn your utility room into an efficient, well-designed space.
Laundry Room Cost
The most common size for a laundry room in the U.S. is around 35 square feet and includes cabinetry, countertop and sink, and washer and dryer.  The average cost of remodeling a 35-square-foot laundry room is $6,000.
7. Bedrooms
Unlike the rest of the home, bedrooms are the most private rooms of the houses and this provides an opportunity to reflect your style and personality on full display.
A bedroom is your personal oasis. Whether you dream of a luxurious hotel-style bedroom or restful sanctuary, bedrooms offer a space where you can relax and recharge on the day.  Regardless of what style of decorating you choose, bedrooms should provide a balance between cozy and sophisticated. When you are designing or decorating a bedroom you need to avoid unnecessary things because you don't want a catastrophic feel in your sanctuary.
When it comes to choosing bedroom furniture, the size of the furniture needs to be in balance with the size of the space. Bed, bedside tables, wardrobe, and drawer storage are the main furniture of bedrooms. If you have enough space, you can include a dressing table, an armchair, or even a sofa. If your bedroom is small, you may want to opt for a bed that incorporates storage.
If you want to create a relaxing atmosphere, the room needs to be bright and open and you can give this look with a light and soft color scheme. If you want some drama in your bedroom, sophisticated blacks or sexy reds might be a perfect choice.
Bedroom Costs
When you are designing a bedroom, from beds to wardrobes, lighting fixtures to styling accessories there are too many things that you need to spend on.  In general, the cost of furnishing a bedroom can range from $3,000 to $10,000 or more.
8. Dining Rooms
Today, with the rise of the open concept kitchen, you may think that dining rooms hardly find a place among the new trends. But we say they are still on trend! A dining room offers a space where you can just focus on your dinner and have quality time with companies. From elegant dining sets to glamorous chandeliers, there is a limitless way to create an eye-catching and welcoming dining room.
The furniture is the key point of the dining room. A dining set is the heart of the room. It creates a focal point and turns the room into a functional space. From wood to acrylic there are plenty of materials that you can use on your dining set. Besides the set, you can also add a buffet, built-in cabinets to maximize the functionality and add storage space.
Since a dining room is a key area of your home, a carefully chosen lighting fixture can instantly transform the room whether it's plain and simple or has several layers. The dining table requires a special lighting fixture. With a well-planned lighting fixture, your dining room can shine.
Dining Room Costs
When you are decorating your dining room there are some important points that you need to consider. First, you need to define the dimensions of your space. And, how many people need to fit at the table. After you answer these questions, you can start to shop for your dining room. For inexpensive furniture, you might expect that to spend the $5,000- $-12,000 which includes a dining table, chairs, a storage or display piece such as a buffet or hutch, an area rug, and artwork or a mirror. For a luxury dining room with custom furniture, high-end accents this price can go up higher.
9. Kids Game Room
Entertaining wallpapers and carpets, arts and crafts tables, and of course a bunch of toys! Kids' game rooms in your home are naturally vibrant and full of playfulness and provide a space for kids to get creative and have fun in their own worlds.
You can get your kids' attraction with innovative and charming room designs and provide a space for your kids to enjoy their freedom. A carefully chosen theme can turn a playroom into a realm of fantasy for children and a magical family escape for adults.
The color scheme is one of the most important design choices that you should make. Bright and vivid colors such as pinks, yellows, blues, can get the kid's attention. Also, colorful wallpapers and carpets are a great way to enhance your kid's imagination.
Storage spaces are crucial for the kids' rooms. Benches, closet storages, open shelves help you to stay organized. These furnitures must be at their height, in this way they can easily reach the storages and tidy their rooms by themselves. Also, using colorful baskets is a great way to create clutter-free space.
If you don't have a spare room, you can also turn the corner of your living room into a play area for your kids. You just need to shop for some entertaining toys!
Kids' Room Cost
For your kids' room, you do not have to spend a fortune. You can turn a regular room into an eye-catching and entertaining space for your kids with simple DIY projects and some playful toys.
However, if you do not want to do this, you might expect to pay between $2,000-$5,000. Of course, it might change depends on the materials, style, and size of the room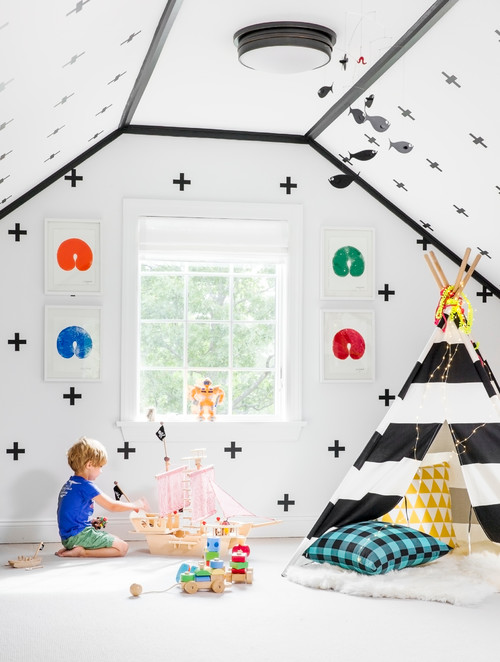 Houzz.com – Credit | Chango & Co. | © Sean Litchfield
10. Walk-in Pantry
We need a space to store the crowd stuff that we use in the kitchen but there is not any space for it so here it comes: pantry cabinets! We know that pantry usage started before the middle ages we can hide a lot of things in it. So how about including a pantry in your kitchen?
Pantries are taking away all crowd from our cabinets and a great way to store our things such as dishes, beverages, some food, cleaning stuff, etc. And if you have enough space, placing a pantry might be a perfect way to get of the disorganized kitchen.
Generally, pantries are designing in small rooms. So the color choice is important to create a spacious atmosphere. Because it is the representation of cleanness and pureness, white color always stays in front of the line for pantries. Much like the white, light grays, soft beiges are also a perfect choice for them. But of course, with a well-planned layout, you can also use darker shades.
If you don't have space to design a spare room for the pantry, do not worry. You can also include some pantry cabinets for your kitchen.
Pantry Costs
When it comes to pantry walk-in pantry designs, it is hard to say an exact price. Material, room size, and even the location affect the final cost. According to HomeAdvisor, a walk-in closet, costs between $750 and $3,500 on average.
11. Walk-in Closet
Who wouldn't want a gorgeous walk-in closet in their house! Walk-in closets never fail you to add a dose of luxury to your home. If you have a lot of clothes and have no idea how to organize and store them properly, you can create your very own high-end boutique!
Well-designed walk-in closets can be a great way to store your clothing, shoes, and accessories. With the right design features, your closet will become one of the most important spaces in your home.
What should be included in a walk-in closet? This is the most common question that comes from the homeowners. The first step is cabinetry. The layout of the cabinets is very important for walk-in closets. You need to find the best layout according to room dimensions. You can combine display cabinets, open shelves drawers based on your needs to create a more spacious atmosphere and also a more functional design. If you have enough space you might consider including a closet island that can serve several different purposes.
The lighting is the other crucial decision that you need to make. With well-designed lighting fixtures, your closet becomes more attractive. Besides a chandelier, you can also add backlit lights under or behind shelves and racks, or in the display cabinets to highlight the accessories.
Walk-in Closet Costs
The total cost depends on the size, material, style, and type of the system. If you have on the budget, you can go with an inexpensive, pre-installed walk-in closet that costs about $1,200 to $3,000 on average. But for the high-end luxury walk-in closets, this price can go up to $50,000 or more.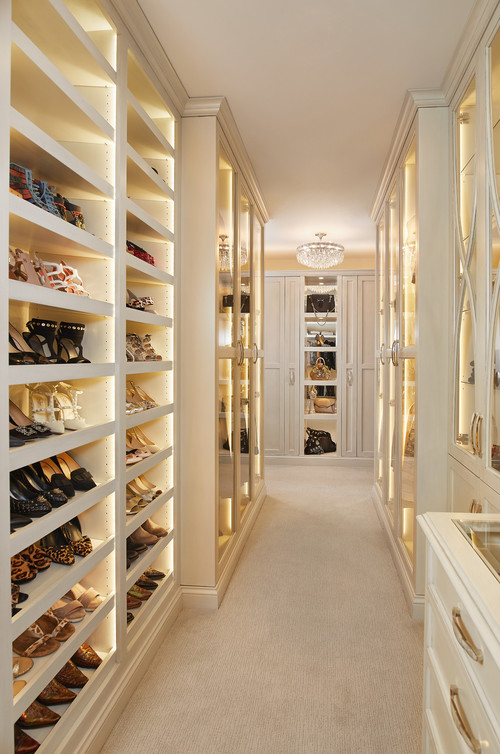 Houzz.com – Credit | Mike Schaap Builders | © Ashley Avila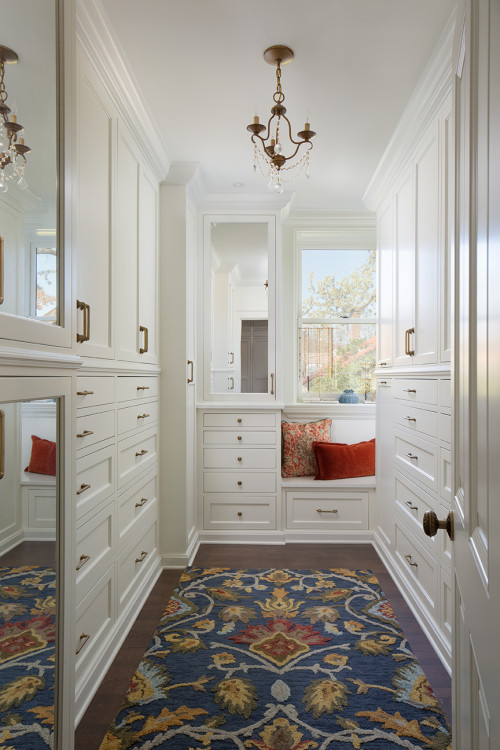 Houzz.com – Credit | Karen Kempf Interiors | © Tricia Shay