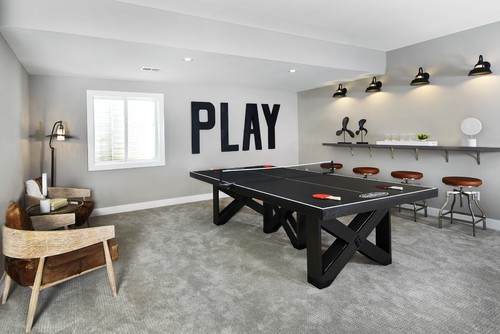 ID# 109218 | Houzz.com – Credit | © Dream Finders Homes
---
Custom Black Ping-Pong Table with Gray Carpeted Floor
Love this wall decor that spells out "play"! It is matching perfectly with the game room's atmosphere. Black Ping-Pong table popping up in this white room. Wooden armchairs with brown cushions bring a cozy look. Wall-mounted bar table and bar chairs with leather seating shine out under the black barn lights.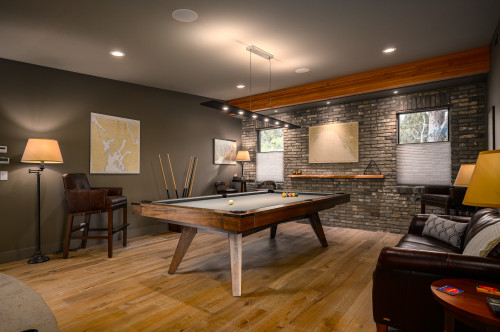 ID# 109201 | Houzz.com – Credit | © Underwood & Associates LLC
---
Pool Table Room with Stone Wall and Wood Shelf
A taste for tradition can be complemented with stone wall decorating. Look at this custom-designed pool table with wooden details. The leather sofa and armchair complete the rustic look. Love the idea of combining different shades of wood on the floor, single floating shelf, and ceiling lining. The light of the Swing arm floor lamp reflects perfectly on the gray wall.
Creative Basement Game Room Ideas with Elegant Styles
If you have a basement, you can use it for various purposes: make a basement bar, a kitchen, a bathroom, a family room, a home cinema or realize your dream game room! A game room will be a great idea for everybody. You can spend time with your family! Check our basement game room ideas before you start the design.
Choose remarkable lightning designs.
There is an endless option to create a game room. You can design the playroom of your dreams with a well-chosen theme. Lighting is a key component of the game room. There are lots of choices of color effects to use for your game room. The effects of light and ambiance contribute maximally to the gaming experience. There are game rooms that are exclusively for video gaming, others with pole tables, ping-pong tables, and even arcade games. The game room can be more spectacular with more playful activities and allows a space for the entire family.
Here are some fun ideas in our basement game room gallery to decorate your gaming room!