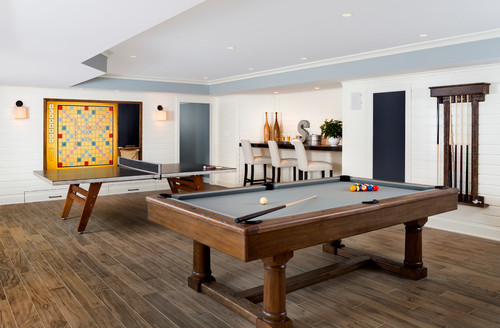 ID# 117308 | Houzz.com – Credit | © Kristin Peake Interiors, LLC
---
Modern Game Room with Dark Hardwood Ceiling
A pool table and a stand for bats can enough a design for the game room. A wall-mounted bar table allows a seating area next to the pool table. Dark hardwood covering the ceiling elegantly. 4 x billiard cues hanged on the wood panel and cue length is 59 inches.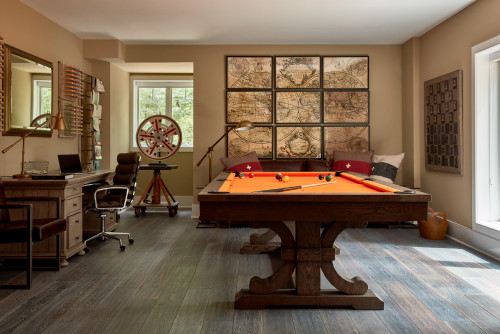 ID# 117341 | Houzz.com – Credit | © Groundswell Design Group Inc.
---
Transitional Game Room with Orange Pool Table
Vibrant orange popping up between these natural colors. Vintage maps cover almost the whole wall. leather sofa right under the frames. The bronze floor lamp completes the look perfectly.
Gorgeous Pool Table Room Ideas with Imposing Styles
Will you make it a classic pool room or modern room? Maybe a man-cave look? There is an endless choice to design a pool table room. We gather up some billiard table room ideas for ways you can create a well-designed room inside your home.
Take care of the lighting.
There are so many designs for the table frame itself and many custom opportunities. You can go with a classic wooden frame or with customized modern frames which harmonized with the atmosphere. Both contemporary and traditional looks are perfect for game room designs. Lightning is one of the most crucial parts of the design because you need to set more different lighting to make the atmosphere more be dramatic. You can get attention with substantial drop-down lighting above your table. Here are some ideas in our game room gallery!
When properly designed, billiard rooms are generally actual works of art!