ID# 109105 | Houzz.com – Credit | © Custom Audio Video
---
Loft Game Room Ideas with Video Gaming Area
This loft has different features for everyone. Ping-pong table, arcade machines, and table soccer for those who enjoy more classic activities. Also, a video gaming area with separate screens for gamers! Pendant lightings were placed all along with the room.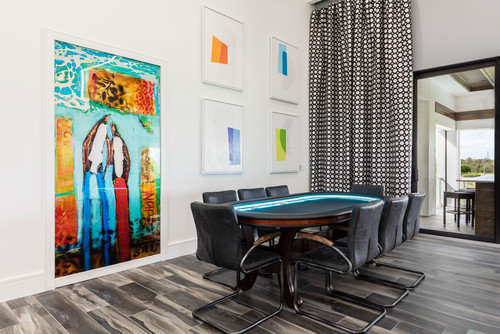 ID# 109106 | Houzz.com – Credit | © Suzanne Nichols Design Group, Inc.
---
Modern Game Room Ideas with Large Oval Game Table
A large wooden game table with gray chairs allows enough space for game nights! Blue LED lights on the game table take attention to the black table cloth. Rectangular art pieces and dot patterned floor to ceiling curtain liven up the atmosphere.
Colorful, Elegant, and Entertaining Game Room Ideas
Who wouldn't want a space in their home solely devoted to the purpose of having fun? You can design a game room in the entire basement, attic or unused corner of your garage or living room! Check out our game room ideas before this transformation.
Combine the different activities
Game room plans have various features, taking into account a specific target audience. You can go with high-tech features like televisions, computer screens, and game consoles, or more traditional features like boardgames, arcade machines, and pool tables or you can combine these features. Whatever your choice game rooms allow a space that can spend entertaining time with your family! We gather some game room ideas in different styles.
Don't forget to use a lightning feature to elevate your design!