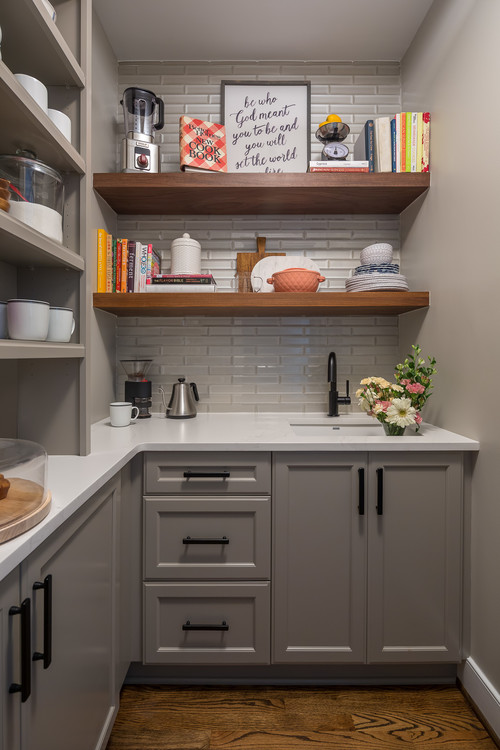 ID# 102708 | Houzz.com – Credit | © Kim Kruskamp Kitchen & Bath Galleries
---
Gray Recessed Panel Cabinets with Black Handless and Blue Decors
Cute cabinets are here! White countertops and grey recessed panel cabinets create a smooth transition and their harmony with wood floors look so nice. White glass tile backsplash and white countertops add unity to the design and contrast with the black elegant handles that look beautiful in this kitchen pantry.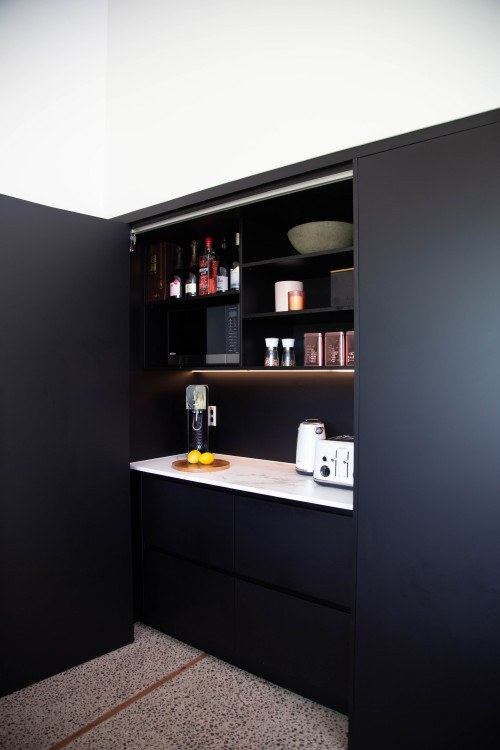 ID# 102711 | Houzz.com – Credit | © Niche Design Co, Chelsey Mathieson
---
Flat-Panel Black Cabinets and Concrete Floor In Kitchen Pantry
The classy look of the black colour is an indisputable beauty. Very modern black handle-less cabinets with thin solid surface white countertop create a beautiful contrast. A white ceiling provides a brighter atmosphere.
Crowd Saving Parts Of The House!
Most of the time women have trouble with surplus objects, especially in the kitchen. They prevent to work properly in the kitchen. But pantries are a great way to store our things such as dishes, beverages, some food, cleaning stuff etc. With these rescuer rooms, another thing occurred; designing these pantries! May it be a modern style or classic and what colour it would be? Colour and design-related matters and deciding on the colour are very challenging but with these black gray blue pantry designs, you can stylishly design your pantry!
Changing Trends, Beautiful Colours to Decide!
In an interior, the colour application really changes the whole environment. Sometimes dark colour usage makes smaller the interior or white colour usage makes it brighter. Most of the time pantries are built in small measurements and using dark colours makes it challenging to decide. White or light colour usage always have advantages, they have harmony with other colours or nice contrasts and they brighten the interiors.
Let's see how black, blue, grey colours which are some of the dark colours, designed and affect the environment in pantries!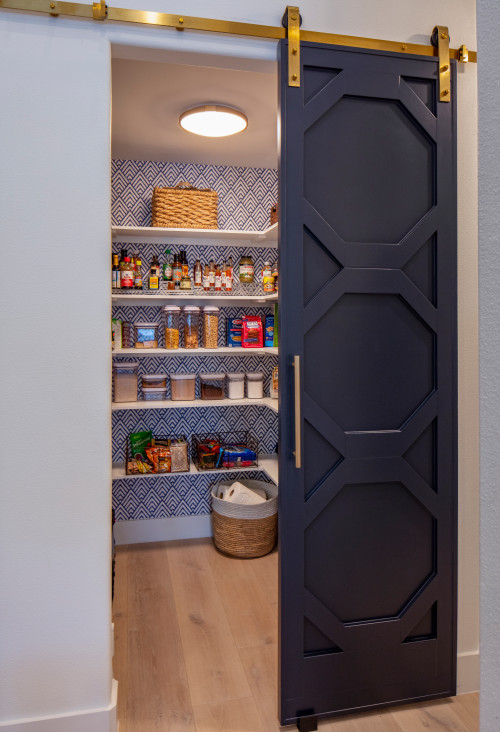 ID# 102701 | Houzz.com – Credit | © Romina Black Interiors
---
Black Gray and Blue Pantry Design with Barn Door
Perfect navy blue coloured sliding barn door! It has contemporary vibes and peculiarly designed patterns. Open cabinetry helps to use this small black grey blue pantry more properly. White and blue coloured wallpaper and white shelves create nice harmony together and the beige wood floor has a beautiful contrast with the blue environment.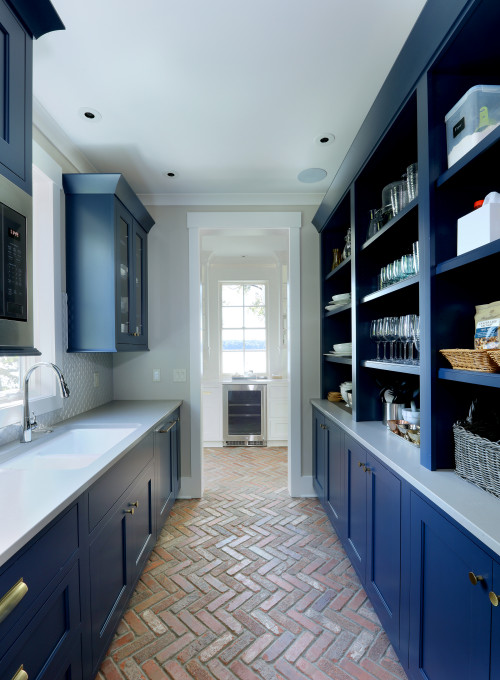 ID# 102702 | Houzz.com – Credit | © Visbeen Architects
---
Dark Blue Cabinets with Gray Countertop and Black Wicker Basket
There is a nice bright atmosphere with the daylight through the window and brick floors create such a natural environment. The contrast between the dark blue cabinets and the brown colour of the brick floor are well thought. White countertops are coherent with blue colour. This kitchen black grey blue pantry looks fresh and airy!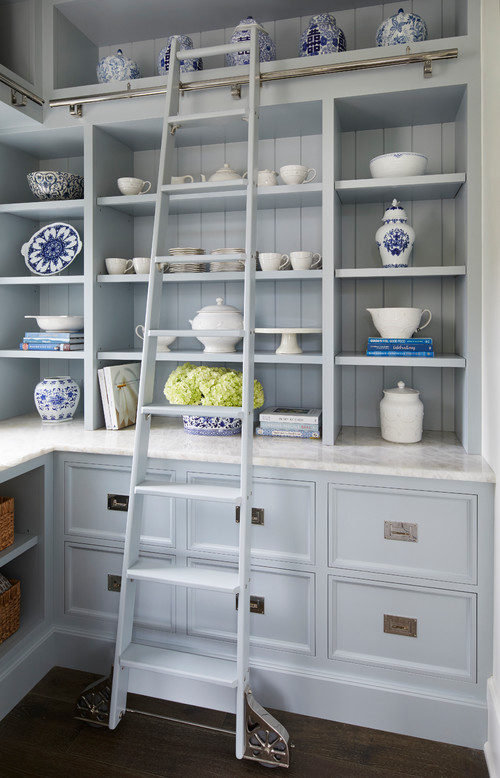 ID# 102703 | Houzz.com – Credit | © O'Brien Harris LLC
---
Kitchen Pantry With Gray Cabinets And Black and Blue Decors
Recessed panels and their stainless steel handles have a smooth harmony with white marble quartzite countertops. The vertical lines of the white wood backsplash and horizontal lines of the shelves have smooth contrast in terms of shape in the design. The ladder looks amazing! This is such a lovely white kitchen black blue grey pantry!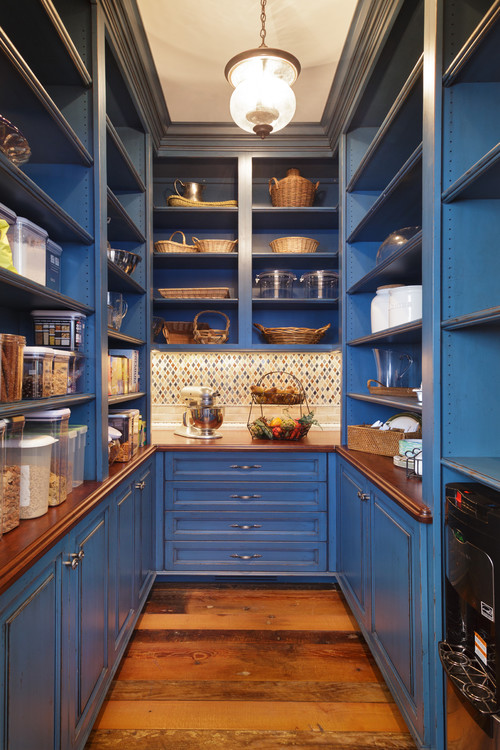 ID# 102704 | Houzz.com – Credit | © Master Design Cabinetry
---
Blue Kitchen Pantry with Black and Gray Mosaic Backsplash
U-shaped narrow kitchen pantry with nice blue cabinets. Medium tone brown floor and wood countertops create sharp contrast which is not an eyesore view. Brass hardware has nice harmony with floors and countertop. Mosaic backsplash tiles add unity with wood countertops.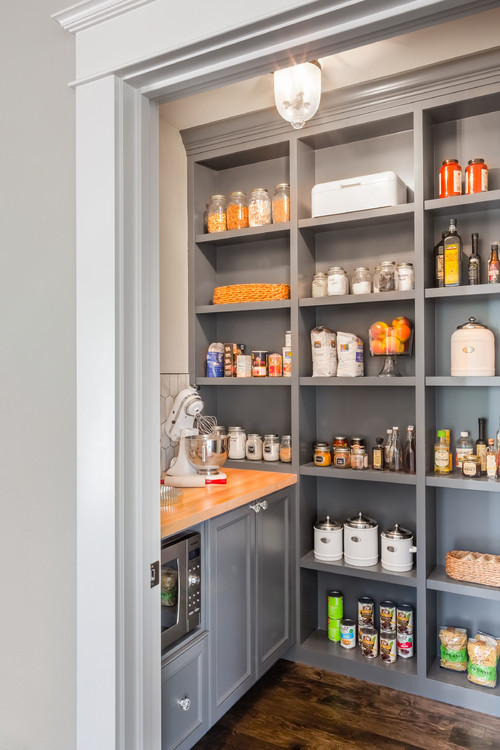 ID# 102707 | Houzz.com – Credit | © Design Harmony
---
Small Kitchen Pantry With Wood Countertop and Gray Open Cabinetry
Grey shaker cabinets and their elegant knob handle look perfect! Single wall grey shelves and wood countertop creates nice harmony.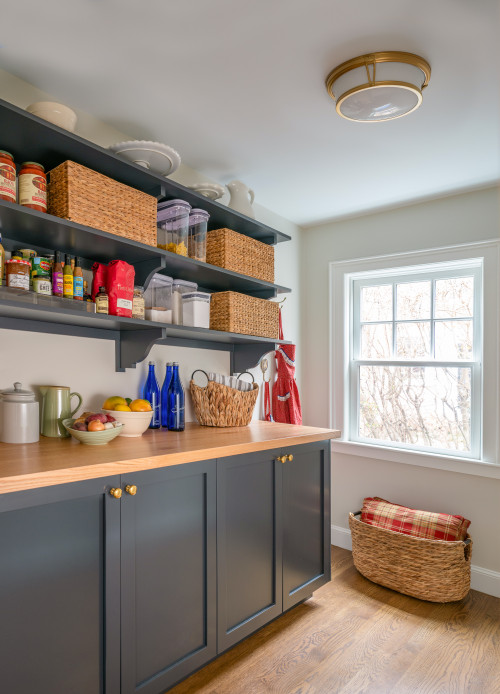 ID# 102709 | Houzz.com – Credit | © Windhill Builders
---
Gray Raised Panel Cabinets with Wood Countertop and Gray Shelves
Luminous kitchen pantry with those nice grey colour! The medium tone wood floor and wood countertop with the grey colour looks very nice. Daylight usage through the window makes the pantry brighten and airy.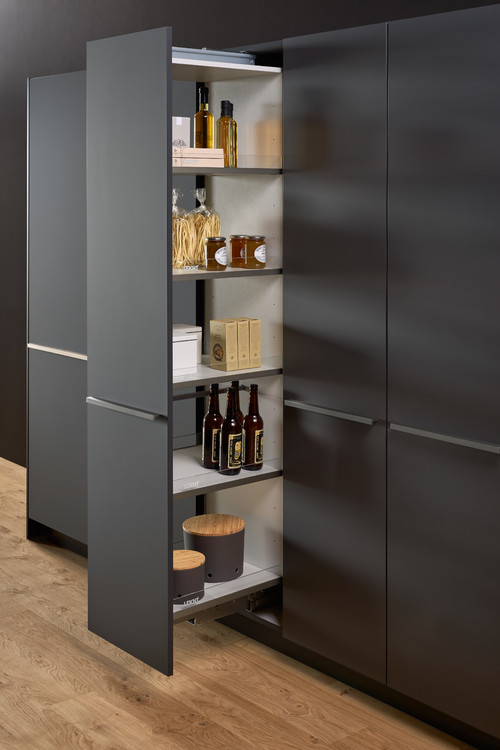 ID# 102710 | Houzz.com – Credit | © Leicht Westchester-Greenwich
---
Kitchen Pantry with Minimalist Style Single Wall Gray Cabinets
Very modern and minimalist cabinets! Flat-panel grey cabinets and minimalist designed handles create a simple but good designed look. The beautiful brown tone of the floor and the grey colour of the flat-panel cabinets have such a nice contrast.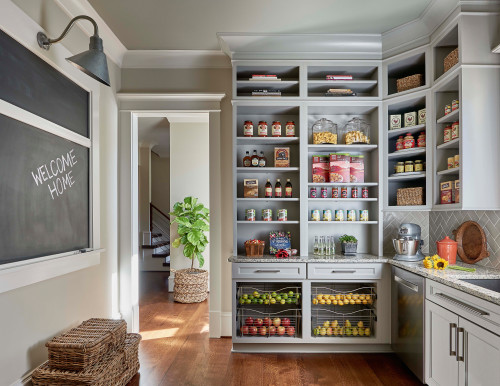 ID# 102705 | Houzz.com – Credit | © Rufty Custom Built Homes and Remodeling
---
Open Pantry Cabinets with Granite Countertop and Gray Backsplash
Gray open cabinetry creates a smooth view of the interior. They look as if they absorb the light and then spreads it back smoothly. Indirect illumination through the windows gives a natural atmosphere. Multicoloured countertops and diagonal applied grey backsplash add unity to the pantry.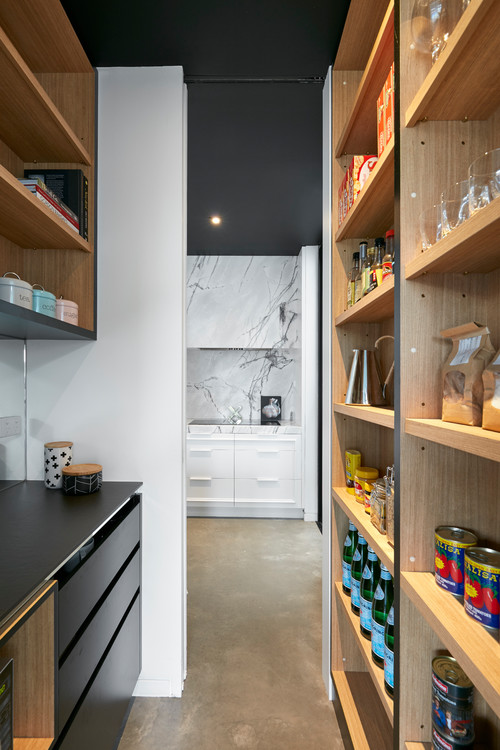 ID# 102712 | Houzz.com – Credit | © MAYD-Kirsty Ristevski
---
Black and Wood Cabinetry with a Touch of Gray and Blue
Black colour and wood texture have charisma. They create a modern look with warm harmony. Black handle-less drawers with their flat surface add a nice modern atmosphere.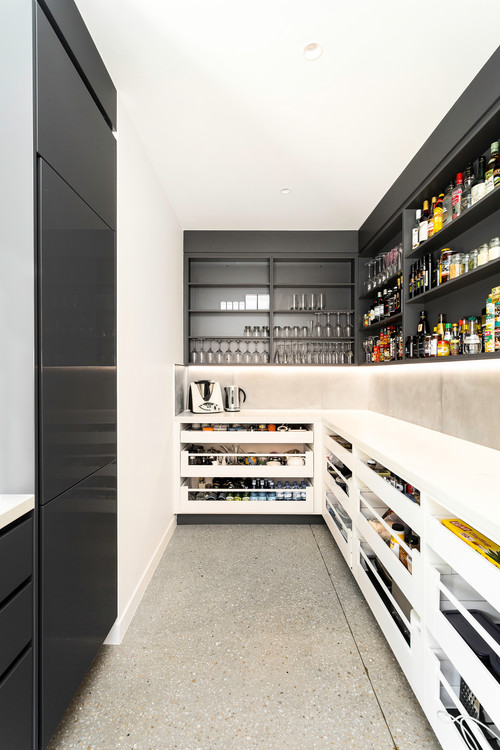 ID# 102713 | Houzz.com – Credit | © Garsden and Clarke Kitchens
---
Contemporary Kitchen Pantry Design With Black and White Cabinetry
Wow! Look at this sharp contrast between black and white. Cement tile backsplash and white countertops look as if they separated from the whole design. Black flat panel cabinets and white open cabinets look minimalistic. Luminous interior with a white colour light usage.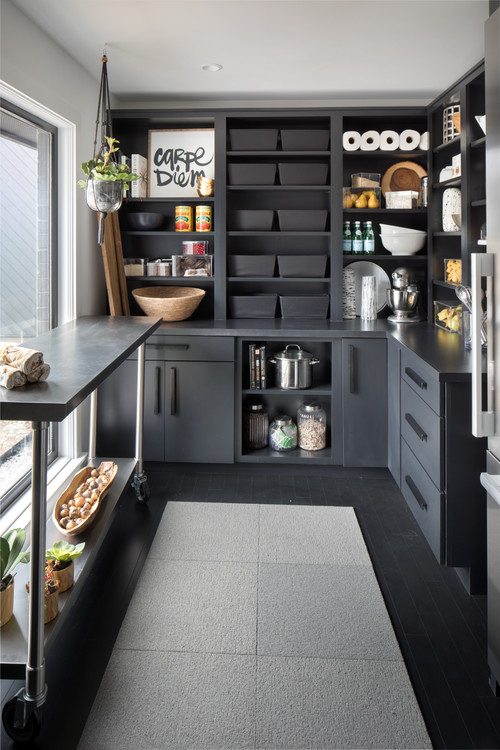 ID# 102716 | Houzz.com – Credit | © The Guy Corporation
---
Black Flat Panel Cabinets with Wide Windows and Black Floor In Kitchen Pantry
Stylish and tasteful designed kitchen pantry. The daylight through the window makes the interior illuminated. Black cabinetry and black solid surface countertops and black floor have a stunning unity.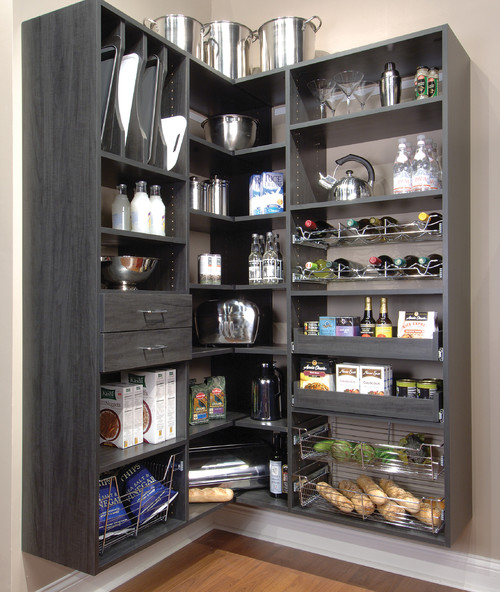 ID# 102717 | Houzz.com – Credit | © Diamante Storage Solutions
---
Kitchen Pantry with Suspended Black Coloured Pantry System
Use technology! This small corner has a big storage system! You can store a variety of things in it! Mobil shelves, pull-out drawers and baskets! Such a useful cabinet system isn't it? There is no need to tell of the beautiful contrast of the black cabinet and medium tone brown wood floor of course!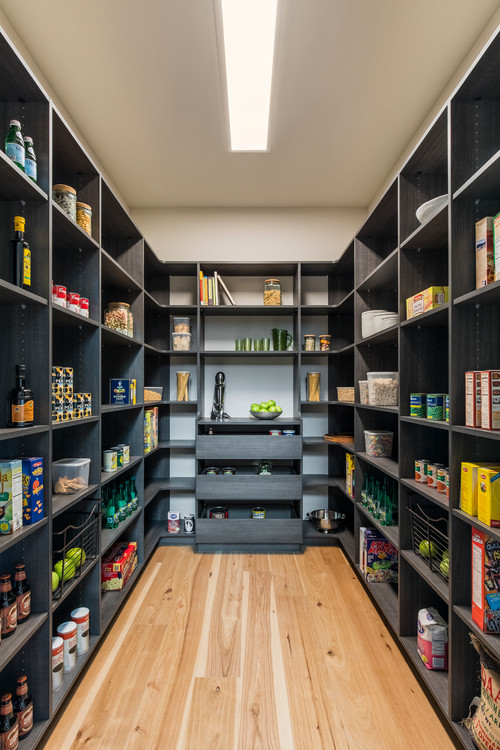 ID# 102715
---
U-Shaped Black Open Cabinets In Contemporary Kitchen Pantry
This pantry has some masculine vibes, hasn't it? Medium tone brown wood floor and black colour cabinetry creates a modern and handsome look.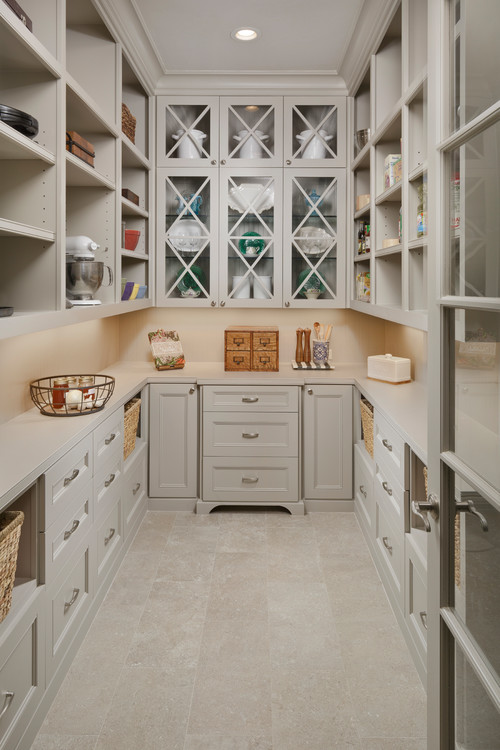 ID# 102706
---
Gray Pantry Cabinets with Blue Green and Black Dishes
This u-shaped kitchen pantry looks amazing with its light grey colour! Look at the harmony with those beige porcelain tile floor! And glass-fronted cabinets adds a perfect look.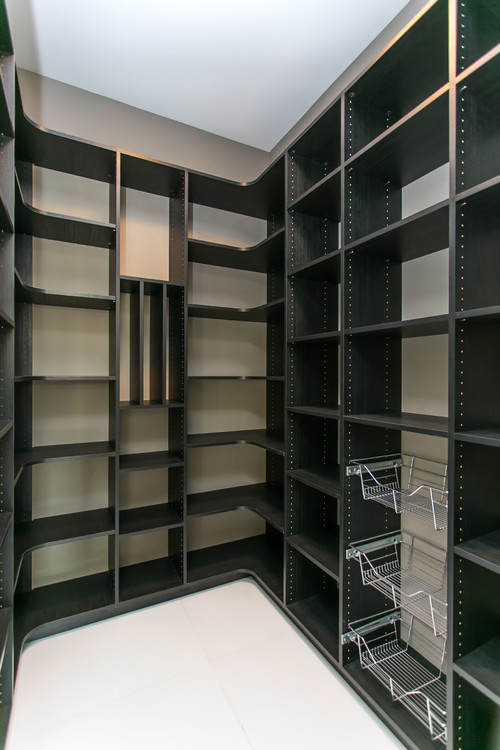 ID# 102714
---
White Floor Kitchen Pantry With Black Open Cabinets
The white floor and white wall created a nice contrast with the black open cabinets. Those mobile shelves are very useful for storage of course. U-shaped applied this shelving system has smooth corners and increase the sharp feeling of the interior.