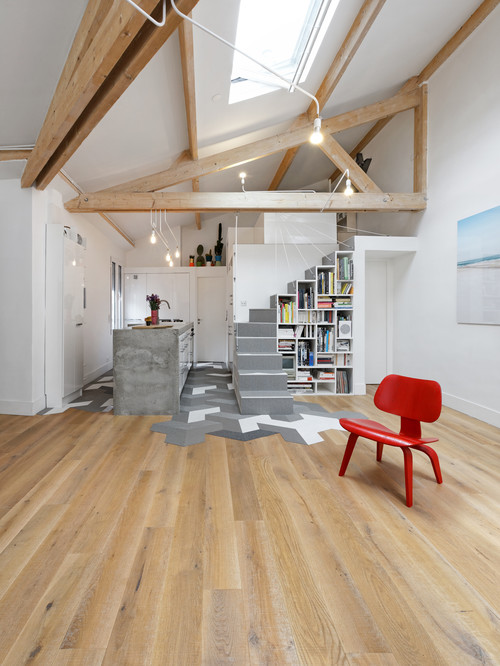 ID# 108302 | Houzz.com – Credit | Multiarchi | © Christophe Gaubert
---
Open Concept Living Room With Modern Home Library
The large open volume, filled with sunlight and creates a bright and intimate house. The raw wooden structure gives a warm barn-like atmosphere to this contemporary loft. With a bookcase, the staircase transformed into a beautiful library. The transition between the wood parquets and gray hexagon tiles is extraordinary!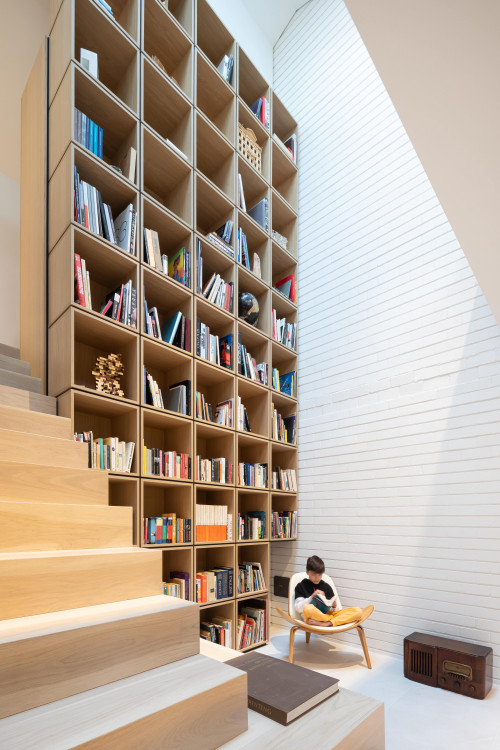 ID# 108319 | Houzz.com – Credit | © RSAAW
---
Modern Atrium With Large Library and Shiplap Walls
Bookworms will love this outstanding look! This modern atrium space is anchored by a monumental double-height bookcase with wood box units. Accessing the upper parts can be a bit difficult, but a ladder will easily solve this problem.
Elegant Modern Home Library Ideas with Imposing Styles
Having a home library may seem nostalgic but doesn't mean that it can't look modern. These modern home library ideas show you that how to create a library in a modern and beautiful way and elevate your rooms!
Design your modern library with clean and simple lines!
You can think that a library in a home is kind of an old-fashioned thing but modern bookcases offer lots of space and little design details for your house. You may have a whole wall library or a smaller one with floating shelves, a well-designed home library can give you the modernist look even if you don't think that! So, scroll away and find the inspiration you need to design your beautiful modern home library!
You can use your modern home library as a separation between the spaces with different styles!