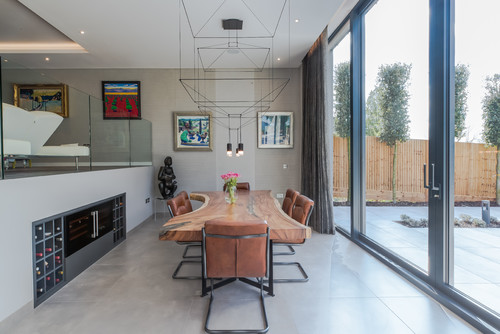 ID# 117804 | Houzz.com – Credit | © Castellum Design and Build
---
Modern Black Wireflow Light with Neutral Dining Set
Three-dimensional wire flow lighting sculptures are composed of thin rods, almost like line drawings. It creates a clean look over the natural-shaped wooden dining table and tile red chairs. Artworks on the gray wall creating a symmetrical view.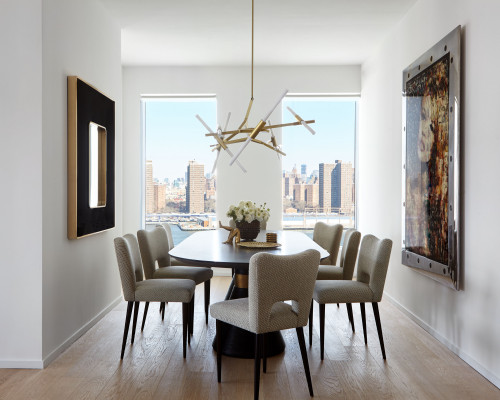 ID# 117801 | Houzz.com – Credit | © Philip Gorrivan Design
---
Gray Dining Room Design with Modern Gold Lighting
The modern chandelier features golden LED-lighted sticks, perfectly matching the minimalist quaintness of the room. Black dining room table and gray fabric chairs give a clean and elegant look over the light wooden flooring.
Modern, Elegant, and Glamorous Dining Room Lighting
Since a dining room is a key area of your home, a carefully chosen lighting fixture can instantly transform a room whether it's plain and simple or has several layers. For inspiration to light your dining room with elegance and ease, we gather up some ideas in our modern dining room light gallery.
Elevate your dining room with a modern lighting fixture design!
The dining table requires a special lighting fixture. With a well-planned lighting fixture, your dining room can really shine. Modern lighting fixtures are more flexible and can work in many different styles. You can make a modern touch with lighting to a cozy dining nook or combine the rustic features with modern lighting in an elegant way. Here are some of the latest modern dining room lighting trends that you can try for your dining space!
It is just so cool to have dinner with family and friends in a well-lighted dinner space.