ID# 114707 | Source – Credit | © McGarry Constructions
---
Brown Leather Sofa with Black and Yellow Piece of Art
If you are working on a small living room, a large l-shaped sofa can be perfect furniture. In this small living room, the leather l-shaped sofa provides plenty of sitting space while creating an open and airy feel. The sofa paired with a small black coffee table and colorful patterned rug. The yellow and black pieces of art create a focal point on the white wall. The black spider chandelier in a harmony with the other features.
ID# 114703 | Source – Credit | ArchiBlox | © Tom Ross
---
Small Living Room Ideas with Soft Color Palette
The interior designer chose a soft color palette to create a warm and cozy room feel. The stark white walls prove an open and airy look even the living room has small window openings. Colorful pillows and gray curly rug in a harmony with the beige l-shaped sofa.
Tiny yet Functional and Stylish Small Living Room Ideas
How do I arrange a small living room? This is one of the most common questions in city life. As buildings get higher, our living spaces inside homes are getting more and more compact. Therefore, we need to organize our living spaces accordingly. Below are small living room ideas that show you how to maximize the functionality.
Maximize the functionality with clever storage solutions
A small living room, especially with small windows, can feel catastrophic. But do not worry there is plenty way to make space feel larger. If you are working on a small space, first you need to shop for small-scale furniture. Otherwise, the overall look might be overwhelming. Therefore, the layout as important as the furniture. You need to find the best option according to your room dimensions. The bright color schemes are the saver for small spaces and this way you can pop up statement pieces. Placing a focal point mirror or covering walls with wallpaper can be another good solution to enhances the space feel. One of the most crucial elements is storage. You need to find clever storage solutions like hidden cabinets, floating shelves t increase the spaciousness of the room.
Yes, it may seem like there are too many details to consider. Here, we gather out some of our favorite small living room ideas. Scroll down and find how to organize them!
ID# 114717
---
Modern Small Living Room Ideas with Orange Accents
Preferring white-dominated color schemes helps you to enhance the space feel in small rooms. In this modern living room white furniture, walls, and floor tiles are emphasized by the orange details such as pillow, armchair, and painting. The wood-burning fireplace and wood coffee table bring warmth to the atmosphere.
ID# 114718
---
Minimalist Family Room with Marble Coffee Table and Beige Carpet
Thanks to the right layout, this minimalist living room serves a spacious atmosphere even it has a small space. The neutral color scheme provides an elegant design with a white sofa, beige armchairs, marble, and black coffee table, black and white painting, and a beige carpet.
ID# 114721 | Source – Credit | © Kaiden Seidel Interior Decorations
---
Eclectic Small Living Room Ideas with Red Armchairs
Inspiration for an eclectic living room with red and wood armchairs, glass top coffee table, white fireplace, red patterned carpet, black lounge chair, brass floor lamp, and wall decors.
ID# 114722 | Source – Credit | © Mcgowan_Builders
---
Cozy Living Room with Wood Floor and Ceiling
This small living room serves a comfy look with its gray couch, patterned rug, and colorful fabrics. The wood floor and ceiling enhance the cozy feel in the room, and they are accentuated by the white wall paint. The wood cabinet is a great way to hide goods and it provides a clutter-free look.
ID# 114723 | Source – Credit | © Billy Kien Designs
---
Transitional Family Room with Green Sofa and White Armchair
The bold shade of green makes a strong impact on this small living room. The white armchair is placed next to the green sofa, with a white and brass coffee table between them. The tropical patterned curtains complement the green sofa. White framed rectangular mirrors act as part of the white wall and make space feel larger.
ID# 114725 | Source – Credit | © Trionfi Interiors
---
Gray Vinyl Wallpaper with Brown Couch and White Pendant Light
The picture of people looking towards you adds a wow factor to this small and cozy living room! The brown l-shaped sofa is emphasized by colorful pillows. The gray vinyl wallpaper provides a sleek backdrop. The white pendant light adds glam with its gold details while the black and white rug enhances the cozy feel in the atmosphere.
ID# 114726 | Source – Credit | © J. Pocker
---
Yellow Leather Armchairs with Glass Top Coffee Table and Fireplace
In this small contemporary living room, each feature has a wow factor and contrasting colors create an impactful design. Yellow leather armchairs are placed opposite the green sofa, with a glass-top coffee table between them. The white-painted fireplace is emphasized by a black paint and hexagon mirror above it.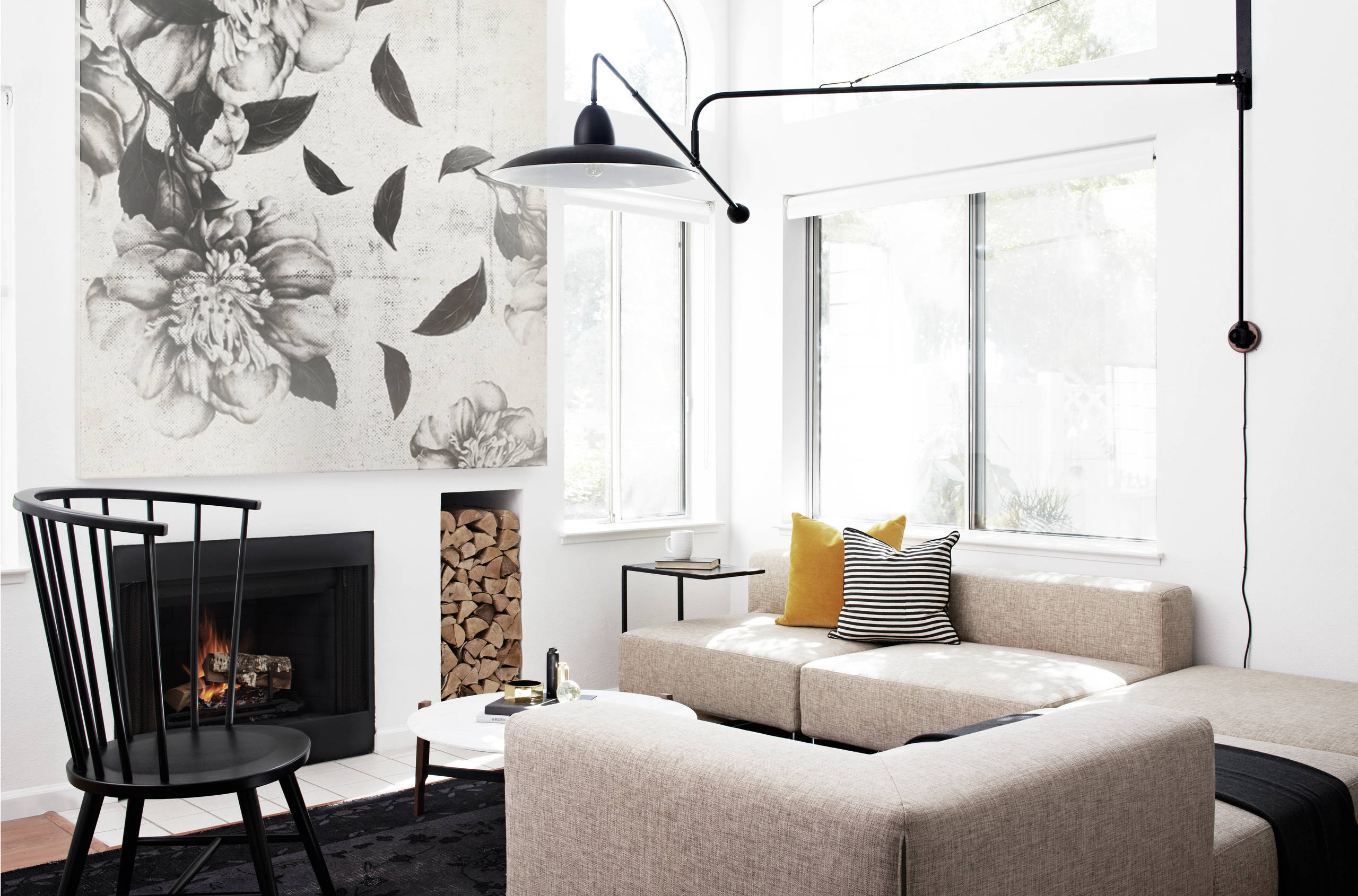 ID# 114720
---
Compact Living Space with Oversized Floral Piece of Art
The u-shape of the gray sofa provides a compact yet stylish living room. Like the sofa, all other features also design in compact and well-organized. The wood logs are placed into the recessed niche next to the fireplace. The oversized artwork brings a romantic atmosphere with its floral pattern.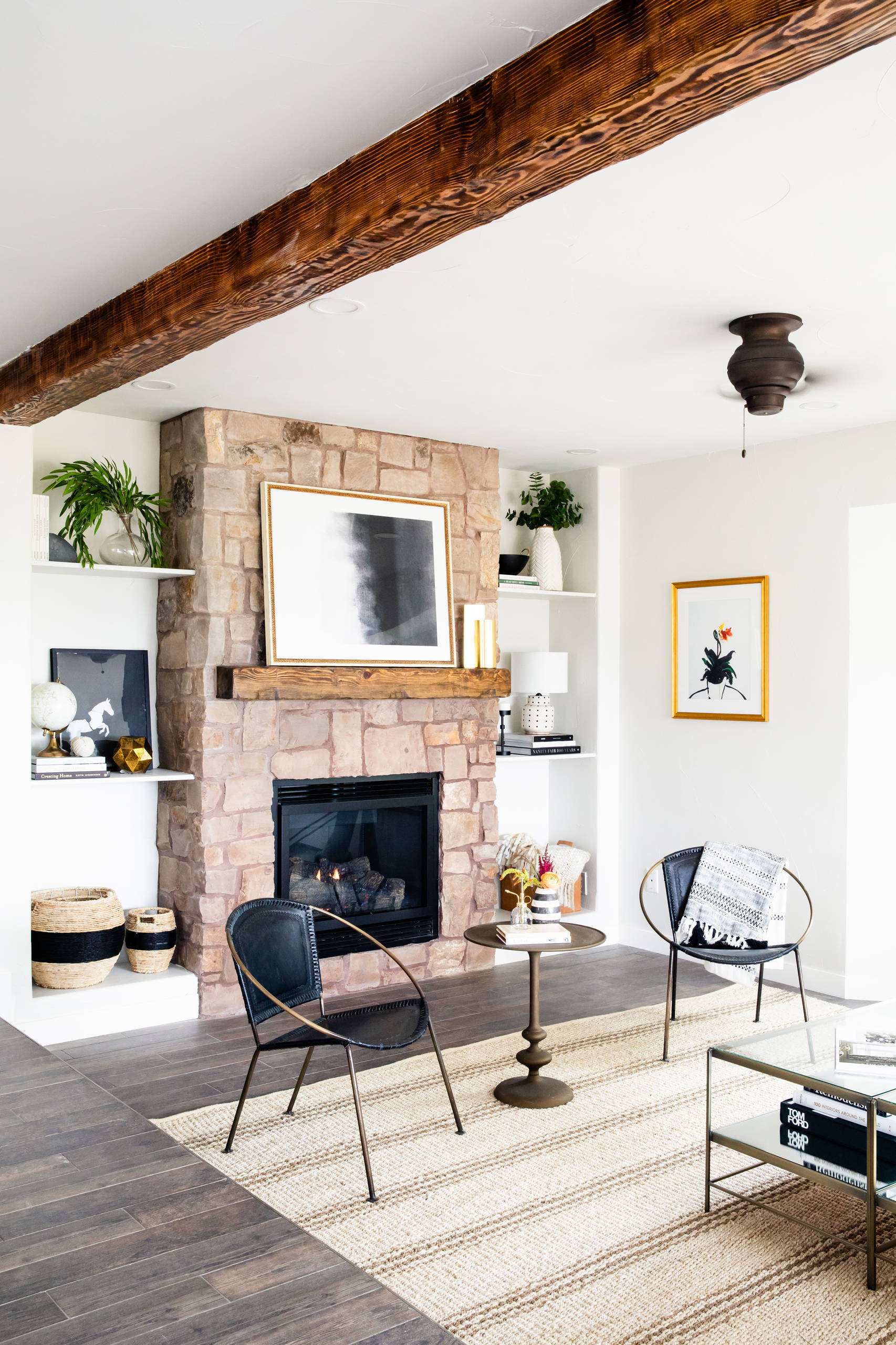 ID# 114710
---
Farmhouse Small Living Room Ideas with Stone Fireplace
If you are lucky enough to have a fireplace, it means you already have a statement maker piece. In this farmhouse living room, the stone fireplace creates a focal point and is accentuated by white floating shelves on both sides. The white shelves provide a simple appearance and allow the fireplace to stand out. The minimalist furniture offers an open and airy atmosphere.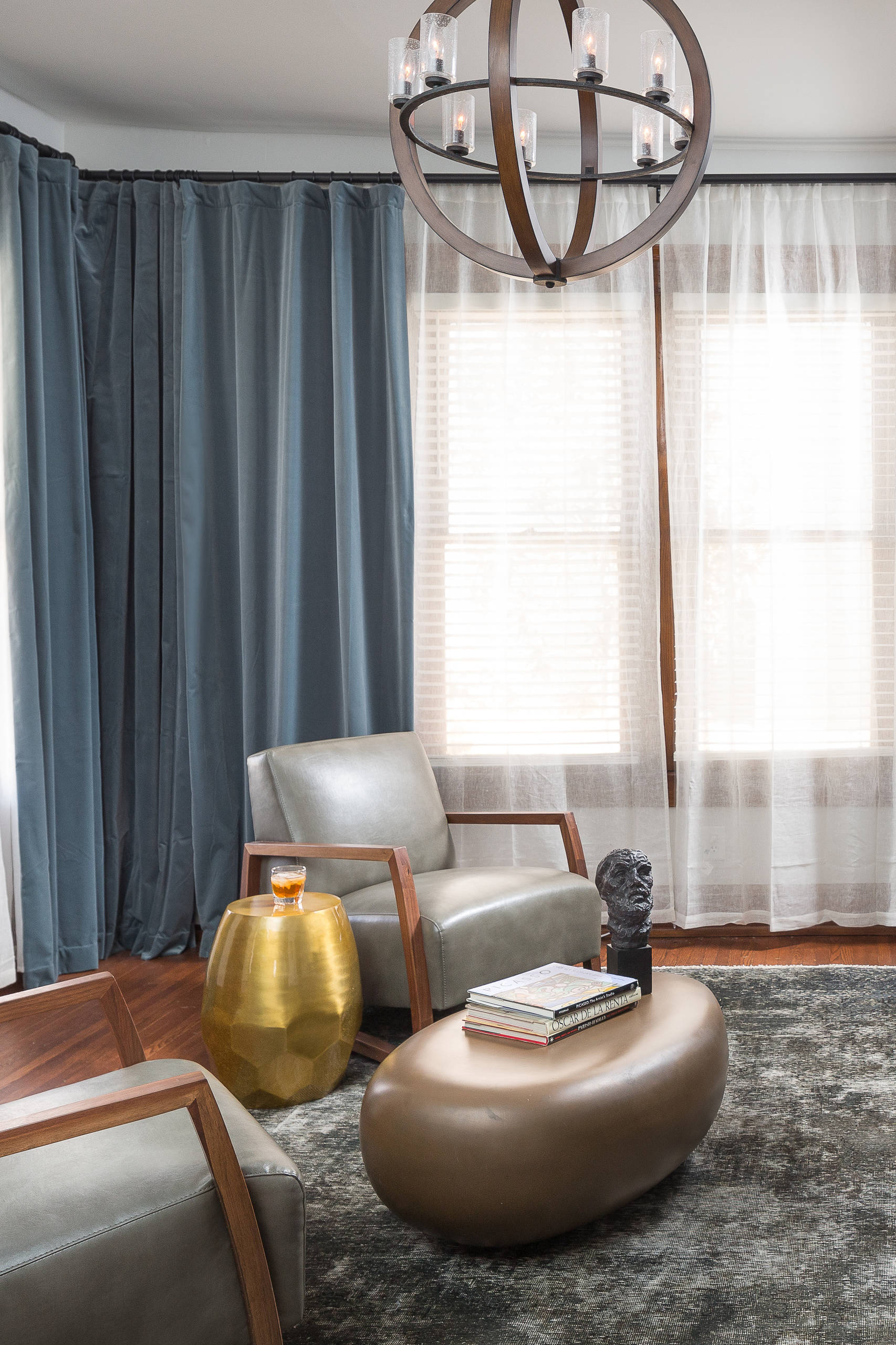 ID# 114713
---
Transitional Living Room with Globe Chandelier
In this small living room traditional accents and contemporary furniture perfectly blends and offer a beautiful transitional style. The gray and wood armchairs are paired with unique gold and brown coffee tables. The globe chandelier enhances the traditional feel while blue and white floor-to-ceiling curtains creating a sleek backdrop.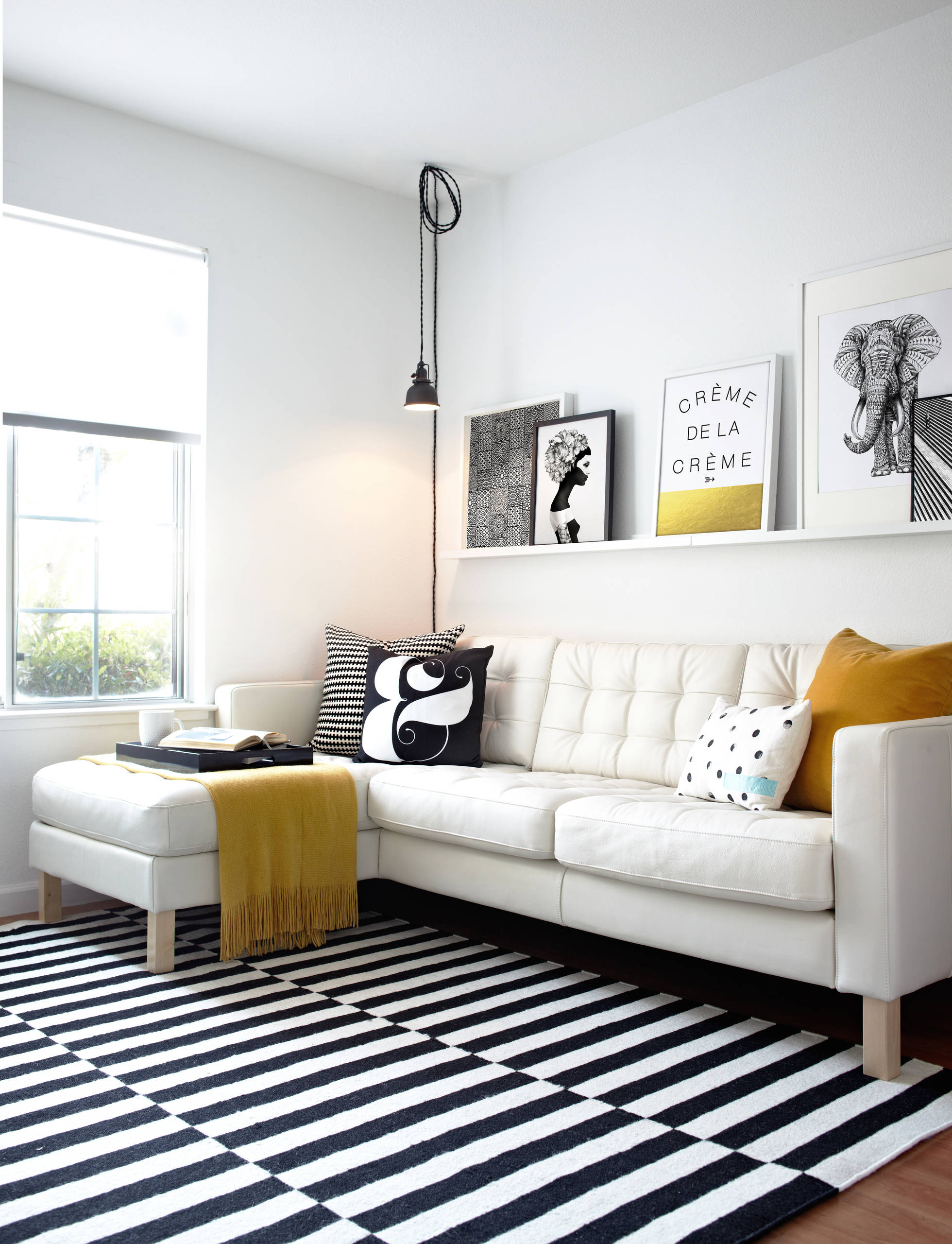 ID# 114719
---
White Couch with Mustard Yellow Fabrics and White Shelf
If you do not want to design a colorful living room but still want to include some shades, you can incorporate your favorite color with some textiles. The monochrome color palette of this minimalist living room is broken by the mustard yellow fabrics which add a visual impact to the design. The white l-shape sofa provides a comfortable relaxing area with pillows. The white single shelf and some paintings perfectly fill the blank white wall. The black and white striped rug brings a texture and creates a dynamic look.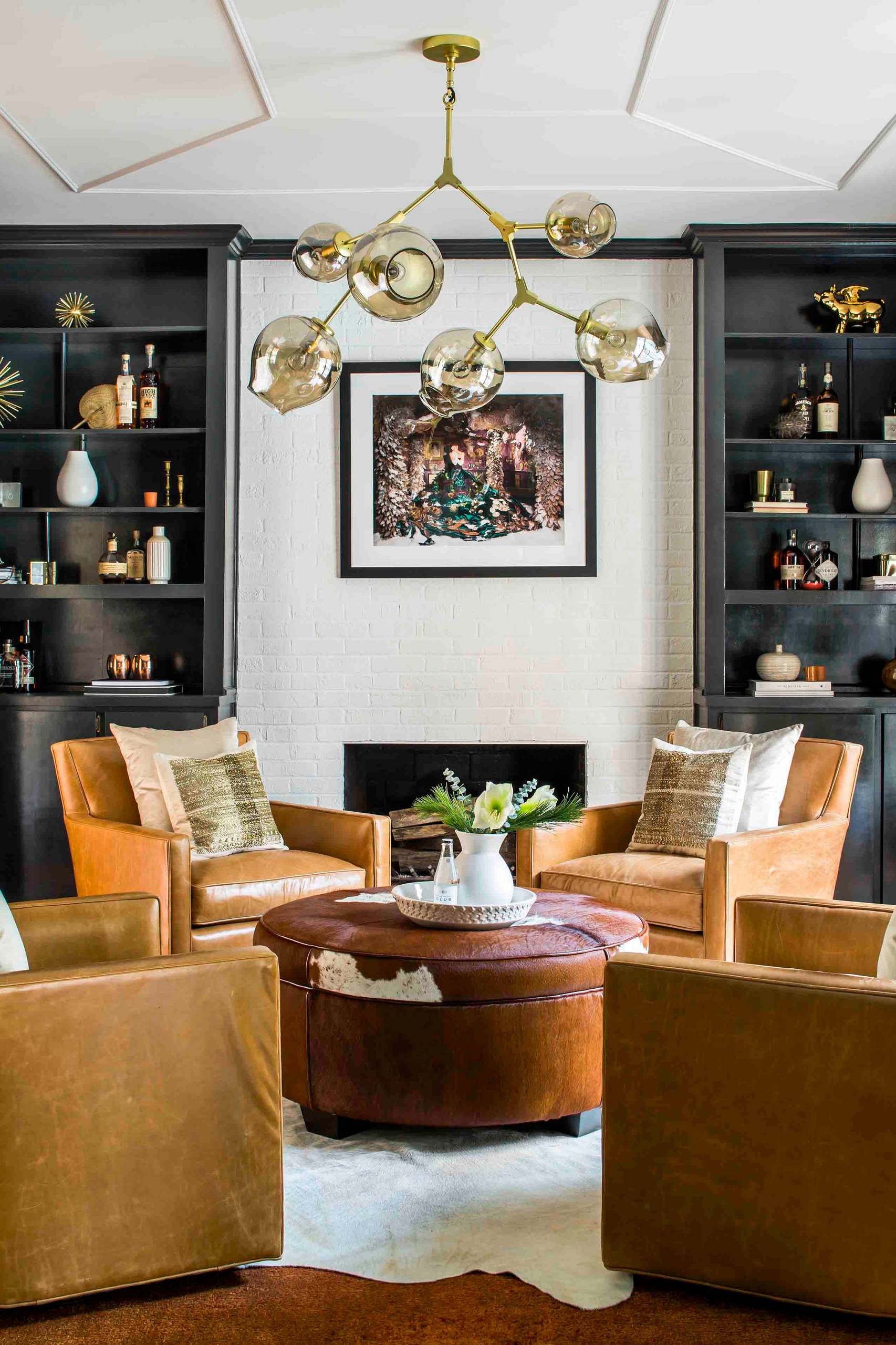 ID# 114724
---
Contemporary Living Room with Leather Armchairs and Pouf
The combination of black, white, and leather offers an elegant and sophisticated living room design. The leather armchairs are placed around the leather pouf. The bubble chandelier with a brass finish highlights the seating area. The white-painted brick fireplace is accentuated by black libraries on both sides. The black-framed painting creates a focal point above the fireplace.
All pictures copyright to their respective owner(s). backsplash.com does not claim ownership of any of the pictures displayed on this site unless stated otherwise. backsplash.com does not knowingly intend or attempt to offend or violate any copyright or intellectual property rights of any entity. Some images used on backsplash.com are taken from the web and believed to be in the public domain such as, Houzz, Pinterest, Instagram. Most of the sourced material posted to backsplash.com is posted according to the "fair use" doctrine of copyright law for non-commercial, education, design ideas and discussion purposes.