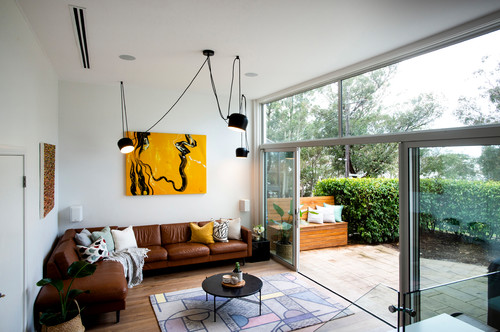 ID# 114707 | Houzz.com – Credit | © McGarry Constructions
---
Brown Leather Sofa with Black and Yellow Piece of Art
If you are working on a small living room, a large l-shaped sofa can be perfect furniture. In this small living room, the leather l-shaped sofa provides plenty of sitting space while creating an open and airy feel. The sofa paired with a small black coffee table and colorful patterned rug. The yellow and black pieces of art create a focal point on the white wall. The black spider chandelier in a harmony with the other features.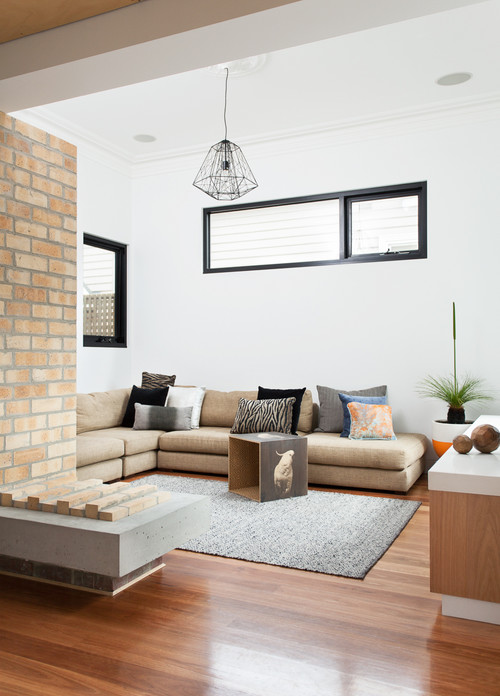 ID# 114703 | Houzz.com – Credit | ArchiBlox | © Tom Ross
---
Small Living Room Ideas with Soft Color Palette
The interior designer chose a soft color palette to create a warm and cozy room feel. The stark white walls prove an open and airy look even the living room has small window openings. Colorful pillows and gray curly rug in a harmony with the beige l-shaped sofa.
Tiny yet Functional and Stylish Small Living Room Ideas
How do I arrange a small living room? This is one of the most common questions in city life. As buildings get higher, our living spaces inside homes are getting more and more compact. Therefore, we need to organize our living spaces accordingly. Below are small living room ideas that show you how to maximize the functionality.
Maximize the functionality with clever storage solutions
A small living room, especially with small windows, can feel catastrophic. But do not worry there is plenty way to make space feel larger. If you are working on a small space, first you need to shop for small-scale furniture. Otherwise, the overall look might be overwhelming. Therefore, the layout as important as the furniture. You need to find the best option according to your room dimensions. The bright color schemes are the saver for small spaces and this way you can pop up statement pieces. Placing a focal point mirror or covering walls with wallpaper can be another good solution to enhances the space feel. One of the most crucial elements is storage. You need to find clever storage solutions like hidden cabinets, floating shelves t increase the spaciousness of the room.
Yes, it may seem like there are too many details to consider. Here, we gather out some of our favorite small living room ideas. Scroll down and find how to organize them!