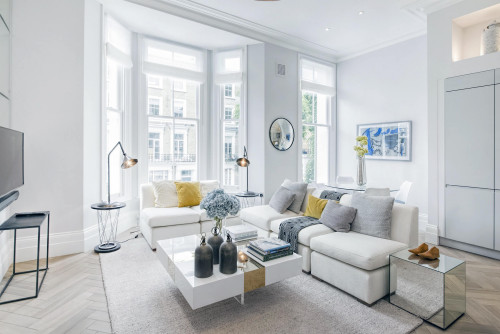 ID# 115825 | Houzz.com – Credit | © Catherine Wilman Interiors
---
Renovated Apartment Living Room with Off-White Color Palette
A beautiful renovated London apartment with an off-white color palette offers special design elements such as hardwood parquet floors and contemporary furniture including an L-shape sofa to make maximum use of the space.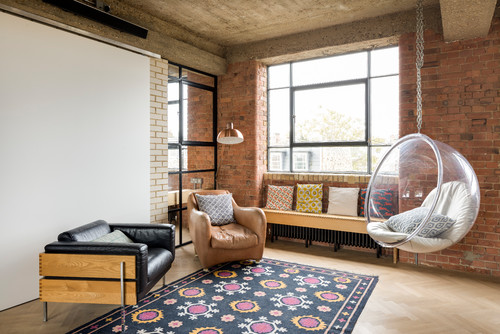 ID# 115804 | Houzz.com – Credit | © Southstudio Architects
---
Mid-Sized Industrial Living Room with Brick Walls
This multicolored, contemporary living room is the perfect industrial apartment that is full of character, due to its uplifting color scheme of brick walls, bare concrete ceiling, light wood parquet floors, a chic and unique mix of furnitures. All the furnitures give a spacious room feel.
Modern, Cozy, and Stylish Apartment Living Room Ideas
The majority of us who live in apartments face the challenge of creating interesting and well-designed living rooms-because we may have seen it all! But it is still very much possible to have a design that will push you out of the box while still provide the perfect solution suitable to your taste. You can find endless options to fill it up your apartment living room with a mix of different furniture that holds lots of dear memories.
Fill up your living room with decor elements!
If you are lucky to have a generous space, you can find endless options to fill it up with a mix of different furniture and decorative elements that holds lots of dear memories- or showcase your minimalist aesthetic with a few but impactful elements that will define a calming spot. But if you have a smaller space, you do not have to worry! Smaller apartment living rooms have the advantage of offering intimate and inviting nooks for you and your loved ones- you just need to choose the pieces cleverly, whether you prefer a colorful and neutral setting. Check out our ideas to make your living room livable!
For all those possibilities, we prepared the ideal guidebook for you to choose the best option for your living room. With this all-around selection, planning a design for your apartment will be so much fun!