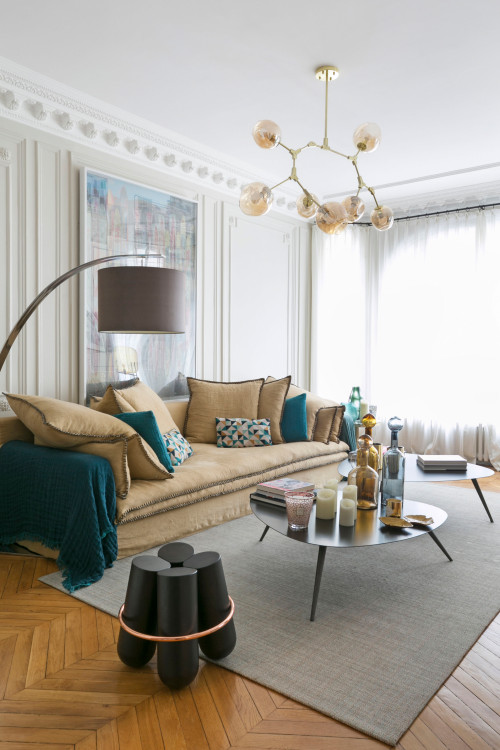 ID# 115603 | Houzz.com – Credit | © Pascale Bensoussan
---
Beige Sofa with Teal Pillows and Bubble Chandelier
Instead of using too much furniture, placing a few functional elements can give a spacious feel especially in small spaces. In this contemporary living room, the beige sofa provides a comfortable seating area with black coffee tables. Teal fabric emphasizes the look of the sofa. The oversized artwork centralizes the coffered wall panels and creates a focal point behind the sofa. The brown floor lamp highlights the seating area while the bubble chandelier making a glamorous touch.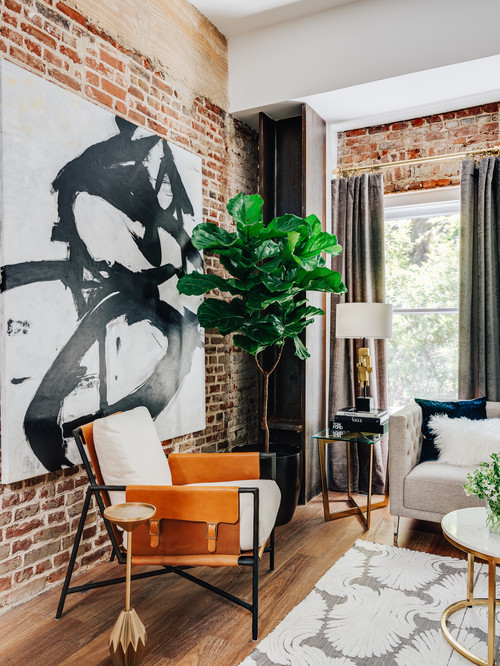 ID# 115614 | Houzz.com – Credit | © Deniece Duscheone Design
---
Brick Walls with Oversized Black and White Piece of Art
This modern living room blends the charismatic history with modern vibes. The mix of metals, textures and sleek surfaces offers an authentic and youthful lifestyle. Brick walls give an industrial feel and provide a sleek backdrop The oversized black and white piece of art enhances the look while greenery potted plant making the room more livable.
Clever Solutions for Small Spaces Living Room Ideas
If you are working on a small space, size-challenged decorating might be tricky and overwhelming. But designing a stylish and functional small living is not a dream. Check out our small spaces living room ideas to find some design tricks that can turn your small room into an eye-catching design.
Maximize the functionality with design elements
You may have a small space, but that doesn't mean your living room will be boring and ordinary. There are plenty of ways to design and decorate small spaces. How do you layout a small living room? This is the most important question if your living room has a small space. The furniture layout is more important than you think. With a well-designed layout, you can turn your small living area into a stylish and functional space. Also, using bright colors, including mirrors and well-design lighting fixtures will help you to enhances the spaciousness of the atmosphere.
If you want to learn how to works with small living rooms, scroll down, and find inspirational ideas.