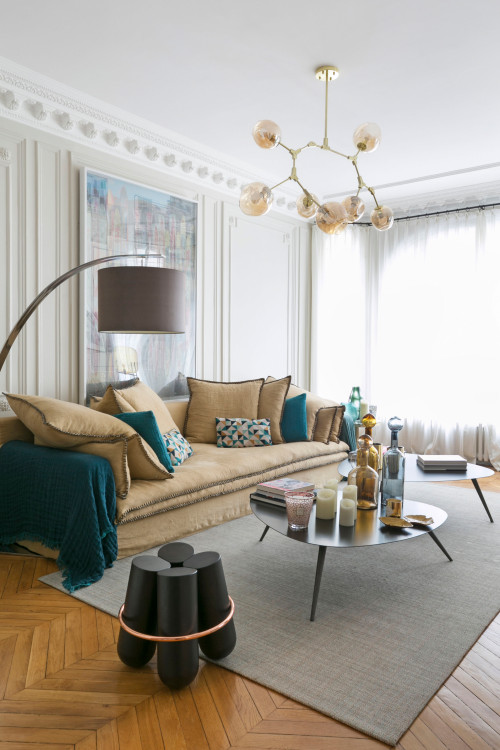 ID# 115603 | Houzz.com – Credit | © Pascale Bensoussan
---
Beige Sofa with Teal Pillows and Bubble Chandelier
Instead of using too much furniture, placing a few functional elements can give a spacious feel especially in small spaces. In this contemporary living room, the beige sofa provides a comfortable seating area with black coffee tables. Teal fabric emphasizes the look of the sofa. The oversized artwork centralizes the coffered wall panels and creates a focal point behind the sofa. The brown floor lamp highlights the seating area while the bubble chandelier making a glamorous touch.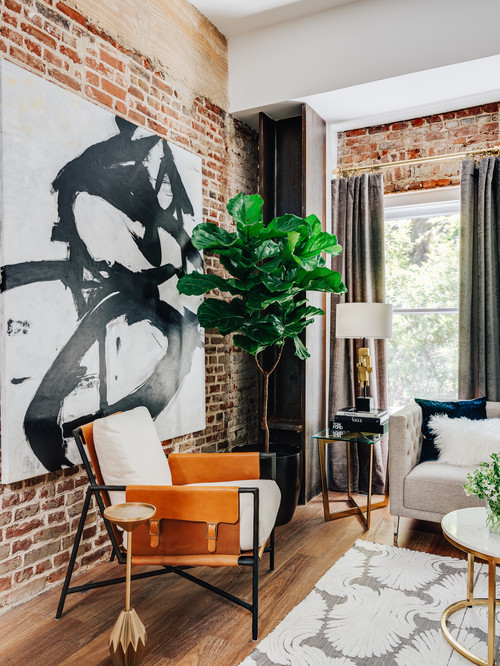 ID# 115614 | Houzz.com – Credit | © Deniece Duscheone Design
---
Brick Walls with Oversized Black and White Piece of Art
This modern living room blends the charismatic history with modern vibes. The mix of metals, textures and sleek surfaces offers an authentic and youthful lifestyle. Brick walls give an industrial feel and provide a sleek backdrop The oversized black and white piece of art enhances the look while greenery potted plant making the room more livable.
Clever Solutions for Small Spaces Living Room Ideas
If you are working on a small space, size-challenged decorating might be tricky and overwhelming. But designing a stylish and functional small living is not a dream. Check out our small spaces living room ideas to find some design tricks that can turn your small room into an eye-catching design.
Maximize the functionality with design elements
You may have a small space, but that doesn't mean your living room will be boring and ordinary. There are plenty of ways to design and decorate small spaces. How do you layout a small living room? This is the most important question if your living room has a small space. The furniture layout is more important than you think. With a well-designed layout, you can turn your small living area into a stylish and functional space. Also, using bright colors, including mirrors and well-design lighting fixtures will help you to enhances the spaciousness of the atmosphere.
If you want to learn how to works with small living rooms, scroll down, and find inspirational ideas.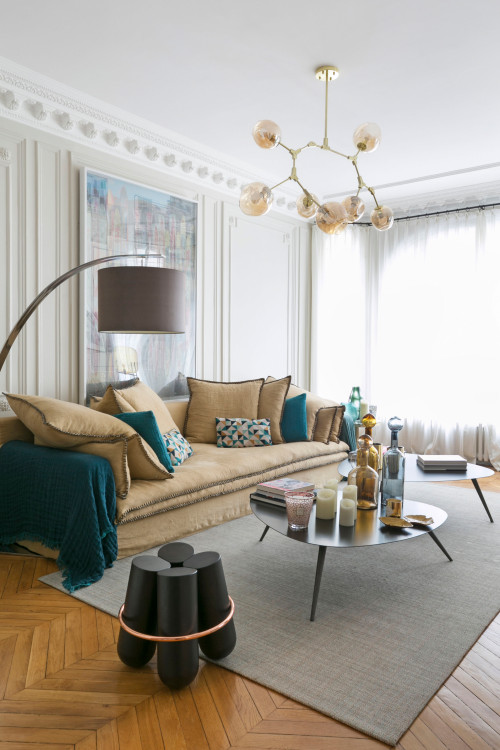 ID# 115604 | Houzz.com – Credit | © John Milander Architects
---
Minimalist Scandinavian Living Space with Geometric Patterned Rug
This Scandinavian living room shows us even the small square footage can look stylish. Because of the small dimensions of the room, the interior designer used a few pieces of furniture. The brown sofa and matching white armchairs placed oppositely with a small acrylic coffee table between them. The geometrically patterned rug brings texture and dynamism. Floor-to-ceiling windows enhance the spaciousness.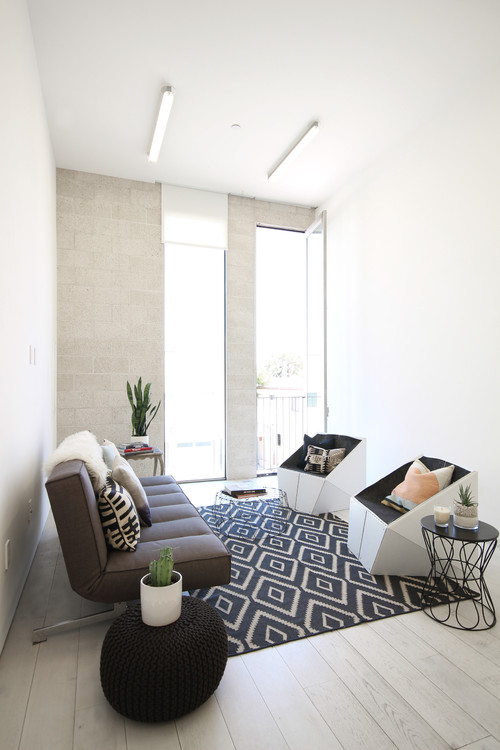 ID# 115608 | Houzz.com – Credit | © Juliette Byrne
---
White L-shape Sofa with White Open Cabinets and Drawers
Built-in cabinetries are clever storage solutions for small places. In this small apartment living room, white open cabinets and drawers are placed all along the wall. This layout provides plenty of storage space and a clutter-free overall look. The l-shape sofa and gray and white patterned ottoman create a comfortable seating area while carpeted floor enhances the cozy feel. The bright color scheme makes the room feel bigger.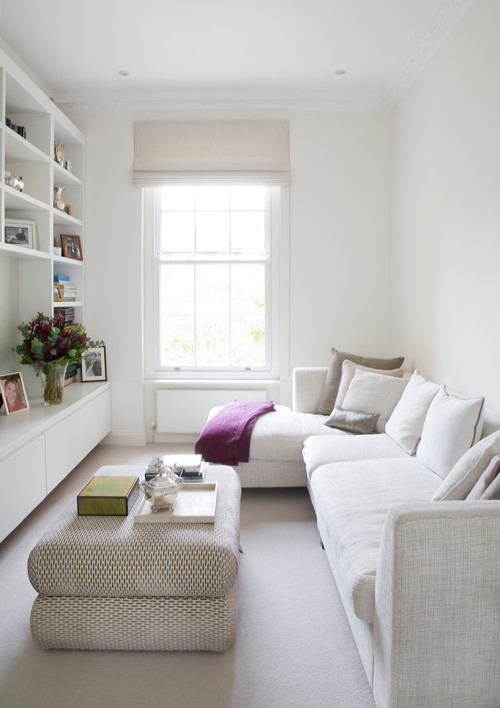 ID# 115609 | Houzz.com – Credit | © Webber + Studio, Architects
---
Small Spaces Living Room Ideas with Spectacular Nature View
The calm and relaxing feeling of nature is carried into the sitting room with an earthy color palette. The green sofa, wooden coffee table, cream and wood armchair, light green rug, and dark wood console offer a sleek and elegant look under the wooden ceiling.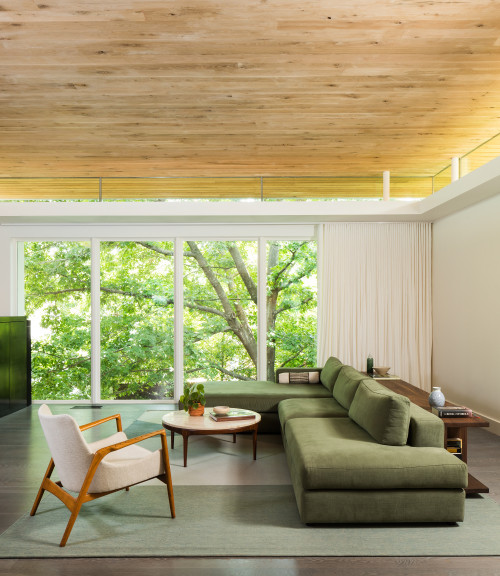 ID# 115610 | Houzz.com – Credit | © Decorbuddi
---
White Built-in Shelves and Drawers with Landscape Wallpaper
The landscape wallpaper behind the white open cabinets creates a beautiful backdrop for this tiny living room and brings depth. White shelves and drawers offer plenty of storage space. The brown sofa, leather armchair, gray curly rug, and black fireplace offer a small cozy resting nook.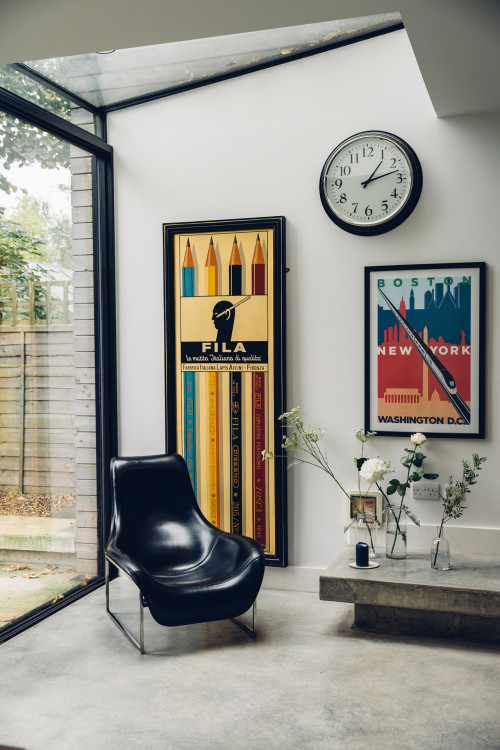 ID# 115613 | Houzz.com – Credit | © Works Architecture Ltd.
---
Black Lounge Chair with Colorful Wall Decors and Skylight
In this contemporary living room, the black lounge chair, marble side table, and wall decors offer a joyful and elegant reading nook. Thanks to the skylight and window wall, the nook maximumly take advantage of the natural light.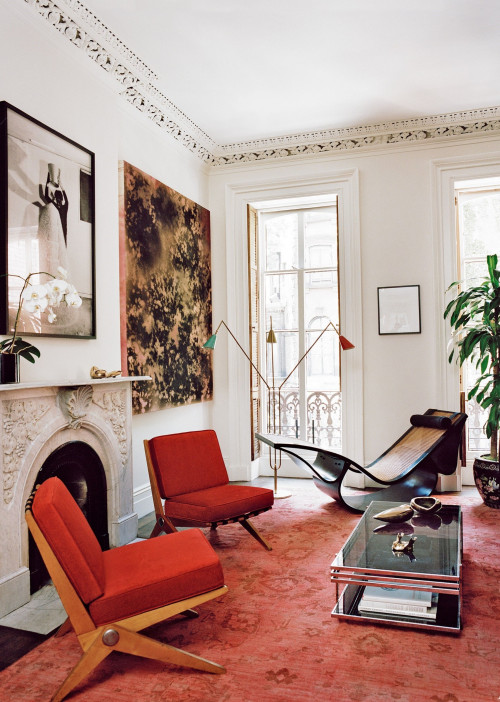 ID# 115615 | Houzz.com – Credit | © Kaiden Seidel interior decorations
---
Eclectic Small Living Room with Red Armchairs and Rug
Inspiration for an eclectic living room with red and wood armchairs, glass top coffee table, white fireplace, red patterned carpet, black lounge chair, brass floor lamp, and wall decors.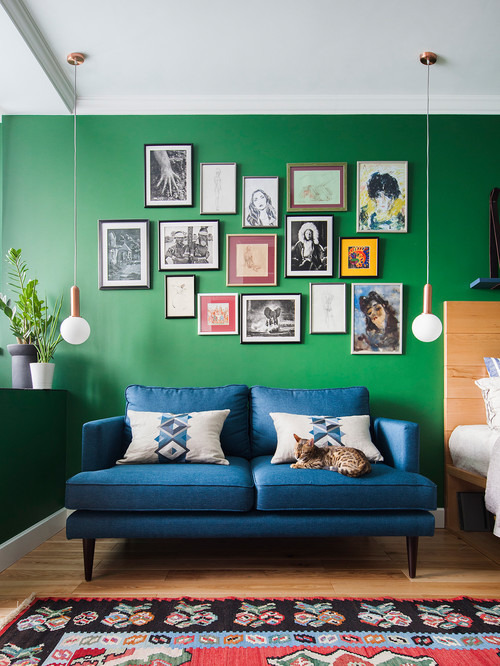 ID# 115616 | Houzz.com – Credit | © Юлия Веселова
---
Blue Couch with Emerald Green Wall and Bubble Pendants
The emerald green paint on walls establishes a baseline of warmth and spunkiness that makes a distinctive backdrop. The colorful artworks in different sizes enhance the impact of the accent wall. The blue sofa contrasts with the green walls to create a more impactful look. Two bubble pendant lights hung on both sides of the sofa and create a symmetrical look.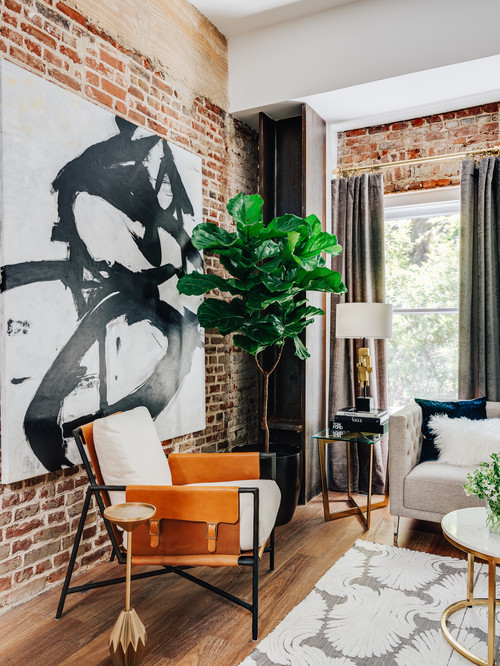 ID# 115617 | Houzz.com – Credit | © Sarah D Brown
---
Small Spaces Living Room Ideas with Black Accent Wall
With a well-designed layout, every room can turn into a bright and spacious look even with black walls. In this cozy living room, the black wall and abstract piece of art create an accent wall and add drama to the design. The black wall is accentuated by a white wall. The large black sofa complements the black wall paint and provides a comfortable seating area.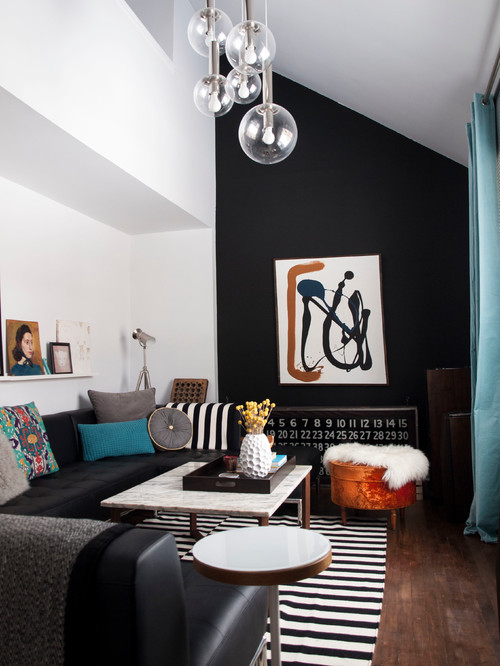 ID# 115618 | Houzz.com – Credit | © Moneo Brock
---
Green and Red Sofas with White Coffee Table
In this eclectic living room, vibrant shades of red and green create a contrasting look. The seating area features red and green sofas, a red rug, a white coffee table, a black-framed painting, a metal fireplace, a wood armchair, image credit, and herringbone wood parquets.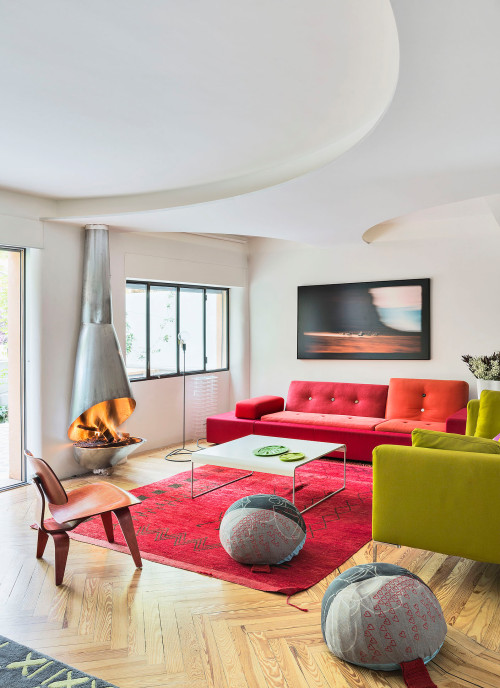 ID# 115619 | Houzz.com – Credit | © Coddington Design
---
Bright Family Room with Shiplap Ceiling and Exposed Wood Beams
In this bright living room minimal, mindful design meets stylish comfort. The neutral color palette and warm natural materials turn the living room into an airy, functionally stylish, serene family retreat with a gray sofa, white and wood armchairs, marble coffee table, gold lighting fixture, and gray rug.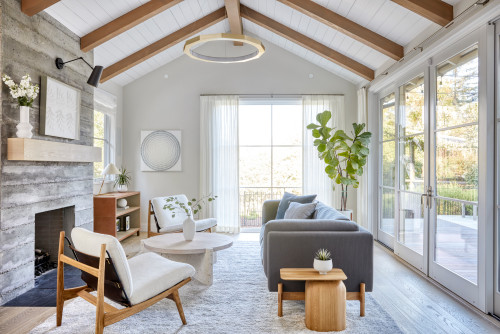 ID# 115620 | Houzz.com – Credit | © Sherwin-Williams
---
Small Spaces Living Room Ideas with Pastel Color Palette
Atmospheric colors, grounded by deep, dark blues, capture the unique space between technology and spirituality in this modern living room. The beige sofa paired with a glass coffee table, dark gray armchairs, and a yellow patterned rug. Abstract artworks in a harmony with the lilac wall. White pendant lights make a warm glow with their inner surfaces.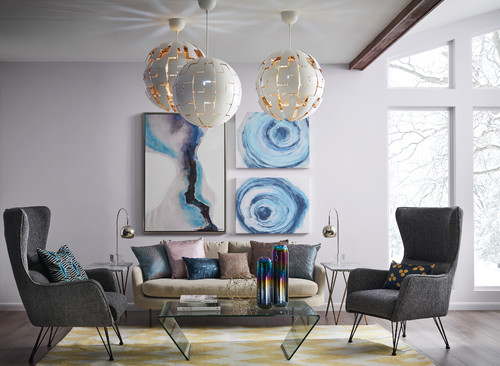 ID# 115622 | Houzz.com – Credit | © Michael Farrell Custom Furniture
---
Minimalist Scandinavian Living Room with String Pendant Light
Inspiration of a minimalist small living room with gray l-shaped sofa, black coffee table, gray rug, white string pendant light, abstract piece of art, black floor lamp, and light wood floor.
---
Modern Living Room with Wood Buffet and Gray Sofa
If you have lucky enough to have large windows, you don't have to worry about the catastrophic atmosphere. In this modern living room, the window wall behind the TV console and the black-framed window on the other wall provide a bright and spacious atmosphere. The gray sofa wood console is placed oppositely, with an acrylic coffee table between them. The beige patterned rug adds a texture while metallic pipe bringing an industrial feel.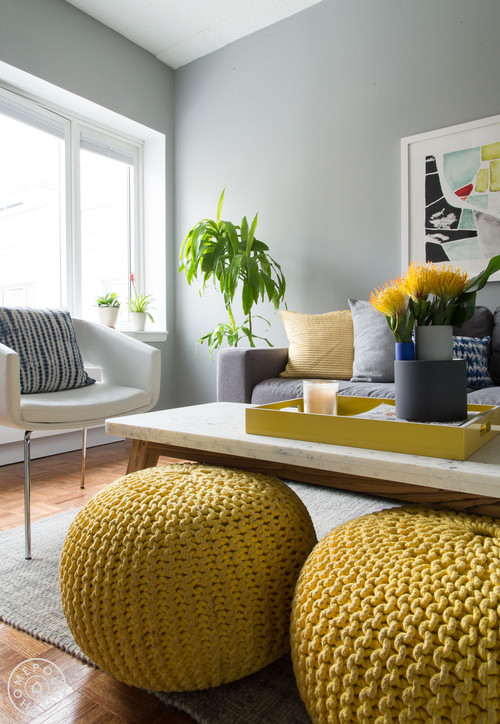 ID# 115602
---
Modern Apartment Living Room with Yellow Touches
When you are working on small spaces, instead of using a plain color scheme, including colorful details can help to create an eye-catching design. In this small apartment living room, the usage of the contrasting colors makes big differences. Yellow details like pillows and poufs color up the gray and white design and provide a more welcoming and intimate atmosphere.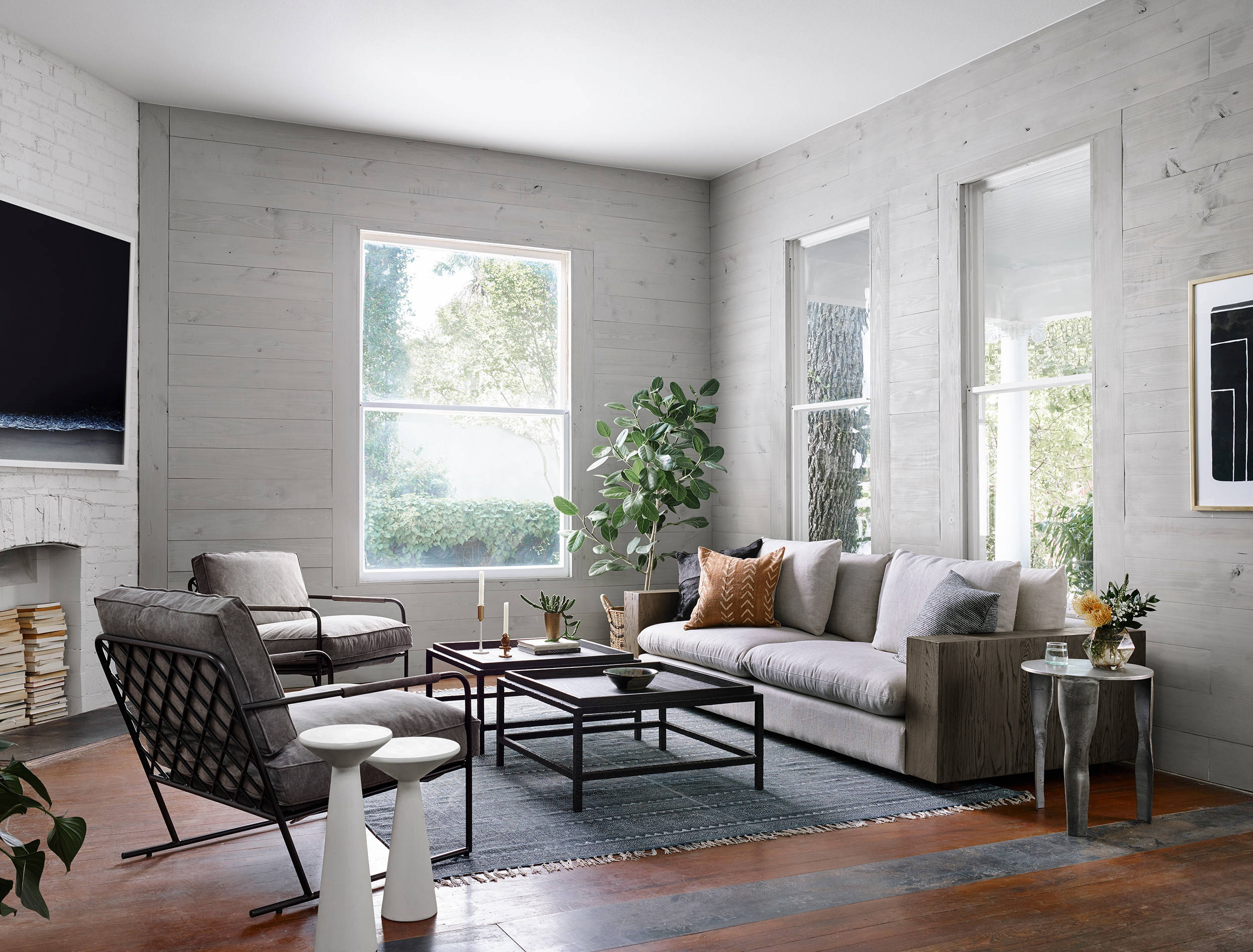 ID# 115605
---
Small Spaces Living Room Ideas with Rustic Touches
A combination of gray shades and natural wood materials offers a modern rustic living room design. Wood sofa with gray cushions and gray armchairs facing each other with two black coffee tables between them. Gray wood wall panels provide a sleek backdrop while medium tone wood floor bringing warmth to the atmosphere. Large windows make space feel larger.
---
Brown Couch with Red Armchairs and Shiplap Wall
This rustic living room gives a homey feel. The brown sofa paired with red armchairs, a traditional patterned rug, and bronze side tables. The black-framed artwork creates a focal point on the shiplap wall. Kitchen cabinets placed next to the sofa. The open shelves provide an open and airy feel.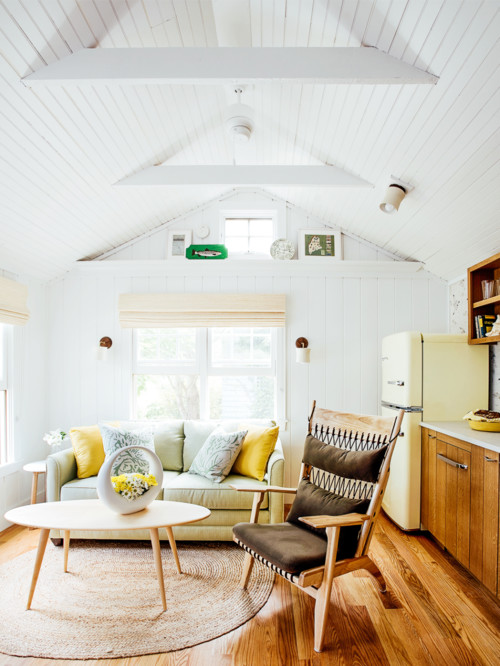 ID# 115607
---
Tiny Open Concept Family Room with Shiplap Ceiling
Even this farmhouse living room has a tiny space, thanks to the white shiplap walls, ceiling, and window openings, the room has a spacious atmosphere. The green sofa paired with yellow pillows, a wood coffee table, a wood armchair, and a beige rug. Shiplap walls and ceilings perfectly give the farmhouse feel. Natural wood kitchen cabinets and yellow fridge in a harmony with the rest of the room.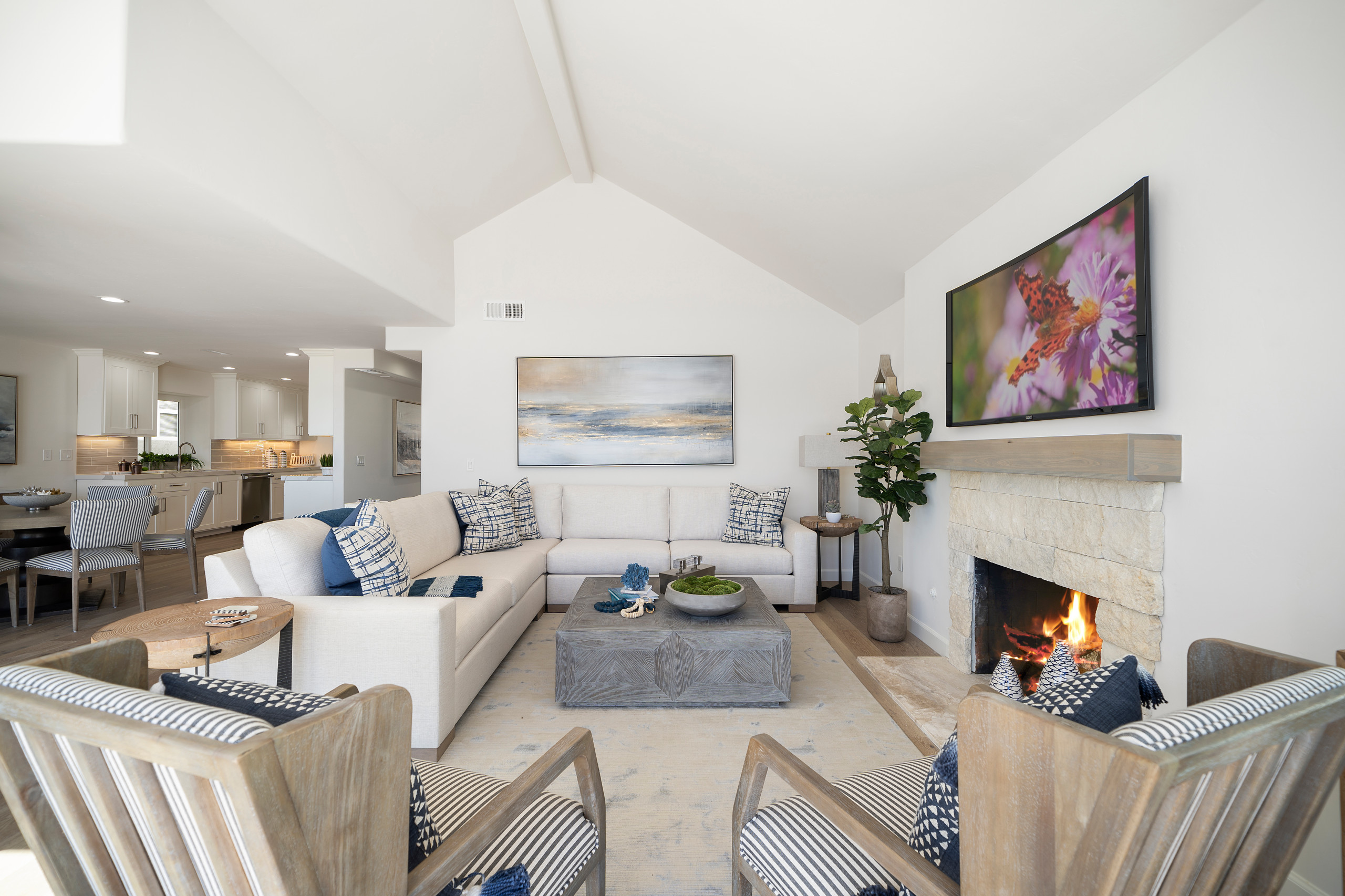 ID# 115621
---
Small Spaces Living Room Ideas with Blue Touches
This bright living room gives a coastal feel with a combination of blue, white, and natural materials. The white l-shape sofa, gray coffee table, wood armchairs, and beige rug create a cozy atmosphere around the fireplace. The layout of the living room furniture enhances the floor space.