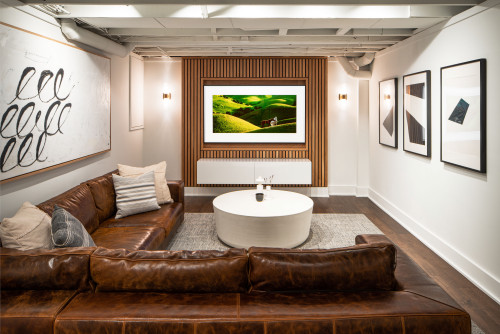 ID# 108503 | Houzz.com – Credit | © J.S. Brown & Co.
---
Modern Basement with Brown Leather Sofa and Wood Wall Cladding
This basement living room is turned into a cozy yet sleek home theater with a brown leather sofa, white coffee table, wood wall cladding, recessed TV, floating white buffet, and artworks. Yes, this theater room doesn't look like a theater, but the soundproof and projection system offers a real theater experience. The design offers a space that both for movie nights and accommodates guests.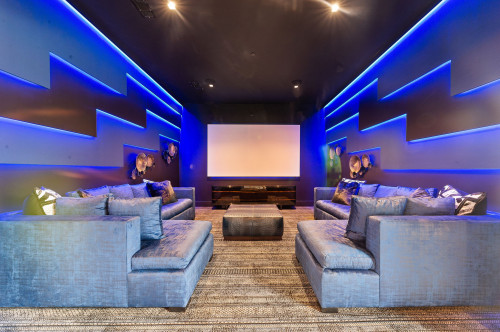 ID# 108501 | Houzz.com – Credit | © Susan Semmelmann Interiors- Award Winning Designer
---
Contemporary Home Theater Design with Blue LED Lights
The eye-catching lighting design is the star of this contemporary home theater. The blue LED lights allow you to get a real theater experience while geometrical wall panels emphasize the impact of the lights and bring depth t the atmosphere. Two gray l-shaped sofas are placed symmetrically and provide a comfortable seating area. Thanks to the symmetrical layout and lighting designs, the large movie screen creates a focal point at the center.
Stunning Home Theater Design Ideas for Every Budget
Thanks to the more affordable technology, home theaters are no longer only for rich and famous people. There is an option for every style and budget that offers a beautiful home theater design at the comfort of your home. Are you ready to get this experience? Scroll down and find inspiration in our home theater design ideas.
Get a real theater experience with well-designed systems
When you are designing a home theater first you need to decide the style. If you want to create an ultra-lux home theater with expensive projection and sound systems, you may spend money on this design. But if you are on a budget, you can even turn your spare room with DIY projects into a cozy theater room. It all depends on you. However, whatever your choice is, soundproofing and lighting are two extremely important considerations. Otherwise, you cannot get the real theater experience at all. Also, besides their entertainment function and visual beauty, home theaters add value to homes. So, there are plenty of pros that show you to create a home theater!
Whether you want an ultra-modern or luxe, cozy or small design, these ideas and tips will help you to create your dream home theater design for family members and guests.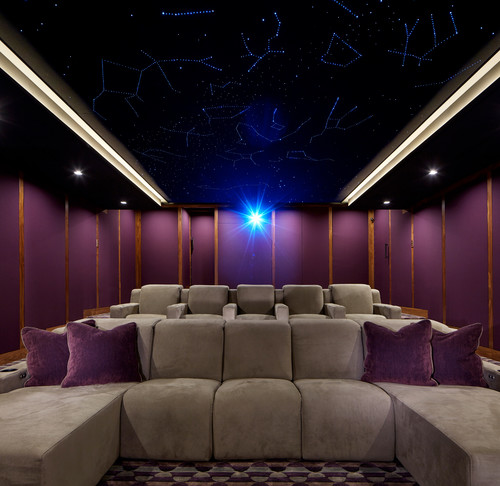 ID# 108506 | Houzz.com – Credit | © Robert Allen Multimedia
---
Comfortable Gray Seats with Purple Pillows and Wall Panels
The more comfortable the seats, the more enjoyable your movie nights, and these seats look really comfortable! Purple pillows of the seats complement the purple wall panels while geometrical patterned wall-to-wall carpet brings a nice texture to space.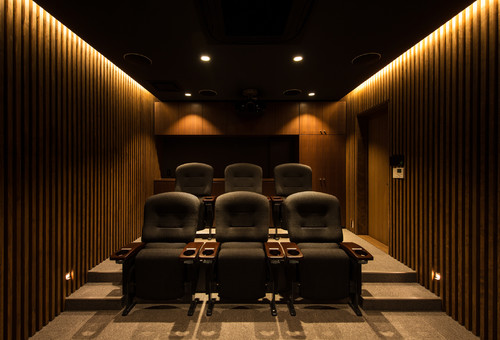 ID# 108509 | Houzz.com – Credit | 一級建築士事務所シンクスタジオ | © 笹の倉舎/笹倉洋平
---
Black Theater Seats with Wood Wall Cladding and Built-in Cabinets
Minimalist, sleek yet effective! In this modern theater room, the wood wall cladding makes a big difference and offers a sleek backdrop for the room. Wood built-in cabinets blend seamlessly with the cladding and provide plenty of storage space. Black theater seats and gray carpeted floor in a harmony with the wood accents and serve a minimalist look.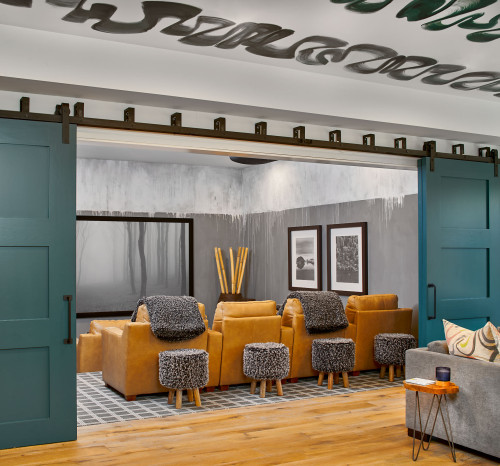 ID# 108511 | Houzz.com – Credit | © Hri Design
---
Mustard Yellow Seats with Teal Barn Doors and Concrete Walls
The vibrant mustard yellow color of the theater seats pulls the attention at the first sight and creates a cheerful home theater design. The raw, unfinished look of the concrete walls makes an industrial twist against the seats and completes the unique design. Teal barn doors create contrast with the yellow seats to enhances the design. Also, barn doors are a great way to create open space or provide privacy when needed.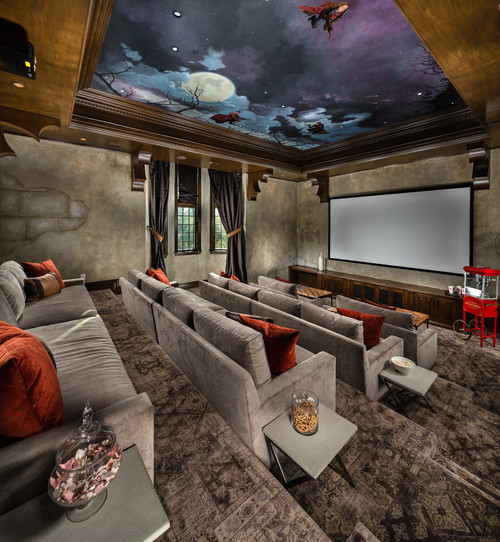 ID# 108513 | Houzz.com – Credit | © Chateau Group USA
---
Harry Potter Themed Movie Theater with Eye-catching Ceiling
Harry Potter fans assemble! Home theaters are perfect spaces for creating a themed design like your favorite movie. This Harry Potter-themed theater allows you to live in fascination and magic. Gray sofas, gray velvet carpeted floor, concrete walls, purple curtains, eye-catching ceiling design, and red cushions feel like you are in the Gryffindor common room.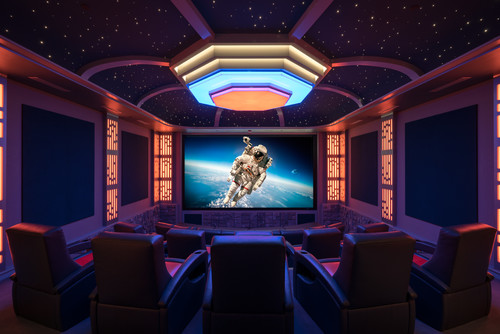 ID# 108514 | Houzz.com – Credit | © Bliss Home Theaters & Automation, Inc.
---
Star Wars Themed Home Theater Design with 19-foot Screen
This Star Wars-themed home theater features a 19-foot screen and a replica of the Death Star surface. The stunning lighting fixture makes a statement and creates a focal point on the ceiling. The curved placement of the theater seats optimizes the viewing experience. R2-D2 and C-3P0 currently stand watch over the concession stand.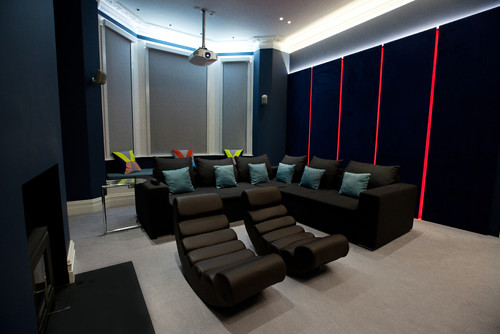 ID# 108515 | Houzz.com – Credit | © Finite Solutions
---
Black Lounge Chairs with L-shape Sofa and Window Seat
Inspiration of a contemporary movie theater with black l-shape sofa, black lounge chairs, built-in window seat, projection system, and soundproof wall panels. Special lighting control and shades provide the ultimate lighting for watching movies and listening to music.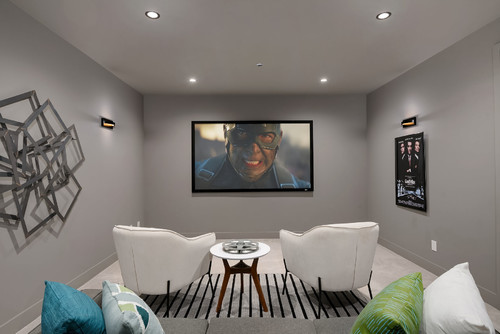 ID# 108517 | Houzz.com – Credit | © Seattle Staged to Sell and Design LLC
---
Cozy Living Space with White Armchairs and Large Screen TV
Comfortable seats, a large screen TV, and a good sound system are enough to create your very own movie room, even the room size is small. But don't forget to soundproof. You don't want to piss off the neighbors, especially if you are living in an apartment.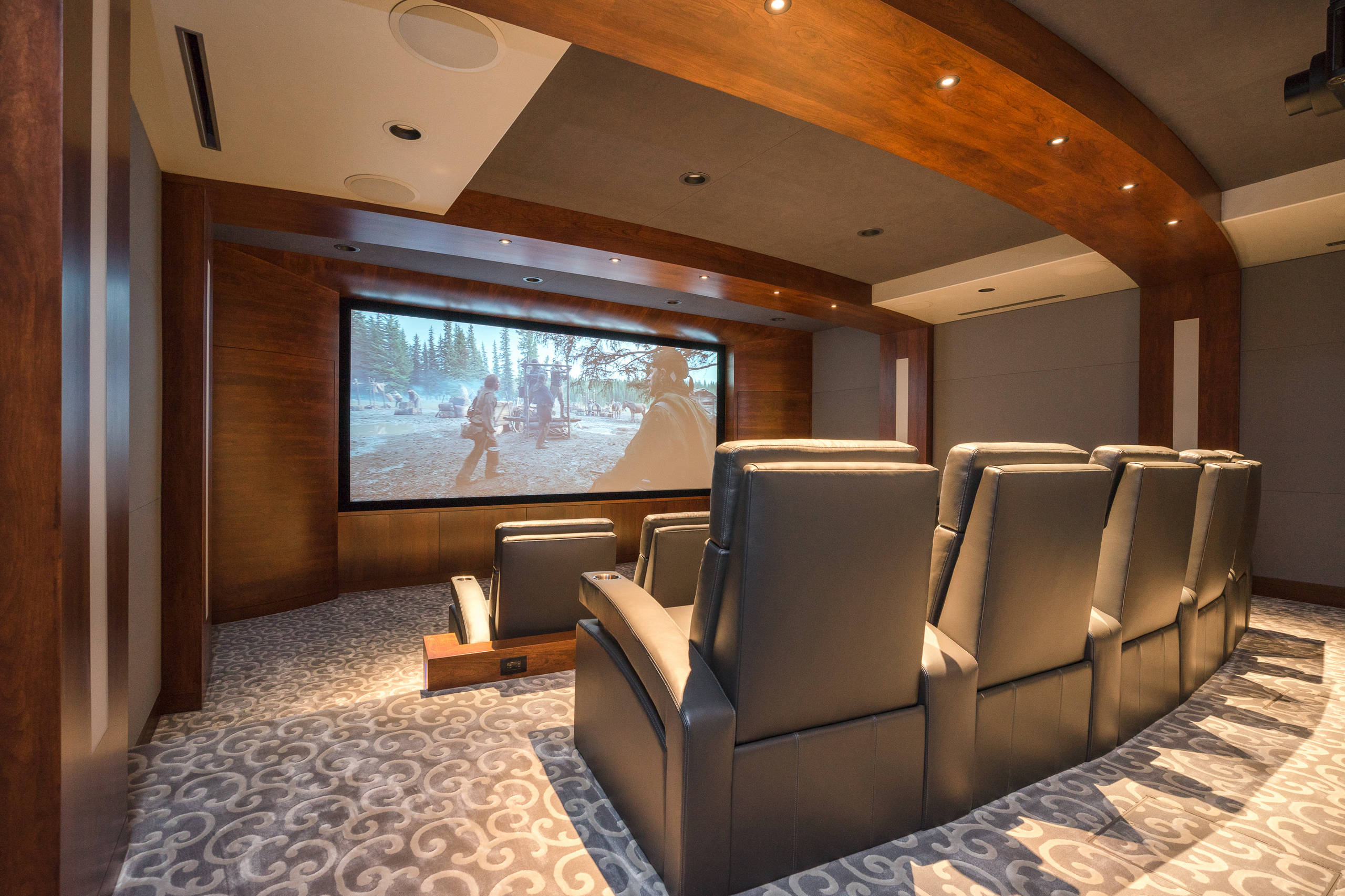 ID# 108502
---
Gray Theater Seats with Large Movie Screen
This luxurious home theater features gray leather theater seats, a large movie screen, wood and gray wall panels, and patterned wall-to-wall carpet. The projection and sound system offer a quality experience with its high-tech system. Gray and white patterns of the carpet give a traditional feel while wall paneling brings a modern appeal. Also, the stadium seating provides an optimum viewing experience.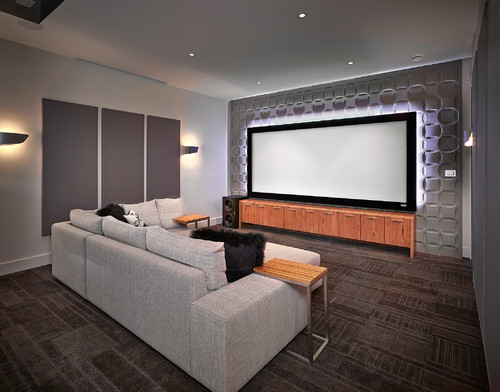 ID# 108518 | Houzz.com – Credit | © Home Theatre Solutions
---
Large Screen TV with Wooden Buffet and Coffered Wall Paneling
In this modern home theater, the large screen TV and coffered wall paneling create an accent wall with the help of the LED-backlit lights. Gray l-shape sofa facing through the TV and complemented by wooden side tables. The long wooden buffer provides a storage space under the TV.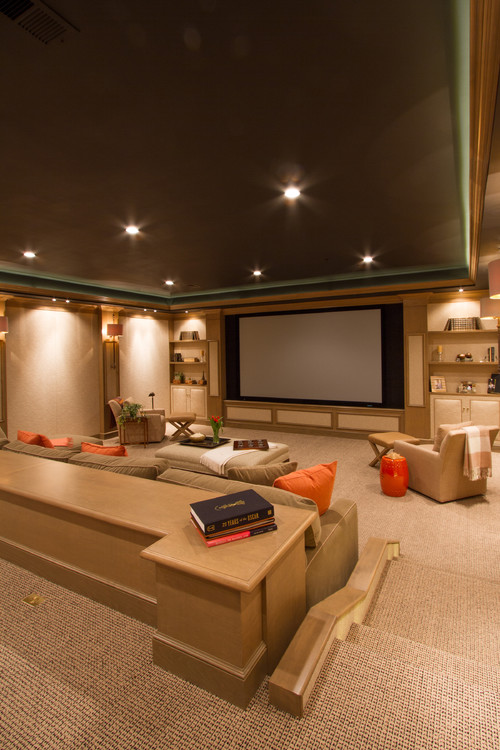 ID# 108504
---
Multipurpose Basement Design with Beige Sofa and Armchairs
Thanks to the large space of this basement, it offers multipurpose usage. The beige sofa, armchairs, and large movie screen provide a comfortable theater experience. Besides the movie nights, you can also hang out with your friends and make game nights in this room. The large movie screen is accentuated by built-in cabinets that create a storage space for books, decorations, or stuff that you want to hide.
---
Elegant Home Theater Design with White Velvet Sofa and Black Curtains
The sophistication of the black surrounds all the spaces and offers an elegant and luxury home theater design. Rather than a regular theater seat, an interior designer has preferred a white velvet sofa and green velvet armchairs that enhance sophistication. Black floor-to-ceiling curtains create a sleek backdrop for the room while spotlights emphasize the dramatic atmosphere created by curtains.