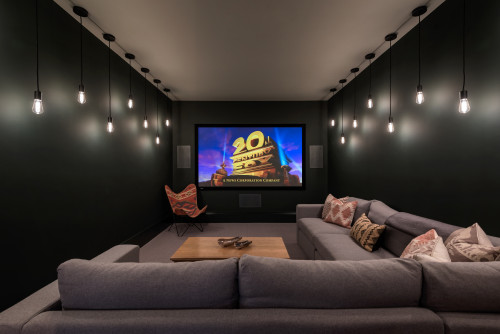 ID# 108401 | Houzz.com – Credit | © Barnes Design
---
Contemporary Home Theater with Black Walls and Gray Sofa
Good comfortable seating is essential for home theaters. In this contemporary home theater, the gray l-shaped sofa is doing this job and it provides plenty of seating space for movie nights. The dramatic effect of the black walls emphasized by dozens of pendant lights.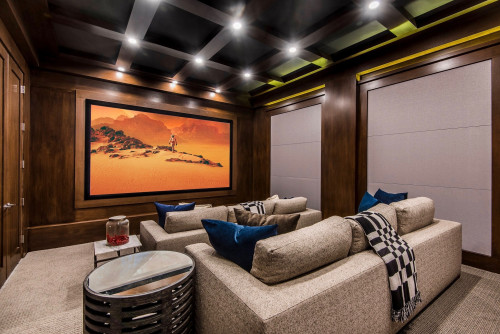 ID# 108410 | Houzz.com – Credit | © Thomas James Homes
---
Transitional Movie Theater with Full-featured Projection System
This transitional movie theater is equipped with a powerful 7.1 full-featured projection system that provides a real theater experience with comfortable gray couches. Wooden wall panels, black coffered ceiling, and beige carpeted floor enhance the luxury level while spotlights highlight the room.
Cozy, Modern and Luxury Home Theater Ideas
Is there any better thing than your very own home theater? Having movie nights at the comfort of your home is a fantastic experience. Here are some stunning home theater ideas to bring that experience to your home!
Countless entertainments hours for family members and guests.
When it comes to relaxing after a long day of work or have a quality and entertaining time with your family, home theater is your solution. And who would not want a theater in their home? From cozy and comfortable to ultra-modern or luxe, there are plenty of options for every budget to create your very own theater. Check out these mind-blowing home theater design ideas, choose your style, and start to decorate your room!
With breathtaking lighting displays, you can change the whole atmosphere of your home theater.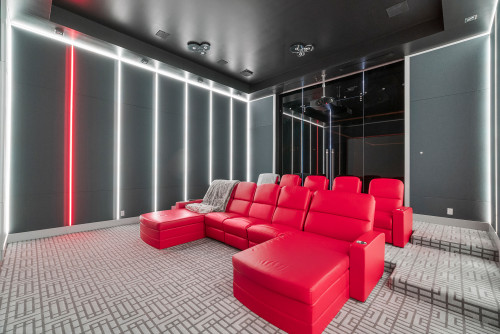 ID# 108402 | Houzz.com – Credit | © Franky & Associates Architect, Inc.
---
Red leather Theater Chairs with Gray Carpeted Floor
The red leather seats take the stage in this contemporary home theater room and stand out between the gray shades. With an extended leg area of the red theater chairs, you can comfortably relax and enjoy your favorite movie. The red and white vertical LED lights, gray walls, and gray patterned carpeted floor give a real theater feel.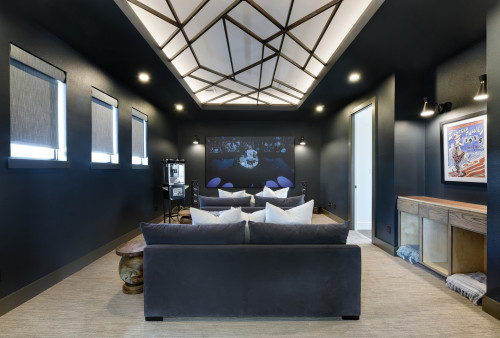 ID# 108403 | Houzz.com – Credit | © Michael Grant Homes
---
Black and White Home Theater Ideas with Unique Ceiling Design
If you have a spare room, you can turn it into a beautiful home theater with a movie screen, projector, and comfortable seats. And don't forget to paint the walls in dark colors! In this elegant home theater, two gray sofas are placed one after another and facing through the large movie screen. The eye-catching ceiling design which is accentuated by black walls takes to this room to the next level.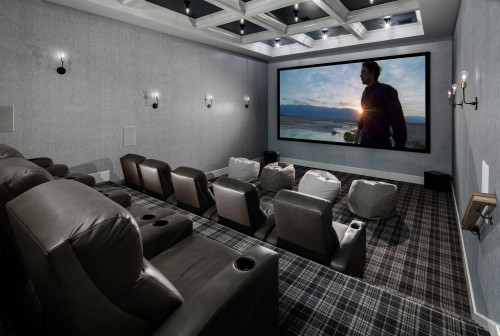 ID# 108404 | Houzz.com – Credit | © Jackson & LeRoy
---
Black Theater Seats with Carpeted Floor and Gray Walls
This farmhouse home theater studio offers a real theater feel with its black seats, large movie screen, carpeted floor, and gray walls. The checked pattern of the carpeted floor complements the white coffered ceiling. The beautiful white molding of the ceiling stands out because of the black paint.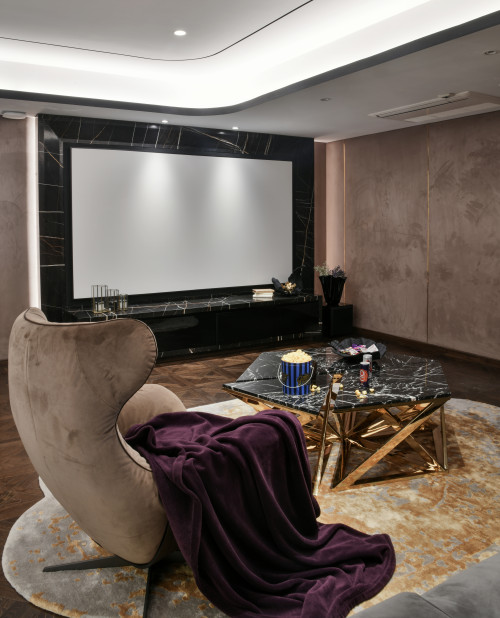 ID# 108405 | Houzz.com – Credit | © KKD.Studio
---
Gray Velvet Lounge Chair with Marble and Gold Coffee Table
The combination of the shiny gold accents, velvet fabrics, and marble details offers an elegant and luxurious home theater design. The large movie screen is accentuated by black marble tiles. Gray velvet lounge chair and oval rug complement the walls while marble and gold coffee table add a sparkle to the design.
---
Contemporary Home Theater with Blue Seats and LED-backlit Lights
The blue velvet theater seating area creates a focal point between the black walls, ceiling, and floor while providing an optimum viewing experience. The LED-backlit lights make a warm glow behind the gray panels and bring depth to the atmosphere.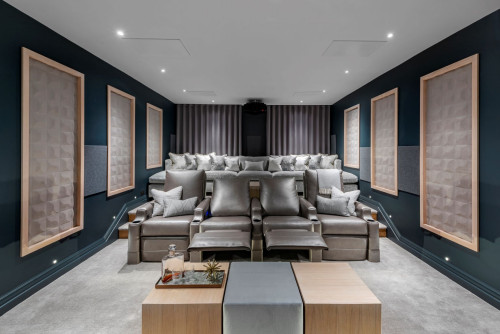 ID# 108407 | Houzz.com – Credit | © Woodhouse and Law
---
Gray Leather Seats with Large Gray Couch and Pillows
The details on this basement home theater are exquisite and lovely! Here, a large gray couch is placed at the back in addition to the gray leather theater seats. 3D wall panels and gray curtains add visual interest to the design while black walls, gray carpeted floor, and wood coffee table create an elegant look.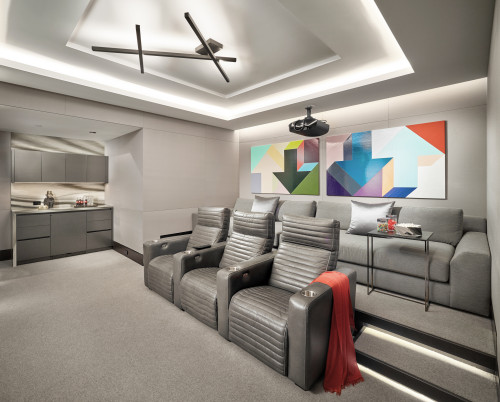 ID# 108408 | Houzz.com – Credit | © b+g design inc.
---
Gray Home Theater Design with Colorful Artworks
This home theater offers a sleek contemporary style with gray leather theater seats, gray sofa, carpeted floor, and digital artworks. The vibrant colors of the artworks break the gray domination in the room and bring a cheerful vibe to the atmosphere.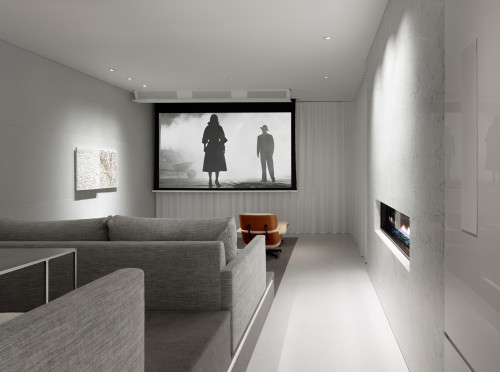 ID# 108409 | Houzz.com – Credit | © Connate Design
---
Gray and White Theater with Wood and Cream Lounge Chair
Contrary to general belief, bright color schemes are also suitable for home theaters. Here, the gray and white color scheme creates a bright and spacious atmosphere even the room has no windows. Gray sofas are placed one after another through the movie screen. in addition, a brown and cream lounge chair provides an extra seat next to the screen.