41+ Backyard Movie Theater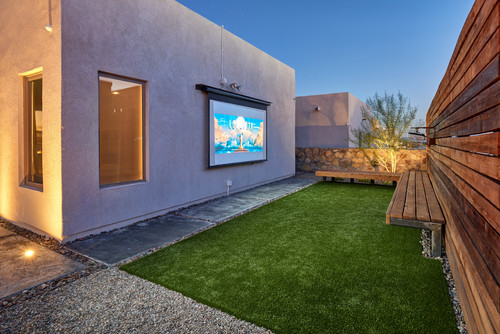 ID# 108601 | Houzz.com – Credit | © GO Designs Inc.
---
Minimalist Backyard Design with Movie Theater
This minimalist design featured with pulldown projector screen and l shaped wooden bench. Projection screen hanging on the home's exterior wall. beautiful grasses between the pathways allow extra space. You can put on some comfortable cushions and enjoy your movie!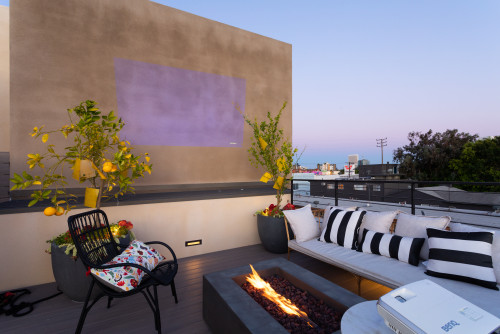 ID# 108604 | Houzz.com – Credit | © Mason London Design
---
Contemporary Backyard Ideas with Movie Theater and Fire Pit
A large white wall allows a wide area to watch your movies on the white sofa with black pillows or a black armchair. Besides providing visual beauty, a fire pit can warm you up on cold nights!
Backyard Movie Theaters Ideas for Outdoor Entertaining
Home theaters are a great place to spend time with your family. If you have enough space why not move the home theater to your backyard. With a few easy steps, you can transform your backyard into a great cinema experience the whole family will enjoy! Here are some backyard movie theater ideas for you.
Firstly, set up a movie screen for a movie night!
There are no specific rules for designing a backyard movie theater. It is all about the ambiance. You can create your theater even with a simple white sheet with a movie projector and some comfortable seats or go with more high-tech features like an exclusive sound system. Also, you can add some lightings or a fireplace to amp up the atmosphere. We gather some backyard movie theater ideas in different styles.
Whether you decide to go with it, either way would make for a fun movie night with your family!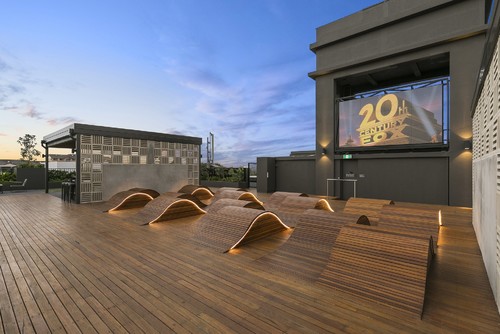 ID# 108631 | Houzz.com – Credit | © Evolve Styling
---
Contemporary Backyard Movie Theater Ideas with Wavy Seating Areas
Love this contemporary backyard movie theater design! seating areas incorporated into the wooden deck. Soft-lined seating areas give the feeling of waves. LED lights around the seats offer a visual feast at night. Wide movie screen placed on the black exterior wall.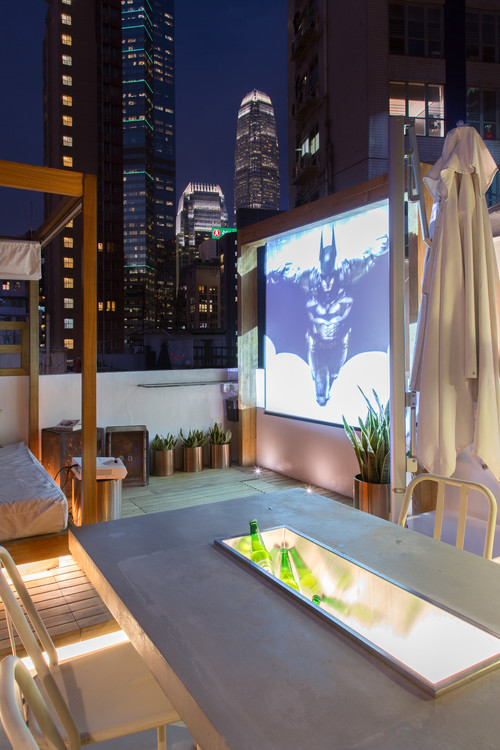 ID# 108632 | Houzz.com – Credit | © Liquid Interiors Limited
---
Luxury Rooftop Design with Wide Movie Screen
This rooftop design includes everything that you need for movie night! The movie screen right across the seating area. The concrete table is inset with an ice tray. Potted plants add a green element to the rooftop, and copper planters maintain a sleek atmosphere.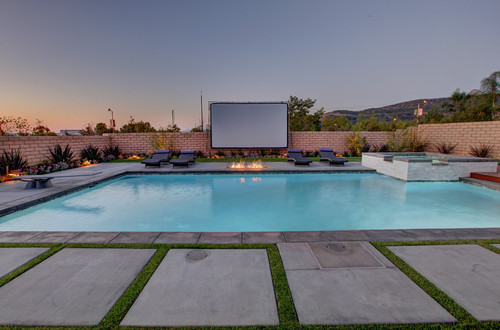 ID# 108635 | Houzz.com – Credit | © Aqua-Link Pools and Spas
---
Outdoor Movie Screen at Luxurious Poolside
There's no better way to beat the heat than a dip in a refreshing swimming pool. It's even better when that swimming pool is in your own backyard! Movie screen adding an entertaining activity to this backyard. Stone pathway surrounding the pool perfectly. A firepit can warm up you on cold nights!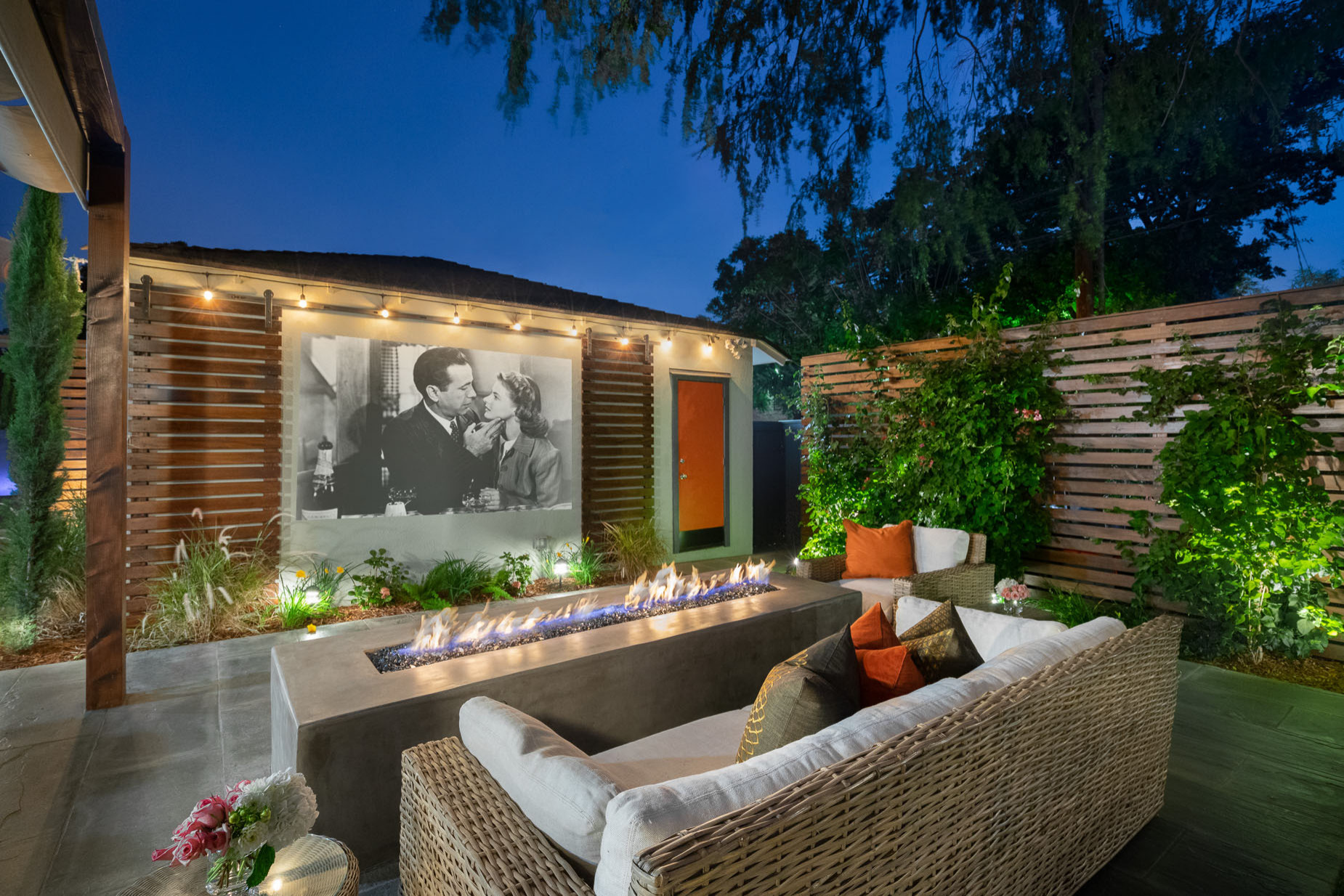 ID# 108620
---
Converting A Backyard into a Cozy Movie Theater
Adding a viewing screen to an outdoor trellis space really is the greatest way incorporate to bring the indoors, out. Comfortable wicker sofa with white cushions, fire pit, and movie screen, you are ready for the movie night!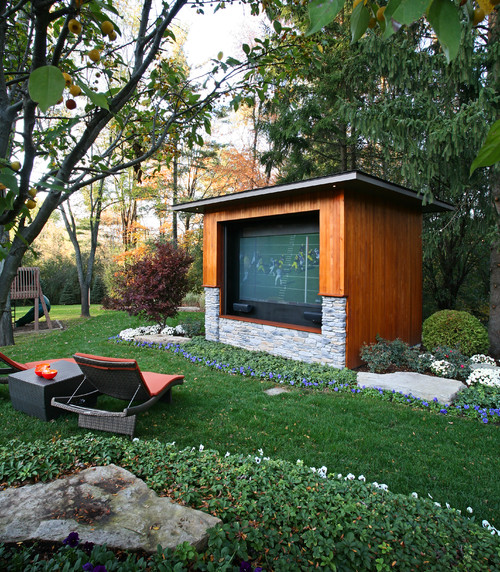 ID# 108605
---
Greenery Backyard Movie Theater Ideas
This backyard movie theater looks gorgeous in a green environment. Wooden and stone materials in a harmony with the atmosphere. With the calming effect of nature, you can lie down on the sunbeds and enjoy the movie. Also, if you have a large greenery backyard, you can build a cabinet for your big screen and create protection.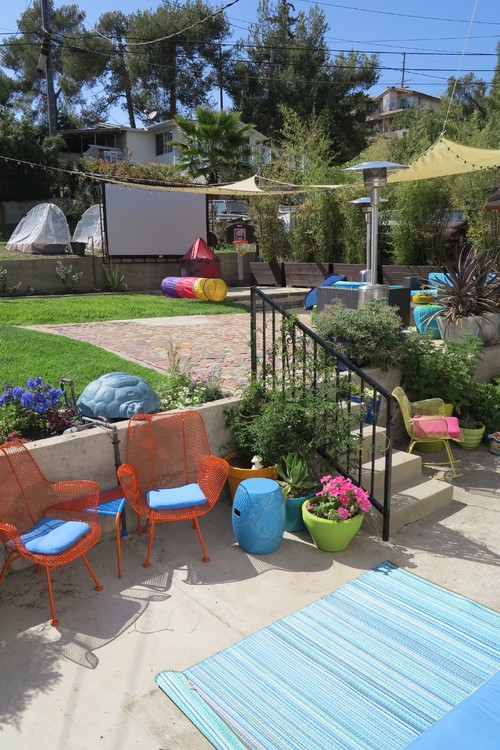 ID# 108608
---
Backyard Movie Theater Ideas Under the Triangle Shade Sails
This backyard design is perfect for garden parties! Large projection screen placed upstairs. Triangle shade sails right above the movie theater and it's amp up the backyard with the string lights on the edges. Colorful side chairs and cushions bring joy to the backyard.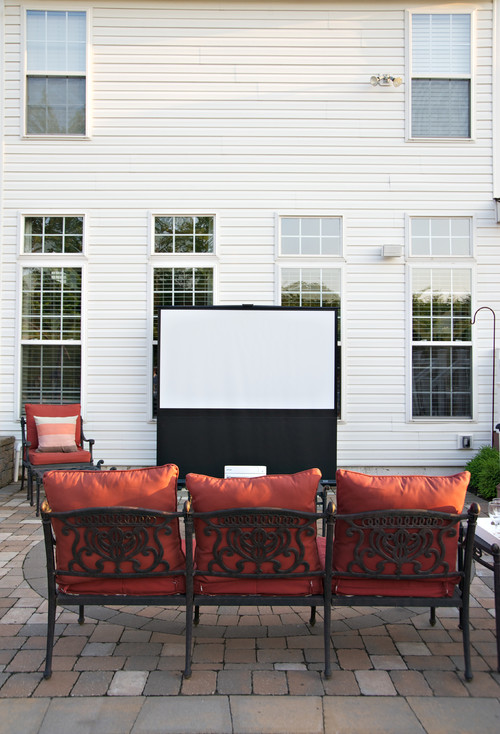 ID# 108611
---
Backyard Movie Theater Ideas with Black Sofa and Red Cushions
Tile red cushions on the black-framed sofa popping up at this gorgeous white mansion's backyard. Red and black color make an elegant touch. Movie screen placed on the black stand. Stone tile covered the entire floor of the backyard.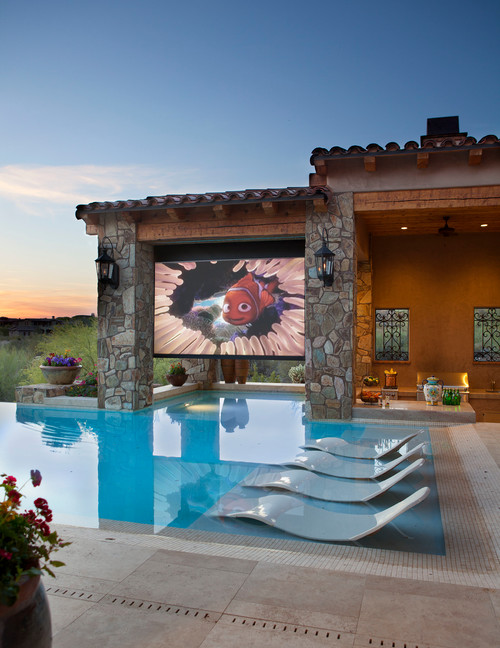 ID# 108616
---
Large Movie Screen at Luxurious Backyard
Isn't it dreamy to watch movies while sunbathing on the sun loungers by the pool? The large movie screen fits perfectly between the gorgeous stone columns. You can also host entertaining pool parties in this backyard!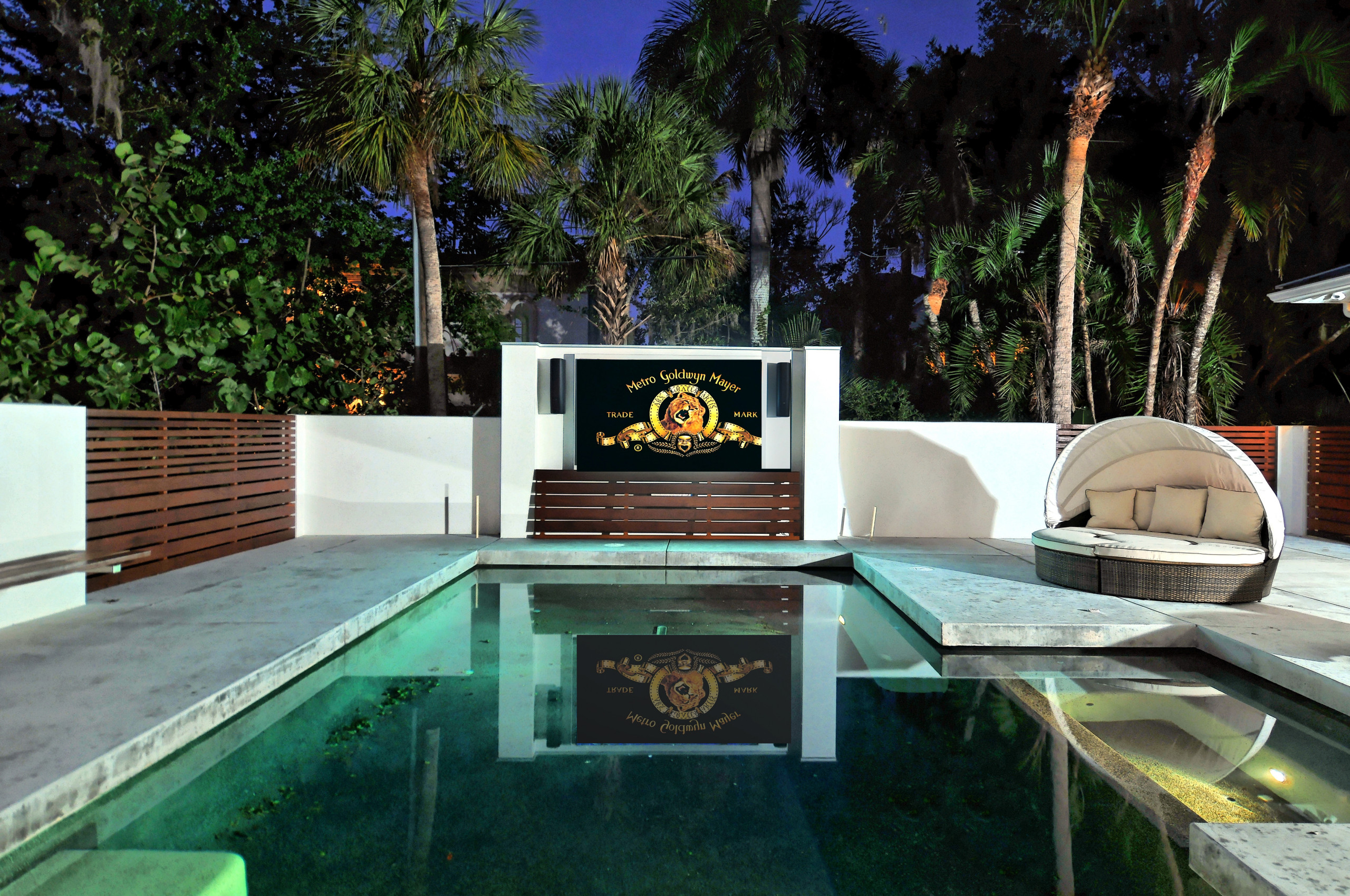 ID# 108623
---
Tropical Poolside Movie Theater with Concrete Deck
If you love big parties this backyard design is just for you! The movie screen shines out next to the gorgeous pool in this tropical backyard. The concrete deck surrounding the pool perfectly.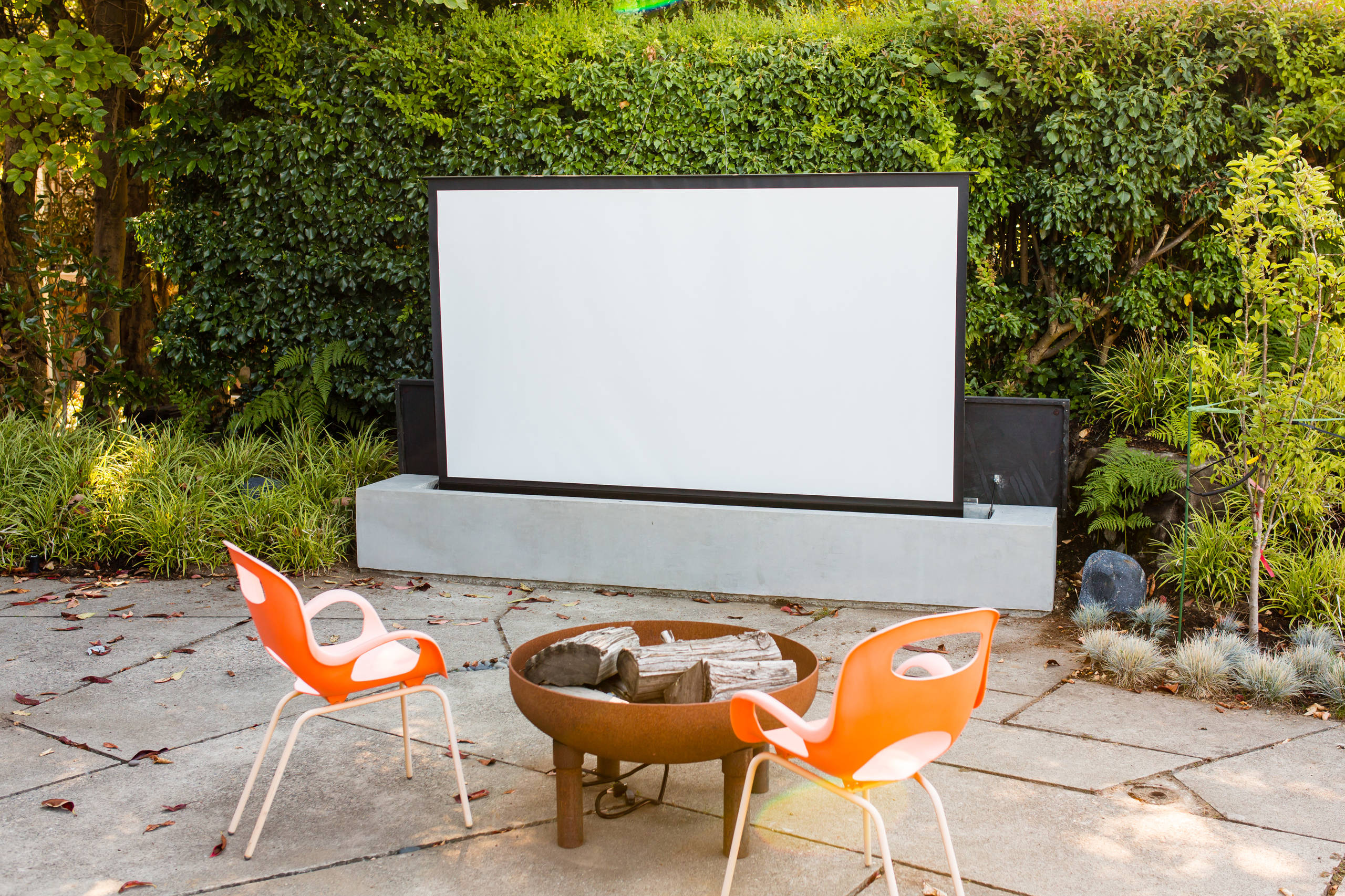 ID# 108624
---
Small Backyard Ideas with Movie Screen and Orange Chairs
Movie screen, small fire pit, and some chairs can enough to design your backyard movie theater. Pick up some blankets fire up the pit and you are ready for the movie night. Don't forget popcorns!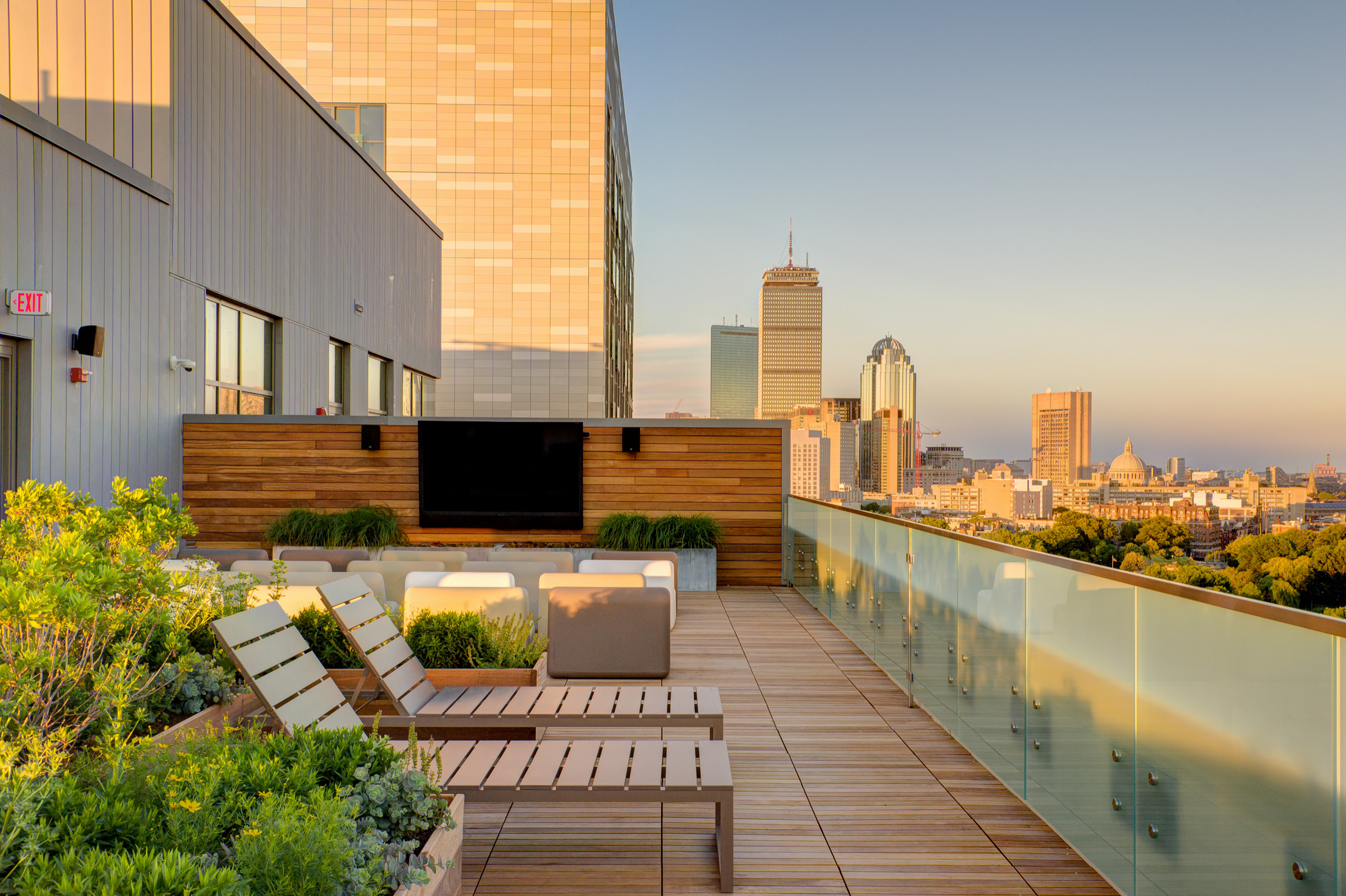 ID# 108625
---
Large Rooftop Movie Theater Design with Wooden Sunbeds
Watching movies against the magnificent city view must be perfect. The entire roof has been turned into a movie theater. Big screen and portable speakers hanged on the wooden partition. You can sunbathe on the wooden sunbeds until it gets dark for the movie night.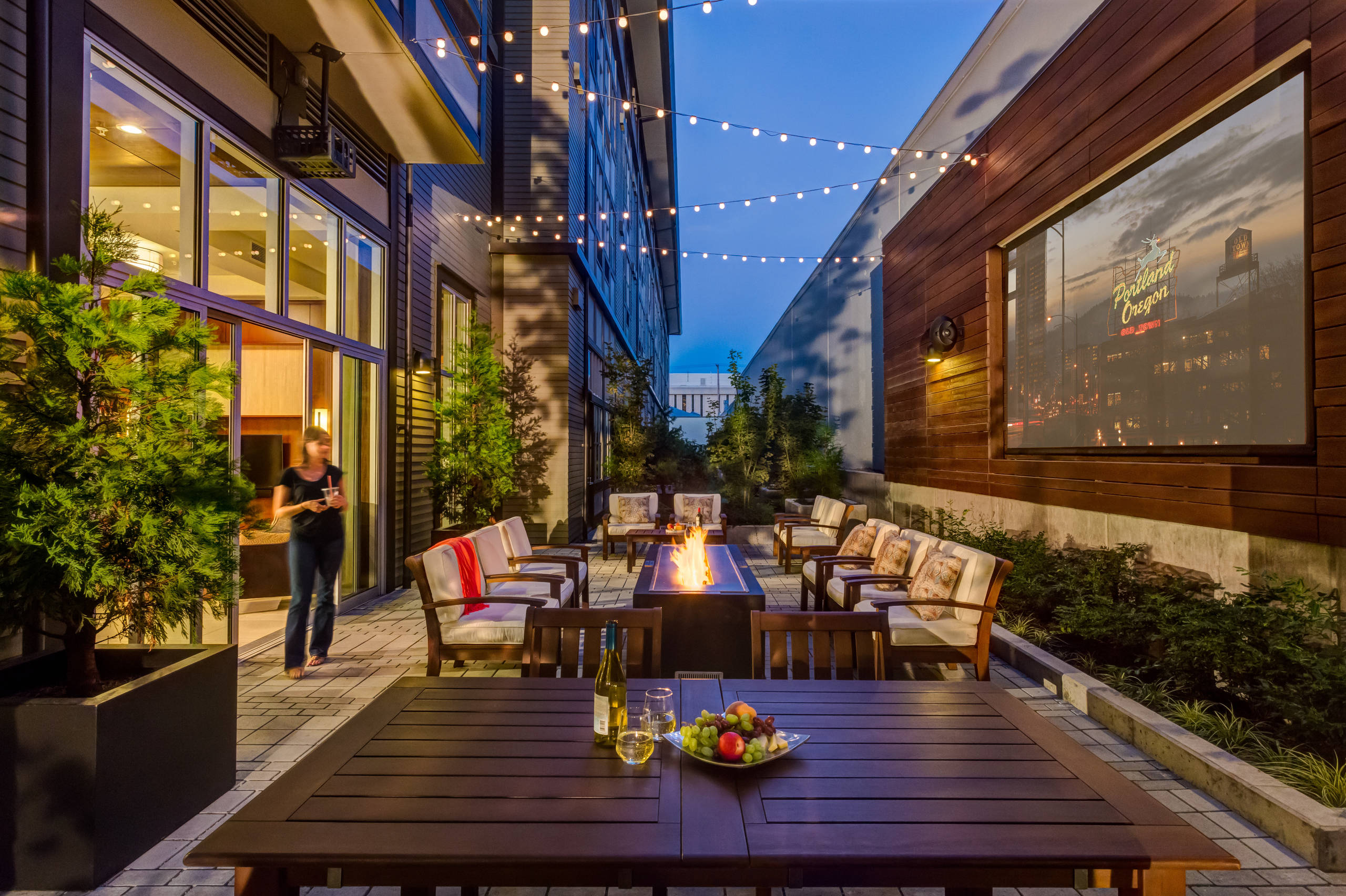 ID# 108627
---
Contemporary Warm Backyard Movie Theater Ideas with String Lights
This backyard transformed into an oasis between the buildings. Comfortable seating areas around the fire pit provide space for you to gather with your family and have a movie night on the wide movie screen. String lights add to the overall evening time ambiance.
ID# 108628
---
Patio Design with Wooden Framed Movie Screen
This backyard features an l-shaped sofa, wicker seating group, circular fire pit, sunbeds, and wooden frame movie screen. The design allows a relaxing atmosphere in nature. The floor is covered by stone tiles.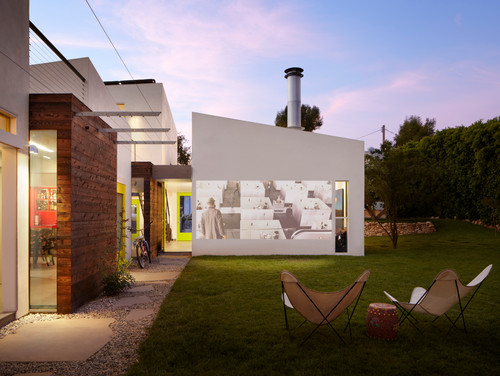 ID# 108633
---
Minimalist Backyard Movie Theater Ideas
Use a white wall of your home as a movie screen, this one just happens to be the side of the garage. Put outdoor chairs on the grass and pick up some blankets and ready for a movie night!
---
Modern Outdoor Theater Design at Backyard Patio
The covered backyard furnished with soft seating is a cozy space for watching movies. Movie screen placed on the exterior wall of the house. Wooden coffee tables and lampshades complete this look gorgeously. Spotlights on the wooden covering make a brighter environment.