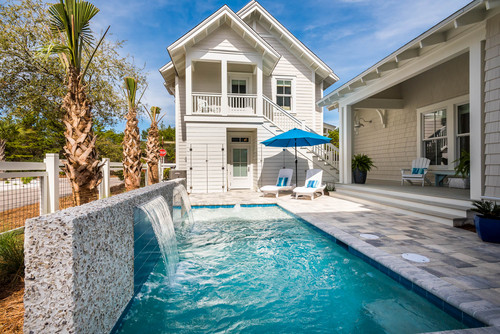 ID# 101417 | Houzz.com – Credit | © Allison Ramsey Architects
---
Classic Pool Idea Fountain on Wall and Travertine Floor
This rectangular-shaped swimming pool is a classic style that is functional and beautiful. The raised rear pool wall includes a horizontal stone accent. The pool wall has two beautiful steeply descending fountains that add a relaxing sound and great ambiance. Travertine floor surrounds the pool while creating a listening area for minimalist white lounge chairs. This beautiful backyard outdoor beam patio cover blends with the style of the house and the pool, making it a great place for fun, family, and friends to get together.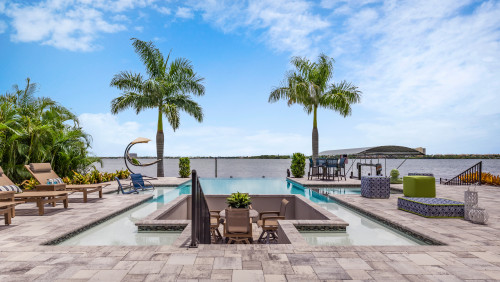 ID# 101401 | Houzz.com – Credit | © Aubuchon Homes, Inc.
---
A Contemporary Masterpiece Pool with Travertine Pool Tile
The pool, which overlooks this contemporary, rectangular-shaped landscape, is quite inviting. Surrounded by a travertine pool tile, the pool blends with the horizon and benefits from a view. Recessed pool seating adds a unique and unusual feature that accentuates the luxurious feel of this swimming pool. While the pool stretches out on both sides, it contains a trendy rectangular hot tub on the right. Stylish lounge chairs and similar-looking side tables contribute to the modern look of the pool.
Attractive, Stylish, Amazing Backyard Pool Ideas in Contemporary Simple Geometry!
When it comes to pool design and choosing a shape, sometimes simple is the best solution. A rectangular, or geometric-shaped pool will be easier to build, will provide you with maximum space for swimming – especially laps – and will complement the architectural style of most homes. For inspiration, browse our backyard pool ideas and see which designs you like the most.
Enhance the landscape with simple geometry and rectangles.
There is a swimming pool for every outdoor area, even in long, narrow side gardens or center courtyards. These complement the architectural style of the home and often have more formal lines or geometric shapes. Plan the pool size and shape before getting further into the project. While an infinity pool is built to offer more than an uninterrupted view and take advantage of the magnificent view, a lap pool is a good solution in tight residential areas. Modern swimming pools bring out a contemporary design and often have furniture and materials similar to their modern roots. Discover how versatile something as simple as a rectangle can be in our examples.
You can find ideas such as rectangular or special-shaped infinity pools, lap pools, ground pools, tanning shelves, and pool fountains that vary according to different backyards, with simple, contemporary travertine pool tile, concrete pool tile. Dive in and be dazzled.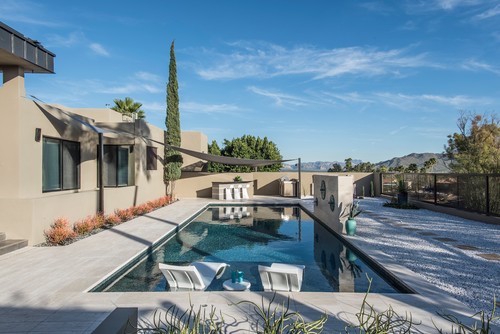 ID# 101402 | Houzz.com – Credit | © Hydroscapes LLC
---
Contemporary Backyard Pool Idea with Pool Fountain and Travertine Tile
This contemporary yard rectangular lap pool is full of elegance. Large travertine pool tile adds modernity with its calm color and appearance. This beautiful lap pool, which serves as the focal point in the garden, contains seating where it is okay to get wet in the water, gives the feeling of a holiday place with its lounge chairs, and creates a comfortable atmosphere. With bluestone details that add elegance to the pool, the pool fountain creates a soothing water sound with an elegant, majestic appearance. Also, the backyard features a bar and outdoor gray kitchen cabinets.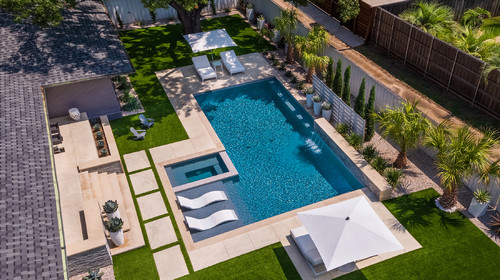 ID# 101403 | Houzz.com – Credit | © Randy Angell Designs
---
Modern Swimming Pool in Clean Line with Travertine Large Slab Block
Seeking hints of whites and grays, this pool looks very modern. The travertine large slab block pool surrounding the pool creates a clean line while creating a modern look. With a water feature wall, spa, and tanning shelf with lounge chairs, this ground pool creates a great environment to relax and have fun. It has a modern feel with landscaping, cement pots, accent pieces. This backyard pool completes its classic and clean line with landscaping, cement pots, accent pieces.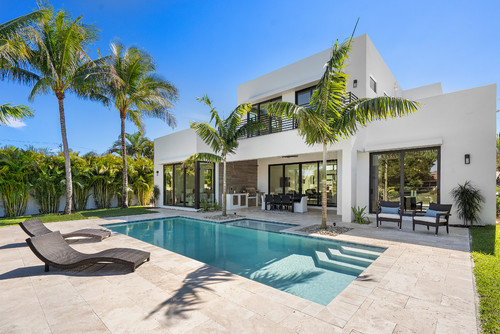 ID# 101405 | Houzz.com – Credit | © REH Interiors, Restyle Home Staging
---
Contemporary, Minimalist Backyard Pool Idea with Travertine Tile Pool
This contemporary pool reflects the house's horizontal lines and geometry, blending the interior beautifully with the exterior. Travertine tile pool, with its flamboyant pool surround style, offers a visual feast, while the pool looks relaxing with its light blue color. The stairs added to the pool provide a safe and easy way to get in and out of the pool with their minimalist and stylish design. Complementing the backyard are palm trees, minimalist brown lounge chairs, and pool chairs. Also, this backyard features a small outdoor kitchen with white cabinets and an outdoor dining area.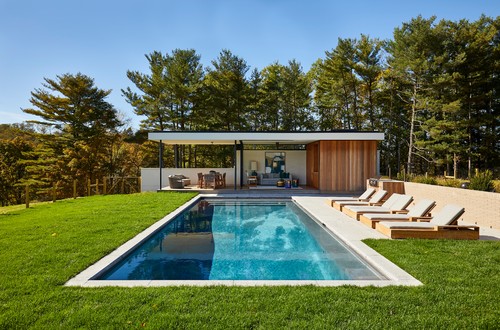 ID# 101407 | Houzz.com – Credit | © The Art of Building
---
Large Green Backyard Pool Idea with Travertine Tile Pool
In this backyard, a simple color palette of travertine tile pool, deck cedar, and greens, wood is used. While the travertine tile pool gives a sense of hygiene with its spacious visual, the pool looks relaxing with its blue color. This minimal pool provides a relaxing and private getaway, as it is surrounded by shrubs and trees and a similarly large rectangular green lawn. This rectangular pool surrounds it with elegant wooden lounge chairs.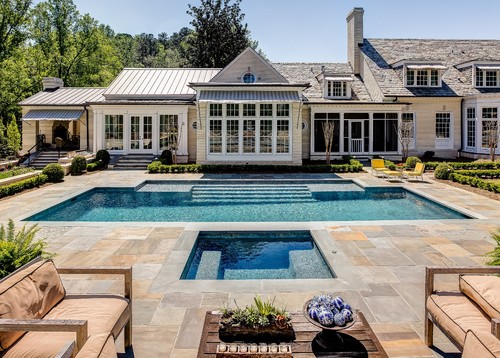 ID# 101408 | Houzz.com – Credit | © Elements Landscape
---
Contemporary Pool Design with Traditional Slate Pool Tile
This modern-looking large pool is full of comfort and elegance. The wide tanning shelves allow sitting without having to swim in the water, and the few stairs between the shelves create a dynamic image and provide gradual access to the pool. The slate pool tile creates an intimate backyard with its large traditional look while offering multiple seating areas both in and out of the pool, making it ideal for fun and socializing. The hot tub next to the pool gives a resort-style pool look.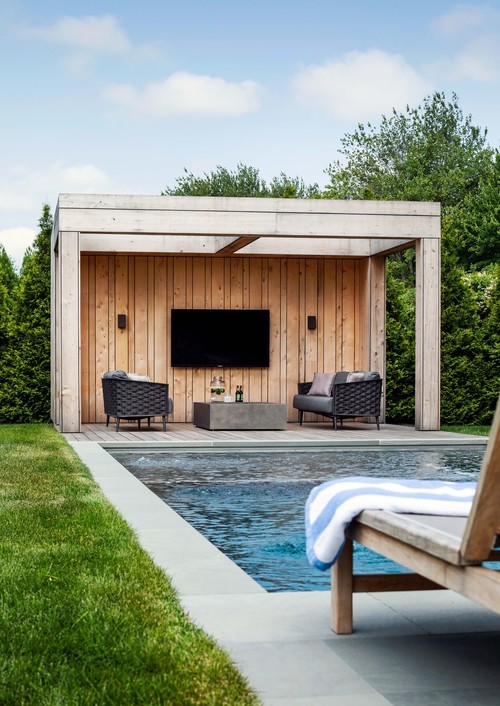 ID# 101409 | Houzz.com – Credit | © Kevin O'Sullivan + Associates
---
Contemporary Pool with Intimate Wooden Cabin and Gray Slate Pool
This contemporary pool is highlighted with a rectangular gray slate pool tile. Gray slate pool tile is used as a thin strip by the pool with its elegant appearance and combines the pool with grass and a wooden cabin. Across the bluestone paved swimming pool, a warm rich wooden outdoor cabin with a fire pit and television brings an intimate atmosphere to the backyard. Complementing the backyard is a sunny area and wooden lounge chairs behind the pool that looks good and provides extra seating.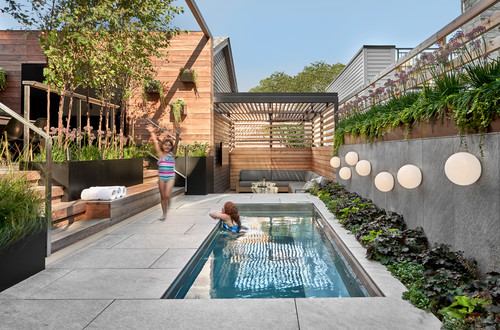 ID# 101410 | Houzz.com – Credit | © DSPACE Studio Ltd, AIA
---
Contemporary Lap Pool with Granite Slab Flamed Finish and Wooden Pergola
This contemporary lap pool acts as the focal point in a small backyard. The backyard, which is divided into different heights, creates a great environment to relax and have fun. While the clean appearance of the large granite slab flamed finish integrates with the wooden pergola, it stands out as durable, modern material. The final touches of this backyard; Layers of light on the wall add depth and interest in the evening, while there are plants, blinds, and a pergola to filter sunlight, add interest, and protect privacy.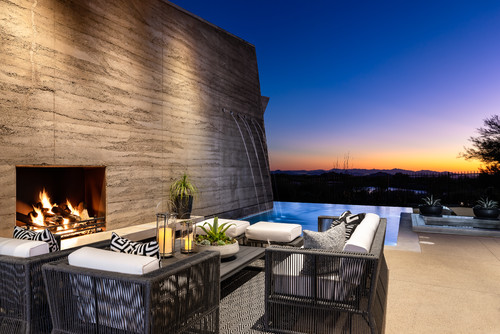 ID# 101412 | Houzz.com – Credit | © Pacific Dimensions, Inc.
---
Contemporary Infinity Pool Idea with Concrete Floor and Fountain
This rectangular infinity pool looks perfect with its seamless look. The concrete floor matches the concrete-looking wall with its simple and modern appearance and recreates the view of the pool overlooking the landscape. In the infinity pool, the water is allowed to flow from more than one side, creating the illusion that the pool has no boundaries. The fountain in the pool wall creates a calm atmosphere and calming ambiance of the pool while adding a relaxing sound and great ambiance. Modern garden furniture is the finishing touches that complement the fire pit pool.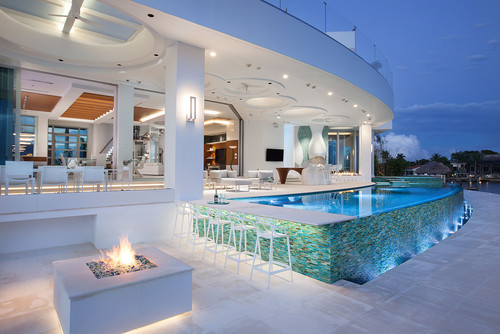 ID# 101413 | Houzz.com – Credit | © AIBD – American Institute of Building Design
---
Unique Appearance with Glass Mosaic Wall in Curved Infinity Pool
This vanishing edge pool is the hallmark of a stunning backyard that is perfect for fun and relaxation. The curved horizon pool is surrounded by a glass mosaic wall, reminiscent of sparkling clear sea waters, while the open-air living space offers a feeling of unobstructed openness along with panoramic riverside views with the concrete floor. Fun geometric shapes speak of easy habitability that denies the bold and eye-catching design. This specially shaped infinity pool completes its unique look with the fire pit, white furniture.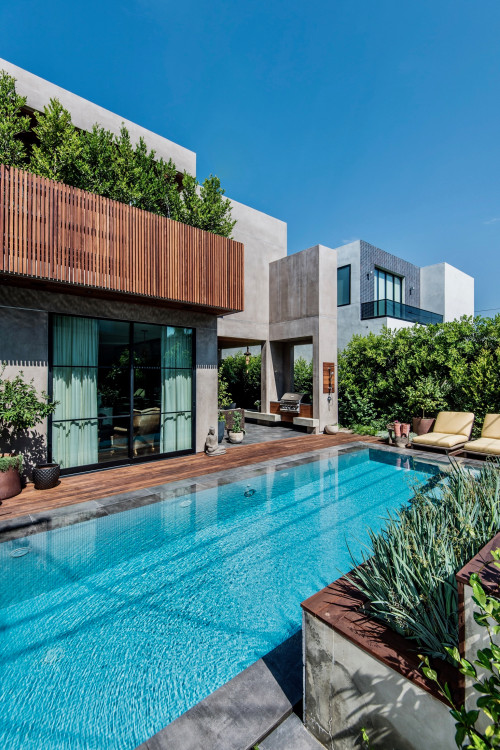 ID# 101416 | Houzz.com – Credit | © Borden Partnership
---
Minimalist Pool with Wood and Custom Gray Pool Tile Harmony
This minimalist pool acts as a focal point in the garden, especially when viewed from home. The small rectangular pool has zero entrances and integrates with the custom gray pool tile wood surrounding the pool, providing uninterrupted flow. The blue mosaic-tiled pool adds exercise, refreshment, relaxation, an attractive water feature in this small backyard. With green plants and warm gray stucco and wood on its dynamic facade, this pool creates a relaxing space.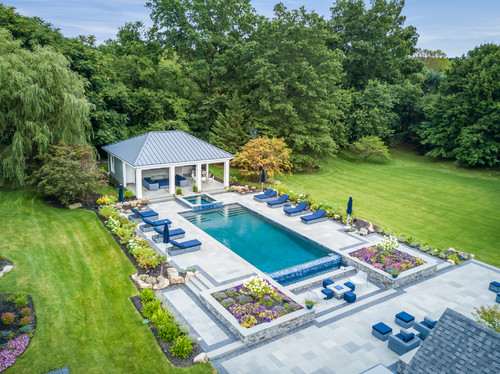 ID# 101418 | Houzz.com – Credit | © My Boys Contracting
---
Classic Infinity Pool Design with Slate Pool Pattern and Colorful Mosaics
This large backyard and the rectangular infinity pool are a unique classic design. The slate pool pattern tile surrounding the pool adds an elegant style by continuing in the backyard and semi-open seating area with its clean and modern appearance. The blue and white mosaic goes from the hot tub to the pool and contrasts beautifully with the light-colored mosaics surrounding the pool and hot tub. Harmonious blue lounge chairs, a sitting area overlooking the infinity pool, colorful flowers create a beautiful relaxation and relaxation area.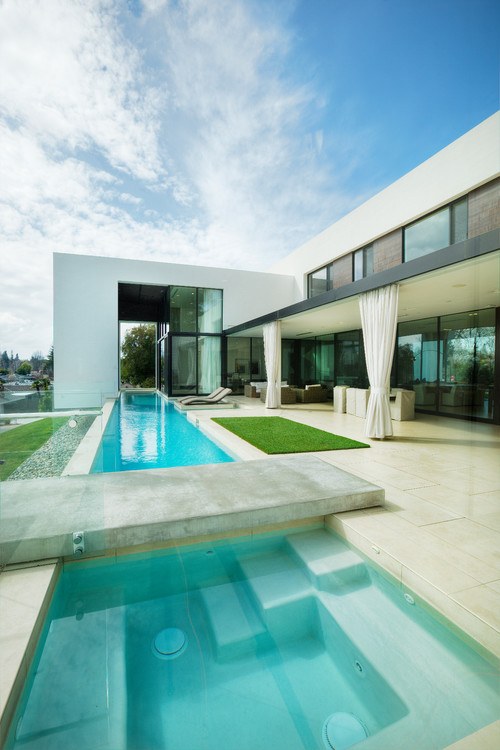 ID# 101419 | Houzz.com – Credit | © Mark Dziewulski Architect
---
Inside Outside Lap Pool with Concrete Bridge Design and Porcelain Floor
Floating on the open landscape, this modern infinity-edge lap pool looks quite inviting. The pool runs along the length of the terrace with porcelain floor tile, entering and exiting architectural forms, reflecting the landscape and sky beyond and allowing a barrier-free edge above the steep drop. The pool integrates the concrete bridge with the backyard, creating a lap pool in and out of the living spaces. Lounge chairs on the pool, lawn bands and white furniture complement the backyard with elegance.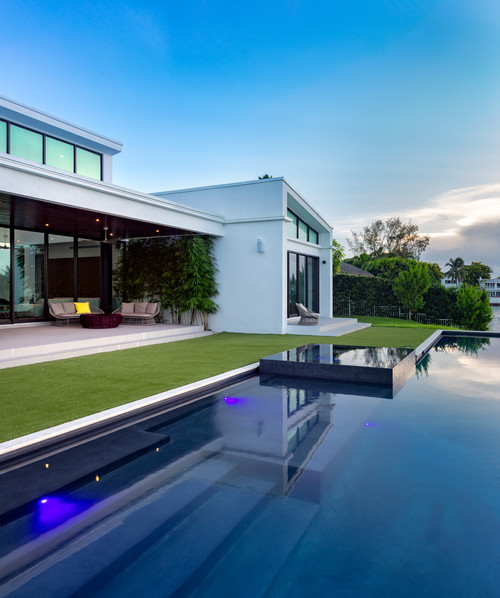 ID# 101422 | Houzz.com – Credit | © PHL & SERVICES
---
Special Shaped Lap Pool with A Raised Overflow Hot Tub
This specially shaped modern lap pool design features white tile along the overflow edge, giving a zero-edge appearance and contrasting with the dark stone tile surrounding the pool and hot tub. The backyard seating area combines with the large lawn and pool, and the main feature of this pool is a raised overflow hot tub that is truly unique. A uniquely shaped overflow hot tub is inside a larger body of water with floating stone steps.