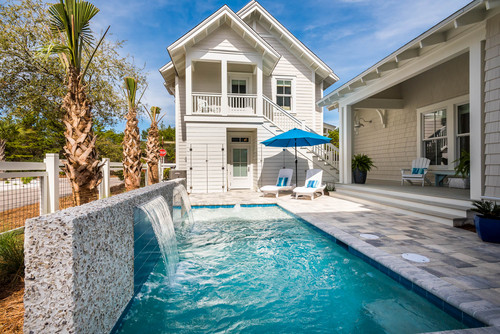 ID# 101417 | Houzz.com – Credit | © Allison Ramsey Architects
---
Classic Pool Idea Fountain on Wall and Travertine Floor
This rectangular-shaped swimming pool is a classic style that is functional and beautiful. The raised rear pool wall includes a horizontal stone accent. The pool wall has two beautiful steeply descending fountains that add a relaxing sound and great ambiance. Travertine floor surrounds the pool while creating a listening area for minimalist white lounge chairs. This beautiful backyard outdoor beam patio cover blends with the style of the house and the pool, making it a great place for fun, family, and friends to get together.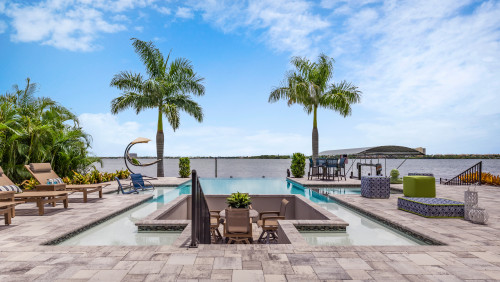 ID# 101401 | Houzz.com – Credit | © Aubuchon Homes, Inc.
---
A Contemporary Masterpiece Pool with Travertine Pool Tile
The pool, which overlooks this contemporary, rectangular-shaped landscape, is quite inviting. Surrounded by a travertine pool tile, the pool blends with the horizon and benefits from a view. Recessed pool seating adds a unique and unusual feature that accentuates the luxurious feel of this swimming pool. While the pool stretches out on both sides, it contains a trendy rectangular hot tub on the right. Stylish lounge chairs and similar-looking side tables contribute to the modern look of the pool.
Attractive, Stylish, Amazing Backyard Pool Ideas in Contemporary Simple Geometry!
When it comes to pool design and choosing a shape, sometimes simple is the best solution. A rectangular, or geometric-shaped pool will be easier to build, will provide you with maximum space for swimming – especially laps – and will complement the architectural style of most homes. For inspiration, browse our backyard pool ideas and see which designs you like the most.
Enhance the landscape with simple geometry and rectangles.
There is a swimming pool for every outdoor area, even in long, narrow side gardens or center courtyards. These complement the architectural style of the home and often have more formal lines or geometric shapes. Plan the pool size and shape before getting further into the project. While an infinity pool is built to offer more than an uninterrupted view and take advantage of the magnificent view, a lap pool is a good solution in tight residential areas. Modern swimming pools bring out a contemporary design and often have furniture and materials similar to their modern roots. Discover how versatile something as simple as a rectangle can be in our examples.
You can find ideas such as rectangular or special-shaped infinity pools, lap pools, ground pools, tanning shelves, and pool fountains that vary according to different backyards, with simple, contemporary travertine pool tile, concrete pool tile. Dive in and be dazzled.