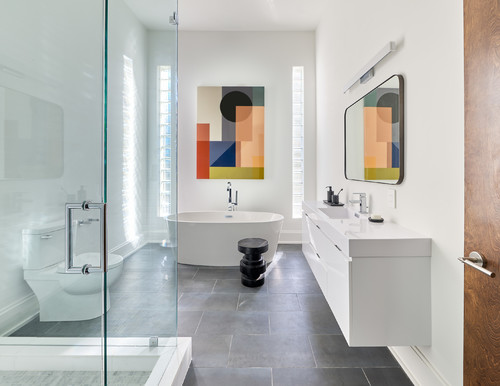 ID# 106903 | Houzz.com – Credit | © Artistic Interior Design/Amy N. Lee, ASID
---
White Contemporary Bathroom with Colorful Digital Wall Art
The geometric printed colorful wall art incorporates the modern appearance of this mostly white bathroom. It also breaks the domination of white in the atmosphere and creates an accent behind the freestanding bathtub. White floating vanity paired with thick white countertop, undermount sink, and nickel faucet. The curved edges of the large mirror contrast with the sharp edges of the vanity. Black floor tiles create a contrasting look and add drama.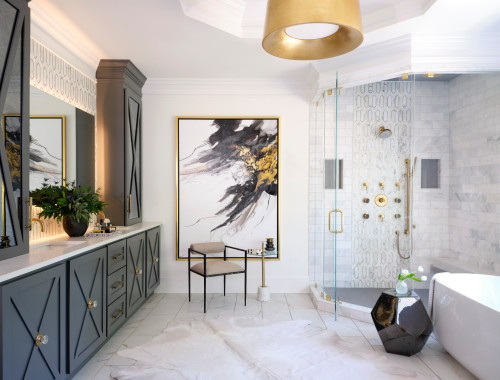 ID# 106930 | Houzz.com – Credit | © Minhnuyet Hardy Interiors
---
Black and Gold Bathroom Art Ideas with Gold Frame
Rich textures and saturated colors ensure that even expansive rooms feel cozy and intimate. Gold framed bathroom art creates a focal point behind the beige chair and complements the gold accents with its gold details. Dark gray cabinets with a white countertop create a dramatic look while glass doors of the shower provide an open and airy atmosphere.
Colorful and Creative Bathroom Art Ideas
Do you think your bathroom deserves more than an ordinary appearance? Artworks are a creative way to enhance your bathroom. The good news is that there are endless ways to incorporate a piece of art into the bathroom. Scroll down and find some of the best bathroom art ideas that will turn your bathroom into a space you look forward to spending time with!
Create an eye-catching appearance with a piece of art
Generally, bathrooms are the last place we would consider placing an artwork but displaying bathroom art can give an instant character to space. Also, artwork can help you to create the calm and relaxing atmosphere you want in the bathroom. Whether the artwork is a photograph or sculpture or painting, it serves an eye-catching appearance, and also, you don't have to spend a fortune on this. Even the small pieces can have a big impact. You can easily move them to suit your mood! Here we gather out some of our favorite bathroom art ideas that will inspire you!
From gallery walls to large sculptures there is an endless option to incorporate bathroom art. But first, you just need to find your style!