35+ White Mosaic Tile Backsplash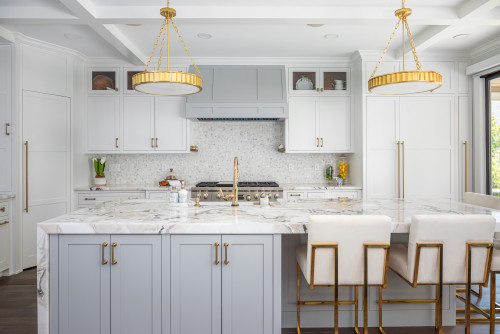 ID# 132410 | Houzz.com – Credit | © Clearcut Construction, Inc.
---
Two-Tone Cabinets with Full Function Kitchen Island and White Countertops
White and lilac colors harmonize beautifully in this transitional kitchen. The white shaker-style cabinets with brass hardware are topped with white countertops with striking veins. The marble mosaic tile backsplash adds texture and evokes visual interest. The full-function kitchen island with a lilac torso is in complete unity with the paneled range hood dressing fixture of the same color. Alongside the beams, the brass hardware and brass lighting pendants over the island spice up the overall design. In its overall look, this white and lilac-dominant kitchen feels very welcoming, creating an intimate ambiance with a dine-in zone. Above all, what is most lovable about this kitchen is that you can use this space to socialize.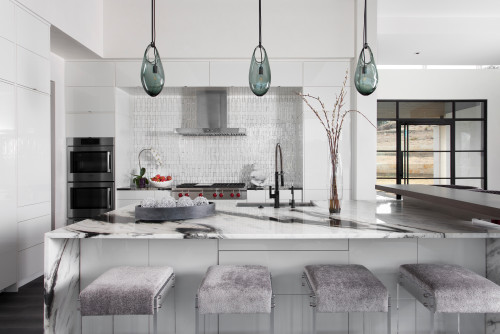 ID# 132421 | Houzz.com – Credit | © Glynis Wood Interiors
---
Contemporary Kitchen with Slab-Front White Cabinets and a Waterfall Island
This open-plan contemporary kitchen with a monochromatic palette is expressive with a wide range of textures and fixtures, and it speaks through its functionality. This well-curated kitchen makes the white marble waterfall island the visual focal point and grounds the whole kitchen scheme on it. Rain-drop-shaped pendants, for example, complete the waterfall island that offers a downward flow and flexibility, which is one of the key properties of contemporary kitchens. So, it plays with the theme of water in many different ways. With integrated stainless-steel high-tech technology, it comes closer to a futuristic look. A mosaic tile backsplash with a busy pattern is visually appealing and develops the overall look of the kitchen. Also, modern white cabinets with a sleek and clutter-free design solidify the minimalist.
White Mosaic Tile Backsplash
Dating back to the 3rd millennium, mosaic tiles have a long history. After originating in Mesopotamia, they got popular in Ancient Greece and Ancient Roma, where they were mainly used to produce works of art. Since then, they have maintained their popularity with their high capacity to produce unique and creative designs. In today's market, we come across mosaic tiles in various forms and colors being used in a wide range of settings, including pools, showers, bathrooms, kitchen walls and floors, and kitchen backsplash. One of their most popular forms is a white mosaic tile backsplash used as a kitchen backsplash. So, if you want to learn more about these stunning tiles, scroll down and find beautiful design ideas!
A white mosaic tile backsplash is great in the kitchen for various reasons. First, mosaic tiles' shape, design, and color palette are very rich and help you achieve the effect you desire for your kitchen. Secondly, they partner with other patterns, such as herringbone, hex, and subway tiles, which enriches the options one can have with the mosaics. In other words, they can adapt perfectly to any pattern to make bold statements in the house. For the same reason, it is not likely for them to be ever out of style but preserve their popularity as the stylish and eye-pleasing elements of your home. From bathroom walls to laundry rooms, these tiles can be suitable for different home design projects. In this article, we rounded up different applications of white tile ideas for kitchen backsplashes.
Material Options for White Mosaic Tile Backsplash
Mosaic tiles' material repertoire is quite rich, including ceramic, travertine, metal, marble, glass, porcelain, and natural stone, and they allow for various textural schemes to don the backsplash zones in unique and creative ways.
White Marble Mosaic Tile Backsplash
Thanks to its functional and aesthetic features, a marble backsplash can easily fit any style. In today's world, they are particularly used in contemporary kitchens to exude elegance and elevate the overall look of the interior space. Due to their veins and streaks, they have naturally flowing patterns embedded in their solid structure, making them unique. In the market, you can find their honed and polished versions in various patterns, styles, and colors. For extra glamour, you can choose a marble mosaic tile backsplash that will bring visual interest and personality to your kitchen.
How do you make a mosaic backsplash?
Creating your mosaic backsplash is an inexpensive and fun method to beautify and color your kitchen. The fun part is that you can plan the design as you wish and can feel free and experiment with the mosaic tiles to project your personality. While creating one, you can always find inspiration in nature, art, and architectural pieces. If you have already broken items made of porcelain, ceramic, or glass, you can incorporate them into your design.
White Glass Mosaic Tile Backsplash
Glass tiles are one of the most favored backsplash materials for their non-porous skin, versatility, ease of maintenance, and durability. Their reflective surfaces toy with natural light playfully, creating the illusion of a much larger space. If you are adventurous and looking for something different, glass mosaic tiles are an excellent option, as they come in a wide range of shapes, sizes, colors, and designs.
White Ceramic Mosaic Tile Backsplash
Ceramic tiles have maintained their popularity for ages and they are still essential parts of our kitchens as a backsplash and a countertop or for coating the floors. It requires low maintenance than other materials like natural stones and it is high durability that makes them this special. Plus, they come in various shapes, colors, and materials, which make them highly customizable. As they allow homeowners to achieve the look they are looking for, it is safe to say that they are one of the best and safe options as a kitchen backsplash.
Tile Shapes
Tile shapes are essential particularly for aesthetic purposes to attach a certain character to the rooms or complete a particular theme. They come in a variety of shapes, be it the subway, hexagon, chevron, square, herringbone, diamond, or rhomboid tiles, which are cut in uniform shapes. However, for mosaics, the scenario is a bit different. So, it's better not to bracket it out with other tile shapes. Well, what differentiates mosaic tiling from the rest is that they can be arranged quite randomly. As mentioned above, while tiles are cut in uniform shapes, mosaics allow for experimenting and assembling different sized, colored, and shaped pieces. For the same reason, mosaic tiling can be considered a work of art and a great way to personalize your home.
White Subway Mosaic Tile Backsplash
Even though subway tiles as a subcategory of rectangular tiles are mostly used in the classic-style kitchens with vintage themes, they also serve well in modern kitchens. Their timeless appeal makes them always come back and an essential piece in today's market. White subway mosaic tile backsplash is a good example of how we can jazz up subway tiles.
How to install mosaic tile backsplash?
Let's first start with all the materials you need, which are thin-set or mastic, grout, a measuring tape, a trowel, spacers, towel, water, a tile nipper, a tiling float, and gloves for hand protection, eye protection, and sponges.
Preparation
After getting the materials ready, first, you need to measure the backsplash area and make sure to outline electric layouts to make the required cutouts. If you want to go for a partial tiling, draw the pattern on the wall (If not, you can skip this part). To do so, you can use a different flat surface with the same measurements to create the design. The flat surface needs to be hard enough to carry the weight of the tiles. Also, check if the flat surface fits the backsplash area. If not, make the necessary adjustments.
Installation
Now it is the nipper's time to come into play, which means that you can start cutting the tiles and arranging them on the template. Before starting, wear eye protection to avoid any accidents. As you start your design, make sure to leave some gaps between the pieces about ¼ inch apart. When the design is complete, you need to lay them on the backsplash area by using your template guide. The application area needs to be clean and dry. If you don't want to apply the tiles directly to your wall, then you can use a concrete board and install it onto the wall. The next stage includes gluing every single piece and sticking on the backsplash zone. Then with the tiling float, press on the tiles to ensure uniformity.

Again, don't forget to leave spaces between the tiles. Let it dry for 24 -48 hours and come back to apply the grout. However, if your design is pre-made and the tiles come in sheets, then you can spread the adhesive on the wall with the trowel and install the tiles easily. Use spacers between to ensure the spaces are even. Use the float to make tiles secured and firm on the wall.
Grouting
If you get a pre-made grout, it will make things much easier for you. Wear gloves while applying the grout. Applying a generous amount of grout is important to get rid of the sharp edges and strengthen the mosaic tiles. Then, clean the surface with a damp cloth. The last stage is to feel proud for having created your mosaic tile backsplash. Also, it is always recommended to consult the manufacturer before rolling up your sleeves!
White Hexagon Mosaic Tile Backsplash
Hexagons, also known as honeycomb tiles, with very intriguing geometric structures are one of the best options to make bold statements with your backsplash. By playing with their format sizes, you can create different textural and visual schemes. When their versatility is combined with mosaics' flexible and fluid identity, the outcome will never be disappointing.
White Herringbone Mosaic Tile Backsplash
Herringbone is a timeless pattern that we often see them coating the floors. However, they are much more than that and also welcomed as wall ornamenting elements, kitchen and bathroom backsplashes. These rectangular-shaped tiles' beautiful pattern comes from the edges cut with a 90-degree angle offering a knitted look. If you are wondering how they look in the kitchens, there are various samples you can examine. We can confidently say that employed as a backsplash in various textures and designs, they achieve a sleek and modern look, adapting easily to stylized kitchens. Particularly, with herringbone mosaic tile backsplash, you can easily elevate your kitchen's look as it incorporates a tactile feel and an intriguing visual texture.