ID#: 102613 | Houzz.com – Credit | © Courtney Thomas Design
---
Farmhouse Kitchen Pantry With White Open Cabinetry and Multicolored Floor
This fresh kitchen pantry has such a gorgeous floor tile! Open cabinetry looks modern designed and white countertops have harmony with backsplash. All the white furniture and the floor tiles create smooth contrast together.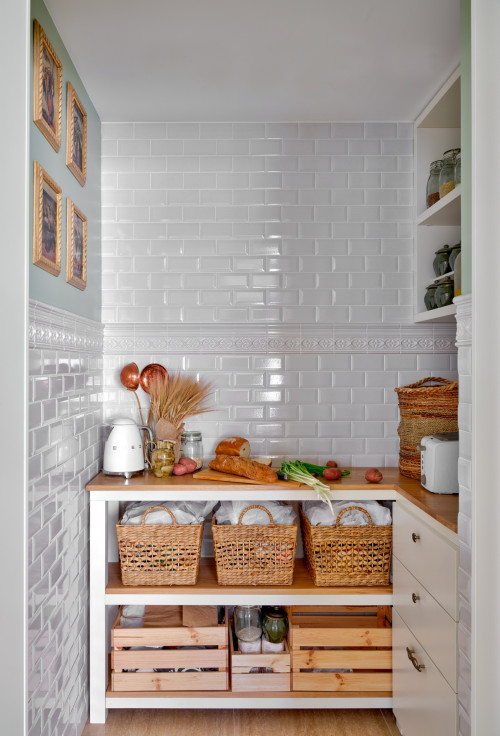 ID#: 102608 | Houzz.com – Credit | © Дизайн – студия Валерии Масловой
---
Small But Useful Kitchen Pantry with White Ceramic Tile Backsplash
This tiny kitchen pantry has L-shaped base cabinets. Wooden countertops and nice wood floor have good harmony together. Also, white framed brown color shelves joining them in terms of design unity. Glossy ceramic walls give some depth to this pantry which makes it look bigger.
A Room For A Need!
Pantry usage started before the middle ages. We can hide beverages, food, cleaning stuff, and dishes! In old times pantry usage differs according to the material that you wanted to use. For example, you wanted to store bread, there is a room for it or you wanted to storage bacon –because there was no freezer in those times- there was a room for it. Also, you could store your beer barrels in another room! We gather out some white kitchen pantry ideas for you to create your dream pantry!
Modern Times Same Usage Idea and Modern Designs
These pantries have a perfect mission for us! They are taking away all crowd from our cabinets. Dishes, beverages, food, cleaning materials, etc. As time went by these pantries started to have a design style in harmony with the kitchens and their color started to change. Different materials came to use such as wooden, stainless steel, etc. But mostly wooden materials are in use.
According to the design style of course their colors are important! We can see different colored pantries and white ones are one of them. As the color of the pureness and representation of cleanness white color always stays in front of the line. It is easy to go together with another color or it is on its own a trendy color.
Let's see how white color is used in different styles!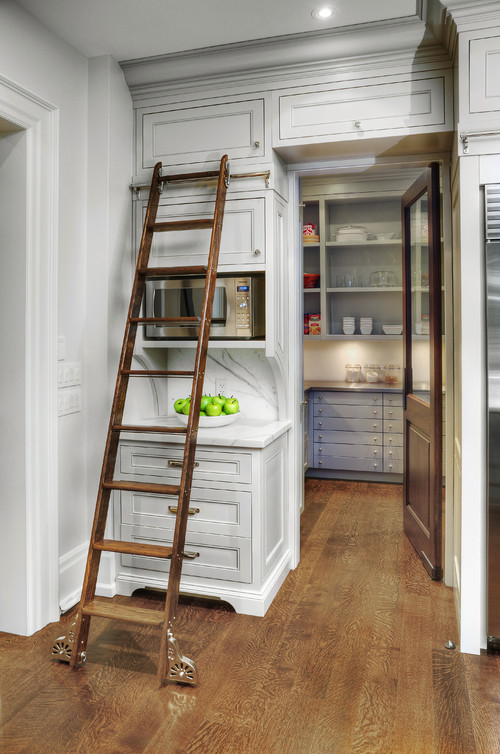 ID#: 102601 | Houzz.com – Credit | © Braam's Custom Cabinets
---
Traditional Kitchen Design With Small and White Beaded Inset Pantry Cabinets
Look at this ladder! It really reminds old medieval times of Europe, isn't it! Using this kind of ladder to reach the top of the cabinets is very useful. Beaded inset cabinetry with stone slab backsplash is so nice together. The handles of the drawers look like buttons of an admiral's uniform and they have a beautiful harmony with the style of the cabinetry.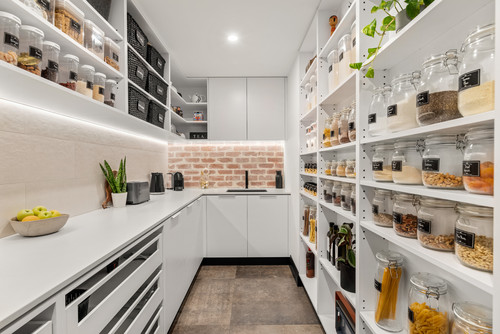 ID#: 102602 | Houzz.com – Credit | © Crib Creative
---
Modern and Luminous White Pantry 
Bricks! In such a modern pantry design bricks put a different point of view to the style. Ultramodern design pantry with its brown ceramic floor and countertops. Flat-panel cabinetry gives the minimalist feeling. Open shelves considered as Mobil so you can change according to the size of your things.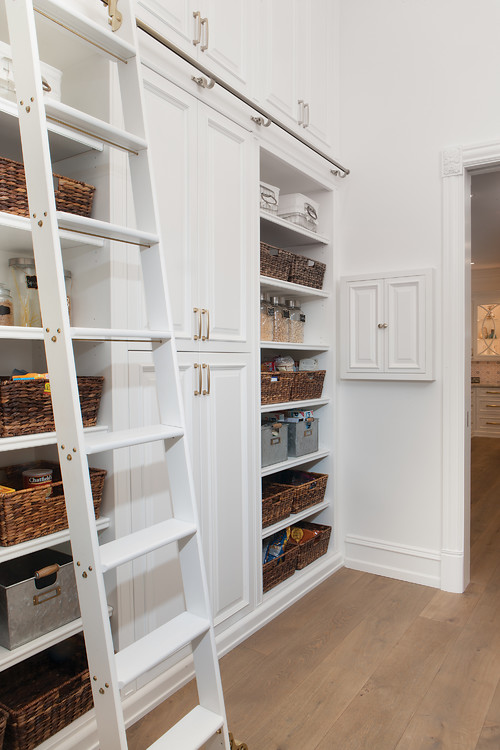 ID#: 102603 | Houzz.com – Credit | © F1 Cabinets and Furniture
---
White Shaker Cabinets with A Ladder
Beware the ladder do not pass under it! Joking aside, these shaker cabinets look elegant with their shelves on both sides of them. Also, brass handles add a luxurious look to this pantry. Stable shelves and baskets on them look lovely!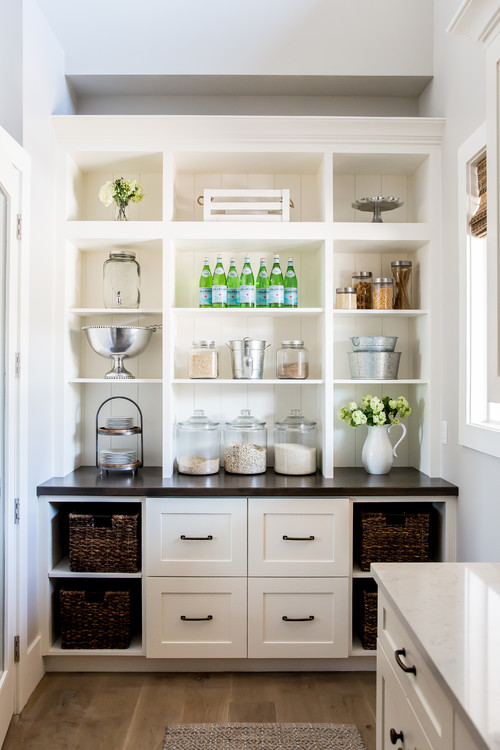 ID#: 102605 | Houzz.com – Credit | © Timberidge Custom Homes
---
Farmhouse Kitchen Pantry with White Shaker Cabinets
This narrow but pretty pantry has a nice symmetry. Shaker cabinets are used with nice black chic handles and as a backsplash wooden material is used. The medium-tone wood floor looks simple with black quartz countertops. Kitchen window opening creates natural daylight inside the pantry which adds a luminous look.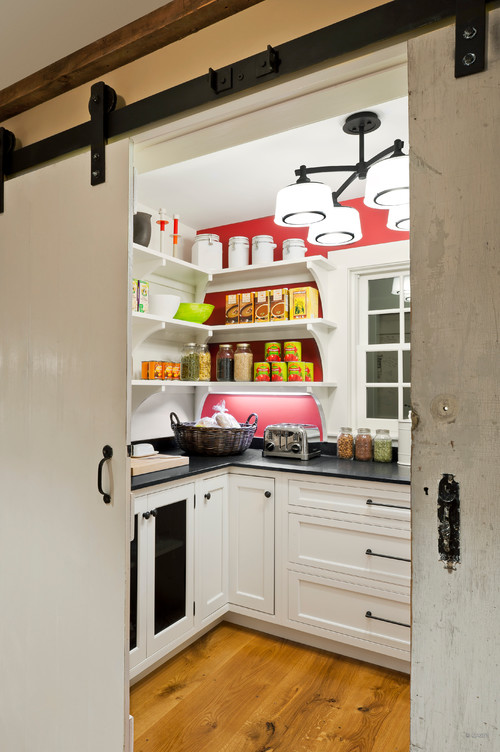 ID#: 102606 | Houzz.com – Credit | © Elms Interior Design
---
Pantry Design With Sliding Barn Door and Shelves
Contemporary pantry design with farmhouse kitchen look! The sliding barn door adds a pleasant mood to this pantry. Nice red color used as backsplash with window and medium tone wood floor looks elegant. Black hardware creates a nice contrast with base cabinets.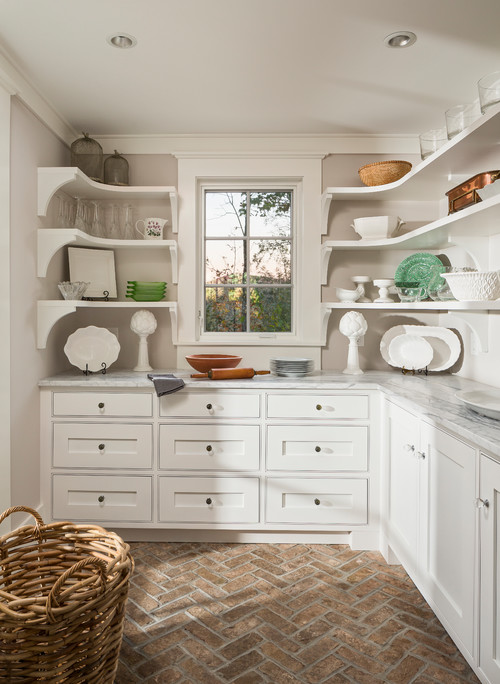 ID#: 102614 | Houzz.com – Credit | © Morgan-Keefe Builders, Inc.
---
Brick Floor White Kitchen Pantry with Shaker Cabinets
This rustic style always has a warm atmosphere. The shape and style of the shelves look gorgeous with base cabinetry's tiny black knob handles. Brown brick floor and a marble countertop add a natural atmosphere and the light beige wall is so nice together with cabinetry.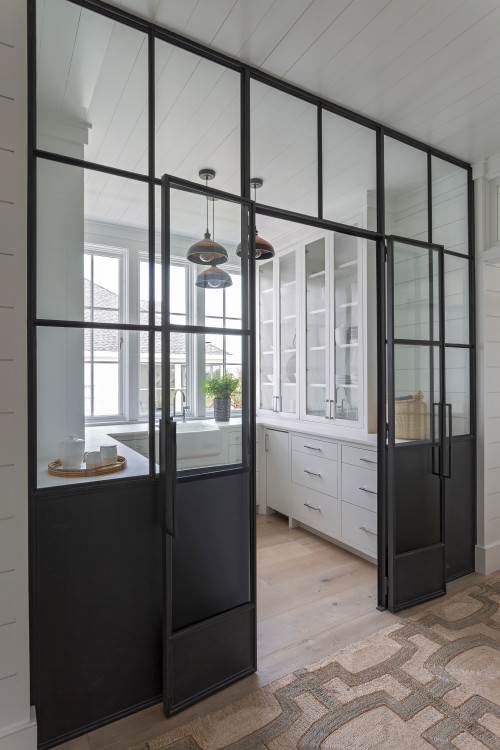 ID#: 102616 | Houzz.com – Credit | © Beau Clowney Architects
---
Modern White Kitchen Pantry With Glass Door and Window Openings
This u shaped modern kitchen pantry is separated with a nice sliding door opening. The door opening's windows help to daylight usage and also black frames of the door create a nice contrast with the kitchen and the light beige wood floor shipping. Flat-panel design kitchen cabinetry has a glass-fronted cabinet as a benchtop. Modern and stylish.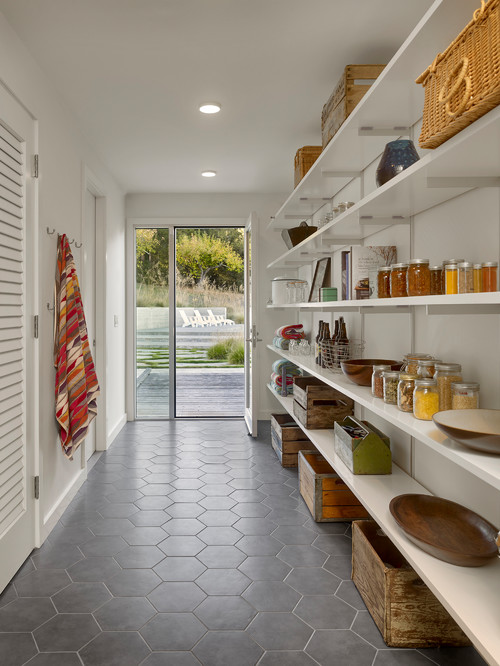 ID#: 102618 | Houzz.com – Credit | © Tomrose Construction Inc.
---
Single Wall White Shelving with Gray Floor Tile
This pantry looks spacious thanks to the wide glass sliding door opening. It takes advantage of daylight and has a nice outdoor view. White walls and white open cabinetry have an elegant harmony and grey hexagon floor tiles create a beautiful contrast here.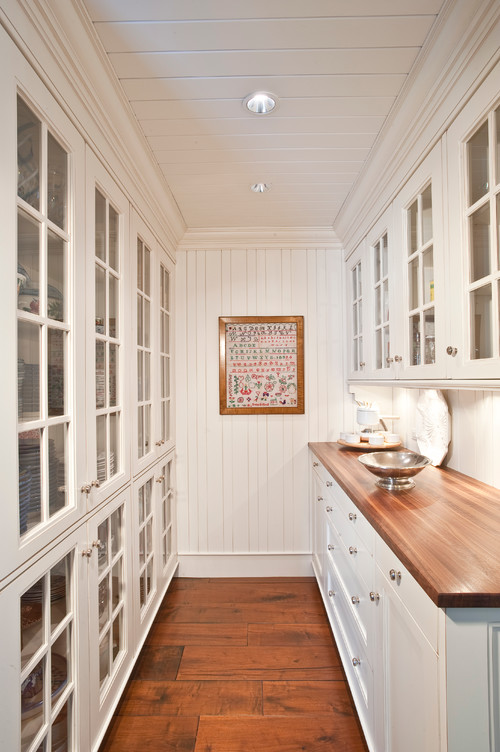 ID#: 102621 | Houzz.com – Credit | © Santarossa Mosaic & TILE CO INC
---
White Pantry Design with Glass Doors and Wood Countertop
Very stylish kitchen pantry we have here! Look at those cabinets! Glass-fronted cabinets and their small and nice stainless steel knob handle look elegant in this design delivery. The wood floor and wood countertop have harmony and create a stunning contrast with white cabinetry.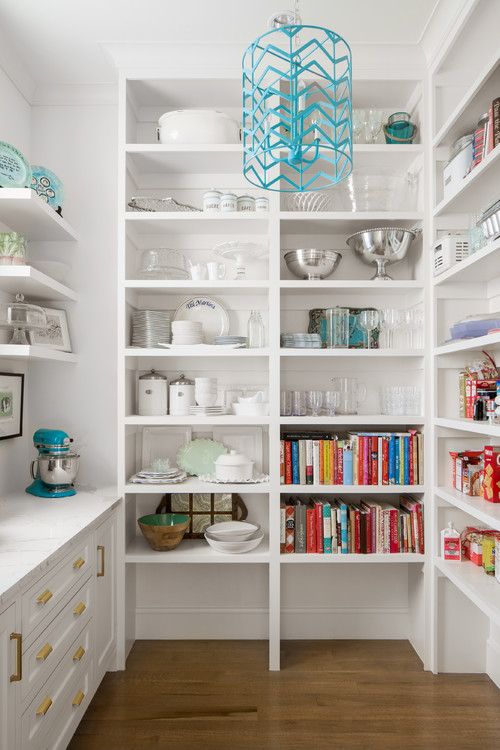 ID#: 102624 | Houzz.com – Credit | © Faulkner Perrin Custom Homes
---
U-shaped Pantry with Brass Hardware and Blue Pendant Lamp
Elegant kitchen pantry with its stunning contrast colors. The white-brown floor creates a smooth contrast with the white furniture blue pendant light fixture creates a lovely contrast. Daylight usage through the windows makes look space luminous and fresh.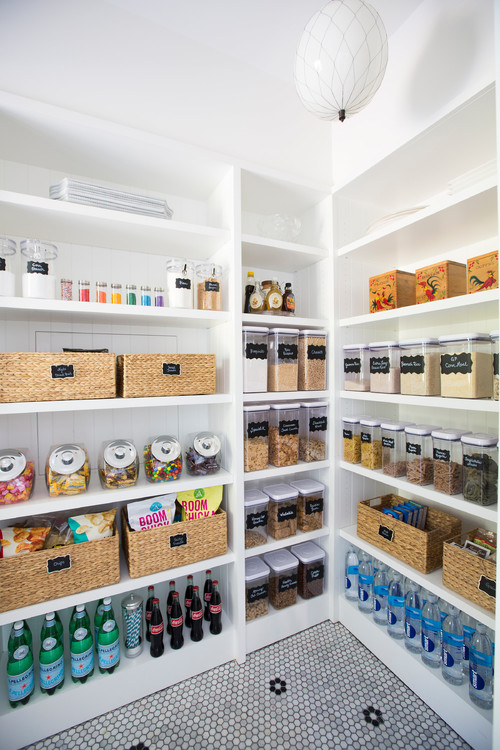 ID#: 102625 | Houzz.com – Credit | © NEAT Method Santa Barbara
---
White Open Cabinets In Kitchen Pantry
Spacious look and nice designed place! There are nice illumination and a fresh atmosphere. Those lovely tiles add a cheerful mood to the place.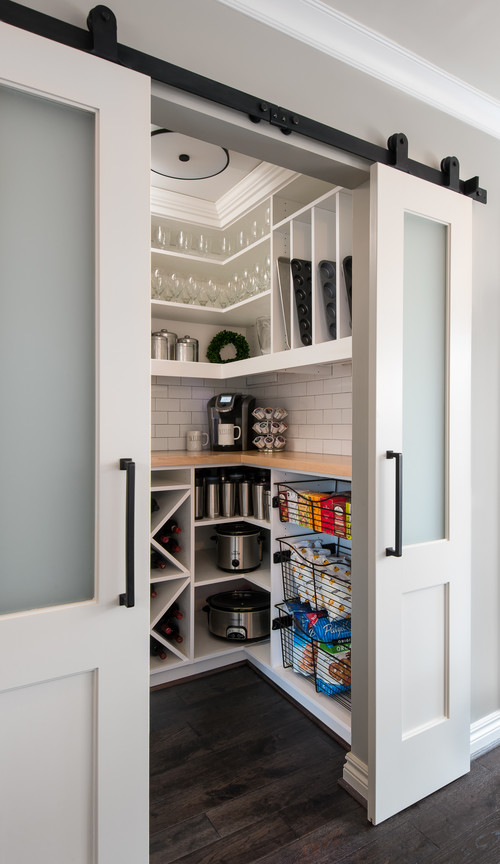 ID#: 102626 | Houzz.com – Credit | © MainStreet Design Build
---
Walk-In Pantry with Sliding Barn Door
The word "elegant" has meaning now with this design. The sliding barn door itself looks gorgeous with its white color and beautiful black hardware. It opens up to a nicely designed kitchen pantry. White subway tile backsplash and white open cabinetry have unity and white cabinetry creates harp and stunning contrast with the dark brown wood floor.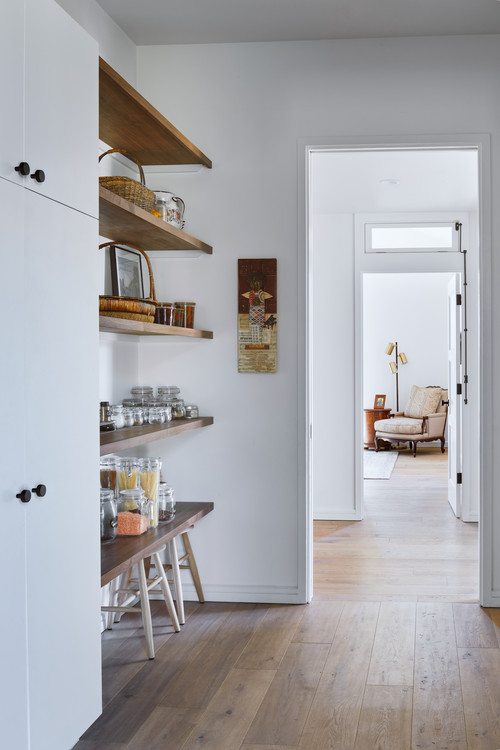 ID#: 102627 | Houzz.com – Credit | © Tim Brown Architecture
---
Single Wall Kitchen Pantry with Wood Floor
Naturality makes feel itself with both minimalist design style and the natural look of the wood floor. Also, wood shelves have the same stylish look in this kitchen dining room. Small black knob handles and white flat-panel cabinets have a nice contrast. Modern and natural kitchen pantry!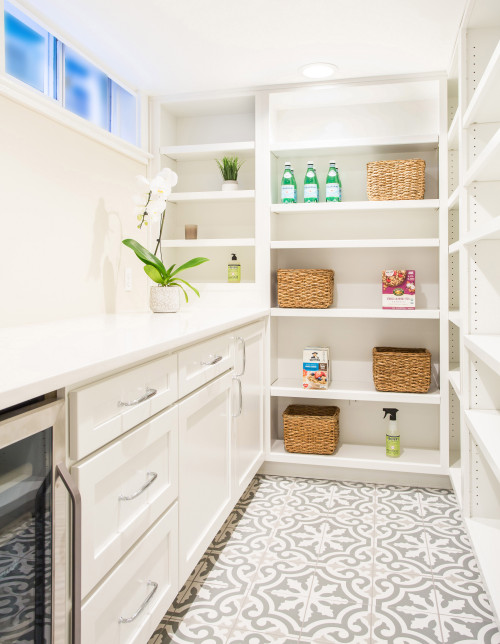 ID#: 102628 | Houzz.com – Credit | © Heiser Designs
---
Pantry with Multicolour Ceramic Tile
White walls, white shaker cabinets, white open cabinetry, white quartz countertop, and white ceiling create a luminous and really fresh look. Multicolour and patterned ceramic tiles give the effect of farmhouse style.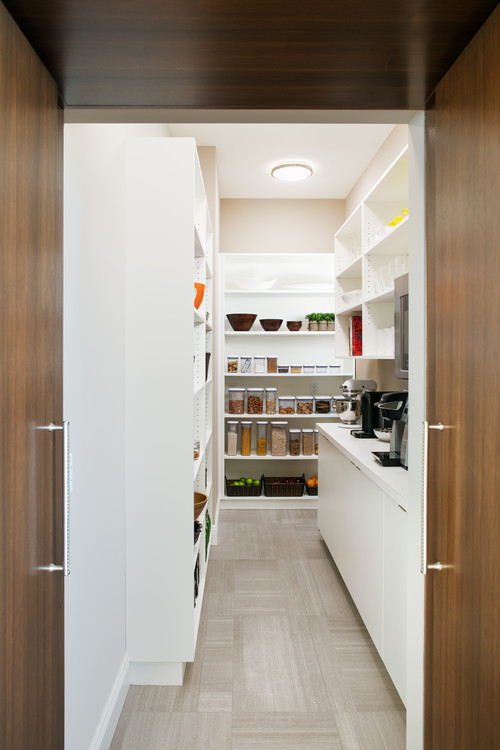 ID#: 102629 | Houzz.com – Credit | © Arjay Builders Inc.
---
Modern White Kitchen Pantry with Asymmetrical Ceramic Tile Floor
Beautiful wood doors open up to this modern kitchen pantry. On the right, there are white flat panel cabinets and mostly it has open cabinetry which is very helpful for space usage as in this narrow pantry. The white color helps it to look wider. And beige-colored asymmetrical ceramic floor tiles put smooth touch to this kitchen pantry.