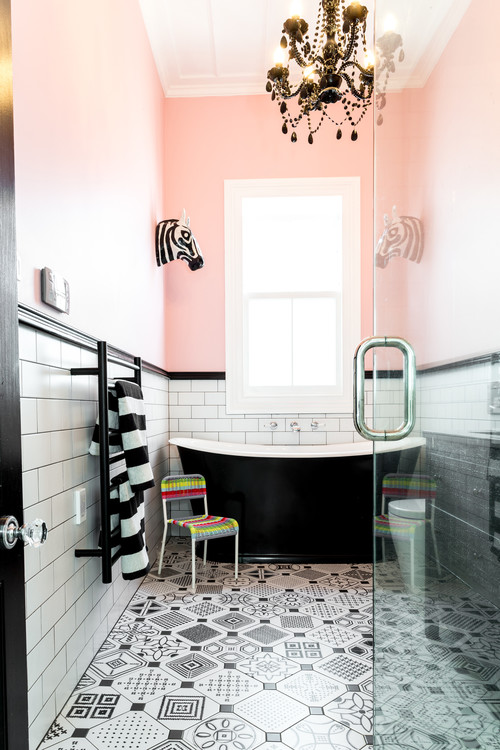 ID# 119301 | Houzz.com – Credit | August & Co Design | © Stephanie Creagh
---
Black and White Bathroom with Pink Walls and Fun Accessories
The traditional black and white bathroom idea becomes a fun one here with sketchy patterned cement floor tiles, paper-mâché zebra sculpture, b/w striped towels, classy freestanding bathtub, black glass chandelier, black vanity, glass door, and multicolored child's chair. Pink wall paint over the subway tiles added a glamorous effect to this old-school design.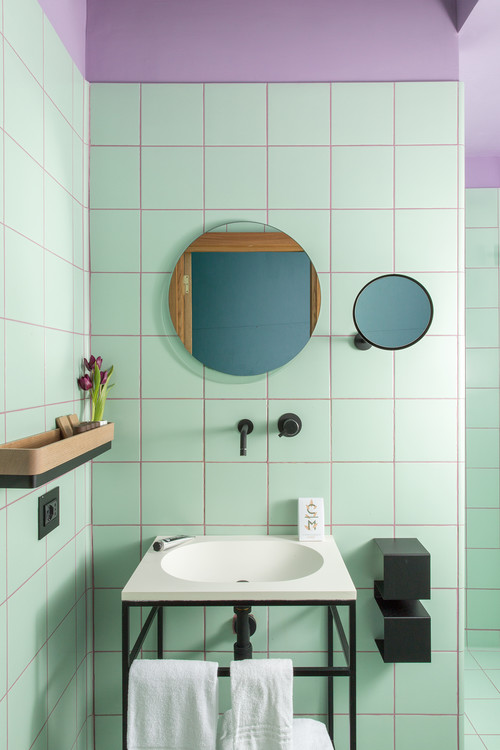 ID# 119353 | Houzz.com – Credit | © Studiotamat
---
Contemporary Cute Bathroom Ideas with Pastel Green and Lilac Walls
Sharp geometrical style trend is with us, this time the color selection is very pastel and soft with lilac walls, mint green 15×15 tile walls with lilac joints, black and white simple and sharp console sink with thin black legs and thin white sink, wall mount matte black faucet, fittings, and plug socket. Ro.und mirrors also follow the same manner and have thin black frames.
Colorful, Positive, and Cute Bathroom Ideas
Do you ever think that a bathroom design can put smiles on your face every time you enter? No matter which style the room has; modern, contemporary, classy, romantic, or eclectic, with some color and texture applications the bathrooms become very cute. Check out our cute bathroom ideas to create eye-catching and joyful designs.
Pick your favorite colors and apply!
Often cute bathrooms are kid's bathrooms which are designed to make them learn and love to spend time in bathrooms; taking baths, brushing teeth, and doing self-care routines, a child would get these habits very hard but a considerately designed funny and eye-catching bathroom can make it happen very easily. Surely not only children have cute bathrooms but adults also can with some quirky, funny, and mood booster design choices for example using modern style furniture with unexpected colors and texture or picking original vintage objects.
Wallpapers, cement tiles, glossy polishes, mosaics, tiles, fabrics, rugs; options are endless for the decorating ideas and results are generally substantial.