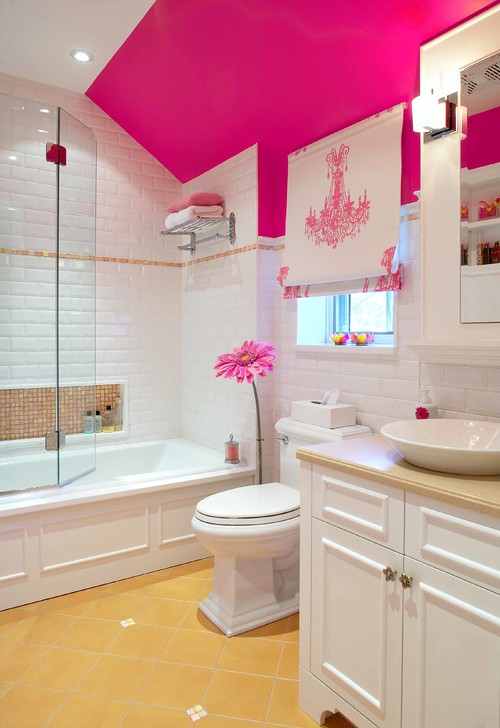 ID# 106410 | Houzz.com – Credit | © Tamra Rubin Design
---
Luxury Bathroom with Pink Ceiling and White Subway Tiles
The extraordinary pink-painted ceiling makes this white bathroom design more enjoyable. The window treatment that has a big pink chandelier motif creates a harmonious look with the ceiling. Small orange tiled niche provides additional space between the white gloss subway tiles. White vanity paired with cream countertop and vessel sink.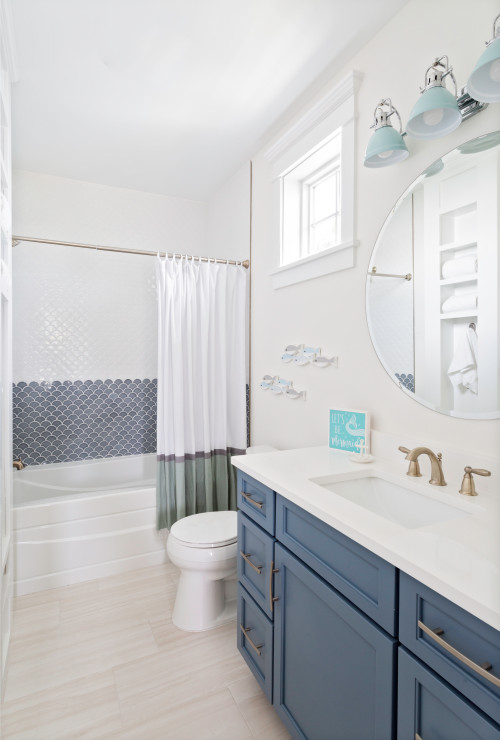 ID# 106408 | Houzz.com – Credit | © Emily Moss Designs
---
Nautical Girls Bathroom Ideas with Blue Vanity and White Countertop
Generally, pink or red are using for girl's bathrooms but isn't it so cool this nautical bathroom for little sailors? In this blue and white bathroom, blue vanity paired with white quartz countertop and undermount sink. Brass faucet and handles make an elegant touch to vanity. Blue and white mermaid tiles on the wall bring the feeling of the sea perfectly and the green white shower curtain support this feel. Tiny fish decors above the toilet add some fun and complete the theme.
Cute, Colorful and Elegant Girls Bathroom Ideas
Your daughter may need a separate bathroom while growing. If there is enough space in your house to equip a very own bathroom for her, your daughter will appreciate it a lot! In our girl's bathroom ideas, you can find lots of inspiration from little princesses to young girls.
Equip by with her preferences and interests
You should not be afraid of the bright and vibrant colors and expressive décor in the girl's bathroom. You can decorate it with her favorite characters of a certain animated movie for your toddlers or create an elegant and stylish bathroom with pops-up colors for your teenage girl. No matter how you decorate your daughter's bathroom, it will encourage a sense of independence in the girl. Go ahead and check out the girl's bathroom ideas below to get some inspirations that any girl would love!
With clever storage options, you can create a bathroom not only elegant but practical.