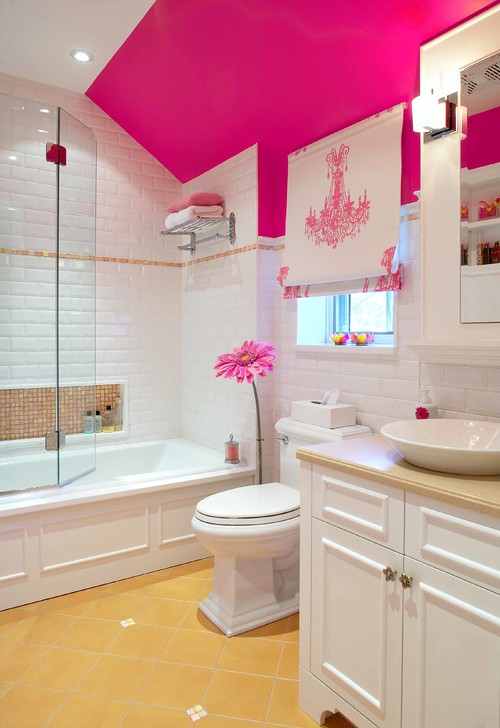 ID# 106410 | Houzz.com – Credit | © Tamra Rubin Design
---
Luxury Bathroom with Pink Ceiling and White Subway Tiles
The extraordinary pink-painted ceiling makes this white bathroom design more enjoyable. The window treatment that has a big pink chandelier motif creates a harmonious look with the ceiling. Small orange tiled niche provides additional space between the white gloss subway tiles. White vanity paired with cream countertop and vessel sink.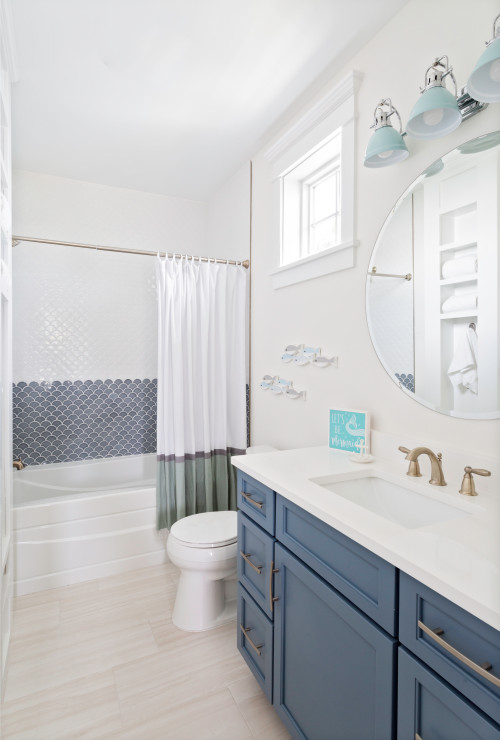 ID# 106408 | Houzz.com – Credit | © Emily Moss Designs
---
Nautical Girls Bathroom Ideas with Blue Vanity and White Countertop
Generally, pink or red are using for girl's bathrooms but isn't it so cool this nautical bathroom for little sailors? In this blue and white bathroom, blue vanity paired with white quartz countertop and undermount sink. Brass faucet and handles make an elegant touch to vanity. Blue and white mermaid tiles on the wall bring the feeling of the sea perfectly and the green white shower curtain support this feel. Tiny fish decors above the toilet add some fun and complete the theme.
Cute, Colorful and Elegant Girls Bathroom Ideas
Your daughter may need a separate bathroom while growing. If there is enough space in your house to equip a very own bathroom for her, your daughter will appreciate it a lot! In our girl's bathroom ideas, you can find lots of inspiration from little princesses to young girls.
Equip by with her preferences and interests
You should not be afraid of the bright and vibrant colors and expressive décor in the girl's bathroom. You can decorate it with her favorite characters of a certain animated movie for your toddlers or create an elegant and stylish bathroom with pops-up colors for your teenage girl. No matter how you decorate your daughter's bathroom, it will encourage a sense of independence in the girl. Go ahead and check out the girl's bathroom ideas below to get some inspirations that any girl would love!
With clever storage options, you can create a bathroom not only elegant but practical.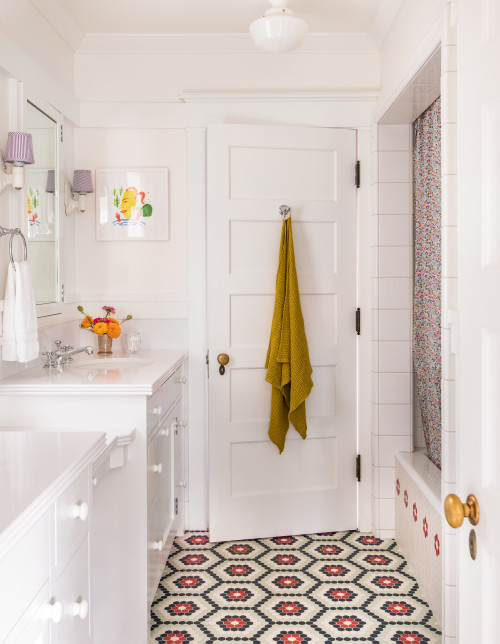 ID# 106430 | Houzz.com – Credit | © Tim Barber Architects
---
White Girls Bathroom Ideas with Multicolored Hexagon Floor Tiles
This girl's bathroom features red, gray, and black hexagon floor tiles around white finishes. white vanities paired with white countertops and built-in medicine cabinets. Lilac sconces are placed on both sides of the mirror.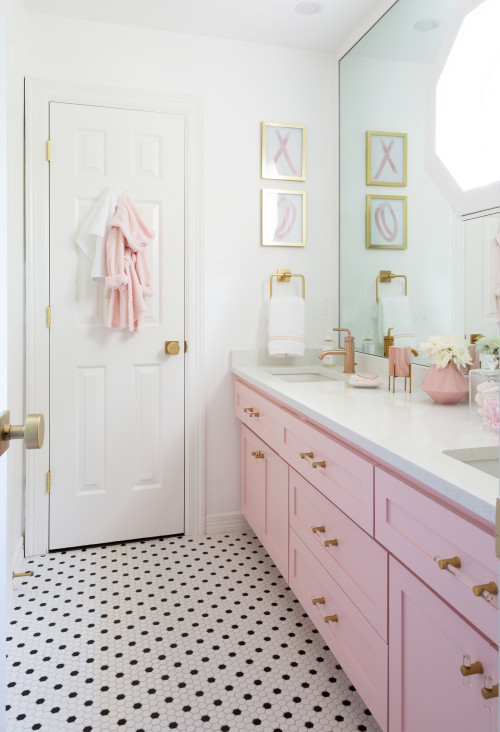 ID# 106432 | Houzz.com – Credit | © Marker Girl Home
---
Cute Pink Girls Bathroom Ideas with Black and White Polka Dot Tiles
This cute and elegant bathroom is perfect for a little princess! Pastel pink vanity with white quartz countertop supported with black and white polka dot tiles. The touch of brass adds a low-key luxury to the design. Frameless mirror covers almost all the walls and provides a larger and spacious atmosphere.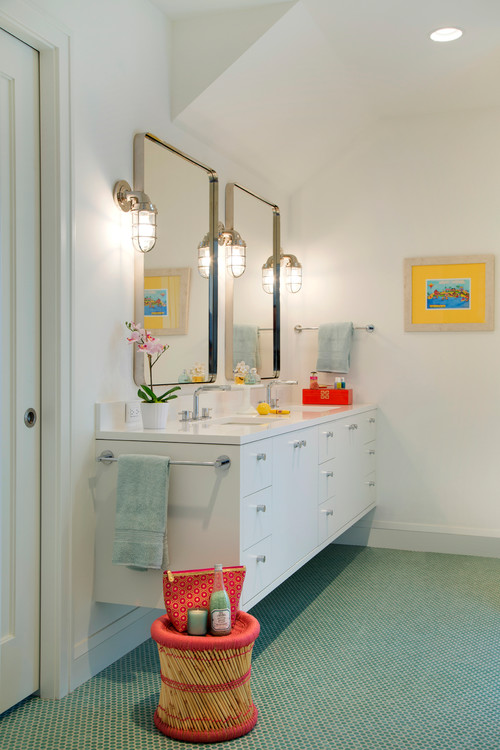 ID# 106421
---
White Floating Vanity with White Countertop and Teal Penny Tiles
Floating vanity with white quartz countertop enhances the footprint and allows to shine teal floor tiles out. Sconces next to the metallic framed mirrors complement the nautical style. The yellow painting noticeable and filling the empty white wall behind it.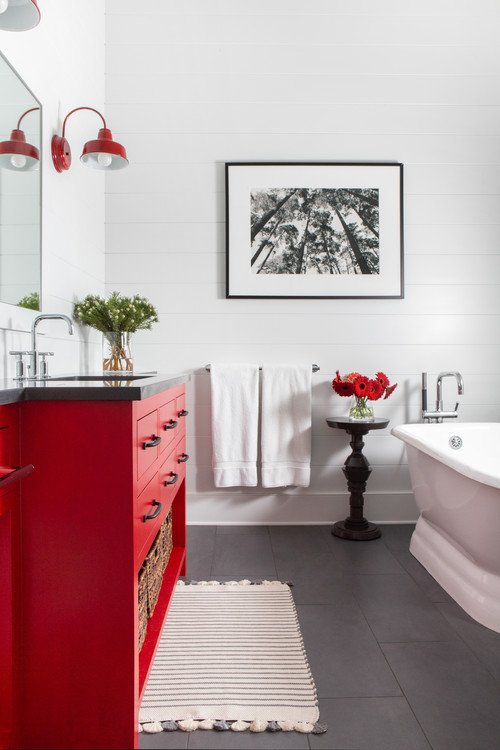 ID# 106402
---
Red Vanity with Black Countertop and Black Floor Tiles
Modern farmhouse girl bathroom with shiplap wall boasting a red with black granite countertop. Matte black floor tiles bring a sleek finish displaying a cream striped rug. The red sconce complements the vanity while other decors creating a neutral appeal.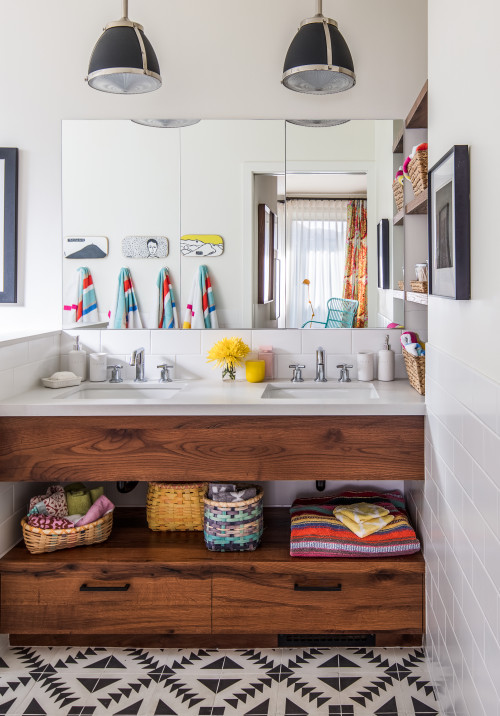 ID# 106404
---
Wood Vanity with White Countertop and Black Pendants
This transitional bathroom creates a cozy feeling with a wood vanity. The gap between the wood cabinets provides a space for towels and some bathroom products. Subway tiles between the mirror and white countertop add texture. Black pendant lights and black and white floor complete the look beautifully.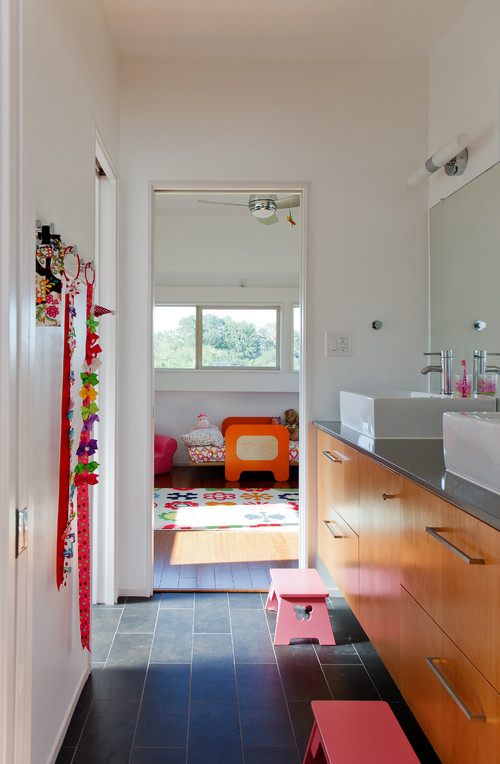 ID# 106406
---
Modern Kids Bathroom with Wood Vanity and Pink Step Stools
The modern bathroom features a wood vanity with a black countertop, vessel sinks, black floor tiles, a frameless mirror, and pink step stools. These cute stools transform this formal look into an entertaining bathroom for kids.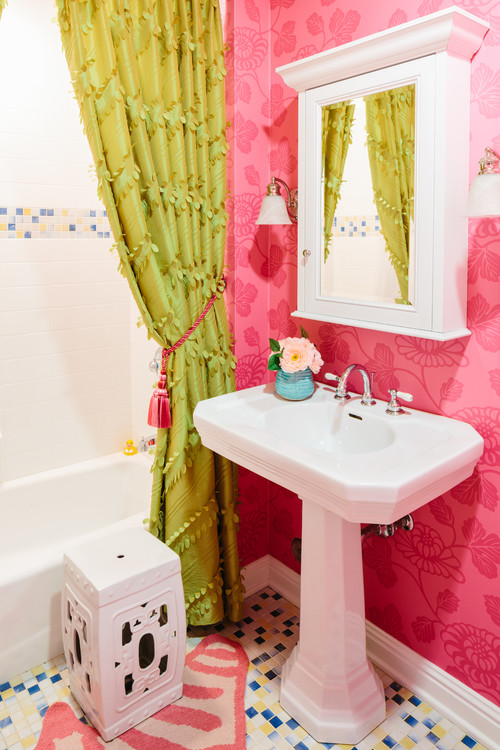 ID# 106409
---
Traditional Girls Bathroom Ideas with Pink Wallpaper and Green Curtain
We loved the harmony between green and pink and we think your teen will also love it! Pink floral wallpaper and green curtain bring a romantic atmosphere while white pedestal sink and white framed medicine cabinet creating a clean and fresh look. Pink zebra rug layered over the blue and yellow tiled floor.
---
Traditional Bathroom with White Vanity and Pink Mirrors
In this white bathroom design, pink framed mirrors break the domination of white while adding a traditional charm. The marble countertop of the white vanity makes a sense of luxury. Tiny white hexagon tiles create an eye-catching floor with black finishes.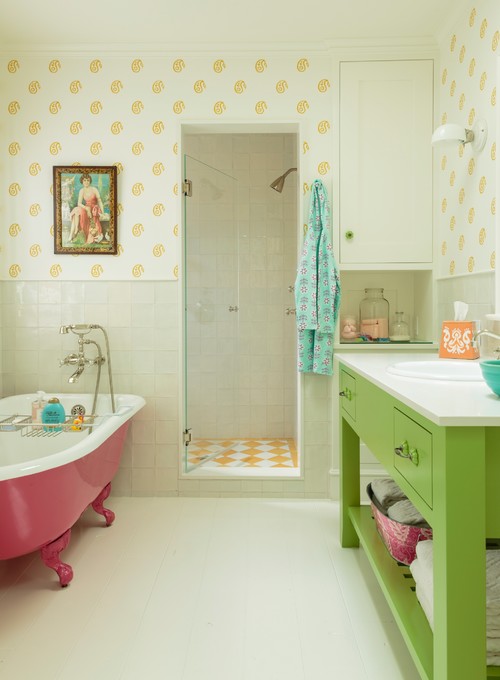 ID# 106419
---
Girls Bathroom Ideas with Pink Bathtub and Green Vanity
A combination of pink and green creates an entertaining and beautiful bathroom for girls. Yellow patterned wallpaper in a harmony with the pink claw foot tub and the green vanity with white quartz countertop. Yellow tiles on the shower floor popping up behind the glass door.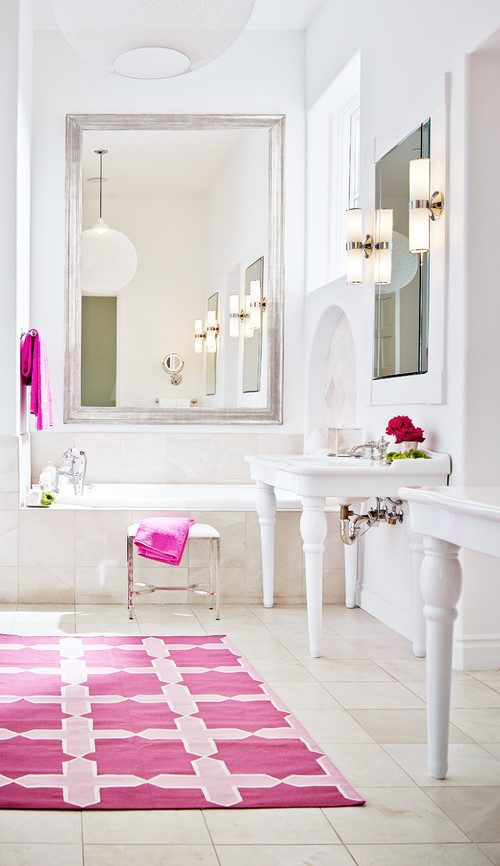 ID# 106420
---
White Luxury Bathroom with Pink Rug and Oversized Mirror
In this white bathroom, a pink rug adds a textural warmth and comfortable underfoot while breaking the white atmosphere. Silver framed large mirror above the alcove bathtub brings depth to space. White vanities and cream square floor tiles provide a bright bathroom.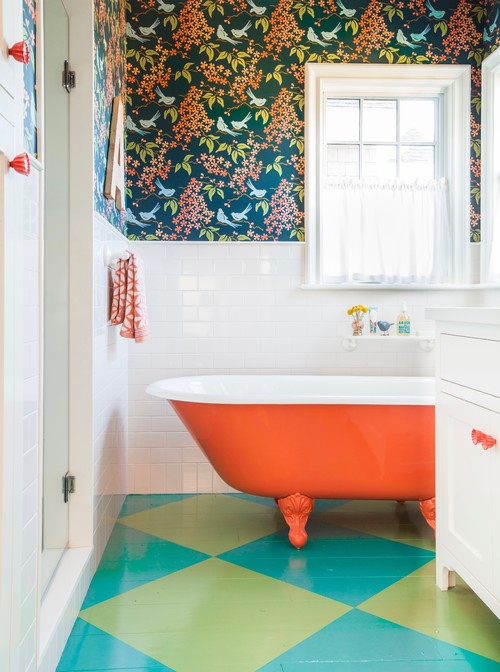 ID# 106422
---
Orange Bathtub with Floral Wallpaper and White Subway Tiles
Vibrant colors popping all around this joyful bathroom! White subway tiles separate floral wallpaper from the painted wood floors and provide a bright atmosphere. An Orange freestanding bathtub creates a beautiful contrast with the floor while matching with the flowers on the wallpaper.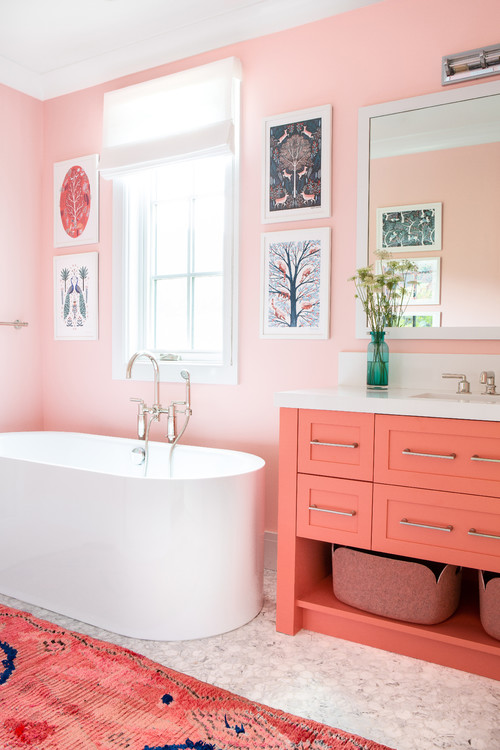 ID# 106427
---
Pink Girls Bathroom Ideas with Coral Vanity and Oval Bathtub
Pink color creates visual interest in an otherwise small and boring bathroom. Coral vanity with white quartz countertop works harmoniously with the pink wall while creating a sense of warmth. Marble floor an oval freestanding tub complete the design in a luxurious way.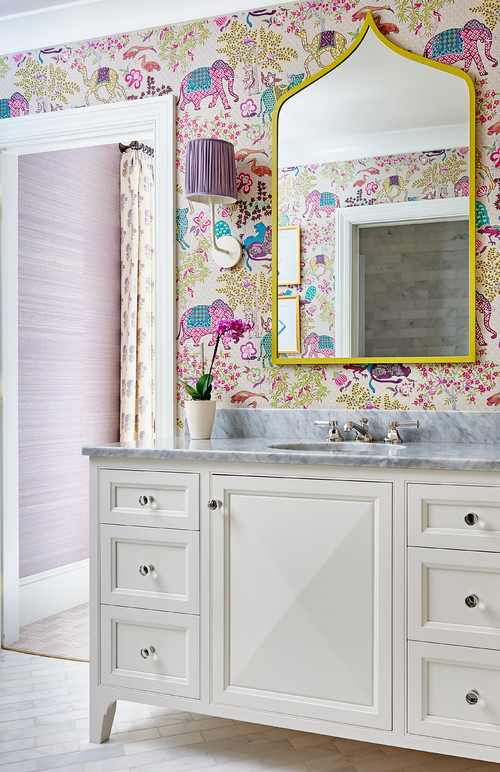 ID# 106431
---
White Washstand with Gray Marble Countertop and Eclectic Wallpaper
Colorful camel and elephant patterned wallpaper enlivens this kid's bathroom and brings some eclectic charms. Yellow framed mirror catches this eclectic vibe.The white vanity sits on diagonal pattern marble floor tiles and completed with gray marble countertop.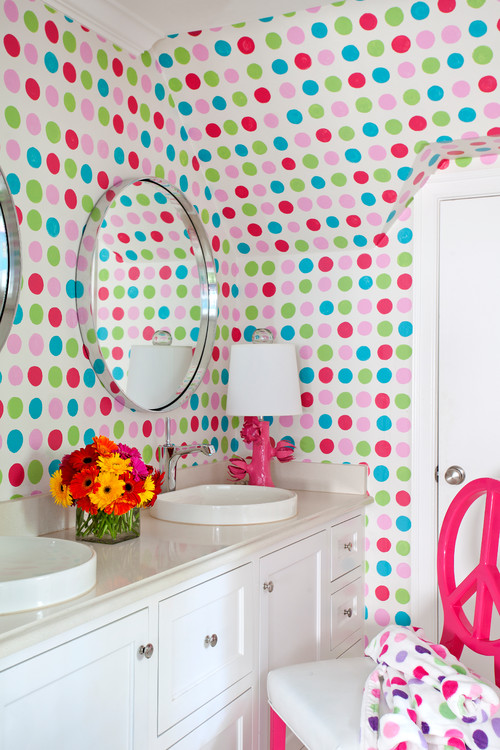 ID# 106433
---
Polka Dot Walls with Metal Framed Circular Mirrors
Colorful polka dots surround the white features and create a fun and cheerful atmosphere. Built-in white vanity topped with cream quartz countertop and shallow vessel sinks. Hot pink flower lamp and chair catching the eye.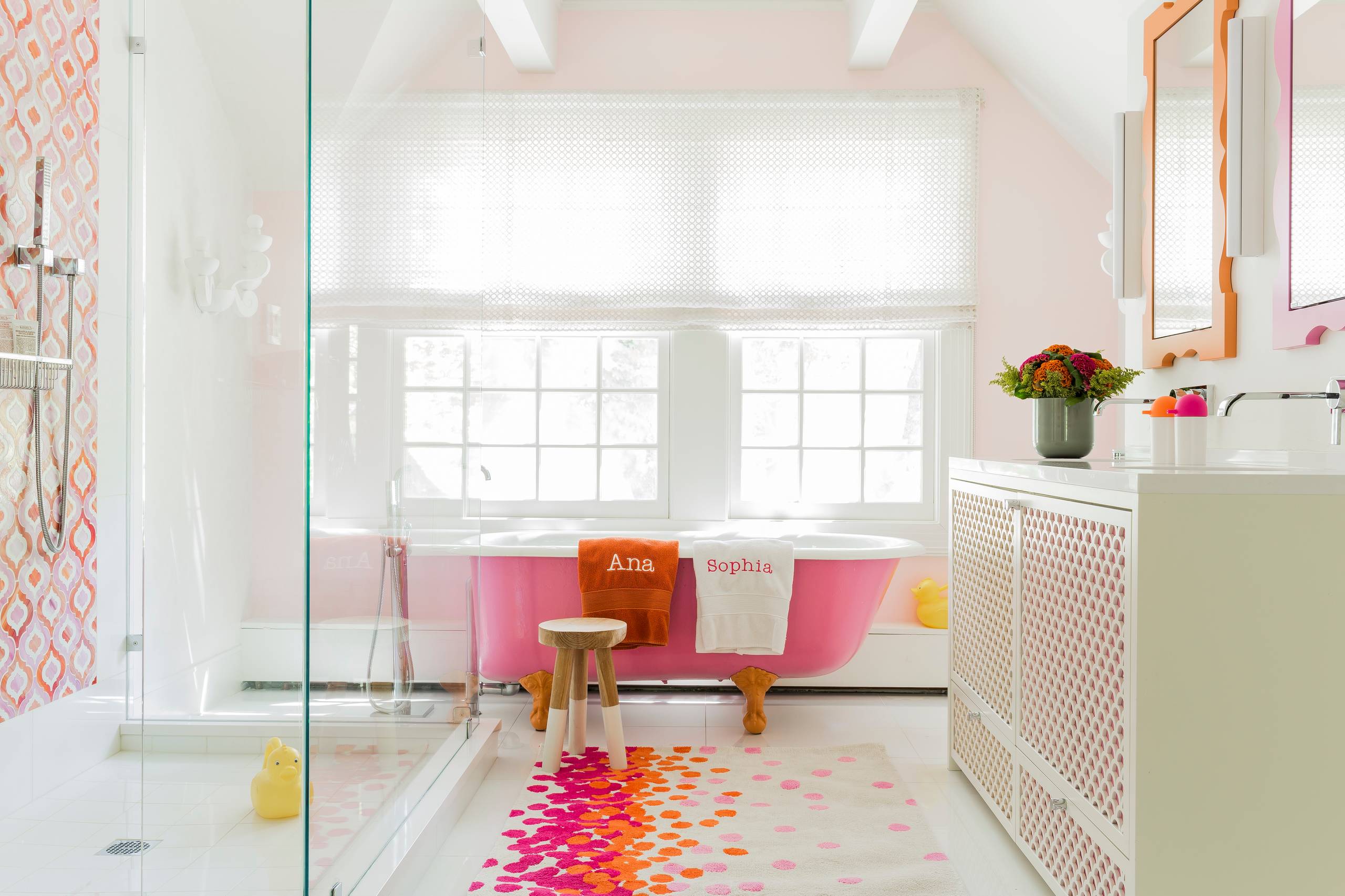 ID# 106434
---
Transitional Bathroom with Pink and Orange Details
A stunning pink bathtub creates a focal point between the whites. A pink and orange patterned rug to complement the bathtub while providing soft underfoot on the white floor tiles. Natural light comes through the large window opening and makes a bright atmosphere.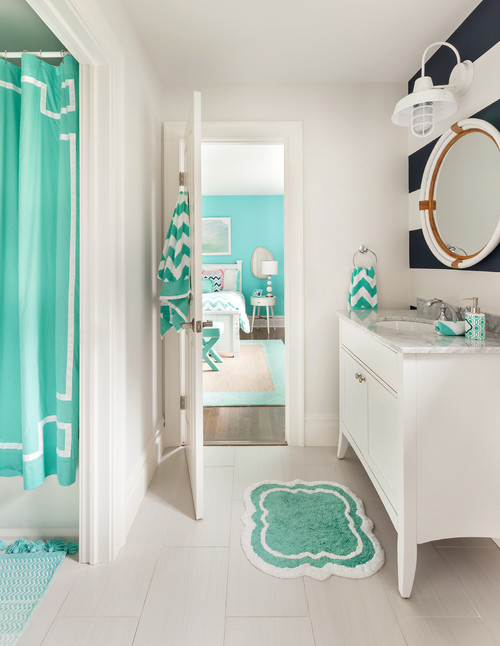 ID# 106435
---
Nautical Girl's Bathroom with Turquoise Decors and Circular Mirror
Turquoise accessories are the first thing that strikes the eye in this bathroom with white vanity, marble countertop, and white floor tiles. Whitewall sconce and wood and the white circular mirror reflect perfectly the nautical theme.