34+ White Shower Tile Ideas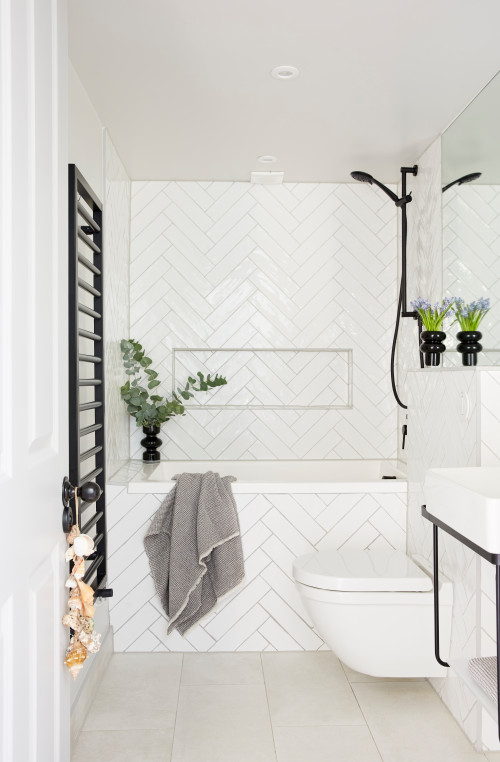 ID# 144011 | Houzz.com – Credit | © K Space Interiors Limited
---
Herringbone Layout to Bring Visual Interest to your Bathrooms
Inspired by this stylish bathroom design with white tiles and black accents, the herringbone layout creates a contrast that adds a sense of flair and sophistication. Feel refreshed and energized with a simple yet stunning shower space made of white subway tiles, paired with gray grout which provide the perfect finishing touch. With these classic elements in place, this timeless look is guaranteed to capture your heart and your attention.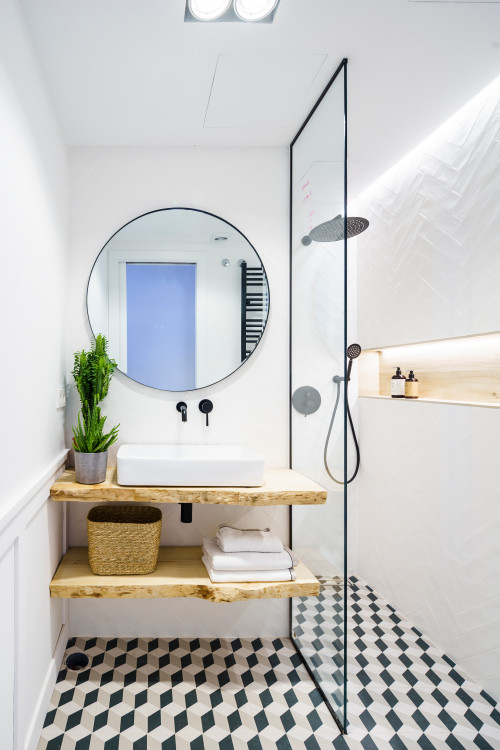 ID# 144019 | Houzz.com – Credit | © DRÖMMERI Interiorismo
---
Herringbones with a Wood Niche for a Contemporary Bathroom Design
While the black and white floor tiles draw attention, the white large shower tiles provide a canvas for the wood niche to make it stand out. The wood vanity design and the niche complement each other creating a matching look with naturality. The black framed round mirror adds a contrast to the sharp geometry of the bathroom design element
White Shower Tile Ideas
It makes sense why white shower tile ideas are the most popular choice for bathrooms. They maintain the room's brightness, seem modern, and fit into both a neutral and a color-accented design. They are also timelessly fashionable and won't outgrow a space. White shower tile is also quite adaptable. Even the most meticulous remodelers may get a variety of styles for their bathroom design goals by varying the tile's format and size, finish (gloss or matte, textured or smooth), shade of white, and substance.
Whether your design style is contemporary or bohemian, white shower tile ideas will fit into your bathroom design. There are numerous materials and tile styles you can apply to your showers. Let's scroll down and see some of the gorgeous white shower tile ideas that we have gathered for you to get inspired by!
What kind of tile is best for showers?
Since they are waterproof and non-slip when glazed, ceramic and porcelain tiles are ideal for shower walls in addition to shower floors. In reality, many shower walls in American houses are made of ceramic and porcelain tiles. There are extra tile possibilities that could work well, though, as shower walls do not receive as much direct touch as the flooring do. Consider the cost, tile size and look, water resistance, and ease of cleaning when selecting shower wall tiles. For shower walls, larger tiles, for instance, might be useful because they do not need to be as non-slip as shower floors.
What color tile is best for a shower?
The most common tile color, particularly for tiny bathrooms, is still white! Your little bathroom will appear larger and brighter if the tiles are a light hue such as pale blue, light green, white, or soft beige. White tiles are a timeless and sensible option, particularly in bathrooms with little to no natural light.
Tile Styles for White Shower Tile Ideas
We often go to the bathroom to unwind and recharge. Having a quiet space that is calming, neutral, and peaceful makes it easier to relax after a hard day at work in a hot bubble bath or a steaming walk-in shower. Ideas for white shower tile and furnishings provide a unified space that looks both stylish and timeless. You may search online for tile styles for white shower tile ideas to create a serene, neutral, and peaceful setting with an opulent appearance. White shower tile ideas come in a variety of tile designs, including hexagons, subway tiles, penny tiles, and even big white tiles.
White Shower Subway Tile Ideas
For many years, subway tiles have been a well-liked architectural feature in both residential and commercial structures. Traditional ceramic tiles have been employed in a wide range of architectural designs, from lavish baths to farmhouse-chic kitchens, and everything in between. This tile shape may be given a standard hue, like white, to create something novel and innovative. A white shower subway tile idea gives a trendy movement, boosts the clean appearance, and adds value to your bathroom design!
White subway tiles provide a distinctive flare to bathrooms, kitchen backsplashes, laundry rooms and any other surface in the home. They are smart, beautiful, and extremely adaptable. A white shower subway tile is ideal if you want to add an opulent feel to your bathroom. The traditional style of subway tiles may give your bathroom a chic and upscale appearance. Your bathroom will appear classy and sophisticated with white subway tile walls!
Are white tiles in a bathroom a good idea?
Over the course of our lives, we have all used many restrooms, and the majority of them have white tiles. White tiles are so well-liked by homeowners for a few reasons and are a good idea for bathrooms. White conveys cleanliness and lightness, and if you mark or stain darker tiles, it will usually be much more obvious. These tiles will only help keep your bathroom looking clean for visitors, which is always one of the worst fears people have: that guests will think they have a dirty bathroom.
Another benefit of choosing white bathroom tiles is that they are probably never going to go out of style, staying current with current trends. It won't ever become dull. This color is popular among tile lovers because it gives bathrooms a light, contemporary, and opulent feel.

How do you keep white tiles clean?
To create a solution, just combine a cup of vinegar with a few glasses of hot water while stirring vigorously. Take a dry, soft mop and dunk it in this mixture. Clear away the excess liquid and clean the floors with the mop, ideally in a circular motion.
White Shower Hexagon Tile Ideas
Hexagons, with their unique shape and grandeur, can bring a sense of intrigue and excitement to any design. Long renowned for their aesthetic charm and versatility, they add a touch of delight to modern bathrooms, living rooms and foyers. White shower hexagon tile ideas can lend an air of sophistication and elegance to your room, providing an unmistakable sense of grace and beauty. Whether you're going for a sleek, industrial feel or an interesting, contemporary twist, this timeless pattern will bring zest and flair to the space. What's more, the stark contrast between the cool, white tile and dramatic grout offers a visual feast, sure to touch the hearts of all.
White Shower Penny Tile Ideas
Looking for a striking pattern for your white shower tile ideas? Your best option may be white shower penny tile ideas. These little tiles add a nice texture and improve the visual value of the spaces. White shower penny tile ideas are an unusual notion to stand out in the present tile market since, unlike white subway tiles, they may not be the most popular alternative for your bathrooms. You may use these tiles to make a classic and chic shower decor due to their delicate texture.
Elegant, bold, and gorgeous! White, without a doubt, has a special quality that may significantly alter the ambiance of a room by giving it a light and airy appeal. Your white shower penny tile idea will benefit from adding gray or black grout to enhance its remarkable attractiveness. Your shower will seem unique and intriguing because of the stark contrast. Let's look at some stylish and lovely designs for white shower penny tile ideas!
How to make shower tiles white again?
Mix one part warm water and one part white vinegar in a spray bottle. Spray this solution into the strained regions, wait five minutes and then scrub it off with a brush with firm bristles. Rinse the area with warm water if necessary. If your tiles are composed of marble or any type of natural stone, avoid using this.
What grout color is good for white shower tiles?
Because it pairs well with most tiles and looks and feels clean and fresh, white grout is a popular option in many American bathrooms. White grout, like other light hues, unfortunately, tends to get dirty and soiled with time, especially in high-traffic areas. However, the fast and simple solution to this problem is to repaint the grout. We can recommend using light gray or beige hues for the tile grout, additionally, you can have texture and depth with the light-colored grout.
Large White Shower Tile Ideas
Updating the bathroom is an excellent way to boost your home's value. Looking for stylish, modern, and contemporary loos on Pinterest or other social media platforms can leave you feeling overwhelmed with the variety of stunning white shower tile designs to choose from. Soaring in popularity are large white shower tile ideas, creating a high standard of bathroom decor.
Generally, 12 by 12 tiles are a great choice to achieve a luxurious shower design, while linear sizes like 12 x 24 or 24 x 48 are also popular option to give a surface a more contemporary appearance. Experiment with various tile layouts, and complete the look with accent tiles that bring texture and depth to large white shower tile ideas. Using bigger tiles also minimizes the grout lines needed. A straightforward solution is to look for big white shower tile ideas.
Tile Materials for White Shower Tile
Having made the decision on tile designs for your white shower idea, it's time to consider what types of tile material would be best for your bathroom decor and protection. There are numerous white shower tile materials, each with its own care needs, durability, water repellency and heat resistance. Of the most popular materials, ceramic is typically the first choice but you can also explore and use marble, glass tile, or both. Let's take a look and explore the various tile materials for white shower tiles which could give your bathroom the perfect look while also protecting your walls from any moisture and splashes.
White Ceramic Shower Tile
Are you a stylish and frugal homeowner seeking bathroom design ideas that won't break the bank? If so, you will love these white ceramic shower tile ideas! Not only are they durable and cost-effective, but you can also add your own personal touch to any bathroom with these options. In addition, there are a variety of low-cost tile alternatives available to mimic higher-end surfaces, from European mosaics and wood grain to natural stones such as travertine. If you're uncertain of which tile material would be best, white ceramic shower tile provides a practical and affordable solution.
Made from a combination of sand, quartz, water and clay, ceramic tiles are commonly used in both bathroom and kitchen settings for residential, commercial and retail properties. Plus, they are easy to install, clean, and maintain; giving you the peace of mind in knowing your bathroom design can come together beautifully, without a hefty price tag!
White Glass Shower Tile
Bathroom renovations are exciting and well-liked. Older bathrooms are more vulnerable to water damage and shoddy building, so a more contemporary design, such as white glass shower tile ideas for bathrooms, may considerably benefit them. Glass is the best material to utilize to add updated, modern style to your bathrooms because of its practical and beautiful look, which gives you clean lines, the appearance of more space, and an easy-to-clean and hygienic surface. Try using white glass shower tiles instead of entirely remodeling your bathroom or changing your tubs to accommodate more glass!
Glass tiles are small, individually burnt pieces of glass with a transparent glaze finish. Glass tiles are available in a wide range of hues, textures, and finishes to offer each bathroom a unique look. You may buy and install individual glass tiles as well as sheets and mosaics. Thanks to its wide range of options, glass wall tile ideas for bathrooms have virtually unlimited possibilities. Glass tiles look fantastic when displayed on shower walls. Get motivated by the white glass shower tile designs we have gathered for you by scrolling down!
White Marble Shower Tile
What is there not to like about ideas for white marble shower tiles in bathrooms? A look that emanates elegance, natural styling, and vibrant fresh colors. Marble is often a great option for bathroom décor since it is both timeless and lovely. It is beautiful, and traditional, and increases the value of your house. Any interior designer will inform you that marble is now the most popular stone kind. Any wall area gains character from the lovely and striking veining. The drawback of natural marble is that it is expensive and needs sealing and maintenance. The reward, though, is worth the effort if you're up for it: a stunning, classic bathroom that will last the test of time.
Marble may be used with a variety of bathroom designs, from ornate to futuristic, from monochromatic to simple. It radiates elegance and wealth, giving any bathroom an upscale appearance. Like marble worktops in kitchens, white marble shower tile ideas are a versatile solution for your bathroom decor since they are available in a variety of hues and vein patterns. It may be used to tie together a minimalist bathroom design with straightforward white furnishings or to contrast with bright colors.
Does white grout get dirty in the shower?
White grout can be aesthetically pleasing, but sadly has a big downside – it quickly shows dirt and doesn't stay clean for long. It can be very frustrating to try and keep it sparkling, as it will inevitably end up discolored and stained, no matter how regularly it is cleaned. This can be disheartening, and making the effort to keep the area looking nice seems futile.
Application Areas for White Shower Tiles
It might be a little intimidating to develop a new bathroom and shower design concept. Even if there are so many options available, choosing the right décor may become more difficult as a result. This is especially true in terms of bathroom tile design ideas. White shower tile ideas might seem a little, well, boring when there is so much color and design to choose from. We respectfully disagree. Numerous vibrant and lovely designs can be built upon the base of white shower tiles. Application areas for white shower tiles can help you to make differences with tile layouts, shapes, and textures such as matte or glossy tiles.
The white bathroom tile ideas offered not only come in a variety of sizes, shapes, and textures but also in a variety of grout colors. This makes it simple to design a style you enjoy and alter your bathroom later on without incurring additional costs. Because you can add so many unique elements to make white tiles stand out in a variety of different application areas for white shower tiles, white is a fantastic tile color.
White Shower Wall Tile
One of the application areas for white shower tiles is the shower walls. One of the most coveted spaces in any house is a truly soothing bathroom. White shower wall tile ideas enhance this room's relaxing characteristics. You can surround yourself with the aesthetic freshness of the white shower wall tiles. It is possible to have colorful or textured niches such as wood or stone niches on the white tile shower walls. The soothing effect of the white shower wall tiles will make you feel fresh and awakened. Let's check some of the gorgeous examples of white shower wall tiles.
White Shower Floor Tile
It should come as no surprise that many bathrooms prefer to use white shower floor tile designs. They may be utilized in either a neutral or colorful design, seem brand-new, and help keep the space bright. They also won't outdate a space in the future because they are timeless. Additionally, white shower floor tiles are very flexible. Even the most meticulous remodelers will be able to realize their bathroom ideas with the right tile format and size, finish (gloss or matte, textured or smooth), white color, and tile material.
There are various possibilities for a white shower floor tile while evaluating the bathroom's overall design. For instance, you may create a sophisticated, dark design with dark wood and other dark-colored elements, and then use contrast to draw attention to the white shower floor tile. A range of materials, including ceramic, pebbles, marble and porcelain tiles, can be utilized with white colors!