26+ Glass Tile Bathroom Backsplash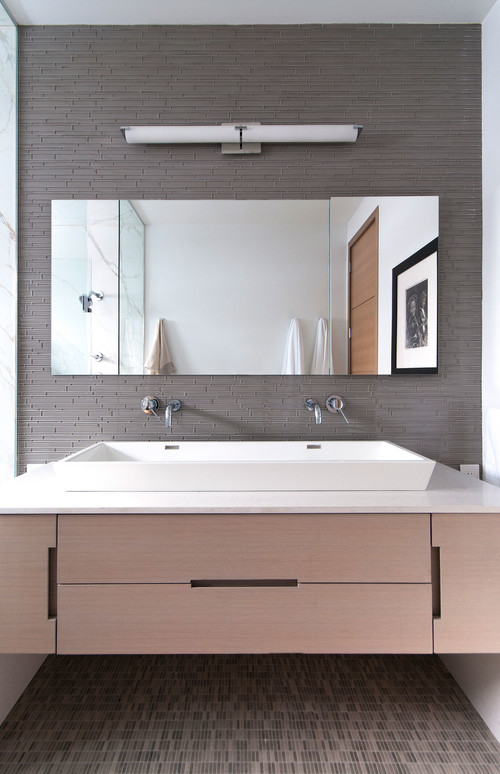 ID# 145001 | Houzz.com – Credit | © Shirley Meisels
---
Glass Tile Bathroom Backsplash with Floating Vanity and White Countertop
If you like neither too bright nor too dark bathrooms, this bathroom design has a great color scheme with light gray and wood shades. While the gray glass slim tile backsplash clads the behind-the-vanity wall from floor to ceiling, the light timber floating vanity exposes the beautiful, eye-catching floor tiles. Coming in an earthy palette, these even smaller tiles make for an eye-catching design, demanding attention. Since they are kept smaller, they come with lots of fractions, making the floor safer even when it is wet.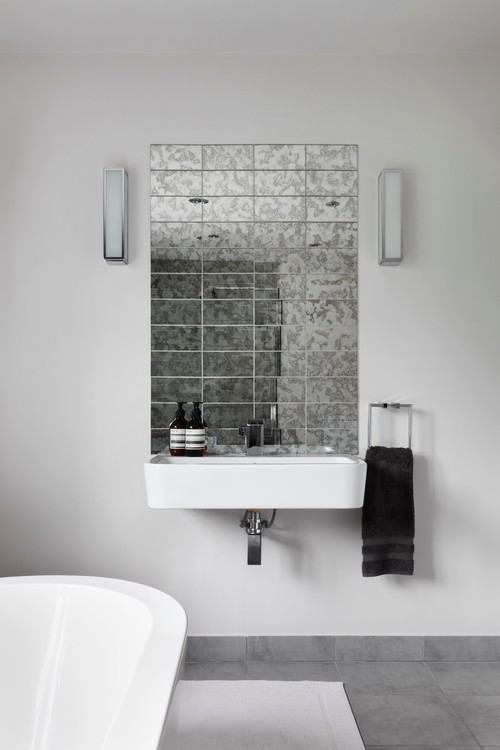 ID# 145016 | Houzz.com – Credit | © Amelia Pearson Interiors
---
Modern Bathroom Antique Glass Backsplash with White Washbasin
This modern bathroom opts for an all-white color scheme that is simple in layout and basic in furniture design, keeping all the ingredients of a bathroom to the basics with a sense of essentialism. This approach finds embodiment, especially in the white freestanding bathtub and a white washbasin that comes with no storage. And right above, antique finish glass subway tiles make a statement, giving the bathroom an aged and lived-in look. In such monochromatic bathrooms, such additions make the space feel more approachable preventing any potentially jarring look. The bathtub, on the other hand, is the most luxurious detail, which you can soak in after a long working day. And if you would like to enrich this look, you can add a backless, short-legged stool with a few accessories on it to accompany the white runner set on the floor.
Glass Tile Bathroom Backsplash
Serving as a practical option thanks to its stain-resistant and pore-free nature that requires no sealing, a glass tile bathroom backsplash comes with multiple aesthetic and functional benefits. Do you need, for instance, a backsplash made of a low-maintenance material? Or do you not want to worry about resealing your bathroom vanity backsplash? Or even better, do you need to make your bathroom deficient of sunlight look brighter and airier even if with darker shares? If you say yes to any of these questions, then the bathroom vanity glass tile backsplash is what you are looking for.
Add Glamorous Glass Tile
Bathroom designs demand attention as much as kitchens do. You need, for instance, backsplashes that will protect your walls against water splashes, mold, and mildew. And while protecting them, you should also consider materials that make bathrooms feel more welcoming, especially the parts where vanities are. And one of the best ways to treat a bathroom is to use a bathroom vanity glass tile backsplash. Even if you can't use a glass tile backsplash in the bathroom as a wraparound backsplash due to its high prices, don't worry. You can always add a glass accent tile backsplash for the bathroom vanity that stretches between the mirror and countertops. And design options with a glass tile backsplash bathroom vanity are arrayed for customers in a wide range of colors, patterns, and forms.
Here we compiled a list of designs centered on a glass tile bathroom backsplash or, in other words, a bathroom vanity with a glass tile backsplash. Check these bathroom designs that will sparkle your imagination and get a better idea about bathroom vanity designs with glass tile backsplash that create focal points effortlessly.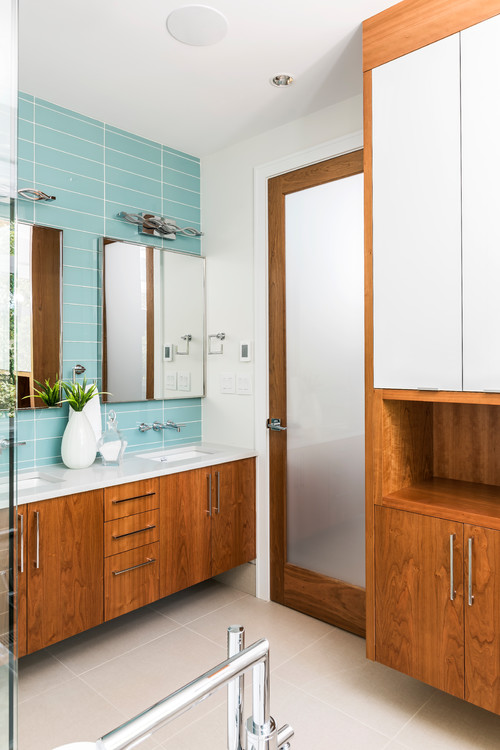 ID# 145002 | Houzz.com – Credit | © Harbour City Kitchens
---
Cherry Cabinetry with Quartz Countertops and Blue Tile Backsplash
Gone are those days when 3*6-inch subway tiles were used to tile the walls. Nowadays, they have been replaced by slimmer and larger versions depending on the needs of the space. For example, this relatively small bathroom goes with the large format subway tiles to expand the background, stacking them horizontally for a more modern look. Their blue shade alongside the white quartz countertops instills calmness and joyfulness, supported by the cherry cabinetry that lends plenty of warmth. The chrome hardware and lighting fixtures further stylize the cabinets while the accent mirrors are kept frameless so that they can blend into the surroundings effortlessly. But if you prefer framed mirrors, you can use a cherry frame in this context.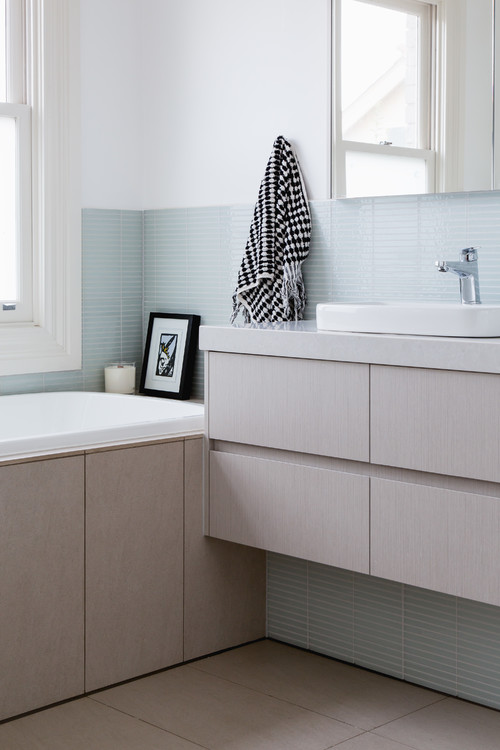 ID# 145003 | Houzz.com – Credit | © VMD Interiors
---
Modern Bathroom with Timber Vanity and Light Blue Backsplash
This light-filled bathroom has a calming effect that feels ready to relax and recharge its users. Looking visually integrated thanks to the matching colors of the timber vanity and floor tiles that extend onto the bathtub, here, it feels natural to offer extra comfort for the eyes. Even the rectangular forms catch a specific rhythm, orchestrating a planned regularity. And in the background, the horizontally stacked blue tile backsplash has a smaller rectangular form. The white grout between them provides a neat and clean look, while the top half painted white enhances the openness and brightness of the space.
How to install a glass tile bathroom backsplash?
Installing glass tile backsplashes can be tricky due to their transparent nature, which requires more professional input when laying the tiles. But with some extra care and attention, it is manageable as well.
As a first step, start by cleaning the wall with sandpaper that should be free from bumps and depressions and cover the countertop and vanity with a plastic sheet. If you find any cracks in the wall, you should also fill them.
And if you haven't made up your mind about how to lay the tiles, it is time to do so. If you have subway tiles, there are multiple ways to install them. So, choose one that suits the look you have in your mind.
Before installing, just see if you are going to use your countertop as a bottom edge. If not, you can use a ledger board that helps you line the glass tiles evenly and create a uniform look on the wall.
After figuring this out, you can start to lay the tiles. Spread the adhesive on the wall and work in sections rather than spreading adhesive across the entire wall as it might dry before you reach there. As you lay the tiles, press them firmly. Use tile spacers to leave even spaces between the tiles to master a uniform look.
Grouting
Once you have installed all the tiles, wait for them to cure in the next 24-48 hours. Then the wall surface will be ready for grouting.  This part is important since, for glass tiles, you can't use any grout which would steal from the beautiful sheen of the glass. Use a translucent grout that includes glass in the grout.  And apply it with a grout float and run it diagonally. Work in sections, again, and clean the excess grout before it dries. While or before grouting, you can also remove the spacers to make it look all perfect.
And finally, the last step is cleaning. Use a soft sponge and warm water to remove the residual grout and then your new backsplash will be ready.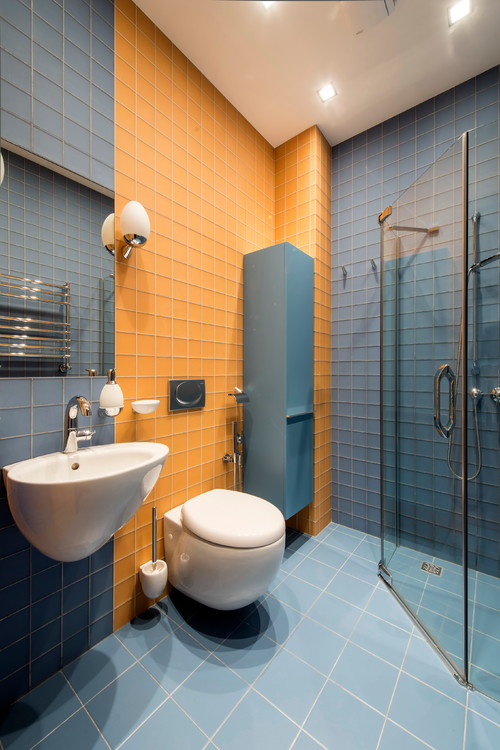 ID# 145004 | Houzz.com – Credit |© Диана Брежнева, Александр Брежнев
---
Contemporary Bathroom with Orange and Blue Backsplash
Based on a "divide and conquer" approach, color-blocking is one of the best methods to create a contemporary and engaging look as demonstrated by this bathroom in Moscow. Here, the orange and blue square tiles divide the entire room into different sections, while the floor is distinguished by light blue tiles. Each shade adds a refreshment, bringing a new dynamic and providing a study of colors. The high ceilings let each color present itself fully, and the glass division of the walk-through shower brings a contemporary division, retaining everything visually connected. As for the eggshell-looking curvy forms of sanitary ware and wall-mounted sink, they switch up the soft aesthetics of the room to accompany the drastic color switches.
Color Options for Glass Tile Bathroom Backsplash
From green to white, blue, black, yellow, pink, and orange, color options for glass tile bathroom backsplash are various. Given that bathrooms are inclusive when it comes to colors, instead of using one color, you can create variously colored stripes for bathroom walls by using color-blocking and halfway-splitting techniques.
White Glass Tile Bathroom Backsplash
White glass bathroom backsplashes are best to make small spaces bigger and dark rooms brighter. So, if your bathroom doesn't receive enough sunlight and feels claustrophobic due to the compactness of the space, you can recreate your bathroom with a glass tile backsplash. Since the translucent nature of glass tile backsplashes also brings a nice sheen with them, you will have bonus advantages with a glass backsplash in such rooms.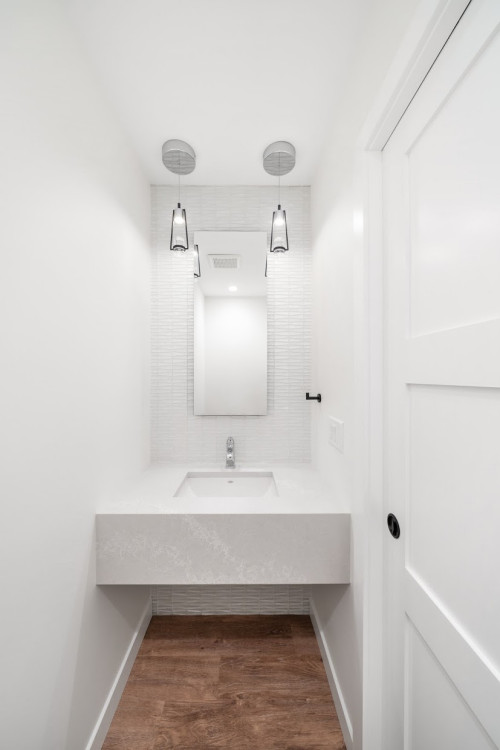 ID# 145005 | Houzz.com – Credit | © Kurmak Builders
---
Small Bathroom with White Glass Tile Bathroom Backsplash and Solid Countertop
All-white color schemes suit best small bathrooms like this one. So, don't refrain from using monochromatic palettes for such spaces because they might look boring or sterile. Just go with statement materials like glass and natural stone as this modern bathroom does. Here, the white thick natural stone countertop paired with a white glass tile backsplash looks stylish. They are accompanied by black and chrome accents that evoke further interest, while the wood-finish floor brings the right amount of warmth to create an intimate atmosphere.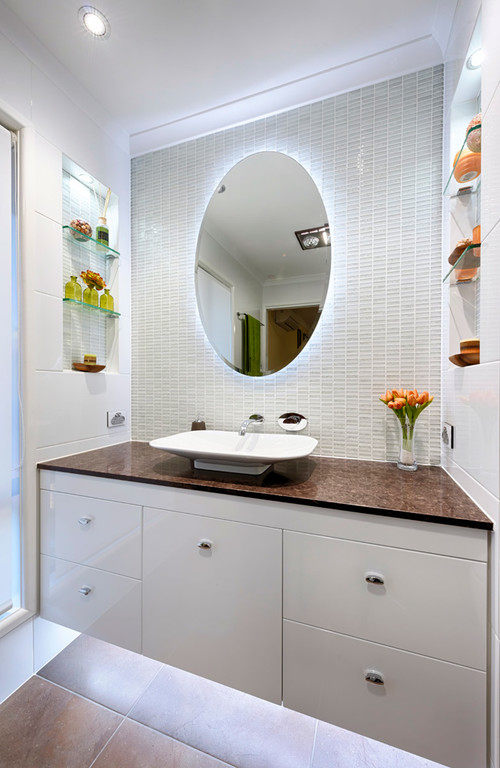 ID# 145006 | Houzz.com – Credit | © Classique Vanities Pty Ltd.
---
Gray Vanity with Glass Stacked Backsplash and Brown Countertop
A good lighting system is especially significant for bathrooms given that they don't receive much sunlight and some are not even lucky enough to accommodate a window. As such, using a 2 or 3-dimensional lighting system that provides task and ambient lighting is essential. And here we have a perfect example of it. This contemporary bathroom uses mirror backlighting for accent and task lighting. Also, the LED-strip lighting under the cabinet fosters a cozy ambiance. The white walls and a light gray floating vanity further open up the space, while the niches on both sides offer extra storage spots. These niches are sheathed in small tiles that match the eye-catching white stacked backsplash that goes up to the ceiling. The reddish-brown countertop anchors this glass tile backsplash to the vanity, and overhead, spotlights provide ambient lighting.
Are glass tiles good for bathrooms?
A low-maintenance and eco-friendly material, glass is good for bathrooms both in aesthetic and functional terms. Available in a wide range of color and design options, including recycled versions, glass tiles come with almost limitless design possibilities. Plus, in small and enclosed spaces, they are extra helpful to make the bathroom feel larger and brighter since they reflect light. As such, they add depth and dimension while letting lights bounce off around the room.
Secondly, you can also make strong visual statements with them. For example, for a truly shimmering and eye-popping effect, you can benefit from multi-colored mosaic tiles. Some designers even create mural-like artworks to think outside the box with glass tiles. And if you would like to go green, wood-look and marble-look recycled glass tiles are available. This option provides a chance for homeowners to diminish the burden on nature without compromising aesthetics.
And finally, when it comes to the glass' functional benefits, they don't require sealing thanks to its non-porous surface. For the same reason, they are also easy to clean, impervious to water, and combat water splashes perfectly. So, these tiles are very good options for bathrooms as well as the kitchen backsplashes.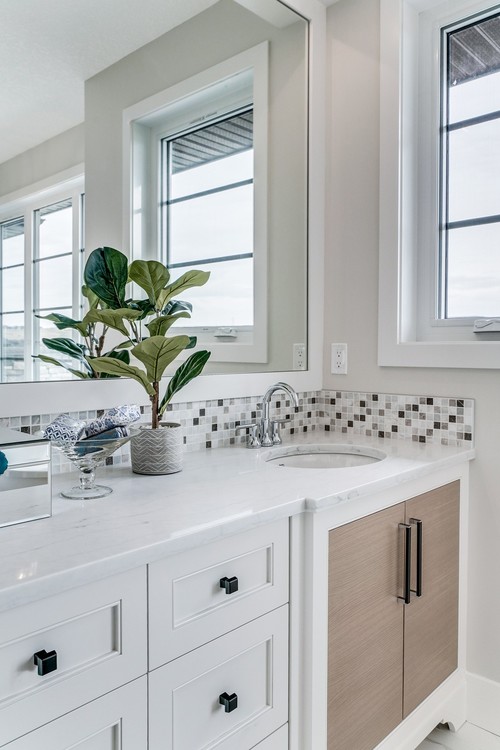 ID# 145007 | Houzz.com – Credit | © Andison Residential Design
---
Modern Bathroom with White Countertops and Black Hardware
Filled with natural lights, this modern bathroom knows how to coordinate colors. The white cabinet with drawers pairs perfectly with the wood-door vanity topped by white countertops. In the background, the standard-size mosaic tile backsplash captures eye-appealing color transitions that echo the overall color scheme. The oversized mirror reaching up to the ceiling feeds the lightness and spaciousness of the room, while black hardware punctuates the space. And lastly, the green leafy plant provides a breath of fresh air.
Blue Glass Tile Bathroom Backsplash
If the aim is to impart calmness, blue glass tile bathroom backsplashes, especially the muted and soft shades, make great additions. But instead of something soothing, if you desire a glittering background, blue glass mosaic tiles serve the design best. Also, feel free to use different versions of the glass tiles such as ocean-style bottle glass, glossy glass, and mirrored tiles to create a hybrid background. Whether you pick up on the sky or the sea, you can even make fish and bird patterns to create a whimsical backdrop.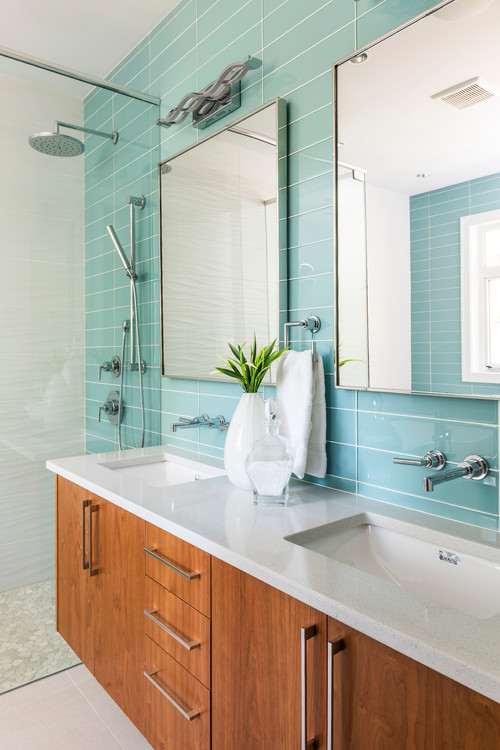 ID# 145008 | Houzz.com – Credit | © Harbour City Kitchens
---
Blue Glass Tile Bathroom Backsplash with White Countertops and Cherry Cabinets
Blue is one of the best shades that suit bathrooms, especially when it comes in the form of glass and subway tiles. Not only that it creates a timeless look but also provides a bonus energizing effect to create a user-friendly environment. And here, this contemporary bathroom chooses blue glass subway tiles to achieve a fresh background with its shimmering effect. The cherry cabinets, by contrast, downplay the impact of glass tiles, injecting a dose of calming effect. The chrome hardware joins in to add further shine and glam, while white quartz countertops lighten up the interiors along with the glass division that reveals the shower room.
Is glass tile cheaper than ceramic tile?
Glass tiles are expensive materials and surely, far more expensive than ceramic tiles. Plus, their prices can even compete with natural stone tiles, especially glass mosaic ones. But this doesn't mean that you need to give up on them completely. You can always use them as an accent rather than install them as floor-to-ceiling backsplashes. Also, if you keep the mirror oversized and use glass tiles only to clad the space between the countertop and mirror, you can minimize the burden of the glass tiles on your budget.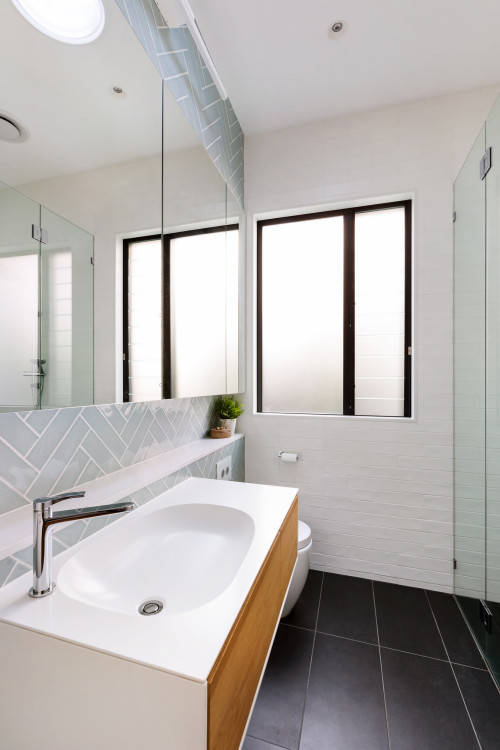 ID# 145009 | Houzz.com – Credit | © Braeside Building & Joinery
---
Herringbone Tile Backsplash with Black Floor Tiles and Wood Vanity
Don't shy away from juxtaposing different colors and textures as long as they orchestrate a balanced look. Designed to give a beach feel, this contemporary bathroom, for example, combines black large format floor tiles with blue glass subway tiles laid in a herringbone pattern to serve as a backsplash and a floating timber vanity. The large mirrors provide a division between the backsplash tiles without intervening in the harmonious look of the design. The floating and light-colored top half of the bathroom feels more grounded with the integration of black tiles.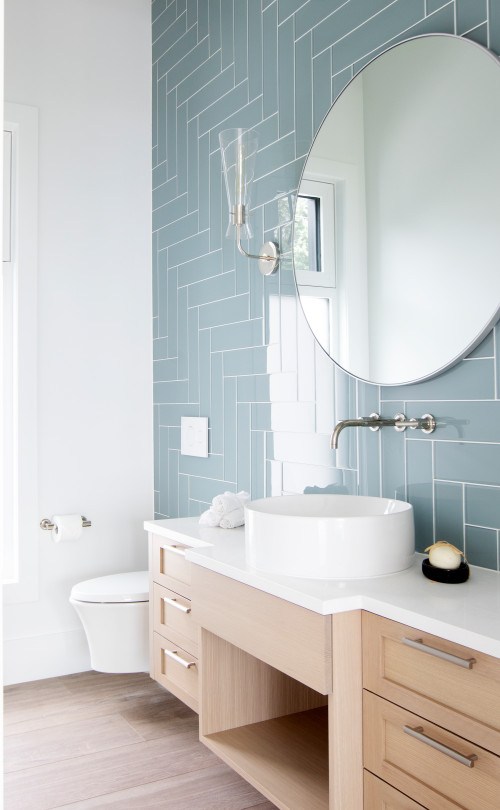 ID# 145010 | Houzz.com – Credit | © Hasler Homes Ltd
---
Beach-Style Bathroom with Blue Glass Tile Backsplash and Vessel Sink
The best part of herringbone patterns is that you can lay them in a wide range of ways. This beach-style bathroom goes more eccentrically, making them directly toward the right bottom. This way, the backdrop gains a movement that feels more diagonal rather than following a more straightforward pattern. And the tiles' glass forms and light blue shades impart calmness to the space, coordinated with the three-tiered wood vanity that delivers warmth. The white countertops and a vessel sink create a more layered look, and glass shade wall sconces pair perfectly with the glass tile backsplash.
Is glass tile hard to keep clean?
Glass tiles are one of the most popular options for bathroom and kitchen backsplash designs. Given that glass tiles are pore-free and resistant to staining, bacteria, and mildew, glass tiles are easy to clean. But because of their reflective surface, they show imperfections easily. That's why they require regular upkeep.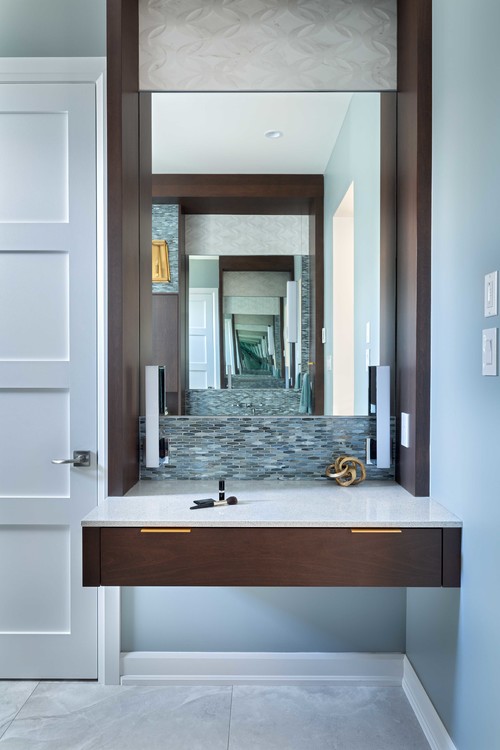 ID# 145011 | Houzz.com – Credit | © Studio 853 design
---
Dark Wood Accents and Mosaic Tile Backsplash with Blue Walls
If you want small spaces to work for you, use a mirror to your advantage as this modern bathroom does. And to further accentuate it, utilize a dark wood frame that adds a dramatic impact while building depth at the same time. By contrast, the blue-painted walls resonate with the blue glass tile backsplash that presents alternating shades not to look too formulaic. The dark wood wall-mounted vanity is floating to clean up the floor level to feed the openness of the space. The tiny brass accents here and there add a touch of glamor and a sense of sparkle, while the rest is kept monochromatic with light white and gray shades.
How do you clean glass tiles?
Vinegar and baking soda are two of the materials that we keep and use at our homes regularly. So, you wouldn't need to go and buy something extra to clean glass tiles You can just mix vinegar /baking soda with water and spray it onto the glass tiles and wait for the solution to do its job. After a couple of minutes, rinse and dry the tiles. For rubbing, you can use a soft sponge or cloth. In addition to vinegar and sodium bicarbonate, you can also use a dish detergent.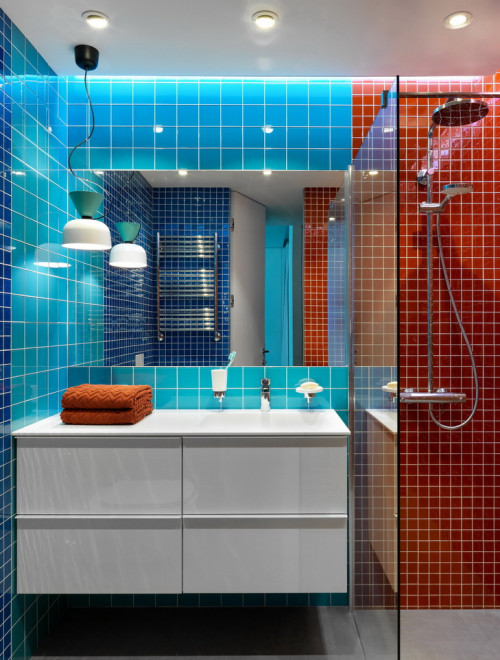 ID# 145012 | Houzz.com – Credit | © iPozdnyakov Studio
---
Contemporary Bathroom with White Vanity and Multi-colored Glass Tile Bathroom Backsplash
This visually striking contemporary bathroom is like a study of different vibrant colors, bridging irrelevant shades- blue and red- and almost begging to be looked at. Stretching from floor to ceiling, these blue and red square tile backsplashes divide the bathroom into two different zones to distinguish between the shower and vanity zone with a color-blocking technique. Plus, since they come in form of glass, it makes them almost more legitimate for a bathroom wall design in terms of functionality and aesthetics. And in the rest of the space, the white floating vanity lightens the interior up, accompanied by a contemporary pendant that provides task lighting. Overhead, spotlights are used to offer ambient lighting for a fully-fledged bathing experience. Overall, bathers will surely enjoy this vibrant and colorful design that captures the core of contemporary looks.
Gray Glass Tile Bathroom Backsplash
Neither white nor black, gray glass tiles are perfect to add character while keeping the space bright enough for daily tasks. Versatile itself, gray glass works well in minimalist, Scandinavian, modern, and transitional bathrooms. You can even pair gray glass tile backsplashes with gray-painted walls and gray floor tiles. And to soften the look, patterned rugs, timber floating vanities, white bathtubs, and walk-through showers with glass enclosures can be utilized.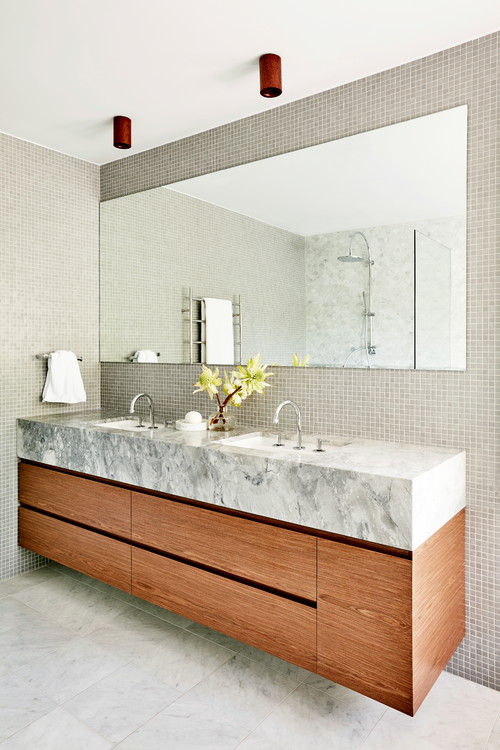 ID# 145013 | Houzz.com – Credit | © Studio Gorman
---
Contemporary Bathroom with Glass Tile Bathroom Backsplash and Marble Countertop
This soul-friendly contemporary bathroom is ready to transport you into another time zone. From the enchanting thick marble countertop to the heartwarming wood vanity, and floor-to-ceiling gray glass tile backsplash, each piece works harmoniously speaking volumes. The frameless mirror runs along with the vanity, ensuring a sense of flow, while the walk-through shower winks at us through its reflection in the mirror. Lastly, on the floor, the marble floor tiles create a continuous look with the marble countertop. And their undulating and feathering forms mimic the liquid form of water that oozes robustness with delicacy and a feel of luxury.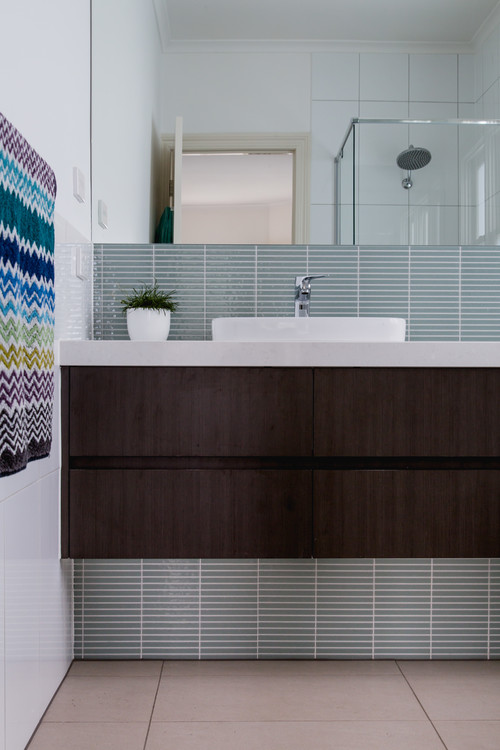 ID# 145014 | Houzz.com – Credit | © VMD Interiors
---
Stacked Tile Backsplash with Dark Timber Vanity and Beige Floor
The bathroom vanity glass tile backsplash in this Melbourne bathroom consists of gray glass tiles stacked horizontally to introduce order and clarity with a sense of modernism. The white countertops and beige floor tiles provide a neutral setup tinged with a sense of warmth. Small details make the bathroom more articulative. For example, an indoor plant and a colorful towel with zigzag patterns along with a vessel sink add extra interest to the space. In other words, if you want your bathroom to look colorful but aim to keep the main setup neutral, all that you can do is choose towels and accessories more colorful and patterned. You can also use your walls to hang some paintings. But just ensure that they suit the overall bathroom style.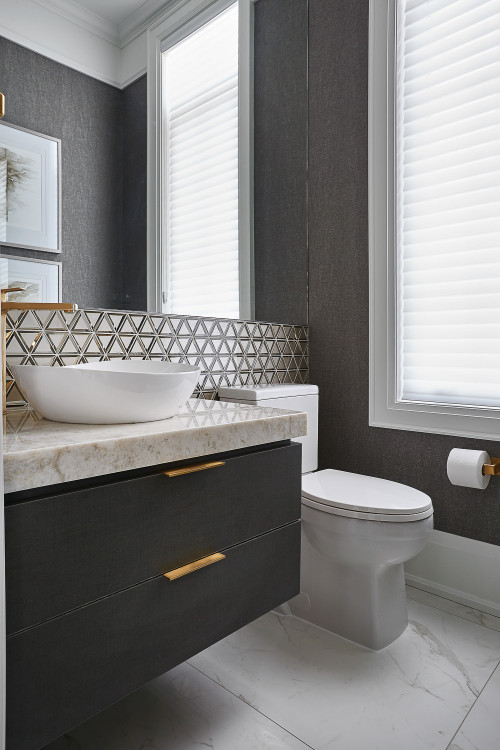 ID# 145014 | Houzz.com – Credit | © Parkyn Design
---
Transitional Bathroom with Diamond Tile Backsplash and Solid Stone Countertop
The window shades provide privacy for the bathroom, while the natural lights still find a place to creep indoors to illuminate the interiors. This allows the designers and homeowners to go with a contrasting color scheme that has darker shades brought in by the floating vanity. And what softens it are the light cream diamond tile backsplash, light beige solid stone countertop, and brass lip-pull notches, the last of which maintains the sleek look of the cabinet but also allows for an easy grip for the sake of a more ergonomic design. The round-shaped vessel sink and the veins on the floor tiles level up the artistic mood of the design. And adding to them are also the paintings hung on the wall whose reflections are seen in the mirror.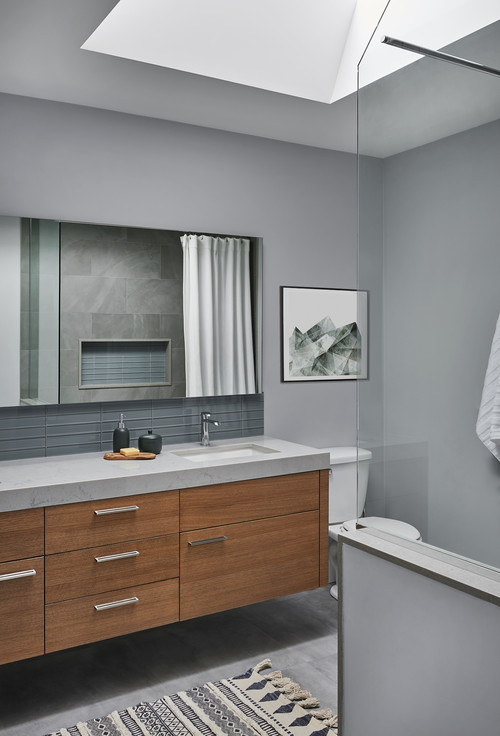 ID# 145015 | Houzz.com – Credit | © Carriage Lane Design-Build Inc.
---
Scandinavian Bathroom with Gray Glass Tile Bathroom Backsplash and Floating Vanity
If you are looking for a Scandinavian-inspired look with a neutral color scheme for a bathroom, take note of this design. Here, the monochromatic color palette of grays creates a moody but relaxing atmosphere that calms the body. The gray-painted walls help the gray glass tile backsplash and gray floor tiles blend into the walls. The gray solid stone countertop brings in a nice texture paired with a wooden vanity that lends warmth to the otherwise all-gray bathroom. The mountain painting adds a natural vibe, and the runner with geometric patterns provides softness and extra comfort underfoot. Lastly, overhead, the skylight pours natural lights that keep the bathroom well-lit and airy.
Black Glass Tile Bathroom Backsplash
Particularly favored by industrial and contemporary designs, contrasting color schemes and dark-colored backsplashes such as black create immersive looks that anchor the design easily while providing a solid foundation. For a less formulaic look, you can use alternating shades of black and mix them with other shades to create a waterfall effect. This especially works well with smaller and slimmer glass tiles. And don't despair even if you have a small and dark space. You can still benefit from black tile backsplashes while using them as an accent feature. Also, in small rooms, you can pair big mirrors with black glass backsplashes that stretch from the countertop to the mirror.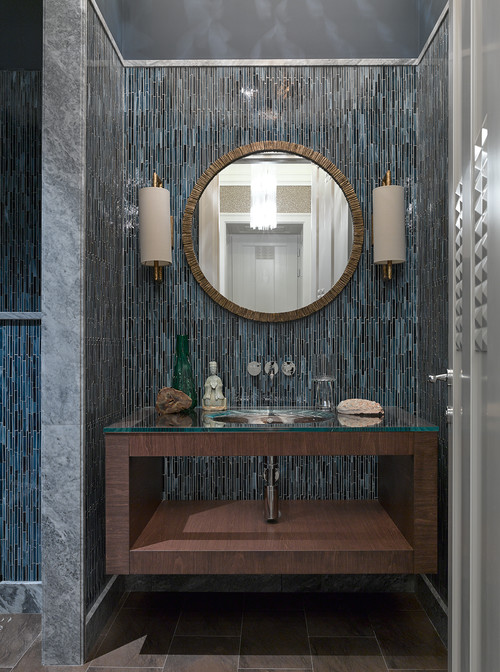 ID# 145017 | Houzz.com – Credit | © Надя и Гиви Ананьевы
---
Chic Bathroom Design with Black Glass Tile Bathroom Backsplash and Glass Countertop
Here, the overarching narrative of this ultra-chic bathroom is built upon the glass that creates a rich and opulent feel that prevails over the space. In the background, the vertically aligned slim black glass tiles give the illusion of a waterfall effect, generating a sense of movement for the backdrop. The glass countertop on the floating dark wood vanity brings a dramatic look. The accessories such as a small Buddha statue further personalize the space, while the exposed plumbing fixtures don't cause any visual clutter thanks to the black glass tile backsplash with alternating shades. The gold-framed round mirror and modern wall sconces flanking this mirror punctuate the backdrop, resulting in an eye-catching look that commands attention. And if you would like to integrate privacy into the sink section, you can choose such corners to accommodate the sink or create fake feature walls to build your own divisions.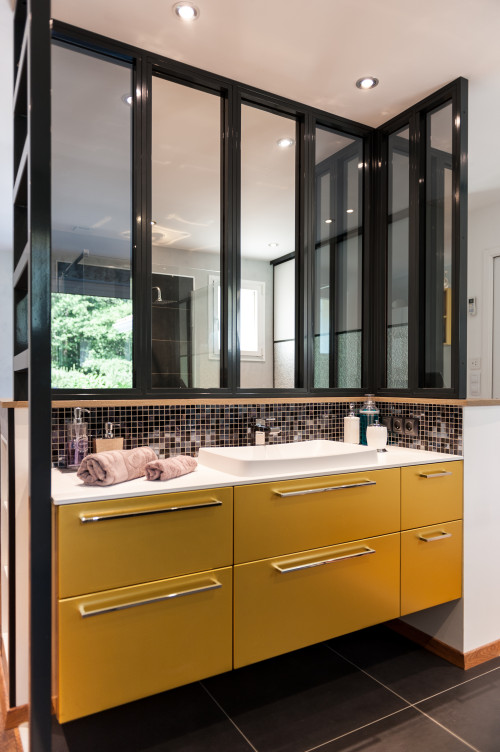 ID# 145018 | Houzz.com – Credit | © Agence boÔbo
---
Black Backsplash with Yellow Vanity and Chrome Hardware
Can an industrial bathroom look also chic and contemporary? Well, this bathroom does, thanks to its energizing color palette that is given a dark edge with the black glass backsplash tile and black floor tiles. Here, the size of the tiles is adjusted to the available space. While the black glass mosaic tiles only extend 4 inches between the cabinet and mirror, floor tiles come in large rectangular forms that play up the dimension of the bathroom. The rest of the space is colored with a vibrant yellow vanity, chrome hardware, and a white countertop with a vessel sink. This combination pays off well, creating a luxurious and colorful-yet-dark atmosphere to wash up.
Green Glass Tile Bathroom Backsplash
Referring to nature, green glass bathroom backsplashes bring outdoors in. If you wish, you can even support it with timber floating vanities for a casual look or marble countertops for a more sophisticated and opulent design. Horizontally or vertically stacked subway tiles and herringbone and chevron pattern subway tiles are some of the most popular layout options for green glass tiles. These patterns bring a modern edge to any bathroom that suits both contemporary and transitional bathrooms.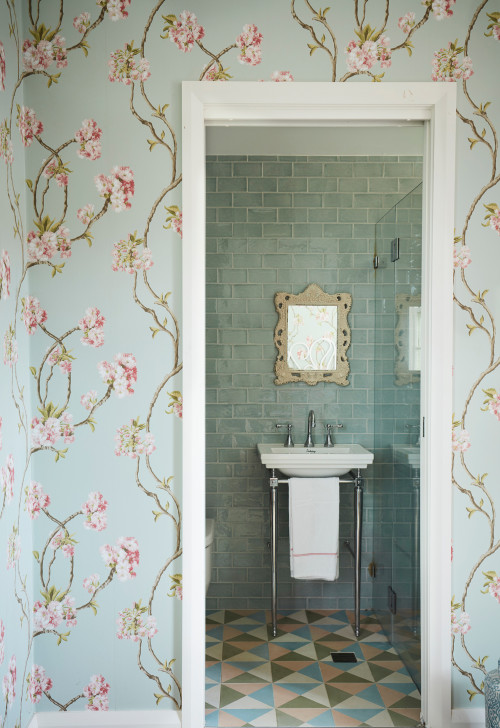 ID# 145019 | Houzz.com – Credit | © No Chintz
---
Eclectic Bathroom with Green Glass Tile Bathroom Backsplash and Washbasin
Peeking out behind the blue wallpapered walls reminiscent of Van Gogh's paintings, this eclectic bathroom juxtaposes a wide range of soothing colors. First, it goes with a green glass subway tile backsplash that wraps around the entire space to instill calmness. Also, the satin finish on the wall tiles provides a complementary look to the matte finish floor coating, creating an alluring background. On the floor, the multi-colored geometric patterns bring a contemporary edge to the bathroom. And by contrast, the intriguingly shaped mirror frame adds an ornate detail to the walls, while the walk-through shower with glass division stays in line with contemporary bathroom designs.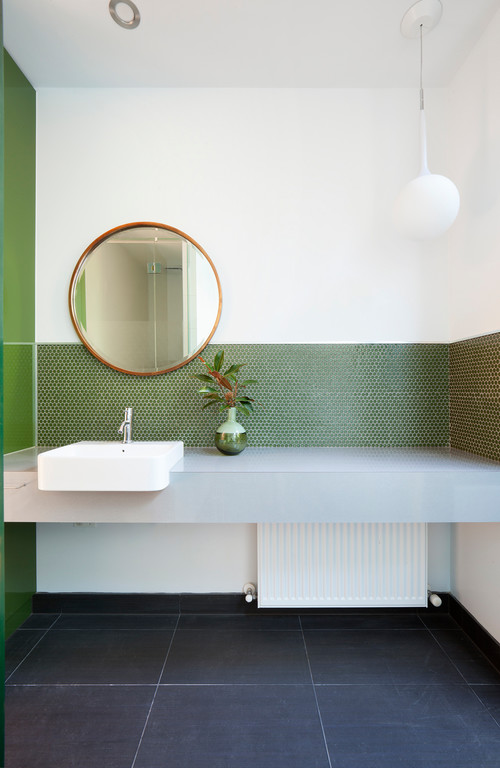 ID# 145020 | Houzz.com – Credit | © DE atelier Architects
---
Contemporary Bathroom with Green Backsplash and Round Mirror
Modern bathrooms are all about clean lines, decluttered surfaces, and functional layouts as showcased by this contemporary bathroom skillfully. Here, from the white thick countertop to the green backsplash, and dark floor tiles, everything is in harmony, composing clean and well-defined lines without looking busy. But to energize the look, this bathroom integrates a green backsplash for a better definition into the background. And the round mirror with a globular lighting fixture adds soft features to break up the formal rectangular forms introduced by the countertop and the vessel sink. And apart from those, we have a question: if you imagined a contemporary version of the butler sink, do you think it would look like the one in this bathroom?
Glass Mosaic Tile Bathroom Backsplash
Glass mosaic tile bathroom backsplashes are very expensive but also very eye-catching, especially when they feature alternating shades. If you don't mind grout work, you can benefit from these tiles to make strong visual statements.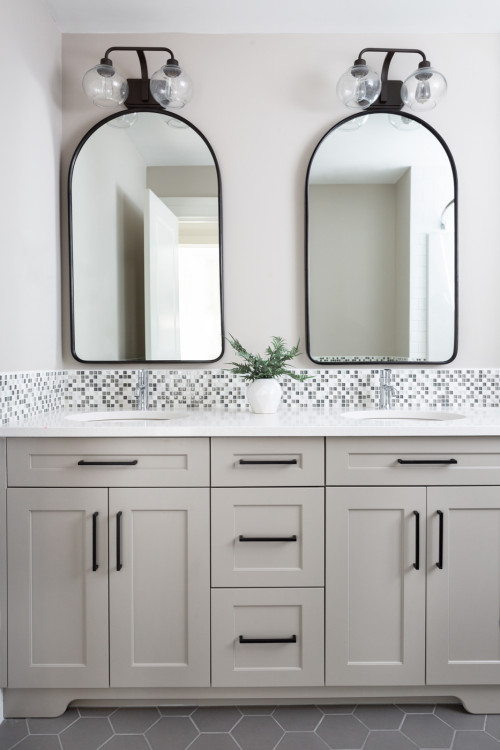 ID# 145021 | Houzz.com – Credit | © Reena Sotropa In House Design Group
---
Glass Mosaic Tile Bathroom Backsplash with Gray Double Vanity and Black Hardware
The pixel-look of the glass mosaic tile backsplash is the showstopper in this traditional bathroom, accompanied by a gray double shaker vanity and white countertop that orchestrates a very neutral look. Assisting them are also the black hardware that punctuates the space and a duo of black-framed and round-edge mirrors. These mirrors are paired with double-head lighting fixtures that come as an entertaining feature. And finally, on the floor, the gray hexagon tiles introduce a biophilic pattern that adds a statement finish, a perfect way to finalize the transitional character of this bathroom design.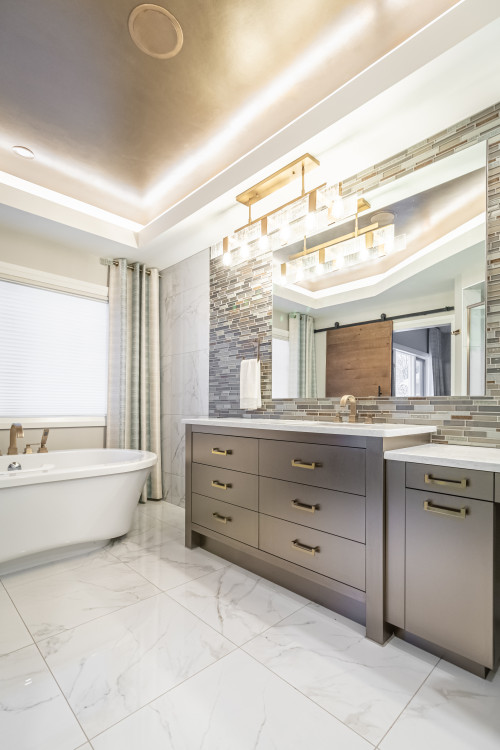 ID# 145022 | Houzz.com – Credit | © Charisma, the design experience
---
Glass Tile Bathroom Backsplash with Brass Hardware and Gray Cabinets
In this modern bathroom, gloss-finish cabinets pair perfectly with the glass tile bathroom backsplash consisting of alternating gray slim subway tiles. The brass hardware used throughout the space pulls the space together while also invigorating the overall look with a touch of glam and a splash of color. The bathtub also supports this luxurious feel. Overhead, the ceiling-mounted LED strip lighting diffuses warm lights to provide accent and ambient lighting, assisted by the oversized picture window that harvests natural light. And lastly, the thick gray curtains ensure full privacy when needed.
How much does a glass backsplash cost?
A glass backsplash costs between 7 USD and 30 USD per square foot. And when the installation costs add to that, it amounts to approximately 32 -35 USD per square foot.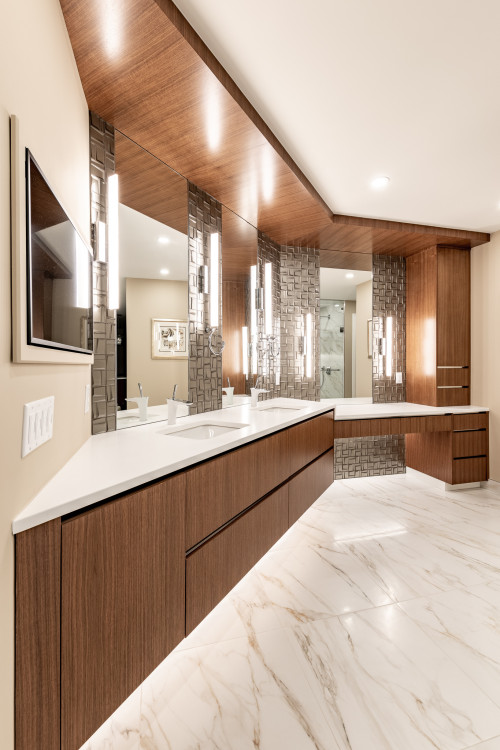 ID# 145023 | Houzz.com – Credit | © Uniik Design
---
Luxurious Bathroom with Wood Vanities and White Countertops
The diagonal extension of the wood vanities gives a better definition of the architectural foundations of the room. And the abundant use of timber textures and crisp white countertops with glass tile backsplash pay tribute to the midcentury-modern style. The wall sconces and spotlights ensure that the bathroom is well lit with lights bouncing off around the room, thanks to the glass tiles and the polished finish white floor tiles marked by light brownish shades to echo the overall color palette.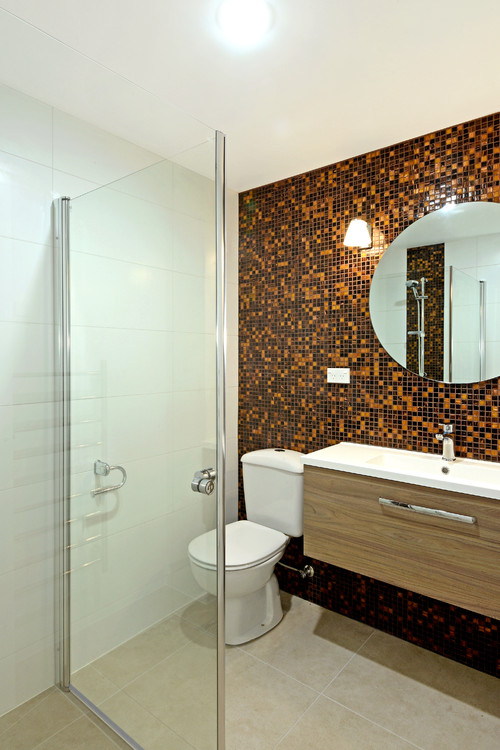 ID# 145024 | Houzz.com – Credit | © Designworx New Zealand
---
Multi-Colored Mosaic Tile Backsplash with Timber Vanity and Walk-Through Shower
If you want to emphasize the striking beauty of the mosaic tile backsplashes, use more than one color as this modern bathroom does. Here, for example, the orange and brown shades blend harmoniously, creating a focal point behind the round mirror and timber floating vanity. The white countertops, chrome hardware, and wall sconces keep the rest simple for the glass mosaic tile backsplash to shine. The rest of the space accommodates a walk-through shower with a glass enclosure, enjoying a room of its own. This glazing also enables bathers to relish in the energizing colors of the backsplash.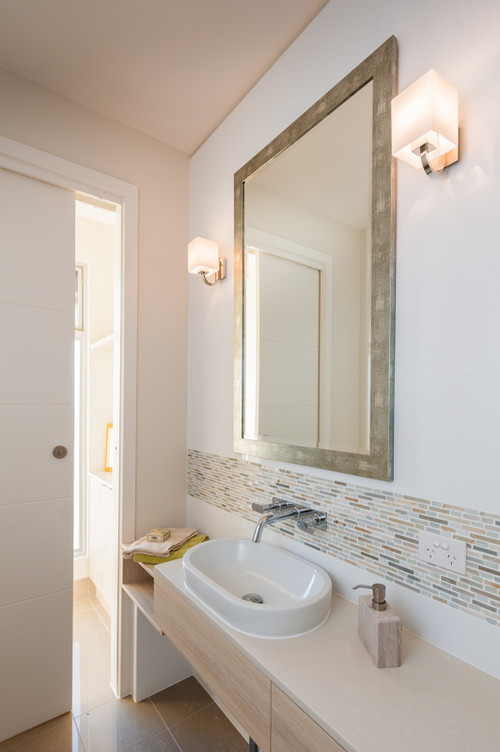 ID# 145025 | Houzz.com – Credit |© Cath Tonkin Interiors
---
Contemporary Bathroom with Glass Tile Bathroom Backsplash and Metallic Mirror Frame
As bathrooms function as a sanctuary of sorts, it is best to use soothing colors such as warming wood shades enriched with metallic touches for extra interest. And this is what this contemporary bathroom exactly does. It employs a floating timber vanity that consists of three drawers horizontally aligned and a glass mosaic tile backsplash for a glittering effect. The metallic finish on the mirror frame and classical wall sconces finalize the overall design aesthetic, ensuring that the bathroom is packed with style and calmness.