28+ Small Bathroom Tile Ideas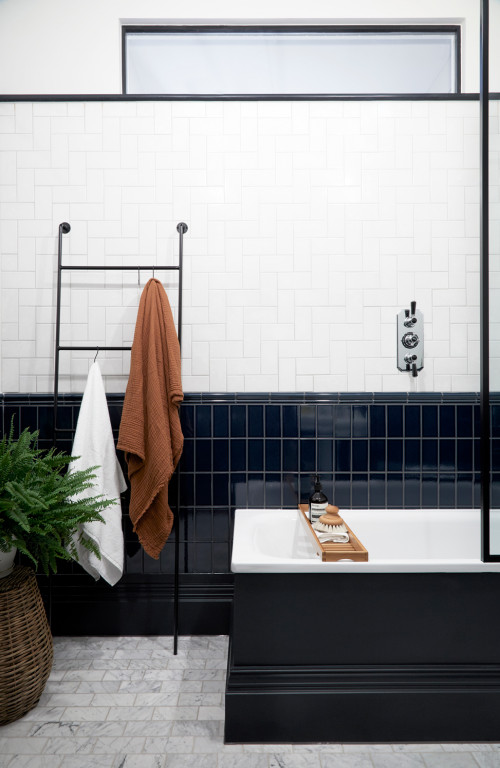 ID# 172103 | Houzz.com – Credit | © XI Projects
---
Scandinavian Bathroom with Black Freestanding Tub
Adorned by the contrasting harmony of black and white, different colors and textures perfectly come together in this Scandi-inspired bathroom design! At the rear, the white herringbone tiles laid in a diagonal pattern, provide a bright and spacious atmosphere while the black stacked subway tiles act as a bathroom wainscoting and bring depth to the space. The black freestanding tub and the black ladder for the towels perfectly complement the dramatic appeal of the black tiles. For the floor level, the gray marble subway tiles provide a soft transition between black and white.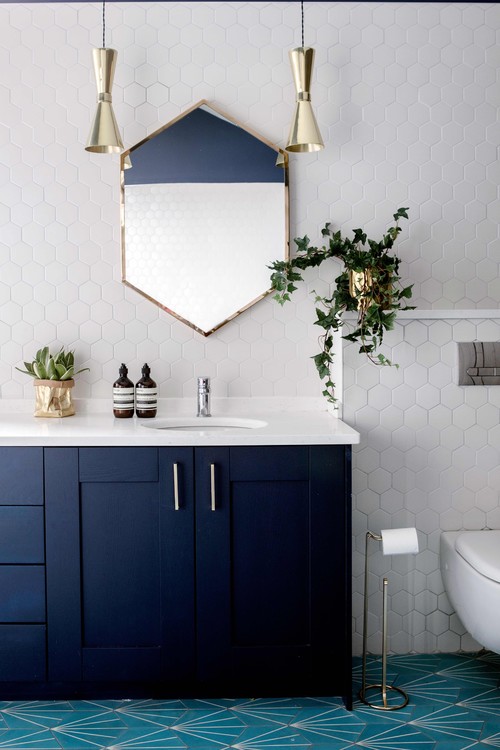 ID# 172115 | Houzz.com – Credit | © DesignLed
---
Black Vanity with White Hexagon Backsplash and Blue Flooring
In a small bathroom design, we see the sweet harmony of white wall tiles and dark blue cabinets! The turquoise patterned ceramics on the floor create an old-fashioned effect while the white hexagonal wall tiles add a neutral movement. In the bathroom with shaker cabinets, the hexagonal mirror placed at the level of the sink harmonizes with the concept while the gold-colored frame and the pendant lighting complement each other to display an elegant appearance!
Small Bathroom Tile Ideas
Bathroom areas are available in many variations, wide, narrow, with or without windows. Depending on the general style of the house, the wishes of the user, and the imagination of the designer, a choice should be made by adding quality, elegance, and functionality. The choice of tiles is a very important issue for bathrooms. Because they are the elements that determine the space and style the most. With a tile of your choice, you can make the bathroom rather suffocating and boring, and create a relaxing space with its spacious and stylish stance. Here, we gather stunning small bathroom ideas that can add personality to your design!
Stylish and functional Tile Designs for Small Bathrooms
A very careful selection should be made when choosing small bathroom tiles. For example, white bathroom tiles are a good choice to create serene spaces. Of course, a pure white bathroom can be a bit soulless, so if you prefer neutral, textured tiles, it can add mobility and become a beautiful space. On the other hand, a single tone can be made interesting by using tiles of different formats. Of course, successful designs can be made using bold colors according to tastes and wishes, for example, an authentic bathroom designed entirely in green, where you can feel the Moroccan breeze. It is among the design ideas that can be applied in the combination of double colors and tiny tiles.
In short, even if you have small bathrooms, as long as there are tiles of the right size, a bathroom can be designed as you want and the right combination can be made according to the size of the space. Here, all work is a subject that changes according to the creativity of the designers.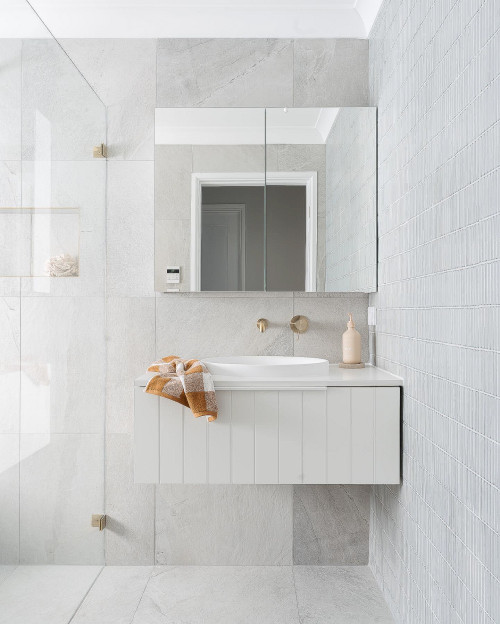 ID# 172101 | Houzz.com – Credit | © Small Bathroom Renovations Perth
---
Gray Small Bathroom Tile Ideas with Single-sink Vanity
The large format gray tiles create a seamless design with the single sink floating vanity while the gray Kit Kat tiles on the right side add another layer of texture to enhance the overall look. In small bathrooms, using mirrors is a perfect way to emphasize the open and airy feel and in this design, the mirrored upper cabinets make this job perfectly!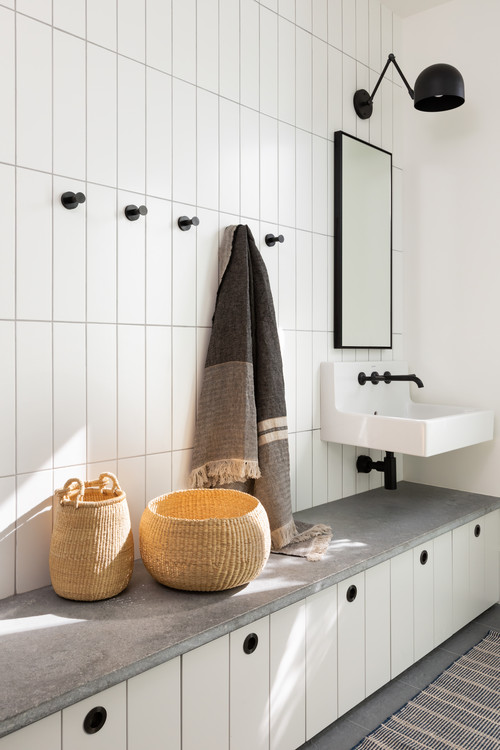 ID# 172102 | Houzz.com – Credit | © E2 Homes Ltd
---
Farmhouse Bathroom with White Stacked Wall Tiles and Black Accents
When designing a small bathroom, using a light color scheme is a perfect way to enhance the spaciousness but your space still may need some elements that jazz up the overall design! In this farmhouse bathroom, for instance, the white stacked subway tiles surround the entire wall space behind the vanity and offer a bright and clean backdrop. Using a charcoal grout is a perfect way to create a contrast and highlight the grid pattern! The concrete top of the white cabinets complements the grout while the black accents such as the wall sconce, faucet and towel hangers finalize the design with a touch of modernity.
What color tiles are best for small bathrooms?
Lighter colors are always a better choice when creating a tiny bathroom since they always make the space feel more airy and cheerful! Light hues which range from crisp whites to soft beiges and pastel grays, may easily help you make your small bathroom feel larger. A warm and friendly ambiance may also be created with neutral hues like brown, gray or black. Bright colors are a terrific approach to make an accent in your little area if you prefer stronger aesthetics!
ID# 172104 | Houzz.com – Credit | © Studio Z Design
---
Multicolored Small Bathroom Tile Ideas with Hexagonal Pattern
If you want to incorporate a pop of color into your white bathroom but don't know how to do it, why not use it on the floor level? This contemporary bathroom, for instance, benefits from the multicolored hexagon floor tiles that create a striking focal point between the white tiled walls! The rest of the bathroom is occupied by the bright white wall tiles that stand out as a unified body.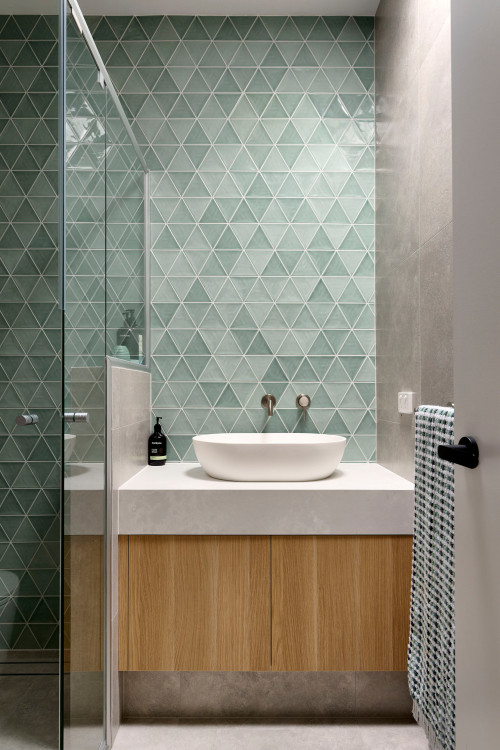 ID# 172105 | Houzz.com – Credit | © Western Cabinets
---
Very Small Bathroom Design with Full-height Glass Backsplash Tiles
When designing a small bathroom, tiles play a crucial role that can affect the overall design and if you want to give a more spacious feel for your tiny space, consider expanding your backsplash tiles through the ceiling! The gray glass triangle tiles create an accent wall behind the vanity. Enriched by tonal variations, the full-height placement of these green tiles enhances the atmosphere while the wood floating vanity with white vessel sink creates a cohesive look with the tiles.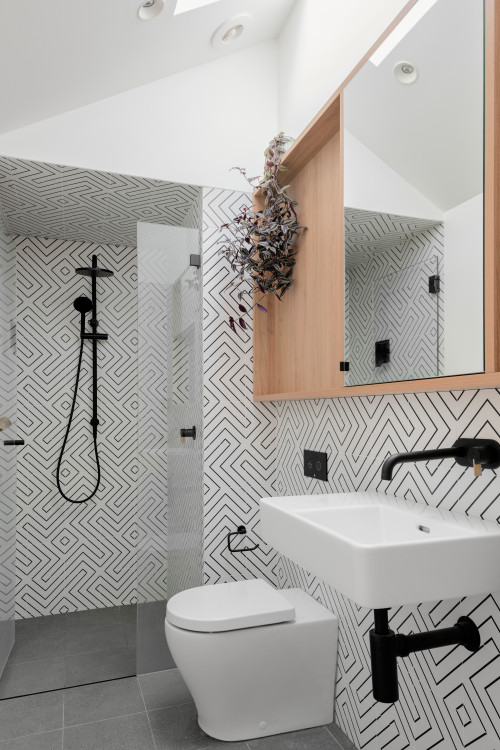 ID# 172106 | Houzz.com – Credit | © Benedict Design
---
Black and White Small Bathroom Tile Ideas with Timber Cabinets
Designing a small bathroom doesn't mean that you need to sacrifice patterns and textures! As you can see in this contemporary bathroom, the black and white patterned tiles surround entire wall surfaces and provide a playful backdrop to a simple black, white & timber palette. Keeping the bathroom furniture plain is a great way to highlight these eye-catching tiles. The black accents perfectly complement the contemporary appeal of the tiles while the timber built-in cabinets break the monochrome color scheme to bring warmth to the atmosphere.
Tile Options for Small Bathrooms
Tile selection is very important in small bathrooms. The aim here is to get good effects from the space by refreshing the eyes with the right tiles and the right laying style. While light colors are the right choice for small spaces, for example, when they are laid towards the longest side, the eye follows this and creates a wider effect. Also, tiling completely in small areas can create claustrophobic effects, so tiling halfway can create a nice space with nice paint and wallpaper on the top. Chevron flooring is an example that helps to make the space look larger.
Considering the shower parts with glass partitions leave a more spacious effect in the area with the effect of transparency. Generally, it uses light-colored tiles in an area dominated by dark colors and offers spacious effects in small areas with the reflective effect of the light.
Small Bathroom with Subway Tile Ideas
Durable material with a timeless appeal, subway tile is also a natural and beautiful choice for your bathroom design. They are easy to clean, versatile and cost-effective. It can be easily used on the walls and floors of small bathrooms. Whether it is a classic white subway tile backsplash or colorful shower wall tiles, these beautiful tiles are the most failsafe options that never go out of style!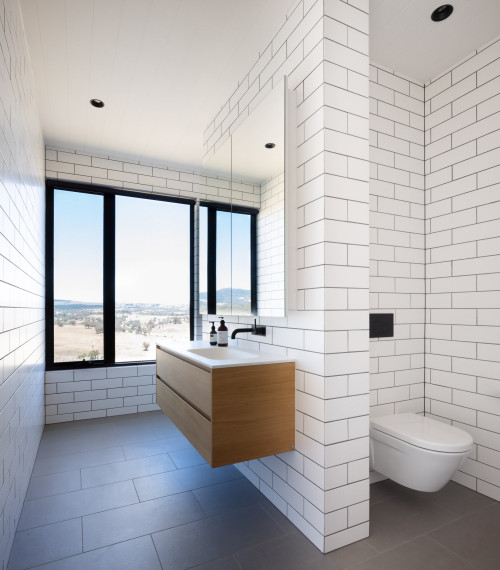 ID# 172107 | Houzz.com – Credit | © Modscape
---
Small Bathroom with Subway Tile in Contemporary Design
In the bathroom, which consists of large windows, the usage areas are quite narrow. The reflection effect of light is used by using white subway wall tiles. The dark tiles used on the floor bring the spacious effect of the white walls to the fore. It offers a modern look with a light wooden hanging cabinet and a white sink counter. A sense of depth is created by using a straight mirror throughout the entire cabinet, creating a larger feeling in the bathroom.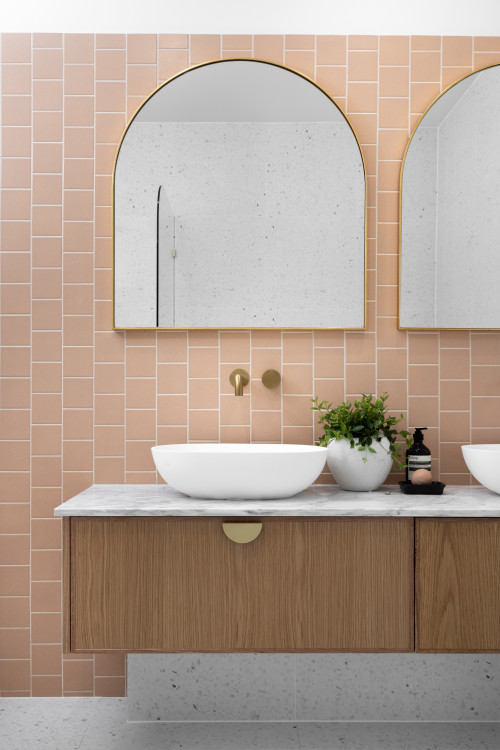 ID# 172108 | Houzz.com – Credit | © KjK Interiors
---
Pink Vertical Subway Tiles with Arched Mirrors and Wood Vanity
Subway tiles are classic or bathroom designs but if you are working on a small space and want to enhance the space feel, laying the tiles in vertically will help you to achieve your goal! As you can see in this contemporary design, the pink subway tiles laid vertically create a sleek backdrop that makes the space feel higher. Topped with a marble countertop and white vessel sinks, the wood bathroom vanity complements the warm appeal of the pink tiles while the arched mirrors and gray terrazzo floor tiles make a cohesive final touch.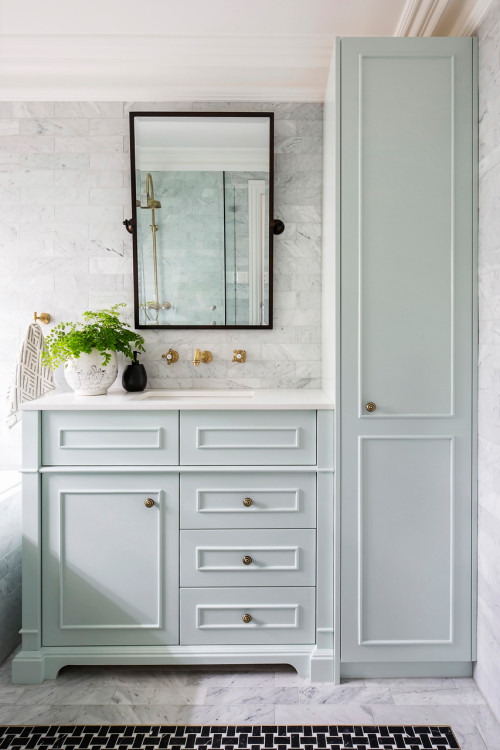 ID# 172109 | Houzz.com – Credit | © Christina Reed Interiors
---
Traditional Kid's Bathroom with Light Green Cabinets and Marble Subway Tiles
Clean, fresh, and classic… This traditional bathroom offers a unified look with its light color palette and high-end material choices! As a backdrop, the marble subway tiles surround the wall and floor surfaces and provide a bright atmosphere with a touch of opulence. The light green shade of the bathroom cabinets perfectly complements the marble tiles while the brass accents add a dose of glamour.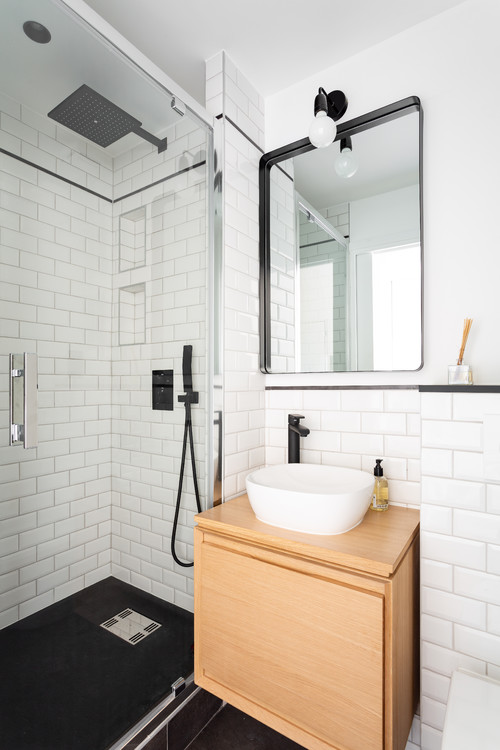 ID# 172110 | Houzz.com – Credit | © Mon Concept Habitation – London
---
White Beveled Subway Wall Tiles with Light Wood Bathroom Cabinets
A little bathroom such as this one is made up of everything you need because of the clever use of available space! One excellent example of clever spatial utilization is the recessed shelf to store champoos on the shower side. In addition to creating a striking contrast, the white-black color scheme manipulates the bathroom's dimensions to provide the impression of greater space. Softening the contrast with its wood body, the floating vanity helps keep the floor level empty to aid in an impression of spaciousness. Not to mention, the entire wall, including the shower walls, is surrounded by classic subway tile with beveled edges that create a roomy and light bathroom.
Small Bathroom with Herringbone Tile Ideas
Herringbone tile is a great choice for bathrooms if you want to instantly create a significant impact with your design! Herringbone tile patterns are made by arranging a series of rectangular tiles diagonally to form an interlocking pattern. Any sufficiently large rectangular tile can be used to get the desired look. Depending on the material, herringbone complements both traditional and modern design aesthetics!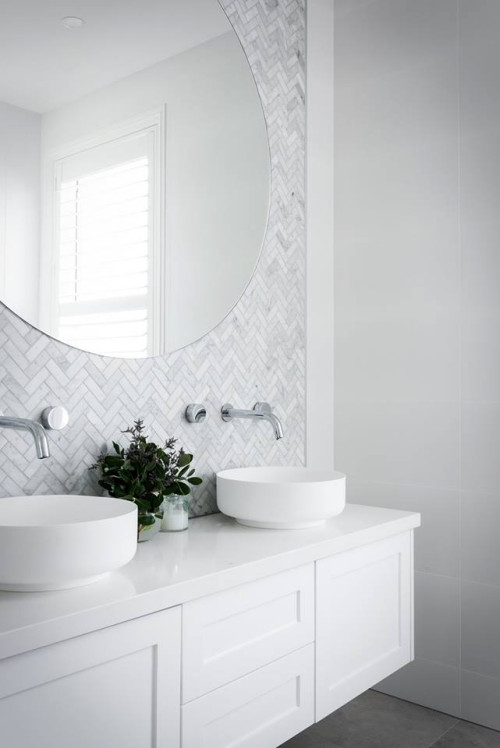 ID# 172111 | Houzz.com – Credit | © Apex Constructions N.S.W
---
White Farmhouse Bathroom with Marble Herringbone Backsplash
White, gray, and a touch of chrome… This combination is your savior if you want to create a classic and stylish look for your small bathroom! The white floating vanity creates a seamless look with the white quartz countertops and white vessel sinks. Enriched by a marble pattern, the herringbone backsplash tiles inject a dose of luxury into the space while the chrome wall-mounted faucets make a sparkling touch that enhances the contemporary aesthetic. For a final touch, the circular oversized mirror brings depth to this monochrome design.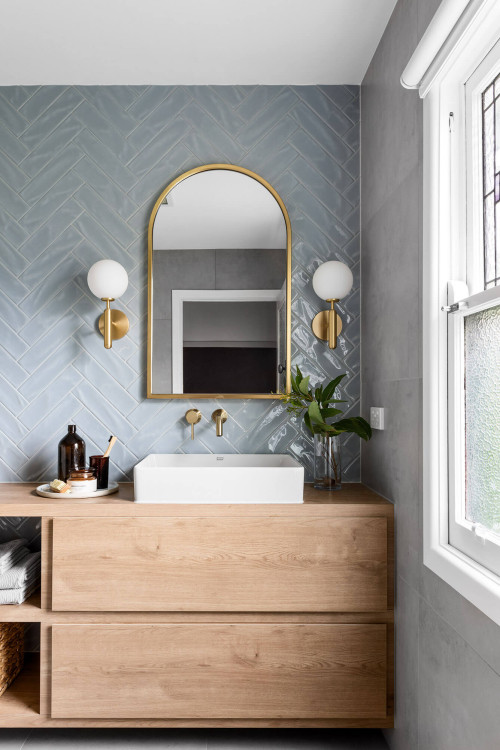 ID# 172112 | Houzz.com – Credit | © M.J.Harris Group
---
Blue Herringbone Small Bathroom Tile Ideas with Brass Accents
A neutral color palette can help you reach your aim of creating a warm and welcoming atmosphere in your little bathroom! The light wood vanity with a white vessel sink serves as a sleek and stylish foundation for this modern bathroom. The blue herringbone tiles which extend into the ceiling, provide a tranquil and soothing ambience with a beach flavor. Brass touches such as the frame of the arching mirror and the wall sconces, provide a finishing glitter to the design.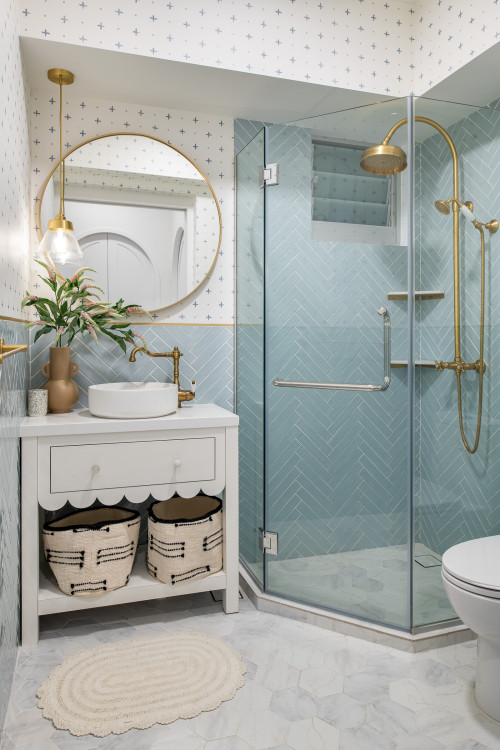 ID# 172113 | Houzz.com – Credit | © Patrick Lau
---
Blue and White Bathroom with Patterned Wallpaper and Brass Details
You may lose yourself in this exquisite bathroom, which has been cozily decorated with wallpaper that has diamond designs all over the white walls! Below is a sky blue bathroom backsplash made of pastel blue herringbone tiles. Warming tones and a hint of sparkle are added by the brass accents, which also lend elegance to the white furniture-like vanity and white marble hexagon pattern flooring.
Small Bathroom with White Tile Ideas
White tiles are always a timeless and classic choice for bathrooms and if you are working on a small space, these tiles will be your savior! Designing a small bathroom might be a daunting task but it is surprisingly achievable with white tiles! Ranging from the subways to hexagons, penny rounds and squares, designing your small bathroom with white tile ideas will open up a world of possibilities for creating a bright, airy and sophisticated space!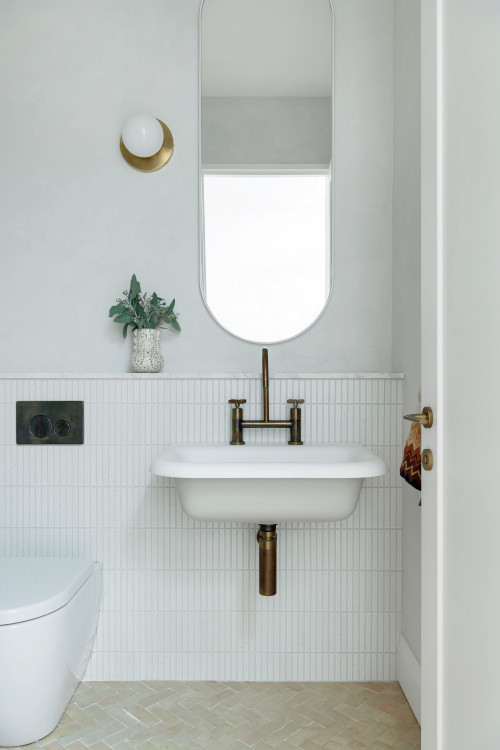 ID# 172114 | Houzz.com – Credit | © Arcologic Design
---
White Small Powder Room Design with Kit Kat Tiles
Clean, sleek and minimalist… Surrounded by bright white colors, this tiny powder room provides a unified look with a spacious atmosphere. Even though the white color dominates all the surfaces, the addition of Kit Kat tiles creates a nice textural look that enhances the overall design. The antique brass details are other eye-catching elements that break the white domination to bring warmth to the atmosphere.
Is it better to have big tiles in a small bathroom?
Due to their minimized grout lines, large-format tiles provide cleaner and uncluttered appeal than smaller ones which is very important for small bathrooms. So, yes it might be a better idea to have larger tiles for your tiny bathroom.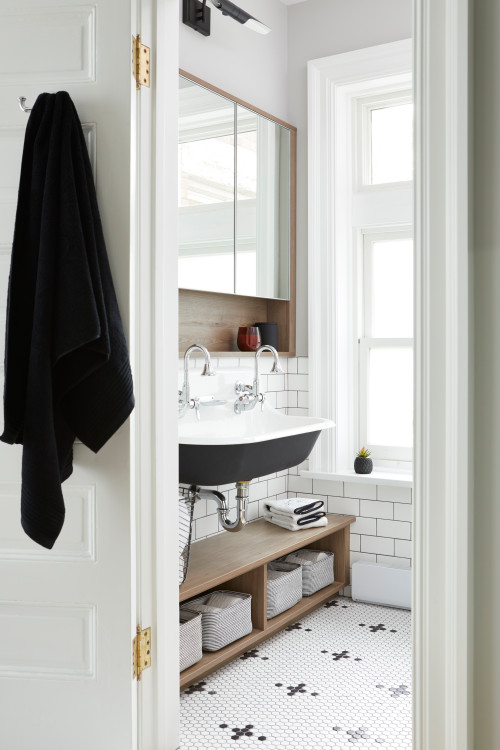 ID# 172116 | Houzz.com – Credit | © Square Footage Inc.
---
Black and White Small Bathroom Tile Ideas with Chrome Fixtures
When designing a small bathroom, the black and white color scheme with a touch of wood might be the perfect combo that creates a stylish appeal with a spacious atmosphere! To jazz up this classic combination, tiny details can make big differences. The black and white patterned penny floor tiles and the chrome accents make these differences in this case. The white subway tiles provide a nice textural backdrop with their black grout while the black trough sink creates a contrasting look against the white features. The wooden cabinet below the sink and the wooden frame of the mirrored upper cabinets bring warmth to the atmosphere.
Small Bathroom with Vertical Tile Ideas
Have you ever wondered how to make the most of the space in your little bathroom? We've got the solution: vertical tiles! Consider your bathroom to be comfy but a touch claustrophobic and then—bam! Vertical tiles are used to solve the problem. Because of their excellent optical illusion, your bathroom appears taller and larger than it actually is!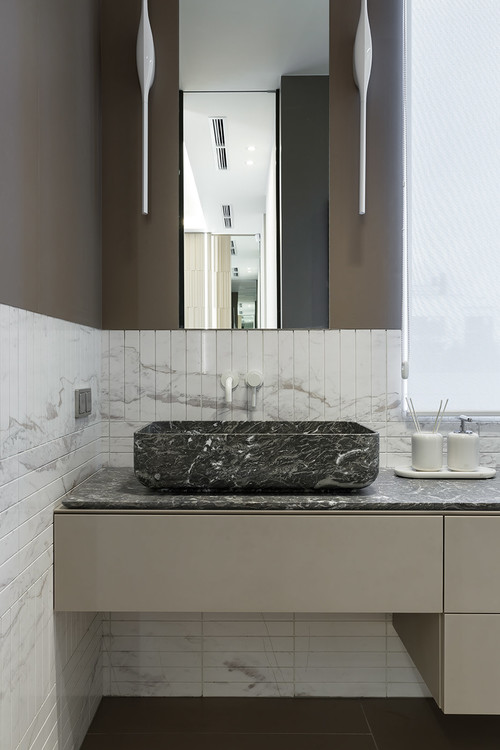 ID# 172117 | Houzz.com – Credit | © Suite n. Seven
---
Beige Vanity with Stone Vessel Sink and Countertop
Even if you are remodeling a small bathroom, you don't have to sacrifice style! As you can see in this modern bathroom, the carefully selected materials and color scheme produce an incredibly chic appearance that is also practical. The elegant backdrop is created by the white marble backsplash tiles, which serve as a work of art. The floating beige vanity, which is topped with a black stone vessel sink and countertop, improves the foot area.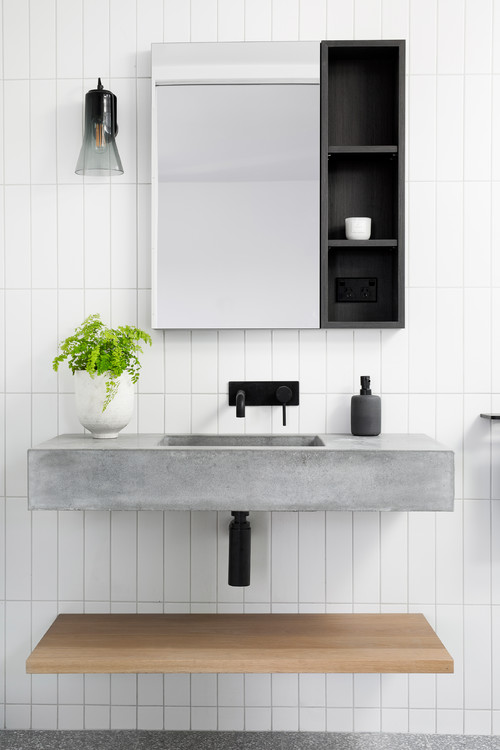 ID# 172118 | Houzz.com – Credit | © Elite Custom Homes
---
White Small Bathroom Tile Ideas with Floating Concrete Vanity
Enriched by clean and modern lines, this bathroom design creates a very simple and natural elegance! For the floor level, gray floor tiles are used while white vertical subway tiles are applied to all walls. The concrete-suspended washbasin counter exhibits a cool stance and a wooden shelf is placed under it with a warm effect. The upper cabinet with black open shelves and the mirror, together with the black glass sconce lighting used next to it, create the fine details that complete the space.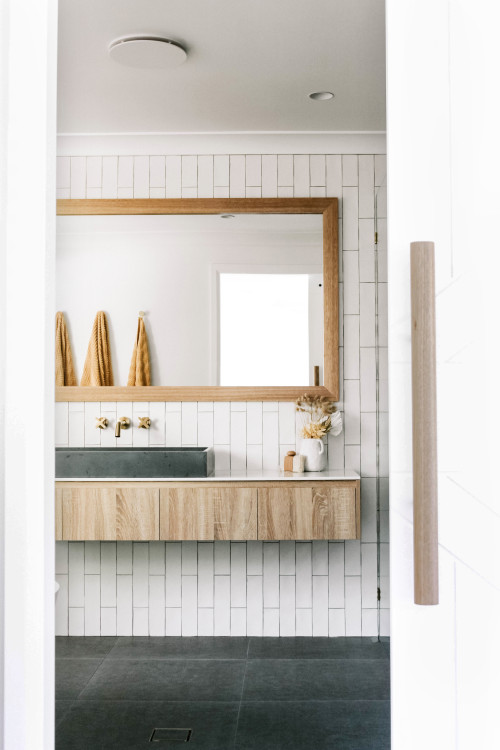 ID# 172119 | Houzz.com – Credit | © ABI Interiors
---
Rustic Industrial Bathroom Design with Floating Vanity and Stone Vessel Sink
Subway tiles are the most popular backsplash material because they provide a timeless look! However, if you want to brighten up this classic style, why not arrange the tiles in a vertical layout? The vertical subway tiles in this industrial bathroom design create a clean and streamlined backdrop while the vertical layout makes the area feel higher and more expansive. The rustic wood vanity and wide mirror stand out against the white tiles, adding a warm feel.
Small Bathroom with Large Tile Ideas
Selecting large tiles for your bathroom is a practical choice with many benefits, not to mention a matter of taste. Less grout lines is definitely an enticing idea if cost-effectiveness and convenience of cleaning are important considerations. These large format tiles have several advantages that go well beyond their size, whether they are contemporary hexagons or iconic subway tiles!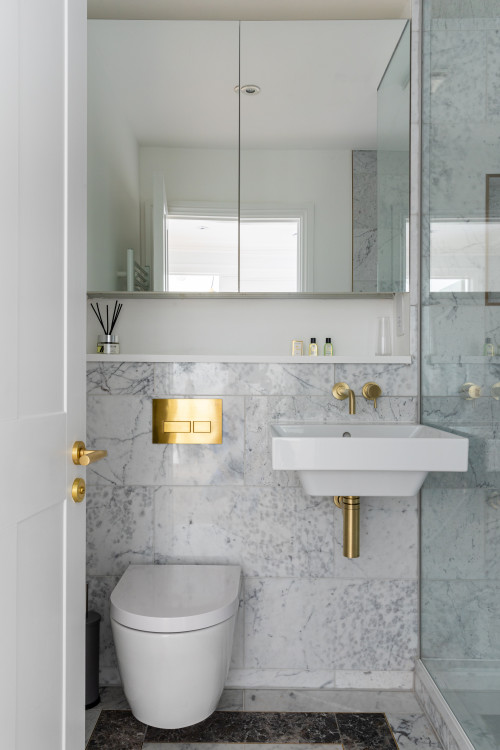 ID# 172120 | Houzz.com – Credit | © Anya Brakha
---
Large-format Subway Small Bathroom Tile Ideas with Gold Details
The luxurious look of the marble gives this tiny bathroom an air of elegance! Using larger tiles is a fantastic technique to give the impression of more space, especially in small bathrooms like this transitional design. The area is given depth by the mirrored upper cabinets and the opulent atmosphere is further enhanced by the gold accents.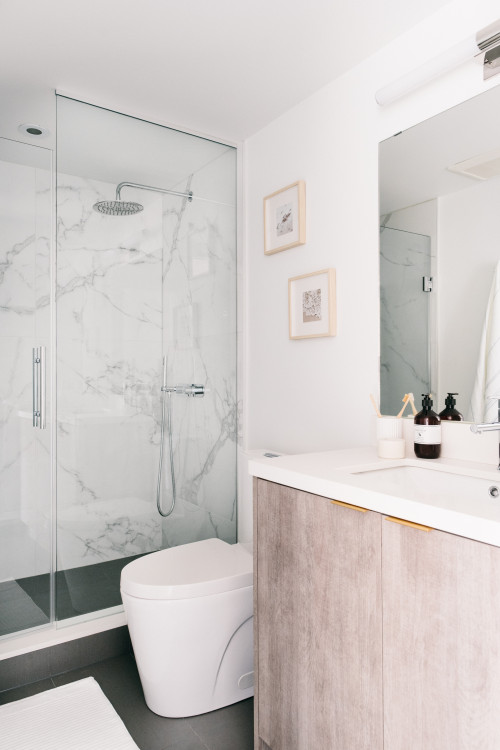 ID# 172121 | Houzz.com – Credit | © Ke Design Collective Inc.
---
Contemporary Bathroom with Porcelain Shower Tiles and Light Wood Vanity
Large-format porcelain slabs are a fantastic alternative if you want to add the opulent charm of marble to your bathroom but the high cost is beyond your means! These slabs round the shower walls to produce a pleasing aesthetic. Richly texturized to resemble marble, these slabs provide an opulent haven and the black floor tiles make a dramatic statement that adds dimension to the room!
How do you tile a small bathroom to make it look bigger?
Choose big format tiles, such as 12×24-inch tiles, to avoid grout lines and give the floor and walls of a tiny bathroom a seamless appearance. To reflect light and make the space feel spacious and open, use light-colored tiles in soft whites or pastels. Think of using vertical stripes or patterns to entice the viewer's gaze upward and provide the impression of height. A sense of coherence is improved by using the same tile for the floor and the walls which blurs visual boundaries. Choose glossy surfaces if at all feasible since they reflect light and lend a subtle glow. The longest dimension of the space may be made to appear larger by using a diagonal tile pattern.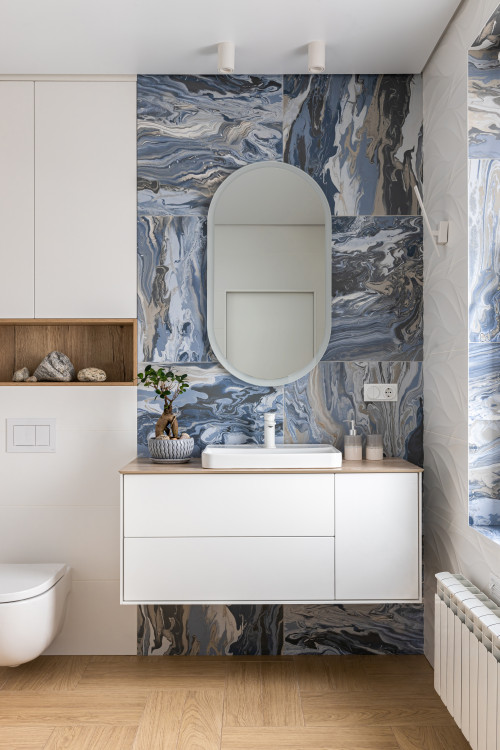 ID# 172122 | Houzz.com – Credit | © Студия дизайна интерьеров 13.12
---
Blue Large-format Small Bathroom Tile Ideas with White Vanity
Wood and marble textures blanket the backsplash and countertop surface respectively, composing a textually rich and well-balanced atmosphere for this small contemporary kitchen! Adorned by a blue weave-like texture, the large-format backsplash tiles bring the serene feel of the ocean. The white floating single sink vanity topped with a wood countertop provides a plain and sleek appeal that allows the backsplash tiles to be the star of the show.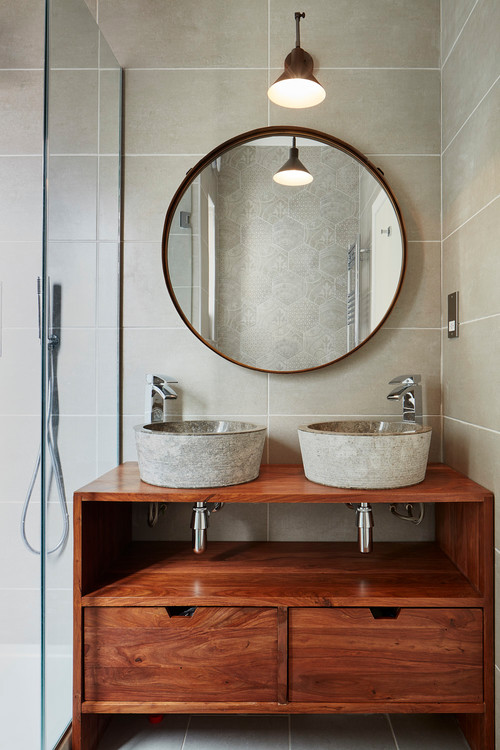 ID# 172123 | Houzz.com – Credit | © Entire Houze Ltd.
---
Beige Bathroom Design with Wood Vanity and Stone Vessel Sinks
This beige bathroom design has a lot of textures and materials which create a cozy and inviting space! The natural grain of the medium tone wood vanity adds a touch of midcentury style to the space while making it stand out! The gray stone vessel sink gives a hint of rustic charm while the huge gray wall tiles provide the vanity a sleek backdrop. The wall-mounted lighting fixture, circular mirror and chrome faucets add a unified finishing touch to the design.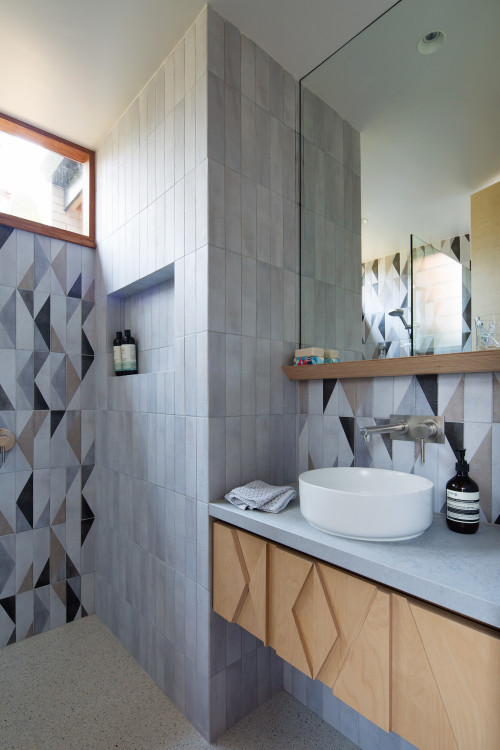 ID# 172124 | Houzz.com – Credit | © Watershed Architects
---
Multicolored Small Bathroom Tile Ideas with Large Frameless Mirror
This chic vanity topped by a sleek vessel sink and a robust concrete countertop, combines the warm charm of wood with the cool elegance of concrete. The colorful geometric backsplash tiles provide a lively element and create a harmonious combination with the soothing gray shower tiles surrounding the shower area. The elaborate vanity door design precisely mirrors the patterns of the backsplash tiles as you peer into the frameless mirror. It is a symphony of colors and textures that transforms the area into a modern interior design masterpiece rather than just a bathroom.
Small Bathroom with Patterned Tile Ideas
Have you considered adding some flair to your tiny bathroom? All you need to do is locate the ideal patterned tiles! Really, a few of these beauties can turn your small area into an incredibly fashionable retreat. The infinite diversity of patterned tiles is what makes them so amazing. Your bathroom may then become your canvas by selecting the ones that go well with your style. It's about becoming your own artist and expressing yourself, not simply about tiles. Therefore, those patterned tiles are your key to a stylish and welcoming bathroom that is a reflection of your own personality rather than just a room!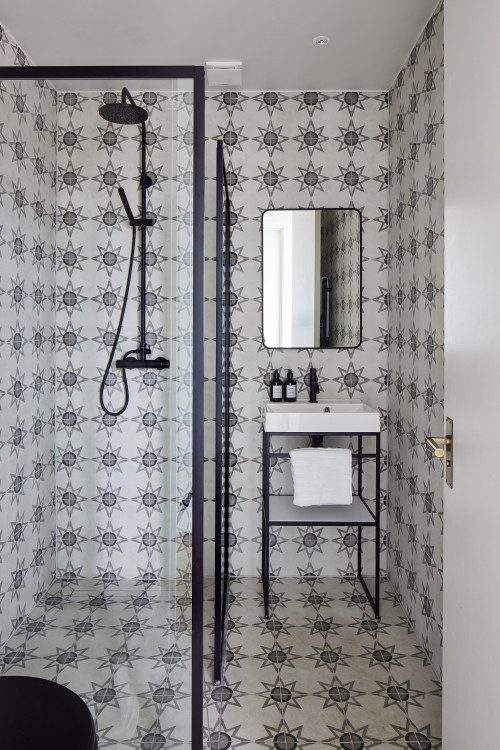 ID# 172125 | Houzz.com – Credit | © Watershed Architects
---
Very Small Bathroom with Patterned Tiles
The uniformity of patterned tiles stretches across both the floor and walls to lend a distinct character to the limited space! Adorned by intricate patterns, these small bathroom tiles add depth and texture to the room while the simplicity of the rest of the furniture allows the tiles to be the 'star' of this show.
Do small tiles make a room look bigger or smaller?
The impact that the tiles have on the environment of the room changes depending on their colors and patterns! Your little bathroom will feel light and cheery, for instance, if you choose tiny tiles in pastel and white tones. An area may appear smaller if it is painted in darker, light-absorbing hues like black, brown, or deep gray. Furthermore, using tiles with a busy pattern could be too much for tiny spaces. Because of this, large-format tiles seem less crowded, yet the right tiny tile might also give this effect!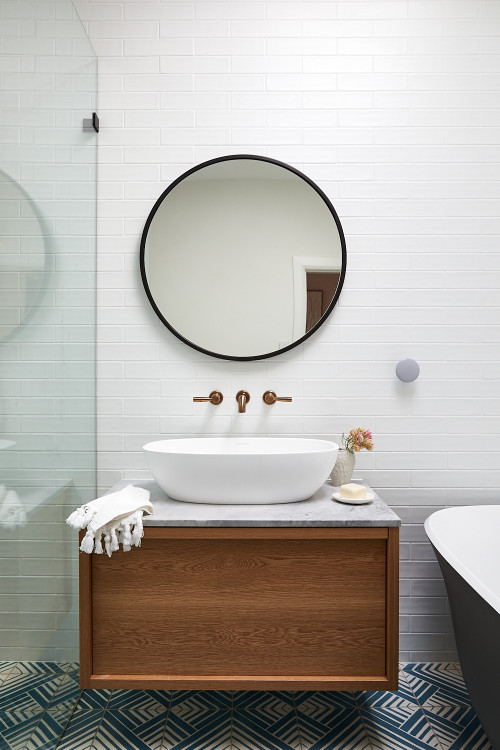 ID# 172126 | Houzz.com – Credit | © Blue Tea Kitchens and Bathrooms
---
Patterned Floor Tiles with Single-sink Vanity and Marble Countertop
A subway tile is the best choice if you want to mix the timeless design with the purity of white! The white subway wall tiles in this beach-style bathroom give a subtle textural element and serve as a crisp and fresh backdrop for the rest of the area. The white subway tile bathroom backsplash contrasts sharply with the little wooden floating vanity that creates a focus point.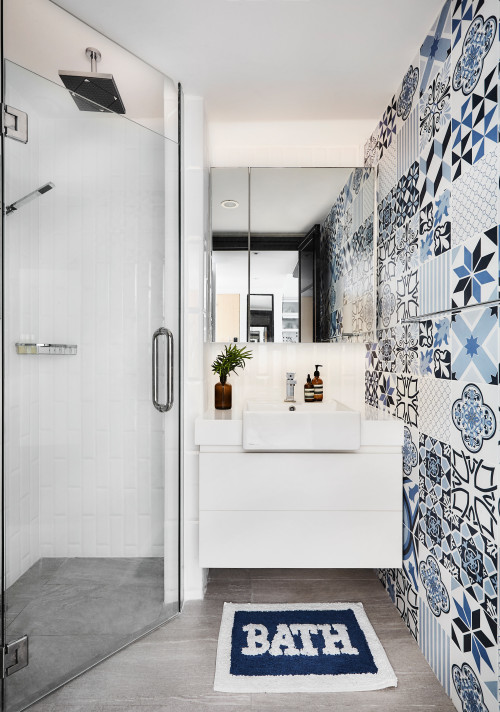 ID# 172127 | Houzz.com – Credit | © AMP DESIGN CO. PTE.LTD
---
Small Modern Bathroom Design with Patchwork Tile Ideas
The majority of the area is covered in a canvas of clean white square tiles and gray flooring which provides a modern and classic backdrop for this minimalist bathroom design. The wall on the right side becomes an accent wall and comes alive with eye-catching patterned tiles in vibrant blue hues.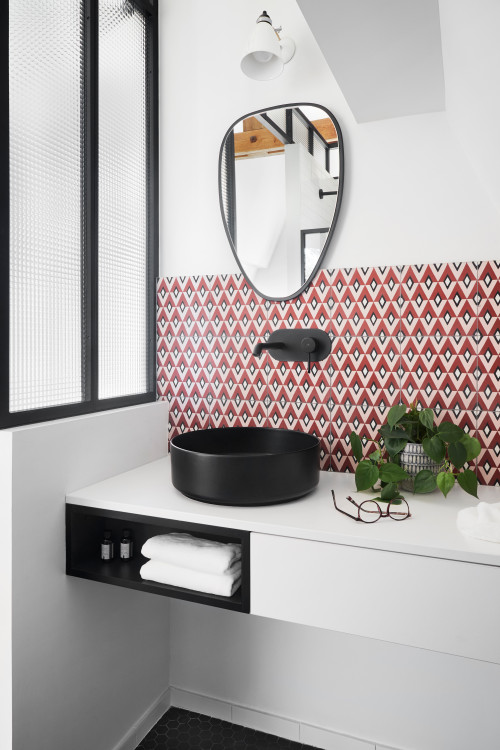 ID# 172128 | Houzz.com – Credit | © La Valise Rouge
---
Multicolored Backsplash Tiles with White Vanity and Black Vessel Sink
The striking red backsplash in this modern bathroom which features woven geometric designs and subtle hues, contrasts with the white walls to prevent a clinical appearance. Thus, to create a striking modern design, the basic white color scheme is reinterpreted with geometric patterns and vivid hues. Upon closer examination, the white floating vanity and black washbowl form a nest that adds visual drama and depth. The floating vanity is primarily white, but to maintain integrity and provide a dramatic contrast while the fascinating design of the mirror at eye level also encourages interaction with the area.