31+ Subway Tile Bathroom Backsplash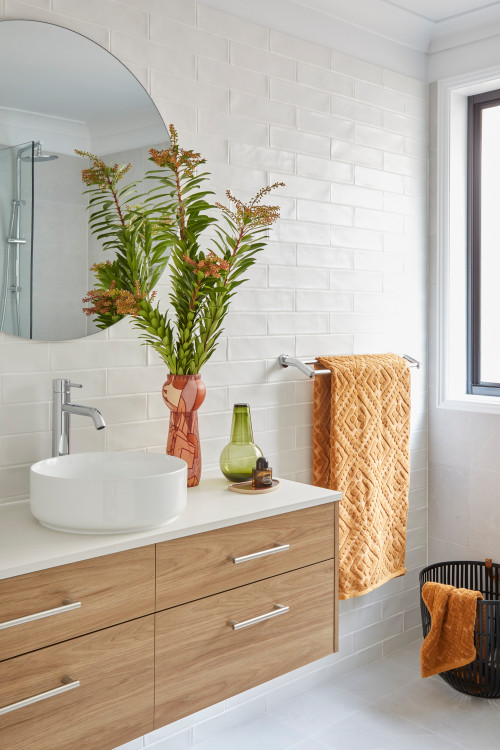 ID# 147301 | Houzz.com – Credit | © HOME by belle
---
Full-Height Subway Tile Bathroom Backsplash with Timber Floating Shelf
One of the best ways to make your bathroom stand out is to use a full-height bathroom backsplash. Here, this modern bathroom goes with subway tiles laid in an offset pattern. The timber floating shelf makes this bathroom feel warmer, while curved accessories and a round accent mirror bring in soft features to contrast the minimalist lines of modern designs. From the vessel sink to the colored cubist vase and a green bottle, each piece elevates the aesthetic value of the bathroom. Chrome hardware and white floor tiles complement the overall look.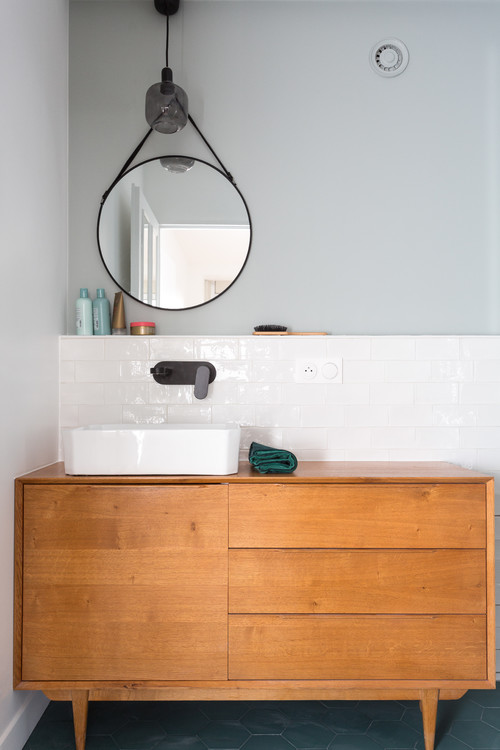 ID# 147316 | Houzz.com – Credit | © on Concept Habitation
---
Scandinavian Bathroom with White Backsplash and Green Hexagon Floor Tiles
The casual and relaxed atmosphere of this Scandinavian bathroom springs from the timber vanity coupled with a white sink and a white subway tile backsplash. The satin finish on the backdrop adds a beautiful sheen, while a black-framed mirror accentuates the wall. The top walls are light blue that instills calmness, while the green hexagon tile floor finish introduces natural colors that team up perfectly with the wood vanity.
Subway Tile Bathroom Backsplash
In high-traffic and wet rooms like bathrooms, the backsplash is one of the most important elements in terms of functionality to protect the walls from water splashes, mold, and mildew. But when you add such a functional element, it wouldn't feel wrong to make it something timeless and beautiful to create a design-savvy look. And if you don't feel adventurous enough and prefer to play safe, a fail-safe option exists, which is the subway tile bathroom backsplash. Subway tiles are one of the most popular options for a bathroom backsplash as well as a kitchen backsplash.
A subway tile bathroom backsplash is available in a wide array of color and material options, from marble to glass, metal, and ceramics. Plus, thanks to the several layout options, you can make different aesthetic statements. And as long as you juxtapose them with the right combinations and some personal touches, you can provide a new outfit for traditional subway tile bathroom backsplashes. To familiarize yourself with some concrete examples, check out this blog where we gathered bathroom designs with subway tiles for you to fire up your imagination.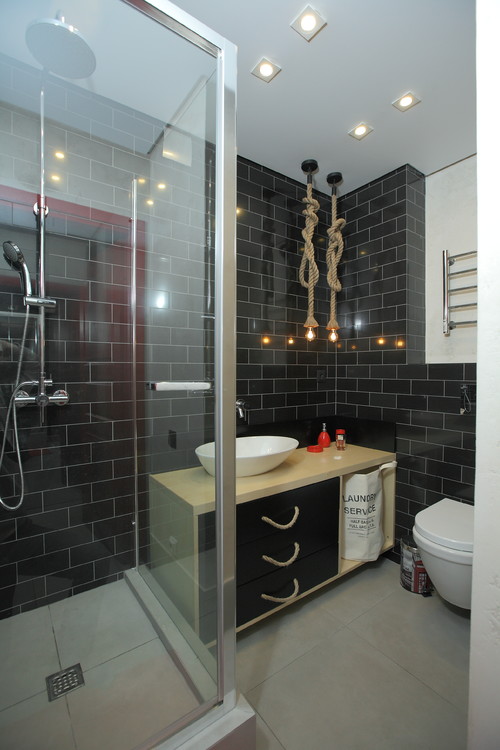 ID# 147302 | Houzz.com – Credit | © Workshop interior Accent
---
Contemporary Bathroom with Black Subway Tiles and Vessel Sink
This very masculine contemporary bathroom has a sense of casualness with an industrial vibe and rustic edge. The black subway tiles stretching from floor to ceiling create a solid background, while the walk-through shower with glass enclosure truly exposes itself. The black-painted vanity topped by a veneered countertop accommodates a vessel sink for a layered look. The rope pendants with light bulbs provide an elementary look, matching the vanity handles, again, made of rope. These well-thought-out additions set this contemporary bathroom apart from its counterparts.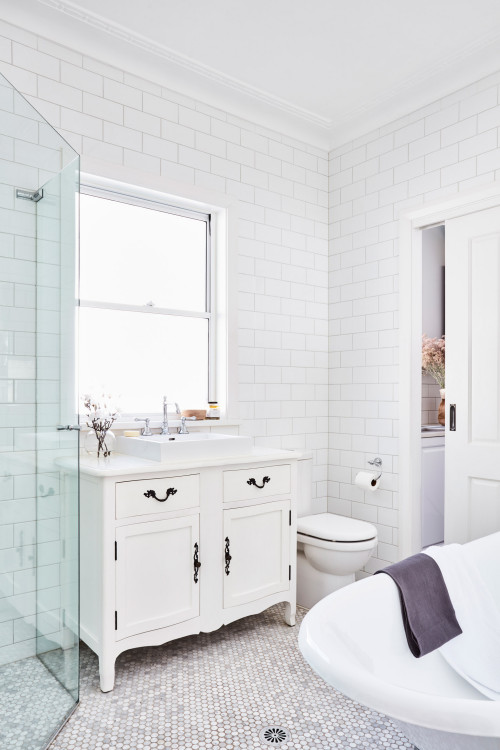 ID# 147303 | Houzz.com – Credit | © BCD Building Pty Ltd
---
All-White Transitional Bathroom with Wraparound Backsplash and Freestanding Bathtub
In high-traffic and wet rooms like bathrooms, it is best to get a wraparound backsplash for full protection rather than installing one only for the shower and vanity. Here, this monochromatic transitional bathroom prefers a white subway tile wraparound backsplash that brings the design together. The white vanity with ornate hardware and pronounced hinges gives the bathroom a classical spin. The small marble tiles coat the floor to provide a non-slip, user-friendly environment, thanks to the friction. The walk-in shower and freestanding bathtub enrich the bathroom experience of its users while keeping things both modern and classic.
How to install subway tile backsplash in the bathroom?
Installing a backsplash requires a level of dexterity and good planning. But with subway tiles, it gets easier, especially if you are going to stack them, and unless you plan to lay them in a herringbone or chevron pattern. But for a typical subway tile installation, it feels less stressful and daunting.
Before starting to lay the backsplash, remove all of the hardware and electrical plug outlets. Then cover the countertop and cabinet with a plastic sheet. Clean the backsplash surface that needs to be perfect with no detritus, dust, dirt, or cracks. To do so, you can use sandpaper. After sanding, don't forget to clean the residual dust with a soft cloth or vacuum cleaner.
Installation
When you are ready to apply the adhesive to the wall, use a notched towel. Try not to get any lumps and keep the adhesive as smooth as possible. While applying the tiles, benefit from spacers to leave even space between them. It is recommended to start tiling from the center (that you marked before) and lay the tiles along the wall by moving from the center to the outer. Clean any excess glue on tiles before it dries.
After completing the installation, for the next 24-48 hours, you need to wait for the backsplash to completely cure. Then you can come back to apply the grout. Choose your grout color. If you wish you can get a premixed one to keep things simpler or mix it yourself by following the instructions. Apply the grout with a grout float across the backsplash surface diagonally. Make sure that the joints between the tiles are filled. Wipe away any excess with a damp sponge.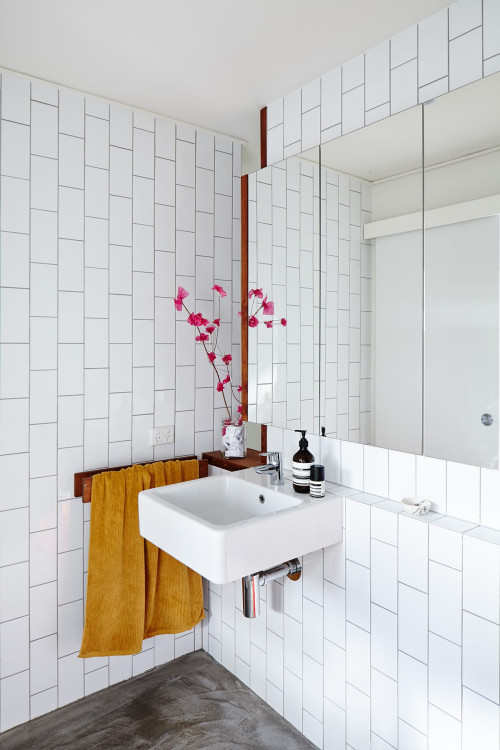 ID# 147304 | Houzz.com – Credit | © Owen Architecture
---
Subway Tile Bathroom Backsplash with Timber Accents and Medicine Cabinet
Here, this pint-size bathroom uses a wall-mounted sink rather than a vanity that occupies a larger space. And to compensate for the lack of storage, a mirrored medicine cabinet is installed above the sink by killing two birds with one stone. In the background, the white subway tiles protect the walls from water splashes. Laid vertically in an offset pattern, it extends the visual scheme on the vertical axis, wrapping around the entire room. On the floor, the rustic-looking dark floor grounds the all-white look of the upper space. Designers also don't forget to incorporate wood accents and a pink flower to enliven the bathroom.
Material Options for Subway Tile Bathroom Backsplash
Ceramics, marble, porcelain, glass, stainless steel, metal, and mosaic are some of the most popular options for subway tile bathroom backsplashes. And if you are looking for a low-maintenance material, glass, ceramics, steel, metal, and porcelain subway tiles stand out among their counterparts. And among the most budget-friendly ones, we can include porcelain and ceramic tiles.
Ceramic Subway Tile Bathroom Backsplash
Highly customizable and cost-effective, ceramic tiles are one of the homeowner-friendly material options on the market. The limitless color and design options, including the printed ones, offer the perfect tile profile for any look. If you love Tuscan and Mediterranean-inspired looks, their colored and printed versions can compete with the encaustic tiles. If you want something more contemporary, geometric patterned ones are available. The same limitless options go for ceramic subway tile backsplashes, too, which are available in a wide array of colors. Plus, in functional terms, they are easy to clean and maintain, providing practical options without requiring regular sealing.
However, if you want the advanced version of the ceramics, you can consider porcelain tiles fired at higher temperatures and consisting of some additives and minerals that make them stronger and less absorbent.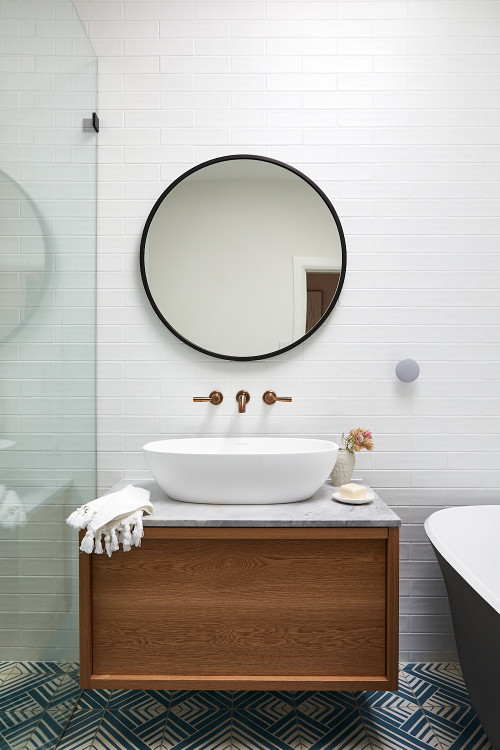 ID# 147305 | Houzz.com – Credit | © Blue Tea Kitchens and Bathrooms
---
Eclectic Bathroom with Subway Tile Bathroom Backsplash and Floating Vanity
Designed to be eclectic and refined, this modern bathroom features rigorously proportioned elements so that they don't encroach on the space. First, it uses a floating vanity to keep the floor level freer. Secondly, it goes with a glass subway tile backsplash laid in an offset pattern that puts the space in motion on the horizontal axis for extra interest. The multi-colored diamond-geometric patterns, likewise, add pops of color, giving the bathroom a whimsical spin. Antique-brass hardware, black accents, and a rounded mirror bring in complementary aesthetic values without intervening with the integrity of the design.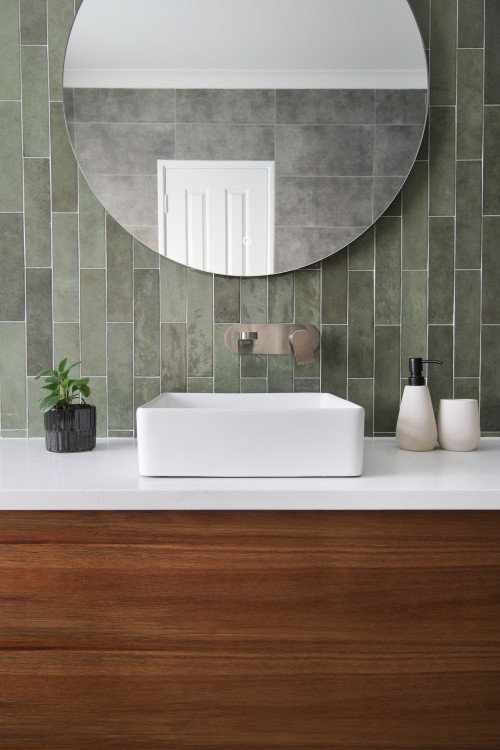 ID# 147306 | Houzz.com – Credit | © On The Ball Bathrooms
---
Green Ceramic Subway Tile Backsplash with Floating Vanity and White Countertops
This mid-century modern bathroom, not surprisingly, chooses a vivid wood shade for the floating vanity to make it the centerpiece of the design, while the soft green ceramic tiles provide a nature-inspired backdrop. Laid in a vertical running-out pattern, these subway tiles give the space a contemporary update, proving that different layout options are possible with the all-time favorite subway patterns. To accompany them, the pristine white countertop and vessel sink make the backsplash and vanity pop. The frameless mirror just blends into the background, reflecting the other part of the bathroom for visual connection.
Is subway tile still in style for bathrooms?
A timeless classic, subway tile backsplash is still in style for bathrooms. And it is used in various ways, be it a wraparound backsplash, cabinet-to-cabinet splash-back, or wall-to-wall backsplash. Additionally, over time, new and modernized layout options got more popular (E.g., horizontal and vertical stacking). And with the advancement of technology, subway tiles have become available in a wide range of materials and formats that expand the design possibilities, which keep them in style and suitable for the ever-changing home design world.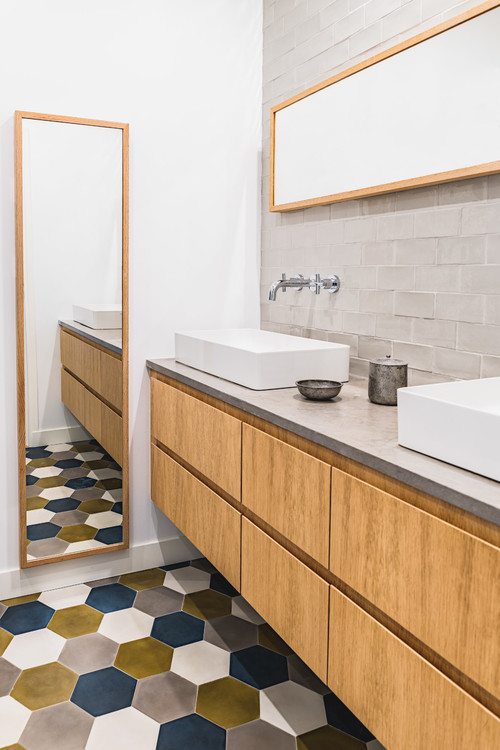 ID# 147307 | Houzz.com – Credit | © Fanny Prat – Architecte d'intérieur
---
Gray Tile Backsplash with Gray Countertops and Multi-Colored Hexagon Floor Tiles
This contemporary bathroom knows how to handle a space. First, it starts by using a gray handmade ceramic tile backsplash that reaches up to the ceiling for full impact. The wall-to-wall timber double floating vanity makes it perfect for couples, assisted by a rectangular mirror. Its timber frame coordinates with the wood vanity, while its double is installed vertically on the wall to offer a private spot for self-grooming. And finally, this nature-inspired design is honored by multicolored hexagon floor tiles (green, dark blue, and gray) to turn it into a space of fun and bring a new dynamic to energize its users. Isn't designing also about having some fun anyways?
Glass Subway Tile Bathroom Backsplash
Eco-friendly, pore-free, and easy to maintain! What else can you expect from a backsplash material? Featuring all these qualities as a high-performance material, glass subway tile bathroom backsplashes keep everything practical for you. Not to mention their eye-catching sheen! But if you don't like their glittering effect, the matte versions are also available. And in case you would like to go green, recycled glass subway tiles featuring marble and wood looks are an excellent option.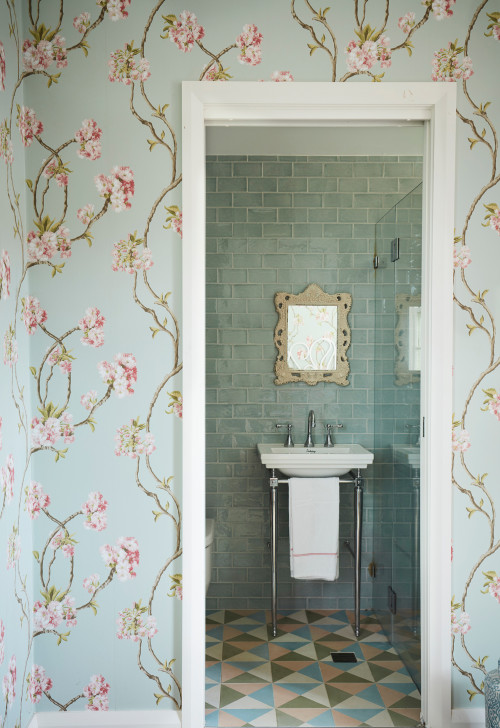 ID# 147308 | Houzz.com – Credit | © No Chintz
---
Green Glass Subway Tile Bathroom Backsplash with Washstand and Geometric Floor Tiles
This enchanting powder room design is founded on the beauty of the green glass tile backsplash that wraps around the entire room to tie the space together. The white washstand with chrome legs adds an elementary figure, accompanied by a chic gold brass frame. On the floor, the multicolored triangles form squares that create a more intimate atmosphere that makes you feel at home right away.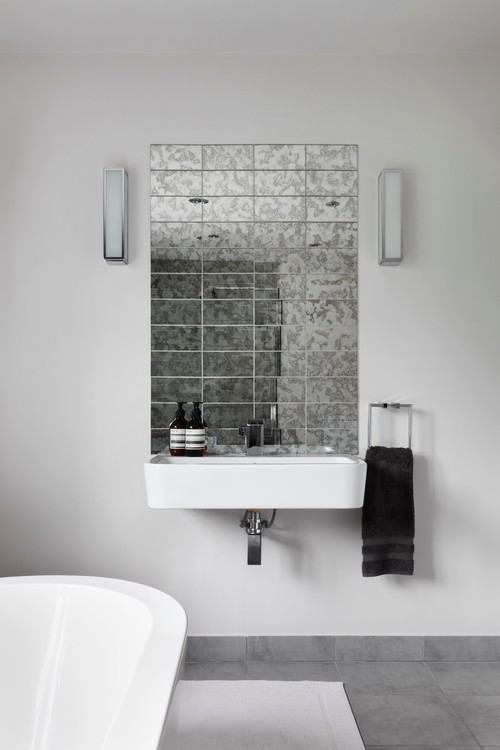 ID# 147309 | Houzz.com – Credit | © Amelia Pearson Interiors
---
Antique Glass Tile Backsplash with Wall-Mounted Sink and Freestanding Tub
Sticking to the basic needs of the bathroom experience, this modern bathroom in London welcomes its users with a wall-mounted sink and freestanding bathtub. Skipping on storage or unnecessary accessories, it proposes a minimalist look that has everything in it. The antique glass subway tile not only provides a backsplash but also a mirror of sorts that gives the bathroom a lived-in and nostalgic feel. The white runner placed near the freestanding tub makes the floor safer to land on for the bathers.
Are subway tiles good for small bathrooms?
Bathroom subway tiles work in any style (modern, traditional, transitional, contemporary, etc.) and any space whether it is big, small, or medium-sized. Plus, with a few design tricks, you can make small bathrooms feel taller and wider. The key point lies in the layout options. For example, if you have low ceilings, you can lay subway tiles vertically to give the room extra height. Whether you stack them or lay them in an offset pattern is up to you. But if you aim to expand the bathroom horizontally, then it is better to install them horizontally. Also, you can consider slimmer versions of the subway tiles, which again helps you experiment with the scale of the space.
In addition to those, you can lay the subway tiles in different ways, for example, to distinguish the shower zone from the vanity. Or use different shades to create diversity. When planned properly, the color variation also encourages small spaces to feel larger and higher. In short, subway tiles are good for small bathrooms.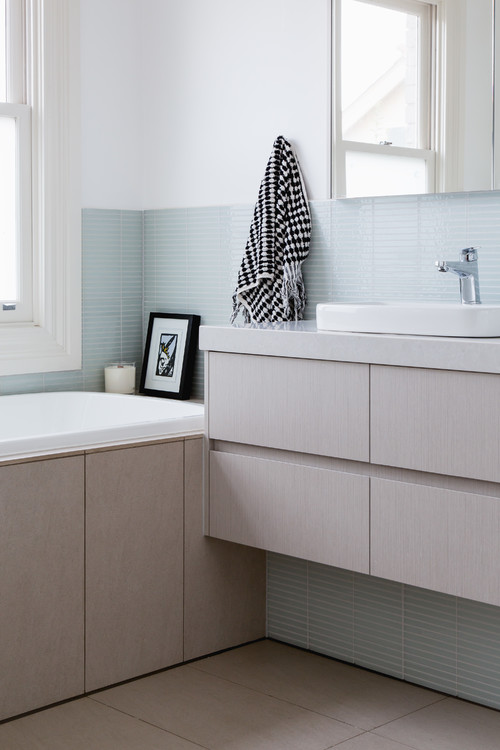 ID# 147310 | Houzz.com – Credit | © VMD Interiors
---
Blue Glass Kit Kat Tile Backsplash with Wood Vanity and White Countertops
In this modern bathroom, the blue glass kit kat tile backsplash stretches from the floor to the mirror to provide full protection for the walls. The soothing shade of the glass tiles pairs perfectly with the light wood floating vanity. To accompany them, the beige rectangular floor tiles- that mimic the form of the vanity drawers- also continue on the tub, creating a continuous design. A black framed print, candles, and patterned towel add further interest to the design, packing it with a punch of personality.
Where do I start my subway tile backsplash?
Whether it is the subway tile or some other pattern backsplash, a typical backsplash starts at the level of the countertop and extends 4 inches up minimum. The higher ones can reach up to 6 and 8 inches and even to the ceiling. Some designers also prefer installing a backsplash behind the vanity- that stretches from floors to ceilings. Or better, if you wish and have the budget, you can use a wraparound backsplash.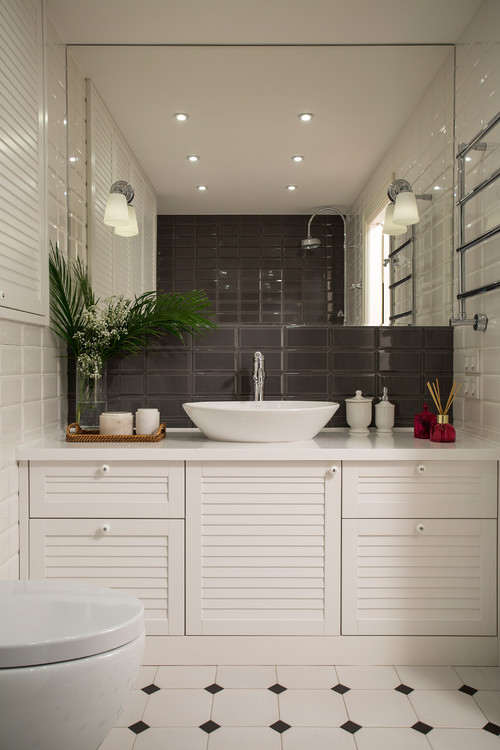 ID# 147311 | Houzz.com – Credit | © Katerina Averkina
---
Transitional Bathroom with White Vanity and Gray Subway Tile Bathroom Backsplash
Using an oversized mirror helps significantly to make the bathroom feel larger and brighter. This transitional bathroom applies the same strategy while also going with a well-planned, layered lighting system with spotlights and wall sconces to make the interior feel more dimensional. And to define the walls, it utilizes two backsplashes. First, it stacks gray glass subway tiles to create a focal point. And on the side walls, gray tiles are traded with white glass square tiles to help brighten the interiors. The white vanity, white floor tiles, and a vessel sink along with chrome hardware collaborate to make the bathroom feel chic, comfortable, and functional.
Marble Subway Tile Bathroom Backsplash
If you seek something that contributes to the upscale feel of the room, a marble subway tile backsplash is the way to go. It is elegant, sophisticated, and perfectly suitable to create luxurious designs. If you have the budget, you can use marble subway tiles as a wraparound backsplash to create a continuous design and pull the space together. Brass or chrome hardware, freestanding bathtubs or walk-through showers, wood vanity, and smoked mirrors can be paired with marble subway tile backsplashes.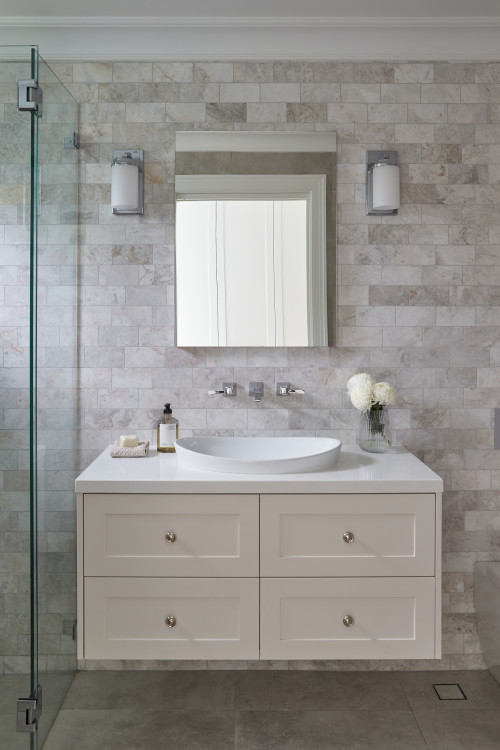 ID# 147312 | Houzz.com – Credit | © Feng Shui Concepts
---
Marble Subway Tile Bathroom Backsplash with Floating Vanity and Brass Hardware
While some designs feel colorful and pronounced, some feel recessed, calm, and tranquil. This contemporary bathroom falls into the second category. It is outfitted with understated floating vanity and a wraparound beige-brown marble subway tile backsplash. The fact that each marble tile features a different shade of brown creates a non-monotonic backdrop while enriching the visual scheme – even though it is muted and subtle-. The white countertop, a duo of basic wall sconces, and brass knobs of the vanity add stylish elements without overcomplicating the look. The glass division of the wet-room-style shower retains the visual connection, underlying the contemporary theme of the bathroom.
What colors go well with white subway tile?
White subway tiles are timeless and versatile. That's why the color and materials combinations you can achieve with them are limitless. To start with the grout, grout color is popularly chosen to be white, gray, black, and sometimes gold. But if you wish, light beige, brown, mossy green, red, and pink are other grout colors that suit white subway tiles. As for the cabinets, again, any color is suitable, while the most popular ones include white, timber, black, and muted blue and green. Finally, when it comes to floor tiles, light gray, soft beige, white, and even multicolored floor designs are welcome, pairing perfectly with white subway tiles.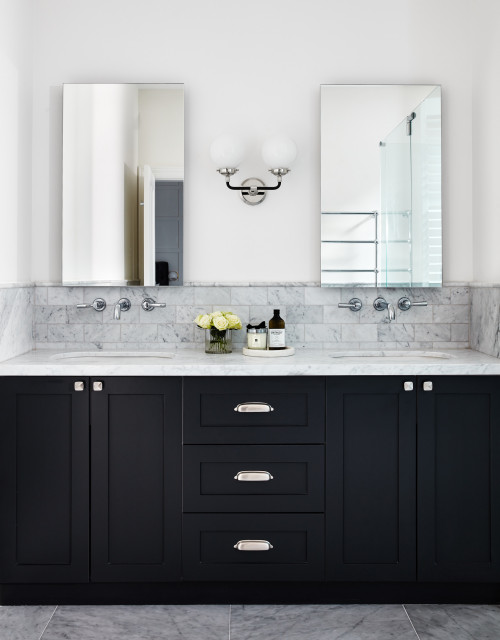 ID# 147313 | Houzz.com – Credit | © March Twice Interiors
---
Black Double Bathroom Cabinet with Marble Subway Tile Backsplash and Chrome Fixtures
To create clean and well-balanced looks, consider a black bathroom cabinet. This en-suite bathroom design accommodates one of them to assert its solid foundation, pairing it with a white marble subway tile backsplash. Stretching between the countertop and the mirror, the marble tile backsplash oozes elegance and feels effective enough even though it runs shorter on the wall when compared to many other backsplash types. To celebrate the elegant union of marble and black, wall-mounted chrome plumbing fixtures and cabinet handles constitute a glam aesthetic.
Design hint: If you want to add nuanced details without complicating the look, just use different cabinet handles. This black cabinet, for example, distinguishes its cabinet doors from the drawer panels. This way, it also provides a more ergonomic design since storage styles demand different forces for pull-and-push actions.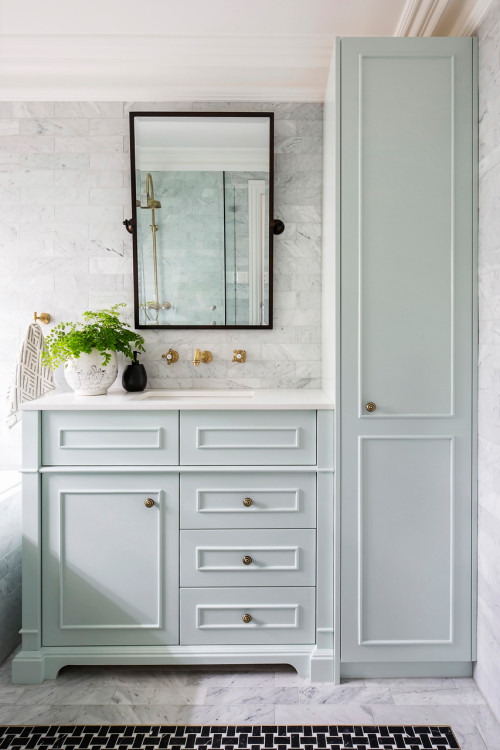 ID# 147314 | Houzz.com – Credit | © Christina Reed Interiors
---
Marble Backsplash and Marble Floor with Muted Blue Cabinets
One step into this bathroom is an instant treatment to daily stress, thanks to its muted blue vanity and the subtle shade marble tile backsplash. Not only that the marble clads the entire wall but also continues on the floor to pull the space together. In the rest of the design, the tilted black-framed mirror and brass hardware offset each other to create a well-balanced look without getting in the way of the harmonious integrity between the vanity and backsplash. On the floor, the multi-colored and patterned runner commands attention, keeping the floor non-slip in case it gets wet to make it safer for the children.
Color Options for Subway Tile Bathroom Backsplash
Colors are as important as material types, making certain statements and evoking certain moods. That's why it is important to dwell upon what kind of color and material combination fits the impact you want to achieve. So let's just go over the most popular color options, which include white, black, gray, blue, and green.
White Subway Tile Bathroom Backsplash
Usher in calmness and tranquility with white subway tile backsplashes while enlarging the bathroom and brightening it up. If you wish, you can even use them as wraparound backsplashes, which are also very popular. With satin and high-gloss finish, you can emphasize the white subway tile backsplash to make the design more eye-catching.
Blue Subway Tile Bathroom Backsplash
Associated with oceans and water, perhaps blue is one of the best colors for a bathroom. It brings in tranquility, stillness, and serenity, improving the psychology of the space at the same time. And if you would like to add timelessness to this beautiful shade, you can get them in subway tiles to define your bathroom walls. Especially the glass versions are worth considering.
Gray Subway Tile Bathroom Backsplash
Versatile and timeless, gray subway tiles are as popular as white versions. They are especially great and up your alley when you want to create an understated and barely-there background. You can pair them with white and timber floating shelves, washbasins, and chrome hardware.
What size subway tile should I use in a small bathroom?
The typical size for a subway tile is 3*6 inches, which is also the most popular backsplash tile size in a small bathroom. Other popular sizes include 2″x4″, 2″x6″, 3″x6″, 3″x12″, and 4″x8″. These sizes are also suitable for small bathrooms. However, strategically, using large tile formats helps the bathroom feel more spacious. That's why you can also choose larger tiles. It, in turn, comes with other functional benefits such as less grout and less worry.
Bathroom Vanity with Subway Tile Backsplash
If you want to create a timeless look for your bathroom, a bathroom vanity with a subway tile backsplash is the most failsafe option. Whether it is a classic white subway tile or a modernized version, this combination never fails you!
Beveled Subway Tile Bathroom Backsplash
A beveled subway tile backsplash is the updated version of the subway tiles that feel modern and more dimensional. For those looking for some depth for the background, beveled subway tiles provide one of the best alternatives. Industrial and contemporary bathrooms especially love this version.
How much does it cost to subway tile a bathroom backsplash?
The subway tile backsplash costs depend on various factors, including the material type, application area, and labor. But on average, subway tile costs range from $7 to $13 per square foot. At its highest, the cost could reach up to $ 24 per square foot, while the total average cost varies from $500 to $1000. Ceramic and porcelain subways are the most affordable options. On the other hand, marble subway tile backsplashes can cost much higher.