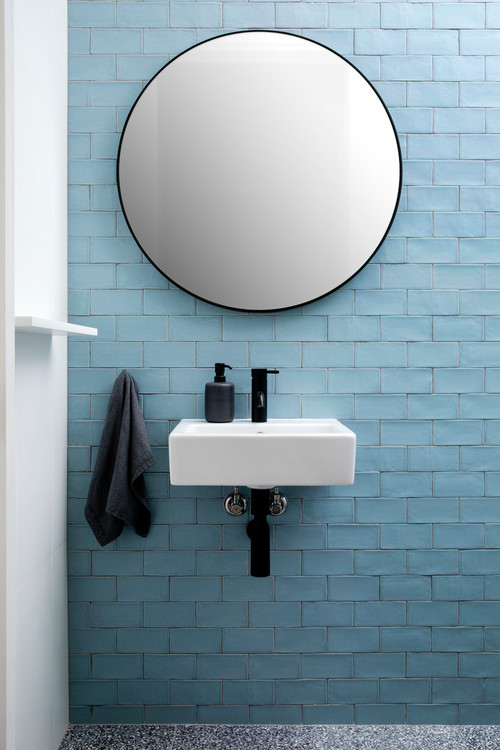 ID# 162910 | Houzz.com – Credit | © TO THE MIL excellence in construction
---
Small Powder Room with Full-Height Blue Subway Tiles
Transport yourself to a serene coastal retreat with this cozy and charming small beach-style powder room! The focal point of the room is the full-height blue subway tiles that immediately evoke a calming and refreshing seaside vibe. The compact and stylish wall-mounted sink beautifully matches the limited space while providing practicality without sacrificing elegance. Its sleek design provides an unobtrusive background, allowing the blue subway tiles to shine. A circular mirror adds to the playful atmosphere of the room while reflecting natural light and creating the illusion of a more spacious area. The black accents offer a modern contrast to the blue tiles.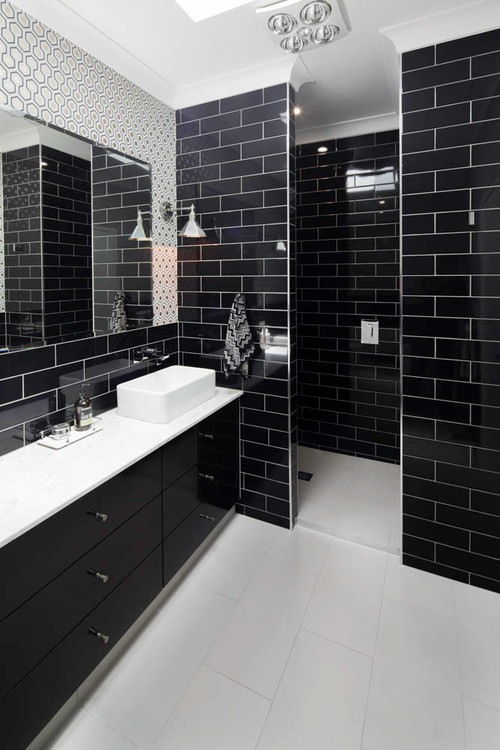 ID# 162915 | Houzz.com – Credit | © Build Professional
---
Black Subway Tile Bathroom with Black Vanity
With their sophisticated black color and glossy finish, the subway tiles create a dramatic atmosphere for this modern bathroom! The black vanity with a white top creates a continuous look with the metro tiles. The white hexagon tiles behind the mirrored cabinets and the white floor tiles create a contrast with the black tiles while adding a bright and fresh look.
Subway Tile Bathroom
There is no doubt that subway tiles are a classic. In addition to a traditional atmosphere, they add a warm atmosphere to every place they are used. When it comes to bathroom tiles, it might be overwhelming to choose the right one between endless opportunities. However, if you are looking for the most timeless and failsafe option, here is your solution: subway tiles! Whether you want to create a cozy farmhouse bathroom or a modern space with minimal aesthetics, a subway tile bathroom will never fail you down! So, if you want to learn more about these tiles, scroll down and find some inspirational design ideas!
Subway tile bathroom ideas are great choices for traditional, farmhouse, modern, industrial, Scandinavian, and mid-century modern styles. It leaves a completely different and magnificent effect in bathroom designs of all styles. Thanks to its plain state, it can be used easily for many years without getting bored. Whether you are looking for a backsplash behind your vanity or a floor tile for your shower, these classic tiles are the way to go. You can even line the tub with subway tiles! One of the most important advantages of these tiles is their versatility. They come in a wide range of color and material options that allow you to use them freely.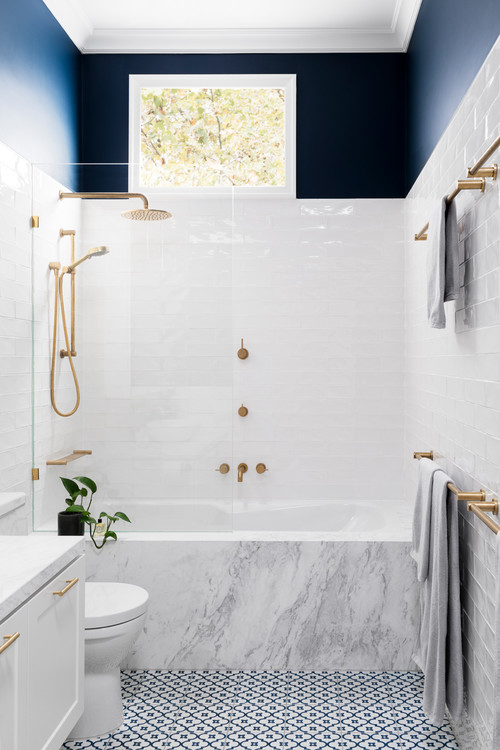 ID# 162901 | Houzz.com – Credit | © GIA Bathrooms & Kitchens
---
Transitional Bathroom with Black and White Patterned Floor Tiles
With its black and white color scheme, this transitional bathroom showcases a timeless appeal! The white subway-tiled walls, white vanity, and alcove bathtub create a bright and spacious atmosphere. The glossy finish of the subway tile walls enhances the airy feel of the room. On the other hand, the black wall paint above the tiles creates a striking contrast against the white, adding depth and visual interest to the space. The black and white patterned floor tiles complement the overall look while the marble tub surround adds a dose of luxury. The gold accents complete this luxurious feel, adding glamour.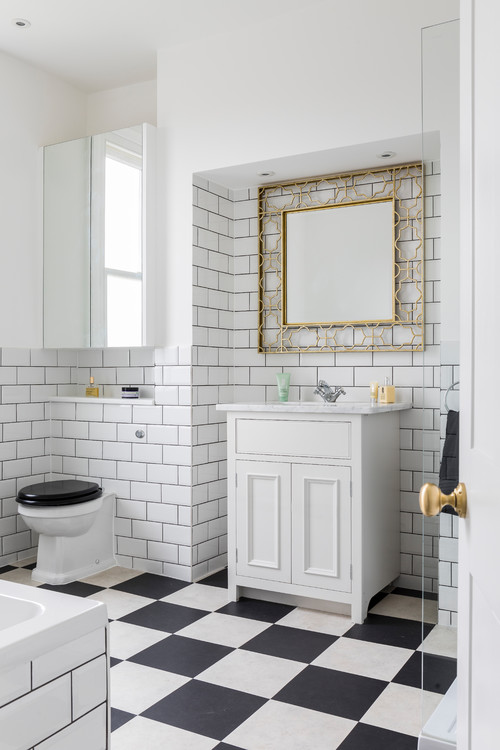 ID# 162902 | Houzz.com – Credit | © MODEL Projects Ltd
---
Traditional Bathroom with White Vanity and Checkered Floor Tiles
Step into a world of timeless beauty and understated elegance with this traditional bathroom. Feel the inviting and soothing aura of this space as you gaze at the white subway wall tiles with black grout, which create a striking visual contrast. You can't help but admire how they add depth and character to the room. The white vanity is the heart of this bathroom, offering stylish aesthetics and reliable functionality for your daily needs. Enhancing the luxurious feel is the gold-framed mirror above the vanity, reflecting light and making the space feel larger. Plus, the black and white checkered floor tiles exude classic elegance and add a playful yet sophisticated touch, making an enduring visual statement that withstands the test of time.
How to install a subway tile bathroom?
Are you thinking of giving your bathroom a fresh new look? Why not try installing subway tiles? With a little effort and some basic tools, you can take this DIY task into your hands. First off, measure the area you wish to tile and purchase enough subway tiles to cover it, keeping some extra on hand for cuts. Make sure to clean and level the surface before beginning the installation. Using a notched trowel, apply adhesive to the surface starting from the bottom and work your way upwards.
Next, press subway tiles on the adhesive, ensuring they are spaced evenly with spacers. At the edges and around fixtures, you may need to use a tile cutter or wet saw to make appropriate cuts. Once all tiles are in place, let the adhesive dry for 24 hours. Apply grout to the spaces between the tiles, ensuring that excess grout is wiped away with a damp sponge. Allow the grout to dry for another 24 hours before using a protective sealant to seal the tiles. With just a few steps, you can install subway tiles in your bathroom like a pro!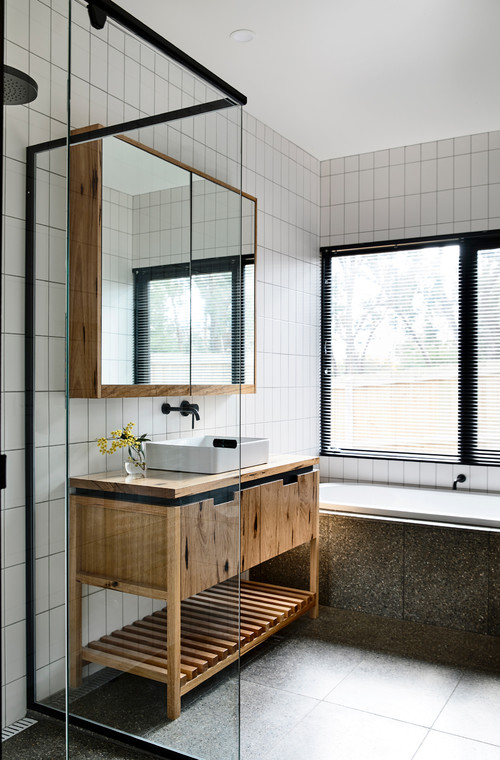 ID# 162903 | Houzz.com – Credit | © Porter Architects
---
Vertical Subway Tile Bathroom with Rustic Wood Vanity
When it comes to subway tiles, the running bond pattern is the first thing that comes to mind. However, if you want to create a different and more modern appeal, you can lay your subway tiles in a grid pattern. In this contemporary bathroom, the white subway tiles surround all the walls and provide a clean and fresh backdrop. The vertical placement of the tiles serves a modern look while the black grout highlights the grid pattern to emphasize the impact. The wood vanity adds a rustic touch while the black floor tiles create contrast against the white tiles.
Color Options for Subway Tile Bathroom
Metro tiles are available in all kinds of colors and shades. This wide variety allows you to find your perfect match easily! You can use various colors on your shower walls or anywhere in the bathroom. You can easily reach all kinds of navy blue, dark blue, light blue and water tones to create the serene and calm atmosphere of the sea. For those who want a fresh and lively feeling, green would be an ideal color. For those who love the simplicity and neutral decor, there are always classic white and gray subway tiles.
Black subway tiles are great for stylish and art deco bathrooms. In addition to these, there are also mirrored subway tiles that not only add accents but also reflect light and make the bathroom look bigger, they are also pretty cool for creating eye-catching bathrooms. Bold colored tiles help white sanitary ware stand out, while gray and marble, paler tones help create a peaceful mood.
White Subway Tile Bathroom
The flawless purity of white is tastefully enhanced by the classic rectangular structure of subway tiles, resulting in an impeccable blend! White is the customary hue for these tiles as it's widely favored for its adaptability to various design styles. Apart from that, the neutral tone adds a touch of brilliance and openness, making even the most compact washrooms appear more spacious. Given its countless benefits, white subway tiles are the preferred choice for revamping and refurbishing bathroom spaces. No surprise there!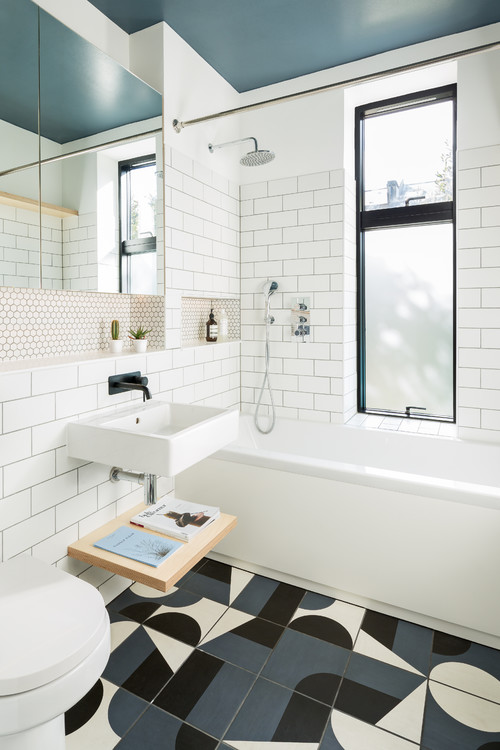 ID# 162904 | Houzz.com – Credit | © Poulsom Middlehurst Ltd
---
Scandinavian Bathroom with Multicolored Floor Tiles
In this Scandinavian bathroom, the multicolored floor tiles stand out between the white features and offer a one-of-a-kind appeal. The playful pattern of the tiles also adds a fun look. The white subway tiles create a bright appeal on the walls while the white penny-tiled niche adds another layer of texture. This built-in niche and the mirrored upper cabinets also provide storage space for everyday essentials.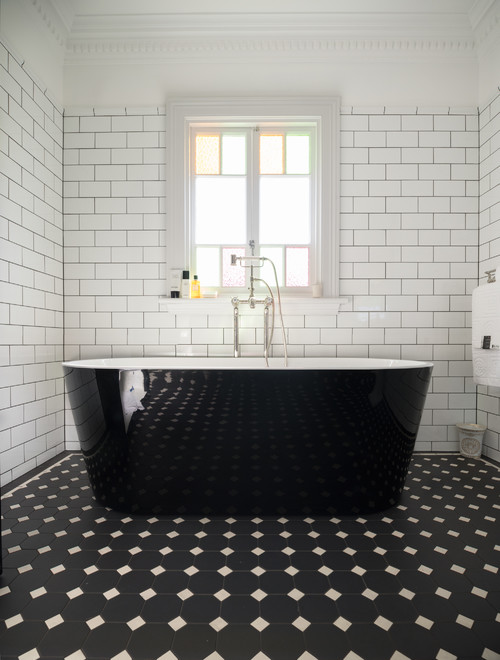 ID# 162905 | Houzz.com – Credit | © Olde English Tiles™
---
Monochrome Bathroom Design with Black Freestanding Bathtub
This monochrome bathroom showcases a modern interpretation of a traditional tile concept! With its beautifully sophisticated floor, dark freestanding bathtub, and white subway tiles, this bathroom offers everything to create a timeless appeal. The black freestanding bathtub creates a focal point in front of the white subway-tiled walls while the black floor tiles perfectly complete the dramatic appeal of the tub.
How to clean subway tile in the bathroom?
To keep your subway tile in the bathroom looking its best, begin by using a damp cloth or sponge to remove any surface grime or dirt. Following this, mix together equal parts of water and white vinegar and carefully apply the solution to your tiles using a soft-bristled brush or sponge. Remember to avoid abrasive cleaners or scrubbers that could cause damage or unwanted scratching of the tile's surface. For persistent stains such as soap residue or mineral buildup, a non-abrasive cleaning solution designed specifically for tile and grout is the perfect solution. Apply this cleaner to the affected areas. Let it sit for a few minutes before gently scrubbing it with a brush or sponge. Afterward, rinse your tiles thoroughly with clean water and dry them with a gentle cloth or towel to prevent water spots and streaking.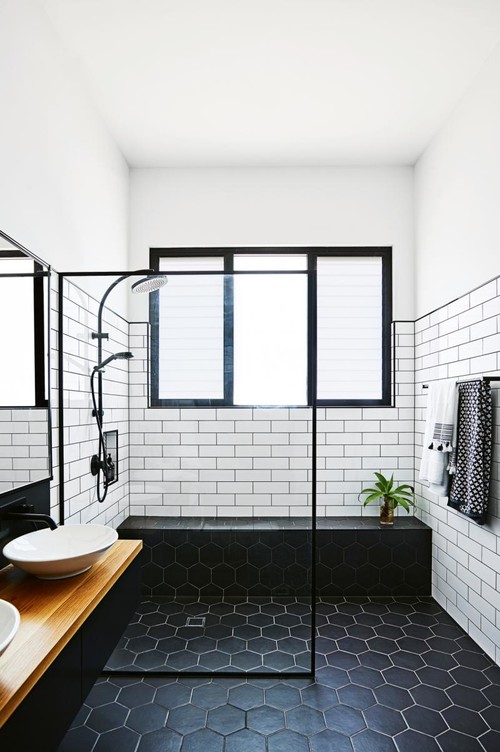 ID# 162906 | Houzz.com – Credit | © Green Apple Interiors & Design
---
Industrial Bathroom with Black Vanity and Wood Top
Come and experience the perfect blend of rawness and sophistication in this unique urban retreat! Here, you'll be welcomed to a truly distinctive setting that invites you to relax and rejuvenate like never before. The white subway wall tiles provide a clean and timeless backdrop that exudes a sense of urban chic. Moving across the black hexagon floor tiles, the geometric pattern adds a touch of intrigue and modernity to the space. The sleek black vanity with a wooden top is a stunning example of industrial design meeting natural elements. And to accentuate the industrial aesthetic, black fixtures are strategically placed throughout the bathroom.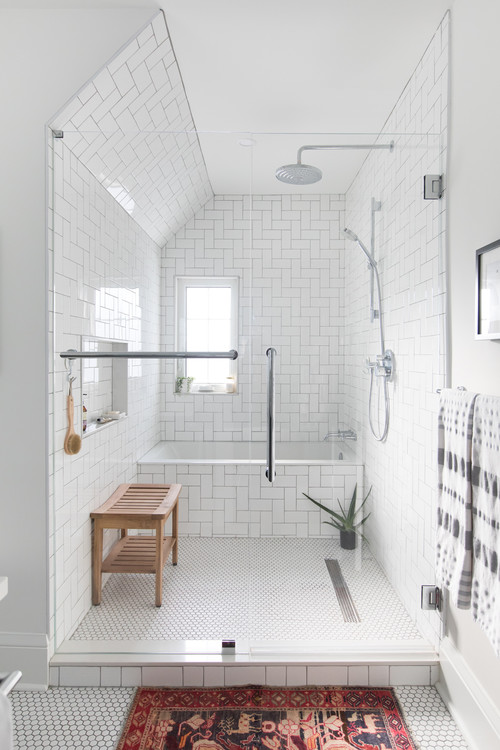 ID# 162907 | Houzz.com – Credit | © Eagleview Construction
---
White Subway Tile Bathroom with Chrome Fixtures
This white bathroom is a perfect example that the different placement of the subway tiles can create visually pleasing spaces. In this transitional bathroom, white subway tiles are laid in a diagonal herringbone pattern, creating a nice textural look. The white penny floor tiles create a cohesive look with the subways. The chrome fixtures perfectly complete the modern aesthetic while adding a dose of shine.
Is subway tile hard to clean in a bathroom?
Cleaning subway tile in a bathroom is usually a breeze, but a few factors can make a difference. The smooth surface of subway tile makes it simple to wipe down and banish dirt and grime, but grout lines can sometimes accumulate soap scum or mildew if not consistently cleaned. Choosing a high-quality, stain- and mildew-resistant grout can help prevent this problem. Also, periodically cleaning the subway tile with a mild cleaning solution and a gentle brush or cloth can help maintain its pristine appearance. Overall, if taken care of properly, subway tile can make for a durable and attractive choice for any bathroom.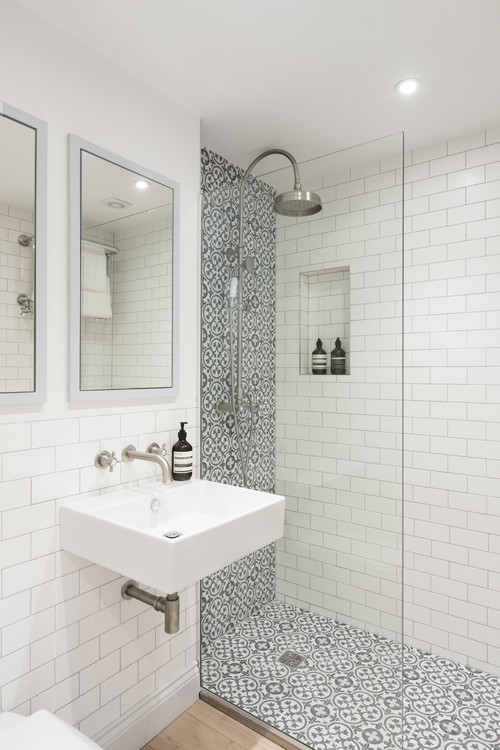 ID# 162908 | Houzz.com – Credit | © Freeman & Whitehouse
---
Black and White Cement Shower Tiles with Chrome Fixtures
If you are designing a white bathroom and want to highlight your shower area, there is no better option than patterned tiles! In this contemporary bathroom, the black and white patterned cement tiles directly draw the eye and create a striking focal point. The plain and simple appeal of the white subway tiles allows these tiles to be the star of the room. The white wall-mounted sink and white framed mirrors complete the plain look of the subways while the chrome fixtures add a modern touch.
Blue Subway Tile Bathroom
Blue evokes a feeling of the sea and sky. It offers a feeling of deep freedom, refreshing and relaxing effects. It brings to mind the emotions that wave sounds make people feel. Bathrooms are one of the most important places in the house. It is a space that allows people to rest and relax. For these reasons, it is a very right decision to use blue in bathrooms. Of course, they are designs that will be shaped according to the wishes of the users. Blue subway tiles are very trendy products. It is quite diverse with unlimited color tones. While assertive designs can be created with dark tones, relaxed designs can be provided with light soft tones. Although it will be completely shaped according to taste, it can easily adapt to anything desired.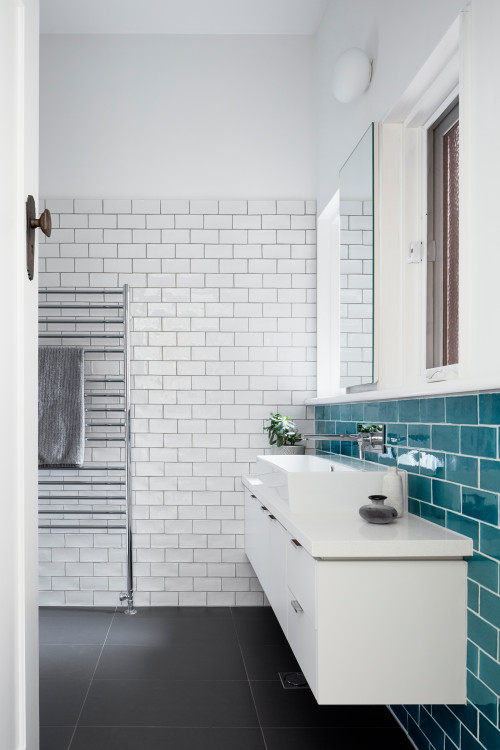 ID# 162909 | Houzz.com – Credit | © Cathi Colla Architects
---
Blue Subway Tile Bathroom Backsplash with White Floating Vanity
This contemporary bathroom is surrounded by the timeless beauty of the subway tiles! The blue subway tile backsplash creates a striking focal point behind the white floating vanity, adding a pop of color. This backsplash is accentuated with white subway tiles that offer a classic look. The black bathroom floor tiles create contrast with the white tiles, adding visual interest.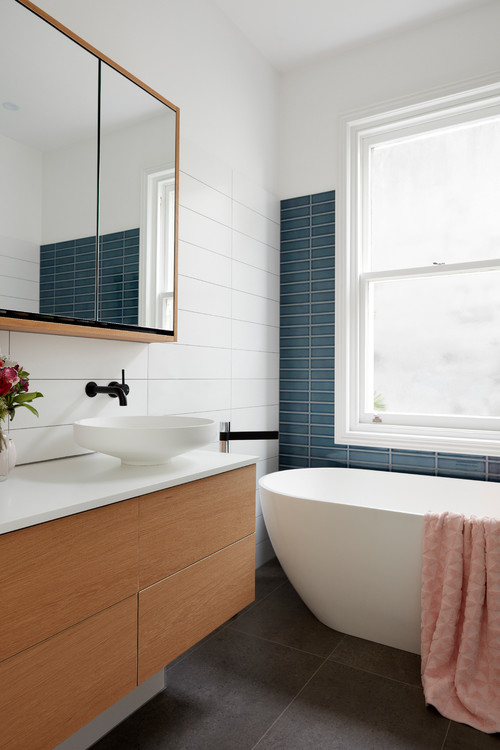 ID# 162911 | Houzz.com – Credit | © smarterBATHROOMS+
---
Blue Stacked Subway Tile Bathroom Walls with Timber Vanity
Behold the epitome of modern bathroom design – a stunning timber vanity gracing the center stage, paired with a spotless white countertop and a chic vessel sink, marrying natural charm with a contemporary edge seamlessly. The sleek lines and understated elegance of the vanity exude sophistication and practicality in equal measures. And right beside it, stands an indulgent freestanding tub in pristine white, beckoning you to unwind and immerse in blissful tranquility. The walls, draped in large rectangular white tiles, bestow a sense of grandeur and timeless allure to the entire space. As a delightful contrast, a stroke of texture and color is added by the dazzling blue stacked subway tiles, thoughtfully placed behind the tub to create a spellbinding accent wall.
Is subway tile out of style in 2023?
Subway tiles have stood the test of time and remained a popular choice for many years due to their classic and versatile look. They are ideal for both bathrooms and kitchens adding a timeless option to elevate the design style from traditional to modern. With their universal appeal, subway tiles are an excellent choice for anyone who wants to add functionality, beauty, and durability to their space. Whether you are renovating, updating or just adding finishing touches, the classic look of subway tiles will undoubtedly complement your design style, making it a perfect choice for any home decorator.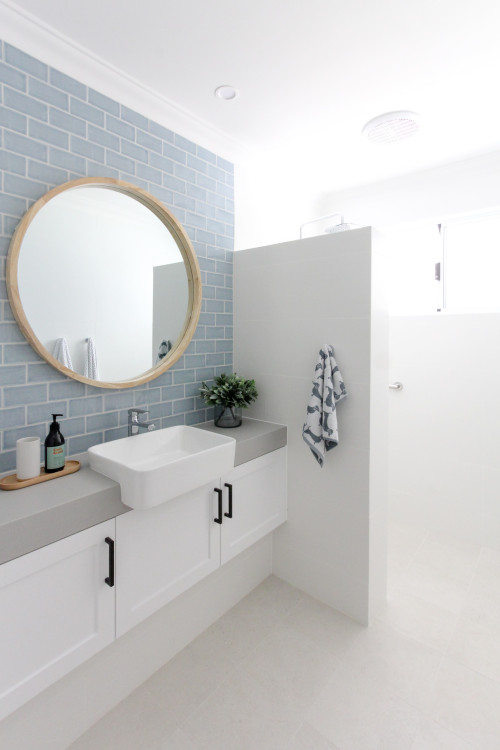 ID# 162912 | Houzz.com – Credit | © Lauren Smith
---
Coastal Bathroom with White Floating Vanity
In this divine coastal bathroom, the exquisite handmade blue subway tiles gracing the backsplash, evoke the serene feeling of ocean waves caressing the shore. The white floating vanity takes center stage, adorned with a sleek gray countertop, perfectly blending functionality with style. Black handles on the vanity drawers provide a subtle contrasting element, further enhancing the coastal vibe. Endowed with timeless charm, the white farmhouse sink adds a rustic touch of elegance that perfectly complements the coastal theme. And to complete the ensemble, a wood-framed circular mirror above the vanity lends warmth and organic texture to the space, bringing in a touch of natural beauty that will leave you spellbound.
Black Subway Tile Bathroom
Black has always been a color of choice when it comes to creating cool designs that exude elegance and timelessness! Incorporating black into your bathroom interior can instantly elevate the overall aesthetic with its bold and stylish appeal. To further enhance the sophisticated character of black, consider pairing it with a timeless pattern like the classic subway tile. From various tones to textures, black subway tile bathrooms are widely sought after for their cool and chic design approach that never seems to disappoint.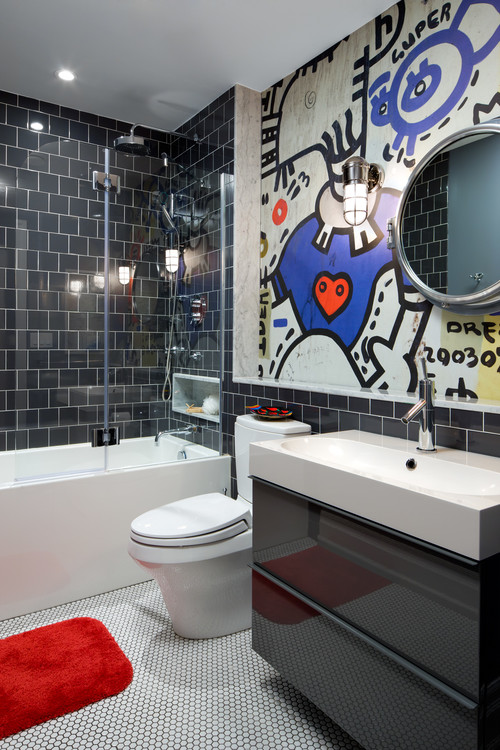 ID# 162913 | Houzz.com – Credit | © Estee Design
---
Dynamic Style with Black Subway Tile in Contemporary Bathroom Design
We are faced with a modern and at the same time crazy bathroom design. While white penny tiles are used on the floor, there is a bathroom cabinet with a black glossy straight drawer and a white sink counter. Undermount tub and pedestal toilet are used. All the walls are covered with black subway tiles and the place takes on a modern, stylish look. After the end of the tub, graffiti work is done on the wall behind the toilet bowl and behind the sink, adding mobility and a different style to the space. The red colors in the graffiti and the red mat capture a liveliness that makes the space explode.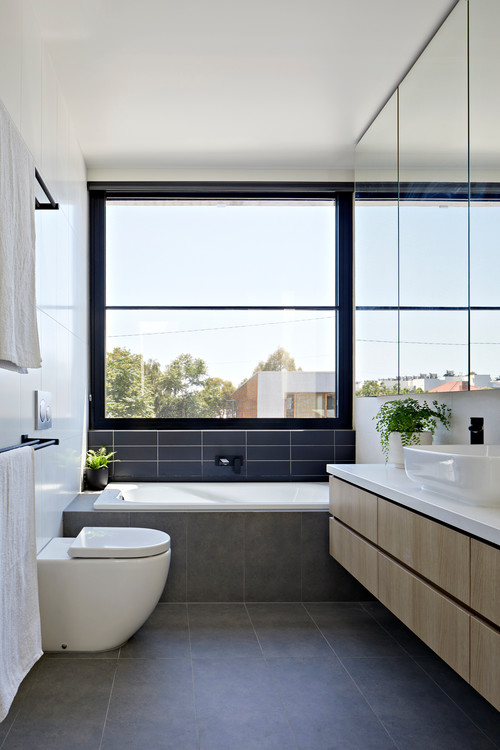 ID# 162914 | Houzz.com – Credit | © Chan Architecture Pty Ltd
---
Modern Bathroom with Wood Vanity and Black Tiles
Experience the ultimate blend of contemporary style and natural warmth with the sleek wood floating vanity that comes with a crisp white countertop. A striking feature emerges behind the tub, with captivating black stacked subway tiles that add depth and visual interest, serving as a bold backdrop that demands attention between the white walls. Matching the black subway tiles, the cool gray floor tiles adorn the floor, enhancing the overall sleek and sophisticated ambiance. The seamless transition of these tiles onto the tub surround creates a cohesive and harmonious look, elevating the visual impact of the space. Flooded with natural light and a sense of openness, a large window allows the beauty of the outdoors to filter into the room and create a connection with nature. It's an exquisite modern oasis where nature and contemporary design meet effortlessly.
Gray Subway Tile Bathroom
You may think that gray is a boring color, but with the right approach, it can easily create an elegant, sophisticated and stylish bathroom. It is also the most versatile color that can work with every design aesthetic or color scheme. That is why, the combination the gray and subway tiles offer a timeless appeal! With a gray subway tile bathroom design, you can create a space that will get tons of compliments!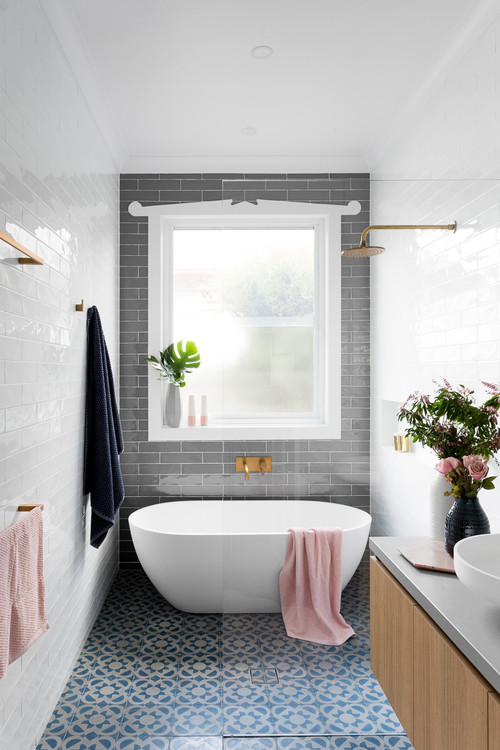 ID# 162916 | Houzz.com – Credit | © GIA Bathrooms & Kitchens
---
White Freestanding Tub with Gray Accent Wall
In this contemporary bathroom, the gray subway tiles create a striking focal point behind the white freestanding bathtub. The white grout highlights the running bond pattern. The white subway tiles accentuate this accent wall, creating a bright and spacious atmosphere with their glossy finish. The blue and white patterned floor tiles add another layer of texture, bringing a coastal vibe to the atmosphere.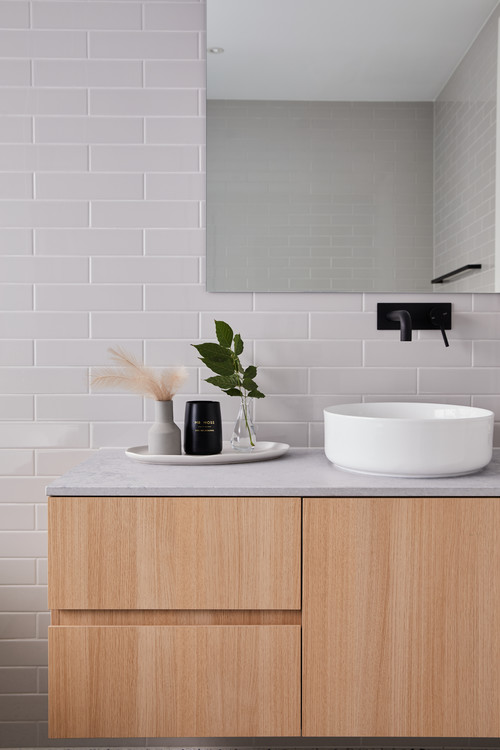 ID# 162917 | Houzz.com – Credit | © Marco Hofer
---
Gray Subway Tile Bathroom with Frameless Mirror
Feast your eyes on the stunning wooden vanity, complete with a sleek gray top that serves as the focal point of the room! It's natural warmth and organic beauty will bring a touch of Mother Nature's finest into your space. The minimalist design and clean lines make this piece the embodiment of the Scandinavian aesthetic. While the white vessel sink atop the vanity ups the contemporary factor, it also makes for an efficient and elegant basin perfect for your daily routines. Maintaining the timeless look, the gray subway tile backsplash has been tailored to add texture and visual interest. These subway tiles are presented in a classic brick pattern, representing a classic nod to traditional design. Finally, a frameless mirror sits above the vanity, reflecting the natural light and making the room appear visually larger.
Are subway tiles good for showers?
Subway tiles are undoubtedly a trendy and functional option for shower walls. They possess excellent resilience, water-repelling properties, and effortless maintenance features, thereby making them the perfect selection for a damp atmosphere like a shower.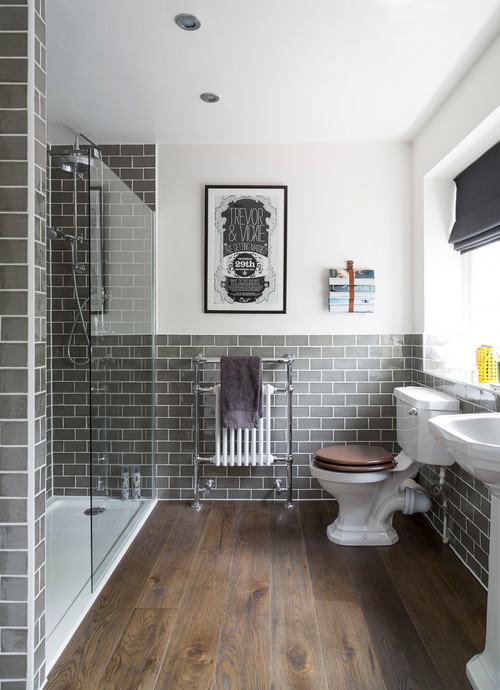 ID# 162918 | Houzz.com – Credit | © Interior Therapy
---
Traditional Bathroom with Dark Wood Floor and Chrome Accents
This gray metro-tiled bathroom creates a classic yet modern feel. Thanks to the white grout, dark gray subway tiles come in front and create an eye-catching appeal. The dark wood floor completes the elegant appeal of the tiles, adding a rustic touch. Chrome fixtures such as the showerhead and towel rack make a perfect final touch.
Green Subway Tile Bathroom
The color green is simply invigorating, radiating energy and vibrancy to whoever beholds it. Imagine being surrounded by the lush greenery of a forest, taking a deep breath of fresh air! When it comes to bathrooms, green is an ideal color choice as it promotes a calming and restful environment. By selecting green subway tiles, you can achieve a variety of striking designs with different color tones and tile sizes. Discover the wonders of green and elevate your bathroom aesthetics.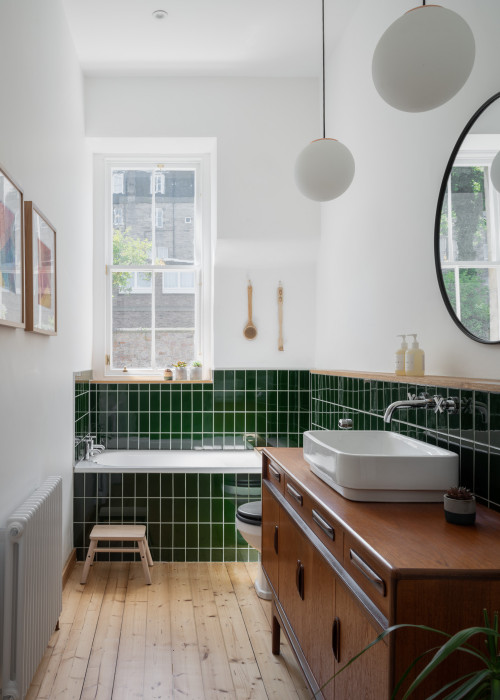 ID# 162919 | Houzz.com – Credit | © ZAC and ZAC
---
Green Effect with Subway Vertical Wall Tile in Scandinavian Bathroom Design
Step into this exquisite minimal bathroom design where wood-toned flooring blends seamlessly with a medium-toned old-fashioned wooden bathroom cabinet that houses a chic bowl sink. Additionally, the upper half of the walls are coated with an elegant white paint that creates a sense of spaciousness and roominess. The centerpiece of the bathroom is the sleek undermount tub that basks in natural light that floods through the window above it, creating a bright and invigorating atmosphere. Highlighting the beauty of the space is the garden atmosphere, created by the green vertical subway tile used at the bottom of the window and around the bathtub, as well as on the wall that houses the sink. To add to the sophisticated and polished vibe, the tiles have a glossy texture that exudes quality and refinement.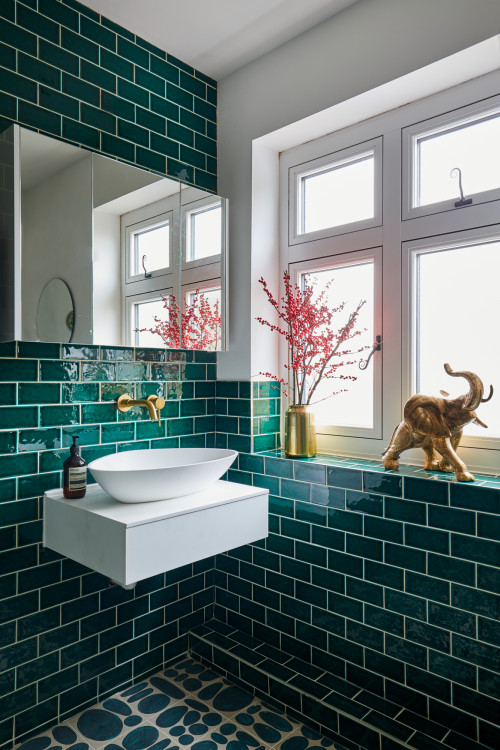 ID# 162920 | Houzz.com – Credit | © LOUD Architecture & Interior Design
---
Contemporary Bathroom with Dark Green Metro Tiles and White Sink
In this small contemporary bathroom, the glossy green subway tiles dominate the room and serve a dramatic atmosphere. The white grout application creates contrast against the dark-colored tiles, highlighting the pattern. With its simple and minimal design, the small floating vanity and white vessel sink allow the tiles to be the star of this design.
Modern Subway Tile Bathroom
Metro tiles can create desired perceptions with their various sizes, colors, and lay styles. It can create different effects with its glossy and matte surfaces. Even with the joint color used, the whole atmosphere changes. This is the reason why it has such a timeless fashion and is more trendy instead of getting bored day by day. If you want to create a modern subway tile bathroom, it is useful to use it very neutrally and softly. Even just changing the direction of laying the same tile using the same joint creates an incredibly different perception.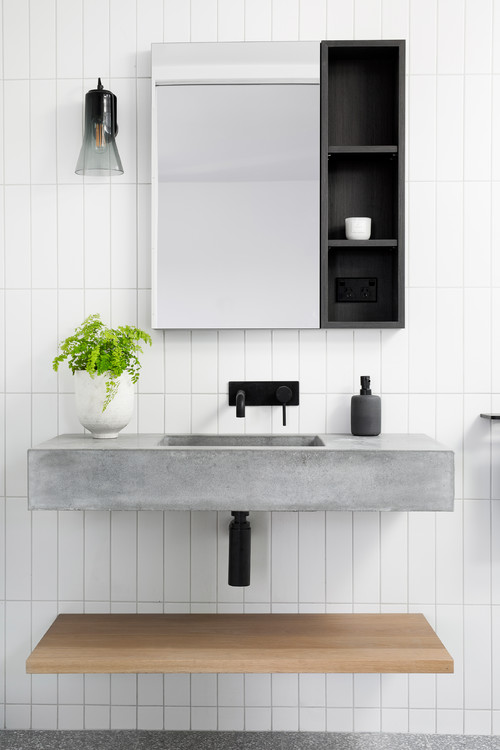 ID# 162921 | Houzz.com – Credit | © Elite Custom Homes
---
Modern View Effect with White Vertical Subway Tile in Modern Bathroom Design
A modern bathroom with gray floor tiles and white vertical subway tiles provides a simple and stylish look by using a concrete suspended sink counter and a wooden shelf under it. An upper cabinet with a mirror door and a cabinet with shelves are added. The glass wall sconce hung next to the cabinet is a detail that completes the space. All the fixtures are chosen black to create a cool line. The shower is divided by a glass divider, providing a spacious environment without reducing the space. The skylight above the shower adds a bright and airy effect to the bathroom. And while the vertically furnished subway tiles used on all bathroom walls are chosen in a long size and display a modern and cool stance, the use of white grout creates a minimally stylish design by giving it a softer appearance.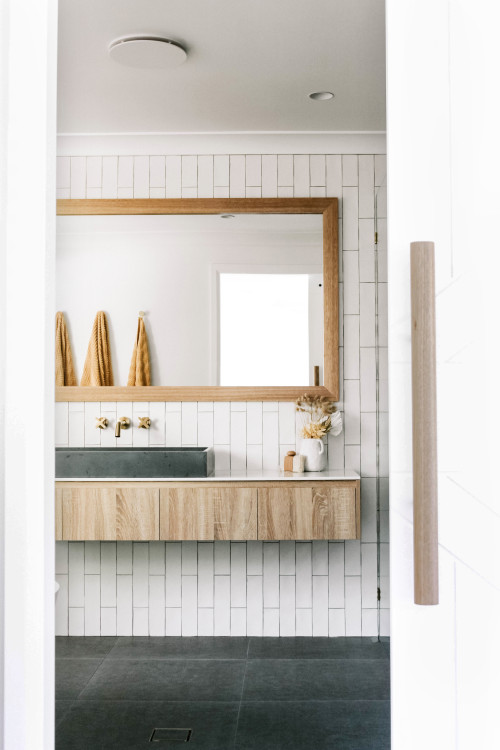 ID# 162922 | Houzz.com – Credit | © ABI Interiors
---
Vertical Subway Tile Bathroom Walls with Rustic Wood Vanity
If you are working on a small bathroom space, laying the subway tiles vertically is a great way to create a visual illusion and make the space feel higher, like in this design. Here, the white vertical subway tiles create a clean and bright backdrop while the gray floor tiles add a contrasting look. The wood floating vanity and black vessel sink bring a rustic flair to the space. The wood frame of the bathroom mirror complements the vanity while this large mirror enhances the spaciousness of the room.
Is subway tile difficult to install?
Installing subway tiles is usually regarded as an uncomplicated and unambiguous procedure, particularly when compared with intricate tile designs. Nonetheless, similar to any tile installation task, there are crucial stages that must be adhered to for a prosperous conclusion. It is essential to have all the necessary materials and equipment available, as well as a comprehensive comprehension of the installation process's necessary stages.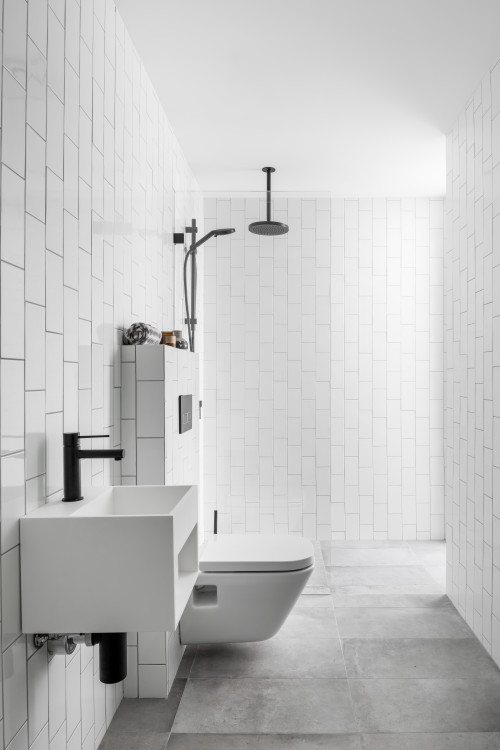 ID# 162923 | Houzz.com – Credit | © Lurie Concepts
---
All-White Bathroom Design with Vertical Metro Tiles
This all-white bathroom serves a bright and spacious atmosphere while also giving a stylish appeal. The white subway tiles are the star of this design, adding a nice textural look. The vertical placement both enhances the modern vibes and makes the space feel higher. The white bathroom furniture such as the wall-mounted sink and toilet creates a harmonious look with the tiles. The light gray concrete-look floor tiles break the white domination, adding visual interest.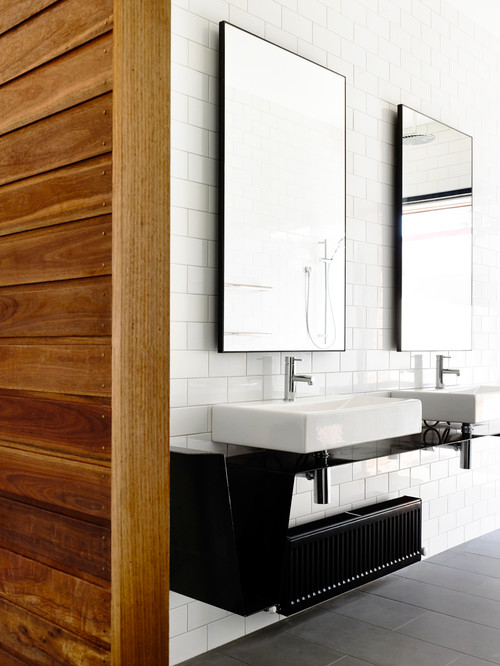 ID# 162924 | Houzz.com – Credit | © Wolveridge Architects
---
Modern Bathroom with Unique Black Vanity Design
This exquisite black vanity stands out with its chic and modern contours, leaving a lasting impression on anyone who sets eyes on it. Resting delicately atop the vanity, the white vessel sinks create a striking and captivating contrast that oozes with an air of sophistication and grace. The full-height white subway tile backsplash extends seamlessly from the vanity to the ceiling, imbuing the space with a clean, symmetrical, and streamlined look. These glossy tiles reflect the light in such a way that uplifts and brightens the room, giving it a breath of freshness that is both alluring and captivating. Lastly, the dark gray floor tiles serve a contrasting, grounding function that adds depth and a touch of elegance to the design.
Large Subway Tile Bathroom
Are looking to revamp your bathroom with a modern and stylish design? Consider large subway tiles! These tiles offer a contemporary twist on classic subway tiles and can elevate any bathroom to a whole new level. Their bigger size allows for unique patterns that can be especially eye-catching in larger bathrooms. Plus, these tiles come in a variety of colors and textures to match any aesthetic you have in mind. Install them horizontally or vertically depending on your desired effect, and pair them with contrasting grout for an even bolder statement. Fewer grout lines also mean less upkeep, giving you a streamlined and low-maintenance bathroom design. Don't be afraid to experiment with this fresh and versatile option for your bathroom remodel.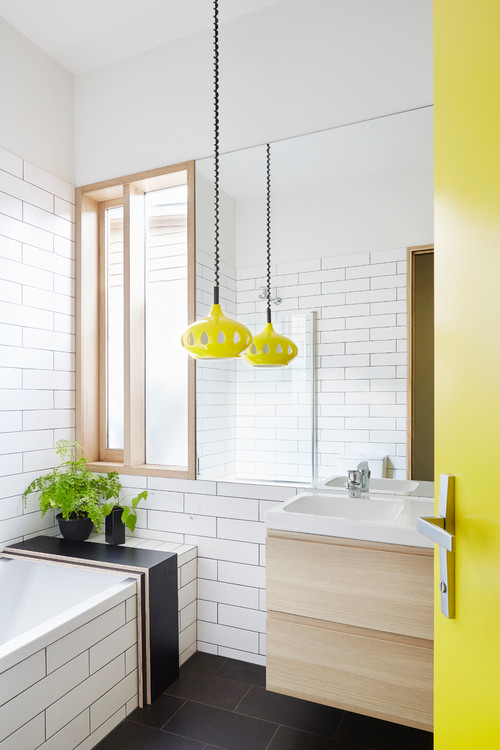 ID# 162925 | Houzz.com – Credit | © Moloney Architects
---
Monochrome Bathroom Design with A Pop of Yellow
In this stunningly contemporary bathroom, the large subway tiles on the walls and tub surround create a sleek and modern backdrop. The timeless elegance of the white tiles combines with their room-expanding size to produce an impressive sense of openness and sophistication. The black tiles on the floor provide a visually striking and bold contrast to the white tiles, and a single wood vanity adds textural warmth and a functional storage solution. The large frameless mirror extends the feeling of spaciousness and reflects light to maximize the open and airy atmosphere. Finally, a yellow pendant light adds a splash of vibrant color and a warm and welcoming glow.
Is subway tile classic or trendy?
As a design element, subway tile is simply iconic. It has been a mainstay for over a century, once gracing the walls of subway stations in New York City back in the early 1900s. Now, it remains an incredibly popular choice for kitchens and bathrooms alike. What's great about this classic tile is that, despite its recent uptick in popularity, it never goes out of style. While the design itself is timeless, the way in which it is used can be considered trendy. With new and creative ways to incorporate subway tile popping up all the time, it's easy to see why this classic choice remains a reliable and stylish option for homeowners everywhere.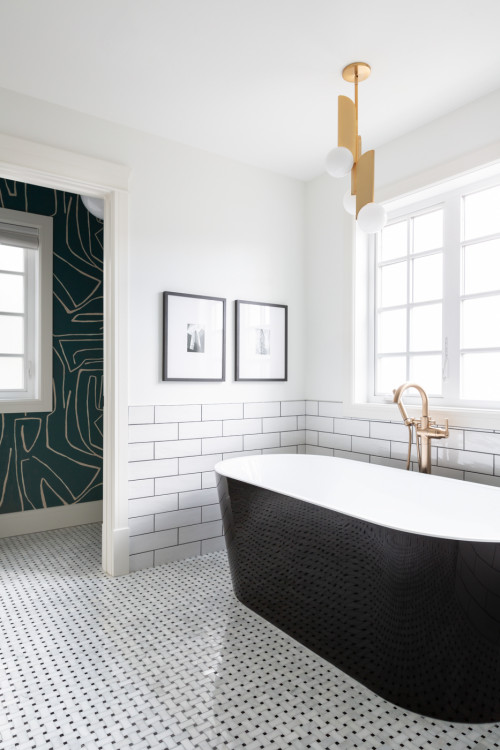 ID# 162926 | Houzz.com – Credit | © Reena Sotropa In House Design Group
---
Large Subway Tile Bathroom with Black Tub and Brass Details
This transitional bathroom's main point is a sleek black freestanding tub that acts as a sumptuous centerpiece and emanates refinement. Large white subway tiles cover half of the walls, offering a timeless and elegant backdrop for the bathroom. A striking black and white tile pattern on the floor adds visual appeal and creates a fashionable contrast. Brass elements provide a touch of warmth and richness to the bathroom.
Marble Subway Tile Bathroom
Marble is undoubtedly an exceptional material to consider for your bathroom design. Its unparalleled beauty and sophistication are hard to replicate with other options available in the market. Adding marble to your bathroom aesthetic can instantly elevate the overall look and feel, creating a luxurious sanctuary that you'll love. While marble may have a similar price point with other materials, investing in it is undoubtedly worth it as it promises long-term durability and usability.
The trend of marble subway tiles has recently gained popularity as a stylish and trendy addition to any bathroom. These tiles bring a touch of luxury, creating a high-end atmosphere for your ultimate bath experience. The distinctive veining and patterns in each tile offer the opportunity for customized and beautiful designs exclusive to your bathroom. It's no wonder why marble subway tiles have become a highly desirable choice for homeowners and designers alike. Trust us; you don't want to miss out on bringing this shower gem into your bathroom.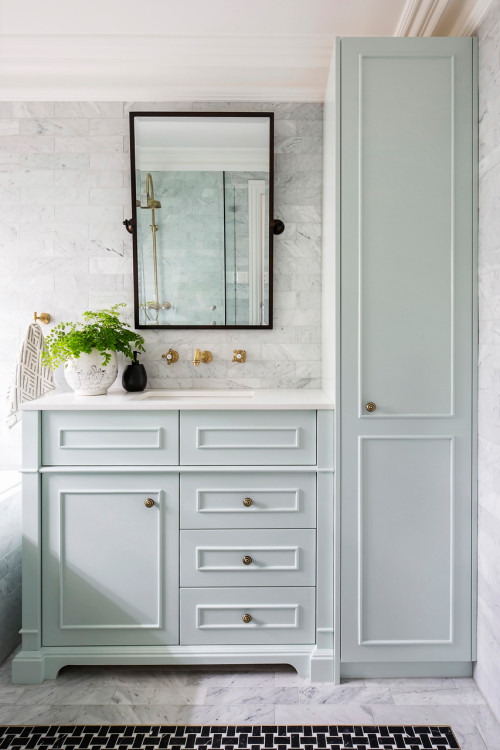 ID# 162927 | Houzz.com – Credit | © Christina Reed Interiors
---
Light Green Bathroom Vanity with Marble Backsplash and Brass Knobs
In this transitional bathroom, the lovely shade of green vanity perfectly complements the marble and brass details. The light green color also provides a bright and spacious atmosphere. The tall cabinet features loads of extra storage above and a laundry chute below. The marble subway tile backsplash creates a nice textural backdrop while adding a dose of luxury. The black frame of the bathroom mirror contrasts with the light colors, adding a modern vibe.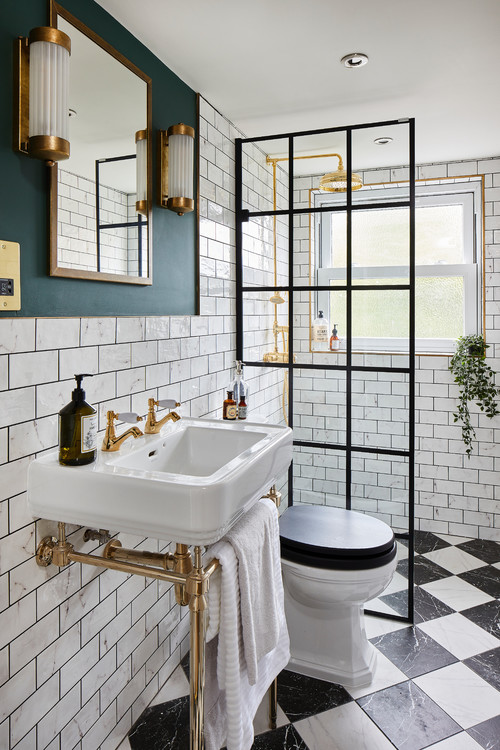 ID# 162928 | Houzz.com – Credit | © Finch Interior Design
---
Elegant Effect of Marble Subway Tile in Victorian Bathroom Design
A stylish space is created in the Victorian bathroom design, which reflects the harmonious combination of black and white, mixed square flooring, and white marble subway wall tiles. While the white washbasin with gold-colored details provides a luxurious look, the gold-colored faucets, sconce hardware, and mirror frame are the details that support the rich effect. The chessboard-like pattern of the floor adds a cool dynamism. The white marble subway tiles used on the walls, on the other hand, end slightly above the sink level on the other sides, up to the ceiling in the shower. The remaining parts are painted dark green up to the ceiling, creating a heavy and elegant ambiance. White marble subway tiles leave bright and clean energy to the space. The black framed glass shower divider creates the fine details that complete the space.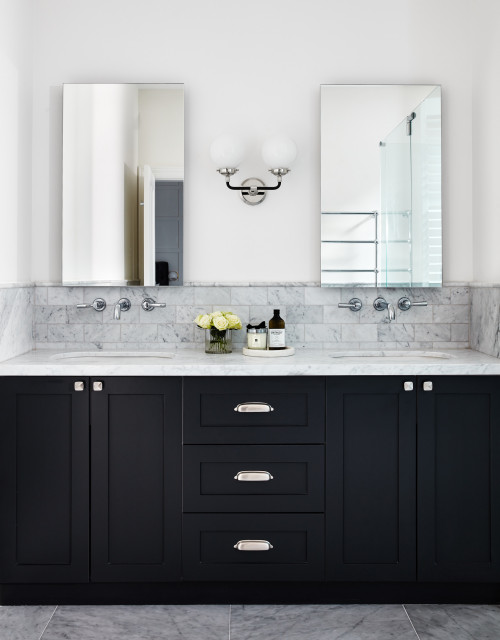 ID# 162929 | Houzz.com – Credit | © March Twice Interiors
---
Black Shaker Vanity with Marble Subway Tile Bathroom Backsplash
With its monochrome color palette and marble details, this transitional bathroom offers timeless elegance. The black shaker vanity makes a statement, creating a striking focal point. The gray marble countertop and subway marble tile backsplash create a cohesive look with the vanity. The chrome hardware and faucets perfectly complete the traditional elements while the frameless mirrors add depth to the space.