30+ Bathroom Hardware Ideas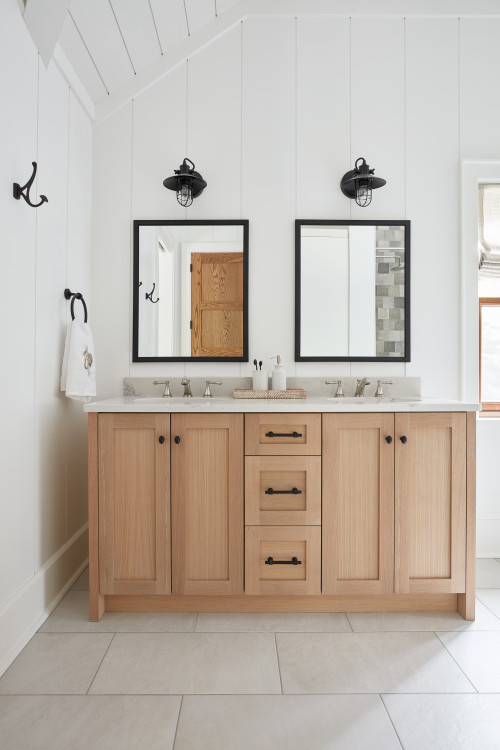 ID# 155605 | Houzz.com – Credit | © Kim Jeffery
---
Double Wood Vanity with Shiplap Ceiling and Black Hardware
Blessed with a high shiplap ceiling, this beach-style bathroom has ample space to feel airy ad bright. The double wood shaker vanity adds warmth, giving birth to a timeless design. The black hardware, black country-style lighting fixtures, and mirror frames anchor the design to the room. The beadboard panels are whitewashed to enhance openness and brightness, while gray floor tiles add another neutral element.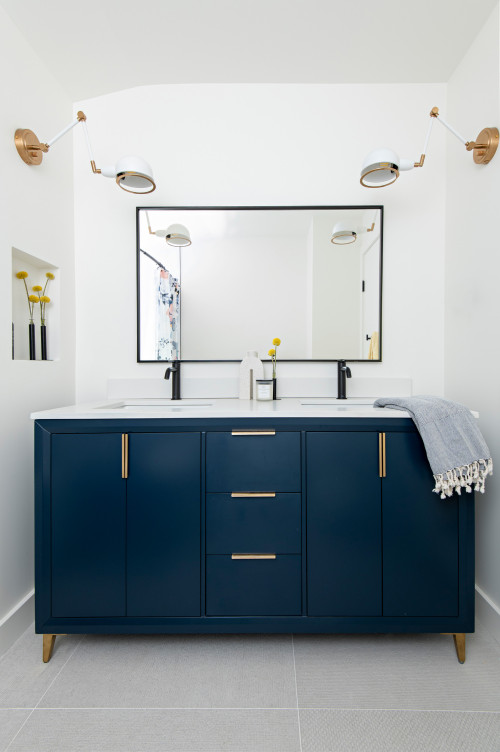 ID# 155619 | Houzz.com – Credit | © Michelle Berwick Design
---
Contemporary Bathroom with Brass Hardware and Blue Vanity
Keep the walls white to make the room feel more spacious and brighter. And to bring a subtle hint of color to ground the look, use light gray floor tiles. This combination already gives you a timeless canvas that can be colored as you wish. Here, to achieve that, this contemporary bathroom uses a navy-blue vanity and breaks its dramatic look with brass hardware. These brass sleek cabinet handles effortlessly coordinate with the mid-century-style brass detailed wall sconces and brass legs of the vanity. The black tapware and black mirror frames finalize the overall look without breaking the visual integrity. And a niche just adds an accent and aesthetic value to the room.
Bathroom Hardware Ideas
Though taken for granted most of the time, bathroom hardware or bathroom fixtures help to set the tone of a bathroom design, playing an important role in the overall aesthetic mood of the space. That's why we need strategic bathroom hardware ideas to guide us through a wide range of options.
If you are dithering over which bathroom hardware ideas suit your bathroom design's overall look, here you will find some inspiration. In this round-up, we have gathered multiple inspiring design projects in various styles and design themes. From chrome to brass, oil-rubbed bronze, and brushed nickel, many hardware options are presented to you in a myriad of ways. Take a closer look at these best bathroom hardware ideas and see what suits your bathroom more.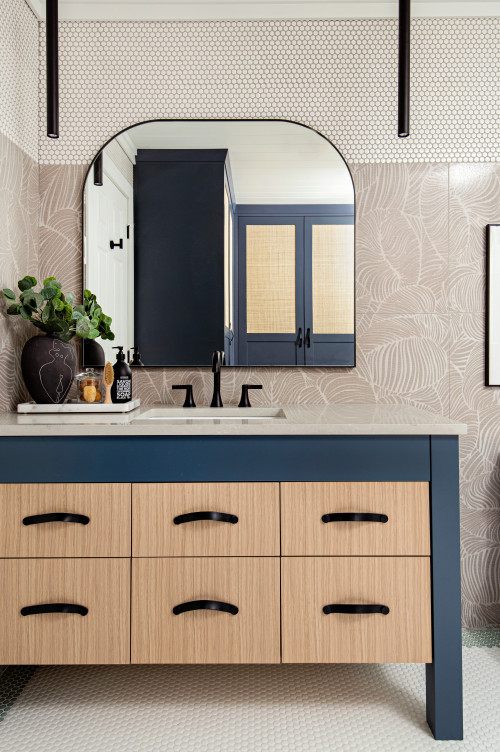 ID# 155601 | Houzz.com – Credit | © Michelle Berwick Design
---
Bathroom Hardware Ideas with Penny Round Tiles and Multi-Colored Vanity
This beach-style bathroom is filled with energy with its pink flower-patterned wallpaper and white penny round tile backsplash. The latter is also used to clad floors, while their green versions provide a contour for the white ones. This way, bathroom design keeps itself alive and effervescent. Added to that is also a multi-colored vanity with black oversized hardware that brings a new dynamic. The black tapware, black mirror frame, and black LED pendants complement the design to pull the space together.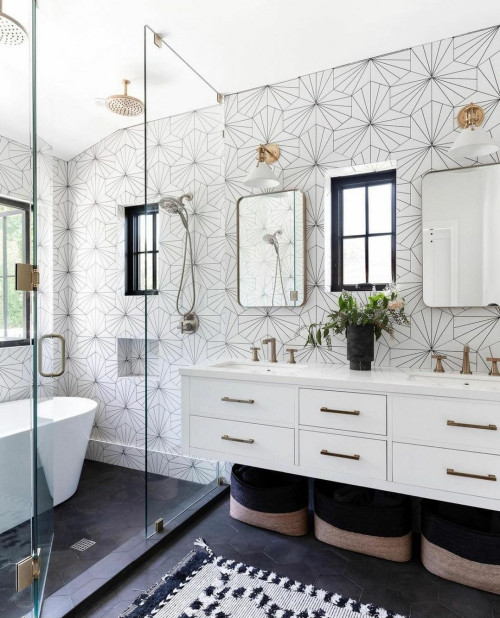 ID# 155602 | Houzz.com – Credit
---
White Floating Vanity with Geometric Tile Backsplash and Brass Hardware
To soften a high-contrast color scheme, nothing exudes warmth better than brass hardware. Especially when it comes in an oil-rubbed finish, it also brings a lived-in look that feels nostalgic. And here, this contemporary bathroom exemplifies it perfectly. Dotting a white floating vanity and coordinating it with brass tapware, the oil-rubbed brass cabinet pulls gently accentuate this suspended vanity. Overhead, yellow gold hardware of wall sconces livens up the geometric tile backsplash, adding depth and dimension. By contrast, black hexagon pattern floor tiles introduce a richly pigmented color that dialogues with the black patterns on the white backsplash. The final product feels well-curated and cohesive all at once.
What Is Considered Bathroom Hardware?
Bathroom hardware, also referred to as bathroom fixtures have many elements and a rich repertoire. And this list consists of cabinet hardware, towel bars, tapware, showerheads, rings and bars, toilet paper holders, and soap dispensers. Though they seem as if they are tiny details, they impact the design significantly. Also, it is so easy to go wrong with them. You could, for example, break up the visual integrity when you randomly pick bathroom fixtures.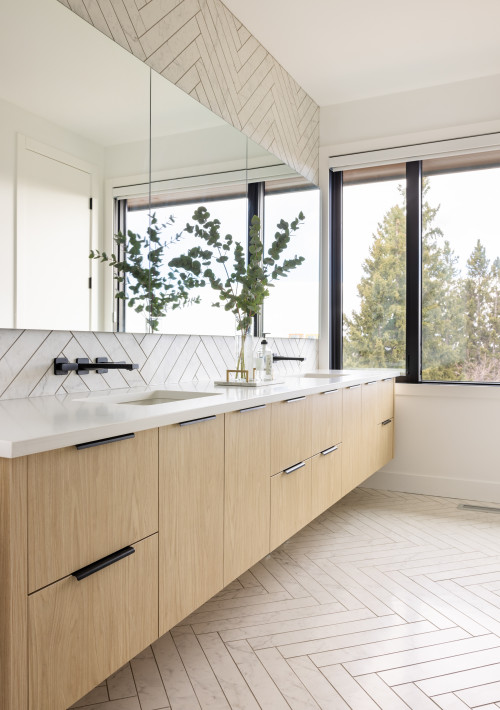 ID# 155603 | Houzz.com – Credit | © Alloy Homes Incorporated
---
Bathroom Hardware Ideas with Lip Pull Notches for Scandinavian Bathrooms
Given that Scandinavian designs are known for their decluttered lines and functionality, of course, bathroom hardware also fits in this profile. Hence, lip pull notches that feel barely there are ultimate examples of it, accentuating the cabinets without sacrificing a clean-line look. Here, for example, the wood floating vanity is punctured by black lip pull notches that offer a soft contrast. In the rest, the subway tiles laid in a herringbone pattern extend on the walls and floor to retain visual integrity. The black window beams and black tapware also coordinate with the black cabinet hardware. And finally, a touch of green leaves with a timber vanity ensures the outdoor view finds a sense of translation indoors. This way, a seamless connection is created between inside and out.
How do you install a bathroom hardware set?
The bathroom hardware set consists of a toilet paper rack, towel rails, and a robe hook. And the supplies you need for installation are screws, drywall hangers, a hammer, a drill, a stud finder, and mounting brackets.
First, start by finding the best spot for a toilet paper rack. And mark the wall where you want the edge of the holder will go. Then look for any studs with a stud finder and take a bracket and line up the top hole of it to the mark. Then level the bracket. And pencil the bottom hole. Measure the distance between the two edges of the holders and repeat the same thing for the other bracket.
Now you are ready to drill holes by following the pre-marked points on the wall. After drilling, insert the drywall anchors into the holes. Then tap them into the hole with a hammer. The next step is to secure the brackets to the drywall hangers and tighten them with a screwdriver. Repeat the same process for the second bracket. But before that, level the second bracket to the first one so that it all looks even. Then hook the slots on the brackets' protruding tabs and secure them by sliding downward. Do the same thing for the other side, and then you are done with installing the toilet paper holder.
To install a towel rail and robe hook, repeat the same method. When you get used to it, it gets just easier and easier.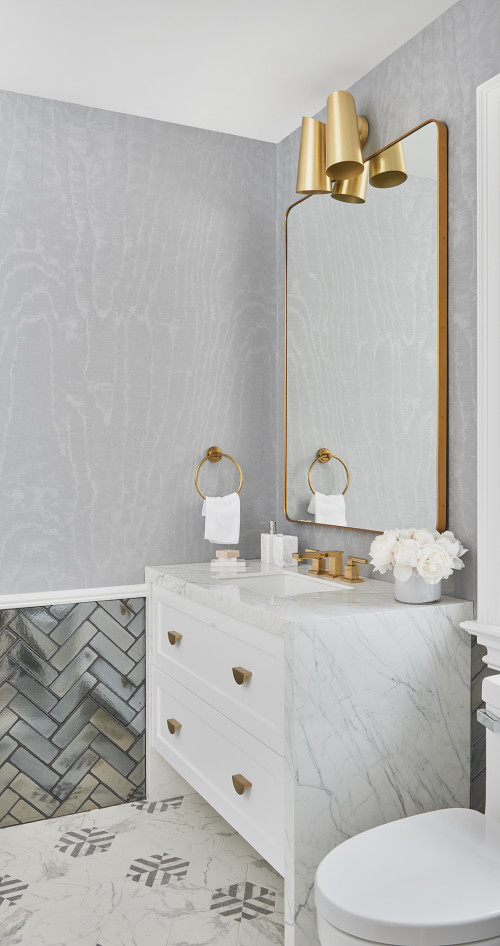 ID# 155604 | Houzz.com – Credit | © Jordyn Developments
---
White Vanity with Marble Countertop and Gold Hardware
There is a myriad of ways to color and enliven a neutral bathroom design. One of them is to bring in warmth through gold hardware- as demonstrated here. And Another option is to use intriguing patterns and materials to make a statement. Here, this contemporary bathroom does both. It goes with gold cabinet handles, a gold towel rail, tapware, and a gold double-headed wall sconce to invite warmth. These luxurious additions help the design pop. Additionally, hexagon pattern floor tiles, statement marble countertops, and antique glass herringbone tile backsplash add more interest to the design. Not to mention the leafy patterns on the floor tiles that bring movement to the design.
Color and Finish Options for Bathroom Hardware Ideas
Chrome, copper, brass, and black bathroom hardware are among the most popular bathroom hardware types. Yet finish options can also recreate how these hardware types look drastically. From satin to polished, antique, and brushed, the finish options vary a lot. If you want clean and high-end looks, consider plated metals which also ensure their longevity. But for a more dramatic and aged feel, antique, brushed, and oil-rubbed bronze is some of the ways to go.
Chrome Bathroom Hardware
Giving any room a contemporary upgrade, chrome bathroom hardware can also incorporate a luxe feel. It is one of the most popular options used to offer a clean look. You can make a visual statement with them by installing them on black vanities. Chrome lighting fixtures, towel racks, and tapware can be brought together for a cohesive design. If you want a super shiny and clean look, polished chrome is the best option. Yet if that's not what you want, brushed chrome hardware brings a subtle glow that feels casual and relaxed.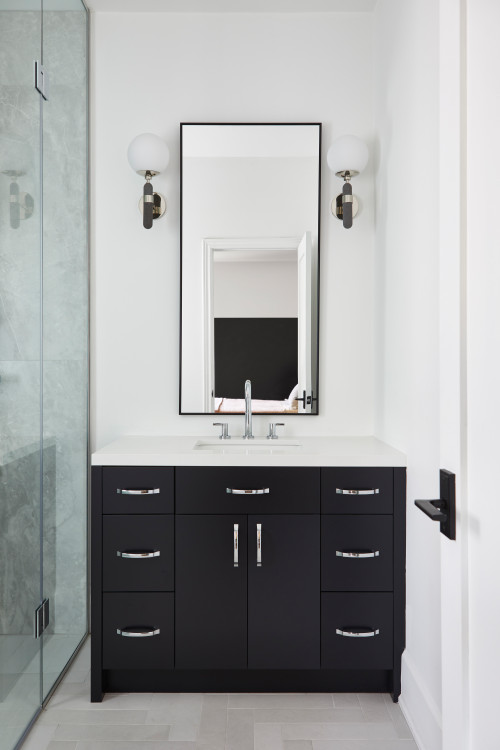 ID# 155606 | Houzz.com – Credit | © Elana Silver
---
Chrome Bathroom Hardware Ideas for Transitional Bathrooms with Black Vanity
To give your design a nice polished and clean look without making it scream at your face, go with polished chrome hardware. It not only adds an opulent element but also creates a clean look. Especially when they are on a black vanity! This transitional bathroom has a perfect example of it, giving a visual uplift to the black vanity with chrome hardware. Complementing it are the chrome tapware and white-and-black lighting fixtures, achieving a sense of balance.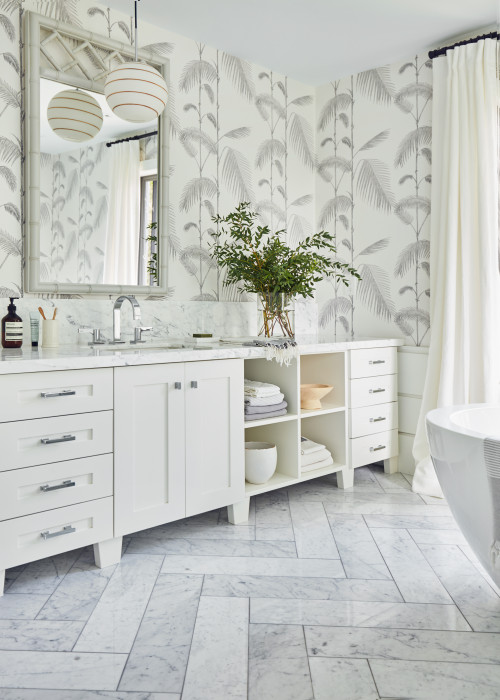 ID# 155607 | Houzz.com – Credit | © Kim Jeffery
---
White Shaker Vanity with Wallpaper Backsplash and Herringbone Floor Tiles
If you want to create a tropical or beach-style look, a wallpaper design with leaf patterns is one of the ways to go. You can also bring in plants to make it greener. In the rest, an off-white cabinet with yellow undertones can be used to introduce warmth. Here, for example, all these elements come together for a casual and laid-back ambiance. On the floor, the marble herringbone tiles add a very organic feel underfoot. And of course, chrome hardware brings enough shine, giving a clean and sun-kissed touch.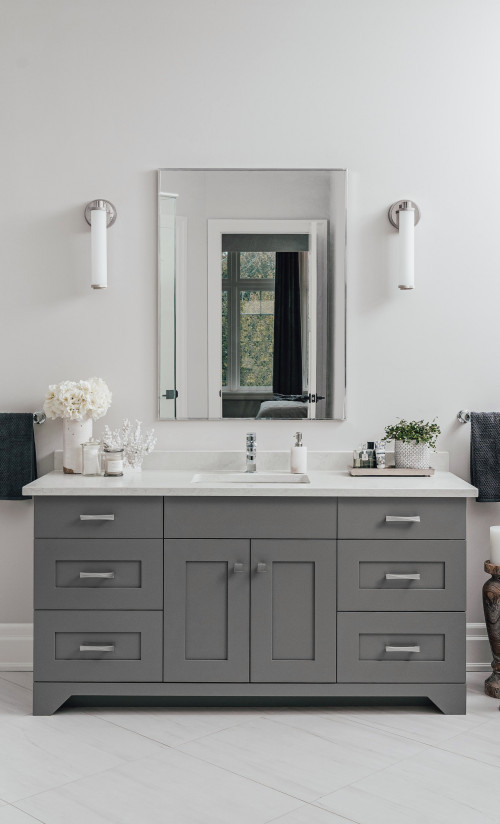 ID# 155608 | Houzz.com – Credit | © Leah Simpson Design Inc.
---
Transitional Bathroom with Gray Vanity and Tube Lighting Fixtures
The soft neutral color palette of this transitional bathroom is packed with style and personality. Here, first of all, a gray vanity is punctured by chrome hardware for a sense of calming glow. Secondly, a white marble countertop embellished with flowers harmonizes seamlessly with the rest. And finally, a frameless mirror adds to this seamless feel, resting against tranquil light-colored walls.
How to choose bathroom fittings?
When choosing bathroom fittings, there are a couple of things to keep in mind. They are aesthetics and overall bathroom theme, the longevity of fittings, budget, and energy efficiency.
First, if you have a bathroom design theme in your mind or any specific style, choose your fittings accordingly. Fittings consist of faucets, cabinet hardware, towel rails, and shower heads. All of these details play a significant role to convey a message about the personality of bathrooms. Plus, all these features are available in multiple material and finish options.
Of course, when choosing your tapware, choose according to your sink type. For example, for vessel sinks, the faucets should be higher. To play safe, you can also keep them wall-mounted.
Secondly, your budget is key. So, take your time to find fittings that suit your budget and also ensure longevity. Due to the humidity, poor-quality taps can easily oxidize over time. To avoid that, get one with a special treatment and finish that ensures its durability. Chrome-plating tapware has a finish that prevents the taps from dusting.
Thirdly, keep in mind to check energy-efficient fitting options. Especially when it comes to faucets and shower heads, go for versions that reduce water usage.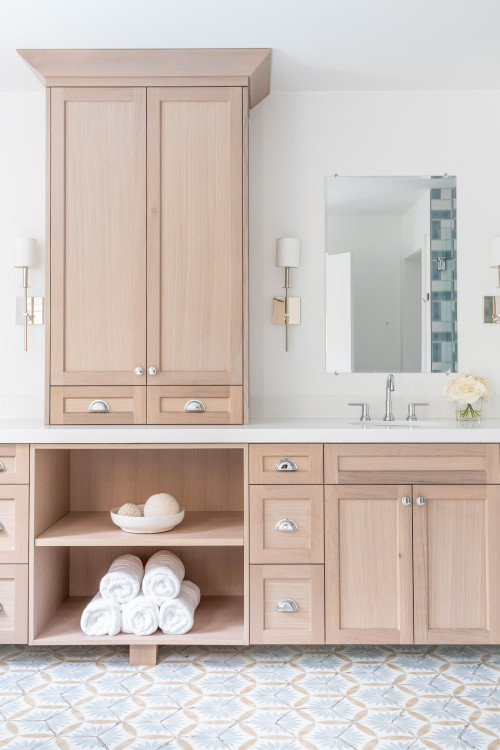 ID# 155609 | Houzz.com – Credit | © Aspen & Ivy
---
Beach-Style Bathroom with Wood Vanity and Chrome Hardware
Beach-style bathrooms love chrome hardware for sure, and this one is no exception. Combining wood vanity and timber wall unit with chrome hardware, it ties together two contrasting elements. Chrome tapware and chrome shade wall sconces complement the hardware repertoire, while colorful hexagon tiles spice up the overall look.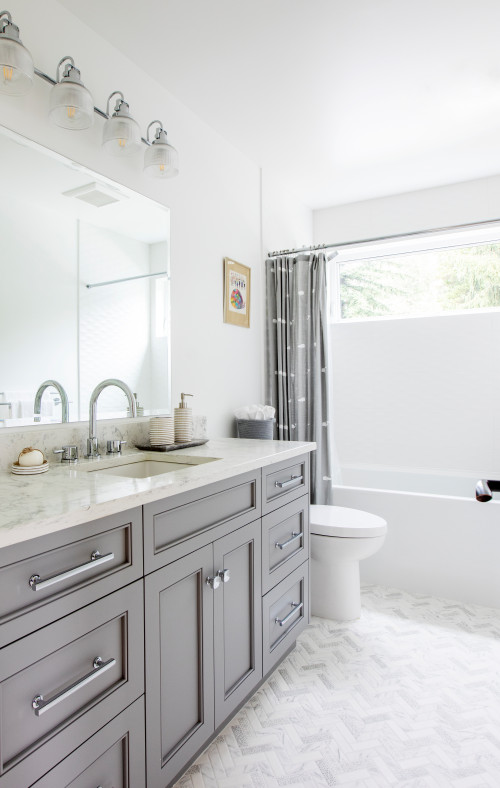 ID# 155610 | Houzz.com – Credit | © Kennedy Construction
---
Gray Vanity with Chrome Hardware and Marble Countertop
A wall-mounted painting and shower curtains surely do more than enough to add personality to any design. This transitional bathroom also benefits from such small details to complement its gray vanity topped by a marble countertop. The chrome hardware also punctuates the space for more interest. Additionally, what is eye-catching in this room is the use of different cabinet hardware styles. For example, the drawers are accentuated with pulls, while the standard cabinet doors feature knobs. Utilizing different forms for hardware is also one way to add extra interest to vanities.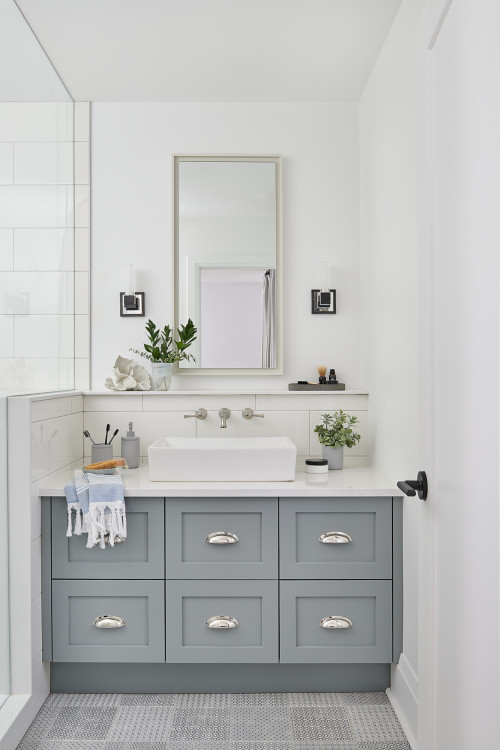 ID# 155611 | Houzz.com – Credit | © PARAND Design KITCHENS & Cabinetry
---
Chrome Bathroom Hardware Ideas for Gray Vanity with White Countertop
The best hardware for cool shades such as light gray with bluish undertones is chrome. And if you have a rather calm design, there is no reason for you not to go with oversized hardware. Here, this transitional bathroom prefers cup pulls which are much bigger than standard ones due to their shape. They bring lots of interest, making the design pop. A few green touches, a frameless mirror, and a white countertop just keep the rest relaxed and calm.
Black Bathroom Hardware
Sometimes dramatic sometimes laid-back, black bathroom hardware can adapt to the surrounding features easily. Not only does it go with any style but also can create soft contrasts throughout.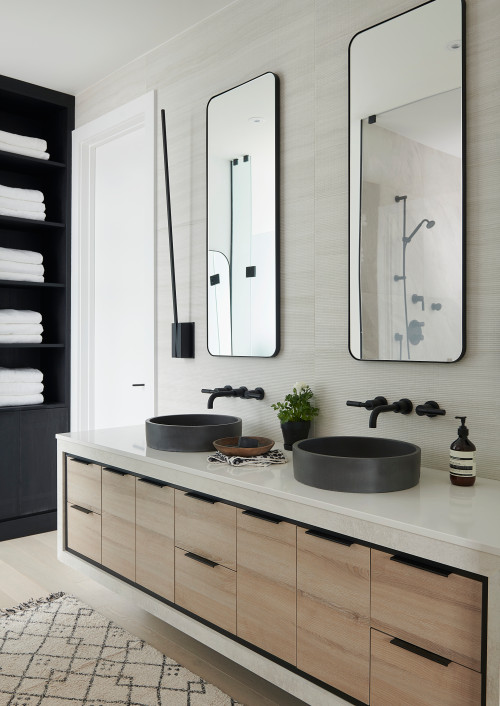 ID# 155612 | Houzz.com – Credit | © avenue design inc
---
Black Bathroom Hardware Ideas with Wood Vanity and Vessel Sinks
An open cabinet to keep the towels at your fingertips and organized is always a good idea- as proven by this contemporary bathroom. Plus, coming in a shade of black, it offers a perfect match to the black hardware, including tapware, vessel sinks, wall sconces, and mirror frames. As a result, the room looks well-coordinated, while the wood vanity is also accentuated with black lip pull notches. Also, a geometric patterned rug in light beige tones brings a contemporary flair and warmth underfoot.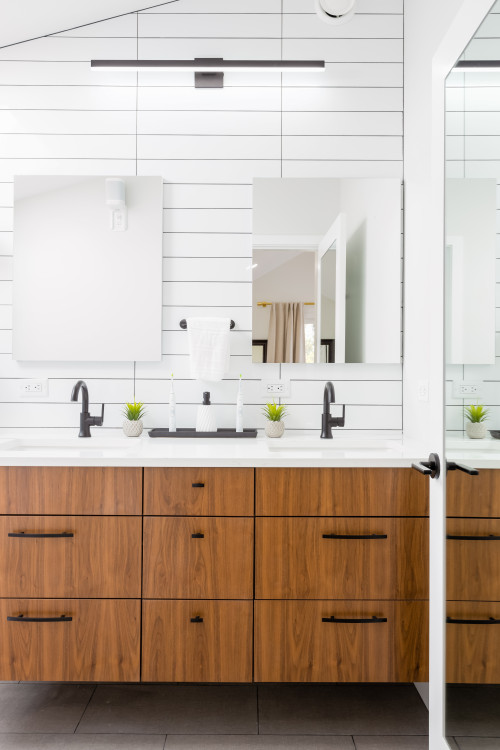 ID# 155613 | Houzz.com – Credit | © TQ Construction
---
Modern Bathroom with Subway Tile Backsplash and Frameless Mirrors
This modern bathroom uses large format subway tiles for a change and stacks them horizontally for a modern look. This way, it also gives the room a visual uplift and illusion of spaciousness. The white countertops and frameless mirrors add to the feeling of spaciousness while bringing extra brightness. The wood cabinet invites warmth to break up the otherwise monotonic design. Likewise, the black tapware and gentle cabinet pulls further punctuate the design. The towel rail installed between the mirrors reserves a convenient spot for itself.
What hardware needs to match in a bathroom?
There is no right or wrong about which hardware should match in a bathroom. Generally, cabinet hardware, tapware, and towel rails are coordinated. And mirror frames can also accompany them in their finishes. Or they are used to make more individual statements. Yet, you can also come across designs that keep the tapware brass while the rest is matte black. So, it is really up to you.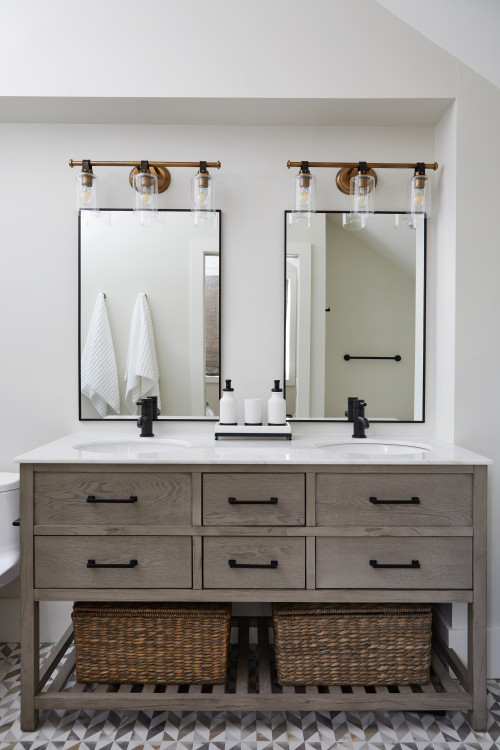 ID# 155614 | Houzz.com – Credit | © Eurodale Developments Inc
---
Wood Vanity with Black Hardware and Brass Wall Sconces
If you don't want your bathroom to look too matchy-matchy, create complementary contrasts with different hardware options. For example, this transitional bathroom chooses brass for its wall sconces and black for the tapware and cabinet hardware. It, in turn, brings balance, depth, and interest without interfering with the cohesiveness of the total look. In the rest, a light wood vanity with wicker cabinets brings a rustic flair. And what makes a counterpoint to these baskets is the modern chevron pattern floor tiles
Introducing a new dynamic.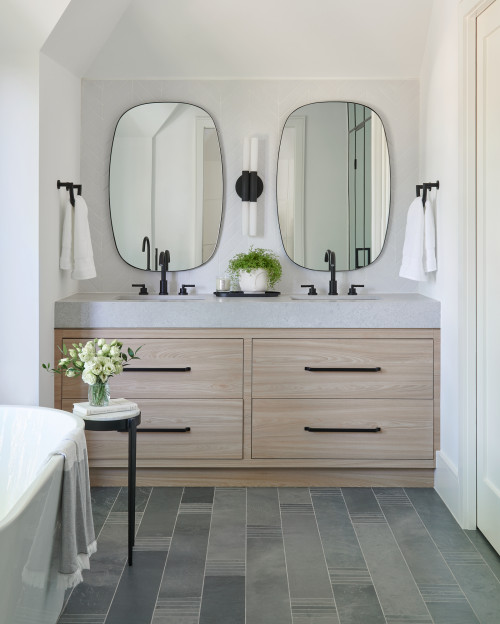 ID# 155615 | Houzz.com – Credit | © Diana Bastone Designs
---
Contemporary Bathroom with Gray Countertop and Black Bathroom Hardware Ideas
Soothing color schemes in warm light hues always work best in contemporary bathrooms. So, take note of this design, and juxtapose the wood vanity with a gray countertop. If you want to make a bold statement, keep the countertop thick just like this bathroom. Black hardware is one of the most popular combinations with this color scheme. It gives the design a casual and relaxed feel that suits the overall style of the room. Yet if you want to create a more stylish and chic movement, you can use chrome hardware. But if you are going to use a black side table for the freestanding tub, just match the hardware to it. Then everything looks more intentional and well-thought-out.
ID# 155616 | Houzz.com – Credit | © SHIFT Interiors
---
Small Floating Vanity with Marble Backsplash and Black Hardware
Don't worry if your bathroom is not big enough. Use it as a chance to make it look cozy and cute. For example, getting a white small floating vanity makes a perfect start. The marble backsplash stretching from floor to ceiling brings enough lightness and the right dose of drama that can be accommodated by a small room. A vessel sink acts as an accessory of sorts while still serving as a functional element. The black wall-mounted tapware adds a nice accent to the wall. And a black towel rail mounted on the side of the vanity saves space, providing a smart storage solution.
Brass Bathroom Hardware
If you want to introduce warmth to your bathroom, brass bathroom hardware is a perfect option. In particular, dark blue and gray vanities pair perfectly with brass cabinet handles. You can complement this couple with brass towel holders and showerheads. Some designers bring together brass hardware in different finish options. For example, while the vanity hardware is polished brass, the showerheads may come as antique brass. This way, a sense of depth is achieved. Especially for a lived-in feel, antique finish brass hardware teams up perfectly with wood cabinets.
In addition to its aesthetic benefits, another reason to go with brass is that it doesn't corrode easily and can be recycled. Even better, it has an anti-bacterial nature, which makes it functional and practical in many ways.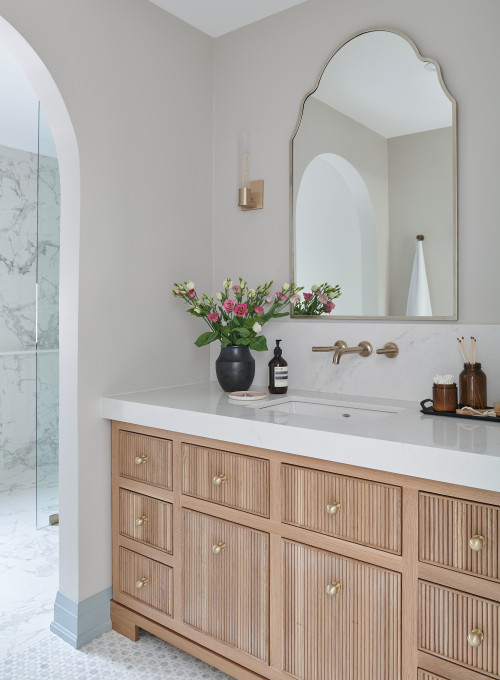 ID# 155617 | Houzz.com – Credit | © Erin Interiors
---
Transitional Bathroom with Brass Bathroom Hardware Ideas and White Countertops
Led through an arched doorway, this transitional bathroom enjoys being the neighbor of the shower room. Featuring a double vanity with a single sink, it also prides itself on its fluted design vanity with brass knobs. Paired with a white countertop and marble-effect backsplash, this vanity relishes the calm ambiance of the room. The brass wall-mounted tapware and tube-shaped wall sconce further accentuate the space. Keeping the top wall of the room unfinished provides more breathing space in the bathroom.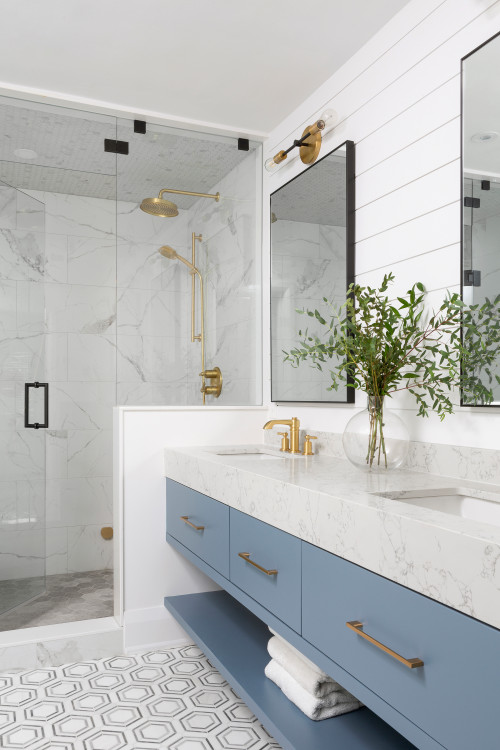 ID# 155618 | Houzz.com – Credit | © VOGT Industries
---
Blue Vanity with Shiplap Backsplash and Brass Accents
When designing a bathroom, pay special attention to the needs of each bathroom section. For example, in this contemporary bathroom, the whitewashed shiplap wall design defines the vanity zone and provides a clean and sleek backdrop. And it is supported by a marble countertop and a 4-inch backsplash for an extra layer of protection. And marble-look porcelain tiles clad the shower room to retain visual integrity. To complement them, a blue vanity brings a coastal flair. The brass hardware introduces much-needed warmth to the room. Different finish options used for the hardware add depth to the design.
What is the most popular color for bathroom fixtures?
For its clean and contemporary look, chrome hardware is one of the most popular options for bathrooms. Additionally, black hardware seems to be the next failsafe option and it offers an ultra-modern appeall. It especially suits industrial, rustic, Scandinavian, and contemporary designs.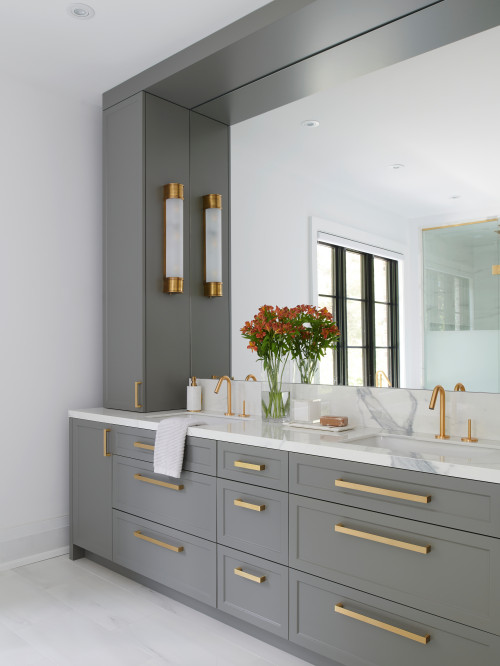 ID# 155620 | Houzz.com – Credit | © Jodie Rosen Design
---
Gray Bathroom Double Vanity with Marble Countertop and Brass Hardware
This stylish en-suite bathroom is well-appointed thanks to a gray bathroom double vanity that offers plenty of storage and a hefty worktop with double integrated sinks. Topped by marble countertops and the book-matching backsplash, this vanity oozes sophistication. The gray veining on the marble makes this marble a perfect fit for the gray vanity. Also, the oversized brass hardware punctures the design, asserting a glam aesthetic. Used in the walll sconces, tapware, and handles, the brass touches create a cohesive design.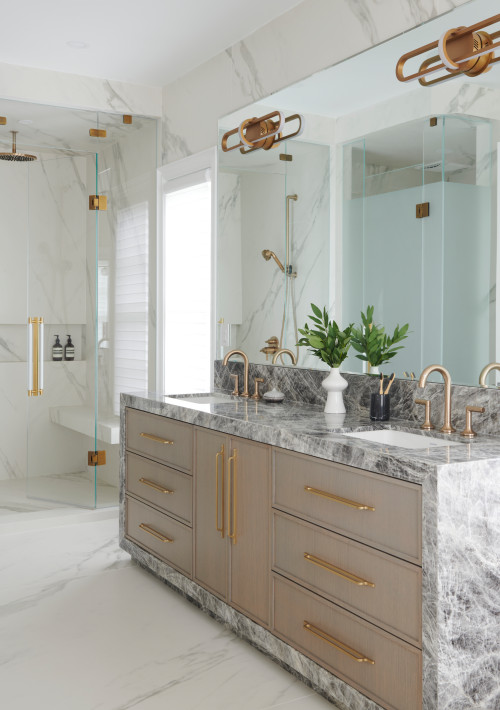 ID# 155621 | Houzz.com – Credit | © avenue design inc
---
Statement Bathroom Vanity with Marble Countertops and Brass Hardware Ideas
To make a statement, go with a bold marble version just like this contemporary bathroom does. Here, featuring striations reminiscent of spider webs, this brown marble envelops all edges of the vanity. By contrast, the wood front panels bring calmness to this stunning cabinet. This sophisticated combination of natural textures and materials ensures the design feels timeless. Plus, adding to that is also the brass hardware that makes the vanity even more eye-catching. These brass features are also used for hinges on the glass shower doors, showerheads, and all the tapware. Such a unity established with white marble tiles used in the rest and brass hardware keeps the design integrated.
Can you mix and match bathroom hardware?
Mixing and matching bathroom hardware is very much welcome in bathroom designs. Speciallly polished and antique finishes of the same hardware are a very popular design option. But for visual integrity and to serve a specific bathroom theme, it is much better to stick to a single hardware material. However, as of 2023, with the changes in design trends, mixing and matching different textures are much more embraced. So, feel free to brushed bronze and antique brass finishes, for example. Or some designs match black hardware with gold and copper. In most cases, black hardware is a failsafe option that is combined with a wide range of hardware materials.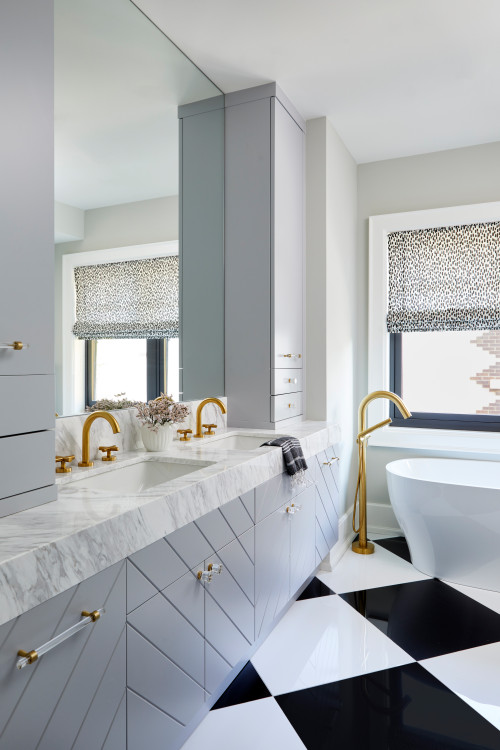 ID# 155622 | Houzz.com – Credit | © Jessica Kelly Design
---
Transitional Bathroom with Checkerboard Floor and Freestanding Tub
Here, the light lavender vanity with a diagonally shadow-lined door style offers a visual feast with checkerboard flooring. This high-gloss floor gives the bathroom a retro feel, taking bathers back in time. And the freestanding tub makes bathers feel privileged, along with a soothing marble countertop and opulent brass hardware. A touch of pink flowers and window shades dotted with multi-colored polka dots make the design more exciting and memorable. Overall, this transitional bathroom provides an excellent example of one of the on-trend looks of 2023.
Oil Rubbed Bronze Bathroom Hardware
Suitable for any bathroom design, oil-rubbed bronze hardware is a very popular option. It gives the room a sense of an antique feel. And you can easily make it pop by installing it on white vanities. Likewise, wood vanities and cream cabinets also provide a perfect canvas for bronze hardware to shine. And when you have such a timeless finish and material, why not go with oversized cabinet handles and wall-mounted bronze tapware?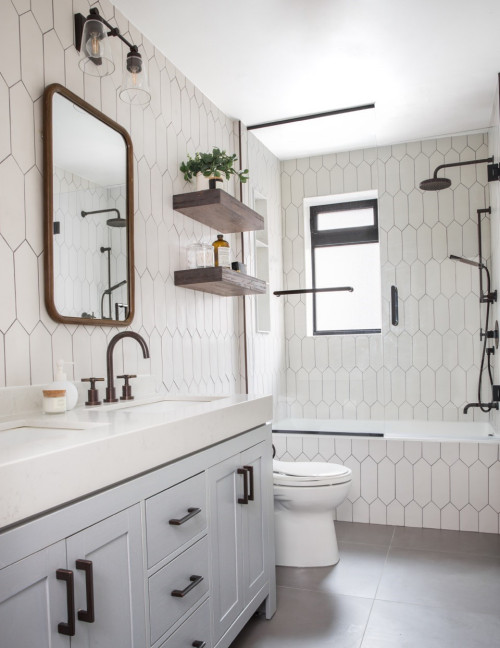 ID# 155623 | Houzz.com – Credit | © CIOT | Stone & Tile
---
Oil Rubbed Bronze Bathroom Hardware Ideas with Picket Tile Backsplash and White Double Vanity
This already good-sized beach-style bathroom is encouraged to feel larger than it is with its all-white color scheme. But even in its monochromatic scheme, it makes so many things happen simultaneously. First, a white picket tile backsplash clads the entire room, including the bathtub itself, to create a visually integrated design. The white double vanity allows two people to do their bathroom routines at the same time, saving lots of time. The oil-rubbed bronze showerhead, mirror frame, and cabinet pulls pair perfectly with the wood floating shelves, bringing this design to life. And a wall niche by the shower offers a smart storage solution to keep toiletries. In case you would like to incorporate more life into this bathroom, indoor plants are a way to go.
How to paint bathroom hardware?
Before painting bathroom hardware, cleaning it is a must. You can use sandpaper to rub it so that the surface will be rougher, which will make it easier for the paint to stick to it. And don't forget to clean the hardware and remove the residual dust. If you wish, you can also applly a coat of primer before starting to paint, which is highly recommended. The drying process can be a bit long, which may take even a day or so. Depending on the results, you can apply 2 or 3 layers of paint. Also, make sure that paint is waterproof and specifically made for metals.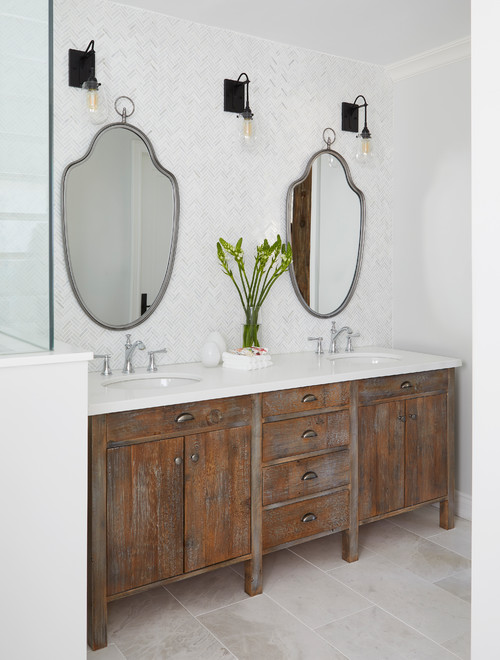 ID# 155624 | Houzz.com – Credit | © Dvira Interiors
---
Weathered Vanity with Herringbone Tile Backsplash and Bronze Hardware
This transitional bathroom features modern and rustic features, making a harmonious mélange with them. From the weathered vanity to bronze hardware and polished chrome tapware, each design element has a world of its own. For example, a herringbone tile backsplash taken up to the ceiling adds a contemporary touch, while lighting fixtures bring a country flair. Overall, its neutral color scheme is introduced warmth with an antique-looking vanity.
Brushed Nickel Bathroom Hardware
Available in polished, satin, and brushed finishes, nickel hardware- especially brushed nickel- is as classic as chrome fixtures. Yet unlike chrome, it features a subtle and soft glow that makes it more casual. Versatile and adjustable for any design, it suits many styles from traditional to modern. Yet, due to its muted glow, it is preferred more by traditional and country looks as well as beach-style designs.
In functional terms, brushed nickel is a durable metal finish. The only disadvantage is that it can develop white tarnish over time due to the humidity in bathrooms. But with a mixture of vinegar and water or any other non-abrasive cleaner, you can remove this tarnish.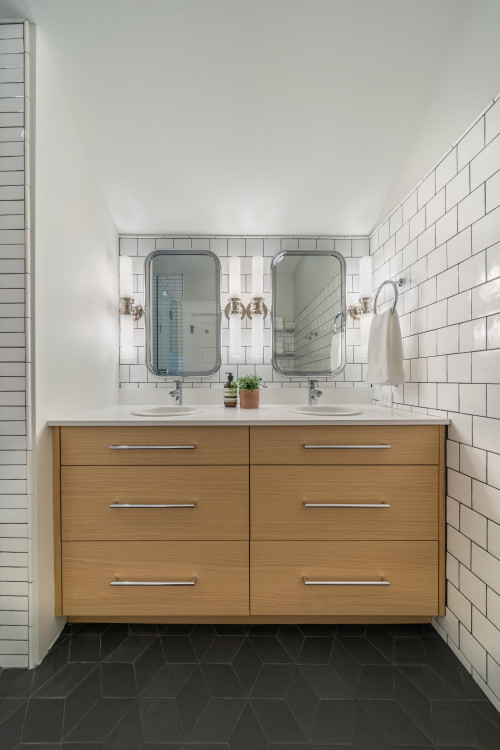 ID# 155625 | Houzz.com – Credit | © Good Space Plans Online
---
Brushed Nickel Hardware Ideas with Subway Tile Backsplash and Wood Vanity
Placed in an alcove, this double vanity is accompanied by a duo of drop-in sinks and two mirrors. Plenty of mid-century-style lighting mixtures provide enough task lighting for this corner that doesn't get enough sunlight. In this window-challenged room, they totally make it up for this transitional bathroom. Plus, their chrome finish along with chrome cabinet pulls, faucets, and towel bars give the room extra shine and glam. As for the rest, a white subway tile backsplash and black Escher floor tiles establish a contrasting scheme. And the black grout between these subway tiles gives them a better definition and a more metropolitan look.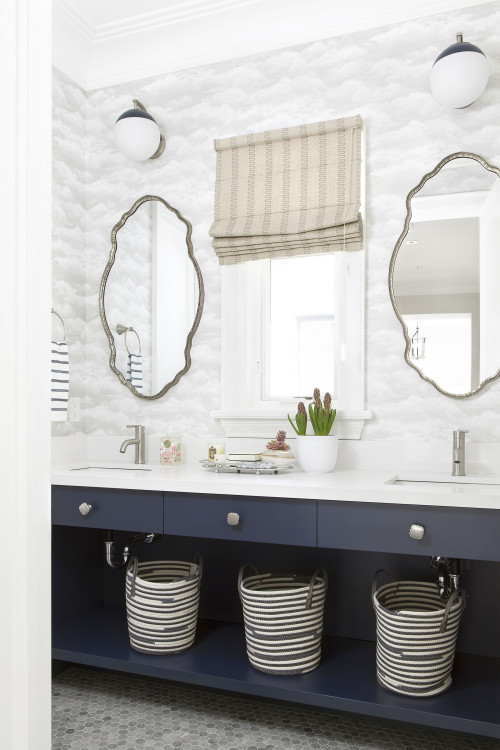 ID# 155626 | Houzz.com – Credit | © NM Interiors
---
Blue Vanity with Marble Hexagon Tiles and Wallpaper Design
Don't skimp on small details when designing a bathroom. They are what makes a design work. Here, for example, the intriguing mirror frames, the globe-shaped wall sconces, and the window shades add personality. Together, they make the design homey and cozy, while the dark blue vanity grounds this look. Additionally, cloud-patterned wallpaper design creates an illusion of sky indoors skillfully without feeling over the top. The baskets provide enough space to store toilet paper or towels in this guest bathroom, thus keeping the room livelier and lived-in. The nickel hardware suits the blue best- as proven by this room one more time. And finally, marble hexagon mosaic tiles clad the floor to ensure the floor is non-slip thanks to the traction created by these small tiles.
Where to buy bathroom hardware?
IKEA, Amazon, Lumens, Pottery Barn, and Wayfair are some of the well-known options that offer a wide range of products for bathrooms. You can allso find different alternatives in local home improvement stores.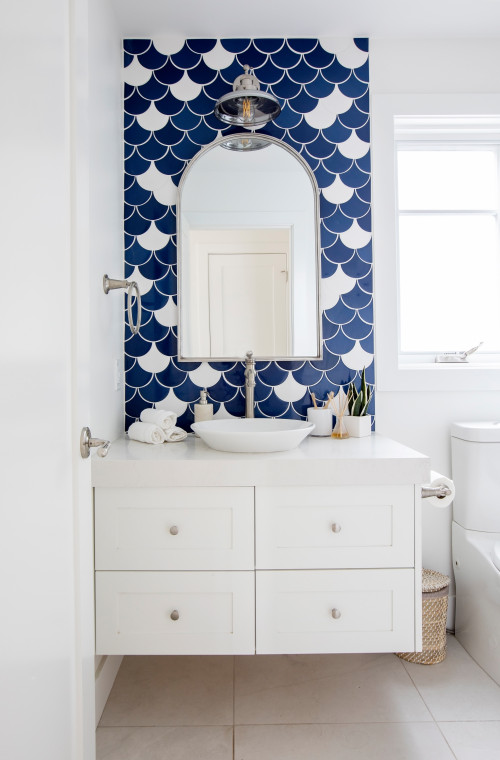 ID# 155627 | Houzz.com – Credit | © Kennedy Construction
---
Beach-Style Bathroom with White Floating Vanity and Blue Mermaid Tile Backsplash
The combination of white, blue, and nickel hardware is a very popular mixture in beach-style bathrooms. And this bathroom is no exception. Employing a blue mermaid tile backsplash taken up to the ceiling, this bathroom creates a visual focal point. The white floating vanity adds soft detail to the wall and is perfectly fitted to the compact size of the bathroom. The brushed nickel bathroom accessories such as lighting fixtures, faucet, towel bar, and cabinet hardware synchronize harmoniously to create a cohesive look.
Mix and Match Materials
If there is one room that suits best mixing and matching materials, it is the bathroom. Very inclusive when it comes to patterns, colors, and materials, bathrooms generate a wide range of looks. Since they are the zones used to wash off the day, it is important to go with intriguing textures to stimulate the senses. For example, wood, stone, glass, and rock are some of them. And to unify them, all you need is hardware. It could come in one version of metal, be it copper, steel, brass, chrome, or nickel. Or you can make your intriguing hardware, especially for cabinets. For example, rustic bathrooms go with cabinet handles made of ropes and wood. Yet eventually, it all boils down to personal imagination at the end of the day.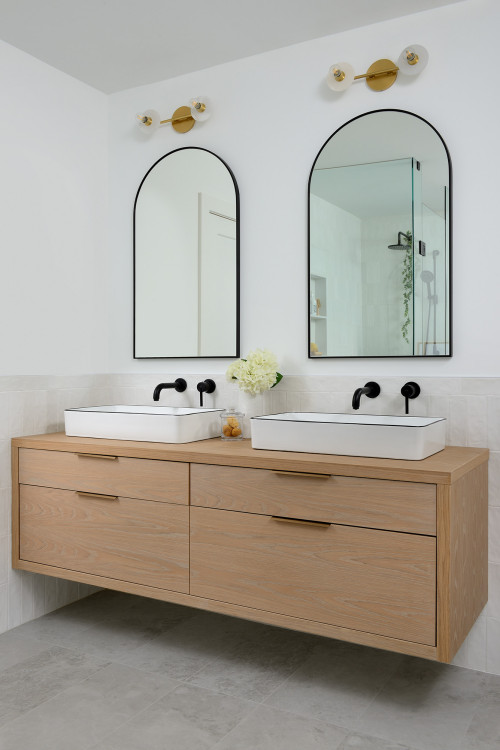 ID# 155628 | Houzz.com – Credit | © Michelle Berwick Design
---
Bathroom Hardware Ideas for Floating Vanity and Arched Mirrors
In this Scandinavian bathroom, the light-colored palette and floating vanity play up the height of this relatively small space. The suspended vanity keeps the floor level freer, making it easier to clean and convenient to keep wicker baskets underneath as visual accents. The arched mirrors, on the other hand, add soft aesthetic features, breaking up the rectilinear lines presiding over. The brass lighting fixtures and lip pull notches bring further warmth to support the wood vanity. The glass globe-shaped shades of lighting fixtures give the design another classic finish.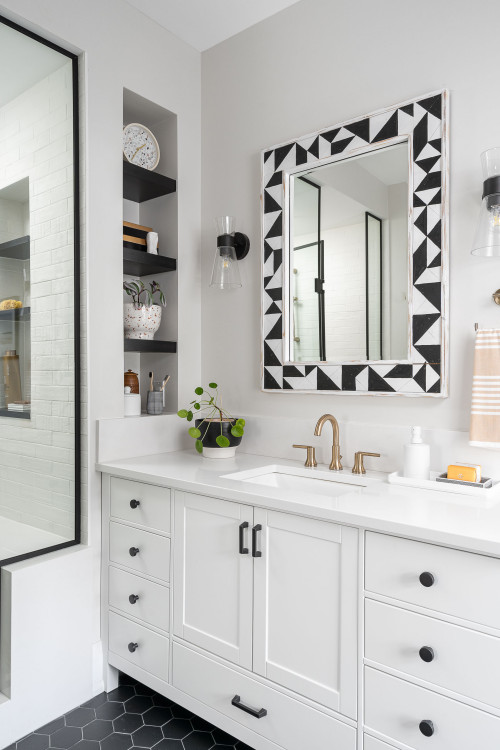 ID# 155629 | Houzz.com – Credit | © Two Birds Design
---
White Shaker Cabinet with Floating Shelves and Black Hardware
This transitional bathroom knows how to benefit from a cramped space to the fullest by evaluating every single corner. For example, a wall niche is divided into multiple sections to store accessories and plants to personalize the design. A vertically mounted mirror enhances the brightness and openness of the room, while black hexagon floor tiles anchor the design. The white shaker vanity stays loyal to the present color scheme with its black hardware. Likewise, the mirror with its geometric-pattern white-and-black frame gives a contemporary spin to the room. Among all the black hardware, it is only tapware that is brass brought in to introduce warmth.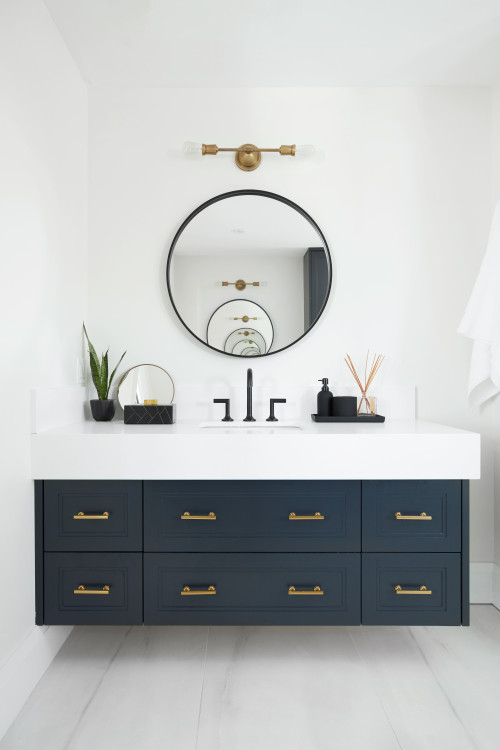 ID# 155630 | Houzz.com – Credit | © Kim Jeffery
---
Dark Blue Floating Vanity with Brass and Black Hardware
In this modern bathroom, a mixture of black and brass hardware creates an engaging design. First, the brass cabinet pulls punctuate the dark blue vanity to bring warmth out of it. Secondly, black tapware builds a sense of contrast with a thick quartz countertop that injects optimism. And the white-painted walls just keep the bathroom peaceful, calm, and serene. The rounded black-frame mirror and a brass lighting fixture complement the overall design aesthetic. The final product feels well-balanced, colorful, and calm all at once.