25+ Black Bathroom Hardware Ideas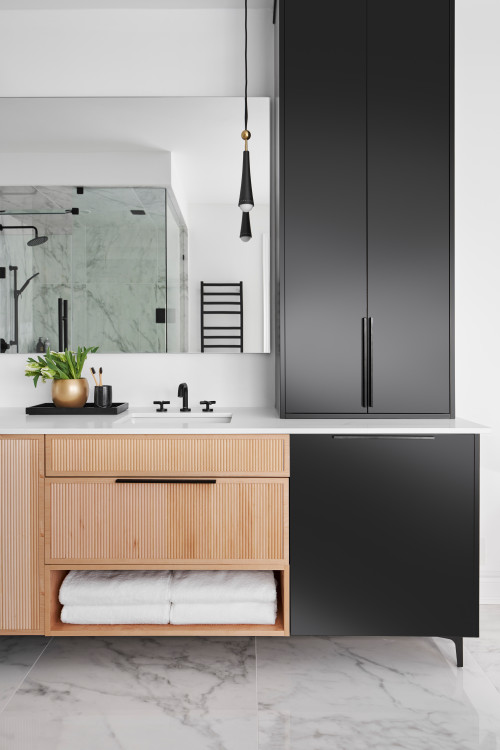 ID# 160210 | Houzz.com – Credit | © avenue design inc
---
Trendy Designs In Bathrooms
Trendy designs draw attention in the bathroom, where black details stand out directly. Modern black bathroom hardware dominance gains integrity by being supported with other cabinets and accessories. The modern atmosphere is perfectly created in the bathroom, which includes very trendy pieces. The noble and characteristic feature of the black color is maximized in the bathroom. In addition, it is seen that the bright appearance in the bathroom, where black tones are used quite a lot, is provided with marble floors and white walls. A wide and spacious view is supported by choosing a wide mirror. Gold accessories, which are preferred with the gold details in the lighting, reveal the emphasis on luxury.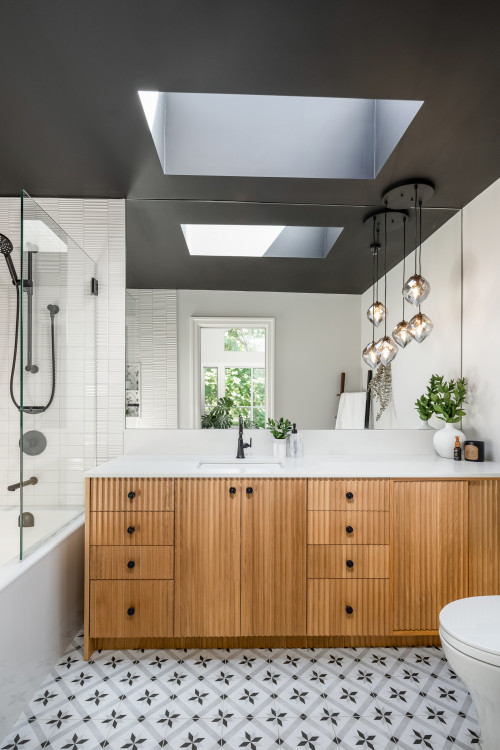 ID# 160213 | Houzz.com – Credit | © Triple Dot Design Studio
---
Bathrooms Emphasizing Naturalness and Elegance
The bathroom, where lighting is provided with maximum efficiency, has a very contemporary look. In addition to adding a natural look to the wooden bathroom vanity area, it brings elegance to the fore with its modern lines. In addition, black bathroom vanity Hardware maximizes the stylish look. The patterned tiles preferred on the floor add a pleasant atmosphere to the space. The smooth white countertop perfectly reflects the clean look expected of a bathroom. In the bathroom where naturalness is brought to the fore, green leafy accessories are an excellent choice.
Black Bathroom Hardware Ideas
If you're looking to add a touch of sophistication and modernity to your bathroom, black bathroom hardware can be a great addition to your home! Black hardware designs, such as faucets, showerheads, towel bars and toilet paper holders, can create a bold and sleek look in any bathroom design. Whether you have a contemporary, industrial, or minimalist style, black bathroom hardware can effortlessly elevate the aesthetic of your bathroom. So, if you want to learn more about black bathroom hardware ideas, scroll down and find some inspirational designs!
It can provide a striking contrast against light-colored walls or tiles, creating a dramatic focal point. Additionally, black hardware can be versatile, pairing well with various color schemes, from monochromatic to vibrant, adding a chic and edgy vibe. With its timeless appeal and versatility, black bathroom hardware can be a statement-making addition to your bathroom, elevating its overall aesthetic to new heights.
Is black bathroom hardware out of style?
The black color and black hardware concept, which are among the classic choices among bathroom decoration ideas, is a choice that resists time. Classic but modernized material and geometrically shaped hardware choices remain popular today as an innovative choice among design ideas.
What color goes with black bathroom fixtures?
Black bathroom fixtures can create harmony with a wide range of counterparts as black is known to dominate over other colors. When utilized in balanced and appropriate measures, the use of black products can complement white tones and light natural hues, resulting in a flawless contrast. This is why black is considered the most fitting color to use in bathrooms.
Types of Black Bathroom Hardware Ideas
Black bathroom hardware ideas is an ideal choice for stylish and elegant bathrooms. With the easy combination of black color with furniture and other details, it becomes effortless to reveal stylish looks. In addition, in bathrooms where black meets light tones, contrast is easily achieved and depth and warmth are added to the space. Modern bathrooms with black fixtures present a very noble appearance.
Modern Black Bathroom Hardware
Black fixtures and black accessories are among the trending designs. With Modern Black Bathroom Hardware, it becomes very enjoyable to create modern bathrooms by maximizing the trendy look. It is seen that black color can be easily combined with other colors, such as the perfect contrast harmony of black and white, and the noble and characteristic atmosphere of wood with black. Especially the use of Modern Black Bathroom Hardware is in perfect harmony with the whole bathroom.
Are black bathroom fixtures a good idea?
Black bathroom fixtures are the perfect choice for users who direct their preference to products that reflect their taste among bathroom decoration options, for those who want to add a stylish look to their bathrooms without compromising on a spacious and bright appearance. In color harmonies where black products stand out, users bring a modern elegance to their bathrooms with black bathroom fixtures.
Black Bathroom Vanity Hardware
One of the most noticeable things in a bathroom is the bathroom vanity. It is one of the items with the largest area in terms of the area it covers. Therefore, bathroom vanity is very important in modern bathrooms. By choosing black details, it is possible to achieve a stylish look by catching contrast. Especially black bathroom vanity hardware gives the bathroom a very stylish look. In addition, the faucets and mirrors preferred in the rest of the bathroom are also chosen in black, giving black bathroom vanity hardware perfect integrity. Additionally, black bathroom vanity hardware can achieve perfect harmony with bathroom vanity color options.
Matte Black Bathroom Hardware
It is seen that one of the best ways to reflect trendy designs in modern and stylish bathrooms is to frequently use the color black in bathrooms. Matte black bathroom hardware, which is particularly trendy, adds a characteristic atmosphere to bathrooms. Incorporating details such as black sinks and black fixtures in contemporary bathrooms maximizes the stylish appearance of the space. The simply preferred bathroom cabinets become much more stylish and modern thanks to Matte Black Bathroom Hardware. Also, while glossy black creates a flawless look, matte black seems to maximize the noble and modern look of the space.
What is considered bathroom hardware?
When it comes to bathroom hardware, some might think their options are limited. However, there are actually a variety of designs available that expand the range of products used in bathroom areas. Apart from standard functional products like towel hangers, cabinet handles, and lighting heads, there are also metal and wooden details used in the joining of ceramic products and complementary accessories that are designed with users' tastes in mind. So, whether you prefer sleek and modern or rustic and natural, there's a bathroom hardware option out there for you.
White Bathroom with Black Hardware
The essential feeling of cleanliness in bathrooms is best reflected in white. Especially smooth white countertops make a perfect emphasis on cleanliness. In addition, the relaxing effect of white makes the time spent in the bathroom much more peaceful. For users who prefer a white bathroom, Black Hardware is the perfect companion. Taking advantage of the perfect contrast harmony of white and black, the space is made much more elegant. White bathroom with black hardware thus offers much more enjoyable bathroom spaces. In addition, for users who like a simple look, white bathroom with black hardware can be an enjoyable option.
How do you install a bathroom hardware set?
The material and color concept of the products that the user will prefer in line with the aesthetic and functional expectations of the bathroom design shapes the bathroom hardware set applications.
The hardware set, in which the most suitable colors and materials are preferred for the atmosphere desired to be created in the bathroom, is applied in a way that highlights itself among the other elements that make up the bathroom.