34+ Blue Bathroom Vanity Ideas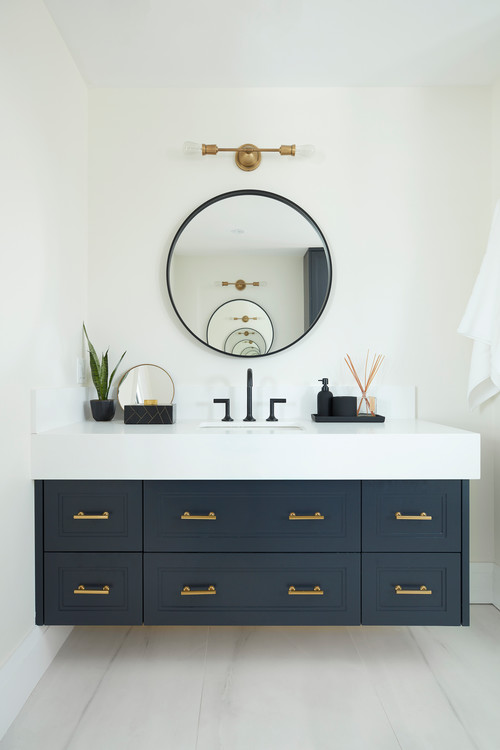 ID# 160304 | Houzz.com – Credit | © Baudīt Interior Design
---
Dark Blue Bathroom Vanity Ideas For A Minimal Bathroom
The dark blue bathroom vanity with a white sink and the white walls create contrast in the space. This bathroom looks very spacious with its white dominant design. The white walls and white tiles bring light to the space. The black hexagon shower tile floors and black shower appliances support the contrastive bathroom look. Also, the light hardwood floors add warmth to the space.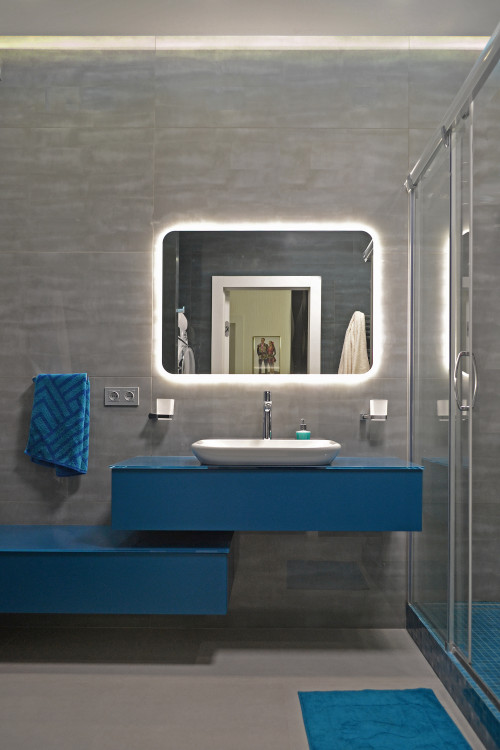 ID# 160320 | Houzz.com – Credit | © ГАлина Крылова & ТАтьяна Серова
---
The Harmony Between Blue And Gray In A Contemporary Bathroom
This blue and gray contemporary bathroom looks spacious and trendy. The gray porcelain tiles on the walls and floor provide a modern and stylish look to the space whereas the modern blue bathroom vanity with a flat-panel layout offers a minimal bathroom style and adds color to the space. Also, the mirror with light around it on the gray walls invites an airy feeling to the space.
Blue Bathroom Vanity Ideas
Blue bathroom vanities are a versatile and stylish choice for elevating the aesthetic of any bathroom. With various shades and tones of blue, there are endless possibilities for creating a unique and personalized bathroom design. Whether it is a sophisticated navy or a bright baby blue, a blue bathroom vanity can easily elevate your design by adding a pop of color. So, if you want to learn more about blue bathroom vanity ideas, scroll down and find some inspirational designs!
Navy blue vanities exude an air of classic elegance and sophistication, making them a timeless addition to any bathroom. The combination of navy blue with white or brass hardware creates a refined and sophisticated atmosphere, lending an air of luxury and sophistication to the space. In contrast, light blue vanities create a fresh and calming ambiance suitable for small bathrooms or spaces with limited natural light. Pairing light blue vanities with white or pale-colored countertops imparts an airy, clean feel to the area.
For those who are daring and want to make a bold statement, teal or turquoise blue vanities add a pop of color and modernity to the space. These vibrant shades of blue create a focal point in the bathroom and bring a sense of energy and style to the room. Pairing teal or turquoise blue vanities with brass or gold hardware gives a luxurious and chic look.
Hues of Blue Bathroom Vanity Ideas
Shades of blue are the perfect choice for adding color to your bathroom décor. A space designed to highlight the importance of water in keeping us clean, healthy, and rejuvenated makes sense in the hue of the water. One of the most common ways to add blue to the bathroom space is to work with hues of blue bathroom vanity ideas.
Blue is calming, peaceful, and evocative of the sea and sky. However, depending on the tint and intensity, blue may be anything from light and airy to dark and somber to energetic and electric. The most trendy blue hues for bathroom vanities are navy blue, light blue, dark blue, and blue-gray. These hues of blue bathroom vanity ideas will change your bathroom's look completely and provide you with a stylish and dreamy bathroom.
Navy Blue Bathroom Vanity
Imagine creating your dream bathroom with just one gold piece – a navy blue bathroom vanity. This item can instantly transform your bland bathroom into an elegant, timeless, and stylish sanctuary. The possibilities with a navy blue vanity are endless – it can be arranged in a variety of ways to suit your personal taste. What's important to consider is the stunning effect navy blue can have when paired with light gray or white walls and wooden surfaces. It's a perfect solution for those looking to renovate their white bathroom while maintaining a non-intrusive design. To take it up a notch, consider pairing your navy blue vanity with stunning mosaic tiles to achieve a modern and original bathroom look. With just one piece, you can elevate your bathroom to a space that's both functional and inviting.
Light Blue Bathroom Vanity
Transform your bathroom into a calming oasis with a light blue bathroom vanity. This color floods your space with a serene and tranquil vibe that invites relaxation and peace into your daily routine. The delicate shade of light blue pairs perfectly with any bathroom style, whether it be modern or coastal. It blends harmoniously with other colors and materials in the bathroom, making it an excellent addition even for those with contrasting decor. You can choose a light blue vanity with a sleek and unadorned design or one with intricate details – either way, it instantly elevates the aesthetic of your bathroom. The light blue bathroom vanity has a gentle and airy appearance that invites in calmness and freshness, making your bathroom feel welcoming and rejuvenating. It's the perfect choice for anyone seeking a timeless and soothing look while using their bathroom.
Dark Blue Bathroom Vanity
Many homeowners usually prefer white and light colors in their bathrooms because dark colors can make a space look smaller. However, dark colors can also look great in bathrooms, even if there is no natural light present. What matters most is your desired aesthetic and the atmosphere you want to create in the bathroom. Inviting a dark color into your bathroom can be easy by decorating it with a dark blue bathroom vanity. A dark blue bathroom vanity ideas are one of the best items to use for creating an elegant and timeless bathroom look. You can paint the walls white to provide some light in the space. Also, you can use glossy backsplash or tiles for walls and floors. Contrary to popular belief, you can be stylish and bright with dark colors such as dark blue.
Blue Gray Bathroom Vanity
Grey and blue are the perfect color combination for a bathroom, and this adaptable color combination will work for you whether you want to create a laid-back seaside vibe or a modern glam style. The color blue represents calmness, serenity, and peace whereas the color gray symbolizes balance and neutrality. Thus, these two colors can be perfect partners to create a stylish bathroom. If you don't know how to combine blue and gray, you can add blue bathroom accessories such as vanity to your gray bathroom. Blue vanity can add color to a gray bathroom. A blue bathroom vanity in a gray bathroom can provide you a with unique and trendy bathroom look.
What colors go with a blue bathroom?
One of the most adaptable colors is blue in the bathroom. It complements other blue shades, white shades, pink shades, and neutral tones like olive and vanilla very nicely. Alternatively, you can combine several blue tones to create an ocean effect in your bathroom.
Types of Blue Bathroom Vanity Ideas
It does take work to update the outdated bathroom with modern color. A straightforward alteration to the vanity can easily solve the problem rather than changing the tiles or attempting to squeeze in an accent wall. A blue bathroom vanity can change the whole look of your bathroom with minimum effort. The blue bathroom vanity stands out in the room's neutral color scheme and draws a lot of attention, while the hue's repetition across the room enhances the area's aesthetic appeal.
The blue vanity lets you experiment with several design aesthetics, such as coastal, modern, and minimal, without significantly changing the room. More so than the color itself, the vanity's material handles, and general construction influence style. So, there are lots of types of blue bathroom vanity ideas that can work for you. All you have to do is choose one of the vanity types!
Modern Blue Bathroom Vanity
Every year, vanities become bigger and bigger, and with good reason – bathroom storage is always in demand. In light of this, consider how you may expand your area. An enormous or double modern blue bathroom vanity is a common element of well-liked bathroom designs, and wall-mounted cupboards and medicine cabinets are very practical. Recessed or built-in designs can assist save space if there isn't much of it while also providing enough places to store your toiletries. Space-saving bathrooms require organization, so any cabinets or shelves you add should include drawer organizers, trays, and bins to keep smaller accessories under control. Also, a modern blue bathroom vanity can bring style and uniqueness to your bathroom.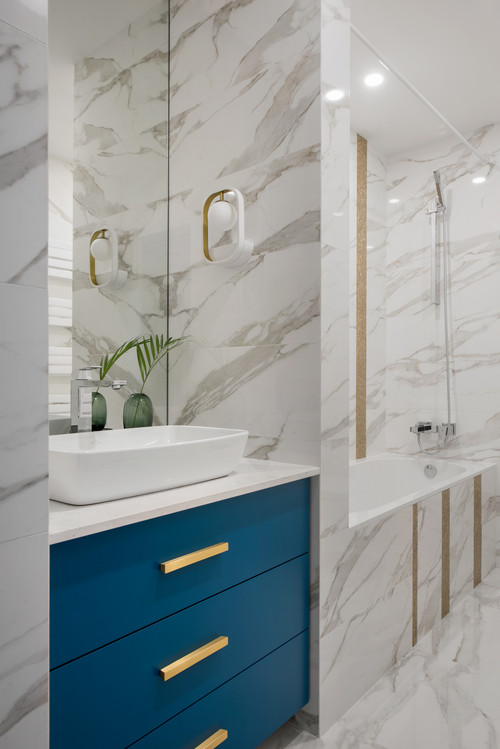 ID# 160319 | Houzz.com – Credit | © Юлия Каманина
---
White Marble Bathroom Tiles with Teal Cabinets
White ceramic tiles on the walls and porcelain tile floors make this bathroom modern and rich. The modern blue bathroom vanity adds color and style to the space. The golden handles on the flat panel vanity increase the rich bathroom look. The white sink brings light to the area. Also, the green plant on the vanity includes a natural vibe to the space. In addition, the gold details on the shower area support the rich and modern bathroom look entirely.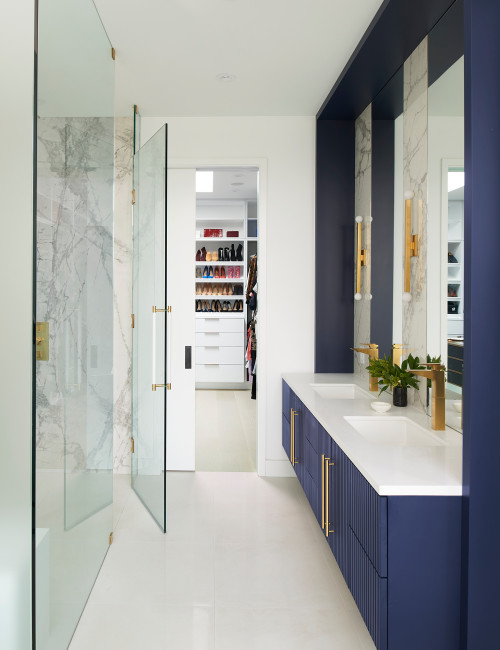 ID# 160321 | Houzz.com – Credit | © avenue design inc
---
Modern Blue Bathroom Vanity In A White Contemporary Bathroom
The star of this bathroom is the modern blue bathroom double sink vanity with white sinks and countertop. The golden faucet and golden handles invite richness and warmth to the space. The marble shower walls and glass shower doors increase the deluxe bathroom look perfectly. Also, the white countertops and sinks highlight the beauty of the modern blue bathroom vanity. Lastly, the white walls and floors offer a spacious and bright bathroom environment.
Small Blue Bathroom Vanity
Are you tired of feeling cramped in your small bathroom? If you want to create the impression of more space, consider investing in a small bathroom vanity. While bigger vanities used to be all the rage, the trend has shifted towards smaller options. Not only do small vanities save space, but they also add color and style to your bathroom. Have you ever considered a small blue bathroom vanity? This trendy color can completely transform the look and feel of your space. Don't settle for a boring bathroom – upgrade to a stylish and unique oasis with a small blue bathroom vanity.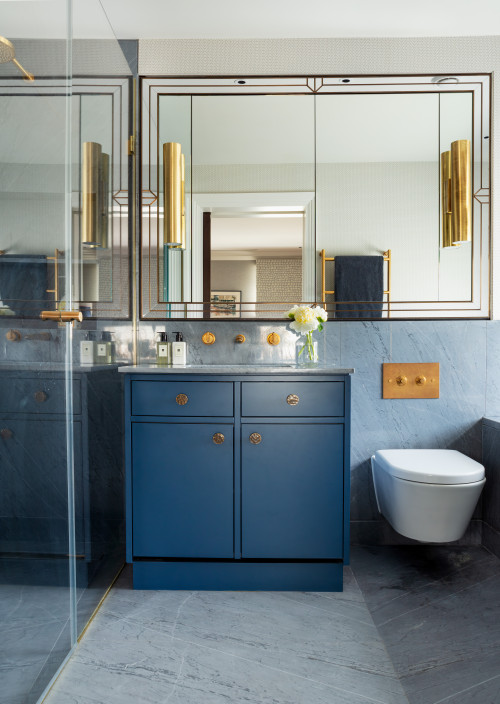 ID# 160322 | Houzz.com – Credit | © Showcase Ltd
---
Small Blue Bathroom Vanity Ideas with Gray Marble Tiles
This transitional bathroom looks elegant and fresh. The focal point of this bathroom is the simple yet beautiful small blue bathroom vanity. The enormous gold detailed mirror adds glamour and deluxe to the space. The blue tile walls and the vanity add freshness and calmness to the luxurious bathroom nicely. The gold hardware and gray countertops complete the deluxe look by adding more shine and warmth.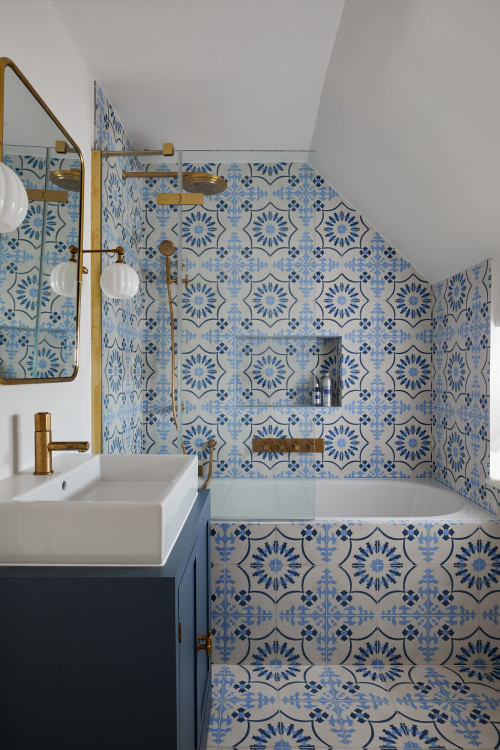 ID# 160323 | Houzz.com – Credit | © BLANK-SLATE STUDIO
---
Blue and White Patterned Tiles with Mediterranean Vibes
I am absolutely in love with this small but cute bathroom! It's simply charming with its delightful blue flower-patterned tiles in the bathing area. The small blue bathroom vanity catches your eye and complements the stunning tiles in the most perfect way. The gold hardware adds a warm and glamorous touch to the space that really makes you feel at home. The small blue bathroom vanity brings together the whole blue decor seamlessly and ensures that the room doesn't feel too cramped. Finally, the mirror brings in extra light creating a bright and refreshing ambiance that feels so good for your soul!!
Are blue vanities out of style?
Although a lot of people prefer vanities that are either white or have a wood finish, fixtures with a pop of color are becoming more popular. Blue and its other shades are very common colors for bathroom vanities. Blue vanities are sophisticated and stylish and offer a calm bathroom environment.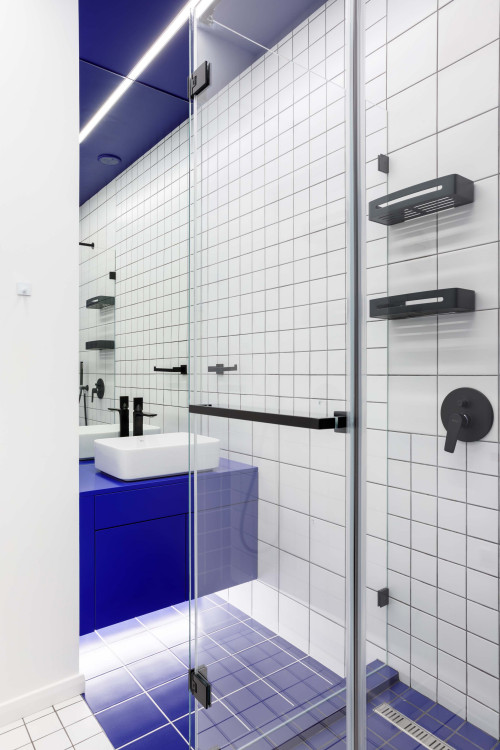 ID# 160324 | Houzz.com – Credit | © Уразметов Рустэм
---
Very Small Contemporary Bathroom with Square Tiles
This blue and white contemporary bathroom looks unique. The small blue bathroom vanity and the white bathroom tiles on the floor and walls represent how minimalism can achieve more than imagined. Everything is simple and plain yet the blue vanity and ceiling make the space unique and trendy.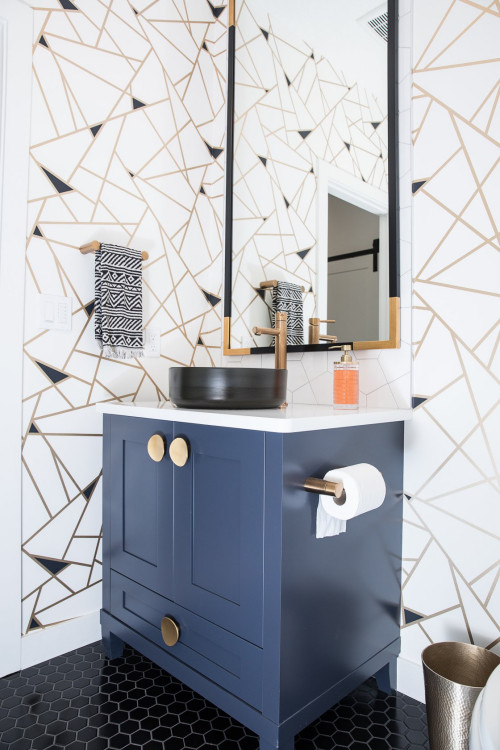 ID# 160325 | Houzz.com – Credit | © Alana Loranger
---
Eye-catching White Wall Tiles with Gold Accents
The multi-colored triangle layout backsplash is the main focal point of this small bathroom. The walls and the black hexagon tile floors add movement and uniqueness to the space. The small blue bathroom vanity balances two different patterns perfectly and makes the space neutral. The simplicity of the blue vanity prevents a chaotic bathroom look. It is the perfect choice to create this unique look.
Coastal Blue Bathroom Vanity
The finishing touches in bathroom decor, are what make a makeover complete. The term decor in the bathroom can be used quite loosely; a coastal blue bathroom vanity can enhance the style of the room. For a coherent vibe, choose bathroom mirrors, lights, and fixtures with finishes that reflect the style you want to achieve. You should also match or coordinate the soap dispensers, toothbrush holders, and wastebaskets. Add some artwork or a colorful vase filled with fresh flowers if you're fortunate enough to have additional counter or wall space. Also, do not forget to choose backsplashes or tiles to pop out the beauty of the coastal blue bathroom vanities.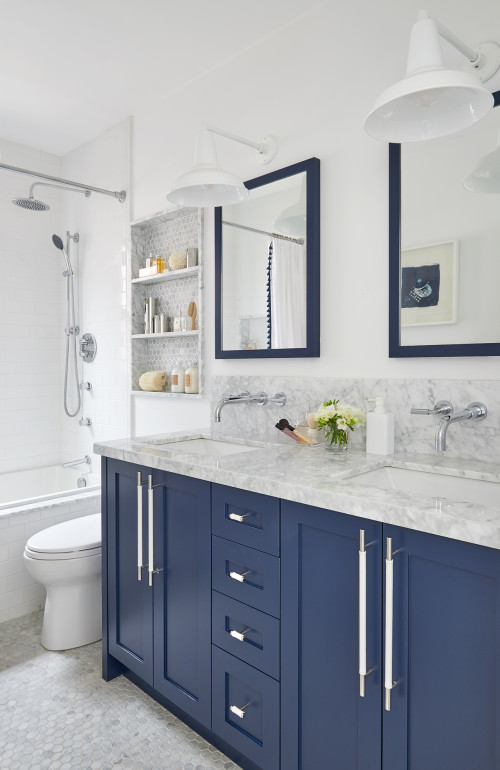 ID# 160326 | Houzz.com – Credit | © rtg designs
---
Blue and Gray Bathroom Design with Chrome Fixtures
This white transitional bathroom looks very cute with its coastal blue bathroom vanity with light gray marble sinks and countertops. The grayness of both the double sinks and countertop helps to highlight the beautiful coastal blue bathroom vanity. The silver handles on the vanity add shine and richness to the area. The gray tile floors complete the vanity look perfectly. Also, the coastal blue mirrors create continuity and wholeness in the space.
What is the most popular color for bathroom vanity?
It seems that the preferred bathroom vanity hues this year are peaceful blue, calming green, and inviting warm neutrals. These colors follow the latest bathroom color fads from last year, and seem to reflect a desire for a serene and soothing atmosphere. Another trend for this year is the use of warm, natural colors, creating an earthy and inviting feel. Additionally, all-white bathrooms are still in, exuding a sense of freshness and simplicity. Lastly, blue tones are still popular, evoking feelings of calmness and tranquility.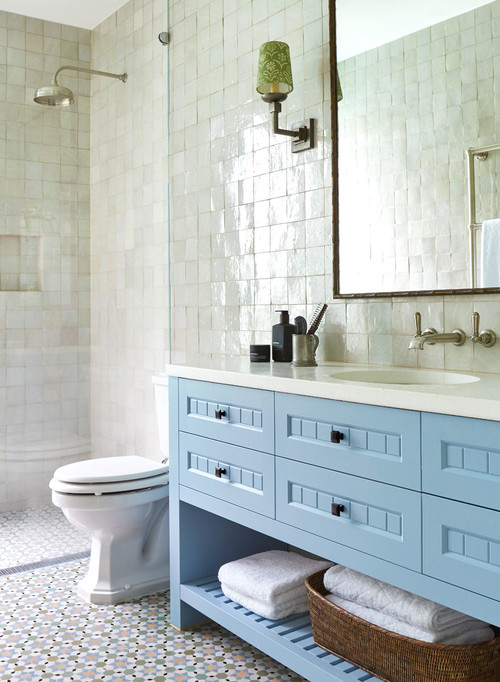 ID# 160327 | Houzz.com – Credit | © Tiles of Ezra
---
Glossy White Square Wall Tiles with Flower Patterned Floor
The glossy cream porcelain tile walls draw attention to the adorable coastal blue bathroom vanity. The vanity adds a beachy vibe to the bathroom which makes the bathroom space peaceful. The flower-patterned floors add movement and cuteness to the bathroom. Also, the huge mirror reflects the light perfectly, thus the bathroom space looks more spacious and brighter.
Blue Bathroom Vanity with Gold Hardware
Home decorators are increasingly using gold bathroom hardware, particularly when creating statement-making bathrooms. A few years ago, gold hardware entered the field of bathroom design, and it has since established itself as a standard for contemporary or modern style. Shiny gold bathroom hardware adds an extra touch of luxury, giving any bathroom a sophisticated, opulent appearance.
No of the size, gold hardware may simply give a bathroom design an elegant touch. Towel bars, hooks, and faucets are a few common bathroom hardware items made of gold. The best thing about gold bathroom hardware is that it can blend with any color scheme. Nowadays, one of the most popular interior trends is combining gold with blue in bathrooms. For instance, a blue bathroom vanity with gold hardware is a genius way to combine these colors easily.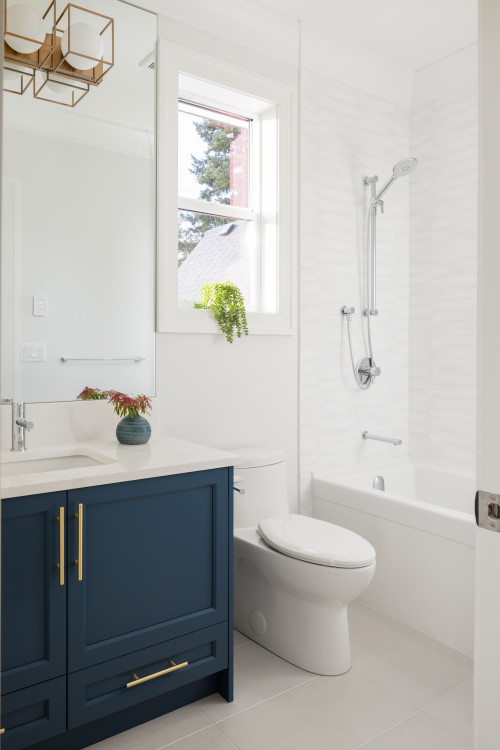 ID# 160328 | Houzz.com – Credit | © Penrose Design Inc.
---
White Bathroom Design with a Pop of Blue
This white transitional bathroom doesn't look boring or ordinary thanks to the blue bathroom vanity with gold hardware. The dark blue bathroom vanity with gold handles invites warmth and color to the white bathroom. In addition, the light cream tile floors and white walls make the space bigger and fresher.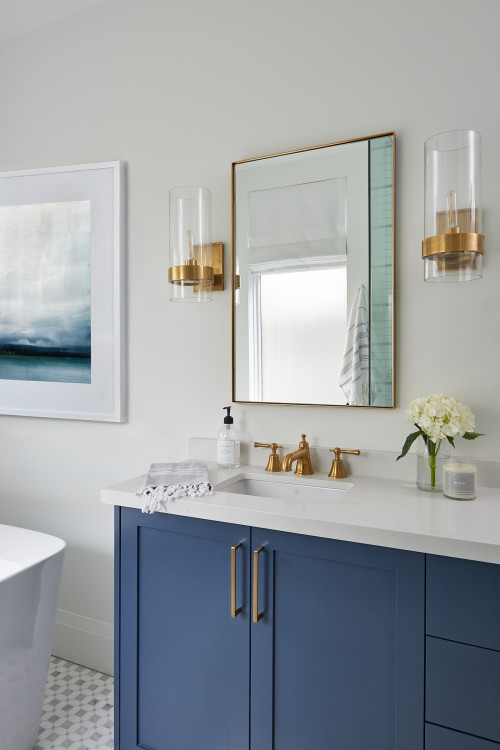 ID# 160329 | Houzz.com – Credit | © Staci Edwards Design Inc
---
Blue Bathroom Cabinets with Gold Fixtures and White Top
The blue bathroom vanity is so striking with its delightful gold hardware and white countertop! It gives the transitional bathroom such a modern and charming vibe. The gold faucet and wall light create such a warm and inviting look, making you feel right at home. With its white walls and porcelain tile floors, the bathroom feels so spacious and full of light, giving you plenty of room to move around. And have you seen the gold mirror? It's the perfect finishing touch to complete the gorgeous gold look of the bathroom!!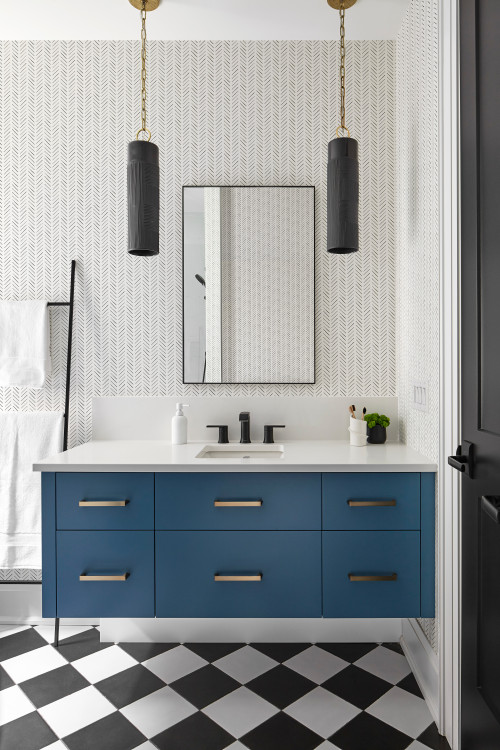 ID# 160330 | Houzz.com – Credit | © avenue design inc
---
The Sleekness Of A Blue Bathroom Vanity With Gold Hardware In A Contemporary Bathroom
As you walk into this contemporary bathroom, your eyes are immediately drawn to the stunning blue vanity with its gleaming gold hardware and flat panel cabinets. You can't help but feel delighted by the adorable and stylish atmosphere it creates. The movement and uniqueness of the space are enhanced by the striking white patterned wallpaper and black and white checkered tile floors that add depth and character. As you glance up, you notice the black pendant lights with gold chains imbuing an industrial vibe to the area. The black faucet and lights complement the overall black-and-white theme, making this bathroom look incredibly trendy. You can't resist feeling impressed by how the blue vanity and floors have transformed this space into a stunning masterpiece.
Backsplash for Blue Bathroom Vanity
Choosing a backsplash for your blue bathroom vanity is probably the most important step for you. The right backsplash can highlight the beauty of the blue bathroom vanity whereas the wrong backsplash choice can overshadow the vanity. Thus, you should be very careful with the backsplash. But don't worry! We have a couple of backsplash for blue bathroom vanity ideas for you. Firstly, you can use a blue backsplash for your blue bathroom vanity to appreciate the blueness of the vanity. This choice makes the bathroom environment oceany and very calm. To prevent the "too much blue" vibe, try to combine two different blue shades. Secondly, you can work with a white backsplash for the blue bathroom vanity to create a timeless and modern bathroom look.
The white and blue combination makes the space spacious too. Also, you can prefer a darker tone for the backsplash to have a vibrant and dramatic bathroom look. If you want to add glamour and movement to the space, you can work with hexagon tile backsplash or glossy backsplash.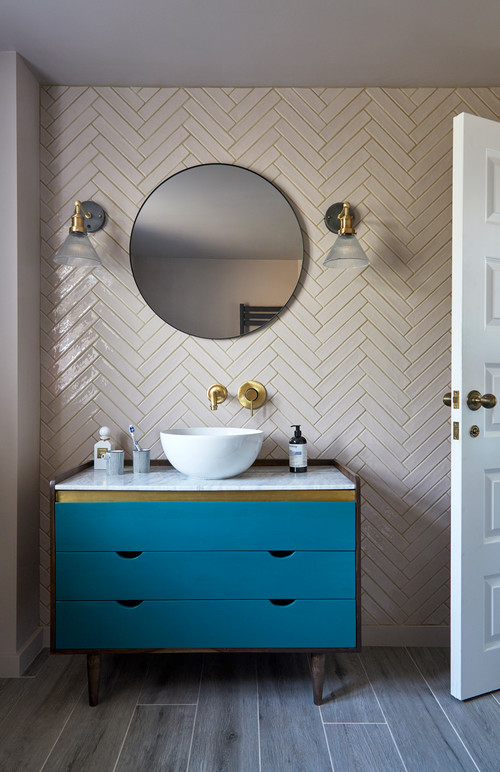 ID# 160331 | Houzz.com – Credit | © FIONA DUKE INTERIORS
---
Glass Herringbone Backsplash with Rounded Mirror
The glossy cream glass herringbone backsplash for the blue bathroom vanity makes the bathroom stylish and warm. The blue vanity adds brightness and color to the neutral contemporary bathroom. The golden details on the vanity area support the shiny look of the beige walls. The rounded mirror adds movement and makes the space look more spacious. In addition, the wooden floors make the space welcoming and neutral.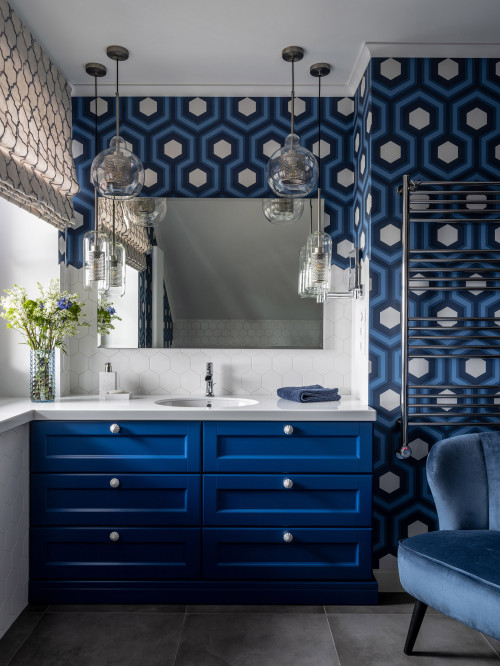 ID# 160332 | Houzz.com – Credit | © TB.Design
---
Multicolored Hexagon Patterned Wallpaper with White Backsplash
The dark blue bathroom vanity looks very cute with its white hexagon backsplash. Pairing a white hexagon backsplash with blue-dominated hexagon walls adds movement and uniqueness to the space. The blue vanity space doesn't look dark because the white backsplash invites brightness to the area. The gray stone floors balance the blue bathroom look by adding a cool color tone. The blue velvet armchair invites luxury to the space. Lastly, the mirror and glass pendant lights make the space modern.
Does blue and grey go together bathroom?
Yes, Blue and grey are a classic and stylish combination that can absolutely work wonders in a bathroom. The cool tones of blue and grey complement each other so well, creating a truly sophisticated and modern look that can bring a deep sense of satisfaction to your bathroom decor. With blue's serene and calming nature juxtaposed perfectly with the sleek and contemporary vibe of grey, you can't go wrong in achieving a stylish and cohesive design.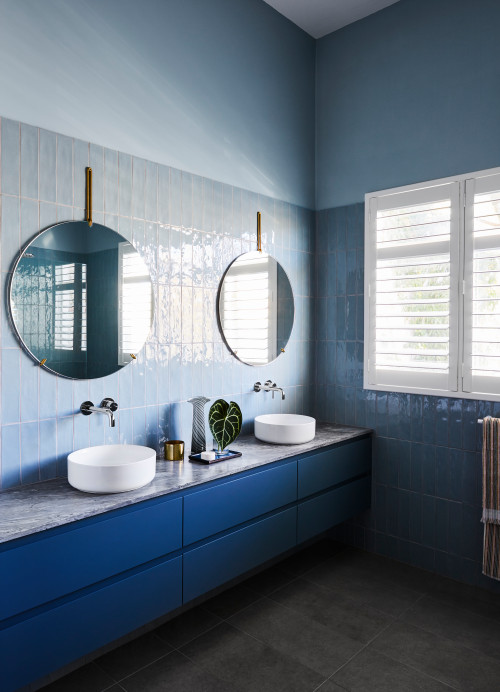 ID# 160333 | Houzz.com – Credit | © Full of Grace Interiors
---
The Bright Effect Of The Glossy Backsplash In A Contemporary Bathroom
This blue contemporary bathroom looks very stylish thanks to the blue glossy backsplash for the flat panel bathroom blue cabinets. The marble countertop adds movement and a classic vibe to the area. The blue walls create wholeness and continuity in the space. Also, the gray tile floors balance the blue look perfectly. Lastly, the rounded mirrors make the space brighter and bigger.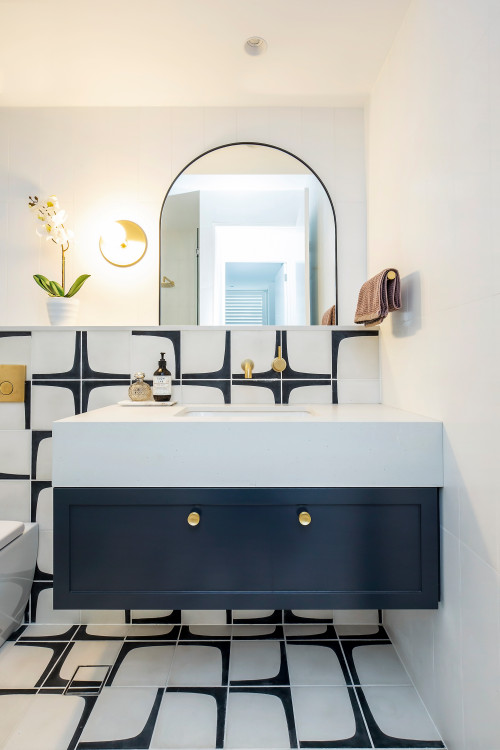 ID# 160334 | Houzz.com – Credit | © HBH Joinery
---
A Unique Bathroom With A Stylish Black and White Backsplash
The exquisite combination of black and white porcelain tile backsplash against the dark blue bathroom vanity adds a unique and trendy touch to this bathroom! The gold handles on the vanity strengthen the rich bathroom aesthetic. Adding to the overall luxurious look is the curved mirror which not only complements the space but also creates an illusion of more space. The result is a stunning bathroom design that evokes a feeling of both elegance and comfort.