34+ Small Bathroom Backsplash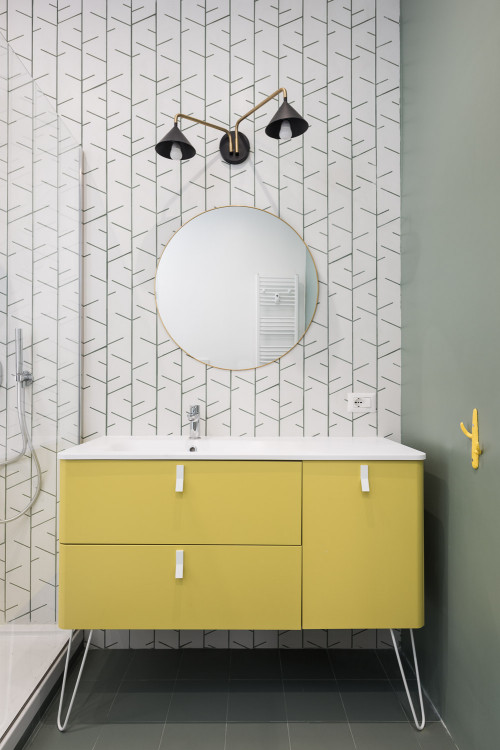 ID# 165609 | Houzz.com – Credit | © studio gamp!
---
Small Bathroom with a Muted Palette and Double-head Wall Sconce
Drawing on a soft muted palette, this cozy bathroom offers a soothing ambiance to wash the day off! The green-painted wall Is well accompanied by a yellow bathroom cupboard and green floor tiles. The vertically applied floor-to-ceiling single pieces evoke a visual interest. The bifurcated shapes on the backsplash, cabinet handles, and double-headed wall sconce not only achieve a sense of consistency but also add a playful touch. If you have a small bathroom, you can also add nuanced details to accomplish a playful and soothing design.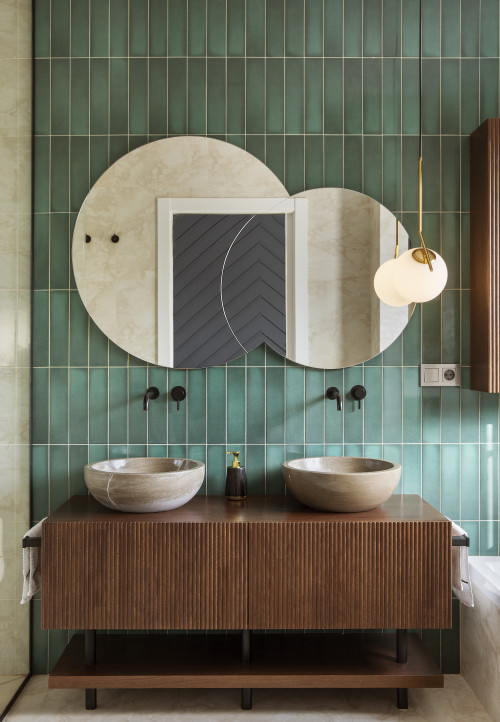 ID# 165625 | Houzz.com – Credit | © RITUAL Lifestyle
---
Small Bathroom Backsplash with Intertwined Mirrors and Wood Cabinets
This compact yet beautiful contemporary bathroom's main fixtures are flanked by two different types of bathing options: a shower and a bathtub. In the middle, the green subway tiles stretch from floor to ceiling to make a statement, adding a pop of color to break up the monotonic look of the space. The wood cabinets add a visual drama to create a contrast while their slatted doors let the interplay of shadow and light and offer layers of texture. The rest of the bathroom is coated with beige tiles to enlighten the space with a sense of warmth
Small Bathroom Backsplash
Minimalist, modern, traditional, or contemporary? What kind of look do you want for your bathroom? While going after the look you desire, if you are worried about how to arrange a small bathroom and keep everything in flow while preventing fixtures from visually and tactually blocking each other, this article introduces you to a wide range of designs that will guide you with a focus on a small bathroom backsplash.
Stylish and Functional Backsplash Designs for Small Bathrooms
A small bathroom backsplash can function as a space-enhancing factor, creating impactful designs and helping other elements blend in perfectly. While designing a small bathroom, there are a couple of visual tricks such as incorporating mirrors, building contrasts in the right proportions, and choosing and composing different colors to make it look larger. Wrap-around backsplashes, for instance, are helpful to create a monochromatic design that visually enhances the space without leading to any claustrophobic feelings. The layout of the tiles also impacts the design drastically. So, if you are ready to see more design projects, we can discover some small bathroom backsplash ideas together. Let's start!
How do you tile a small bathroom backsplash?
Tiling a small bathroom backsplash is not so much different than tiling any backsplash. The process of installing tiles is always more or less the same. However, selecting the right pattern and tile is the key point and much more important since the area you will be coating is relatively small. So, to put it differently, for the design to show itself, getting the right format is an essential detail.
After getting the backsplash and feeling ready for installation, apply mastic to the backsplash area. If it feels more convenient, you can also apply the mastic to the back of the tiles. Also, use spacers to make sure of uniform spacing across the wall. Wait for 24 hours for the tiles to dry completely and come back with a few sponges and warm water to apply the grout. Press firmly and make sure that the grout sinks between the tiles. Don't worry about the tiles getting messy. Before the grout spread on the tiles dries up, just clean it softly with a sponge soaked in warm water.
Colors for Small Bathroom Backsplash
Colors arouse different feelings. So, before choosing a color for your backsplash, first, you can decide what kind of feeling you want it to evoke in you. Cheerfulness, dramatic impact, refreshment, or calmness? Just because the bathroom is small, you also shouldn't feel restrained and think that your options are limited. When done rightly, even if the space is small, you can still incorporate various colors and patterns, creating a mixture of different feelings.
White Small Bathroom Backsplash
White backsplashes encourage the space to feel spacious, lightening it up in the meantime. Associated with purity and cleanliness, white suits the bathroom's theme and function, bringing a sense of serenity to the interiors. Using a white backsplash is a great way, especially for small bathrooms, to make the space feel larger and brighter!
Do bathrooms need a backsplash?
Yes, a bathroom backsplash is necessary to protect the walls from water, moisture, and mildew. Because bathrooms are damp and in high-traffic locations, the backsplash is even more important. Although the main aspect of a backsplash is protection, you can also enrich the aesthetic values of the bathroom to project your personality and add more character!!
Gray Small Bathroom Backsplash
Gray is a versatile color and can be adjusted to any theme with a large scale of hues. For small bathrooms, using a lighter shade of gray amplifies the space, while you can benefit from the darker hues to create a dramatic effect. Gray marble or any other stone slab backsplashes achieve excellent backdrops soothing and sophisticated in the meantime. You can also choose tile backsplashes to introduce some geometric forms with gray to make a visual statement.
Blue Small Bathroom Backsplash
Blue is a lively color that connotes water's presence as it is reminiscent of the sea, pool, and sky associated with flowing and endless forms. That's why blue as a color brings a sense of spaciousness and freedom due to its visual links to natural forms and the outdoor way of living. For the same reason, blue is a favored color for bathroom backsplashes.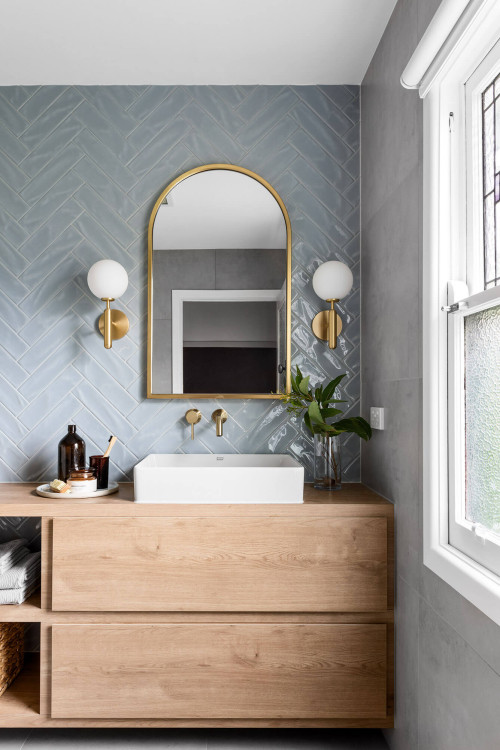 ID# 165618 | Houzz.com – Credit | © M.J.Harris Group
---
Glossy Gray Herringbone Wall Tiles with Wood Vanity
The soft neutral color scheme offers a calm and relaxing atmosphere for this modern small bathroom design! Using a full-height backsplash is a great way to make the space feel larger by creating a visual illusion and these glossy gray herringbone tiles perfectly achieve this goal! The wood vanity creates a cohesive look with the soft gray shade.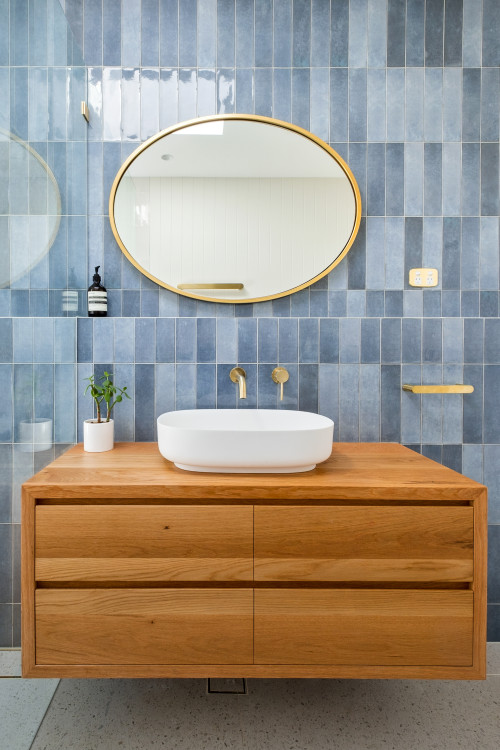 ID# 165619 | Houzz.com – Credit | © Naibu Design
---
Small Bathroom Backsplash with Wooden Vanity and Brass Accents
In this small bathroom, the full-height blue backsplash captures a beautiful flow while the light wood vanity lightens up the interior and grounds the design. Rich in textures and colors making for a well-balanced design, the bathroom gets an additional shine with the brass accents.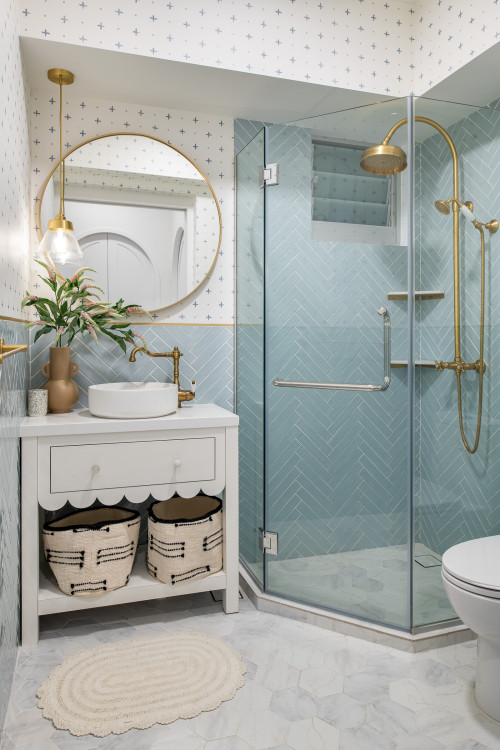 ID# 165620 | Houzz.com – Credit | © Patrick Lau
---
Wallpaper and Herringbone Tile Backsplashes with White Vanity
You can immerse yourself in this beautiful bathroom made cozy with wallpaper featuring diamond patterns dotting the white backdrop. Beneath, a pastel blue herringbone tile backsplash starts coloring the bathroom sky blue. The white furniture-like vanity and white marble hexagon pattern flooring add elegance to the space, while brass accents bring warming tones and a sense of sparkle.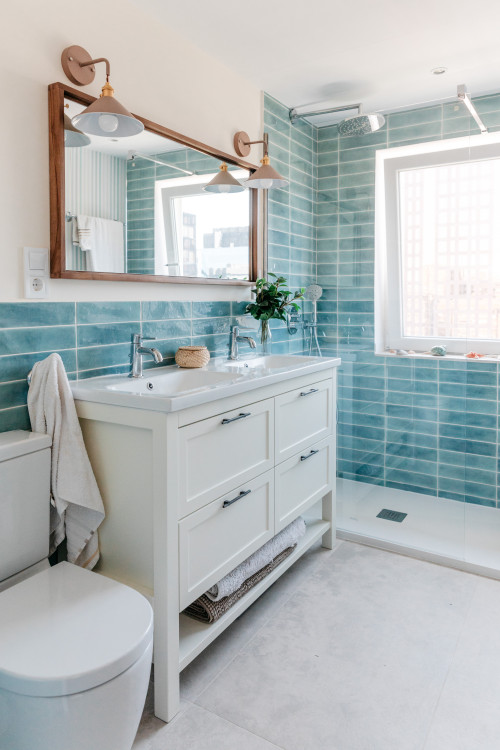 ID# 165621 | Houzz.com – Credit | © Mikamoka Studio
---
Transitional Bathroom with Blue Backsplash and White Vanity
In this transitional bathroom, the white flooring and vanity encourage the space to feel more spacious, expanding the space on the ground level. The blue subway tile backsplash adds a ripple of color to upgrade the mood and give a modern lift. At eye level, the wood-trimmed rectangular mirror and brownish sconces inject a dose of warmth, while the shower glass division offers a transparent transition between different functions to retain visual connectivity.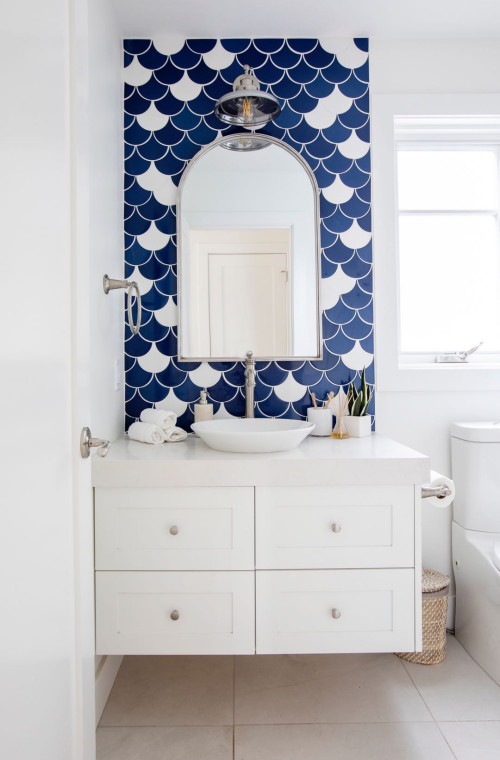 ID# 165622 | Houzz.com – Credit | © Alpine Countertops Ltd.
---
Blue Small Bathroom Backsplash with White Floating Vanity
If you are designing a white bathroom, a backsplash is a space where you can create a striking focal point, enhancing visual interest. In this transitional bathroom, the blue fish scale tile backsplash perfectly achieves this goal and adds a wow factor to the space. Keeping the rest of the bathroom while allows the backsplash to be the centerpiece and enhance the impact.
Green Small Bathroom Backsplash
Green is a perfect color for bathrooms to liven up the space. With a wide range of shades, each green hue arouses different feelings. As it connects to nature, its overall impact on the design is refreshment. With darker hues, it more translates into a dramatic effect, while light hues such as sage green create an environment as light as a feather.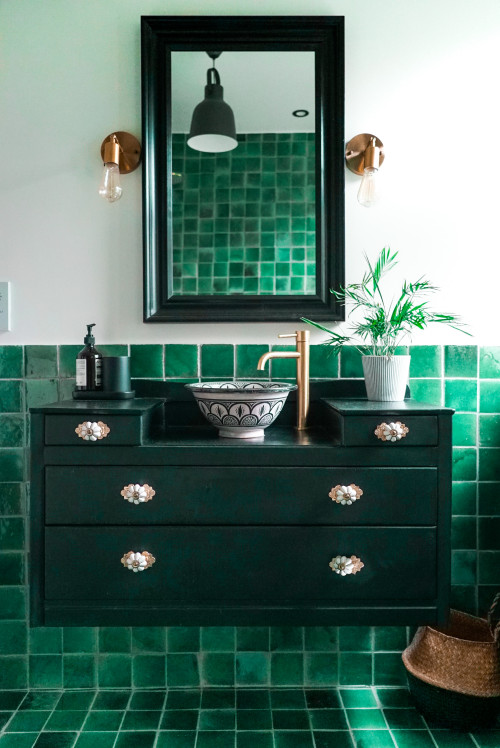 ID# 165623 | Houzz.com – Credit | © House of Norica
---
Green Backsplash with Dark Green Vanity and Brass Accents
The lively and mesmerizing design of this transitional bathroom results from the vibrant green square tiles. Starting behind the vanity, they continue coating the floors to achieve full impact. The furniture-like floating dark green vanity brings a vintage element, enlivened with brass-finish elegant hardware. It harmonizes beautifully with brass wall sconces and the gold-finish faucet. Lastly, the half-rattan-half-green basket on the floor adds a rustic flavor while the vessel sink lends an authentic character, pulling off a memorable design.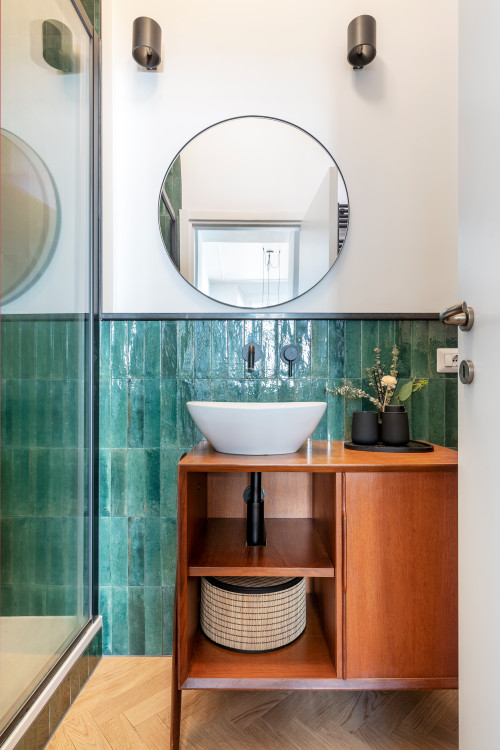 ID# 165624 | Houzz.com – Credit | © Chantal Forzatti architetto
---
Green Small Bathroom Backsplash with Wooden Vanity and Herringbone Flooring
This contemporary bathroom contains a wooden vanity topped with a white vessel sink, warming up the refreshing vibes emanating from the green backsplash. The backsplash's vertically stacked rectangular tiles introduce a sense of order to the space. The glazed surfaces of these ceramic tiles create a glossy effect, while subtle tonal variations achieve a dynamic look. The herringbone tile wood flooring coats the ground level, enriching the warming feeling.
Tile Materials for Small Bathroom Backsplash
Tile materials for small bathroom backsplashes range from marble to granite, glass, quartz, ceramics, porcelain, and more. Each one of these materials contributes a different look. Since the bathroom is a wet area with high traffic, you can consider materials easy to maintain and clean with no sealing such as glass and quartz. However, if you are looking for a delicate and firm look, nothing can serve the bathroom better than marble. So, now let's see how marble, ceramic, and glass backsplashes create impactful designs.
Marble Small Bathroom Backsplash
Marble is one of the most luxurious elements that communicate a sense of elegance and sophistication! Though it is mostly used as a countertop and standard 4-inch backsplashes in the bathrooms, marble can also serve the space as a wrap-around backsplash for a seamless look.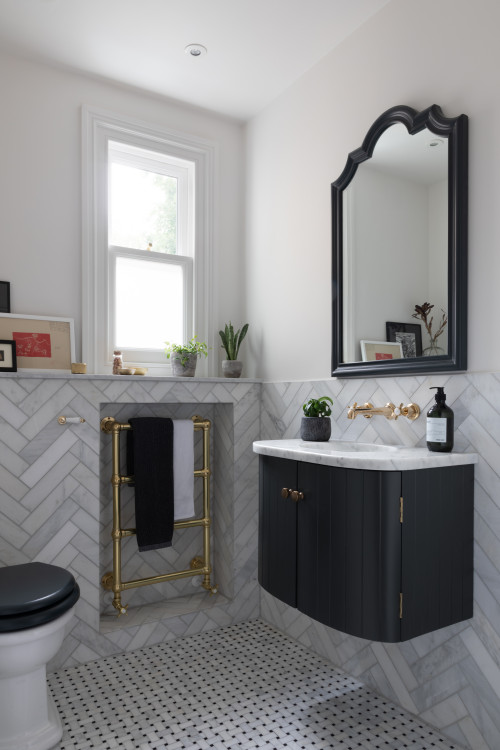 ID# 165626 | Houzz.com – Credit | © Emma Merry Styling
---
Marble Herringbone Small Bathroom Backsplash with Black Vanity
Even if you're creating a small bathroom, adding marble texture may simply help you create a feeling of luxury in your area. The marble herringbone tiles that encircle the walls in this little bathroom create a visually pleasing backdrop. The basketweave bathroom floor tiles match the marble's sumptuous appearance while providing a layer of texture. The little black vanity and mirror frame stand out against the lighter tones and add to the overall effect.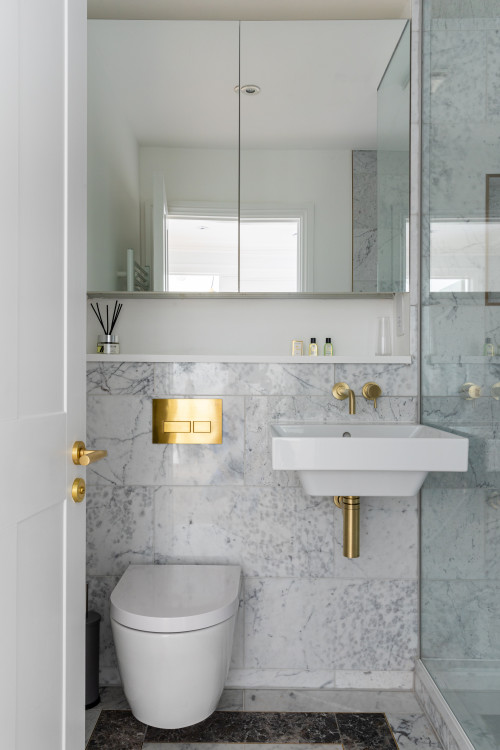 ID# 165627 | Houzz.com – Credit | © Anya Brakha
---
Tiny White Bathroom with Mirrored Upper Cabinets
The luxurious sense of the marble surrounds this tiny bathroom space and creates a refined atmosphere. Using larger tiles is a great way to make the space feel larger, especially for the small bathrooms. The addition of the gold details enhances the luxurious feel while the mirrored upper cabinets bring depth to the space.
Ceramic Small Bathroom Backsplash
It's no wonder why ceramic tiles have kept their popularity for so long. They are highly customizable, functional, stylish and affordably priced. Even if you need a glossy effect, the glazed-finish ceramic tiles can give you that too with a bonus of dramatic effect.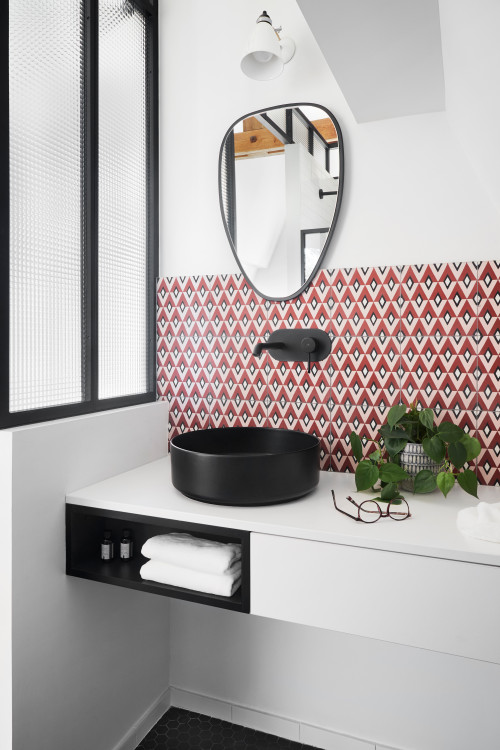 ID# 165628 | Houzz.com – Credit | © La Valise Rouge
---
Contemporary Bathroom with Geometric Patterns and Black Washbowl
In this contemporary bathroom, the eye-popping red backsplash with intertwined geometric patterns and minor colors makes a counterpoint to the white walls to inhibit a clinical look. Thus, the overall white palette is reimagined with geometric patterns and bold colors to curate a bold contemporary design. On close inspection, the black washbowl nests on the white floating vanity to add depth and visual drama. Though the floating vanity is mainly white, it has black-painted open shelving to add striking contrast and retain integrity. At eye level, it is also the intriguing shape of the mirror promoting an engagement with the space.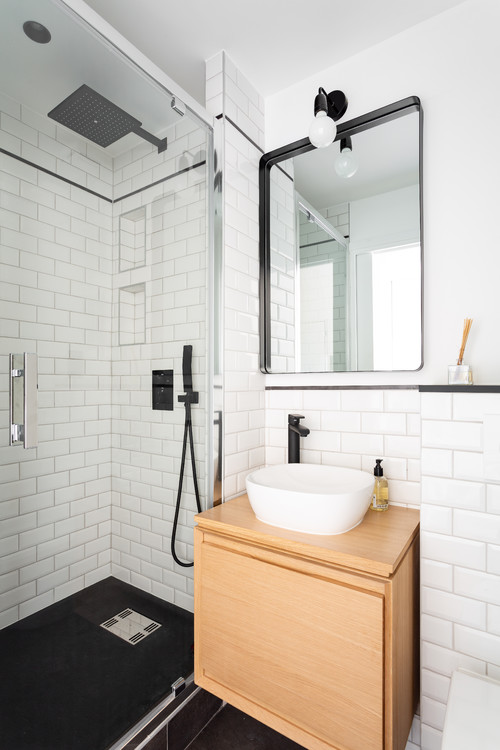 ID# 165629 | Houzz.com – Credit | © Mon Concept Habitation – London
---
Beveled Subway Tile Backsplash and Wood Vanity
In small bathrooms, like this one, efficient use of space ties together everything that you need in a bathroom. The recessed shelves to keep champoos on the shower side is a great example of smart spatial use. The white-black palette also builds up a stunning contrast that plays with the proportions of the bathroom to achieve a more spacious feeling. The floating vanity helps keep the floor level empty to aid a spacious feeling while softening the contrast with its wood torso. Last but not least, the traditional subway tile with beveled edges surrounds the entire wall surfaces including shower walls and provides a spacious and bright bathroom space.
How high should a backsplash be in a bathroom?
The most typical ones are 4 inches long. Ceiling-height bathroom backsplashes, on the other hand, are put in for aesthetic reasons. To get a unified aesthetic, you may even install wrap-around backsplashes!!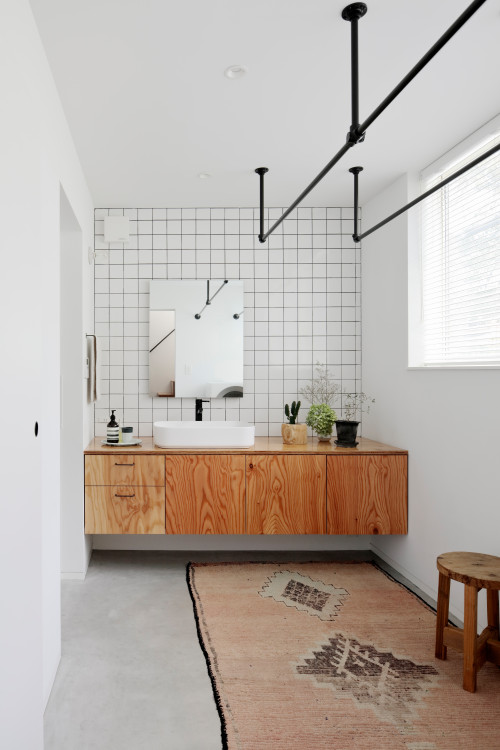 ID# 165631 | Houzz.com – Credit | © 佐々木達郎建築設計事務所
---
Wood Vanity with Square Tile Backsplash and Wood Countertop
In this contemporary bathroom, the wood vanity is paired with a white backsplash to offer a soothing ambiance and add warmth. The inherent and pronounced veins on the wood give an authentic look to the vanity, capturing attention. It is topped with a butcher block for a seamless look. Above the eye level, the square tile backsplash reaches the ceiling to achieve full impact. The black grout between the tiles brings a slight contrast to emphasize its modern character. Lastly, the gray concrete-looking flooring emits cool vibes, offset by a rug partially coating the floor.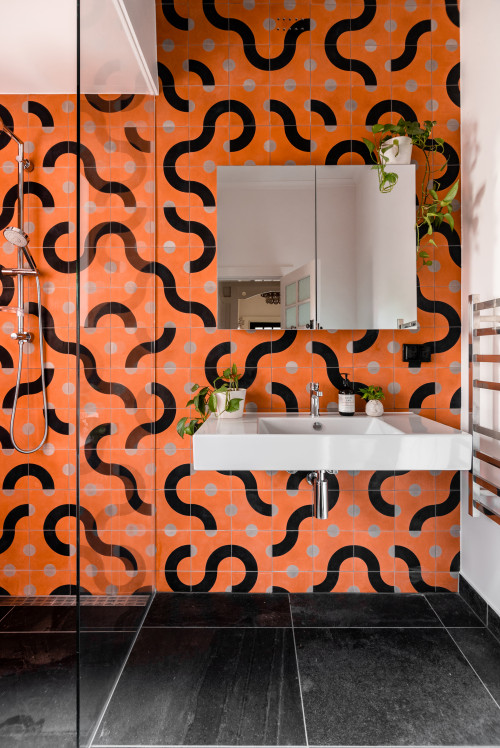 ID# 165632 | Houzz.com – Credit | © Perversi-Brooks Architects
---
Orange Square Wall Tiles with Black Geometrical Patterns
Wow, this eye-catching tile design is definitely a statement-maker that will be a conversation piece for many years!! These orange square wall tiles create a striking accent wall that acts as a piece of art. Keeping simple the designs of the other features allows the tiles to be the star. The large black floor tile perfectly accentuates the orange ones and brings depth to the space.
Glass Small Bathroom Backsplash
Glass backsplash is one of the most popular bathroom backsplash materials since it is eco-friendly and simple to maintain. Its simplicity of upkeep makes it excellent for high-traffic areas such as kitchens and bathrooms!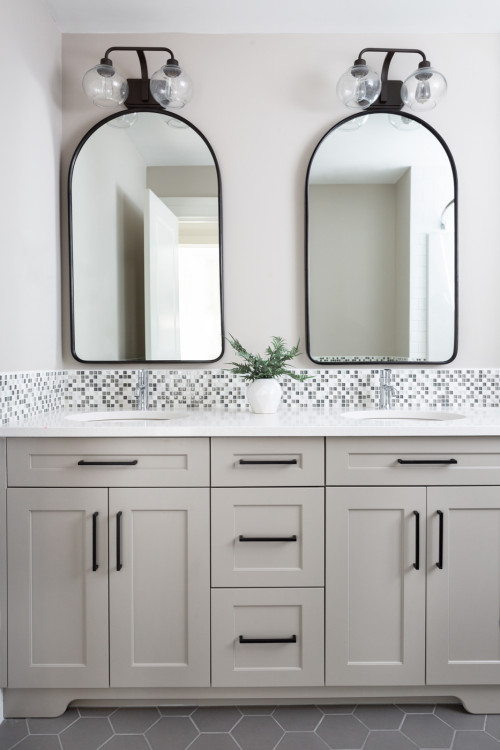 ID# 165633 | Houzz.com – Credit | © Reena Sotropa In House Design Group
---
Small Bathroom Backsplash with White Countertops and Gray Vanities
Black accents offer a sense of toughness while highlighting the little bathroom's neutral color scheme! An inviting and relaxed ambiance with a touch of seriousness is created by the gray paneled cabinets with white countertops. The wall, above which two black-framed mirrors are hung, is highlighted by the gray backsplash made of mosaic tiles.
How do you install a tile backsplash in a bathroom?
To install a tile backsplash, the first thing you need to do is to sand and clean the application area and make a plan for the layout. To do that, you can get cardboard and practice the design beforehand just to see how it goes. It is generally recommended to start tiling from the center or wherever the focal point is, which will make things much easier.
After finished with these two steps, you can start with the tiling process. First, apply the adhesive with a trowel and start laying the tiles. You can use spacers to achieve an even look. When you are finished with it, you need to wait for 24-48 hours for it to dry completely and stick firmly.
The next day, you can come back to apply the grout. If you get a pre-mixed one, it makes everything much easier. During this process, don't forget to keep some warm water and a couple of sponges with you to remove the extra grout on the tiles. If the material you have chosen for the backsplash is porous such as marble, granite, or stone, you also need to seal them. For glass and quartz backsplashes, sealing is not necessary.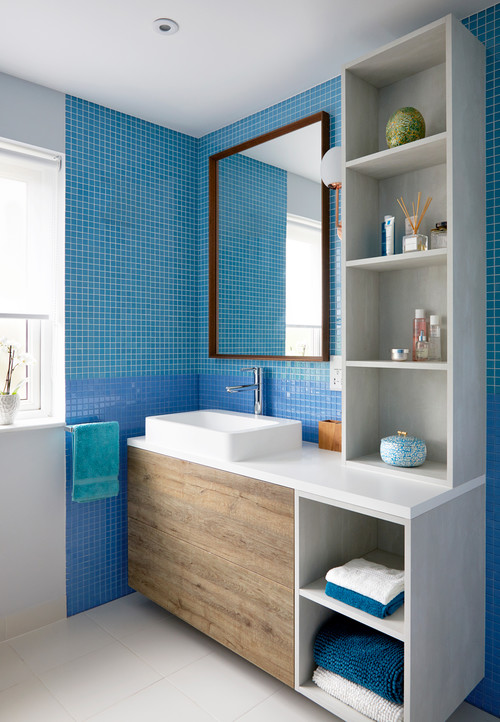 ID# 165634 | Houzz.com – Credit | © Kia Designs
---
Blue Glass Mosaic Tiles with Modern Bathroom Vanity
Thanks to their reflective surface, glass tiles are one of the most ideal material choices for small bathrooms. In this transitional bathroom, the blue glass mosaic tile backsplash provides a calm and serene atmosphere while adding a nice textural look. The simple and modern design of the wood vanity creates a cohesive look with the tiles.