35+ Small Bathroom Vanity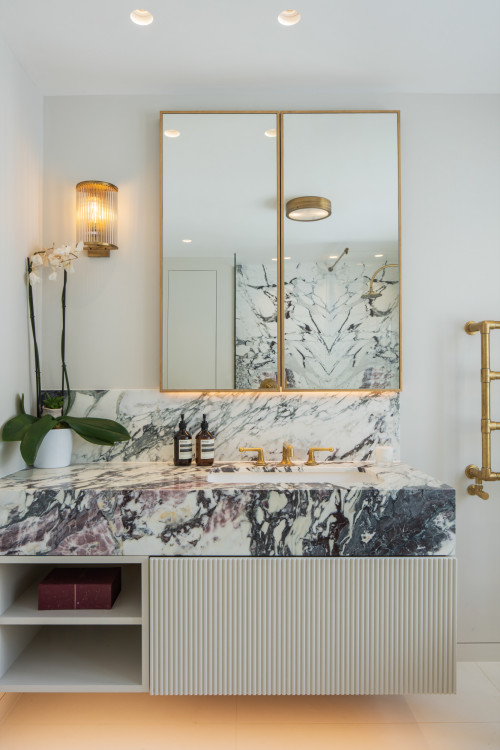 ID# 152909 | Houzz.com – Credit | © All Done Design Ltd
---
A Vanity with its Eye-catching Design in a Contemporary Bathroom
In this small bathroom, the unique vanity design makes a statement and offers an elegant appeal. The massive marble countertop adds a sense of luxury to the space. The gold accents such as the frames of the mirror and the faucet enhance the elegance and add a vintage vibe while the open shelves of the cabinets provide additional storage.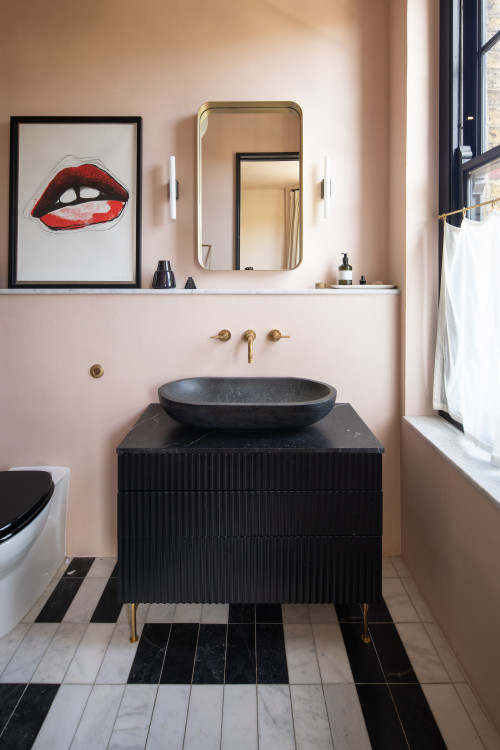 ID# 152918 | Houzz.com – Credit | © Fraher and Findlay
---
An Eclectic Bathroom Design with a Small Black Bathroom Vanity
This small bathroom serves the beautiful harmony of pink and black. Here, the small black vanity stands out between the pink walls and creates a focal point. Pink color softens the sharp appeal of the black and adds a romantic feel. The black and white floor tiles complete the elegance of the black cabinets. The recessed shelf above the vanity provides additional storage space and acts as a display unit for artwork. The wall sconces, faucet, and mirror complete the vintage vibes.
Small Bathroom Vanity
Certain elements define the general character of bathroom design. One of them is bathroom vanities. There are many different design options for bathroom vanities. You can make the right combination with the materials, patterns, or colors you will use and choose the most beautiful one for your bathroom. You can enrich it with various handles and add elegance with accessories to be used together. Colors are important to change the aura of the space. For example, small spaces can be perceived as more spacious and airy with the right color. Although the first thing that comes to mind for this is light-toned colors, this can change with the right combination. On the other hand, vanities are one of the main elements for bathrooms and if you have a small space, you need to check out these small bathroom vanity ideas!
Of course, you want the vanity you choose for your bathroom to be practical in terms of use and visually appealing to the eye. With a small bathroom vanity, you can design elegant, stylish, and minimalist designs. For example, with a small floating vanity, you can save space and have a stylish bathroom.
What is the smallest size of vanity for a bathroom?
Vanities are essential pieces of furniture that we use every day for our personal needs. Therefore, the size is important. Typically a small-scale vanity is 24 inches in size. However, you can also find ready-made options for 18 inches on the market.
How do you pick a vanity for a small bathroom?
First of all, the dimensions of the bathroom are very important. Small spaces can be very functional when they are used wisely. The entire bathroom design should be reviewed without leaving any dead space. Floating vanities are the ideal option for small spaces. Because it hangs, it is not bulky to the eye, and also a shelf can be added underneath for more space.
Color Options for Small Bathroom Vanity
You can choose the ideal color for small bathroom vanities according to the overall design of your bathroom. For example, you can emphasize the small vanity with a dark color and make it stand out. Of course, the backsplash used in the background also plays a big role in this issue. A spacious and large space perception can be created with a white vanity and a white backsplash. If you want to see examples of white, gray, blue, black, and wooden small bathroom vanity options, scroll down.
Small White Bathroom Vanity
When we think of white, we think of cleanliness and purity. As such, we can understand that it is highly preferred for bathrooms. A white vanity can easily fit into a design and work great with multicolored or patterned backsplashes. You can create contrast with black handles on a white vanity, or pair it with a white backsplash. There is no doubt that there will be a design suitable for different styles and tastes. Scroll down and find these different alternatives!
Small Gray Bathroom Vanity
Gray is one of the most versatile colors that can appear in many different tones from light gray to dark gray. It is a color that is widely used in designs today and can be easily combined with many other colors. Therefore, it is widely used in bathrooms as a backsplash or on the floor. It is a color option that can be very suitable for small bathroom vanities. It can add calm to vibrant backsplashes with a light gray tone, or it can come out first by accentuating it with a dark shade of gray.
Should a vanity go wall to wall in a small bathroom?
In most cases, the answer to this question is yes. Especially in small bathrooms, if the vanity goes from wall to wall, the unused spaces consisting of gaps will also be valued. Of course, this may change depending on the overall design and direction of the bathroom. However, a wall-to-wall vanity creates unity and is pleasing to the eye.
Small Blue Bathroom Vanity
With the blue color, a dull and plain area can be given a feeling of freshness and vitality. First of all, blue, which evokes the sky and water, is also a frequently preferred color for bathrooms. The small blue bathroom vanity can be combined with a white quartz countertop and thus you can get a very stylish design. Even if you like more natural environments, the harmony of blue and wood always gives very good results. The blue vanity and wooden bench may be suitable for you.
Small Black Bathroom Vanity
Black color is eye-catching in designs and requires courage. With the black color you choose for a small bathroom vanity, you can highlight it and make it eye-catching. You can enrich it with gold, brass, or silver details and get very stylish designs. The black small bathroom vanity can be eye-catching with the contrast it creates in front of a white backsplash. A black vanity that can be used not only with white but also with many other colors. For example, you can have a calm image with light gray marble backsplashes, or you can create noble and charismatic designs by using dark tones.
How to install a small bathroom vanity?
When installing a vanity, one of the most important tips is to check the plumbing supply lines and pipes that connect to the sink. If you need to realign them, you can do it yourself or seek professional help. Because if this process goes wrong, your bathroom might be submerged!
When you decide on a vanity, you can start by measuring its height and marking where you want to fix it on the wall. You should do the same for the width. If your chosen vanity has a back, then you will need to make some cutouts for the pipes to fit. The vanity is then ready to be placed. Follow the pre-drawn outline to get it in place and make sure the holes in the back line up properly with the pipes.
Then you will need to adjust your counter and sink. Apply silicone to the mounting area, place the mounted sink in the sink, and press firmly. When everything is done and dry, connect the pipes and water supply to the drain. Finally, don't forget to attach the bench to the wall. Now you can start to use it!!
Small Wood Bathroom Vanity
Wood warms us with the naturalness it adds to designs with its natural texture and veins. In this way, small wooden bathroom vanities also stand out despite their size and add fresh and natural air to the space. A wooden vanity can be combined with a marble, quartz, or porcelain countertop very comfortably. It is not difficult to include wood in a design, so it is often preferred.
Backsplash Options for Small Bathroom Vanity
There are many different application styles and backsplash sizes for bathroom backsplashes. The backsplash can be installed to the ceiling, in 4-inch sizes, or even more, and one different backsplash can be applied according to your taste. You can create different and fun spaces by using colorful walls or wallpapers together with the backsplash. We can preserve the integrity of the space with the surrounding backsplash. Subway tiles and marble backsplashes stacked horizontally or vertically are very popular.
There are so many materials you can choose from for your backsplash. For example granite, quartz, marble, ceramic, or porcelain. You can lay these materials in herringbone, hexagonal, zigzag, or flat and create aesthetically beautiful bathroom designs. You can also use wood, stone, and brick from more natural materials and reflect nature in your bathroom.
Types of Small Bathroom Vanity
If you are wondering what kind of small vanity you can choose for your bathroom, a small modern bathroom vanity, small floating bathroom vanity or a double small bathroom vanity may be an option for you. You can choose a single or double vanity according to the dimensions of your bathroom. You can take a look at the examples we offer so that you can choose the most beautiful vanity for you visually as well as being small but very functional and reflecting your style in the best way.
Small Floating Bathroom Vanity
Floating bathroom vanity refers to cabinets that do not touch the floor. We can also define floating bathroom vanities as suspended in the air. Small floating vanities are also becoming more and more popular due to minimalist aesthetics. It's an option that appeals to many different styles as it is frequently used in modern bathrooms. These vanities are also very practical in terms of cleaning, as they hang on the wall and do not come into contact with the floor. At the same time they have the feature of making the area more spacious. If you want to make your small floating bathroom vanity even more functional you can add a shelf underneath and create space for your towels.
Modern Small Bathroom Vanity
With modern small bathroom vanities, comfortable and stylish designs can emerge. Small bathroom vanities can be highlighted with different methods and become the star of the bathroom, even if it is small. It can be done using assertive colors or materials for this. Small vanities are a great option for stylish and modern bathrooms.
Small Double Vanity Bathroom
Double vanities are very popular lately and offer great convenience in terms of use. Double vanity bathrooms allow couples and siblings to use the bathroom at the same time. You can take a look at the examples for the small double vanity bathroom.
How to organize a small bathroom vanity?
In small bathrooms, organizations gain more importance. If you have a small vanity, there are plenty of ways to organize it without compromising its appearance. Trays, decorative baskets, racks, and shelves are the most ideal ways to add extra storage to your bathroom.