21+ Small Bathroom with Shower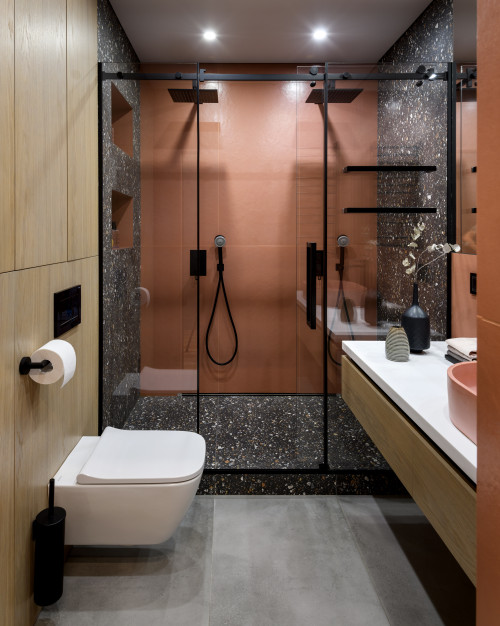 ID# 160701 | Houzz.com – Credit | © DizArt interior
---
Contemporary Small Bathroom and Shower Area That Combines Different Textures with Function
Designers face a challenge to create practical and aesthetically pleasing bathrooms in restricted spaces. This bathroom is an example of such a design, making use of quality materials and smart compartments! The floor features contrasting textures such as black terrazzo and a gray concrete-like ceramic, defining the distinct uses of the areas. Furthermore, wood-covered walls allow for the storage of bathroom items and add a contrasting look to the furniture. Niches have been included to optimize the shower space, while wall tiles in neutral colors create a cozier atmosphere. All these elements, complemented by the same-colored sinks, join together to form a well-rounded, stylish design.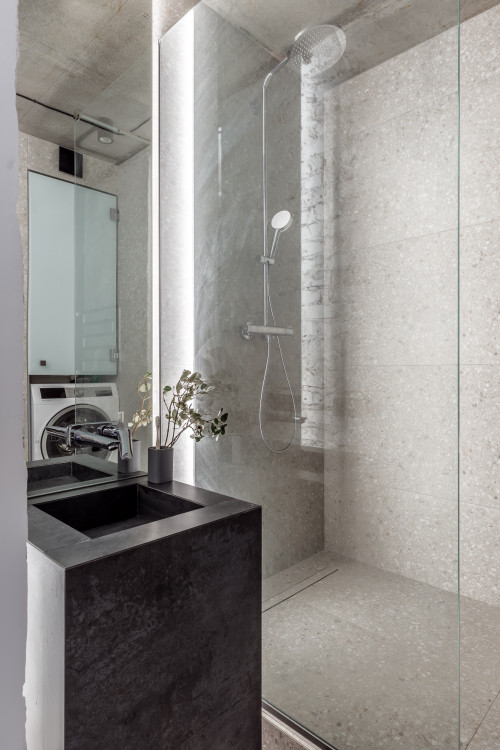 ID# 160712 | Houzz.com – Credit | © MAKEdesign
---
Small Walk-in Shower Bathroom Design with Industrial Influences with its Impressive Design
The industrial-style walk-in shower in the bathroom creates a feeling of spaciousness with its uniform textures. The bathroom design incorporates visually stimulating elements which also serve a functional purpose, making the most of limited space. Grey ceramic tiles, which have a concrete texture, produce a broader effect, while the vessel sink and dark toned stone provide additional dimensions of contrast. The transparent glass partitioning of the walk-in shower divides the area into distinct functions, ensuring that the atmosphere is kept harmonious.
Small Bathroom with Shower
Designing stylish and effective showers for small bathrooms can be a challenge, but it pays off with smart solutions and great visuals. Taking into consideration the need for smart solutions in limited spaces, carefully crafted shower areas can provide excellent results. With thoughtful planning and creative design, even the smallest of bathrooms can be transformed into beautiful and functional shower areas. In this artic, we gather small bathroom with shower ideas that can help you to design your own. Scroll down and get inspired!
The most important features of bathrooms in small spaces are that they generally offer minimal and rational solutions, with quality materials and good workmanship. In the examples made, the fact that the bathrooms go to more rational and simple solutions in every area allows functional designs to create wonderful spaces with visuals.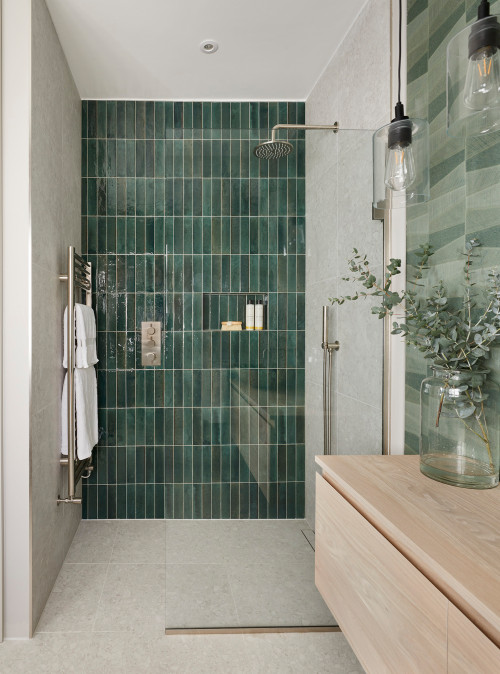 ID# 160702 | Houzz.com – Credit | © Five Sextillion
---
Contemporary Small Bathroom and Shower Design with Green Backsplash Tile and Natural-Stone Looking Tiles
This contemporary bathroom immerses us in a sense of beauty, comfort and balance with its small but smart solutions! The contrast between three different textures brings life to the space and responds to our needs as users. The natural stone-looking ceramic is a tranquil backdrop while the bright green backsplash tile sparkles in the shower area. This design creates a graceful transition between green and gray and floats raw wood furniture for a warmer touch. The green ceramic wall and tile slabs on the furniture spread the tone even further, providing the bathroom with an evenness that is both pleasing to the eye and calming to the heart.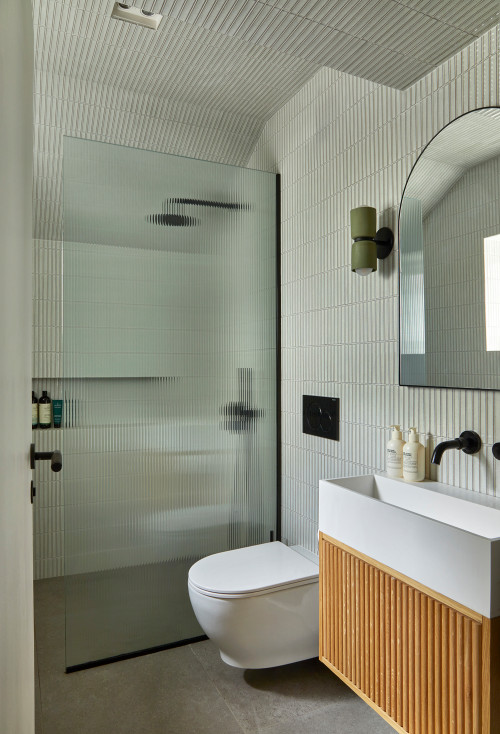 ID# 160703 | Houzz.com – Credit | © ALL & NXTHING
---
Contemporary Small Bathroom and Shower Design That Shows Different Materials in Harmony with The Same Pattern
The bathroom, with its limited volume, can be given a more pleasant and stylish look with simple and rational solutions. Using patterned textures across the space, such as ceramic kit kat tiles with joint gaps as a backsplash and floating bathroom furniture with patterned wood and shower glass, can create a beautiful and calm atmosphere. The concrete-like ceramic on the floor helps spread the pattern while the glass partition around the shower area, with its patterned glass, adds a touch of elegance and reflection to the space. This modern arrangement of patterned textures unifies the overall look and adds an air of calmness to the bathroom.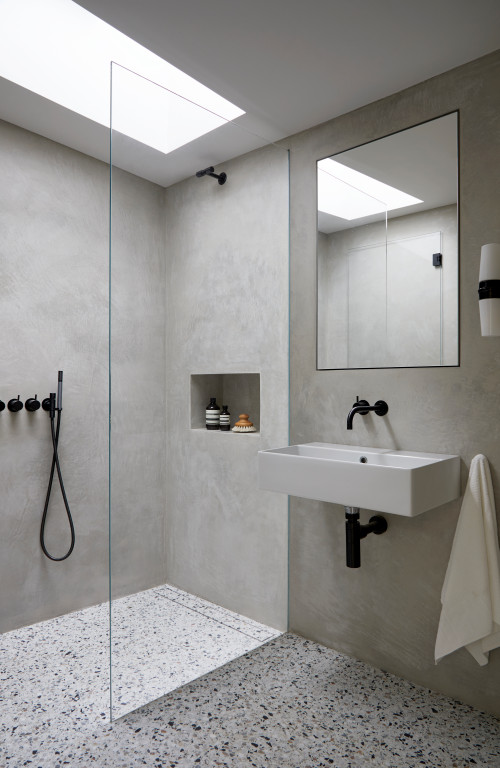 ID# 160704 | Houzz.com – Credit | © MH Costa Construction Ltd
---
Small Bathroom and Shower Design in Contemporary Style with Terrazzo Floor and Concrete Walls
A modern bathroom design reminiscent of a Science Fiction movie has the answer to making a small space look large. Featuring a beautiful terrazzo floor and concrete walls, the shower area is separated with glass partitioning, creating a sense of spaciousness and comfort spotlighted by a divine light. Finishing touches include simple sinks and mirrors that work together without overpowering the bathroom's aura. The floor offers both visual and practical elements in the bathroom's stylish and minimalist design, creating a visually complete, impressive and unique experience like a movie frame.
Small Bathroom with Shower Layout
Planning bathrooms with small areas requires more detailed solutions in terms of use, as well as rational and stylish design. The planning of the created bathrooms should be understandable and should include design elements that should serve easy use. Shower areas, which are the most space-occupying elements of bathrooms, are planned wisely, resulting in both useful and visually pleasing results.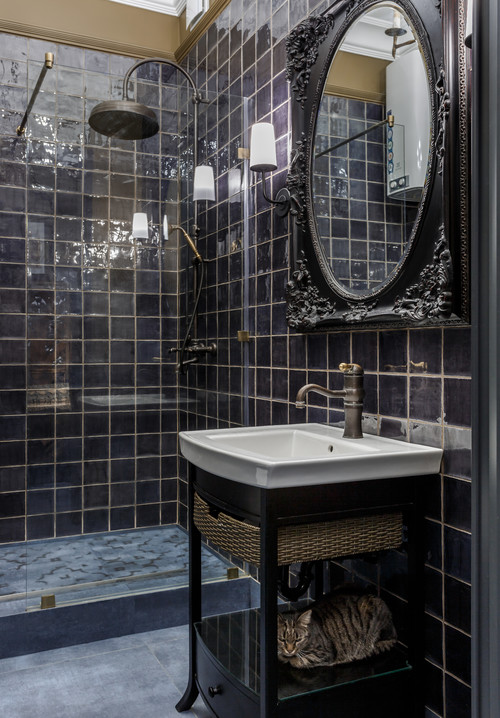 ID# 160705 | Houzz.com – Credit | © Ольга Шангина | Photography
---
Black Color Bathroom Design Using Small Spaces Efficiently
In a narrow area, sensors and black small tiles are used to create an illusion of a larger, more spacious bathroom. Mirrors and furniture are also incorporated to add functionality without weighing down the atmosphere. Thanks to this design, maximum space is used while providing an immersive experience to evoke a sense of spaciousness. Furniture with small storage compartments is particularly popular for its ability to provide extra storage even in a tiny area. Such compartments are efficient and make better use of the space.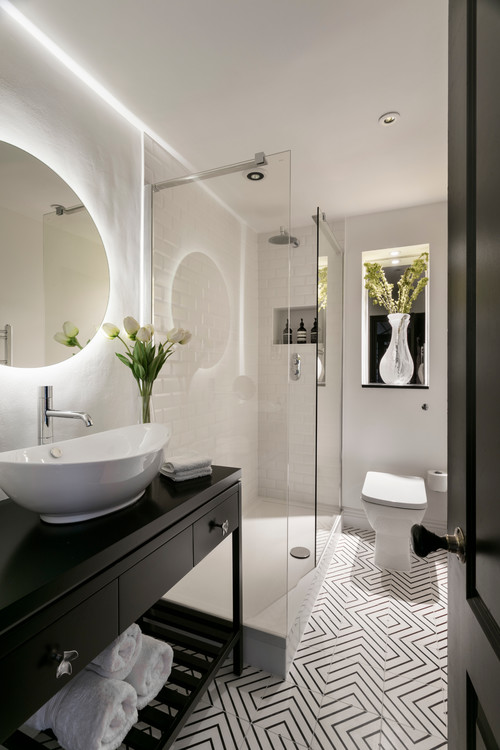 ID# 160706 | Houzz.com – Credit | © Shanade McAllister-Fisher Design
---
Small Bathroom Design with a Great Layout Created by Black and White Color
This black and white bathroom is both functional and stylish, thanks to its clever design. Despite its compact size, it offers ample usage space and features a toilet bowl situated at the front, visually elongating the space. The patterned flooring creates an optical illusion of a larger area, while the translucent shower cubicle helps to divide the area without appearing cramped.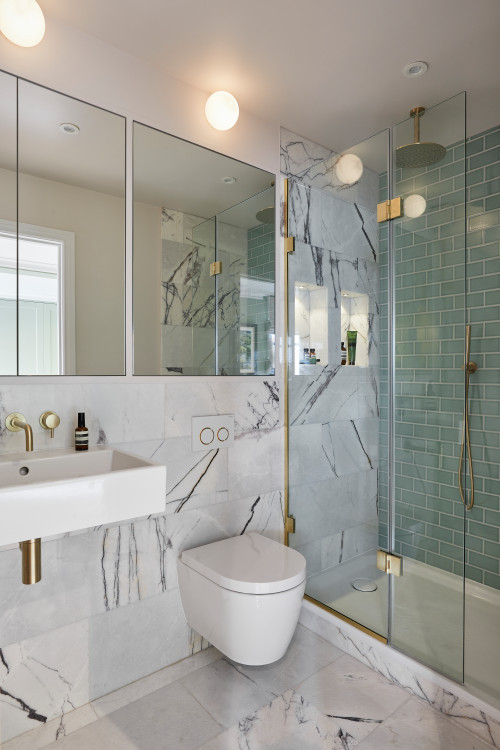 ID# 160707 | Houzz.com – Credit | © Huntsmore
---
Cleverly Planned Bathroom Design With White Marble and Green Subway Backsplash
 The white and green color scheme of the small bathroom is complemented by a large shower area at the end of the space, creating functionality without intruding. The glass shower cabin encloses the area while not compromising on extra space. The addition of white marble in both the flooring and walls bring a sense of unity and elegance to the room. The green subway tile backsplash offers a wonderful contrast, as do the sink, closet, and shower which blend form and function to make the room look sleek and spacious. The clever use of a small area brings to life a visually appealing bathroom that is both comfortable and practical.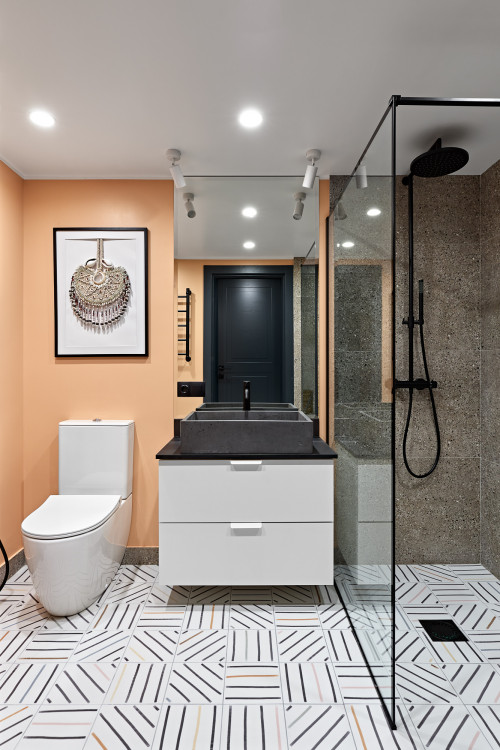 ID# 160708 | Houzz.com – Credit | © Дизайн-студия US Interiors
---
Contemporary Small Bathroom Design with a Cleverly Designed Layout that Combines Different Textures
The bathroom design with contemporary lines gains a stylish look together with different textures! It creates the whole floor with a single material with patterned ceramic on the floor. The bathroom which has a warm appearance with the orange paint on the walls, gives a wider feeling to small spaces with its color and mirror detail despite its small area. Since the floating bathroom furniture does not come into contact with the floor, the integrity of the floor continues and a wider effect is achieved. Different stone textured ceramics in the shower area both show the functional differences in the space and make wet areas more useful. In this way the bathroom is presented to users with a clearer and cleaner design by utilizing small spaces wisely.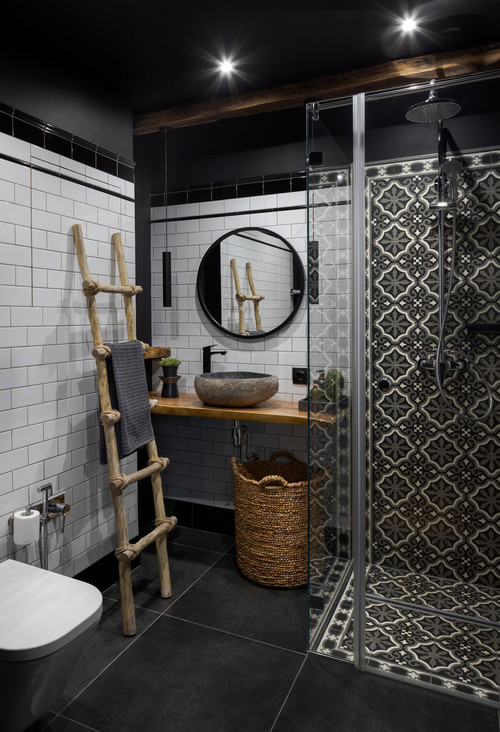 ID# 160709 | Houzz.com – Credit | © Ирина Шевченко
---
Bathroom Design with a Great Layout with an Industrial-Style Look
Although this bathroom, designed in an industrial style, has a small area, it creates a large and useful space with its stylish and rational details. The black ceramics on the floor create a single floor, making the space appear wider, leaving a more spacious effect. Subway tile and patterned shower ceramics on the walls create a more understandable design by expressing different functions in the space with different textures. The shower area, which is divided by transparent glass, divides the space into functions in a spacious way without making it smaller. In this way, small spaces become larger and more useful. The sink furniture with a wooden countertop provides a wider effect by providing more space with its cabinet-free design, and the space becomes more spacious and comfortable than it is.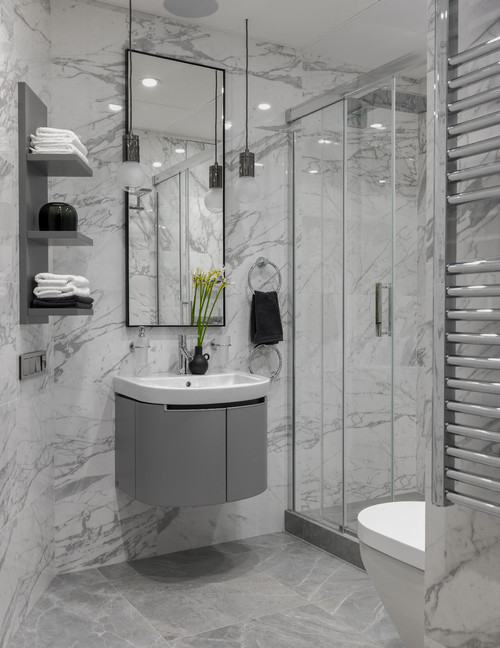 ID# 160710 | Houzz.com – Credit | © FRUKTOV INTERIORS
---
Beautifully Planned L-Shaped Contemporary Bathroom Design With Glass Shower Area
This L-shaped bathroom offers an eye-catching transformation, making small spaces look large and spacious. At the end of the room, a glass divider separates the shower area and fills it with light, contributing to the openness and airy atmosphere in the bathroom. From the marble textured ceramic tiles on the floor to the marble textured ceramics on the walls, the overall look is completed with a more spacious perception due to the added height effect. A mirror, together with the floating bathroom furniture, adds to the vibrant reflections that enhance the spacious feeling. Alluring users with its elegant and simple design, this bathroom is a tranquil haven of luxury.
Small Bathroom with Walk-in Shower
Walk-in showers provide a comfortable and stylish experience for bathrooms. Their construction does not disrupt or reduce the size of small spaces, making them look more spacious and freeing up space for other functions. Moreover, walk-in showers require less ground slope which extends the uses of the given space. As a result, they offer a refreshed living space with less occupancy.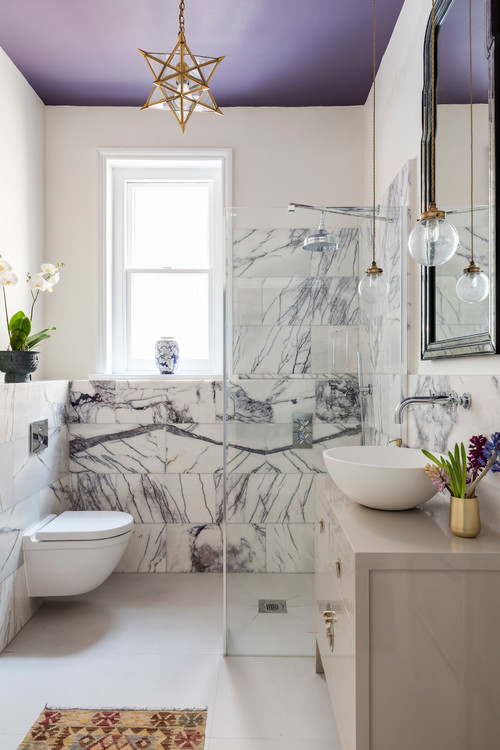 ID# 160711 | Houzz.com – Credit
---
Walk-in Shower and Small Bathroom Design With White Marble Backsplash and Purple Ceiling
This bathroom design featuring a small window for natural light, a walk-in shower, and bold purple hues is sure to make a statement! Its white veined marble texture backsplash elegantly highlights the general lines of the design while adding contrast to the primarily white and neutral tones. To further enhance the space, the high ceiling with a purple painted feature adds depth and length, creating the illusion of a larger space. Not to mention the multitude of environmental reflections generated by the mirrors– this bathroom is large and spacious, despite its small footprint!
Small Bathroom with Tub and Shower
Small spaces don't always have to be cut from function. Correct results will always be obtained when smart solutions and the right designs are applied in such bathrooms. In this way, different functions can be added to bathrooms with small areas, and the resulting results can have visuals and uses that satisfy users. Properly designed and applied designs make small spaces useful and multifunctional.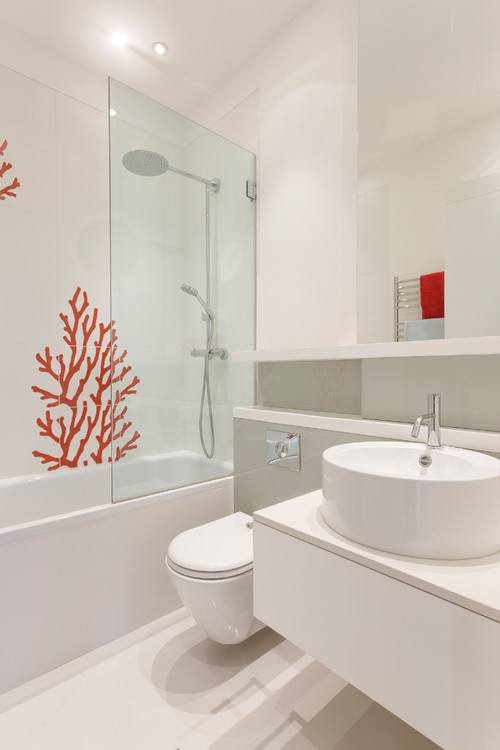 ID# 160713 | Houzz.com – Credit | © A P Arcon Construction
---
Contemporary Small Bathroom Design Combining a White Design with a Bath and Shower
Intelligent solutions in small spaces combine different functions, resulting in accurate results. Due to the limited space in this bathroom, the shower and tub used in the same area work together, allowing us to use different functions such as both a shower and a bathtub. The bathroom with a white design combines narrow spaces with smart solutions to create useful and stylish living spaces. In this way, users have a bathroom with plenty of functions without seeing the disadvantages caused by the smallness of the space. The continuation of the simplicity of the floor in all areas of the space makes the space appear larger and more spacious, while small details ignore the dimensions of this space and offer easier use. Answering the needs of the users, the bathroom both appeals to the eye and offers answers with functional solutions.
What is the smallest bathroom with a shower?
The smallest bathroom with a shower can be anywhere between 26-30 square feet.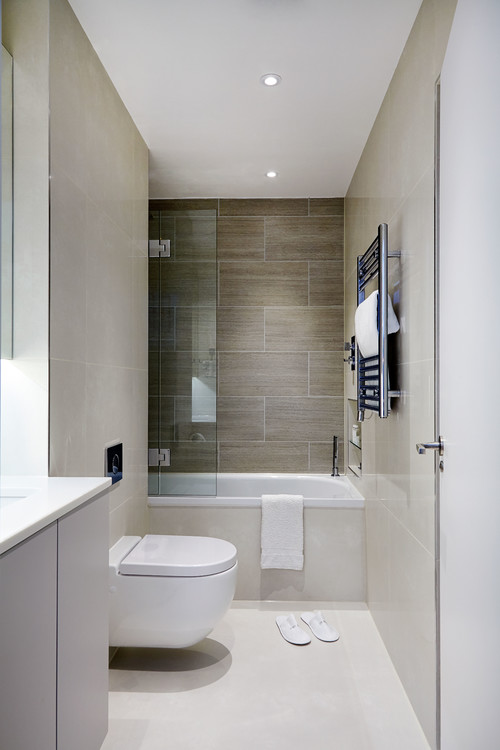 ID# 160714 | Houzz.com – Credit | © Margot Tsim Interiors
---
Bath and Shower Effect in The Small Cream-Toned Bathroom
The small bathroom with its tub and shower area combines to save space while maintaining a simple design. The cream-toned area comprises of a washbasin, closet and shower part, arranged in a single line for an elegant and minimalist look. Rational details create a warm and inviting atmosphere in this spacious bathroom, giving the users a calm and stylish living space that meets all their needs.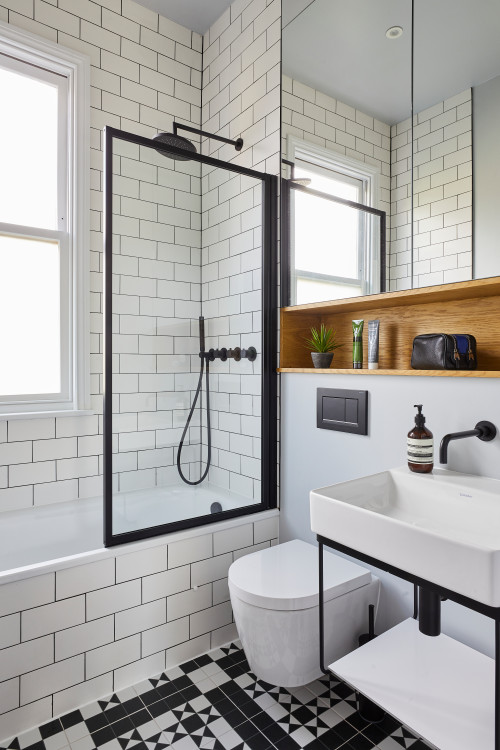 ID# 160715 | Houzz.com – Credit | © Huntsmore
---
Contemporary Small Bath and Tub Shower Duo with White Black Patterns
The design, which provides simplicity with the combination of moving textures in the bathroom design, which integrates white and black textures, aims to make the space appear larger than it is, by using patterned and moving textures to make small spaces have a wider appearance. In this way, the space offers a more spacious and inviting look, while the resulting design appeals to the eye. The bathroom with a small area becomes more useful by not moving away from functionality with stylish and rational solutions. Having the tub and shower area in the same place in the bathroom, which has a space shortage, both maintain functionality and create visually satisfying results with a simple solution.
While the space appears brighter and more spacious with mirror cabinets, the reflective effect of the mirror helps the space appear wider. The design, which presents the users without showing the disadvantages of the space, offers answers to the needs of the users with its functionality as well as its appeal to the eye.
Can you fit a shower in a small bathroom?
With smart solutions, it is possible to fit a shower into even the smallest spaces. The right designs and ideas help you make great use of small spaces and gain new functions.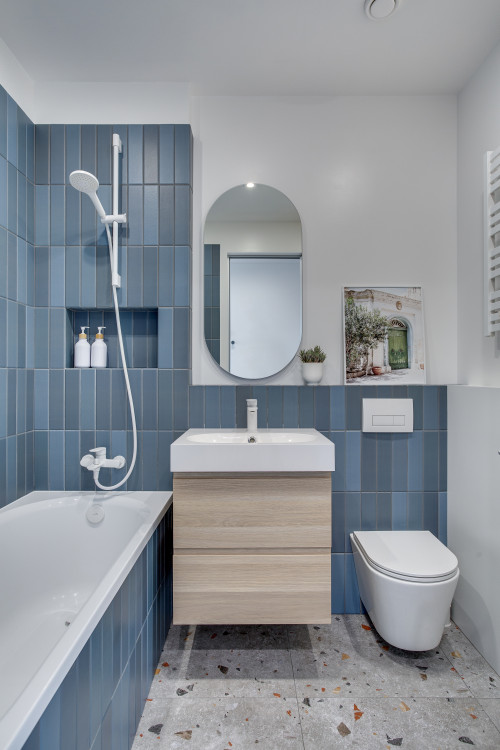 ID# 160716 | Houzz.com – Credit | © Светлана Афанасьева | SVETLA design
---
Small Bathroom And Tub Shower in Contemporary Design in White Blue Colors
The small contemporary bathroom design looks great with its blue tiles and terrazzo floor covering, making smart use of small spaces to create a simple and stylish bathroom. Using a shower and a bathtub together not only saves space but also makes it more user-friendly without reducing functionality. With such designs, small spaces become both more valuable and more useful with the illusion created in the spaces. While the bathroom, which combines white and blue, stands out with a color palette that has a refreshing effect, the functional areas it contains meet the needs and wishes of the users. In this way, the bathroom gets rid of its disadvantages and evolves into an eye-catching and useful living space.
Small Bathroom with Corner Shower
Corner showers, a user-friendly design choice, are the preferred option for small bathrooms due to their minimal space usage! They provide a simple and elegant solution by streamlining the potential troubles of tight spaces. This one-to-one approach to reallocating space in a small area efficiently is a popular and celebrated bathroom feature both for its style and practicality.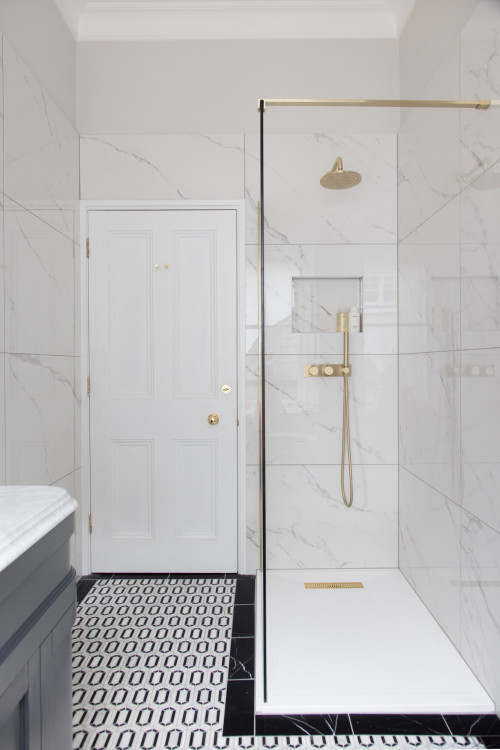 ID# 160717 | Houzz.com – Credit | © Shanade McAllister-Fisher Design
---
Contemporary Small Bathroom Design with Corner Shower Area with White Marble Backsplash and Beautiful Floor
In the very stylish bathroom with a contemporary design although it has a small area, a large corner shower area is offered with a clever plan. The shower area, built in the form of a walk-in, is both spacious and useful. In this way, despite the narrow space of the bathroom, it emerges with a wide range of usage areas and gains a wonderful design and visuality with the elegance of the floors and walls. In this bathroom where simplicity is at the forefront, small spaces seem to go to the user under the influence of a larger feeling. Offering a unique experience to the users, the bathroom design responds to each of their wishes and needs. Thus, design and function serve the same purpose, creating a user-friendly living space!
How much would it cost to build a small bathroom with a shower?
Small bathrooms, which have a cheaper need in terms of cost as they will be smaller in area than normal bathrooms, are less costly at the same rate according to the dimensions of their areas.You may expect to pay between $5,000 and $18,000 for a small bathroom with shower design.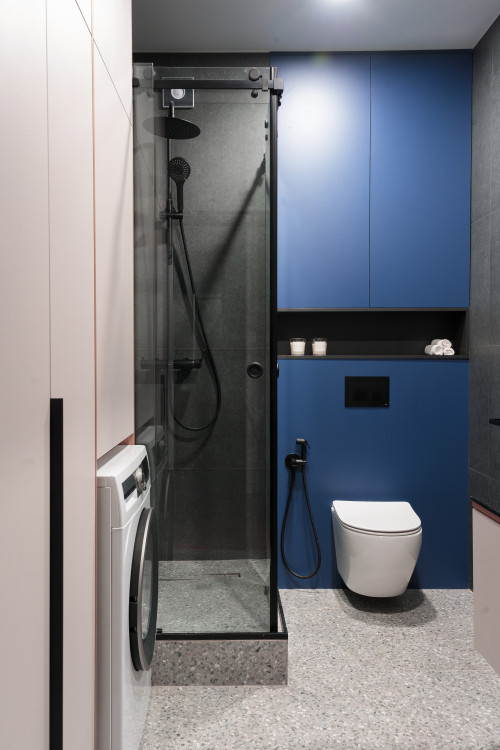 ID# 160718 | Houzz.com – Credit | © Екатерина и Андрей Санниковы | Scandinavi
---
Small Contemporary Bathroom Design with Blue Pink Colors and Corner Shower
This bathroom design seamlessly merges artistic lines with beautiful blue and pink cabinets and a terrazzo floor. The space is expanded by locating the shower area in a corner, creating a more accessible and user-friendly area in the center. The bathroom accommodates different needs, such as a washing machine, whilst promoting a visually striking aesthetic. It grants additional solutions for user requirements, whilst its vibrant colors and premium materials provide an attractive visual feast. All in all, this design combines elegance and function with the practicality of making the most of a small area.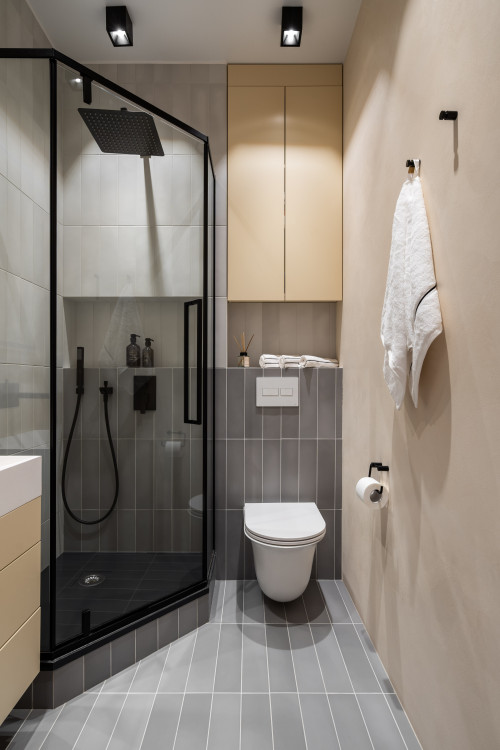 ID# 160719 | Houzz.com – Credit | © Avoid Bad Architecture
---
Contemporary Small Bathroom Design with Corner Shower Area in Cream and Gray
The bathroom design, which has a wonderful balance of warm and cold with cream and gray contrast, stands out with its smart solutions and planning as well as being visually impressive. While the corner shower area ignores the smallness of the space and offers a large shower area, it creates space in other volumes. The shower section, which is separated by transparent glasses, divides the space with transparent materials, making it an easier and more understandable space. Subway tile-like ceramics on the floor create an illusion of a small space, making it seem like a longer space while taking the space to the next level with its stylish matte texture. The resulting design presents itself with a high visuality, responding to every need of the users.
Small White Bathroom with Shower
White is always a favorite and preferred color tone. It is also a timeless color that makes sense to use in small spaces and can keep up with any design, as it makes the spaces look wider and more spacious. The use of white in small bathrooms makes the spaces look more elegant, simple, and wider, while the feelings it gives to the users are clean and elegant, and contain numerous positive emotional elements.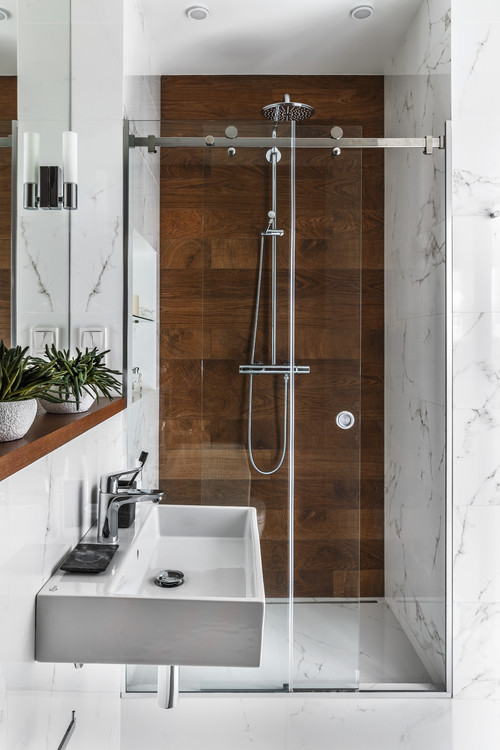 ID# 160720 | Houzz.com – Credit | © Geometrium – Студия дизайна интерьеров
---
White Contemporary Small Bathroom and Shower Design with a Bright and Clean Look
The white bathroom design, which is formed by white walls and floor and preferred as a backsplash in the shower area, has a simple and elegant appearance. Emerging with the refreshing effect and clean appearance of white, the bathroom cleanly functionalizes a small space with its clear lines. In this way, the resulting bathroom is both user-friendly and has a visually impressive atmosphere. The transparent glass shower partitions used are especially preferred to spread the natural light in the space to every area, and thus the space gets a brighter and more attractive appearance.
What is the minimum size for a walk-in shower?
There is no special measure such as the minimum areas of walk-in showers. However, a minimum human-sized shower area must comply with the norms. These are the space limits that determine the needs of a minimal shower area such as 90×90 cm.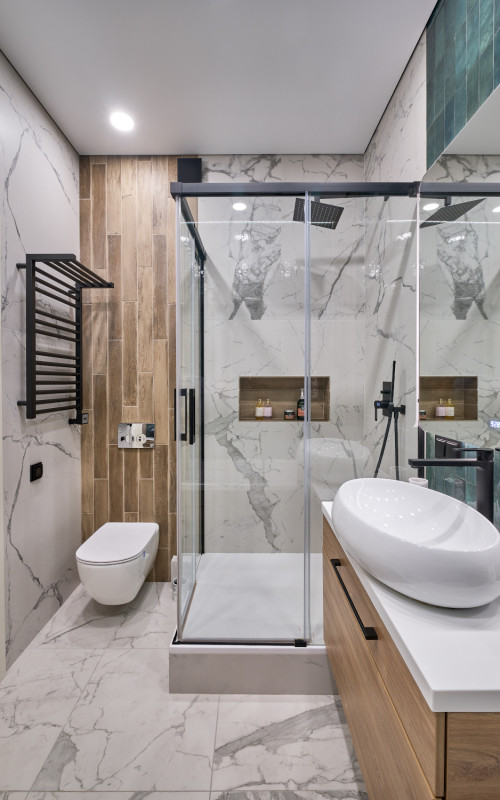 ID# 160721 | Houzz.com – Credit | © Ксения Розанцева | Творческая группа «Оcобинка»
---
Contemporary Small Bathroom and Shower Design in Wonderful Contrast with White and Wood
The user-friendly bathroom draws on the two perfect opposites of warm wood and cool white to create an elegant and inviting space. The white marble texture gives the area an airy feel and the wooden elements bring a cozy warmth to the atmosphere, making it a wonderfully pleasant environment. Both visually appealing and highly functional, the design offers simple solutions to make the most of smaller bathrooms. It also provides a visually enticing experience whilst still remaining practical.