21+ Small Bathroom with Shower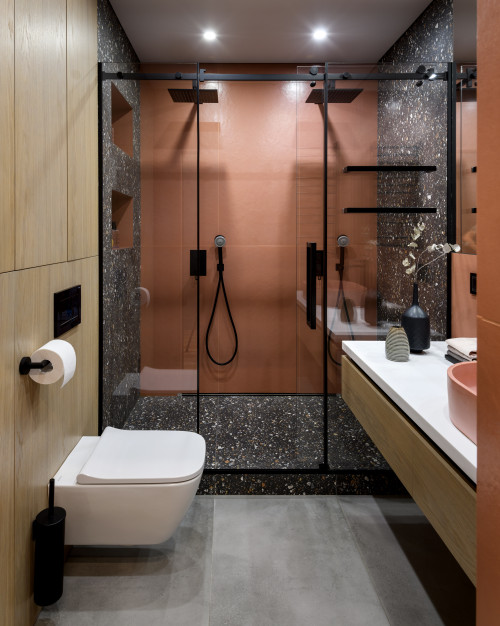 ID# 160701 | Houzz.com – Credit | © DizArt interior
---
Contemporary Small Bathroom and Shower Area That Combines Different Textures with Function
Designers face a challenge to create practical and aesthetically pleasing bathrooms in restricted spaces. This bathroom is an example of such a design, making use of quality materials and smart compartments! The floor features contrasting textures such as black terrazzo and a gray concrete-like ceramic, defining the distinct uses of the areas. Furthermore, wood-covered walls allow for the storage of bathroom items and add a contrasting look to the furniture. Niches have been included to optimize the shower space, while wall tiles in neutral colors create a cozier atmosphere. All these elements, complemented by the same-colored sinks, join together to form a well-rounded, stylish design.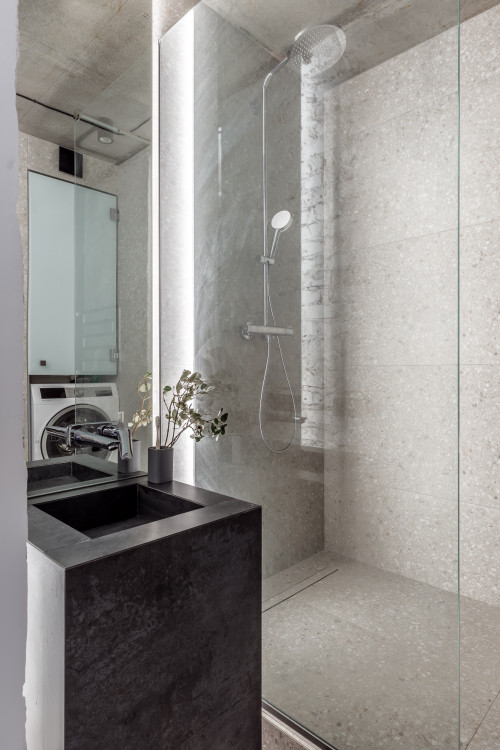 ID# 160712 | Houzz.com – Credit | © MAKEdesign
---
Small Walk-in Shower Bathroom Design with Industrial Influences with its Impressive Design
The industrial-style walk-in shower in the bathroom creates a feeling of spaciousness with its uniform textures. The bathroom design incorporates visually stimulating elements which also serve a functional purpose, making the most of limited space. Grey ceramic tiles, which have a concrete texture, produce a broader effect, while the vessel sink and dark toned stone provide additional dimensions of contrast. The transparent glass partitioning of the walk-in shower divides the area into distinct functions, ensuring that the atmosphere is kept harmonious.
Small Bathroom with Shower
Designing stylish and effective showers for small bathrooms can be a challenge, but it pays off with smart solutions and great visuals. Taking into consideration the need for smart solutions in limited spaces, carefully crafted shower areas can provide excellent results. With thoughtful planning and creative design, even the smallest of bathrooms can be transformed into beautiful and functional shower areas. In this artic, we gather small bathroom with shower ideas that can help you to design your own. Scroll down and get inspired!
The most important features of bathrooms in small spaces are that they generally offer minimal and rational solutions, with quality materials and good workmanship. In the examples made, the fact that the bathrooms go to more rational and simple solutions in every area allows functional designs to create wonderful spaces with visuals.
Small Bathroom with Shower Layout
Planning bathrooms with small areas requires more detailed solutions in terms of use, as well as rational and stylish design. The planning of the created bathrooms should be understandable and should include design elements that should serve easy use. Shower areas, which are the most space-occupying elements of bathrooms, are planned wisely, resulting in both useful and visually pleasing results.
Small Bathroom with Walk-in Shower
Walk-in showers provide a comfortable and stylish experience for bathrooms. Their construction does not disrupt or reduce the size of small spaces, making them look more spacious and freeing up space for other functions. Moreover, walk-in showers require less ground slope which extends the uses of the given space. As a result, they offer a refreshed living space with less occupancy.
Small Bathroom with Tub and Shower
Small spaces don't always have to be cut from function. Correct results will always be obtained when smart solutions and the right designs are applied in such bathrooms. In this way, different functions can be added to bathrooms with small areas, and the resulting results can have visuals and uses that satisfy users. Properly designed and applied designs make small spaces useful and multifunctional.
What is the smallest bathroom with a shower?
The smallest bathroom with a shower can be anywhere between 26-30 square feet.
Can you fit a shower in a small bathroom?
With smart solutions, it is possible to fit a shower into even the smallest spaces. The right designs and ideas help you make great use of small spaces and gain new functions.
Small Bathroom with Corner Shower
Corner showers, a user-friendly design choice, are the preferred option for small bathrooms due to their minimal space usage! They provide a simple and elegant solution by streamlining the potential troubles of tight spaces. This one-to-one approach to reallocating space in a small area efficiently is a popular and celebrated bathroom feature both for its style and practicality.
How much would it cost to build a small bathroom with a shower?
Small bathrooms, which have a cheaper need in terms of cost as they will be smaller in area than normal bathrooms, are less costly at the same rate according to the dimensions of their areas.You may expect to pay between $5,000 and $18,000 for a small bathroom with shower design.
Small White Bathroom with Shower
White is always a favorite and preferred color tone. It is also a timeless color that makes sense to use in small spaces and can keep up with any design, as it makes the spaces look wider and more spacious. The use of white in small bathrooms makes the spaces look more elegant, simple, and wider, while the feelings it gives to the users are clean and elegant, and contain numerous positive emotional elements.
What is the minimum size for a walk-in shower?
There is no special measure such as the minimum areas of walk-in showers. However, a minimum human-sized shower area must comply with the norms. These are the space limits that determine the needs of a minimal shower area such as 90×90 cm.