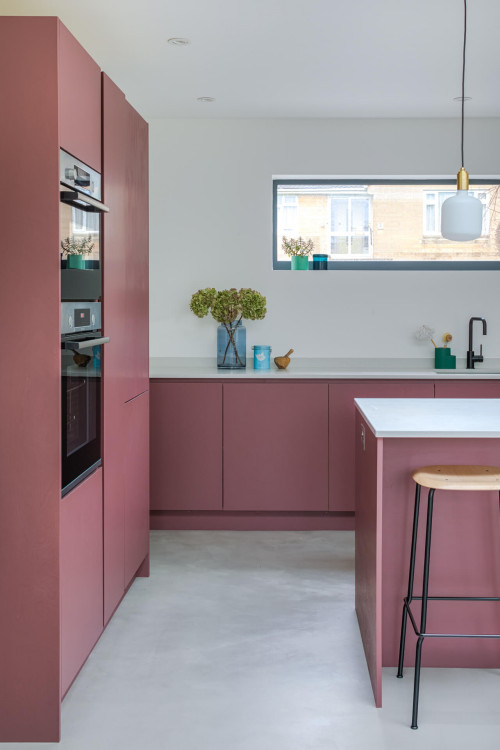 ID# 166501 | Houzz.com – Credit | © Sustainable Kitchens
---
Purple Kitchen Ideas with White Quartz Countertops
Plenty of clean lines, a minimalist aesthetic and a bold vibrant color! This combination offers a stylish appeal for those who are looking for a statement-maker kitchen design. The matte purple finish of the cabinets enhances the modern vibes which are created by the flat-panel door styles. The white quartz countertops and stainless steel appliances cohesively complete the modern elegance.
Design tip: If you don't want to use a backsplash tile, you need to consider using stronger and more durable paint options!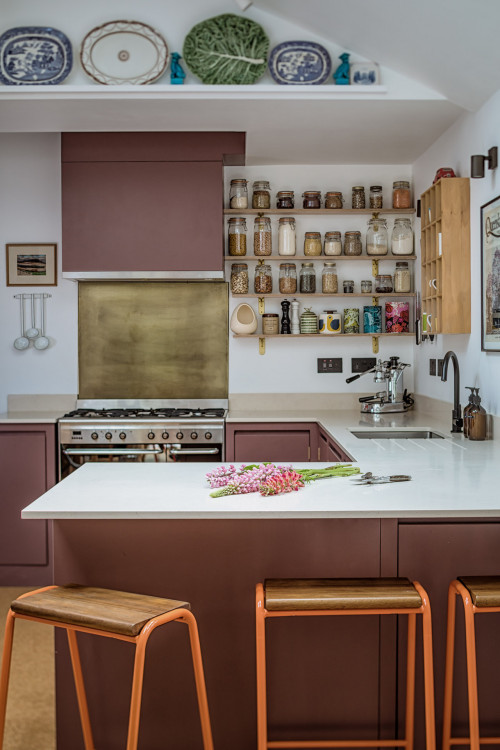 ID# 166507 | Houzz.com – Credit | © Honest Kitchens
---
Burgundy Kitchen Cabinets with Brass Sheet Backsplash Behind Stove
When an exquisite hue of burgundy meets gold, the result is spectacular. The color burgundy A painted flat panel with a handleless design provides a modern kitchen appearance. The gold backsplash panel behind the stove completes the look with a vintage touch. Wooden open shelves and counter stools complement the cabinets and backsplash while the white countertop and walls add a modern touch.
Purple Kitchen Ideas
Purple kitchen ideas are quite interesting in terms of design. Sweet lilac, aubergine, or another color for effect will undoubtedly offer tons of flair to kitchens both large and tiny. The interior design industry is seeing a resurgence of the vibrant purple kitchen ideas that were popular in the 1990s. Purple has symbolic meanings related to monarchy, grandeur, richness, and luxury in color psychology, as well as knowledge and spirituality. It is wise to use this hue for the kitchen. This hue works well for many styles and is available in a variety of tones. These include plum, mulberry, eggplant, periwinkle, barely lilac, heather, amethyst, and iris.
Create Elegant and Joyful Kitchens with the Shades of Purple
The color purple may be used as an accent hue in items like a food mixer, toaster, and tea towels, as well as a large section of a lavender-colored backsplash. As an alternative, if you enjoy the hue, go all out with painted cabinetry and a separate color for the walls for the purple kitchen ideas. On all counts, we adore vibrant kitchen designs, and purple unexpectedly complements a ton of other hues. As well as lighter tints, darker tones like dark cherry, raisin, and plum also look good. For a contemporary style, you may combine both, or you can stick with a single eye-pleasing color. A purple color scheme in the kitchen offers countless design possibilities. For more inspiration let's scroll down and get inspired by the purple kitchen ideas that we gathered for you!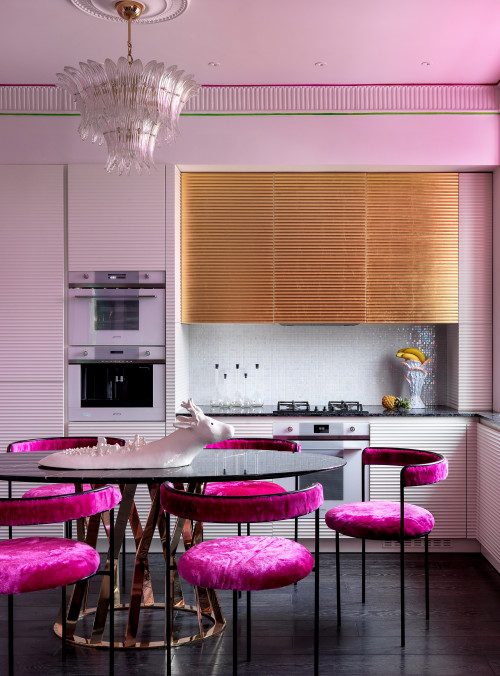 ID# 166502 | Houzz.com – Credit | © Красюк Сергей
---
Pink-Purple Kitchen Design with Glamorous Accents
This pink-purple kitchen design looks like a real-life Barbie dream house!! The pastel pink cabinets dominate the space and reflect the whimsical and girly spirit of the iconic Barbie doll. The gold finish of the upper cabinets, purple velvet chairs and glass chandelier design perfectly complement this glamorous world. For a final touch, the glossy white kitchen backsplash and black countertops complete the overall look cohesively.
Is purple color good for kitchen?
The short answer is definitely yes!! The stunning shades of purple can easily bring a distinctive and strong touch to any kitchen design. Although purple is not one of the most popular kitchen colors, it unexpectedly matches a wide range of other colours. This distinctive hue stimulates intelligence and has an effortlessly beautiful touch.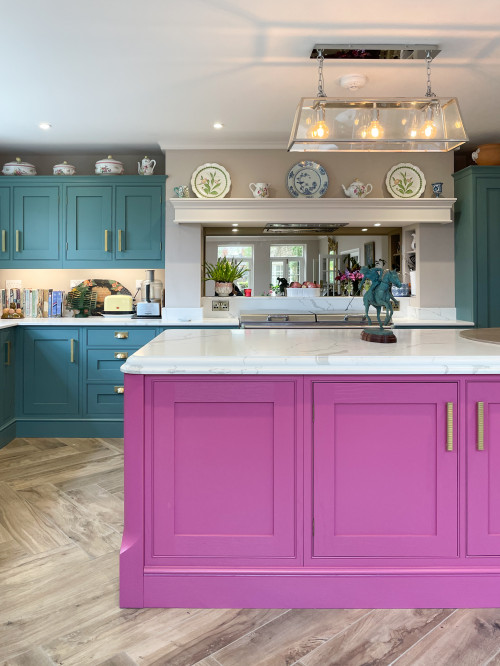 ID# 166503 | Houzz.com – Credit | © Sherwin Hall Kitchens
---
Green Kitchen Cabinets with Purple Island and Mirror Backsplash
If you are looking for something unexpected, you will love this colorful kitchen design!! The dark green kitchen cabinetry creates a lovely backdrop while the mirror backsplash adds dimension to the room. At the center of the room, the purple kitchen island adds a pop of color and enhances visual interest by creating contrast against the dark green shade. The brass hardware complements the vintage essence of the cabinet design.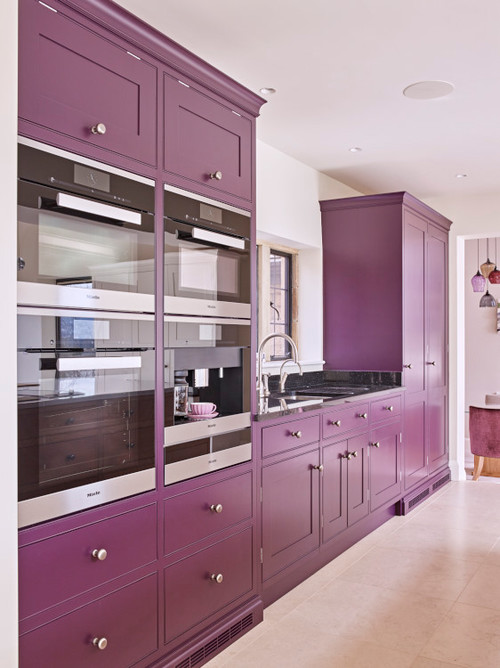 ID# 166504 | Houzz.com – Credit | © The Secret Drawer
---
Purple Kitchen Ideas with Black Stainless Steel Appliances
When the vibrant shade of purple meets the elegance of the shaker-style cabinetry, the result is just perfect! The purple kitchen cabinets make a strong statement in this contemporary kitchen. The black stainless steel appliances perfectly complete the contemporary aesthetic while the brushed nickel hardware adds a cohesive final touch.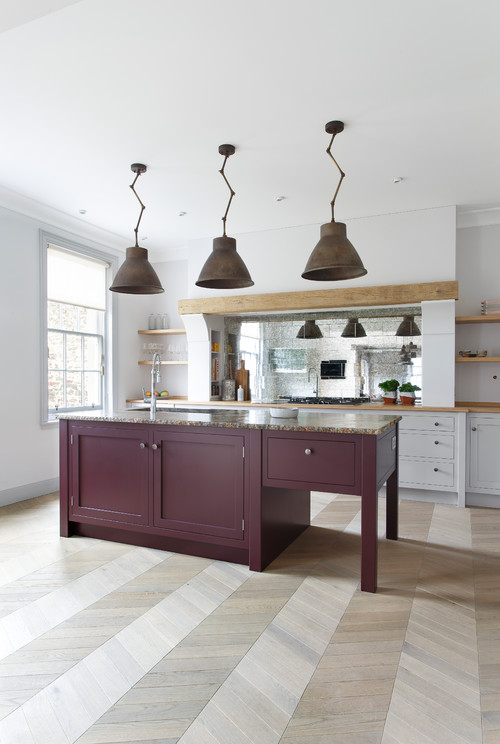 ID# 166505 | Houzz.com – Credit | © Peden & Pringle Ltd
---
Traditional Kitchen with Mirrored Subway Tile Backsplash
This traditional kitchen exudes nothing else but elegance! The dark purple kitchen island becomes the focal point of this design and enhances the overall look instantly. The brown granite countertop and the pendant lights make a rustic twist. At the back, the light gray kitchen cabinets and mirrored subway tile backsplash create a clean and bright backdrop. The wooden details like the trim of the range hood and countertop bring warmth to the atmosphere.
What colors go well with purple?
Purple is attractive because it has such a wide range of warm and cool undertones, making it suitable for practically every color pallet. Additionally, because purple has such a wide variety of colors, you can select a purple that leans classic or modern to suit any style. Typically, it complements orange, yellow, green, brown, black, white and grey the best. However, different shades of purple also have suggested color pairings. In the end, the use of a room or the desired style would be the sole factor influencing these color choices!
How to Decorate a Purple Kitchen?
Most kitchens are white or neutral, but have you ever seen a purple one? For individuals who desire something unique that doesn't resemble any other area and won't be frequently seen here and there, a purple kitchen is a daring choice. The fact that purple and lilac colors are so uncommon for kitchens makes them ideal for people seeking something unique.
But how to decorate a purple kitchen?
Because it is an unusual color for kitchens you may hesitate to use it because you do not know how to decorate a purple kitchen. You want purple in your kitchen and wonder how to decorate a purple kitchen with many hues of it; there are many different shades of purple, ranging from extremely light pastel ones to deep and dramatic ones. Keep in mind that light and pastel colors make the kitchen feel calm and spacious, while dark and striking purples give it a moodier feel. Warm colors of purple will make the room feel cozier and more relaxing, whilst cool shades will make it less cozy but still quite attractive. To prevent any gloomy appearances, consider using a really deep or brilliant color solely on the walls, only to lower cabinets, or only on the kitchen island.
Black, white, grey, buttermilk, red, blue, and various metallics from silver to brass all complement purple well and give it a refined appearance. All hues may be used in colorful kitchens, while dark kitchens can be decorated in black and purple or grey, and open, bright kitchens can be updated with white and neutrals. Consider a modern two-tone kitchen with white top cabinets and deep purple lower ones to create a light and stylish environment.
Purple Kitchen Cabinets
Depending on whether red or blue tones are used in the kitchen design purple kitchen cabinet colors can create a cold or warm feeling in an interior area. Beautiful flowers like clematis or iris, as well as grapes dangling from wine, are often linked with deep purple hues. Light purple has a lilac like fragrance that blooms in the spring that can bring natural and fresh air with purple kitchen cabinets to your kitchens. Although purple is not the most common hue individuals that choose purple tones for their kitchen designs adore and delight in the lovely purple décor!!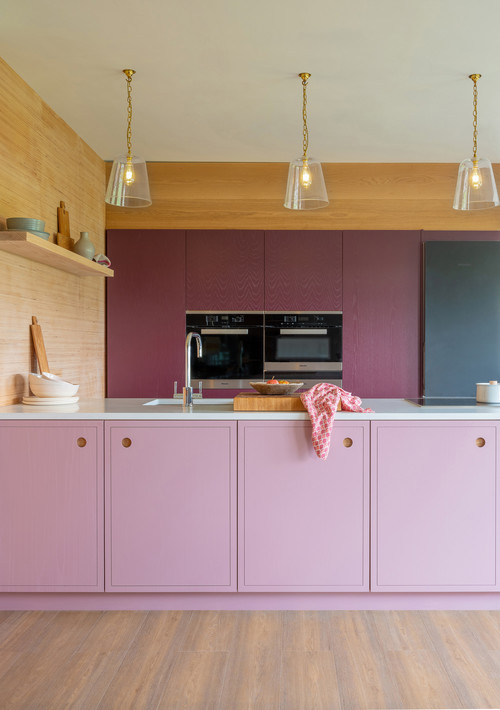 ID# 166506 | Houzz.com – Credit | © Naked Kitchens
---
Contemporary Kitchen with Two-Tone Cabinets
If you love all shades of purple, why not mix them for your kitchen design? As you can see in this contemporary kitchen, the two shades of purple perfectly come together and create a warm and inviting atmosphere. At the back, the dark purple tal cabinets provide a sleek and elegant backdrop. Using a deep and rich shade like that enhances the royal sense. For the kitchen peninsula, the light purple color is used. With its soft appeal, the peninsula balances the dark shades and enhances the overall look.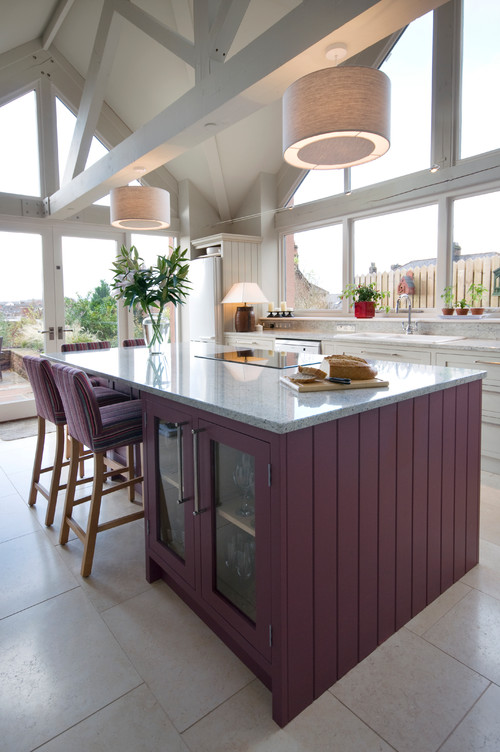 ID# 166508 | Houzz.com – Credit | © Whitemore and Thwyates
---
Purple Kitchen Island Design with Gray Granite Countertop
If you want to incorporate the sophisticated shade of purple and create s striking focal point, consider installing a purple kitchen island! As you can see in this farmhouse kitchen, the island becomes the centerpiece of the space and instantly transforms this otherwise white kitchen. The gray granite countertop perfectly completes the luxurious sense of the purple while the glass-fronted cabinets provide an additional storage space without sacrificing the style.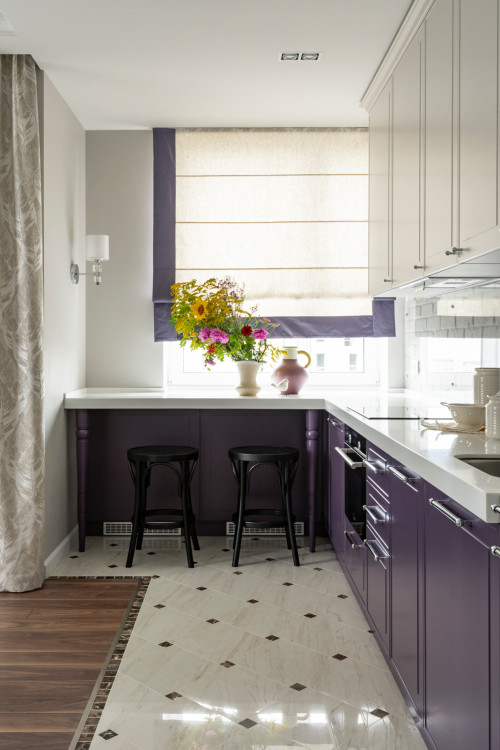 ID# 166509 | Houzz.com – Credit | © Ксения Ерлакова
---
White and Purple Kitchen Cabinets with Chrome Hardware
Combining deep purple with milky whites is an excellent technique to get a balanced overall effect! In this transitional kitchen, the purple base cabinets bring depth to the space while the white upper ones enhance the spaciousness of the room. The white quartz countertops contribute perfectly to this bright and airy feel.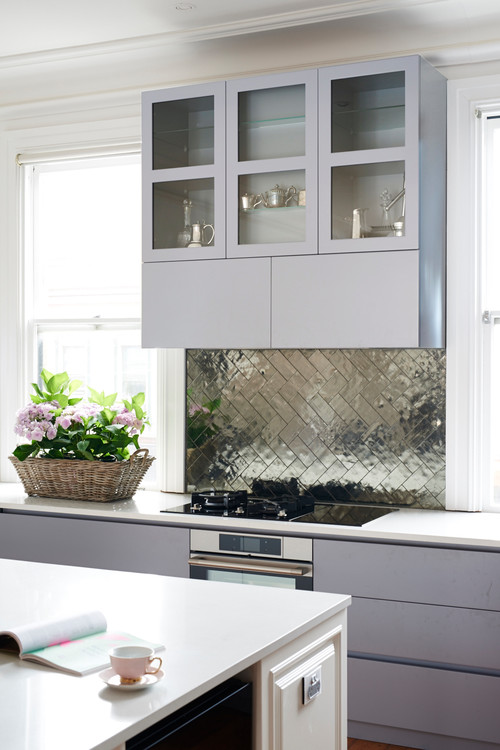 ID# 166510 | Houzz.com – Credit | © Kitchen Makeovers. Don't Replace It, Reface It!
---
Light Purple Kitchen Ideas with Glossy Herringbone Tile Backsplash
In this transitional kitchen, the gentle lilac tone of purple provides a romantic and feminine atmosphere!! The flat-panel door style of the cabinets provides modern elegance and the white quartz countertops bring a bright look with their pristine color while the mirrored herringbone tile backsplash behind the stove creates a focal point.
Purple Kitchen Backsplash
Backsplashes may beautify a room's appearance while shielding the walls from spills and moisture. If you want to construct the ideal eye-catching kitchen interior design, you may develop and have the perfect backsplash to fit with your kitchen. Colors are significant since they make it simple to alter the atmosphere's mood. Purple kitchen backsplashes are an excellent choice if you want a striking design that exudes energy and has a fashionable appearance.
Understanding the various purple kitchen backsplash styles is crucial since the patterns, materials, and lines may alter a number of aspects. You have the option of using a purple hexagon tile backsplash or a purple subway tile backsplash to give your kitchen personality. In order to suit the overall design theme, the purple kitchen backsplash types are equally as crucial as the color scheme. To get some kitchen backsplash inspiration, scroll down to discover some wonderful and stunning purple options!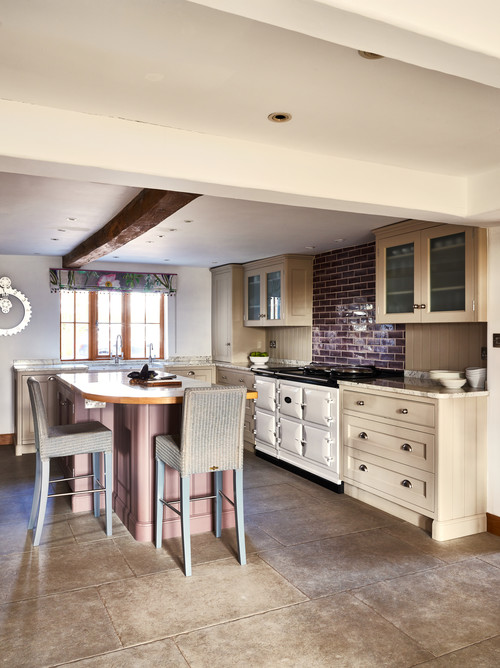 ID# 166511 | Houzz.com – Credit | © Woodstock Furniture
---
Beige Kitchen Cabinets with Purple Subway Tile Backsplash
This north country home has converted a drab kitchen into a cheerful and colorful room. The ceilings are undulating because this is a historic home, yet the hand-manufactured cabinets sit flawlessly, extending near to the ceiling to maximize storage space. The cabinets feature a traditional, simple-facing, and hand-painted finish that gives the kitchen a warm, tactile feel! The Aga is surrounded by purple ceramic tile backsplash that compliments the island.
ID# 166512 | Houzz.com – Credit
---
Purple Kitchen Ideas with Modern White Cabinets
If you are planning to install a 4-inch or 6-inch backsplash for your kitchen, consider painting the upper parts in a vibrant shade! In this contemporary kitchen, the purple wall paint directly draws the attention and transforms this otherwise white kitchen into a colorful and eye-catching design. For the rest, the white kitchen cabinets and countertops provide a clean and bright appeal. The stainless steel appliances perfectly complement the contemporary overall aesthetic.
Purple Kitchen Appliances
In general, people get used to having stainless steel or white appliances in their kitchens. In recent times we see black appliances, too. This trio is popular among the homeowners, of course. However, the ones who want some color in their kitchens but do not want to change their backsplash, wall or cabinetry color want vibrant and vintage touches to their kitchens, and nowadays colorful kitchen appliances become popular. Let's make the color spruce up with small touches in our kitchens!
For a reason, all-white kitchens and kitchens that experiment with darker moodier palettes are timeless styles. They are very adaptable and simple to change to accommodate the emergence of new kitchen fads. Big and small kitchen equipment is considerably more adaptable and the ideal method to add a dash of fun color to your house. You can have purple kitchen appliances in various ways. For instance, a vibrant refrigerator, oven, or dishwasher will make a bold statement in a kitchen, just like a trademark couch or eye-catching lamp might be the star in a living area. To make a statement, choose one large appliance, or go all out for the most impressive.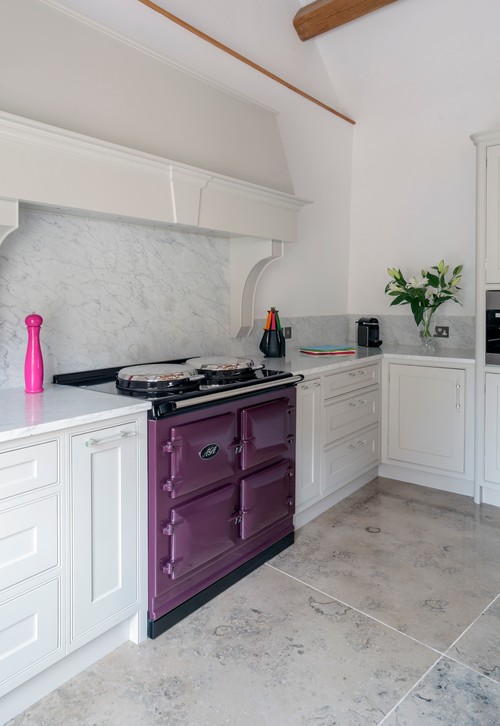 ID# 166513 | Houzz.com – Credit | © Stephen Graver
---
White Farmhouse Kitchen with Purple Stove
Using colorful appliances is a great way to jazz up your white kitchen design. As you can see in this farmhouse kitchen, the purple stove stands out between the white features and creates a visually pleasing focal point. For the rest, the white shaker cabinets exudes timeless elegance while the marble backsplash and countertop add a sense of luxury. The same marble texture is also used for the floor tiles to enhance the overall look.