31+ Wood Double Vanity Ideas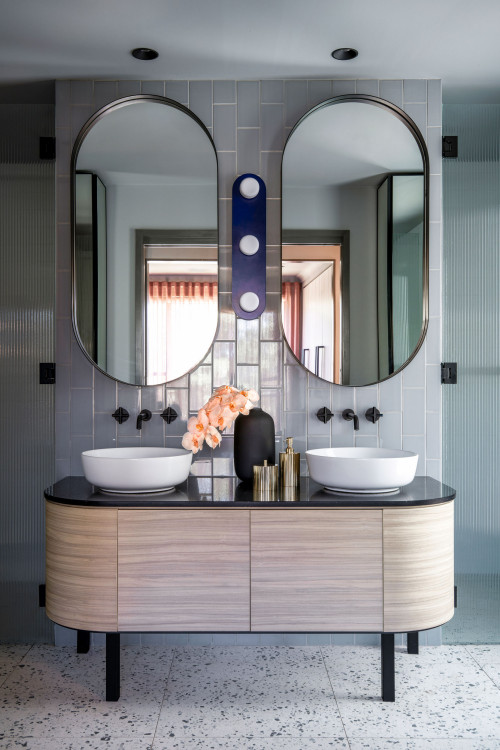 ID# 151405 | Houzz.com – Credit | © Kaiko Design Interiors
---
Gray Subway Tile Backsplash with Terrazzo Floor and Black Countertops
This stunning bathroom has a partition that accommodates a built-in veneer wood vanity. Behind it, the subway tiles are laid in a running-bond pattern, yet this time vertically. As such, it gives the bathroom extra height, which is supported by a fluted glass shower area and WC doors. These vertical lines also make the space feel elongated on the vertical axis. The further enriching details come as custom mirrors, black tapware, and a black countertop with two vessel sinks. Altogether they expand the color and visual scheme of the room. Lastly, the terrazzo floor brings a contemporary voice, ensuring the longevity of floor design as one of the most durable materials.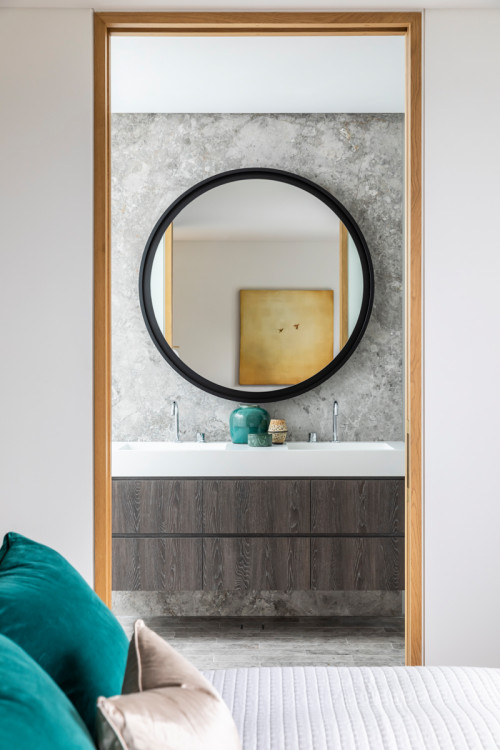 ID# 151420 | Houzz.com – Credit | © onefour interiors
---
Gray Marble Backsplash with White Countertop and Black Framed Mirror
This contemporary bathroom in Sydney shows off, thanks to its stunning gray marble backsplash. Blanketing the entire room, this natural stone brings an upscale look. The oversized mirror centered above the vanity features a thick black frame that strikes its users at first sight. And it forms an eye-catching contrast with the thick white quartz countertop. The chrome tapware gives the design a modern update, while the dark wood vanity plays a bit more dramatically. Though it presents a rather more traditional feel, the marble backsplash offers a classic finish. And the rest give the design a contemporary spin. The final product feels high-end and well-balanced with a designer look.
Wood Double Vanity Ideas
Wood double vanity ideas are a popular choice in bathrooms, whether you want a classical finish, a look that promises timelessness, or a natural vibe. Coming in a wide range of material and finish options, wood double vanities also feature different designs. From fluted to curvy forms, floating ones, and washbasins, each design forms part of wood double vanity ideas.
Providing extra storage, a benchtop, double sinks, and more volume to make a visual statement, wood double vanity ideas ensure the design oozes character. Just like backsplashes, they can also make or break the design. Here we have curated a list of wood double vanity ideas that give plenty of design hints about how to establish a cohesive and purposeful look. Read on to get familiar with inspiring designs that bring different materials and colors together skillfully.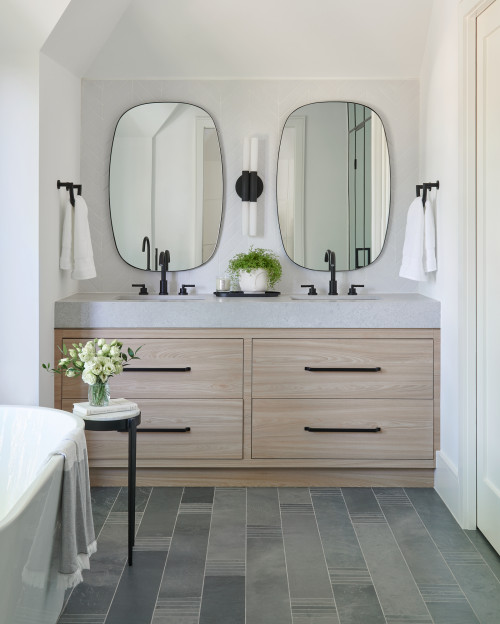 ID# 151401 | Houzz.com – Credit | © Diana Bastone Designs
---
Wood Double Vanity Ideas with Gray Countertop and Black Hardware
This contemporary bathroom welcomes its users with a wood double vanity. Oozing warmth and casualness, this vanity pairs perfectly with the thick gray countertop that adds elegance. Above, the oval-like mirrors are aligned with the integrated sinks. The black hardware, towel rails, and wall sconces complement the design scheme. On the floor level, the gray subway tiles are laid in a running bond pattern, fostering a sense of movement. The final product results in a calm design theme that ties together wood and gray.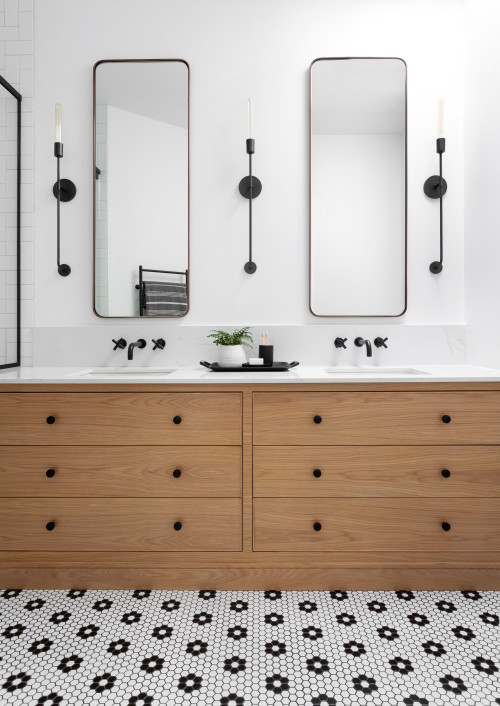 ID# 151402 | Houzz.com – Credit | © Hibou Design & Co.
---
Scandinavian Bathroom with Wood Vanity and Black Hardware
Designed for children, this Scandinavian bathroom has a playfulness embedded in the design. The floral patterns created with penny round tiles know how to entertain the space, deepening the artsy vibe. The oak double vanity brings a natural edge to the space. The white marble countertop and backsplash brighten up the interior along with the white walls. The black cabinet pulls, tapware, and sconces resonate with the floor design, retaining integrity.
Is a wood vanity good for a bathroom?
In aesthetic terms, wood vanities channel warmth and bring texture, which is favored by Scandinavian, mid-century, and modern bathrooms. Available in curved, fluted, and many different looks, they can deepen the aesthetic mood of the space easily. Especially, walnut and oak layer the design with a statement and hero finish.
Apart from that, another advantage that they bring is that they go well with a wide range of colors and materials. From marble to quartz, ceramic, porcelain, and glass, you can combine almost any material that you can think of.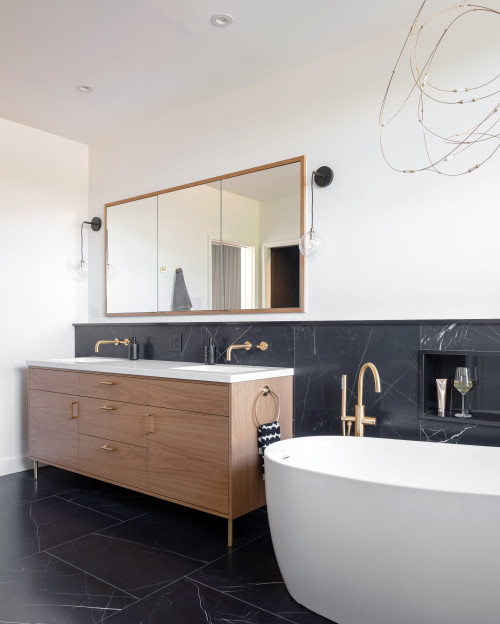 ID# 151403 | Houzz.com – Credit | © CAB Architects
---
Black Backsplash and Floor Tiles with Gold Accents and Wood Vanity
In this modern bathroom, the black backsplash and floor tiles build a sense of drama without darkening the room. Their large formats provide a clean and sleek look, and the white veining adds movement and energy. The wood vanity brings a calming contrast with white countertops. The gold accents ooze opulence. The freestanding tub is accompanied by a wall niche that can easily accommodate a glass of champagne. And it is such small details that bring the design to life, allowing for bathers to relax fully.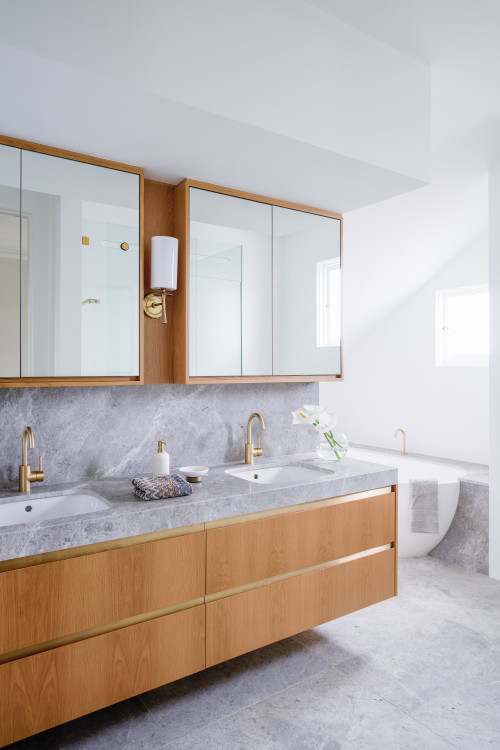 ID# 151404 | Houzz.com – Credit | © Nathan Gornall Design
---
Wood Double Vanity Ideas with Gray Marble Backsplash and Countertops
This contemporary bathroom features a natural color palette with gray marble natural stone and wood vanity. This way, the connection with nature is reinforced, which proposes a retreat. The gray marble flooring coordinates with the marble backsplash and countertop for a cohesive design. The gold accents add luxury to the wood cabinets, oozing both warmth and opulence. And the mirrored cabinets provide extra storage, integrated into the design with gold wall sconces.
Types of Wood Double Vanity Ideas
From modern to rustic, traditional, fluted, and curved, there are plenty of ways to design wood double vanities. Additionally, floating vanities are a popular option to encourage the room to feel larger. The darker and light-colored vanities are also enough to make a drastic change in the overall color scheme. While for dramatic statements, darker ones are better, light wood vanities are best in light-colored and neutral designs.
Modern Wood Double Vanity
Modern wood double vanities are generally kept suspended to leave more room on the floor. And they feature flat-front panels to present decluttered lines and a sleek profile. In addition to those, fluted panels, curvy designs, and cantilevered washbasins are also considered modern. You can top them with butcher block countertops, sleek white quartz worktops, and marble and porcelain benchtops. As for backsplashes, geometric tiles, stacked subway tiles, and marble slabs suit modern vanities perfectly.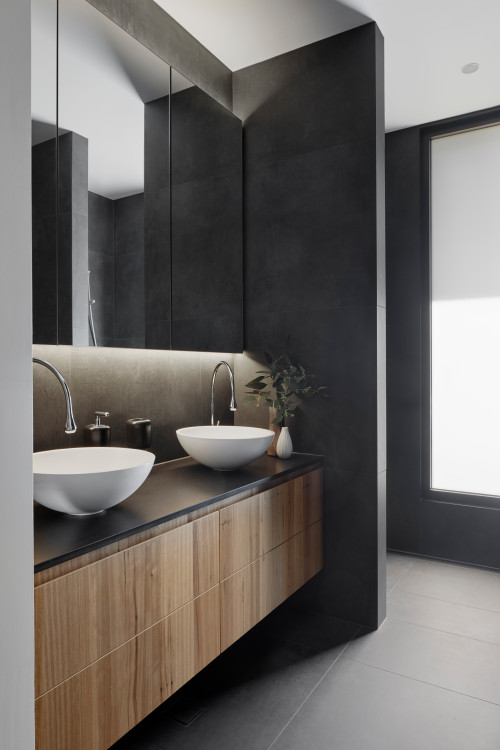 ID# 151406 | Houzz.com – Credit | © Kirsten Johnstone Architecture
---
Modern Wood Double Vanity Ideas with Black Countertops and White Vessel Sinks
This dramatic contemporary design opts for a dark color palette softened with warm wood vanity and white vessel sinks. Similarly, large format gray tiles blanket the floor to ease the impact of the black shades. By contrast,  the mirrored cabinets hold a mirror to the opposite wall of the room, reflecting it and posing as gloss-finish cabinets. This way, the design creates an optical illusion of sorts, while the side extensions frame the vanity zone. It, in turn, gives this section subtle privacy and contour. And to keep the ambiance cozy, the concealed LED lighting diffuses white warm lights,  adding to the already-sleek profile.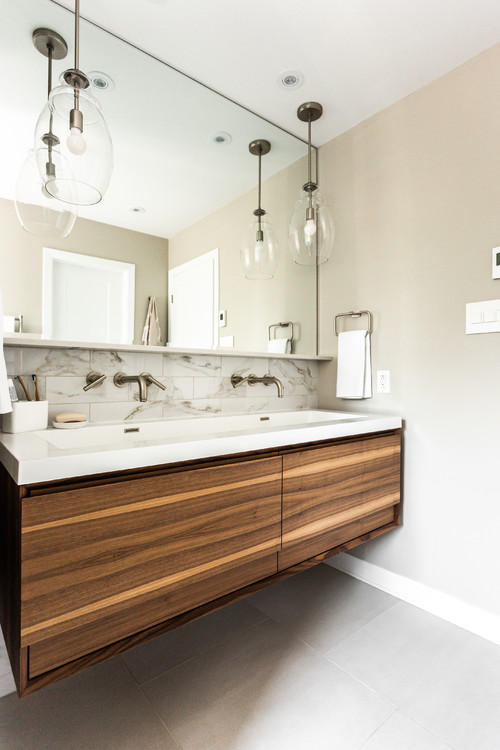 ID# 151407 | Houzz.com – Credit |© HB DESIGN INC
---
Marble Subway Tile Backsplash with Wood Vanity and Brushed Nickel Hardware
This soft yet assertive design boasts a marble subway tile backsplash, whose brown shades match the wood vanity. Extending from wall to wall, the double vanity registers organic modernism, delivering tranquility. The light gray floor tiles and light beige-painted walls also support the peacefulness residing within. The brushed nickel hardware brings an aged feel that adds a sense of life. The dropped-down light bulbs with glass shades build extra visual interest, overhanging the floating vanity. In case you would like to bring in more texture and warmth, consider getting runners or woven baskets.
What is a good size for a double vanity?
Vanities within the range of 60 and 96 inches give you enough storage especially if you need them for ensuite bathrooms.  Yet 60 and 72-inch vanities are considered the best size.  They offer plenty of space and ensure comfort without occupying much space unlike double vanities reaching up to 84 and 96 inches.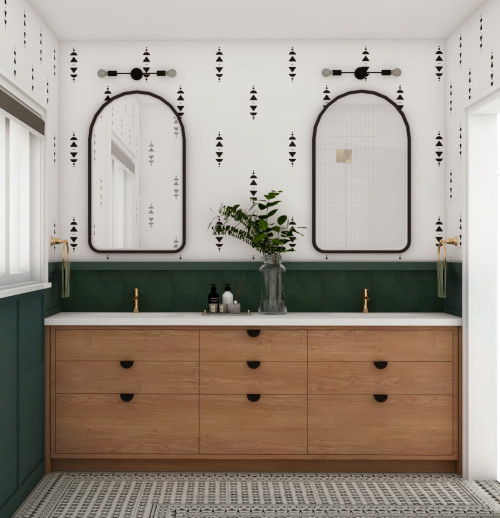 ID# 151408 | Houzz.com – Credit | © CAB Architects
---
Wood Vanity with Green Backsplash and White Countertop
One of the most popular shades that go well with warm wood is without a doubt green. And this modern bathroom makes use of it to the fullest. Employing a dark green backsplash, it extends it only to the mirror. Above it, a white wallpaper sprinkled with green geometric patterns clad the walls. The use of two types of backsplashes allows for diversity and prevents the space from feeling darker. The combination of gold and black hardware brings glam and solidity, respectively. In addition to those, the floor design makes a strong visual statement. Featuring a black-and-white color scheme, it presents tiny patterns that puncture the space.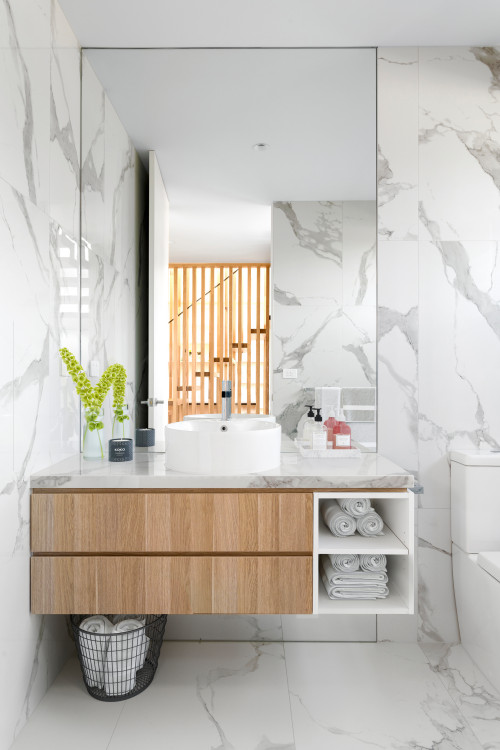 ID# 151409 | Houzz.com – Credit | © Sky Architect Studio
---
Contemporary Bathroom with Full-Height Mirror and Marble Backsplash
This contemporary bathroom features a refined material palette, transcending traditional designs. The marble tiles with bold patterns clad the walls and floor to establish integrity. The wood floating vanity breaks up the monotonic look but declares its connection to it with a marble countertop. The wire basket to keep towels, a vessel sink, and a touch of green add pops of characteristic touches. And the full-height mirror behind the vanity makes for a very functional addition. First, it provides an easy-to-clean surface behind the vanity, unlike the marble which needs constant care and resealing. Secondly, it makes the space feel larger and brighter, enhancing reflectivity.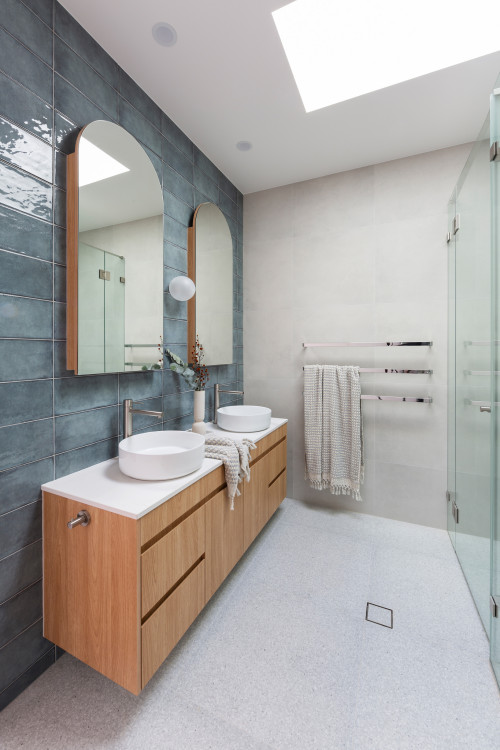 ID# 151410 | Houzz.com – Credit | © Studio Black Interiors
---
Wood Double Vanity Ideas with Arch Recessed Mirrored Cabinets and Subway Tile Backsplash
Linear and round gestures are evident in arch-recessed mirrored cabinets that anchor character in this modern bathroom. Behind these cabinets, the sage green subway tiles peek out to bring pops of colors. And their gloss finish captures lights as much as possible. Right opposite them stand the glass doors of the shower room that provides a physical barrier with no visual restriction. The wood double vanity is slightly above the floor. The white vessel sinks and the white countertop top it for further brightness. Overhead, the skylight pours more than enough sunlight for the vanity and shower sections. On the floor, the barely there light gray terrazzo tiles keep the design visually lightweight.
Wood Floating Double Vanity
Floating vanities feel very modern, minimalist, and contemporary. And in small bathrooms, they come with extra functional benefits. In addition to their cute designs, they keep the floor level airier and more spacious. You can place woven baskets underneath them for extra interest.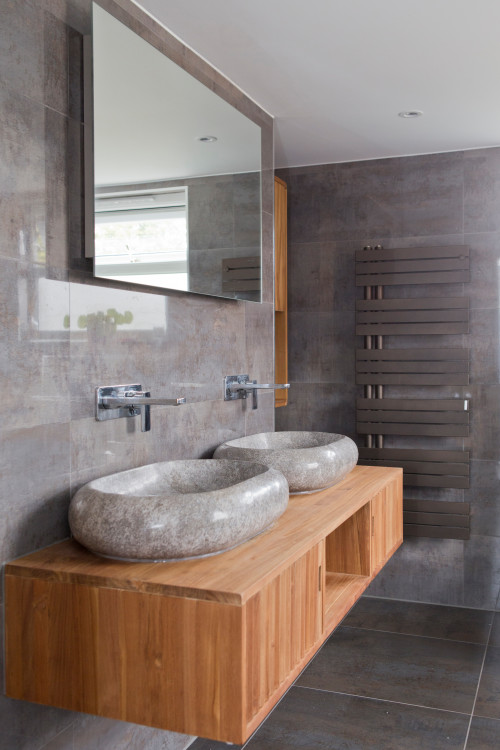 ID# 151411 | Houzz.com – Credit | © Altitude Lofts
---
Wood Floating Double Vanity with Natural Stone Sinks and Frameless Mirror
This bathroom presents itself as a reflection of the contemporary lifestyle. And the combination of natural and metallic features makes it grow akin to sophisticated looks. Additionally, from the natural stone carved vessel sinks to matching wall and floor tiles, each element comes in a polished finish. Not only this finish provides a seamless and reflective design but also a functional one with an easy-to-clean surface. The wood floating vanity in a matte finish, by contrast, brings a calming effect, layering the design with warmth. Also, the brownish undertones on the tiles echo the wood applications, retaining integrity. For one final touch, chrome hardware adds metallic seriousness without stealing from the approachability of the design.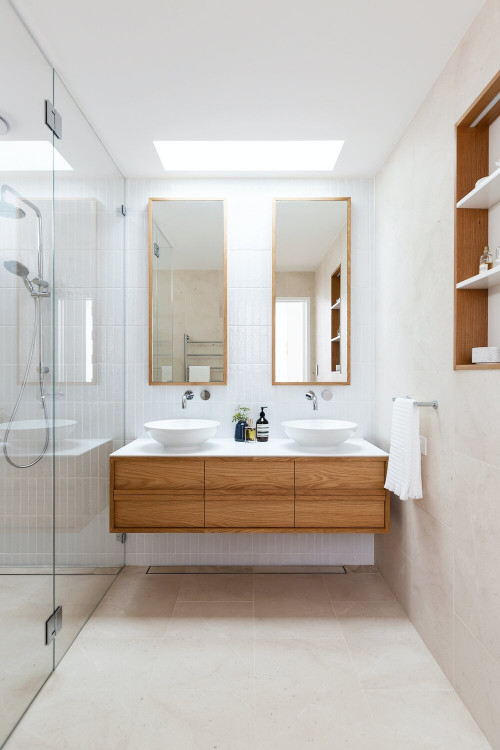 ID# 151412 | Houzz.com – Credit | © Order & Grace
---
Wood Double Vanity Ideas with Stacked Subway Tile Backsplash and White Countertop
This light-filled beach-style bathroom knows how to engage with the space. First, the wood double vanity finds its place under the skylight. And natural lights provide the best task lighting for bathroom users. The white vessel sinks and white countertop also expand the impact of natural light. Likewise, the vertically stacked subway tile backsplash in light white shades creates the perfect setup. The wood accents and vanity inject warmth into the otherwise all-white bathroom. This bathroom also provides a smart storage solution with a wall-mounted open cabinet without causing any visual clutter.
How much does it cost to build a wood double vanity?
How much it costs to build a wood double vanity mainly depends on the size, style, and type of wood. First, the bigger the vanity is, the higher the price. Secondly, for example, while the flat-front panel vanities are cost-effective, raised panel ones and the panels with millwork are expensive. Thirdly, solid wood and solid hardwood are far more expensive than plywood and MDF. But for a wood double vanity, you can expect a price within the range of 1500 USD and 3800 USD.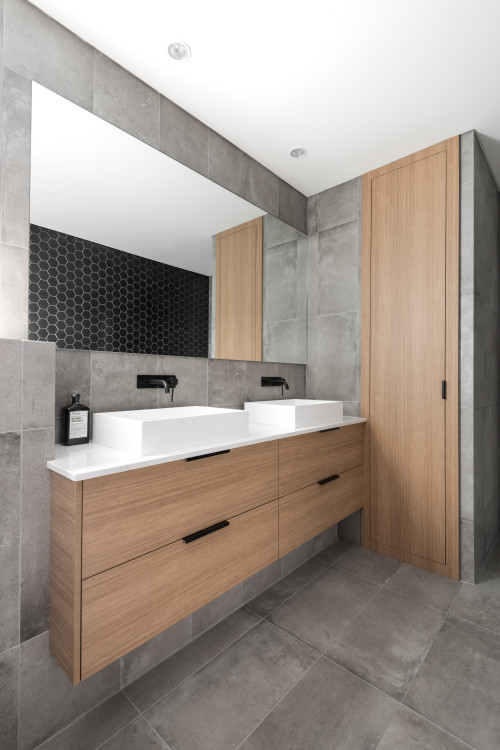 ID# 151413 | Houzz.com – Credit | © Lurie Concepts
---
Gray Bathroom Tiles with White Countertop and Black Hardware
This contemporary bathroom combines natural references through a wood vanity that is sympathetic to outdoor life. Likewise, the concrete-look floor tiles make the bathroom feel extra raw and untouched. The black lip-pull notches, the frameless mirror, and the white countertops change up the overall aesthetic mood with tiny yet effective touches. Additionally, the mirror gives clues about other parts of the room. The black hexagon tile design, for example, becomes revealed through the reflection. This radical shift in the design offers another biophilic touch, registering a contemporary vibe.
Natural Wood Double Vanity
Natural wood double vanities have an authentic vibe of their own, and the ingrains on the natural wood can speak volumes. Reclaimed and antique vanities can also be considered part of this category. They give bathrooms a rustic allure, which you can still combine with modern elements. Especially natural stones like marble result in very sophisticated color and material palettes with natural wood. You can use them, especially in rustic, modern, industrial, and traditional bathroom designs.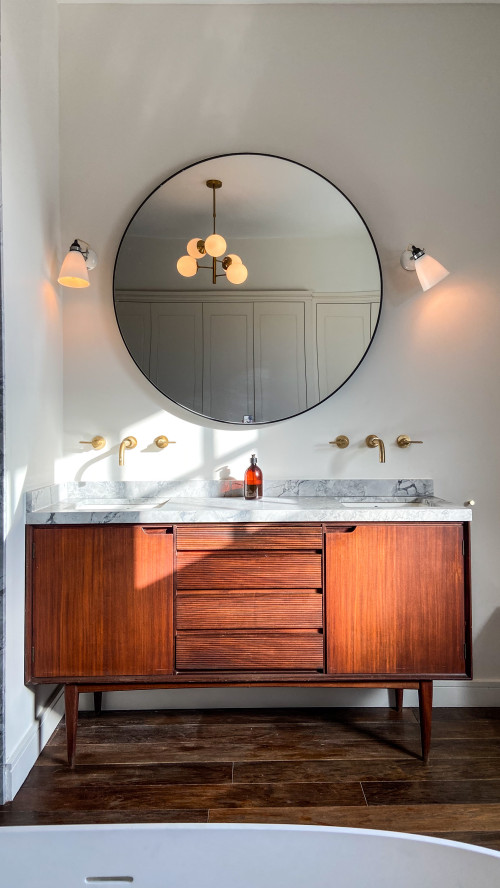 ID# 151414 | Houzz.com – Credit | © Tiptoe Design & Build
---
Natural Wood Double Vanity Ideas with Hardwood Floor and Marble Countertop
Natural wood double vanities are inherently stunning, making themselves stand apart from other wood vanities at first sight. And this transitional bathroom beautifully exemplifies it. Here, it perfectly pairs with the marble countertop and round mirror. The gold tapware and hardwood floor build onto the authentic and artistic mood of the design. The simple lighting fixtures diffuse warm lights to encourage the space to feel cozier.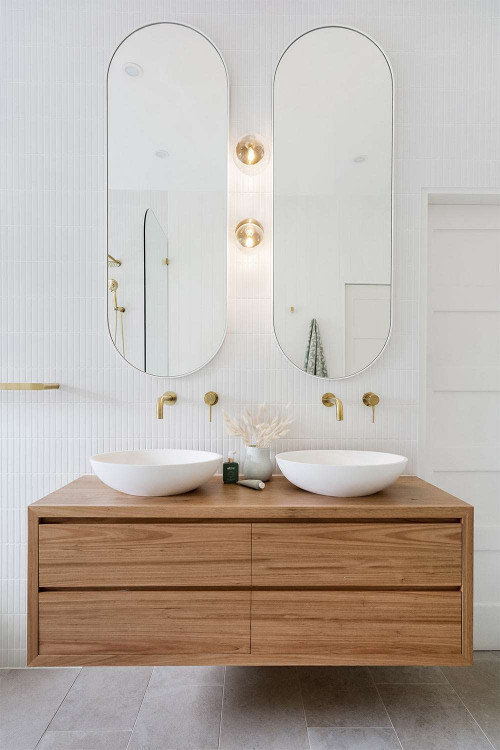 ID# 151415 | Houzz.com – Credit | © Small Bathroom Renovations Perth
---
White Kit Kat Tile Backsplash with Gold Accents and Wood Vanity
Here the soft and light color scheme executes wellness and serenity. The white kit kat tile backsplash offers a texture-rich background for the wood vanity to lean towards. Other integrals of the design such as vessel sinks and gold tapware make the space feel more relevant and warmer for users. The gray floor tiles, by contrast, come in light shades to neutralize the white-and-wood union with a designer look. A duo of elongated oval mirrors also supports the genteel atmosphere dominating the interior.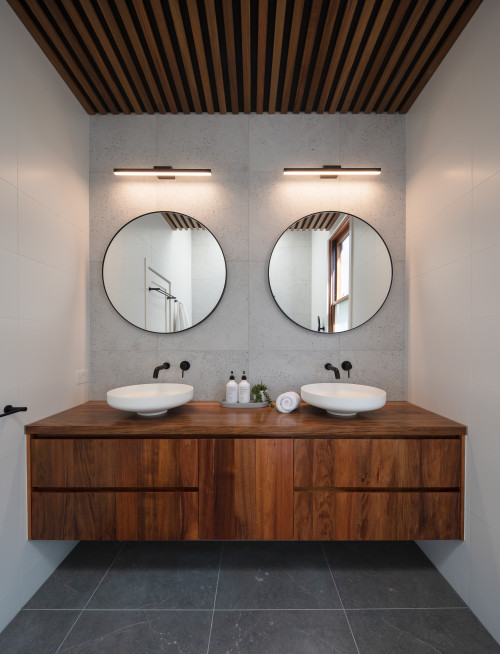 ID# 151416 | Houzz.com – Credit | © Quadrant Design Architects
---
Natural Wood Vanity with Gray Tiles and Round Mirrors
In this contemporary bathroom, the natural wood vanity is put into dialogue with slatted-wood screening on the ceiling. This way, the bathroom is enveloped with warmth and authenticity. The gray tiles in softer and darker shades claim a strong presence to offset the warming touches. The round mirrors echo the round vessel sinks, creating a continuous look. Together they also soften the rectilinear lines evident in the vanity, lighting fixtures, and tiles.
Dark Wood Double Vanity
Dark wood double vanities exude warmth and drama while promising durability. And if you are looking for a classical finish, the answer is again dark wood vanities. They create a strong presence, which can be softened with metal touches, plants, and white shades. Emerald green ceramic tiles, white marble splash-backs, and light cream tile backsplashes can create some of the best backdrops. Glass pendants and chandeliers overhanging the vanity or a freestanding tub can be included as further enriching elements.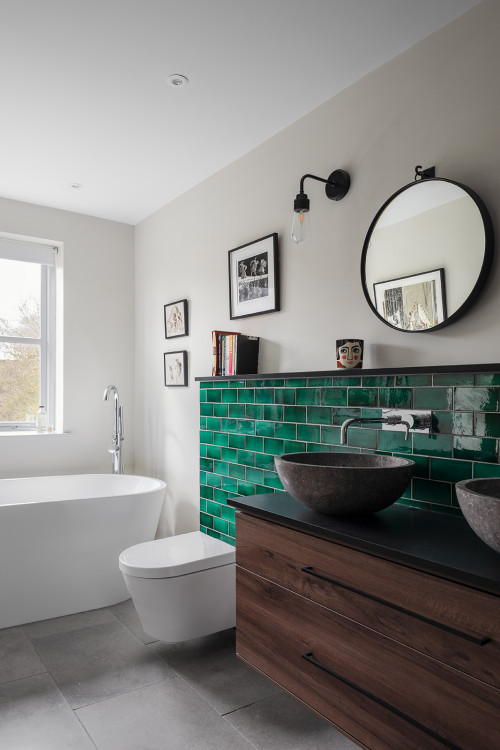 ID# 151417 | Houzz.com – Credit | © Luca Piffaretti Photography
---
Dark Wood Double Vanity Ideas with Green Backsplash and Black Countertop
This dramatic bathroom design features a stylish touch that comes with an emerald green tile backsplash. Consisting of green subway tiles laid in a running-bond style, it creates an engaging backdrop. The dark wood vanity poses in front of it, topped by a black countertop. The books, prints, and personal accessories bring a healthy dose of personality. The country-style basic wall sconce adds casualness, making the design look less planned, and thus more natural. The chrome hardware stands out to be a more stylish metal touch. Similarly, the white freestanding tub appears as a stark contrast to the dark vanity. But these two different color palettes harmonize beautifully in the same room, which is enabled by light gray floor tiles.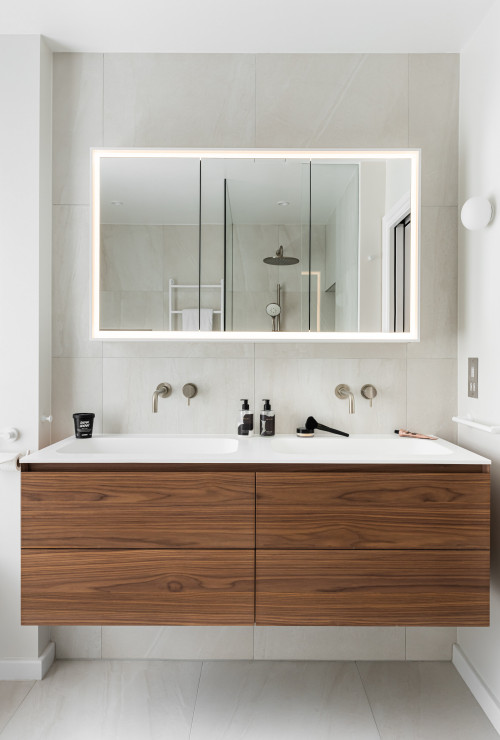 ID# 151418 | Houzz.com – Credit | © Into interior design
---
Light Colored Backsplash with White Countertop and LED Mirror
This soothing contemporary bathroom design, in addition to its light color palette, keeps the vanity suspended. It is mainly to give the impression of a larger room as the vanity's double size already takes up enough space. In the rest of the room, the large format white tiles keep the backdrop clean and streamlined. The Led mirror also provides both lighting and a well-lit grooming zone to avoid any visual clutter with extra additions. The brushed chrome wall-mounted tapware adds a finalizing detail that delivers a lived-in feel. The dark wood shades of the vanity radiate warmth to break up the otherwise all-white color scheme.
Does a double vanity add value?
A double vanity can easiliy add value to any home, making it more practical for a bathroom design. Most importantly, siblings and couples can use the sink for teeth brushing, hair styling, and grooming at the same time. And it saves plenty of time for family members, creating less conflict within the same house. Additionally, a double vanity can suit all bathroom designs, be they modern, transitional, or traditional. Plus, it is wide enough if you want the front panel to make a statement and introduce an intriguing design.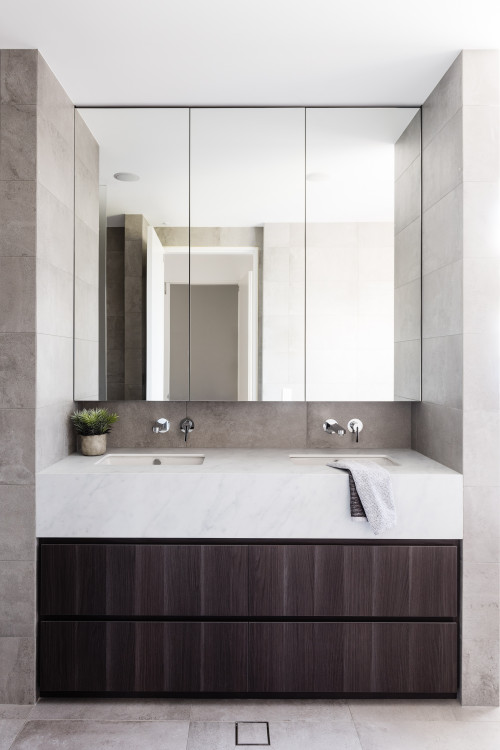 ID# 151419 | Houzz.com – Credit | © Hollier Studio
---
White Countertop with Mirrored Cabinets and Polished Chrome Tapware
Stretching from wall to wall, this dark wood vanity feels at home right away. It is paired with mirrored cabinets and a thick statement-making white countertop. Carved out of marble, this countertop adds elegance and a bonus charm. The integrated sinks stay loyal to the streamlined cabinetry. The polished chrome tapware is also wall-mounted not to take up any space from the benchtop. The light sandy shade tiles are used as a wraparound backsplash, while an indoor plant brings a breath of fresh air.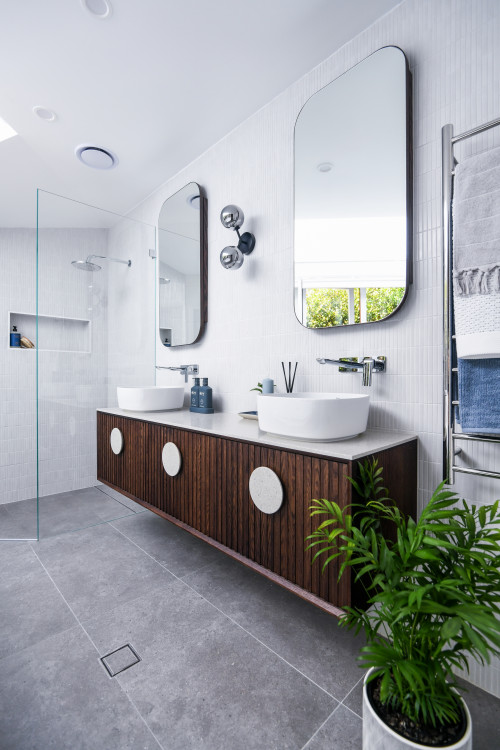 ID# 151421 | Houzz.com – Credit | © Inspired Interiors by Robyn Cote
---
Fluted Wood Double Vanity Ideas with Gray Floor Tiles and Walk-in Shower
Here we have another contemporary design defined by a white kit kat tile backsplash that lends elegance. Stretching from floor to ceiling, it pulls the space together. Accompanying it is the fluted-design vanity with an indoor plant that introduces organic vibes. The gray floor tiles and walk-in shower with a glass door keep the design in line with contemporary looks.
Light Wood Double Vanity
Light wood double vanities are the route to go if you want to feed the lightness of the room. Especially white oak vanities are very popular and also resistant to warping that could occur due to temperature changes in bathrooms. In aesthetic terms, creating a visually lightweight design, they particularly go well with gold hardware, white or pink backsplashes, and light green or blue touches. However, if you would like to get a more solid element, you can use black pulls and combine them with black lighting fixtures.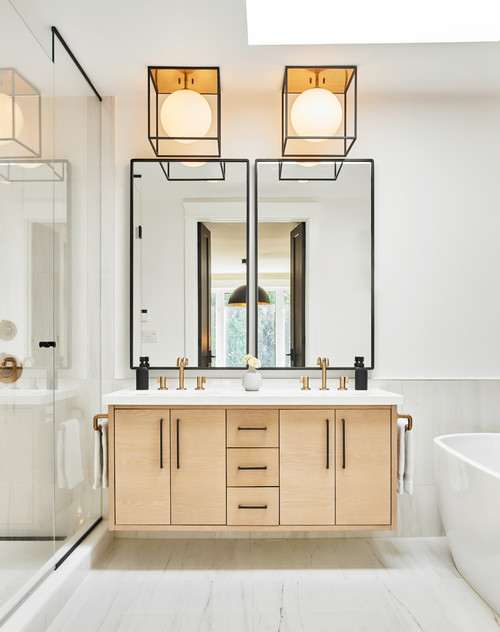 ID# 151422 | Houzz.com – Credit | © Two Fold Interiors
---
Light Wood Double Vanity Ideas with Black Hardware and Cube-Shaped Lighting Fixtures
This light-filled and airy bathroom benefits from a skylight, wall-height windows, and glass doors. Additionally, the white-painted walls and white floor tiles with subtle striations build on the already-existing brightness. The light wood double vanity also adds to it with its white countertop. The black cabinet pulls and gold tapware suit the overarching narrative, adding interest to the Scandinavian-inspired design. Overhead, the cube-shaped lighting fixtures accentuate the design. The vanity-mounted towel rails make for a functional touch without causing any visual clutter or distraction.
ID# 151423 | Houzz.com – Credit | © MH Costa Construction Ltd
---
Contemporary Bathroom with Marble Tiles and Black Accents
This rectilinear bathroom is aligned with a light wood double vanity on one side. And on the other, an oversized shower room runs parallel to the vanity zone. And what unites them is the white-gray marble tiles that both clad the walls and floors. This way, visual cohesion is achieved effortlessly. The open shelves beneath the vanities provide the perfect spot to host the towels. In the rest, the wall niches, black tapware, woven baskets, and smoky glass pendants finalize the overall aesthetic.
How do I protect my wood vanity from water?
No matter how high quality your wood vanity is, the temperature changes and alterations in the humidity can cause warping in the long term. To avoid that, there are ways to make the vanity waterproof. One traditional way to do that is to apply linseed oil to protect the wood from water. Or sealants like varnish, polyurethane, and lacquer provide excellent protection for wood vanities against moisture and temperature changes.
Yet before applying the sealant to the wood, don't forget to sand it properly and clean it afterward. If necessary, apply coatings a couple of times by following the instructions. Depending on the type of sealant, requirements can be different, including how much time you need to wait for the first coating to dry.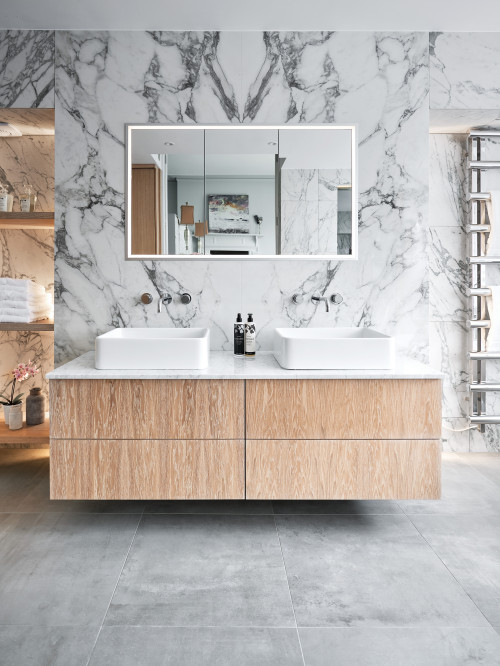 ID# 151424 | Houzz.com – Credit
---
Marble Backsplash with Wood Vanity and Timber Floating Shelves
Designed to offer restful repose with understated luxury, this contemporary bathroom is ready to charge its users with positive energy. To achieve that, it benefits from natural textures and materials. That's why with no surprise to us, the showstopper of this contemporary bathroom stands out to be the statement-making marble backsplash that stretches from floor to ceiling. The LED mirror and LED lighting fixtures that provide accent lighting for timber floating shelves make for a cozy and warm atmosphere. The wood vanity and gray floor tiles add to the relaxing and peaceful vibe of the room. This way, the design is made more approachable with subtle luxury.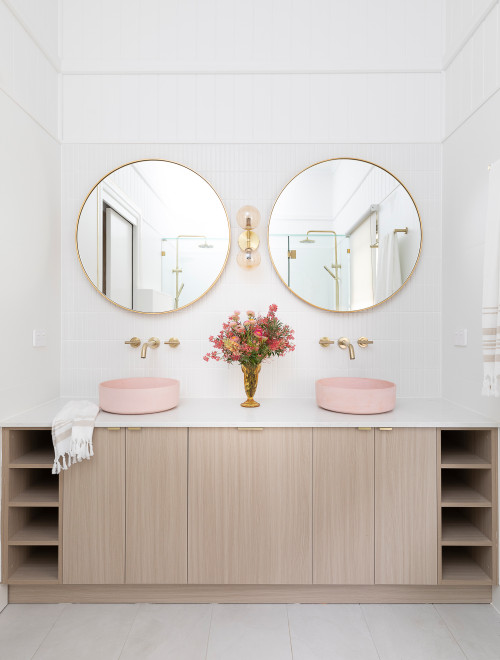 ID# 151425 | Houzz.com – Credit | © Designtank
---
Pink Sinks with Light Wood Vanity and Round Mirrors
One of the colors that suit light wood vanities is muted pink shades surely- as showcased by this bathroom. Here, double pink vessel sinks nestle on the double wood vanity for a pop of color. The white countertop and white subway tile backsplash create a blank canvas for other elements to shine. The gold mirror frames and gold tapware introduce the best metal shade to accompany wood and pink. The round mirrors also resonate with the sinks shape-wise for a continuous look. Lastly, the pink flowers and a gold-touches wall sconce puncture the design, bringing a sense of femininity. Overall, it envelops its users with warmth, colors, and positivity effortlessly.
Wood Double Vanity with Vessel Sink
Unlike under-mount and drop-in sinks, vessel sinks are fixed on bathroom vanities. Available in round, rectangular, and square forms, they are generally made of glass or ceramic. Giving a spa-inspired and modern look, they also make a great pair with wood vanities. And if you have a freestanding tub, you can get vessel sinks in a similar form as your tub. This way, you can achieve a more purposeful design that makes a statement.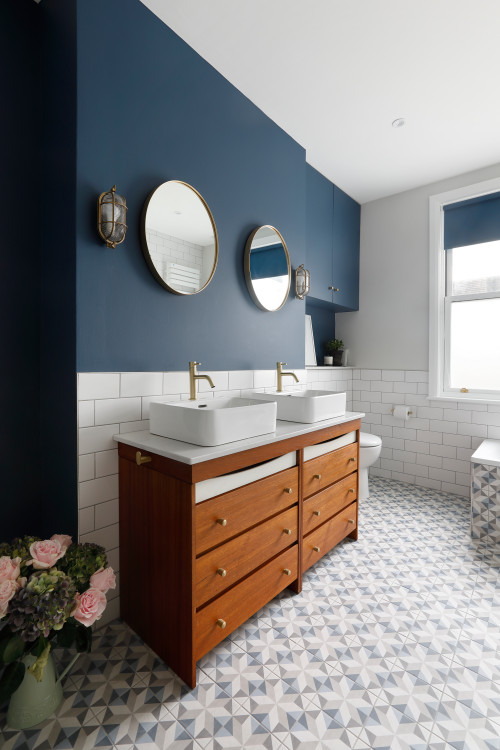 ID# 151426 | Houzz.com – Credit | © Emma Wood Photos
---
Wood Double Vanity Ideas with Vessel Sink and Subway Tile Backsplash
Painting bathroom walls is not an outdated way to approach a contemporary design bathroom. Here, for example, the top half is painted navy blue, while the bottom half is clad in white subway tiles. The wood double vanity taps into the spirit of mid-century modern looks. The gold knobs and tapware add more warmth. The multi-colored diamond-patterned tiles reinforce mid-century flair, introducing a sense of geometry and movement. The tiles also continue on the bathtub for a sense of integrity. The white countertop and a duo of vessel sinks add a further dimension to the vanity.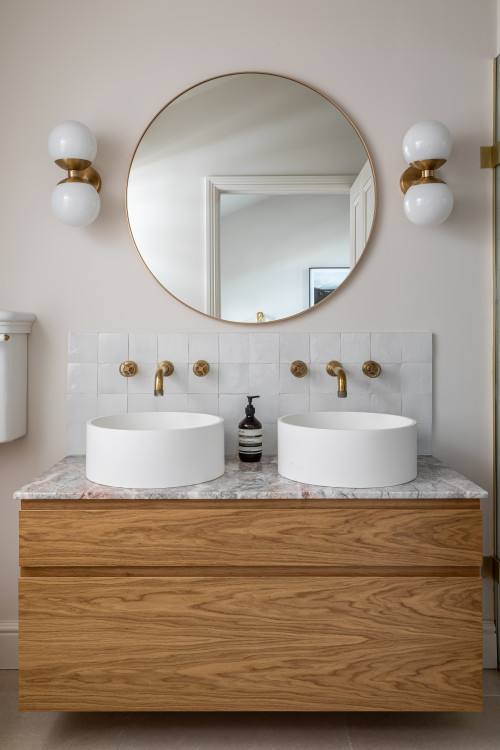 ID# 151427 | Houzz.com – Credit | © Golden Design
---
Wood Vanity with Natural Stone Countertop and Globe Wall Sconces
To incorporate a double vanity into your bathroom, you don't need a super-large space. This contemporary bathroom, for example, gets a smaller version that has enough benchtop for two vessel sinks. These round-shaped sinks team up perfectly with the circular mirror. Likewise, the globe wall sconces with gold hardware and gold tapware add a stylish touch to the natural stone countertop. The white handmade ceramic square tile backsplash lends authenticity to the background.
What is the best wood for a bathroom vanity?
Made of maple, oak, walnut, and cherry, solid wood is the best material for bathroom vanity. They are strong and durable in the long run, ensuring longevity. The only disadvantage is that they are much pricier when compared to other materials. So, if you want to look for alternatives, another great wood type is solid plywood that can resist expansion and contraction as the level of humildity and temperature changes. Since it is available in different thicknesses and qualities, it is important to find the best version for bathrooms.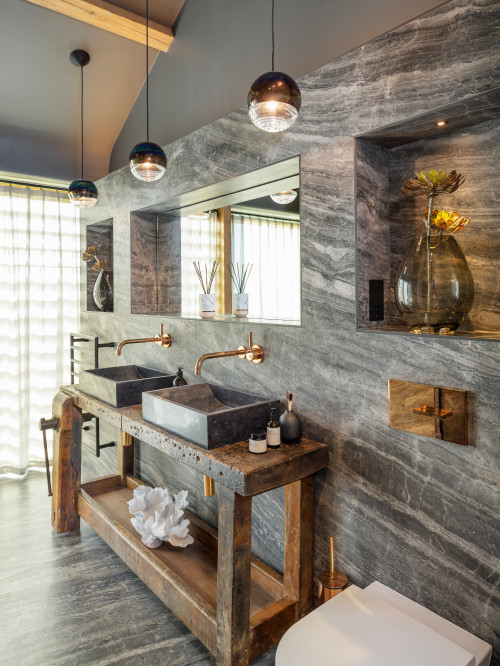 ID# 151428 | Houzz.com – Credit | © Woodford Architecture and Interiors
---
Gray Backsplash with Wall Niches and Reclaimed Wood Vanity
This luxurious bathroom design makes the dark marble backsplash shine. With wall niches, wall-sheathing offers smart storage solutions without breaking the visual integrity. The reclaimed wood vanity brings a rustic charm that suits the marble-clad interior. The marble-carved vessel sinks blend harmoniously with the rest. The gold tapware and exposed plumbing fixtures support the rustic flair and rawness of the design. A trio of globe pendants, glass vases, and synthetic flowers stylize the space. The shades dress the full-height windows to ensure privacy, adding homey vibes.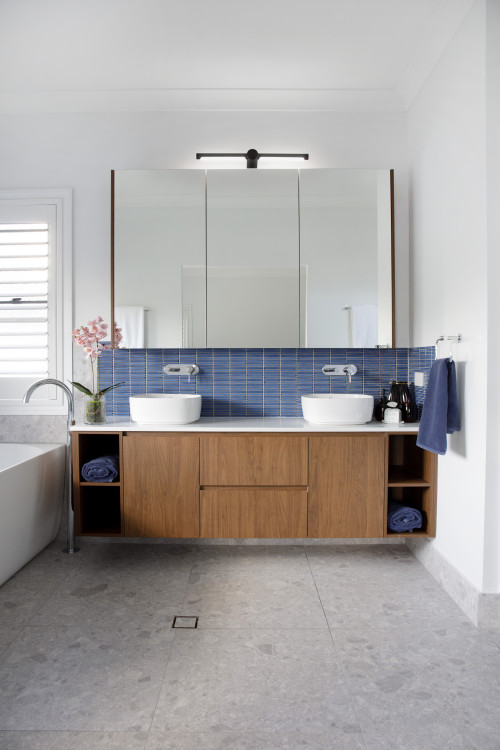 ID# 151429 | Houzz.com – Credit | © Interiors by Maz
---
Blue Tile Backsplash with Gray Terrazzo Floor and White Countertop
This ensuite bathroom constitutes an engaging look with a blue kit kat tile backsplash that brings a rejuvenating impact. To complement it, the white quartz countertop injects optimism, pairing well with the double wood vanity. The light gray terrazzo floor adds a subtle hint of color, whose mission is rather to ensure the longevity of the design. To make pops of colors more relevant to the design, you can use accessories in that shade. For example, this bathroom goes with blue towels to match the blue tile backsplash. And the resulting visual scheme presents a well-integrated look that satisfies its users immediately.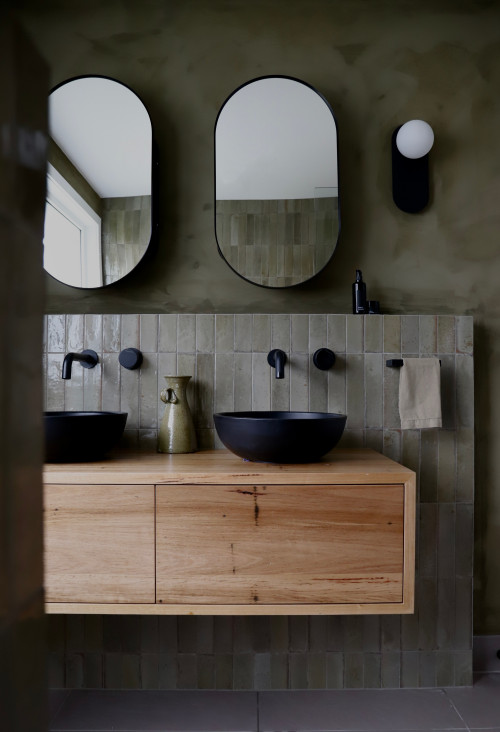 ID# 151430 | Houzz.com – Credit | © Harlo Design Studio
---
Wood Double Vanity Ideas with Ceramic Tile Backsplash and Black Sinks
Taking cues from Mediterranean and Mexican designs, this modern bathroom proposes a monochromatic yet natural color palette that delivers instant warmth. The ceramic subway tile backsplash stacked vertically presents a color repertoire of green and gray shades. As such, it echoes the green wall and gray floor tiles for cohesiveness. The light wood floating vanity lightens up the dark background. And the black vessel sinks with black tapware to create a layered look. The white glass globe pendants with black hardware also contribute to the visual integrity of the design. Above all, the key design trick to glean from this bathroom is to integrate different hues within a color family.