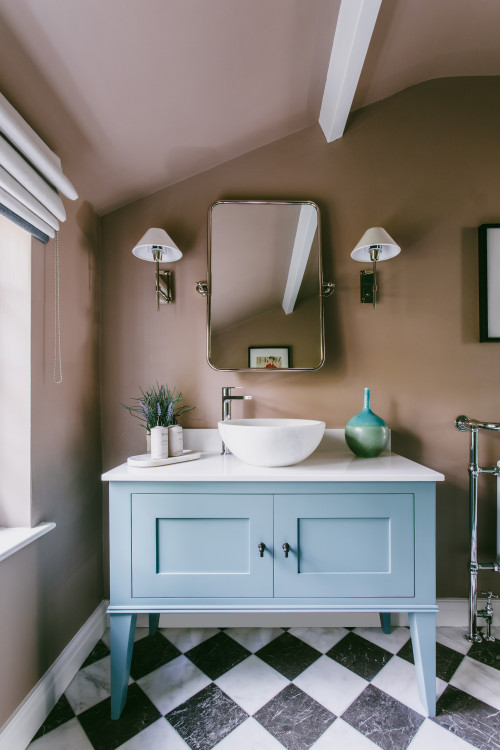 ID# 151602 | Houzz.com – Credit | © PUREFOY INTERIORS LTD
---
Blue Vanity with Vessel Sink and Checkerboard Flooring
This transitional bathroom is a reflection of the retro style with checkerboard flooring and brown-painted walls. The shade lighting fixtures and a tilting mirror contribute big to the classic feel of the room. By contrast, the light blue vanity, chrome hardware, and crisp white countertop give the design a contemporary spin. The white vessel sink mediates between being modern and classic. Not to mention the white window shades and a ceiling beam that enrich the visual scheme.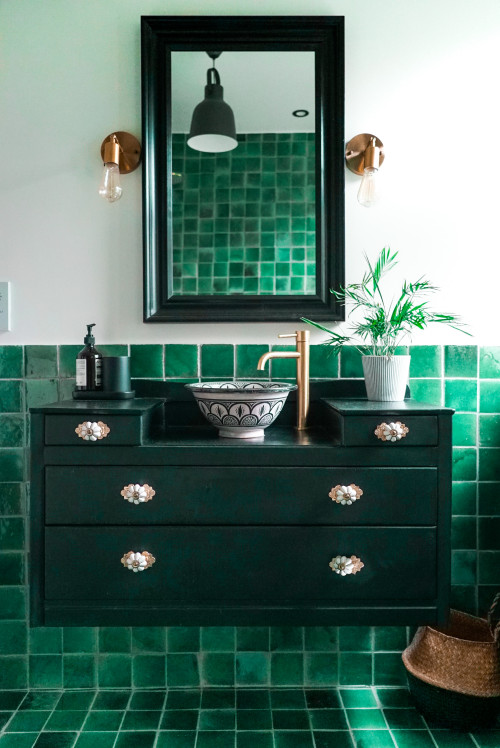 ID# 151619 | Houzz.com – Credit | © House of Norica
---
Green Square Tile Backsplash with Dark Vanity and Patterned Vessel Sink
Vessel sinks don't necessarily come in plain designs but also look very artsy with intriguing patterns. In other words, since they are highly customizable, you can achieve very authentic vibes with them- as proven by this bathroom. Here, the vessel sink comes with traditional blue patterns, which makes it a statement piece. The dark green floating vanity oozes drama, leaning against a green ceramic square tile backsplash. These tiles also continue on the floor to create a cohesive look. Likewise, the green ceiling lamp, whose reflection is seen on the green-framed mirror, adds further interest. The gold light bulbs, eccentric cabinet handles, and tapware inject warmth and glam. Lastly, a wicker basket introduces texture, enriching the material repertoire of the bathroom. Yet above all, this design proves that even by sticking to a protagonist's color, you can make the design work.
Vessel Sink Vanity
Though sinks are considered functional elements, given how many types and designs are available for them, it wouldn't be wrong to consider them visual statement-makers. And when it comes to vessel sinks, they are just one of the sink types that can even count as showstoppers. A vessel sink vanity offers a more layered look that adds further character to the design.
Eligible for making authentic additions, vessel sinks are available in a wide array of materials and forms. As such, they open up almost limitless design opportunities. Here we have rounded up a collection of vessel sink vanity ideas that help you create an oasis-like atmosphere in your bathroom. If you want to get a better idea of what a vessel sink vanity is, keep reading and get motivated for your next bathroom makeover.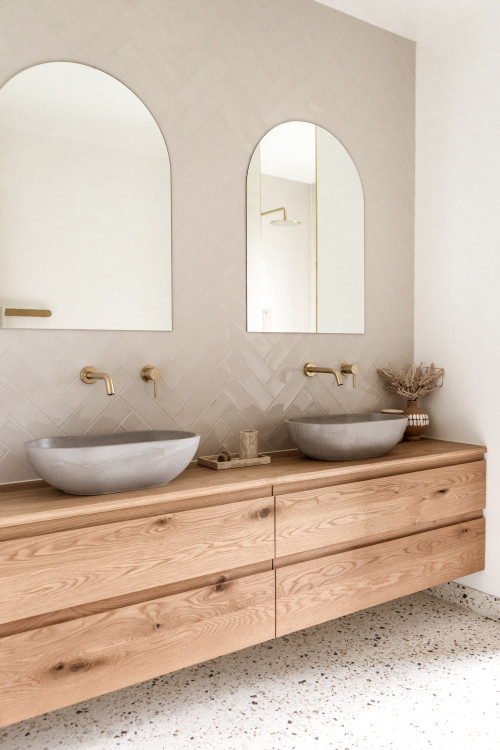 ID# 151601 | Houzz.com – Credit | © ABI Interiors
---
Vessel Sink Vanity with Herringbone Tile Backsplash and Natural Wood Vanity
Oozing warmth and natural vibes, this bathroom constitutes a design theme revolving around warm sandy shades. The vessel sink natural wood vanity is paired with gold wall-mounted fittings that add extra charm to it. In the background, the herringbone tile backsplash almost offers a seamless look thanks to its gloss finish. The gray natural stone vessel sinks introduce curvy forms to soften the formality of rectangular forms. Lastly, the speckled-finish concrete floor makes the design burst with energy.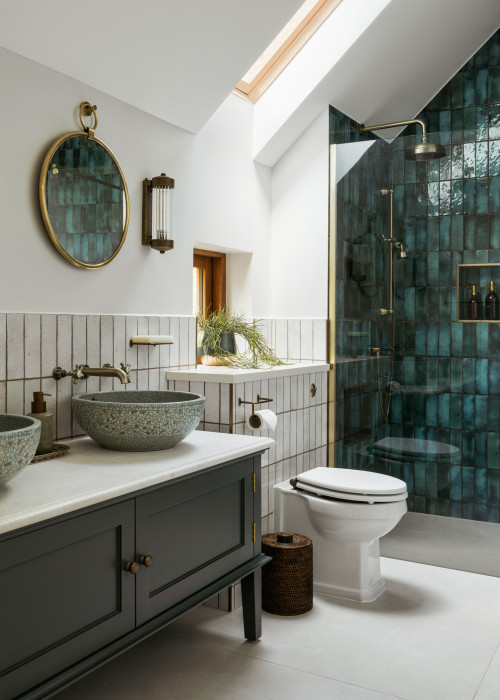 ID# 151603 | Houzz.com – Credit | © Aflux Designs
---
Traditional Bathroom with Gray Vanity and Subway Tile Backsplash
This traditional bathroom is filled with statement-makers. To start with, the brown grout used between the white subway tile backsplash brings earthliness and warmth. This design trick also pairs well with antique brass finish fixtures. This way, the space feels lived-in and aged, exposing its users to a sense of nostalgia. The gray shaker vanity topped by a white countertop brings a solid touch. The bluish-gray vessel sinks echo the color palette, while the shower room boasts blue subway tiles. Nestled under the sloping ceiling, this bathroom also feels extra inviting, illuminated by a skylight.
Can you put a vessel sink on any vanity?
A vessel sink can be put on any vanity. But what needs to be considered is the countertop, plumbing system, and the height of the vessell sink. Since the drain and tapware systems are a bit different for vessel sinks, the countertop requires some changes.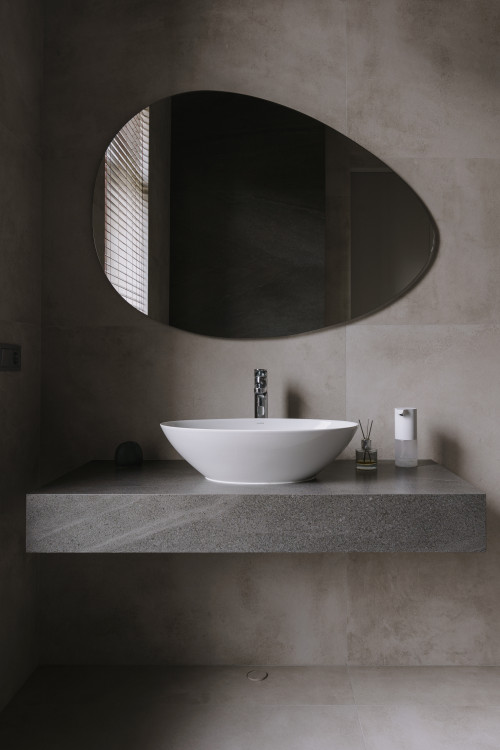 ID# 151604 | Houzz.com – Credit | © Lepo bureau
---
Minimalist Bathroom Design with Vessel Sink Vanity and Chrome Hardware
Natural and calm textures are the main definers of this minimalist bathroom. First, it is the concrete-look brownish tiles that provide an earthy backdrop. And secondly, the thick speckled and matte finish countertop adds a contemporary touch. While all pieces of furniture feel basic and ornament-free, the white vessel sink pops with its crisp white ceramic form. It is paired with chrome tapware that gives the bathroom a contemporary upgrade. Above, the irregularly-shaped frameless mirror makes a perfect addition, suiting the overall design aesthetic excellently.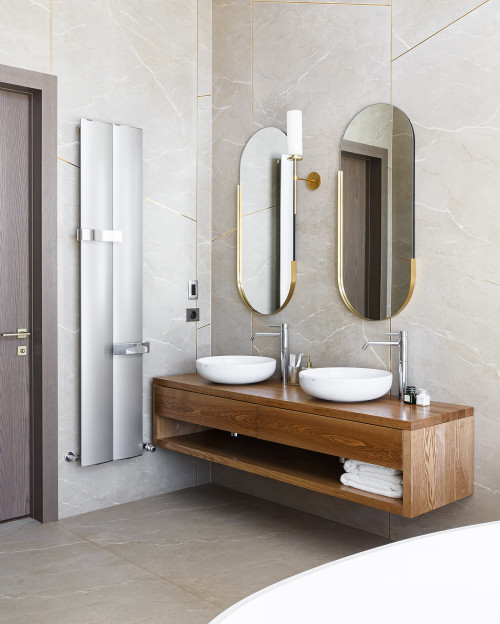 ID# 151605 | Houzz.com – Credit | © Филипович Филипп
---
Wood Vanity with Oval Mirrors and Large Format Tiles
Unique to this high-ceilinged contemporary bathroom is the diagonally-cut and oversized wall tiles. They make for an intriguing design that catches the eye immediately. And while they provide a clean and sleek look, the weathered-looking wood floating vanity brings a rustic allure without sacrificing its refined look. White vessel sinks atop pair with chrome tapware and oval elongated mirrors for more interest. The gold accents with a globe wall sconce flanked by mirrors finalize the overall look.
Are vessel bathroom sinks out of style?
The shorth answer is no! Vessel bathroom sinks are definitely still in style, forming integral of our homes today and making visual statements confidently. Contemporary, modern, Scandinavian, transitional, and rustic bathroom designs don't shy away from using them. Since they are available in multiple materials and shapes, they are used to introduce different forms and materials. This, especially, works well in contemporary and nature-inspired designs.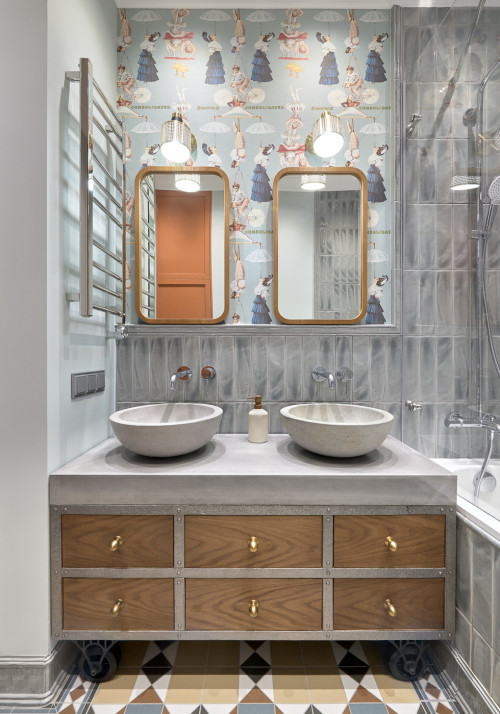 ID# 151606 | Houzz.com – Credit | © Студия Enjoy Home
---
Blue Subway Tile Backsplash with Wallpaper Design and Vessel Sink Vanity
The key to this contemporary design is the subtle shades of blue and an abundance of patterns that invite peacefulness. And it is managed despite the compact size of the bathroom. The wood vanity with a concrete-looking countertop and vessel sinks introduces a refined material vocabulary. And behind it, a muted blue subway tile backsplash stacked vertically gives the wall extra height. On the way, it translates into wallpaper that embeds homey vibes. The timber-framed mirrors and wall sconces punctuate the wall. On the floor, the diamond pattern and multi-colored floor tiles resonate with the overall color scheme. This way, the visual integrity is maintained, which is also evident in the blue subway tiles cladding the bathtub section as well.
Types Vessel Sink Vanity
Vessel sink vanities can be grouped by their installation types, shapes, and materials. To start with, vessel sinks can be above-counter or recessed depending on their bottom. For example, while rounded bottom ones require a mounting ring, flat-bottomed ones can directly be installed. Any vanity could be a good fit for vessel sinks, even though there are vanities specifically designed for them.
Secondly, vessel sinks are available in different diameters, heights, and forms. These include rounded, oval, rectangular, square, and egg-shaped ones.
Lastly, as for the materials, vessel sink vanities are made of different types of wood and MDF. Vessel sinks themselves come in the form of glass, porcelain, metal, stone, and synthetic materials as well.
Modern Vessel Sink Vanity
Modern vessel sink vanities boast minimalist and functional designs. Some feature towel rails mounted beneath the countertops. Some have lower shelves designed to curl back around themselves. And some are wall-mounted and suspended to leave more room on the floor. As for vessel sinks, they generally make these already-modern vanities more modern and intriguing.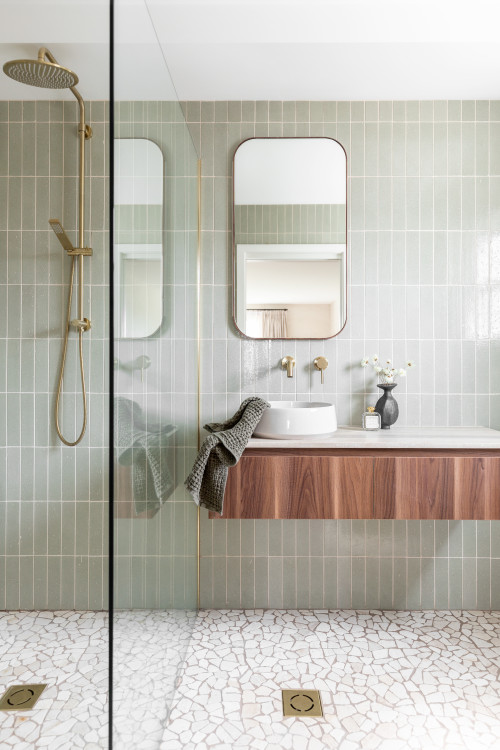 ID# 151607 | Houzz.com – Credit | © ABI Interiors
---
Modern Vessel Sink Vanity with Light Gray Backsplash and Gold Tapware
This super-modern bathroom design features a neutral color palette that imparts calmness to its users right away. The vertically stacked light gray ceramic subway tile backsplash clads the walls to pull the space together. This layout also expands the room on the vertical axis, while the floating vanity makes the interior feel larger. The flattened-stone-looking floor sheathing adds a sense of authenticity. And the gold tapware asserts a touch of glam without feeling over the top.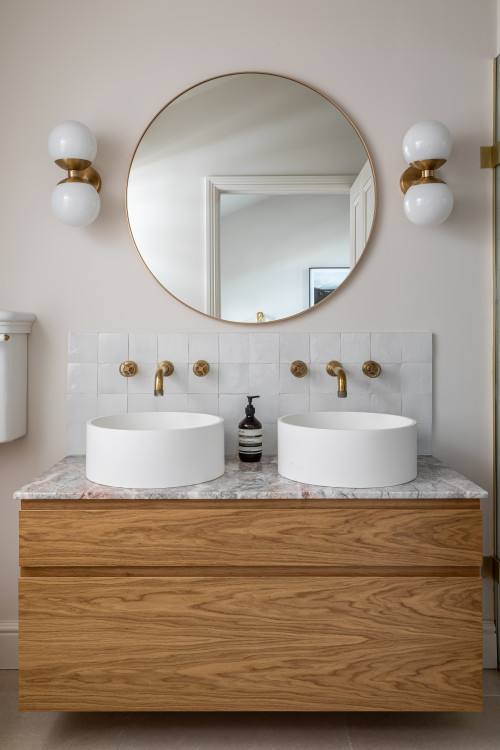 ID# 151608 | Houzz.com – Credit | © Golden Design
---
Wood Vanity with Gold Accents and Square Tile Backsplash
Holding an affinity with a Scandi-inspired design, this natural design bathroom accommodates a wood vanity and a handmade ceramic tile backsplash. Consisting of white square tiles, the backsplash introduces uneven edges, making it extra interesting. The gold tapware, marble countertop, and globe lighting fixtures emulate a luxury style without breaking the casual and relaxed ambiance.
Are vessel sinks good in the bathroom?
Among all the sink types, it is probably the vessel sinks that have the highest potential to make a visual statement. They are also easy to clean, giving the bathroom a modern update. Available in a plethora of materials, forms, and styles, you can deepen the artistic mood of your bathroom with them easily.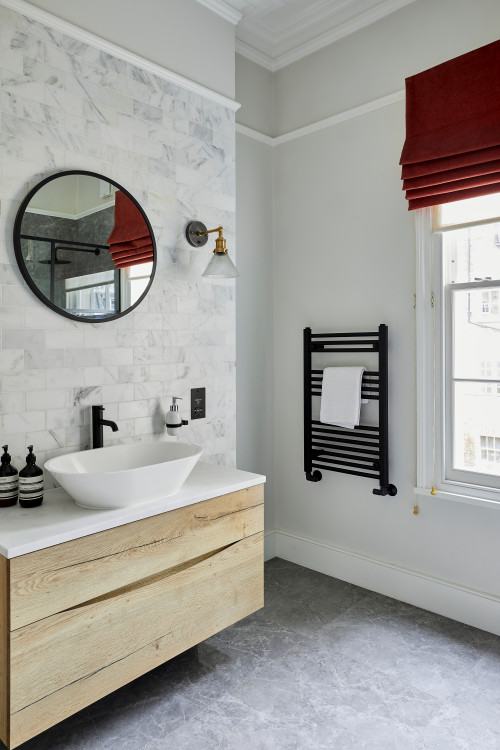 ID# 151609 | Houzz.com – Credit | © Portland Decorating and Design Ltd
---
Modern Marble Subway Tile Backsplash and Light Wood Vanity with Red Window Shades
Sometimes all that a bathroom needs are a pop of color. And here it comes via red window shade. In the rest, the design feels calm with a neutral color palette. Light gray floor tiles and a white marble subway tile backsplash make for a soothing design. The light wood vanity casts a sense of warmth. The black fixtures and a white vessel sink add ornaments to the design without stealing from its austere character.
Can you replace a regular sink with a vessel sink?
To be able to replace a regular sink with a vessel sink, a few modifications may need to be made. For example, while vessel sinks require only a single faucet and drain hole, your existing tapware might have required a few pre-drilled holes. In that case, it would be better to replace the countertop while changing the sink.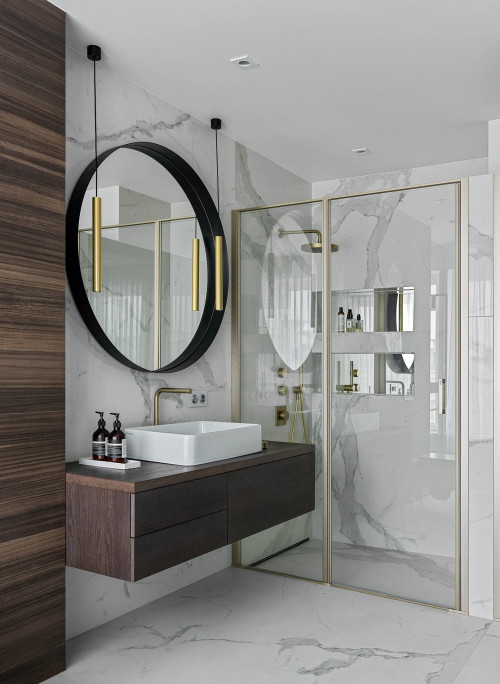 ID# 151610 | Houzz.com – Credit | © Красюк Сергей
---
Contemporary Bathroom with White Marble Slab Backsplash and Floating Vessel Sink Vanity
If you love classic finishes and are after a timeless look, take design cues from this bathroom. And utilize marble slabs and a dark floating vanity for a sense of drama. Here, this contemporary bathroom, for example, does the same by employing fail-safe materials and colors. And to complement them, it brings in light bronze fixtures and a black -framed round mirror. This way, it accentuates the space and classic finishes, giving them a sense of personality.
Small Vessel Sink Vanity
In compact and small bathrooms, small vessel sink vanities are life savers. They can be placed in corners or between walls and bathtubs. This way, every inch of the space can easily be integrated into the design. Vessel sinks are one of the best sink types for small vanities. First, they add extra height to them. Secondly, they can transform them into statement-makers.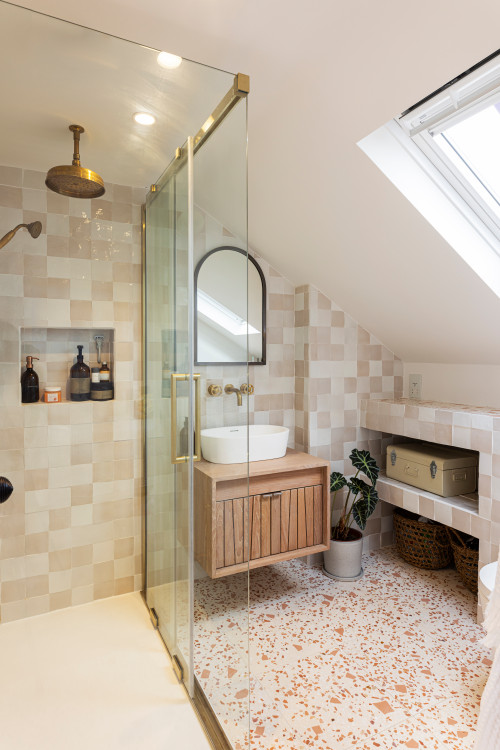 ID# 151611 | Houzz.com – Credit | © A2studio
---
Small Vessel Sink Vanity with Neutral Color Scheme and Terrazzo Floor
This warm and neutral color palette of this transitional bathroom makes its users feel at home right away. The square tile backsplash in alternating shades prevents the space from feeling too matchy-matchy. In a similar way, the pink speckled-finish concrete floor makes the design pop. And when there are shades of pink, it is always a great idea to integrate wood and gold- as proven here one more time. The oil-rubbed gold hardware and shower head honor the pink touches, making it look cozier. The small vessel sink, woven baskets, and an indoor plant cast a sense of warmth, while the skylight spills in natural light. Lastly, the wall niche in the shower zone provides an excellent spot to keep the shampoos without causing any visual clutter.
What holds a vessel sink in place?
Vessel sinks can be recessed in the counter or fixed on the countertop, the latter of which is enabled by a mounting ring. Yet it is mainly required for vessel sinks with a round and curved bottom. And this connecting/mounting ring is what puts the bottom of the basin and the countertop into dialogue. But there might be cases when it doesn't come with a mounting ring. In that case, the basin bottom may be flat that can be fixed on the countertop with silicone caulking. But if you have a glass vessel sink, caulking is out of the question. It is mainly because the silicone would be visible due to the translucent nature of the glass and cause visual clutter.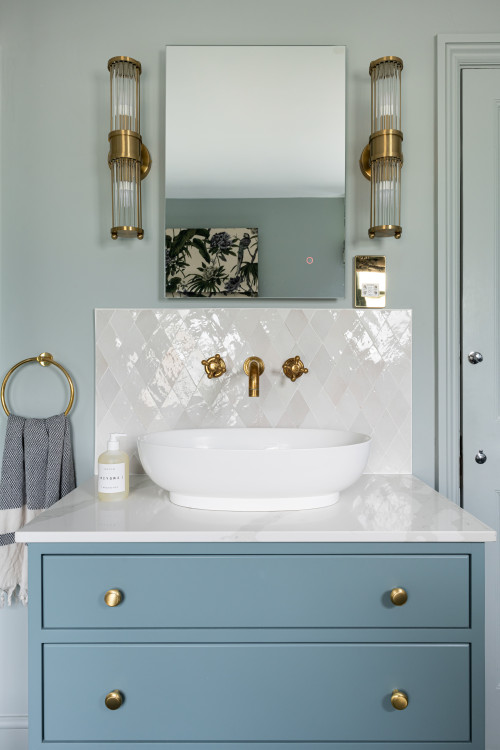 ID# 151612 | Houzz.com – Credit | © Owl Design
---
Diamond Tile Backsplash with Blue Vanity and Tube-Shaped Lighting Fixtures
Here we have another transitional bathroom that makes a statement with its muted blue cabinet. In the background, light blue-painted walls provide a perfect backdrop with which it can blend effortlessly. The white ceramic diamond tile backsplash brings a brightening effect to the white countertop. Also, the satin finish on the tiles gives the backsplash a nice beautiful sheen. Contrasting with other matte-finish elements, the backsplash directly catches attention. The gold accents bring much-needed warmth to radiate coziness. And reeded-glass tube-shaped wall sconces with gold details converse with the gold elements to orchestrate visual consistency.
How do you clean under a vessel sink?
One of the disadvantages of vessel sinks is that it is hard to clean under the sink and around the area where the sink meets the countertop. But regular cleaning with mild detergent prevents any dirt and debris from accumulating.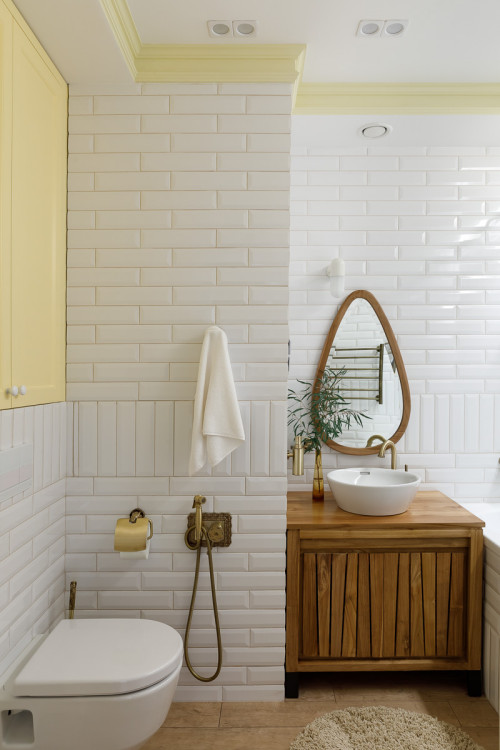 ID# 151613 | Houzz.com – Credit | © Osterman studio. Дизайн интерьеров.
---
White Subway Tile Backsplash with Wood Vanity and Yellow Cabinets
This bright and warm bathroom design owes its engaging look to the companionship of the yellow and white. Here, while the white subway tiles sheathe the walls, the yellow built-in cabinets channel warmth. Plus, the yellowish grout used between the subway tiles establishes perfect coordination between these two protagonists. Brass fittings and small wood vanity also take their places, creating a continuous look with other elements. On the floor, a small runner not only provides comfort underfoot but also helps make the floor less slippery.
Design hint: If you want to create an eye-catching tile design, you can lay the backsplash tiles differently. For example, this bathroom lays subway tiles in a running-bond pattern to define the top and bottom. But in the middle, it stacks them vertically to create a division of sorts. This way, it also gives the bathroom a sense of movement.
Double Vessel Sink Vanity
Double vessel sink vanity sizes range from 60 to 96, offering plenty of storage and benchtop. Thus, they are perfect for ensuite and children's bathrooms. Since they also have enough benchtops for two vessel sinks, they can inject a hefty dose of character. If you wish, you can also go with colorful vessel sinks and make your bathroom transcend traditional looks.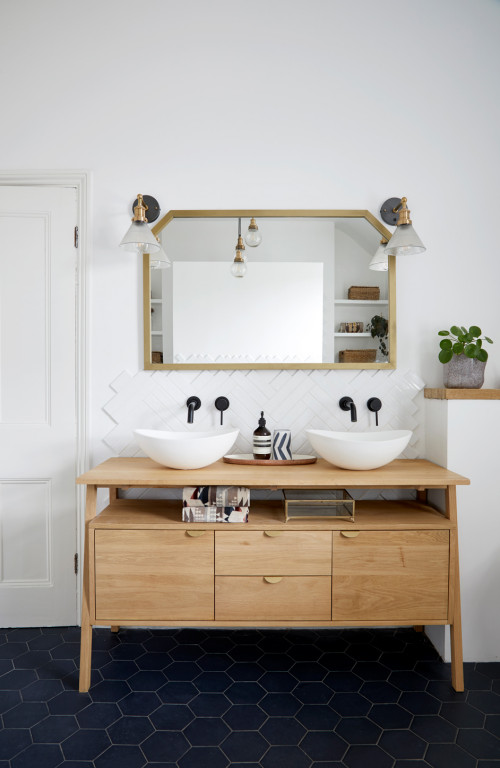 ID# 151614 | Houzz.com – Credit | © Fable Interiors
---
Double Vessel Sink Vanity with Blue Hexagon Tile Floor and Herringbone Backsplash
Color does belong to Scandinavian bathrooms, too- as proven by this modern Scandinavian bathroom design. Here, a surge of navy blue in the form of hexagon floor tiles injects a healthy dose of color. And it does so without sacrificing the minimalist and tranquil ambiance that we would expect from a Scandi-inspired design. To calm down the blue tiles, the white herringbone tile backsplash provides a neutral backdrop. The white-painted walls harmonize with it perfectly. The light wood double vanity with plants brings organic touches. And a duo of round vessels gives the bathroom a modern update.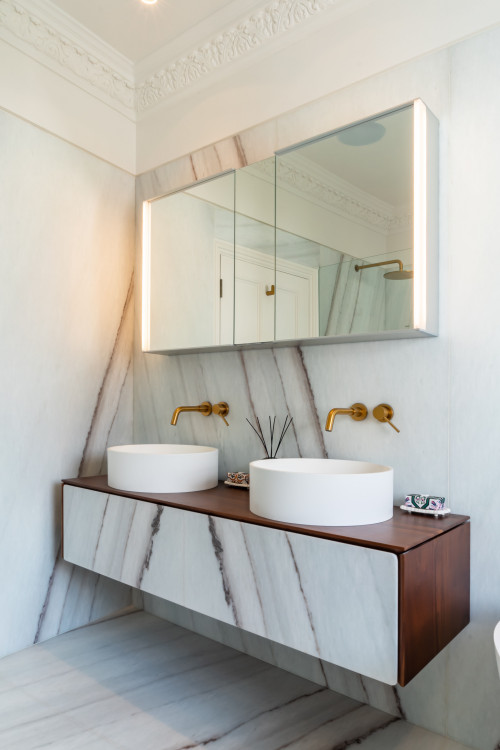 ID# 151615 | Houzz.com – Credit | © Russell Hewes Ltd
---
Contemporary Bathroom with Marble Backsplash and Mirrored Cabinet
A marble slab backsplash is one of the indicators of luxurious designs. And this bathroom is no exception. Cladding the walls, floors, and the front panel of the vanity, white marble incorporates a hefty dose of opulence. The medium-tone wood veneer countertop creates a waterfall effect on the vanity, echoing the striations on the marble. The round white vessel sinks introduce curvy forms for the sake of soft aesthetic features. And above, a tech-savvy mirrored cabinet with in-built LED lighting keeps the design in line with top-notch looks.
Do you need a special faucet for a vessel sink?
As vessel sinks come in different heights and diameters, choosing a faucet for them could be tricky. Thus, it needs to be carefully planned.
To begin with, there are two types of faucets: deck-mounted and wall-mounted which are also applicable to vessel sinks. Yet wall-mounted ones are more common. But if you want to go with a deck-mounted one, you need to get a high faucet. And keep in mind that the faucet should be a few inches above the rim of the sink but also not too far away. Otherwise, it can cause splashes.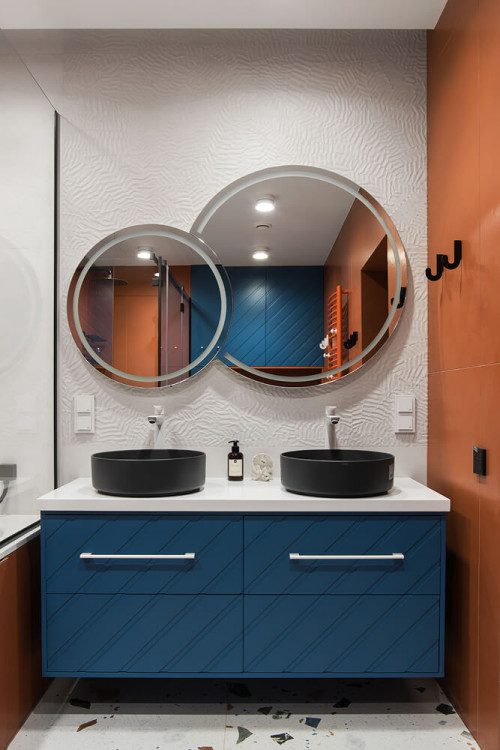 ID# 151616 | Houzz.com – Credit | © Nice Design
---
Blue Vanity with Black Vessel Sinks and Round Mirrors
Perk up a bathroom design with pops of colors and patterns. And if you want to know how to do so, just take note of this design. Here, from the intertwined round mirrors to the textured-finish wall, blue vanity, and orange wall tiles, the bathroom makes use of the space to the fullest. In addition to those, the diagonal lines on the vanity add another subtlety. The black vessel sinks serve as an anchor of sorts. The terrazzo floor with colorful chips, again, is ready to create another focal point. And finally, the resulting scheme might give the illusion of a maximalist design. Yet the bathroom still provides enough calm spots to maintain a sense of balance.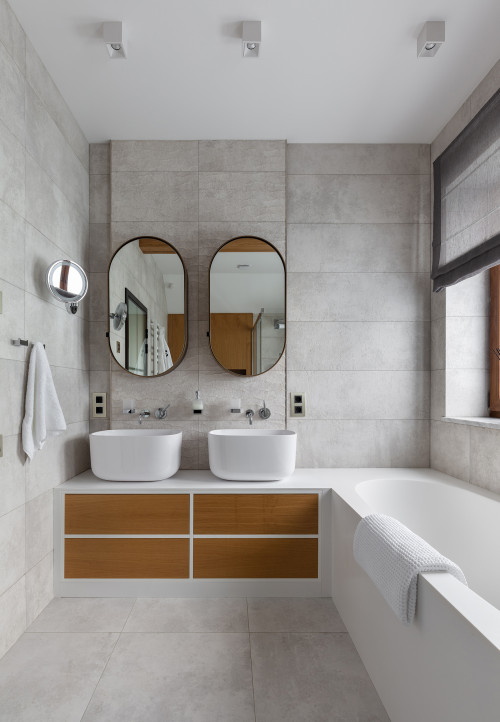 ID# 151617 | Houzz.com – Credit | © goro_da
---
Calm Bathroom Design with Vessel Sink Vanity and Light Tiles
This contemporary bathroom feels extra spacious, thanks to its light-colored and large format tiles. These geometric forms give the bathroom a contemporary flair. And the flat-front double vanity also supports it. Yet, to bring more character to the design, the vessel sinks and black-framed oval mirrors introduce different forms. Ceiling-mounted flush mounts ensure every inch of the space is well-lit without causing any clutter overhead. The window shades are also ready to secure privacy for bathers.
Single Vessel Sink Vanity
Single-vessel sink vanities are packed with style and character. From the ones with fluted and curved facades to cane-front vanities, antique-looking ones, single vessel sink vanities can elevate the design effortlessly. And to take their design to the next level, feel free to go with dramatic vessel sink designs. Marble-carved, oval ceramic, and resin vessel sinks are only some of them.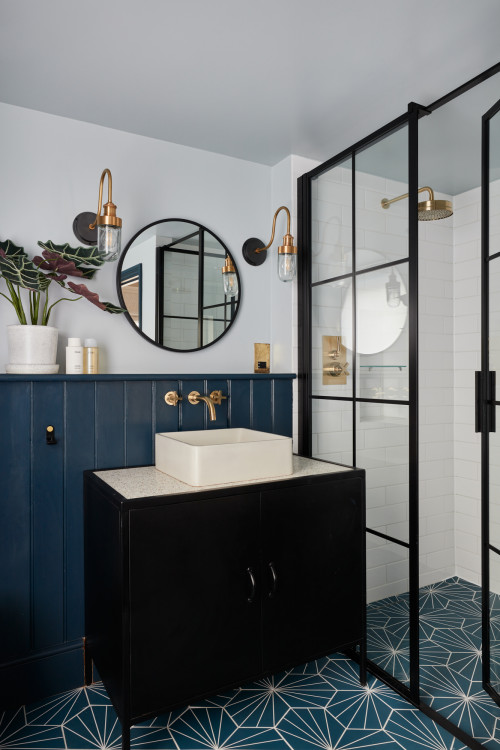 ID# 151618 | Houzz.com – Credit | © Muchmore Design
---
Single Vessel Sink Vanity with Blue V-groove Backsplash and Gold Accents
Taking cues from farmhouse designs, this transitional bathroom knows how to make use of colors and traditional features. To start with, the blue-painted V-groove panels provide a solid background for the black vanity. Softening them is a rectangular white vessel sink that pairs with wall-mounted gold hardware. And accompanying the blue is the geometric-patterned blue floor tiles that give the bathroom an instant contemporary update. By contrast, the black-tinged glass shower doors bring an industrial edge to the farmhouse look. Additionally, little green touches and accessories add a sense of personality, while the gold wall sconces and gold showerhead bring the design together.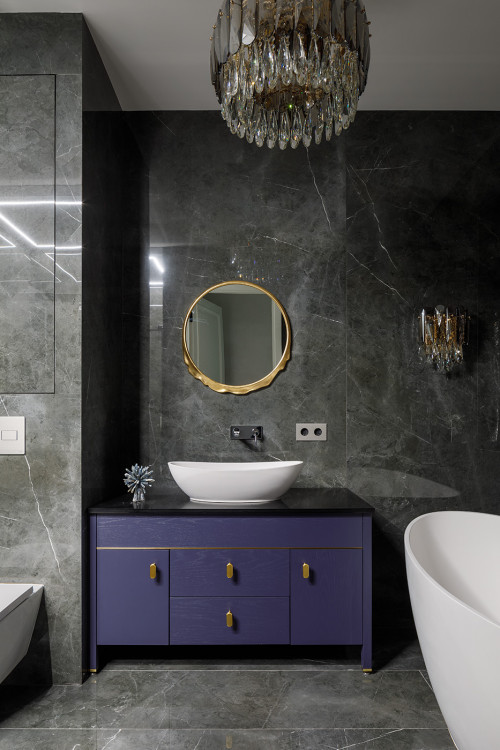 ID# 151620 | Houzz.com – Credit | © Алеся Нестяк. AN-Design
---
Luxurious Bathroom Design Ideas with Chandeliers and Blue Vanity
Oozing opulence, this contemporary bathroom ties together rare-to-see-together elements. To start with, the soft black large format tiles clad the entire room, whose gloss finish lets light bounce around. Secondly, the blue vanity with a black countertop adds a splash of color, breaking the monotonic look. And thirdly, the spectacular chandelier and its miniature wall sconce versions with gold-framed mirrors contribute to the upscale feel of the design. The rest boasts a freestanding tub and a vessel sink. And these two are in resonance with each other shape-wise to retain visual integrity.
Floating Vessel Sink Vanity
Floating vessel sink vanities are one of the most popular vanity options nowadays as they ensure spaciousness on the floor level. You can easily make them pop with stone-carved or patterned vessel sinks and natural stone countertops.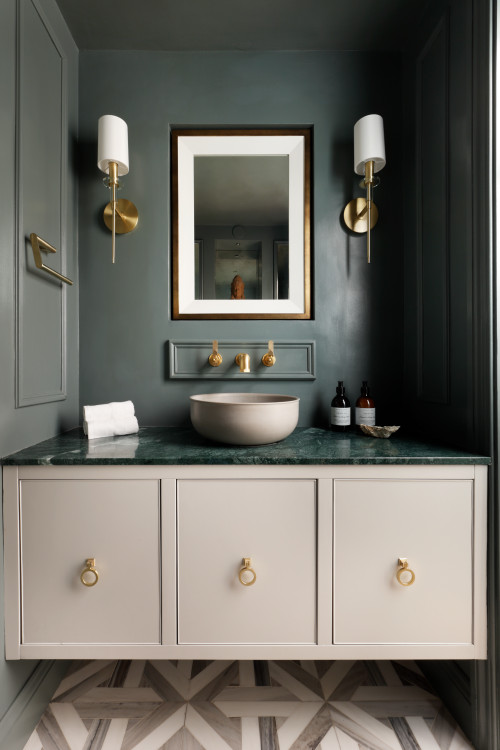 ID# 151621 | Houzz.com – Credit | © Q Design House
---
Transitional Bathroom with Floating Vessel Sink Vanity and Green Marble Countertop
Taking pride in its integrated visual scheme, this transitional guest bathroom makes a statement with its green marble countertop. This dark and dramatic benchtop makes a perfect couple with a cream floating vanity and vessel sink that warms up the interior. The wainscoting and green-painted walls coordinate with the countertop to create a continuous look. The gold cabinet handles also converse with brass-detailed shade fixtures and gold tapware. On the floor, the geometric-patterned tiles in light earthy shades bring additional warmth and pattern. Overall, everything feels well-coordinated, luring guests for longer stays to enjoy this calm atmosphere.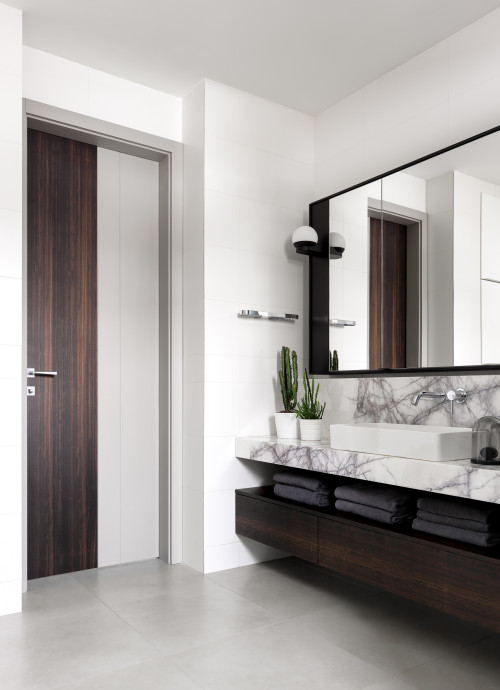 ID# 151622 | Houzz.com – Credit | >© Artists Collaboration
---
Marble Backsplash and Countertop with Globe Lighting Fixtures
To make a statement while keeping the design minimalist, high-end materials like marble are enough for a speedy update. Likewise, this contemporary bathroom goes with a bold-patterned white marble backsplash and countertop. They are paired with a dark wood floating vanity for a bonus dramatic impact. The recessed rectangular vessel sink coordinates with the white plant containers on the same level. The chrome hardware contributes to the contemporary flair of the room. Similarly, the subtle floor design feels seamless and sleek, presenting a clean look. The white-painted walls support this clean look while brightening up the interior simultaneously.
What material is best for a vessel sink?
Vessel sinks are made of a wide range of materials, including glass, ceramic, porcelain, natural stone, metal, and synthetic materials like resin. Among them, porcelain is the most popular and one of the best materials for its practicality and customizability. Since porcelain has additives and is fired at higher temperatures, it is resistant to chipping or cracking. It can also be glazed in different finishes, colors, and patterns, adding a high value to your bathroom design. That's why porcelain vessel sinks are very popular among homeowners.
But if you want something more natural and sophisticated, marble-carved or other natural stone vessel sinks are other alternatives. Yet they are heavy, which makes the installation process harder. Plus, they need delicate care and regular sealing.
And finally, if you are looking for a more budget-friendly option, vessel sinks made of synthetic materials such as resin offer the look of porcelain. They are easy to install and maintain. But their lifespan is not as long as the porcelain vessel sinks.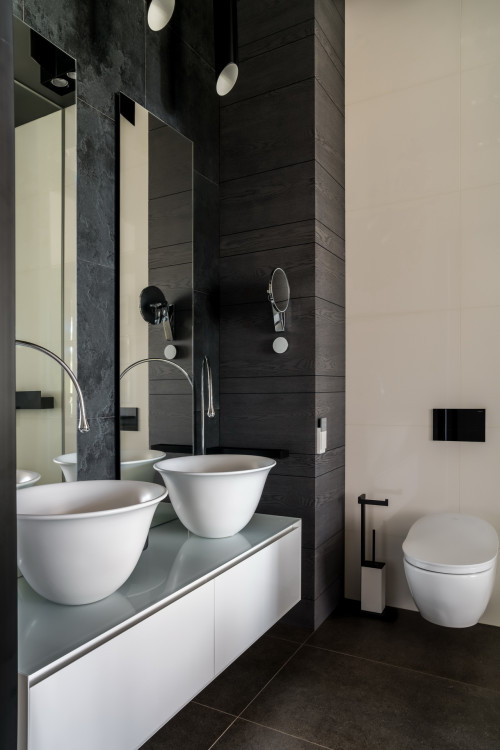 ID# 151623 | Houzz.com – Credit | © Andrei Belimov-Gushchin
---
White Floating Vanity with Chrome Tapware and Brown Floor Tiles
When going with a vessel sink vanity, one of the most important things to consider is the height of the sink and faucet. For example, here, the vessel sink is very high, and so is the faucet. This well-coordinated relationship between the faucet and the rim of the sink prevents potential splashes, creating a more viable design. In terms of aesthetics, perched on a thin white countertop, these vessel sinks make a strong statement with the white floating vanity. The crisp white colors of this pair contrast with the dark brown-and-gray palette defining the rest of the room. This complementary contrast establishes a sense of balance. Overall, chrome tapware, brown tiles, and light-colored walls make the design feel both classic and modern. This way, the design ensures its timelessness and relevance in the long run.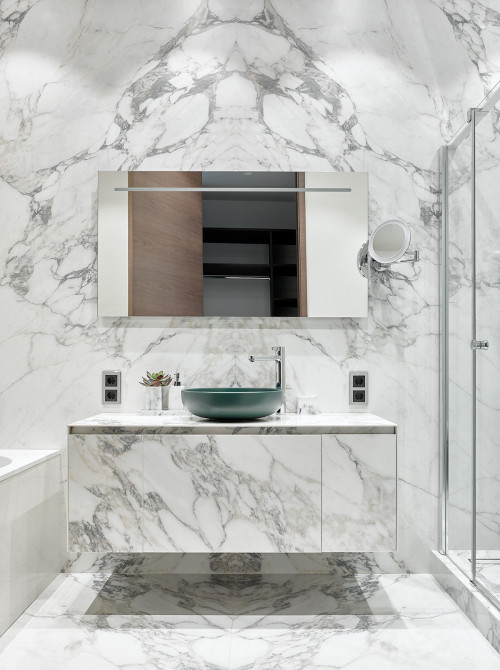 ID# 151624 | Houzz.com – Credit | © Ariana Ahmad Interior Design
---
Contemporary Bathroom with Marble Vanity and Blue Vessel Sink
When you have the budget, why not go with an all-marble bathroom design? And if you are wondering how it looks, here, we have an ultimate example of it. Used as a backsplash, floor-coating, benchtop, and vanity, marble serves as the main protagonist of this design. Coming in white shades with bold grayish striations, it hooks its users right away. The chrome tapware, LED mirror, bathtub, and shower room contribute to the already-existing upscale feel of the design. And the blue vessel sink brings much-needed pop of color to break up the all-marble look. Yet it does so without breaking the unity. And its rounded bottom resonates with the undulating forms on the marble, allowing the design to stand out.
Rustic Vessel Sink Vanity
Vintage mirrors, reclaimed wood, clawfoot tubs, patina-developed tiles, and weathered cabinets are some of the key pieces to introduce a rustic charm and countrify your bathroom. And surely, rustic vessel sink vanities are also part of this. Especially vessel sinks carved out of stones and rocks can take rustic designs to the next level.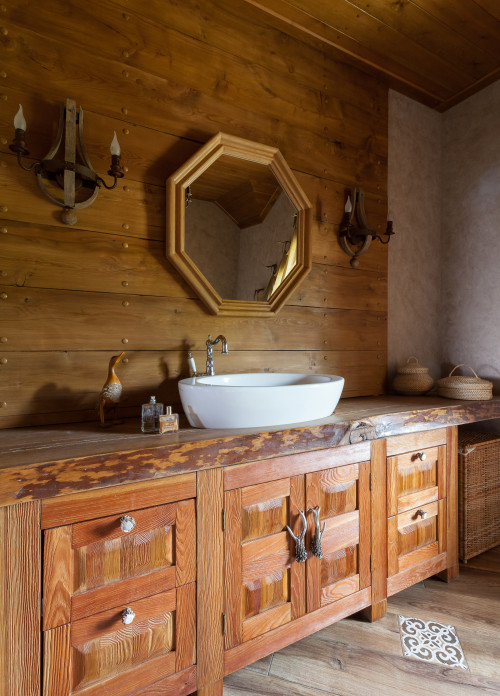 ID# 151625 | Houzz.com – Credit | © Lukonina Nata
---
Rustic Vessel Sink Vanity with Wood Panel Backsplash and Wood Countertop
Packed with a country flair, this rustic bathroom design abounds in wood applications. From floor to ceiling, backsplash, and vanity, each element registers warmth and texture. The hexagon mirror frame paired with country-style lighting fixtures punctures the wood panel backsplash. The pristine white vessel sink pops against this all-wood-clad interior. The bridge faucet and accessories add further character to make the design feel more personal.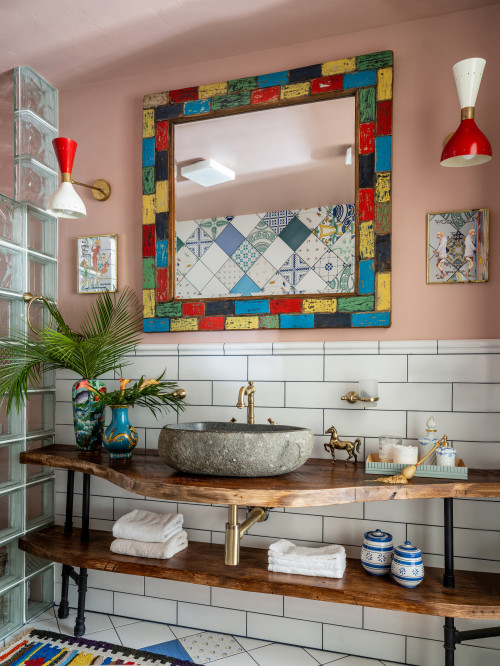 ID# 151626 | Houzz.com – Credit | © Дарья Василькова, студия «Art Group»
---
Eclectic Bathroom with Wood Vanity and Subway Tile Backsplash
This eclectic bathroom design has a bit of everything, featuring a festive feel. While the white subway tile backsplash gives the bathroom an urban feel, the top wall painted pink adds a feminine touch. On the floor, these white subway tiles turn into squares, some white, some colorful. The salvaged wood vanity consists of two layers and antique gold fittings that give the design an aged feel. The round curvy vessel sink nestles on it peacefully. And the rest of the space finds life in colorful touches. For example, the multi-colored mirror frame, colorful runner, small wall paintings, and vases bombard the bathroom with splashes of color. This way, the bathroom gives the message of designed-over-time, which makes it full of life. And finally, like in many other eclectic designs, mix and match method pays off here too, resulting in a funky and entertaining look.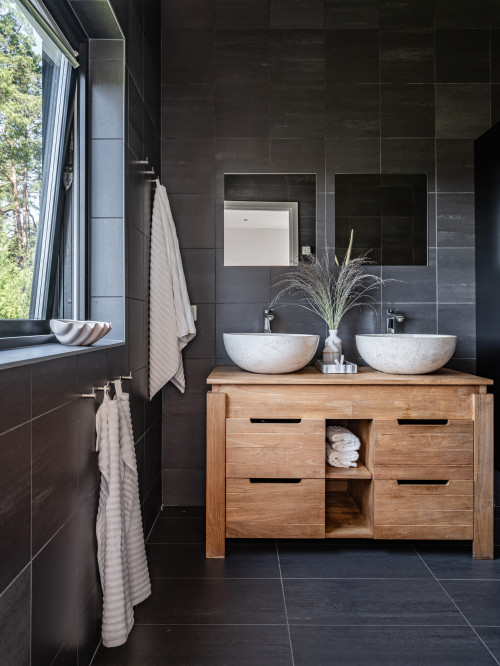 ID# 151627 | Houzz.com – Credit | © Real Living STHLM AB
---
Black Tile Backsplash with Vessel Sinks and Frameless Mirrors
In this contemporary bathroom, receiving a good amount of natural light allows for a dark color palette defined by black tiles. While the wall tiles are smaller, the floor is clad with their larger versions. This way, the bathroom feels larger and more intriguing. The round vessel sinks and rustic wood vanity soften this dark backdrop with warming natural shades and textures. To keep the design minimalist and ornament-free, the mirrors are also frameless. The wall-mounted towel hangers are aligned in order, giving the space a lived-in feel to break the distant look.