36+ Wood Bathroom Vanity Ideas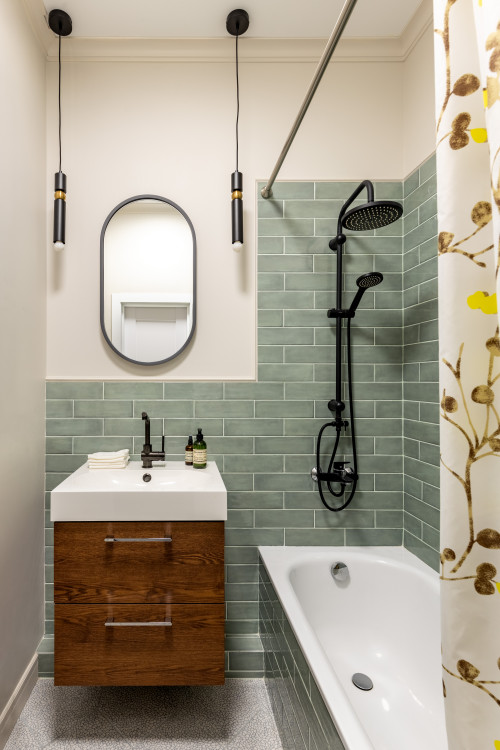 ID# 148712 | Houzz.com – Credit | © Maxim Maximov
---
Small Vanity with Black Hardware and Green Subway Tile Backsplash
If you have a small space, make it cozy and add a statement feature so that you won't even notice the bathroom's smallness. Here, this Scandinavian bathroom uses floral-pattern shower curtains that bring pops of colors, making it homey. The small wall-mounted vanity adds a tiny, warm gesture to the wall, while the green subway tile backsplash injects serenity. For one final touch, the black hardware paints a sense of contrast with the cream-painted walls.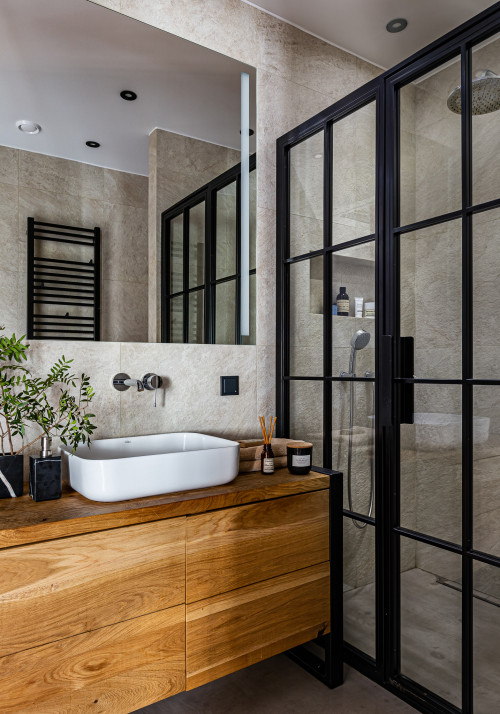 ID# 148724 | Houzz.com – Credit | © Tatiana Nikitina Photography
---
Industrial Bathroom with Wood Bathroom Vanity Ideas and Wood Countertop
Here, the wood floating vanity topped by a wood countertop envelops the bathroom with warmth. The black-framed glass enclosure of the shower room brings an industrial edge to the design. The LED mirror introduces a high-end product, which keeps the bathroom in line with industrial home designs.
Wood Bathroom Vanity Ideas
Bathroom vanities consist of different compartments, from sink to storage, hardware, and vanity top. That's why they are one of the key pieces of furniture in bathroom designs. In other words, with one furniture piece, you just get to wash your hands, aestheticize your bathroom, and are provided with storage. Available in different materials and designs, these bathroom vanities also pave the way for limitless design possibilities. And whether you want your bathroom to lean into a modern or classical look, wood bathroom vanity ideas find embodiment in various design options that will fit into the image you have.
Ranging from basins to double vanities, cane-front ones, dark/ light colored cabinets, and floating vanities, wood bathroom vanity ideas are diverse. And they are dedicated to catering to the needs of modern design functional and aesthetic tenets. To give you a better idea, here we gathered multiple wood bathroom vanity designs for you. Just read on to get inspired.
What is the best wood for bathroom vanities?
Considering that bathrooms are wet rooms, it is important to go with materials with high resistance to humidity and water splashes. And solid wood is one of the best bathroom vanity materials both in aesthetic and functional terms. Made of oak, maple, and birch, these solid wood cabinets can be stained for a custom look and are durable against humidity. However, even though they are durable, still it would be better to keep the bathroom ventilated regularly.
But if solid wood is expensive for you and you are looking for more budget-friendly alternatives, check plywood. But keep in mind that plywood comes in a wide range of qualities and densities. Since you plan to use it in the bathroom, go with a high-density one. In aesthetic terms, plywood lacks the authentic finish that solid wood has. But it still channels warmth and makes the design more approachable.
Types of Wood Bathroom Vanity Ideas
Wood vanities come in different shades, finishes, colors, and forms. Some of them are wood basins, floating vanities, cane-front design single vanities, and rustic and modern design vanities. Floating vanities, for example, are the best if you want to keep the floor level free. The same also goes for wood basins that make the design feel more contemporary. For ensuite bathrooms, you can find mid-century-inspired double vanity models. If you wish, you can even reclaim an antique piece of furniture and use it in your bathroom for nostalgia.
Modern Wood Bathroom Vanity
Once solely characterized by flat-front cabinets, these vanities have now been transformed by advancements in technology and design. No longer limited to straight edges and angles, modern bathroom vanities showcase curvy forms and fluted or ribbed front panels that add a unique touch of personality. The introduction of biophilic pattern design panels has also given these vanities a trendy, contemporary flair, drawing the eye and sparking interest wherever they're placed. Overall, it's truly inspiring to witness how innovation and creativity can breathe new life into even the most basic of household items.
Small Wood Bathroom Vanity
Small bathroom vanities are life savers, especially when you don't have enough space to place a bigger one. Generally measuring up to 30 inches, they are available in a wide range of designs, including wood ones. If you want a different look, go with fluted-design and curved ones. If you want something simpler, wood basins are also great substitutes for vanities.
Wood Floating Bathroom Vanity
It doesn't matter, whether you have a small or big bathroom, wood floating vanities are always a good option. Especially favored by modern, Scandinavian, and contemporary bathrooms, they contribute to the sleek and decluttered style of these designs. They keep the floor clean, leaving you extra space to place your favorite wicker baskets where you can keep your favorite towels.
Is a wood vanity good for a bathroom?
Wood vanities are considered good for a bathroom, especially solid wood ones thanks to their resistance to humidity. Even if they come into contact with water, they don't swell or warp easily. Thus, they prove themselves as reliable materials in the bathroom. And in terms of aesthetics, they envelop the interior with warmth and texture. Especially, if you go with a black-and-white color palette, you can elevate the look with a wood vanity.
Rustic Wood Bathroom Vanity
Weathered and discolored vanities are a perfect fit for rustic designs. You can also consider making your own vanity with reclaimed wood panels, which would be really authentic. To complement them, stick to dark and gray shades. Use black or brushed metal hardware. You can even make your own rope cabinet handles. As for the lighting, dropped-down light bulbs have a great potential to finalize the rustic feel perfectly.
Backsplash for Wood Bathroom Vanity
Mermaid, subway, arabesque, marble slab, marble tile, wood panel, stone, and many more. Backsplash options for wood bathroom vanities are almost limitless. And it all depends on the look you aim for. For example, if you want something more colorful and cheerful, yellow subway tiles pair with wood perfectly. For a more industrial feel, large format gray stone-look porcelain tiles offer a great option. To create luxurious bathrooms, nothing exudes elegance as granite and marble do. In addition to those, feel free to use different colors and patterns. Bathrooms are very inclusive when it comes to creating diverse and adventurous looks -unless you want something classic.
How do I protect my wood vanity from water?
Wood sealants are amazing! They offer protection to your wooden furniture and give them a longer lifespan. The most popular ones are varnish, lacquer, and polyurethane. The best part is they dry quickly and won't burn a hole in your pocket. Lacquer is the king of durability, but beware, it might turn yellow over time. Therefore, it's better to use it on darker wood vanities. Polyurethane, on the other hand, has water-based and oil-based versions. If you want more durability, go for the oil-based version. It's super easy to apply and dries within 24 hours. Lastly, marine varnish is considered the best for waterproofing. Trust me, you won't regret using them!
Different Wood Types for Bathroom Vanities
From oak to maple and birch, solid wood bathroom vanities are made of various wood types. Each of them is resistant to humidity and warping, featuring various aesthetic features. Yet what they share in common is that they all introduce the authenticity of the wood. But given that they are very expensive, it would be great to consider budget-friendly wood options such as plywood to find substitutes. Plywood is also good at holding up to water damage, but it lacks the beauty of the wood. In addition to it, another cheap option is MDF which consists of various types of compressed wood. But unlike their countertops, it can easily warp when it comes into contact with water. Also, when it is damaged, it is not forgiving. Even if when it is fixed, it shows that something is off.
Natural Wood Bathroom Vanity
Natural wood bathroom vanities, available in different finishes, colors, and designs, add warmth and texture to any space. For that reason, rustic, Scandinavian, mid-century-modern, contemporary, and eclectic designs love using different versions of these wood vanities. And if you want to bring further warmth out of them, you can pair them with brass hardware (whether brushed or polished). For the backdrop, you can utilize marble slabs and geometric tile backsplashes.
Dark Wood Bathroom Vanity
If you want to create visual drama, dark wood bathroom vanities are the way to go. Rustic, industrial, and mid-century bathroom designs are ready to welcome dark wood vanities. For a more classical look, you can pair them with marble or any other solid stone vanity tops and backsplashes. White ceramic tiles laid in a geometric pattern also pair well with them, giving the bathroom a modern spin. As for the hardware, gold and chrome along with glass pendants can be used to complement them.
How to seal wood for bathroom vanity?
First, remove the previous finishes and sand the vanity for a smooth surface with no bumps. Clean the vanity properly to make it ready for sealing.
Continue by dipping a cloth in the sealant and wiping the cloth across the wood surface. Ensure that it is evenly applied across the surface. Wait for the first coat to cure. How much you have to wait depends on the type of sealant. For example, while some dry in 24 hours, some can dry in an hour. Thus, just follow the instructions. Also, remember that waiting is important to guarantee the durability of waterproofing.
By following the instructions, also check if sanding is required after each coat. If so, sand the surface and clean it one more time to get it ready for the next coat. Again, how many times you should apply a coating depends on the sealant itself. So, check again the instructions. After applying the last finish, wait for another 24 hours just to play safe and ensure that it is all dry and perfect.
Additionally, when sealing, make sure the room is well-ventilated. If possible, you can also take the vanity outdoors and apply the sealant outside. Use gloves and eye protection, and even a face shield for your safety as sealants can be toxic that you shouldn't inhale or get exposed to in the long term.
Light Wood Bathroom Vanity
Not as dramatic as the dark ones, light wood bathroom vanities create a visually lightweight look. Thus, they especially go well with white tile backsplashes that further illuminate the interiors. You can top these vanities with wood or solid stone countertop. In bathroom designs, juxtaposing different natural elements generally pay off well, especially one of them is a light wood bathroom vanity.
How much does it cost a wood bathroom vanity?
Depending on the size and material of the vanity, the prices for a wood bathroom vanity shift drastically. But generally, the prices range from 300 to 2000 USD. Solid wood vanities are quite expensive. If you want something cheaper, check out plywood and MDF.