25+ Basement Storage Ideas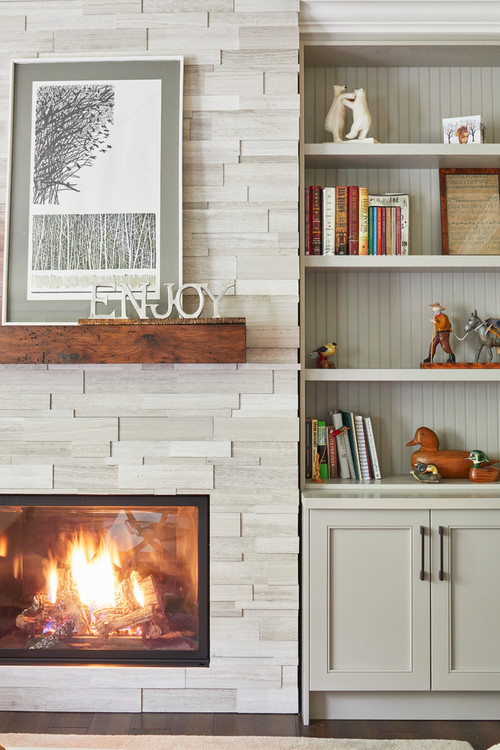 ID# 159405 | Houzz.com – Credit | © Nicola Interiors
---
Traditional Basement with Bookcase and Fireplace
If you have a wood-carved toy collection and some books to display, get a cabinet with open and closed sections. Here, a full-height shaker cabinet consists of two parts: four open shelves and a shaker-style cabinet at the bottom. The toys and books exhibited proudly add a touch of color and interest. On the next wall, a wood floating shelf accommodates a modern print that refers to natural life. Behind it, the stone-look tiles create an accent wall to provide a better setup for the fireplace. On the floor, a cozy rug takes its place, bringing another layer of warmth.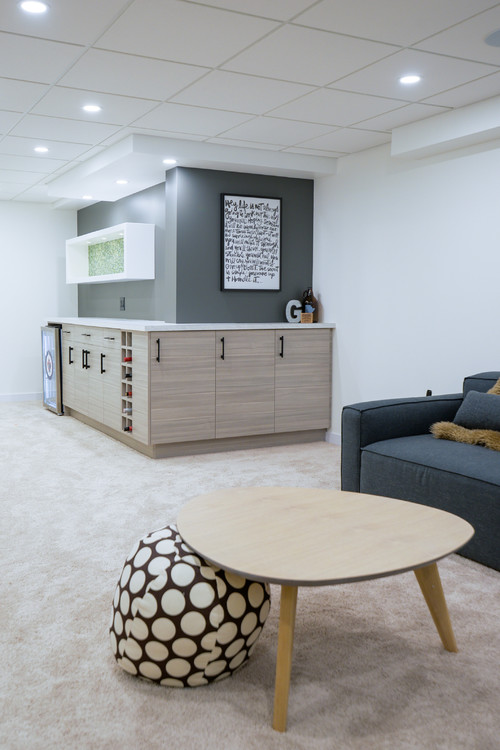 ID# 159418 | Houzz.com – Credit | © Design Shop Inc.
---
Basement Storage Ideas with Modern Cabinets and Black Hardware
In this contemporary basement, the wood veneer flat-front cabinets are brought in to store unused items. A beverage cooler and wine rack are also integrated into this section to make the storage more utilitarian, not to mention the fact that it even covers the corner. The black hardware punctures the flat fronts to make opening and closing the cabinets much easier. A framed board adds a very casual detail to the wall above the custom- cabinet. In the rest, low-profile sofas with coffee tables and ottoman-style seats furnish the room. All in all, it proposes a comfort-oriented room, a perfect place to gather with friends. Especially if you have children, it is the room to let them play and cause clutter as they wish.
Basement Storage Ideas
Are you tired of piled-up clutters lying all around the room? Or do you want to turn your cavernous and dark basement into a more functional and cozier space? Basement storage ideas can help you with both.
Ranging from storage shelves to closets, wine cellars, built-in cabinets, and more, basement storage ideas will just make your life much easier and help you to maximize space. That said, finding something easily that you look for is essential to save your effort and time. And to achieve that, you just need to apply some storage solutions. To help you transform basement storage solutions into praxis, here we gathered multiple storage designs for basements. You will get introduced to smart storage solutions and learn how to turn dead areas into high-potential storage.
We know that organizing is not the best or the most entertaining activity. But it can completely feel therapeutic as well. Plus, as the resulting scheme will be a more relaxed and organized space, it will make you feel better eventually. So, keep reading not only to see what your options are but also to feel more motivated for reorganizing.
How to build basement storage shelves?
Are you a DIY enthusiast and ready to venture to make your own storage shelves? Then, first things first: design your basement shelf and do the measurements. Don't skip measuring the ceiling as well and decide whether you want your storage shelves to extend from floor to ceiling.
For the next step, get straight wood boards (could be plywood) at the size you want. Before deciding, you can take cues from your plan and the structure of the design. For example, do you want dividers, cubbies, and narrow or wide shelves? It is recommended to go with regular 2x4s. As for the thickness, get plywood 3/4 inch in width to increase its resistance to warping. In case you need to cut the wood slices, keep a circular saw nearby. Then, assemble the pieces to create the design you have in your mind. And screw them together by following your design plan.
Basement Storage Cabinets
Basement storage cabinets, either with doors or not, just make things easier for everyone. If you want to keep their presence subtle, then just get them in the same color as the walls. Also, keep them hardware-free. These two criteria will help the cabinets feel more recessed and camouflaged.
If there are children's toys that you can't throw away because of their memories or books that need to be packed away, this is what storage cabinets are for.
How do I add storage to my basement?
First, detect dead areas that hold the potential to serve as storage. For example, it could be leftover space under the stairs. Or if you have a TV, you can get a custom-built cabinet to create a media center enveloping it. These custom-built framing cabinets could be used to store some unsightly items, such as electronic gadgets, children's toys, unused dishes, or accessories.
Floating shelves are another option to accentuate the walls and make the unfinished basement feel homier. You can use them to align your books or records, which also personalizes the basement. If a fully-exposed floating shelf is not your thing, you can get peekaboo shelving. It makes for a great addition to the sofas in case you would like to keep your reading glasses nearby. On the top, you can even place indoor plants to give the room a breath of fresh air.
Creative Storage Solutions
In another scenario, if you need an extra kitchenette or a wet bar, a few cupboards with a sink and beverage cooler would do the job. If you don't want to deal with plumbing, keep it as a dry bar and place your coffee machine.
If your basement opens onto a patio or outside generally, a built-in bench by the doorway can provide some storage space too. A hidden department under the bench could be used as well. Above, hooks can be mounted to hang coats, hats, and umbrellas.
And if you are saying that you are on a low budget and asking for tips for affordable storage solutions, here are some suggestions. First, what you can do is get utilitarian shelving units. So, store your items in airtight and waterproof bins and boxes. If you wish, label them too. Keeping them in transparent boxes also helps a lot when you need to find something. Then stack the bins to keep them organized and create a clutter-free look.
Secondly, another affordable addition is a pegboard, which is a fun element too. Available in multiple colors, a pegboard can be used to hang your daily used items. Also, let's not leave out large wicker and rattan baskets that are helpful for storing children's toys, Christmas decorations, blankets, and extra pillows.
How can I hide my storage area in my basement?
With full-height cabinet options, you can create a mini-utility room. And then, hide it behind the patio doors like the ones that lead to the pantries. Or you can hide a laundry room behind a foldable door.
Ottomans and daybeds or nooks with hidden compartments added for storage could be another way. If you want to incorporate something homey and aesthetic and storage to keep things away, they serve as great options to consider. This way, no one will even know that they are your secret storage spots.
Basement Shelving Storage
Floating shelves and open shelving units are an alternative if you don't want storage cabinets with doors. You can start by stacking clear bins and cardboard boxes on the wall shelves. Also, if you have a small basement, floating shelves are a great way to enhance the floor space! Getting them in clear bins helps when you need to find something, which saves time and effort.
How to hide storage in the basement?
Everyone has several knick-knacks, from old Christmas decorations packed away to be used for the next year to electronic equipment and toys. All of them need to be hidden in an organized way to make things easier in the future. And you might even want to feel that those storage areas remain invisible. As mentioned earlier, achieving that relies on additions, such as nooks and built-in cabinets.
These options to hide storage help you optimize the available space for your daily use. For example, dead areas under the basement staircases have the full potential to serve as inherently hidden storage areas. With a built-in cabinet that acts as an extension of the staircase, the storage area won't even be that much noticeable. Or better, you can add a nook or daybed with a hidden department for storage.
Likewise, an antique chest with drawers is another alternative that adds drama and history if that's what you want. Plus, rather than storage, it will look like a piece of furniture brought in to make a statement.
Storage Under Basement Stairs
Storage under basement stairs is one of the best ways to add bonus storage to your basement. Due to its dysfunctional shape, it is not easy to convert it into something more useful, except for a nook perhaps. Whether it is a wine cellar, bookcase, kitchenette, or built-in cabinets you need, the area under the stairs will be in your service.
Basement Storage Cabinets with Doors
If you don't want your stored items to be seen in any way, cabinets with doors are the way to go. If you wish, you can get them customized to fit that empty corner you want to turn into storage. You can get shaker cabinets or flat-front cupboards and accentuate them with artwork and accessories. To keep them more organized inside, what you could do is get waterproof and airtight containers.
Basement Wine Storage
Wine aficionados gather here! This part mostly concerns wine storage ideas for those with a predilection for wine and who stockpile wine bottles.
To start with, from countertop wine racks to wet bars and built-in storage, there are multiple ways to host your beautiful wine bottles. But when you have too many of them, sometimes it is a must to have a separate zone only allocated for wine bottles. That's where the basement wine storage ideas come in and play their part. One of the biggest advantages of these rooms is to enable you to adjust the light levels and temperature of the room. This way, you can provide the best environment for wine.
In addition to them, it is important to keep it dark and dry as much as possible and at a temperature of 10-18 C degree. The placement of the bottles is another important detail to keep them aging without getting spoilt. For that, they should be stored horizontally at a 45-degree angle. And the cork part should also be faced down.
Yet what about designing? To create a perfect mise-en-scene for wine storage, the designs shared below give you excellent ideas. From wine barrels to the stone and brick accent walls, you can incorporate textures to create a cavernous feel. Concrete floors and granite or marble countertops could be used to accompany them. And in terms of lighting, industrial and rustic lighting fixtures can be incorporated.
Basement Food Storage
Basement food storage or pantries are helpful to stow unsightly items that you wouldn't like to keep in kitchens. Especially if you have a small kitchen, an extra room such as a pantry could be beneficial. In there you can store your snacks, dried, canned goods, herbs, spices, and gadgetry. But of course, to do that, you need cabinets and open storage shelves. It is always better to go with base cabinets with doors. And overhead, you can keep floating shelves and display cabinets to encourage openness. Another advantage of the open shelves on the upper part is that they also expose everything, helping with navigation.