25+ Basement Storage Ideas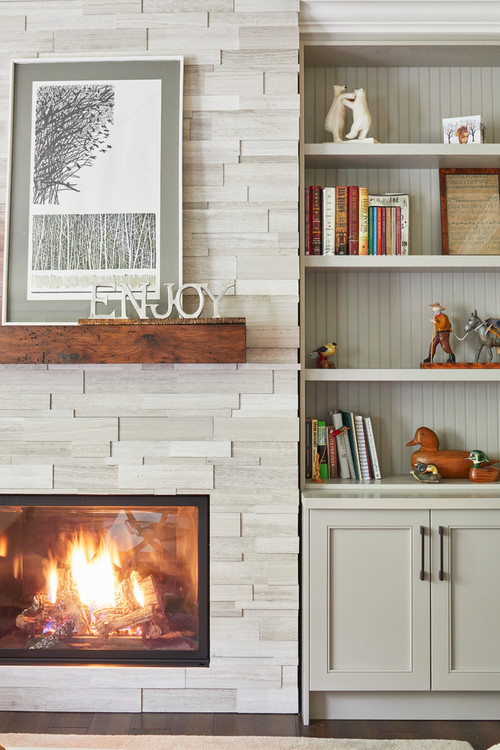 ID# 159405 | Houzz.com – Credit | © Nicola Interiors
---
Traditional Basement with Bookcase and Fireplace
If you have a wood-carved toy collection and some books to display, get a cabinet with open and closed sections. Here, a full-height shaker cabinet consists of two parts: four open shelves and a shaker-style cabinet at the bottom. The toys and books exhibited proudly add a touch of color and interest. On the next wall, a wood floating shelf accommodates a modern print that refers to natural life. Behind it, the stone-look tiles create an accent wall to provide a better setup for the fireplace. On the floor, a cozy rug takes its place, bringing another layer of warmth.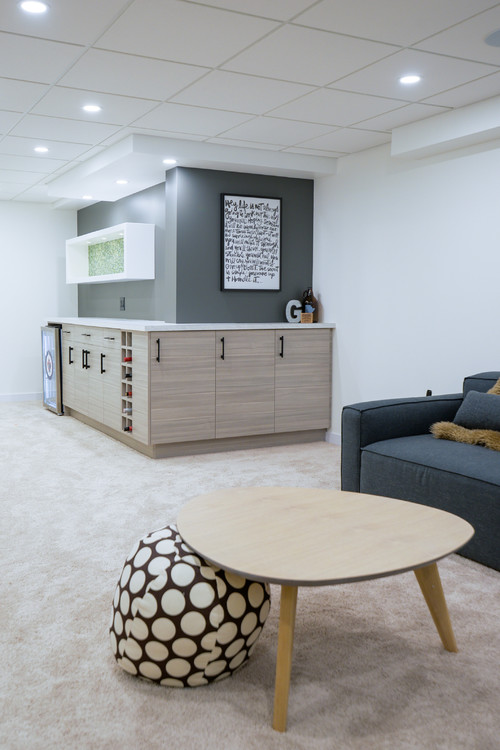 ID# 159418 | Houzz.com – Credit | © Design Shop Inc.
---
Basement Storage Ideas with Modern Cabinets and Black Hardware
In this contemporary basement, the wood veneer flat-front cabinets are brought in to store unused items. A beverage cooler and wine rack are also integrated into this section to make the storage more utilitarian, not to mention the fact that it even covers the corner. The black hardware punctures the flat fronts to make opening and closing the cabinets much easier. A framed board adds a very casual detail to the wall above the custom- cabinet. In the rest, low-profile sofas with coffee tables and ottoman-style seats furnish the room. All in all, it proposes a comfort-oriented room, a perfect place to gather with friends. Especially if you have children, it is the room to let them play and cause clutter as they wish.
Basement Storage Ideas
Are you tired of piled-up clutters lying all around the room? Or do you want to turn your cavernous and dark basement into a more functional and cozier space? Basement storage ideas can help you with both.
Ranging from storage shelves to closets, wine cellars, built-in cabinets, and more, basement storage ideas will just make your life much easier and help you to maximize space. That said, finding something easily that you look for is essential to save your effort and time. And to achieve that, you just need to apply some storage solutions. To help you transform basement storage solutions into praxis, here we gathered multiple storage designs for basements. You will get introduced to smart storage solutions and learn how to turn dead areas into high-potential storage.
We know that organizing is not the best or the most entertaining activity. But it can completely feel therapeutic as well. Plus, as the resulting scheme will be a more relaxed and organized space, it will make you feel better eventually. So, keep reading not only to see what your options are but also to feel more motivated for reorganizing.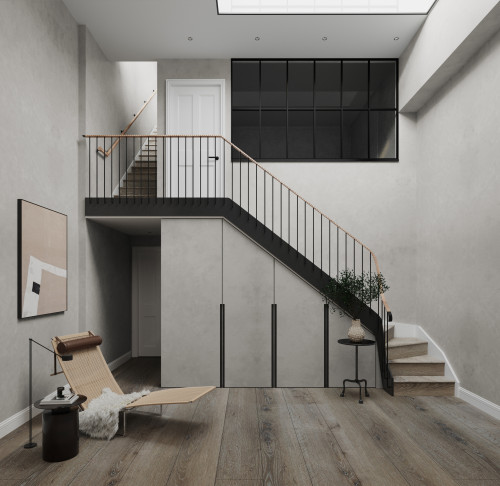 ID# 159401 | Houzz.com – Credit | © Covet & Noir
---
Basement Storage Ideas for Under Stairs
One of the most lifesaving storage is probably the one installed under the stairs as seen in this traditional basement. Here, the off-white flat-front cabinets ensure the basement is clutter-free. Since the cabinets are kept the same color as the walls, they feel almost camouflaged. A chez-lounge-style chair with sheepskin thrown, a coffee table, and a floor lamp create a cozy room. The final product? Unlike what is thought as of basements, this one presents a very clean and clutter-free look.
How to build basement storage shelves?
Are you a DIY enthusiast and ready to venture to make your own storage shelves? Then, first things first: design your basement shelf and do the measurements. Don't skip measuring the ceiling as well and decide whether you want your storage shelves to extend from floor to ceiling.
For the next step, get straight wood boards (could be plywood) at the size you want. Before deciding, you can take cues from your plan and the structure of the design. For example, do you want dividers, cubbies, and narrow or wide shelves? It is recommended to go with regular 2x4s. As for the thickness, get plywood 3/4 inch in width to increase its resistance to warping. In case you need to cut the wood slices, keep a circular saw nearby. Then, assemble the pieces to create the design you have in your mind. And screw them together by following your design plan.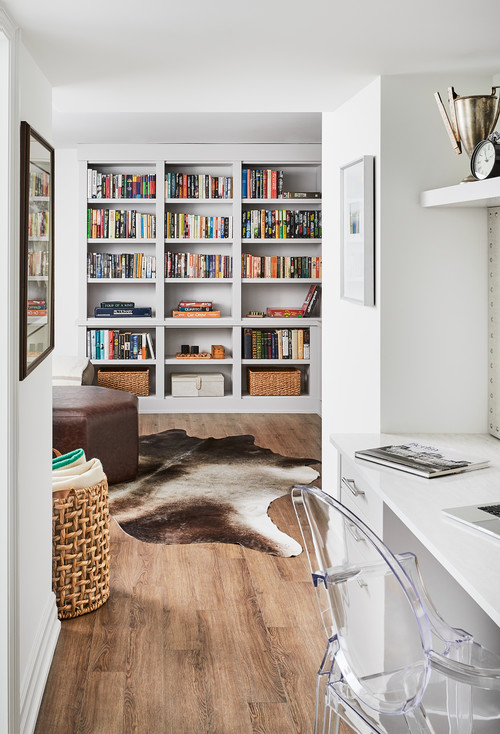 ID# 159402 | Houzz.com – Credit | © Sandra Cross Interiors Inc.
---
Contemporary Basement with Bookcase and Wicker Baskets
Basements are important sections of homes, which can be used in a plethora of ways. This contemporary design, for example, serves as a study room where everything is arranged accordingly. The full-height and wall-to-wall bookcase creates a beautiful focal point on the blank wall space. The walls are painted white to keep the interior feeling fresh, airy, and bright. The transparent stool and white study desk also support this transparency and freshness. Upholstered and geometrically shaped ottoman with sheepskin throw arranges a cozy spot to peruse the books. The wicker basket placed in the corner introduces a new texture, along with other rattan baskets on the bookshelves. And to color up the white walls, artworks are mounted, adding further interest and intrigue to the room.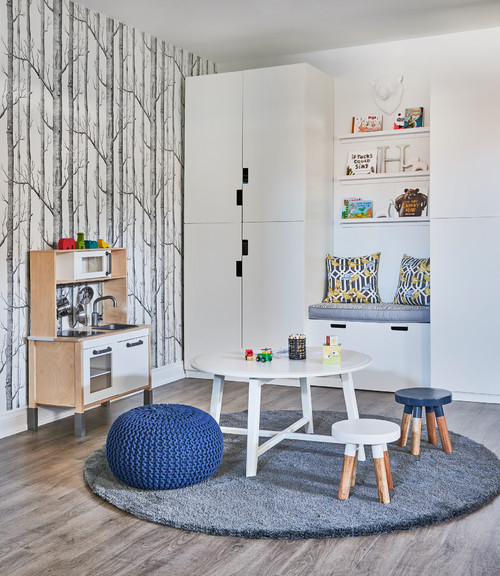 ID# 159403 | Houzz.com – Credit | © Christine Elliott Designs
---
Storage Ideas for Children's Room
Designed as a hang-out area for children, this transitional basement playroom employs white cabinets so that they can fade into the background seamlessly. Between a pair of cabinets is also a comfy nook that has the perfect size for children. The accent pillows and bluish cushion just add enough interest to it while staying loyal to the overall color palette. Above, white floating shelves, again, blend with the rest harmoniously, offering an extra storage area for accessories and toys. This way, the room is also given a lived-in feel. Apart from them, a little toy kitchenette for children makes it perfect for children to hone their cooking skills. The rounded table with rounded chairs with minimized sharp edges keeps the environment safer for children running around. A circular and soft rug provides comfort underfoot to complement the design.
Basement Storage Cabinets
Basement storage cabinets, either with doors or not, just make things easier for everyone. If you want to keep their presence subtle, then just get them in the same color as the walls. Also, keep them hardware-free. These two criteria will help the cabinets feel more recessed and camouflaged.
If there are children's toys that you can't throw away because of their memories or books that need to be packed away, this is what storage cabinets are for.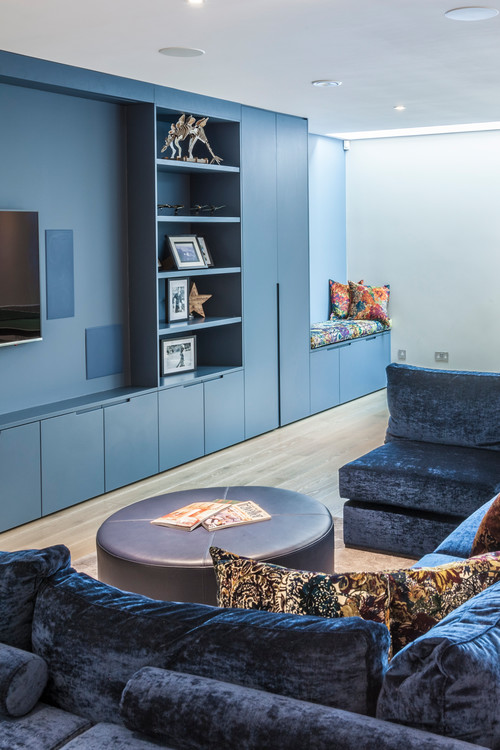 ID# 159404 | Houzz.com – Credit | © Simone Morciano Photography
---
Basement Storage Ideas with Entertainment Center and Cozy Nook
Every family needs one extra cozy spot to use as an entertainment center that feels casual and informal. Perhaps a spot that you would like to share only with your family. This contemporary basement design serving similar purposes is kept colorful with its dynamic blue storage on the basement wall that envelops the TV unit. It provides ample storage space for all the stuff that would otherwise create visual clutter. The designer also doesn't skip on adding a nook for an extra seating spot. The open shelving features bring more interest to the design, allowing it to show off family history with photographs. In the rest of the room, an oversized U-shaped couch offers plenty of room to sit. And in the middle, a large ottoman could be used as a coffee table or bonus seat.
How do I add storage to my basement?
First, detect dead areas that hold the potential to serve as storage. For example, it could be leftover space under the stairs. Or if you have a TV, you can get a custom-built cabinet to create a media center enveloping it. These custom-built framing cabinets could be used to store some unsightly items, such as electronic gadgets, children's toys, unused dishes, or accessories.
Floating shelves are another option to accentuate the walls and make the unfinished basement feel homier. You can use them to align your books or records, which also personalizes the basement. If a fully-exposed floating shelf is not your thing, you can get peekaboo shelving. It makes for a great addition to the sofas in case you would like to keep your reading glasses nearby. On the top, you can even place indoor plants to give the room a breath of fresh air.
Creative Storage Solutions
In another scenario, if you need an extra kitchenette or a wet bar, a few cupboards with a sink and beverage cooler would do the job. If you don't want to deal with plumbing, keep it as a dry bar and place your coffee machine.
If your basement opens onto a patio or outside generally, a built-in bench by the doorway can provide some storage space too. A hidden department under the bench could be used as well. Above, hooks can be mounted to hang coats, hats, and umbrellas.
And if you are saying that you are on a low budget and asking for tips for affordable storage solutions, here are some suggestions. First, what you can do is get utilitarian shelving units. So, store your items in airtight and waterproof bins and boxes. If you wish, label them too. Keeping them in transparent boxes also helps a lot when you need to find something. Then stack the bins to keep them organized and create a clutter-free look.
Secondly, another affordable addition is a pegboard, which is a fun element too. Available in multiple colors, a pegboard can be used to hang your daily used items. Also, let's not leave out large wicker and rattan baskets that are helpful for storing children's toys, Christmas decorations, blankets, and extra pillows.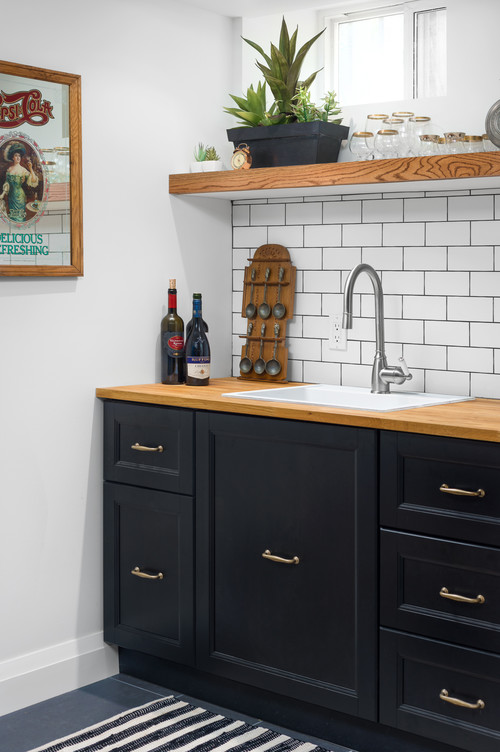 ID# 159406 | Houzz.com – Credit | © Two Birds Design
---
Transitional Basement with Kitchenette and Dark Cabinets
Whether you want a second kitchen for your guest room or a wet bar for extra entertainment, a basement can serve both purposes. In this transitional basement, a kitchenette functions as a wet bar. It is mainly characterized by dark shaker cabinets topped by butcher block countertops. The use of wood injects warmth and texture as well as casualness. Above, the white ceramic subway tile backsplash is given the contrast with black grout that emphasizes the patterns. The timber floating shelf offers the perfect spot to accommodate beverages, glassware, and plants. A drop-in sink and beverage cooler complement the look, creating a fully-fledged wet bar. Plus, since the cabinets have plenty of space, you can use them to house card games, board games, film DVDs, and so on.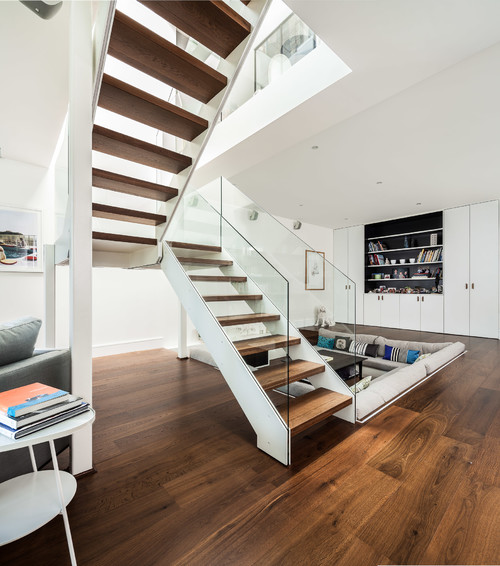 ID# 159407 | Houzz.com – Credit | © EMR Architecture
---
Contemporary Basement with Conversation Pit and Storage Cabinet
In this contemporary basement, the wall-to-wall modern cabinet provides plenty of room to keep the knick-knacks. And if you wish to make it look as if it is not even there, paint them the same color as the walls. Here, for example, the white cabinets almost blend into the walls. It is only the hardware and the open-cabinet bookcase that acknowledges its presence. Aside from that, a sunken seating area or a conversation pit creates one of the most comfortable and alluring seating places. One can just grab a book from the bookcase and read it in that cozy zone.
How can I hide my storage area in my basement?
With full-height cabinet options, you can create a mini-utility room. And then, hide it behind the patio doors like the ones that lead to the pantries. Or you can hide a laundry room behind a foldable door.
Ottomans and daybeds or nooks with hidden compartments added for storage could be another way. If you want to incorporate something homey and aesthetic and storage to keep things away, they serve as great options to consider. This way, no one will even know that they are your secret storage spots.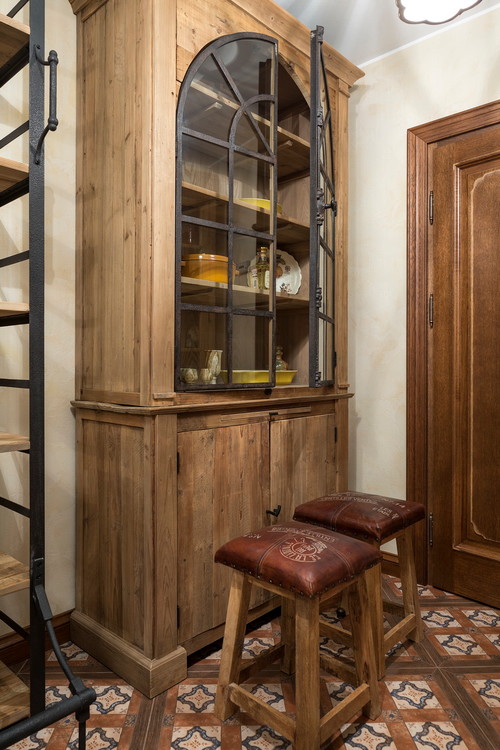 ID# 159408 | Houzz.com – Credit | © Ксения Бобрикова. Xenia Design Studio
---
Rustic Basement with Rustic Storage and Wood Stools
Stretching from floor to ceiling, this reclaimed rustic storage cabinet boasts an eye-catching design that commands attention. Its arched and glass-front door helps the beautiful and colorful cookware show off. The bottom part, by contrast, is closed to keep the unsightly items so that any potential visual clutter is precluded. Right next to this colossal storage is another one that is fully open and supported by a cast-iron skeleton. Accompanying them are a duo of stools with wood legs and upholstered seats. They can be either used to sit or as a step tool to reach the upper part of the cabinets. However, a wooden ladder could also make a nice addition to this rustic storage.
Basement Shelving Storage
Floating shelves and open shelving units are an alternative if you don't want storage cabinets with doors. You can start by stacking clear bins and cardboard boxes on the wall shelves. Also, if you have a small basement, floating shelves are a great way to enhance the floor space! Getting them in clear bins helps when you need to find something, which saves time and effort.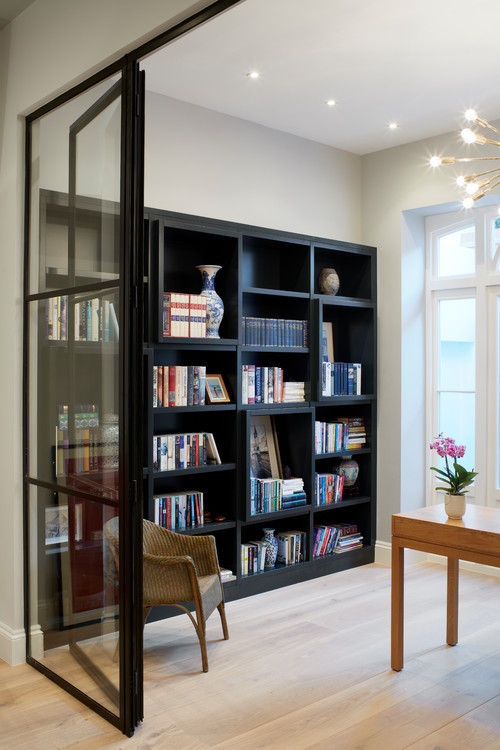 ID# 159409 | Houzz.com – Credit
---
Basement Storage Ideas for Home Office with Glass Doors
Especially when you have glass doors and what is inside the room is available right away, it is important to keep every corner neat. And to achieve that, storage ideas provide solutions. For this modern home office, for example, the wall-to-wall black bookcase offers generously-sized storage space for books. The accent chair placed by the bookcase makes for a nice composition. A floor lamp and a coffee table could also serve as great additions to create a better composition.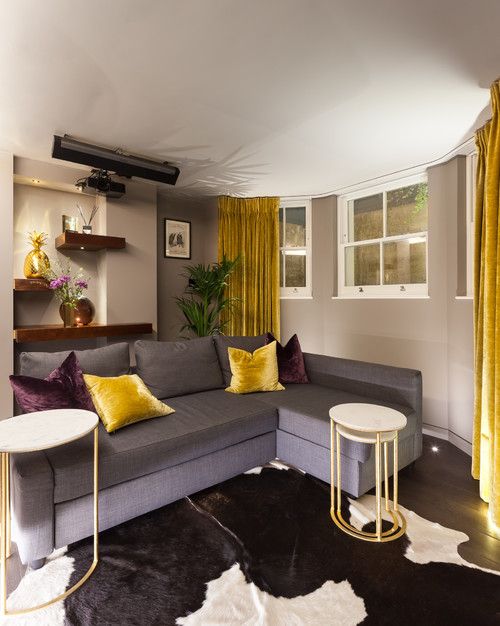 ID# 159410 | Houzz.com – Credit | © APE Architecture and Design Ltd.
---
Timber Floating Shelves with Cowhide Rug and Accent Pillows
Simple but conventional, timber floating shelves in this chic living room provide visual accents for the backdrop. Installed asymmetrically, they create an eye-catching design, exhibiting statement accessories. Above, the spotlights provide accent lighting for them to put them in the spotlight. In the rest of the design, the L-shaped gray sofa adds a cozy vibe. The accent pillows and velvet curtains bring jolts of color. On the floor, the cowhide rug adds a Scandinavian feel, centered in the seating zone. The round coffee tables with brass legs complement the overall scheme.
How to hide storage in the basement?
Everyone has several knick-knacks, from old Christmas decorations packed away to be used for the next year to electronic equipment and toys. All of them need to be hidden in an organized way to make things easier in the future. And you might even want to feel that those storage areas remain invisible. As mentioned earlier, achieving that relies on additions, such as nooks and built-in cabinets.
These options to hide storage help you optimize the available space for your daily use. For example, dead areas under the basement staircases have the full potential to serve as inherently hidden storage areas. With a built-in cabinet that acts as an extension of the staircase, the storage area won't even be that much noticeable. Or better, you can add a nook or daybed with a hidden department for storage.
Likewise, an antique chest with drawers is another alternative that adds drama and history if that's what you want. Plus, rather than storage, it will look like a piece of furniture brought in to make a statement.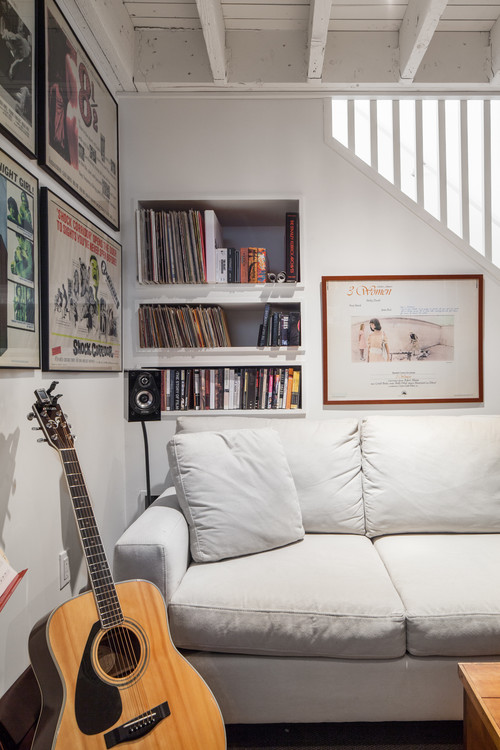 ID# 159411 | Houzz.com – Credit | © Wanda Ely Architect Inc.
---
Niche with Books and Artwork in Modern Room Storage Ideas
Designing is sometimes all about reflecting on your inner world through personalizing the space. And this modern basement room is one great example of it. Abounding in records, books, and artwork, it bombards its users with plenty of personal details. The niche built into the space under the staircase offers a bonus storage area without taking up the usable space of the room. It accommodates records, books, and some DVDs, which give clues about what this basement means for homeowners. Apart from those, the adjacent wall serves as a gallery wall, while a classic guitar accompanies it. The comfortable Scandinavian-style sofa is quite wide, which can be used for lying down, napping, and reading a book.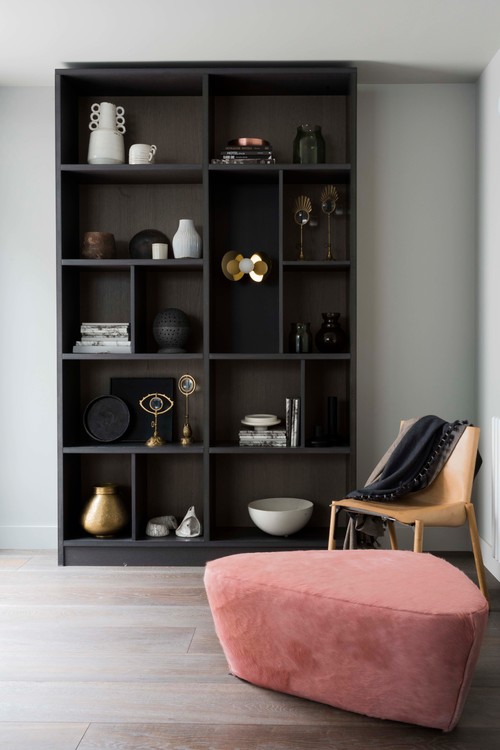 ID# 159412 | Houzz.com – Credit | © Alice B. Davies Interior Design
---
Basement Storage Ideas with Pink Ottoman and Black Open Cabinet
It is easy to tell that this contemporary basement uses storage to puts its rare-to-see unique objects on display. Placed in one corner, the black cabinet provides a solid background for these elements to shine. Right near, an accent chair and a pink ottoman offer seating options. Coming in various geometric forms, they keep the basement in line with contemporary designs.
Storage Under Basement Stairs
Storage under basement stairs is one of the best ways to add bonus storage to your basement. Due to its dysfunctional shape, it is not easy to convert it into something more useful, except for a nook perhaps. Whether it is a wine cellar, bookcase, kitchenette, or built-in cabinets you need, the area under the stairs will be in your service.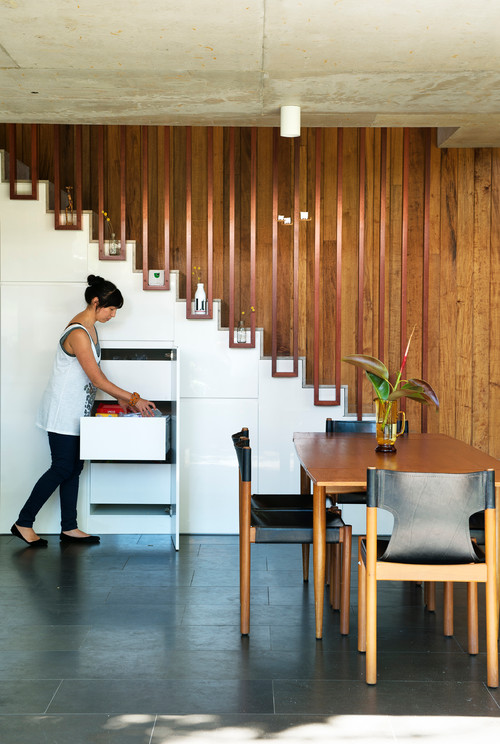 ID# 159413 | Houzz.com – Credit | © Klopper and Davis Architects
---
Basement Storage Ideas for Under-Stairs Storage in Mid-Century Home
The negative zone under the stairs is sometimes forgotten, neglected, and not given the attention it deserves. But it doesn't need to be that way. This mid-century design home, for example, treats it as a potential storage space. Here, the wooden staircase gains a more solid presence with the white storage cabinets under it. When creating a more utilitarian room that packs away the knick-knacks, it also pays tribute to the mid-century color schemes. The collaboration of wood and pristine white provides a warm and clean setup characterized by clean lines. The wood boards also shield the walls, while the modern and rectangular rods support the staircase. The unfinished concrete ceiling enriches the design, giving it an aged feel.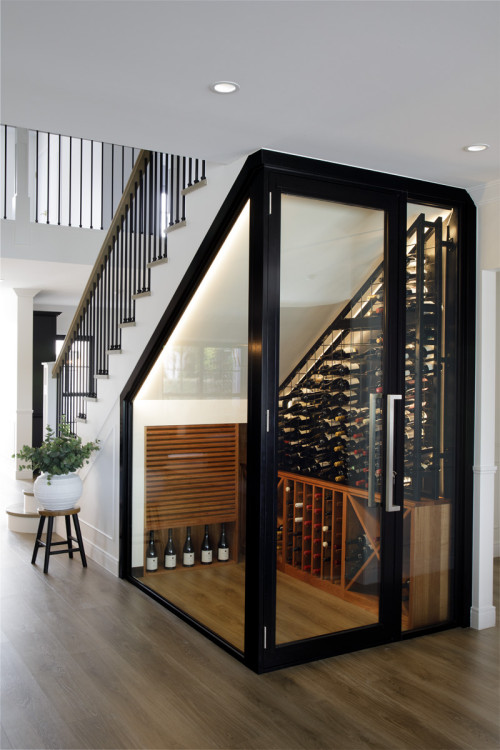 ID# 159414 | Houzz.com – Credit | © John Downs Photography
---
Beach-Style Storage for Wine Bottles in a Glass Box
Vino in veritas! This all-glass under-stair storage area presents a very chic style. Mainly designed to accommodate wine bottles, it offers a cool area specially illuminated to maintain the quality of the wine. The LED strip lighting emitting warm lights provides the perfect cozy lighting. The wire wine racks with wood X-dividers and cubbies offer enough visual diversity, enabling horizontal placements. The use of glass doors and a glass box allows everyone to enjoy this beautiful storage area.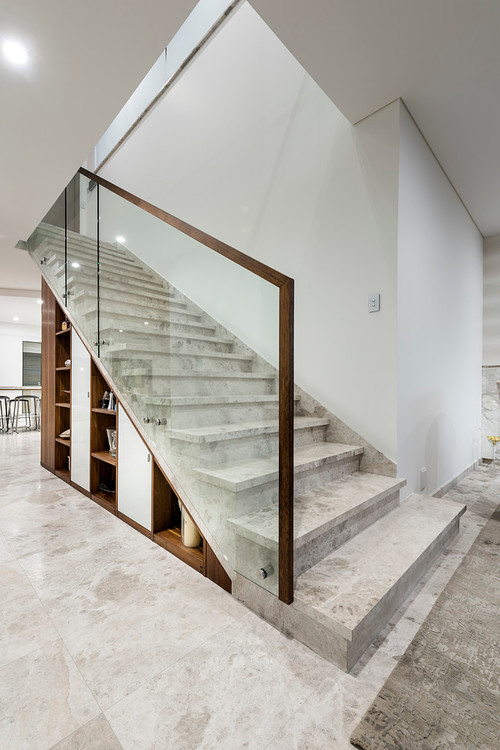 ID# 159415 | Houzz.com – Credit | © European Ceramics
---
Contemporary Staircase with Storage Ideas
Built-in storage ideas under the stairs are always helpful and practical, making the areas underneath the stairs visually appealing. In this contemporary design home, for example, the wood cabinets, both open and closed, curate an eye-catching look. Whether it is books, essentials, or favorite accessories, such additions always do benefit the rooms. On the top, the glass railing of the staircase provides a perfect body to flirt with lights, letting them bounce. Visually astonishing and sophisticated, this storage area is surely well-curated.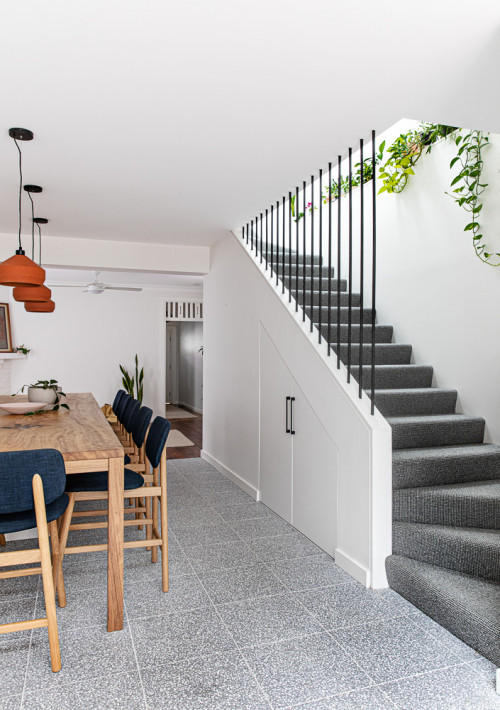 ID# 159416 | Houzz.com – Credit | © Kitty Lee Architecture
---
White Storage Cabinets Under the Stairs with Adjoined Dining Space
Opening onto a patio and harvesting abundant natural lights, this basement floor has an indoor seating place, which means it needs storage space too. And the negative space under the stairs is very much eligible to provide that. Kept the same color as the walls, it is only made more visible with black cabinet pulls. The nature-inspired dining spot takes its cues from the outdoor patio with its timber dining table. The terracotta pendants and indoor plants take care of the rest, making the room more nature-friendly and welcoming.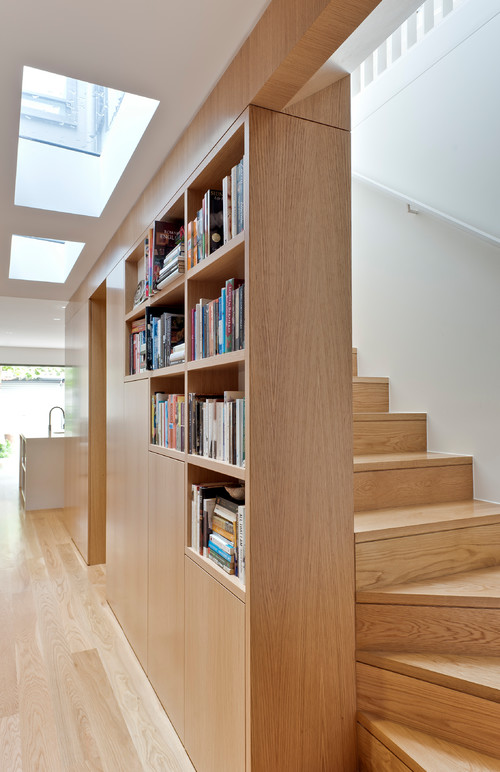 ID# 159417 | Houzz.com – Credit | © TKD Architects
---
Basement Storage Ideas with Wood Cabinets and Bookcase
Do you need an extra spot for your books? Install a bookcase underneath the stairs. Here, illuminated by the skylights, the wood cabinets feel like an extension of the wood stairs. The exposed shelves are filled with books that create a symmetrical and modern design. Contemporary to the core, this wood-washed hallway is like an entrance to a world replete with texture and warmth.
Basement Storage Cabinets with Doors
If you don't want your stored items to be seen in any way, cabinets with doors are the way to go. If you wish, you can get them customized to fit that empty corner you want to turn into storage. You can get shaker cabinets or flat-front cupboards and accentuate them with artwork and accessories. To keep them more organized inside, what you could do is get waterproof and airtight containers.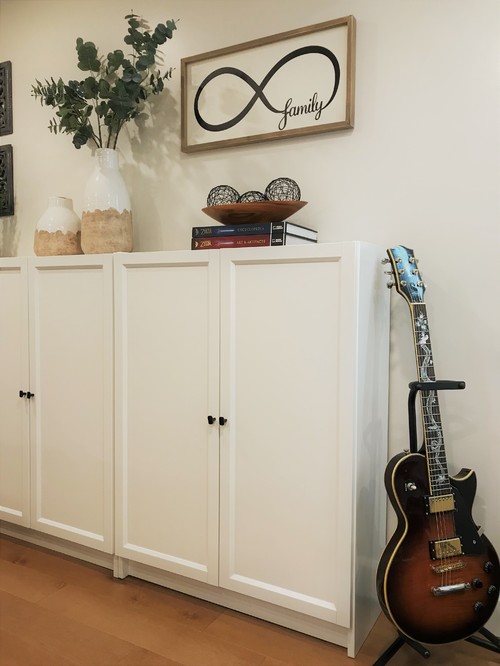 ID# 159419 | Houzz.com – Credit | © Wish Decor
---
White Shaker Cabinets for Farmhouse Basement
Leaning into beige walls, the white shakers provide a convenient and clean storage option that conceals what is inside completely. Above, the symbol of infinity pays tribute to family life. The electronic guitar, books, and ceramic vases add further interest to the cabinet. The final product? It feels convivial, creating a very homey setup for the basement.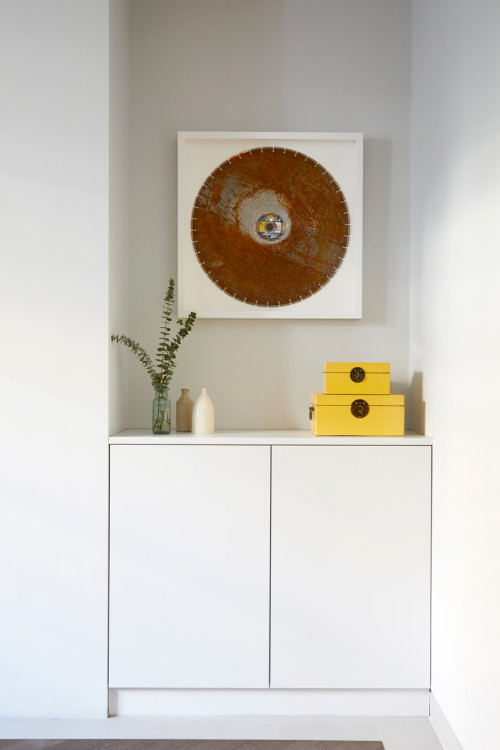 ID# 159420 | Houzz.com – Credit | © Simpson & Voyle
---
Basement Storage Cabinets with Doors and Artwork
In this all-white contemporary home, the white flat-front cabinet almost feels camouflaged, acting as a single body with the wall. Above, colored artwork, yellow variously-sized boxes, and a few vases spice up this otherwise all-white look. The resulting scheme feels dynamic enough even in the presence of all-white walls and the cabinet.
Basement Wine Storage
Wine aficionados gather here! This part mostly concerns wine storage ideas for those with a predilection for wine and who stockpile wine bottles.
To start with, from countertop wine racks to wet bars and built-in storage, there are multiple ways to host your beautiful wine bottles. But when you have too many of them, sometimes it is a must to have a separate zone only allocated for wine bottles. That's where the basement wine storage ideas come in and play their part. One of the biggest advantages of these rooms is to enable you to adjust the light levels and temperature of the room. This way, you can provide the best environment for wine.
In addition to them, it is important to keep it dark and dry as much as possible and at a temperature of 10-18 C degree. The placement of the bottles is another important detail to keep them aging without getting spoilt. For that, they should be stored horizontally at a 45-degree angle. And the cork part should also be faced down.
Yet what about designing? To create a perfect mise-en-scene for wine storage, the designs shared below give you excellent ideas. From wine barrels to the stone and brick accent walls, you can incorporate textures to create a cavernous feel. Concrete floors and granite or marble countertops could be used to accompany them. And in terms of lighting, industrial and rustic lighting fixtures can be incorporated.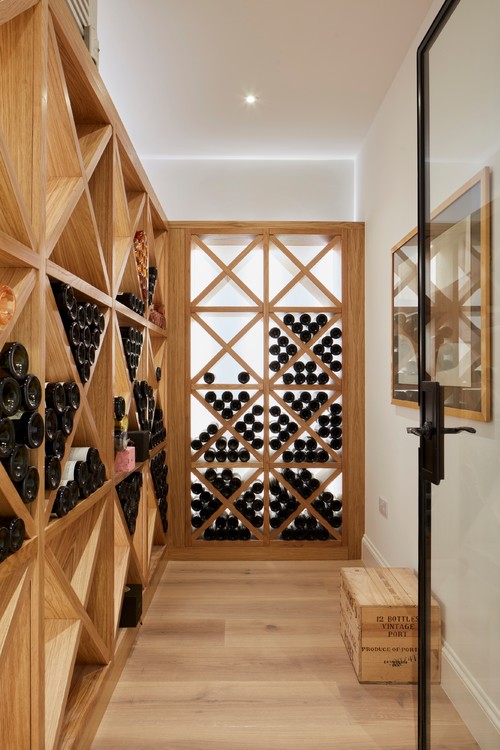 ID# 159421 | Houzz.com – Credit
---
Basement Storage Ideas for Wine with Wooden Wine Racks
Led through a fully-glazed door, this basement wine storage is filled with wooden cabinets with X-shaped dividers to make wine bottles feel at home. Featuring perhaps 3 or 4 of them, it creates a unified look with an identical cabinet design. The contrasting finish of the light wood shades helps the wine bottles stand out. Built-in spotlights and LED strip lighting keep the room illuminated. Also, the glass door borrows light from the adjacent rooms, lending to the wine storage. In case you are looking for some diversity, get combo-design wine storage cabinets that boast both X-dividers and horizontal display options.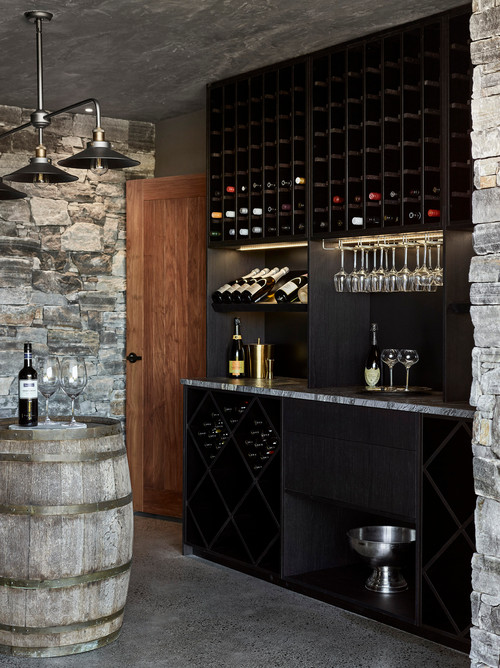 ID# 159422 | Houzz.com – Credit | © Accord Homes
---
Basement Wine Cellar with Concrete Floor And Stone Accent Walls
Here we have a wine cellar to its core, evidencing that this basement storage was a true investment. From the stone accent walls to the concrete floor and a wine barrel, each detail is well-thought-out. The black wine storage oozes drama, anchoring the room. It consists of different departments, allowing homeowners to display their wine bottles in a myriad of ways. The X-dividers, floating rack with slots for glasses, store bottles in optimized conditions, while warm lighting ensures the wine bottles are under the right temperature. The strong and durable granite countertops bring another upscale element, and finally, the industrial-style 3-headed lighting fixture over the barrel complements the look. Overall, this artful basement storage provides the perfect place for wine bottles.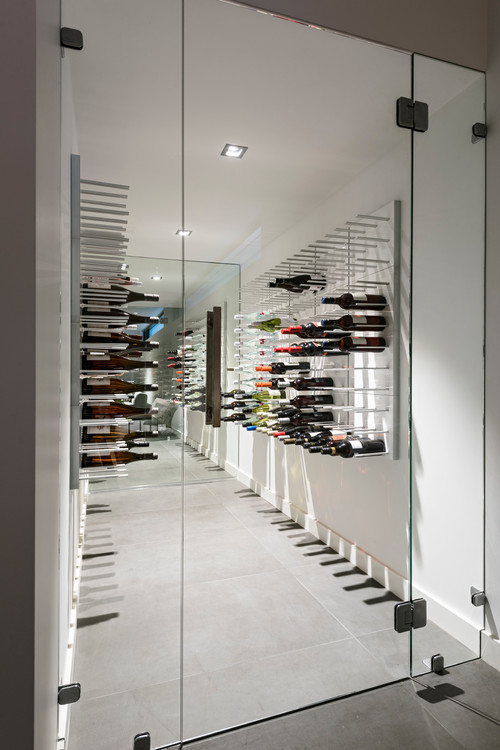 ID# 159423 | Houzz.com – Credit | © Austurban Homes
---
Modern Floating Wine Storage with Full-Height Mirror and Gray Tiles
Incorporate a full-height and wall-to-wall mirror to expand your basement wine storage. It will also encourage the room to feel brighter, letting light bounce off around the room. In this contemporary home, the basement features a chic and ultra-stylish look, a larger portion of this is owed to a full-height mirror. And the other parts of the room are fitted with modern floating wine racks. This way, the wine bottles look as if they are suspended in the air, which adds to the airiness of the room. The floor is clad with large gray tiles that create the illusion of a larger space while uplifting the design aesthetic. Not to mention, the transparent glass door initiates an intimate conversation between the wine storage and the adjacent room.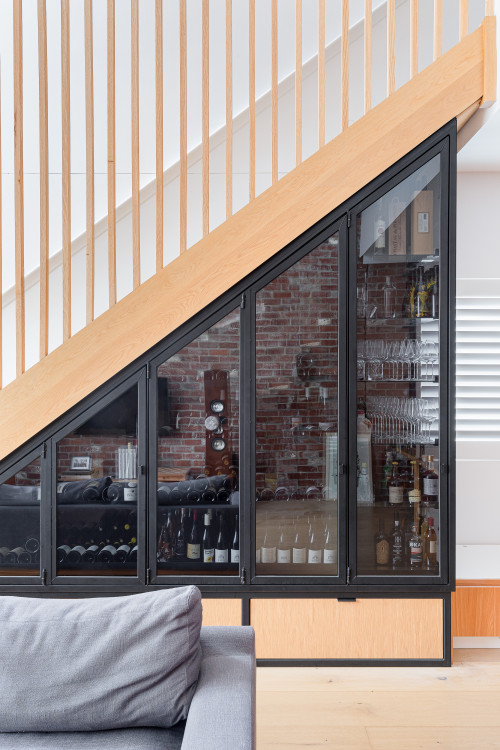 ID# 159424 | Houzz.com – Credit | © Assembuild
---
Wine Storage Under the Stairs with Glass Front
Nestled under the stairs in the basement, this modern wine storage reserves itself one cool spot for sure. Though the black glass-front panels don't give full access to see what is inside, still we can have a glimpse. The astonishing glassware, wine bottles, and more peek out behind, orchestrating a high-end feel and encouraging the basement to be more luxurious. Additionally, the closed drawers provide a more solid bottom for the glass section. In these drawers, homeowners can stow their unsightly items, wine openers, and many more.
Basement Food Storage
Basement food storage or pantries are helpful to stow unsightly items that you wouldn't like to keep in kitchens. Especially if you have a small kitchen, an extra room such as a pantry could be beneficial. In there you can store your snacks, dried, canned goods, herbs, spices, and gadgetry. But of course, to do that, you need cabinets and open storage shelves. It is always better to go with base cabinets with doors. And overhead, you can keep floating shelves and display cabinets to encourage openness. Another advantage of the open shelves on the upper part is that they also expose everything, helping with navigation.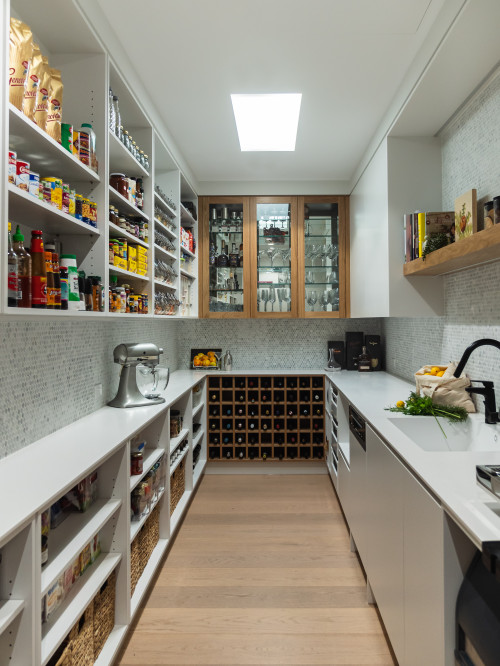 ID# 159425 | Houzz.com – Credit | © GDP Interior Design
---
Basement Storage Ideas for Food and Wine
When a kitchen lacks enough space to keep canned goods spices, and snacks, a pantry is needed, which sometimes finds a place in basements. Basement pantries, just like wine cellars, offer spaces to keep the unsightly stuff. But they still need to be organized neatly to help you find what you seek easily in the future. In this contemporary home, the basement is dedicated to a pantry also used as a wine cellar. The U-shaped configuration of cabinets provides multiple storages, either open or closed. The rectilinear size of the room makes these cabinets aligned in order, which eases the furnishing. Overhead, for example, the open cabinets and glass-front cabinets help the room feel airier and freed up. Below, again, a smart combination of open and closed cabinets creates a balanced look. A sink, floating shelf, and gadgetry also find room for themselves. Overall, everything feels well-organized and well-rounded.