27+ Over the Toilet Storage Ideas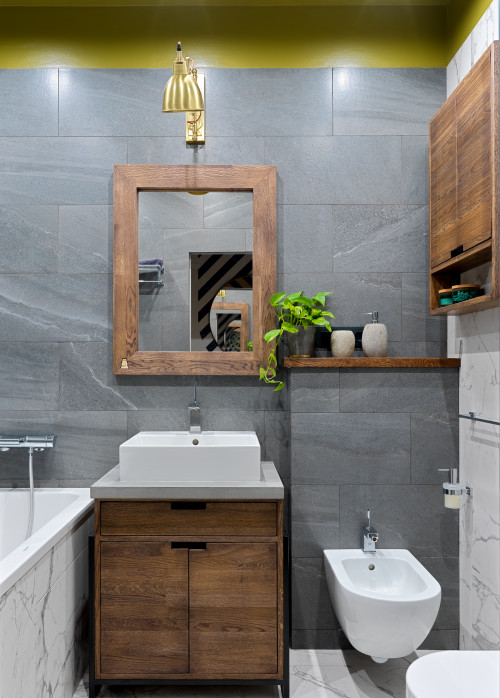 ID# 158102 | Houzz.com – Credit | © Totaste.studio|Виктор Штефан
---
Wood Effect Of A Tiny Bathroom With Wooden Shelf Over-The-Toilet Storage
Combining white marble and gray ceramic tiles makes this bathroom very stylish and cool. The gray ceramic walls add a silvery look to the space whereas the golden walls and golden lamp offer a deluxe look. The gray walls and the golden details create a contrast in the bathroom area. The wooden items such as the bathroom vanity and mirror include warmth and coziness to the space. Also the wooden over-the-toilet bathroom shelf provides extra storage for this small bathroom. In addition, The marble white bathtub, floor tiles, and walls bring light to the space and give a spacious bathroom look.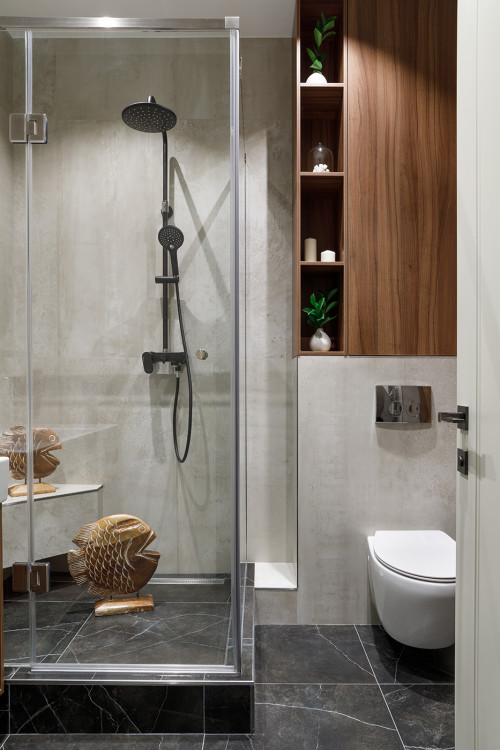 ID# 158125 | Houzz.com – Credit | © Архитектурная студия АВТОР
---
The Elegance Of Black Marble Floor Tiles And Dark Hardwood Storage Cabinets 
In this small bathroom, the black marble floor tiles and beige ceramic tile walls come together in perfect harmony. The tiles exude a contemporary style and peaceful energy, creating a calming atmosphere. Additionally, the over-the-toilet storage cabinet made of warm hardwood serves a dual purpose of enhancing the ambiance and providing storage space. Altogether, this bathroom embodies both functionality and style.
Over the Toilet Storage Ideas
Bathroom storage always seems to be lacking, especially if you live in a tiny house or apartment. The frequently small under-the-sink cupboard just can't handle everything when it comes to storing bathroom necessities such as towels. Not to mention making an effort to decorate to make your bathroom feel cozier. The area above your toilet is a fantastic storage spot but is frequently disregarded. Fortunately, there is a range of varieties of over-the-toilet storage ideas for bathrooms. These ingenious storage ideas can smartly and sufficiently organize even the smallest apartment bathroom. Thanks to the over-the-toilet storage ideas, you may arrange your bathroom in a tidy manner. You can gain a lot by utilizing every square inch of your bathroom. It would improve storage capacity while also enhancing the attractiveness of your bathroom.
Practical Storage Solutions for Bathrooms
The area above your toilet seat is typically vacant and empty. This empty area can be used to produce something more helpful and functional. The bathroom has over-the-toilet storage designed for this reason. The over-the-toilet storage expands your bathroom's storage capacity and frees up space for additional goods that may be kept conveniently in the bathroom. Also, numerous shapes, sizes, and designs of over-the-toilet storage are available. Usually, shelves are used to create these. Shelves help store various easily accessible objects. Additionally, putting things on shelves makes them simpler to use. In addition, towels are typically kept in the racks and shelves that make up the over-the-toilet storage. The location is dry and maintains the towels in good condition. Overall, these over-the-toilet storage ideas will save you from bathroom storage problems and add style to your bathroom space.
Can you put shelves above a toilet?
Yes, you can. Shelves are one of the most functional and practical over-the-toilet storage ideas. You can use baskets and containers for the shelves.
How Do You Organize Above A Toilet?
More than just a vase, a roll of toilet paper, or a positioned candle can be placed in the area above your toilet. Instead, it can be transformed into a space to store additional bathroom supplies by showing your style with some cabinetry, shelving, and baskets. Over-the-toilet space is an ignored area in a bathroom. It can be used as storage space, especially for tiny bathrooms. So, how do you organize above a toilet? There are lots of ways to organize over-the-toilet space in a bathroom.
Add Functional Storage Solutions Above Toilet
First of all, utilize all available vertical space in the bathroom space. The area above the toilet is not a vertical space in the bathroom. Vertical space, however, extends to the ceiling. Install floating shelves, built-in niches and shelves, towel racks, and storage cabinets to make the most of the available space. For good reason, floating shelves are a tried-and-true staple: they go with almost every decor style, they have a pleasing appearance, and they serve a purpose. Use them to store items over the toilet.
Another over-the-toilet storage organization tip is installing cabinets. If you want to hide your bathroom items and do not want to deal with dust issues, a cabinet is your savior. You can choose a cabinet that matches the style of the bathroom. If you have a small bathroom, try to pick a minimal cabinet to prevent a claustrophobic bathroom look. Lastly, towel racks are very practical for over-the-toilet storage organization. You can store the towels in a dry condition with these racks. Also, the towels in the towel racks can be used to add color and texture to the bathroom space.
Floating Shelves
Adding floating shelves to bathrooms as over-the-toilet storage is a terrific method to accomplish adding storage to your bathroom Also, floating shelves can be decorated in a variety of ways. Bathrooms often require the least amount of design, and just a few essential items may make a great difference. Think of attractive baskets and jars to exhibit or conceal your daily stuff on the shelves, which should also be able to function as functional storage with elegance. Measure the width of your shelf before purchasing bins and baskets for your floating shelves. The basket shouldn't hang over the shelf since it could fall off. In addition, by stacking longer things in front of shorter ones or angling your storage items, you can give your floating shelves additional visual interest. Everything doesn't need to be straight. By doing this, you can have a stylish and functional floating shelf as over-the-toilet storage.
Where do you hang shelves over a toilet?
To properly install a shelf above your bathroom's toilet, make sure to leave a clearance of 10 to 12 inches from the top of the tank. This is necessary to ensure that the lid can be easily opened without any obstruction. Keeping this in mind will not only make your shelf installation a success but also enhance the overall functionality of your bathroom!!
Built-in Niches and Shelves
The natural approach when feeling space-constrained is adding more storage everywhere you can. However, mounting shelves or adding large cabinets might take up valuable space and make the bathroom area feel even more cluttered. In this situation, built-in niches and shelves can rescue you from this problem. The benefit of a built-in niche or shelf as a small-space solution is that it adds space rather than subtracting it. The benefit of a niche or shelf is that it increases storage space, aids in organizing your bathroom, and offers another surface on which to decorate and improve the aesthetic. Built-in niches or shelves are also quite visually appealing since they give the bathroom a sense of continuity. So, you can both have a stylish and functional over-the-toilet storage area with built-in niches and shelves in your stylish bathroom.
How to build over the toilet storage?
Welcome to the world of bathroom organization! When your bathroom storage is limited, it's time to explore some options for increasing storage space. One of the frontrunners in this area is installing floating shelves above the toilet. Apart from providing abundant storage space, these shelves elevate the bathroom's aesthetic appeal. Another option is to go for cabinets that fit the interior design of your bathroom. Built-in niches and shelves are also fantastic options to consider. Whether you want to buy readymade solutions or embrace your creative side by making them yourself, these over-the-toilet storage ideas will surely cater to your needs.
Towel Racks
Finding a convenient place to hang your towels in a small bathroom could be difficult. This is most usually caused by a lack of wall space or improperly spaced fixtures. Towel racks are the answer to your bathroom storage issue if this is the situation for you. Although it is debated whether it is hygienic to place towel racks over the toilet, the clean area where the towel rack will be placed provides a hygienic over-the-toilet storage option. You can install a towel rack as a bathroom décor as well. It can complete the interior design of your bathroom. Thus, towel racks can be not only a storage option but also a decorative item.
How do you arrange floating shelves?
Since floating shelves look their finest when placed at eye level, they naturally become the room's center point. Shelves should be placed so that they are at eye level to bring attention to the goods displayed there. Depending on the size of the room and the shelf's size, the appropriate number of floating shelves will vary.
Storage Cabinets
Are you constantly struggling to find storage space in your bathroom? Well, look no further than over-the-toilet storage cabinets! Not only do they come in various styles, sizes, and colors, but you also have the option to choose a cabinet that complements your bathroom's design for a cohesive look. If your bathroom is on the narrow side, fear not! Opting for a cabinet with a sleek and minimal design can actually make the space appear larger. Plus, with over-the-toilet storage cabinets, your items will stay clean and organized with minimal upkeep required. Say goodbye to bathroom storage woes and hello to a tidy and stylish space!