31+ Backsplash for White Bathroom Vanity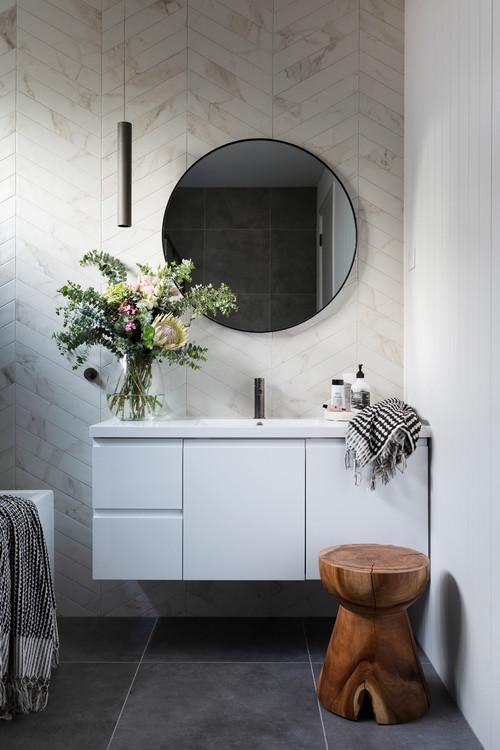 ID# 170907 | Houzz.com – Credit | © Studio Black Interiors
---
Modern Bathroom Design with Marble Chevron Wall Tiles and Circular Mirror
Clad in a contrasting appeal, this monochromatic modern bathroom offers a sleek and elegant appeal that will never go out of style! At the back, the marble chevron wall tiles create a nice textural backdrop while the clack-framed circular mirror highlights the backsplash area by creating a focal point. The white floating vanity provides a cohesive look with the marble tiles to balance the overall flow. The black floor tiles bring a strong contrasting look against the white features while the wooden stool softens this sharp contrast and adds warmth to the atmosphere.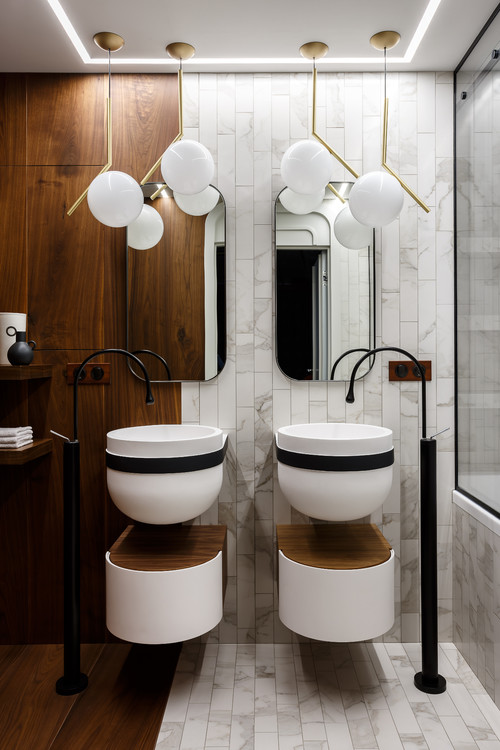 ID# 170917 | Houzz.com – Credit
---
Unique Bathroom Vanity Design with Black Freestanding Faucets
A touch of texture works like magic in any design, elevating the overall impact instantly as here! The wood look tiles and the vertically laid marble subway tiles flawlessly come together and carry warmth and freshness to the space. These tiles continue on the floor level to create a seamless look. The unique white vanity designs fade into the background in harmony while the black freestanding faucets bring a contrast to the white and wood color palette. For a final touch, the globe lighting fixtures add a dose of sparkle with their brass details and bring a midcentury vibe!
Backsplash for White Bathroom Vanity
In wet areas such as bathrooms, a backsplash is one of the most vital pieces to protect the walls from water splashes and to give the space an easy-to-clean form. In addition to its functional benefits, a backsplash also brings aesthetic benefits along. Providing a background theme for the bathroom design, gives direction to the space's style, playing a key role. In this blog, we have compiled a list of various backsplash designs for white bathroom vanities. A backsplash for white bathroom vanity can be anything, as white is a timeless color and adjusts itself to other colors and patterns easily!
Complete the Timeless Appeal of a White Vanity
Whether you love colorful, neutral, contrasting or luxurious designs, a thoughtfully chosen backsplash for a white bathroom vanity can create a design that can fall into one of those categories and many more. If you have a small bathroom or a vaulted ceiling and are not sure about how to organize the space while integrating the character into it, here we have a list of designs that will guide you and inspire you for your home improvement projects!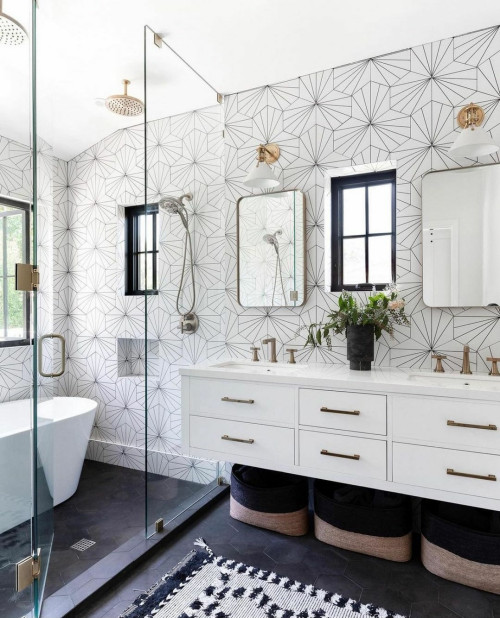 ID# 170901 | Houzz.com – Credit
---
Chic Bathroom Design with White Floating Vanity and Brass Detailing
Clad in light shades and brass detailing, this ultra-stylish luxurious bathroom design is glowing. The geometric forms of the white tile backsplash add a natural movement to the walls to echo the bathroom's sensible relationship with the modern aesthetic. The floating vanity topped with brass faucets and hardware supports the flow while brass detailed sconces emphasize the bathroom mirrors. To provide extra comfort underfoot, a fluffy rug can be incorporated into the design.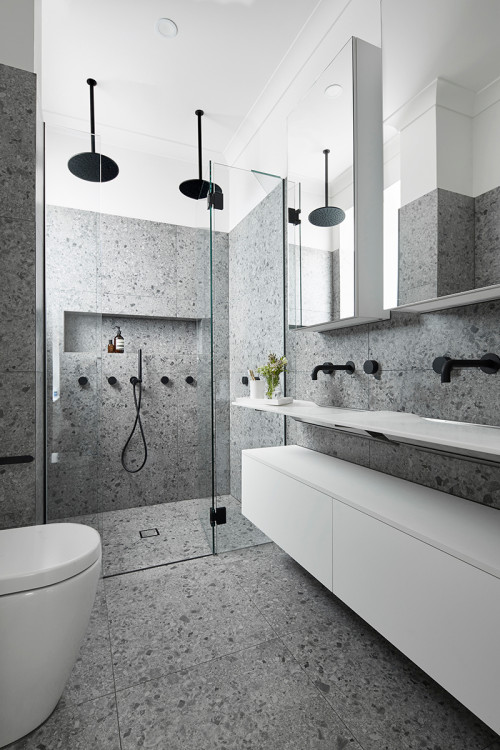 ID# 170902 | Houzz.com – Credit | © smarterBATHROOMS+
---
Gray Terrazzo Tiles with Black Accents and White Vanity
This monochromatic bathroom makes a statement with its terrazzo tiles that cover the wall and floor surfaces to add modern appeal to the space! The black accents punctuate these tiles with a slight contrast that enhances the contemporary aesthetic. The white vanity feels synchronized with the large-format tiles while the mirrored upper cabinets bring depth to this slightly narrow space.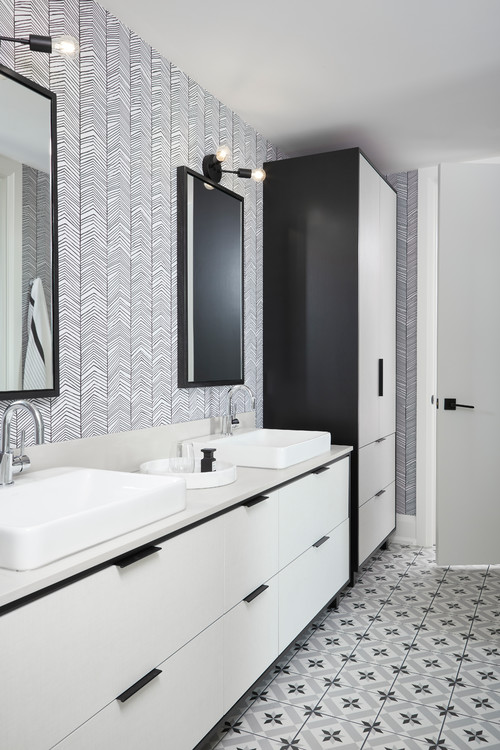 ID# 170903 | Houzz.com – Credit | © Lisa Lev Design
---
Black and White Kitchen Design with Wallpaper Backsplash
The overarching narrative of the bathroom is built upon the white-black contrast! In the background, the wallpaper backsplash printed in a chevron pattern gives direction to the space by expanding the visual scheme. Black-framed mirrors, black cabinet handles, and black taps feel well-coordinated with the black patterns of the wallpaper. The use of contrast applied in the right proportions brings extra benefits to the space, enhancing the spaciousness here.
What do you use for vanity backsplash?
In a wet area like a bathroom, a backsplash is a necessity to protect the walls and provide an easy-to-clean surface. To transform such an essential functional piece into something aesthetic, you can use a wide spectrum of materials, patterns, and colors for a vanity backsplash.
Experiment with the tiles:
You can experiment with the placement of the tiles and create asymmetric designs, which are generally realized with hexagons and geometric patterns that establish a puzzle-like look. You can further these asymmetric designs on the floor to create a more dynamic and integrated design to bring the space together.
Create an accent wall:
While giving a special gesture to your vanity, you can tile the rest of the bathroom with a different pattern or color and keep the vanity side as a statement corner. If you would like to keep the rest tile-free, that is also very welcome. But just to play safe with water splashes and if you have children running around and love playing with water, tiling the whole bathroom is recommendable.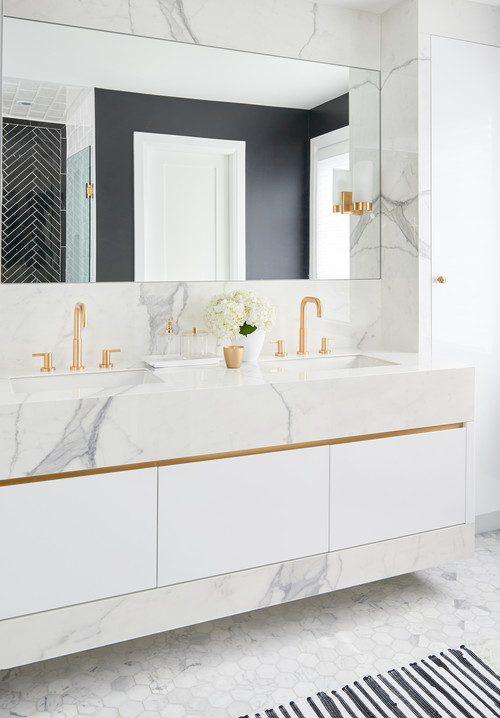 ID# 170904 | Houzz.com – Credit | © Stephani Buchman
---
White Double Vanity with Marble Countertop and Brass Hardware
This gorgeous bathroom is like a breathing space thanks to its all-white monochromatic color palette warmed up with brass accents and marble. The seamless look of the marble countertop and backsplash nestle on the white double vanity, incorporating a soft movement with delicate striations. Further enriching details are the brass cabinet handles that add glow while wall sconces promote atmospheric lighting. The eye-catching marble pattern continues on the floor transformed into a hexagon shape that enhances the modern aesthetic. Overall, the bathroom design looks clean and fresh, punctuated by a single green touch that sits between the under-mount sinks.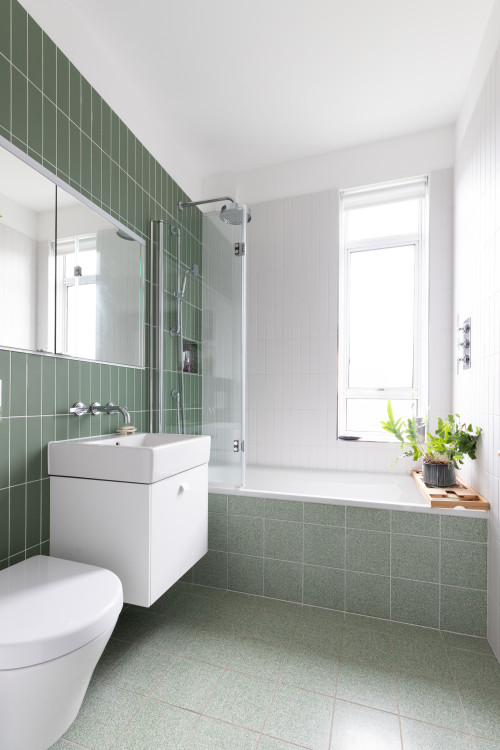 ID# 170905 | Houzz.com – Credit | © Absolute Project Management
---
Matte Green Backsplash for White Bathroom Vanity
Characterized by a striking green and white contrast, this contemporary bathroom offers a sleek and refined look! The matte green stacked tiles cover the entire wall behind the small white vanity while the vertical layout of the tiles enhances the room atmosphere to make the space feel higher. The harmonious flow of these tiles adds an organic and a little bit retro feel which is emphasized by a white grout. The same green shade continues on the square floor tiles. The overflow of the floor tiles to the side of the alcove bathtub looks refreshing with the clean lines of the white bathroom furniture. In the shower area, the white wall tiles and the window provide a spacious backdrop.
Backsplash Materials for White Bathroom Vanity
Wallpapers, marble, porcelain, ceramic, granite and glass are some of the backsplash materials that are most popularly used for their functionality, various design options, natural vibes, statement finishes and customizability. Whether you want to achieve something luxurious or casual or homey and colorful, one of the main things you need to do is to choose the backsplash material accordingly. Below, we will be looking closely at a statement material marble, and highly customizable and affordable ceramic tiles!
Marble Backsplash for White Bathroom Vanity
Confidently to be used in bathrooms, a marble backsplash provides the necessary aesthetic and functional features. And as a statement-finish material, it exerts a great impact on the space. Though white and gray are the most popular marble colors, for a sense of change and to achieve a dramatic, heart-warming, and cheerful mood, you can also consider black, beige and pink marble backsplashes respectively.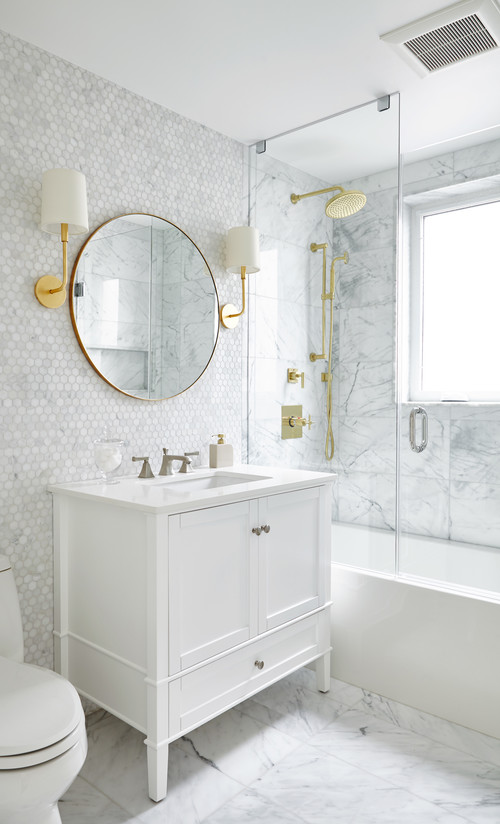 ID# 170906 | Houzz.com – Credit | © LUX Design | Interior Design Build
---
Full-Height Marble Hexagon Tile Backsplash for White Bathroom Vanity with Brass Hardware
This bathroom design is centered around the vintage bathroom vanity. Surrounded by the full-height marble hexagon backsplash and flanked by a circular mirror, the white vanity not only introduces light but also provides a storage space for bathroom essentials. Looking at the rest of the space, what captures attention is the large-format marble tiles that surround the walls and floor, chosen white so as not to steal attention from the visual focal point. Lastly, brass hardware comes another smart decision to accompany the glowing design that lets the hardware melt into the background with a glamorous touch.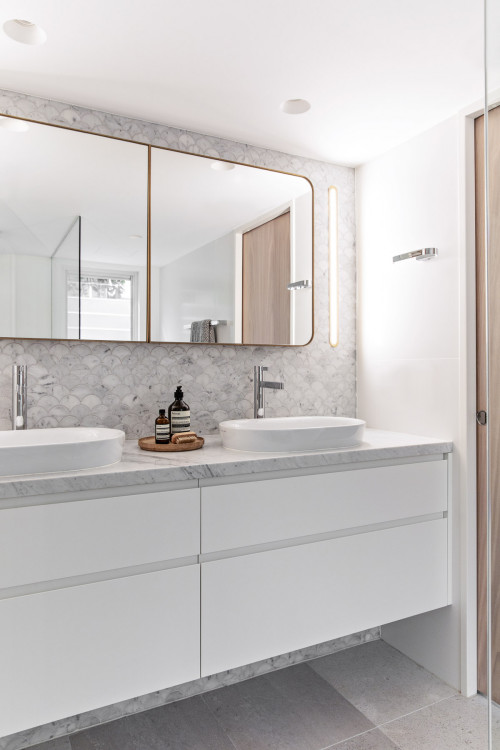 ID# 170908 | Houzz.com – Credit | © Annabelle Chapman Architect Pty Ltd
---
Contemporary Bathroom with Marble Backsplash and Countertop
Dressed in refined details, this luxurious bathroom design features a wraparound marble backsplash that adds movement to the otherwise all-white bathroom. But the key characteristic lies in the color and material repertoire. Here, the designer goes with nature-inspired forms that break away from the regularity of rectilinear forms rather than incorporating colors to create diversity. Ranging from the concave bathtub to the fish scale backsplash tiles to circular vessel sinks, and curved-edged mirrors, each piece is used to energize the space. To assist them, the chrome taps, brass mirror frame, and gorgeous lighting fixture communicate a sense of luxury, while accent lighting spotlights this flawless look of the bathroom.
Are white vanities out of style?
As white is a timeless color, it is very unlikely for white vanities to feel out of style! They always have something to contribute to the room. Whether it is a feeling of spaciousness, openness, brightness, and elegance, it is just something that comes naturally with white. Of course, it is also up to homeowners to give a better definition to it. Wood, brass, chrome, nickel, and matte black details influence the vibes the design embodies.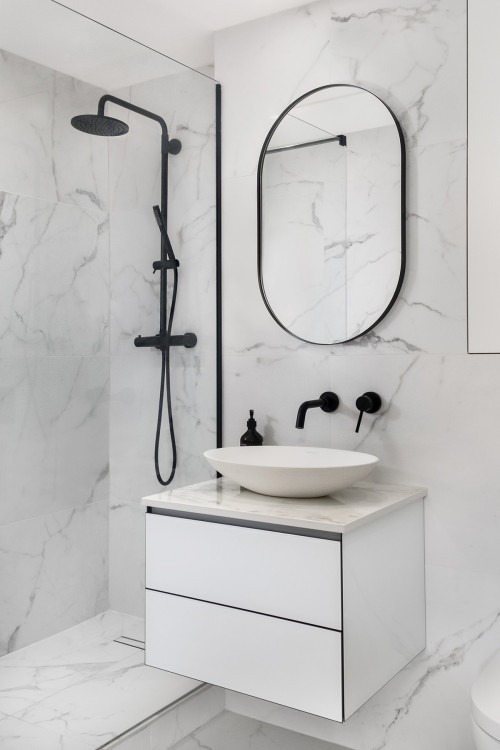 ID# 170909 | Houzz.com – Credit | © KANDO STUDIO
---
Small White Bathroom Design with Black Accents
Black, white, and a touch of marble… If you are looking for a failsafe and at the same time stylish design for your bathroom, this color combination will be your savior! To start with, eye-catching marble tiles which cover the entire floor and wall surfaces, offer a bright and spacious atmosphere with a nice textural look. The small white vanity with a vessel sink creates a cohesive look with the white marble tiles while the black accents such as the shower fixtures, faucet and mirror frame bring a strong contrasting look that enhances the sense of opulence!
Ceramic Backsplash for White Bathroom Vanity
Due to their durability, versatality and longevity, ceramic tiles are one of the most common material options for bathroom backsplashes. The wide spectrum of design options with ceramic backsplash also makes them favorable and preferable for distinguishing backsplash designs. Do you need a pop of color or a pop of pattern? Just check ceramic tiles and see what they offer.
ID# 170910 | Houzz.com – Credit | © GIA Bathrooms & Kitchens
---
Monochromatic Bathroom Design with Colorful Floor Tiles
Clad in all-white, this monochromatic bathroom design delivers a sense of freshness to the space, offering a perfect place to wash the day off. Even though overall it presents a simple look, tiny details make for an expressive design. For example, installing the crisp white hexagon tile design as a backsplash adds a modern appeal, expanding the space on the vertical axis. The mirrored upper cabinets complement the airy atmosphere. Below, the white vanity is punctuated by a marble countertop bringing a luxurious touch to spice up the cabinet design. Last but not least the yellow patterned floor tiles instantly elevate this otherwise all-white bathroom!
What color vanity is most popular?
As white goes well with everything, it is seen as a safe choice, owing its popularity to its easy-going and adjustable nature. For the same reason, we can consider white the most popular vanity color of all time.
But if you are looking for something more exciting and colorful, matte black, green, and blue cabinets are popular as well. For nature and texture lovers, wood vanities bring a beautiful vibe to the design, creating a delightful look with rustic flavors.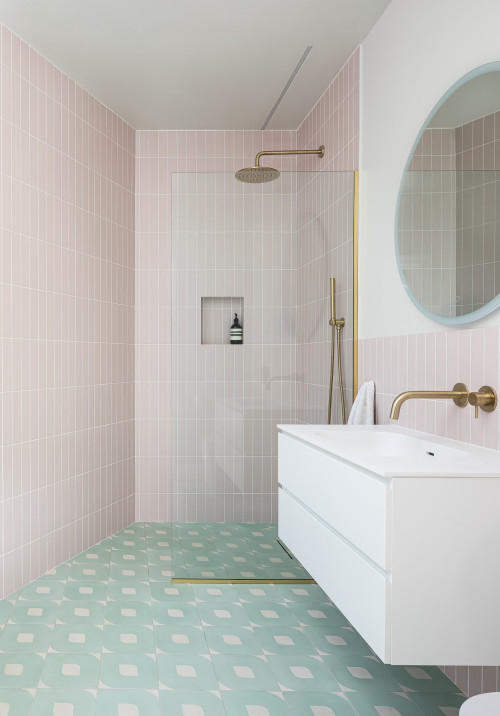 ID# 170911 | Houzz.com – Credit | © Patrick + Rosie
---
Pink Stacked Wall Tiles with Floating Vanity and Brass Accents
This modern bathroom's clean and beautiful visual scheme produces a dynamic design that is fashionable, comfortable and peaceful all at the same time! The pastel pink stacked tiles dominate the wall areas while the brass accents give much-needed warmth. Geometric patterns add to the design's characterization by providing order and clarity. The vertically stacked subway tiles, in particular, provide a seamless look, while the green and white patterned floor tiles add visual interest!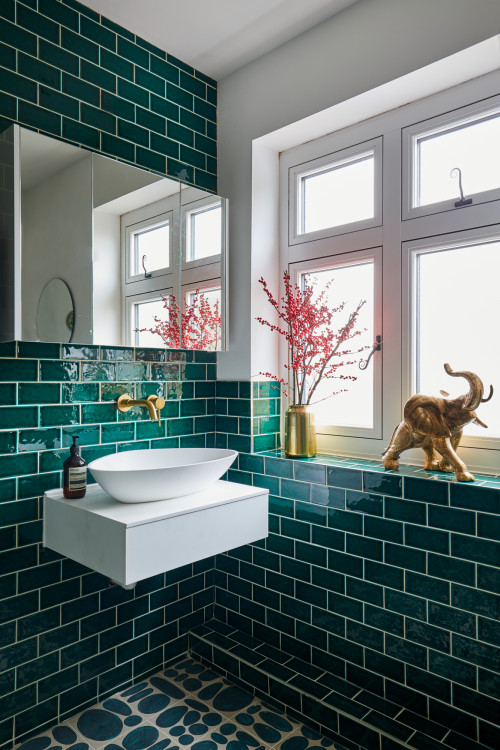 ID# 170912 | Houzz.com – Credit | © LOUD Architecture & Interior Design
---
Glossy Green Subway Tiles with a Small Floating Vanity
If you are going to use a white vanity, then you can go as wild as you want for the wall tiles! In this contemporary kitchen, for instance, the tiny white floating vanity creates a clean and fresh look while the green subway tile pattern brings a glamorous appeal. Adorned with a glossy finish and white grout, these tiles also offer a dramatic atmosphere. The same green shade is also used on the patterns of the floor tiles to create a continuous look.
ID# 170913 | Houzz.com – Credit | © Наталия Кацуцевичюс
---
Pastel Pink Square Tile Backsplash for White Bathroom Vanity with Black Accents
If you don't like bright and vibrant hues, try pastel colors! The wonderful pink and blue tones for example, create a gentle and friendly environment in this modest bathroom. With the blue grouts, the pink square tiles utilized for the vanity area give a nostalgic look. The same-sized tiles are utilized in the shower area as well but in a gentle blue color. The vanity and top cupboards' basic style lets the tiles stand out.
What backsplash goes with a white bathroom vanity?
As white goes well with almost everything, choosing a backsplash for a white bathroom vanity keeps things simpler. First, you can work with almost every color and material. For a monochromatic look, you can go with a white backsplash. Ranging from white marble wraparound to snow-white tiles, slatted wood, and geometric patterns such as chevron, herringbone, and kit kat mosaic tiles, each one of them assists white bathroom vanities perfectly to make for an impressive design with lots of character.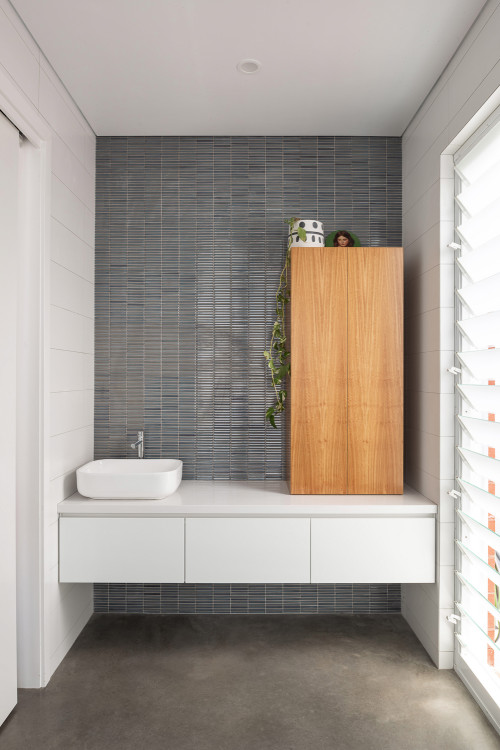 ID# 170914 | Houzz.com – Credit | © Наталия Кацуцевичюс
---
Gray Stacked Wall Tiles with White and Wood Bathroom Cabinets
This little bathroom has only the essentials: a floating white vanity, a white vessel sink, and a wood cabinet perched atop the vanity. The grayish-blue piled subway tile backsplash design runs the length of the wall from floor to ceiling, meeting the gray concrete flooring on the ground level. The wood cabinet and washbowl are located on the cabinet's right and left sides, with appropriate room in between. The potted plant on top of the wood cabinet gives a pop of color to the room. Because the bathroom gets a lot of natural light from the outside, it doesn't need any additional lighting.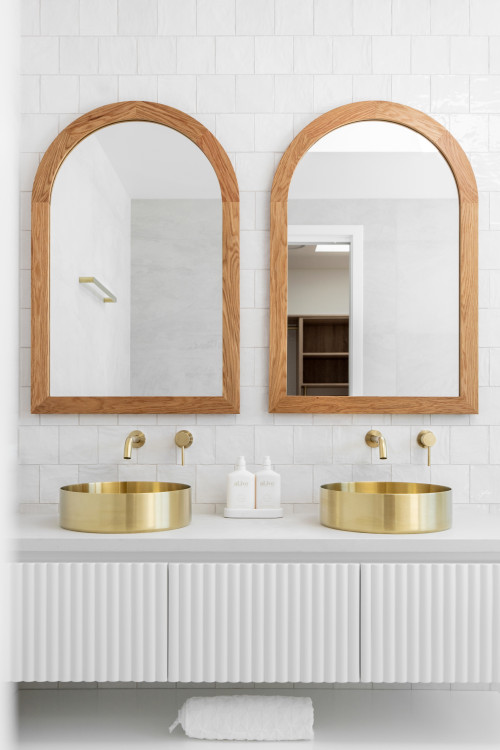 ID# 170915 | Houzz.com – Credit | © Habitat Studio Architects
---
Beach-Style Bathroom with Wood-Framed Arched Mirrors
A traditional flowing bond pattern will never fail to offer a timeless backdrop for your bathroom! The white square tiles as a backsplash in this Beach-style bathroom went all the way to the ceiling to create a light and airy ambiance. The white floating contemporary vanity blends in with the tiles, while the wooden frames of the arching mirrors become the space's focal point. Last but not least, the brass vessel sinks and wall-mounted sconces lend a touch of glam to the natural attractiveness of the wood accents.
White Backsplash for White Bathroom Vanity
Monochromatic bathroom designs have an alluring look unique to themselves which you can always enrich with warming touches including wood and brass detailing and potted plants. The same goes for the white backsplash for the white bathroom vanity, which creates a feeling of spaciousness and enhances the openness with a contemporary feel attached to it. To support this modern look, you can, for example, lay the subway tiles on their short sides and stack them vertically!
For a 3-dimensional look, beveled metro tiles do the job. If you want something more authentic, you can consider handmade tiles such as Zellige tiles, each of which presents a unique beauty, creating a texture rich background with staggered edges. To keep it short, even while only sticking to a white-with-white theme, there are still a lot of ways to capture a unique design while playing with texture and other complementary elements!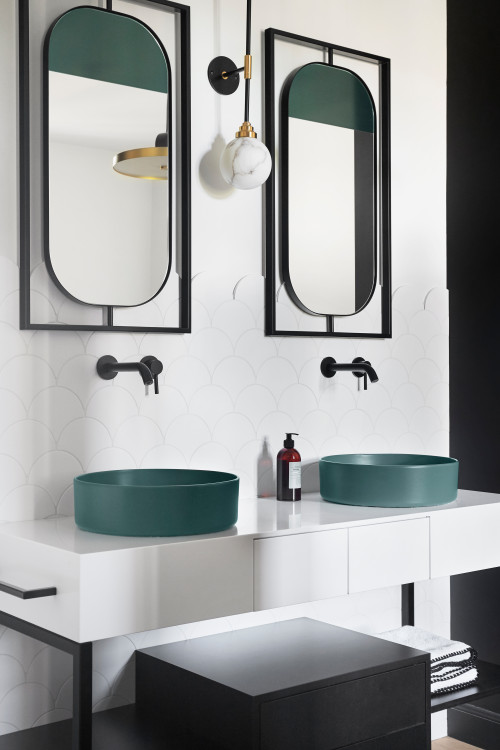 ID# 170916 | Houzz.com – Credit | © La Valise Rouge
---
White Contemporary Bathroom with Green and Black Accents
In this modern bathroom design, a monochromatic look is preserved and enriched with a few green touches. The white wall-mounted vanity enhances the openness, keeping the floor neat while the white mermaid tile backsplash creates a continuous look with the vanity and adds a slight textural look. Complementary elements of this monotonic design come through green vessel sinks flanking the wall-mounted cabinet that coordinate well with the black accents.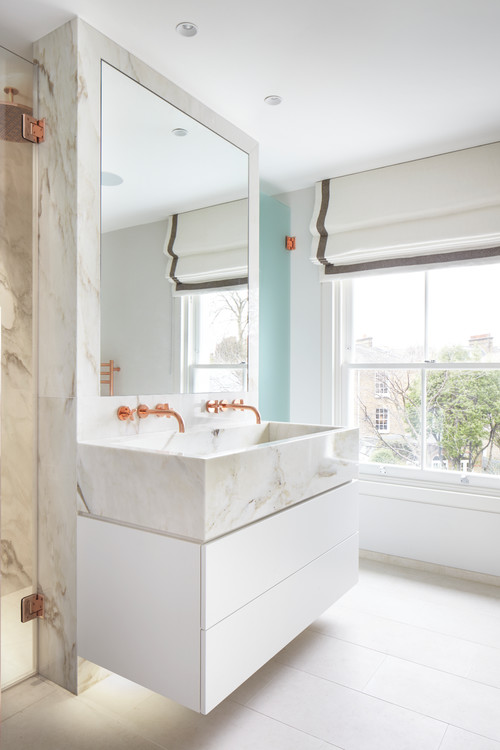 ID# 170918 | Houzz.com – Credit | © Webb Yates Engineers
---
Bright Contemporary Bathroom with Large Frameless Mirror
The minimalist palette of this bathroom introduces white marble tiles as the main focus of the space, prevalent in the shades of white and gray. A frameless mirror punctuates the bathroom vanity backsplash and keeps its form basic while the marble sink of the white vanity creates a seamless look with the backsplash tiles. To build more character to this minimalist look, the rose-gold faucets are given a glossy finish, offering a royal welcome with an industrial subtext that evokes something luxurious and raw in the meantime.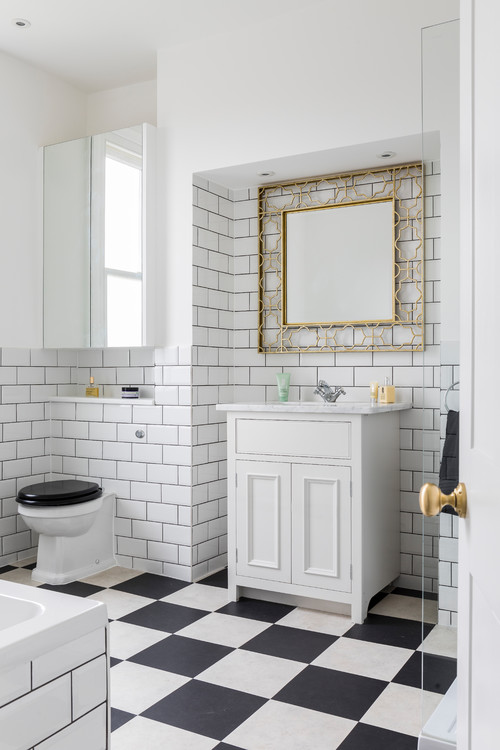 ID# 170919 | Houzz.com – Credit | © MODEL Projects Ltd
---
Traditional Bathroom with Gold Framed Mirror and Checkered Floor
The dynamic relationship between white and black sets the tone of the design while the white subway tile backsplash with black grout creates a beautiful dialogue between the white-black elements. As the vanity is white, a classic backsplash helps create a timeless look. Black and white checkered tiles clad the floors, anchoring the design and bringing depth. It gains a level of warmth with a brass-framed mirror which adds a dose of glam.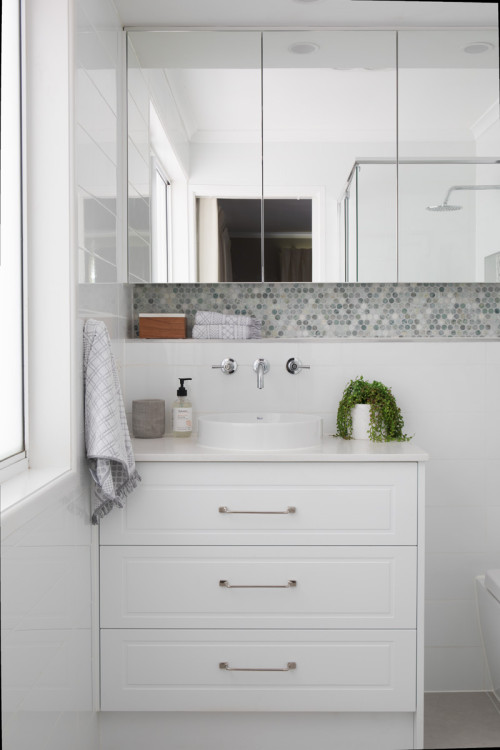 ID# 170920 | Houzz.com – Credit | © Elska Interiors
---
Gray and White Bathroom with Penny Tiled Recessed Niche
Adorned by a crisp white color scheme, this transitional bathroom offers a bright and spacious atmosphere! The combination of the raised-panel bathroom vanity cabinets and the white backsplash tiles creates a seamless look while the chrome faucets and cabinet hardware enhance the traditional aesthetic. On the other hand, the marble penny-tiled built-in niche breaks the white domination and creates a focal point that elevates the overall design. Above, the mirrored medicine cabinets bring depth to the space by creating a visual illusion.
Black Backsplash for White Bathroom Vanity
Black backsplash in a bathroom? Why not? To make a statement, there is nothing better than a striking black backsplash that can bring multifaceted effects to the design. First of all, it achieves an impactful contrast with the white bathroom vanity. Secondly, it also integrates depth and character into the space. To alleviate the contrast, you can use brass and wood detailing. Likewise, open shelving decorated with towels and other eccentric objects takes the focus toward other sections of the room as well. In other words, you can create different corners that build into the existing narrative to make eyes wander across the space.
Depending on the material, you can derive luxurious, rustic, and modern connotations by looking at it. Stone-like black backsplashes and black soapstone with wooden additions and incorporated white furnishing pull off an immersive look. Also, among other popular black backsplash tiles, we can count black marble, glazed ceramics, black porcelain tiles, herringbone, and hexagon tiles that create visual focal points easily. So, don't worry because it is hard to fail a black-white look as they have been such a popular and established couple for a very long time.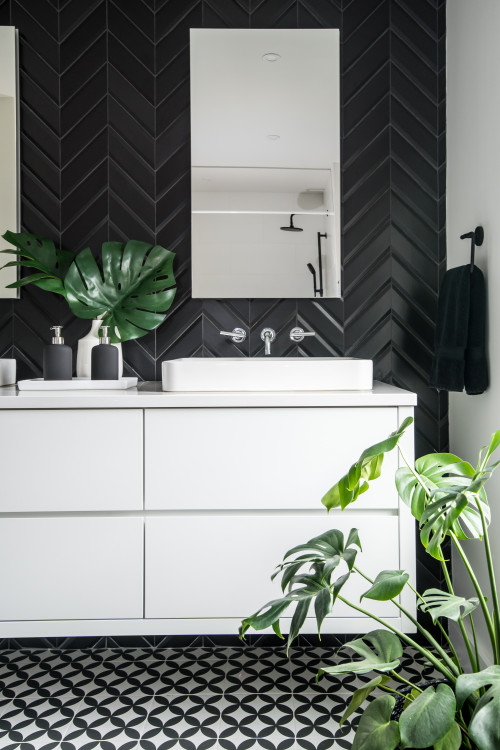 ID# 170921 | Houzz.com – Credit | © House of Hues Interiors
---
Black and White Bathroom with Patterned Floor Tiles
It's hard not to fall for this bathroom design, especially the black chevron tile backsplash that creates a visual focal point adjacent to the white-painted walls. Synchronized with the frameless mirrors, it feels complete with a black towel and black and white tiles that create a purposeful geometric design on the floor. Rich in patterns that attach a modern vibe prevailing across the space, the design keeps the attention of the users alive. Just like the white floating vanity finds its home, leaning against the black backsplash. Additionally, the potted plants illuminate the design with a punch of naturality.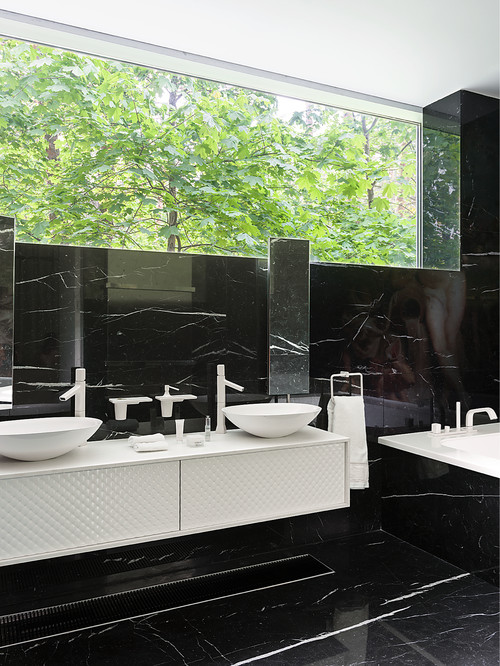 ID# 170922 | Houzz.com – Credit | © Ангелина Аскери / Angelina Askeri Interiors
---
Black Marble Backsplash for White Bathroom Vanity with Vessel Sinks
Enriched by eye-catching marble textures, this black and white bathroom offers a luxurious retreat for relaxing after a long business day! The opulent black marble tiles surround the wall and floor spaces to create a texture-rich backdrop. The white floating vanity with vessel sinks stands out between the blacks and complements the bright and airy atmosphere which is created by the large window above the tiles.
Blue Backsplash for White Bathroom Vanity
As water is associated with blue, integrating blue backsplashes feels very natural in bathrooms. Plus, the energizing and dynamic vibes of the blue backsplash create a dreamy place, especially if you go with pastel and muted blue colors or even aquatic shades. By sticking to such shades, you can also give your bathroom a pool-like atmosphere, and a blue glass mosaic backsplash can assist you in pulling off such a look. But if you want something more colorful, blue wallpapers are as exciting as other blue backsplash materials. Last but not least, with a blue backsplash, a white vanity creates a beautiful contrast, which can be completed with glittering elements or glittering finishes to bring a sun-kissed look.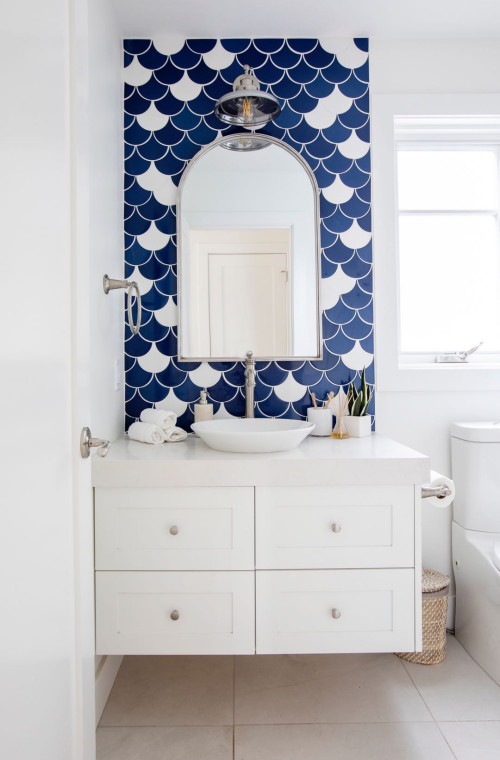 ID# 170923 | Houzz.com – Credit | © Alpine Countertops Ltd.
---
Blue and White Bathroom Design with Scallop Tiles
In this eccentric bathroom design, the blue scalloped backsplash tiles bring a gesture that will make anyone looking at it enjoy its cuteness! Posing against the blue backsplash, the white floating vanity with a vessel sink creates a bright and clean appeal. While the blue backsplash continues through the ceiling, the chrome accents contribute another eccentric touch and add a dose of sparkle.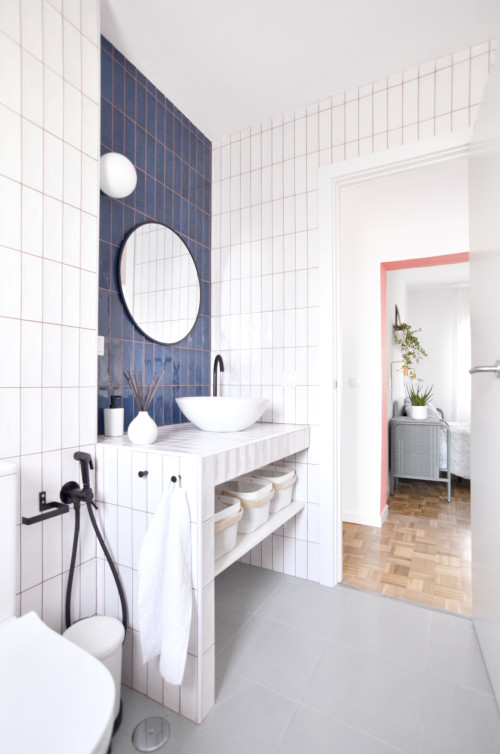 ID# 170924 | Houzz.com – Credit | © m²ft architects
---
Blue and White Vertical Subway Tiles with Charcoal Grout
The bathroom walls are covered in a wrap-around subway tile backsplash which changes color to denote the sink backsplash. Everything, even the subway-tiled vanity, is visually related. Instead of standing out as a distinct piece of furniture, it appears to be a natural extension of the walls. The gray tile flooring enhances the design and gives the room diversity and flexibility.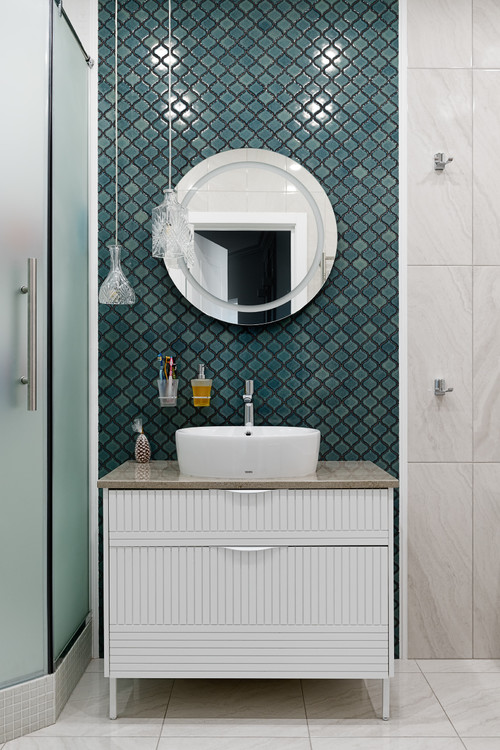 ID# 170925 | Houzz.com – Credit | © Маша Елтышева
---
Teal Full-Height Arabesque Tile Backsplash with Glass Pendant Lights
You will adore these teal arabesque tiles if you want to make an accent wall for your bathroom! The wall behind the white bathroom vanity was covered in these tiles, which extended into the ceiling to form a remarkable focal point. While the circular mirror heightens the effect of the accent wall, the paneled cabinet design and gray granite countertop of the vanity complement the historic flair of the arabesque tiles.
Gray Backsplash for White Bathroom Vanity
The neutral and light gray tones provide a peaceful environment for a bathroom backsplash that also adds a feeling of freshness to the area. A dark gray backsplash, on the other hand, presents a striking contrast with a white bathroom vanity if you want a more dramatic and somber environment. To match it, utilize chrome and brushed hardware as well as glass wall sconces to create a beautiful aesthetic and a spoiled space!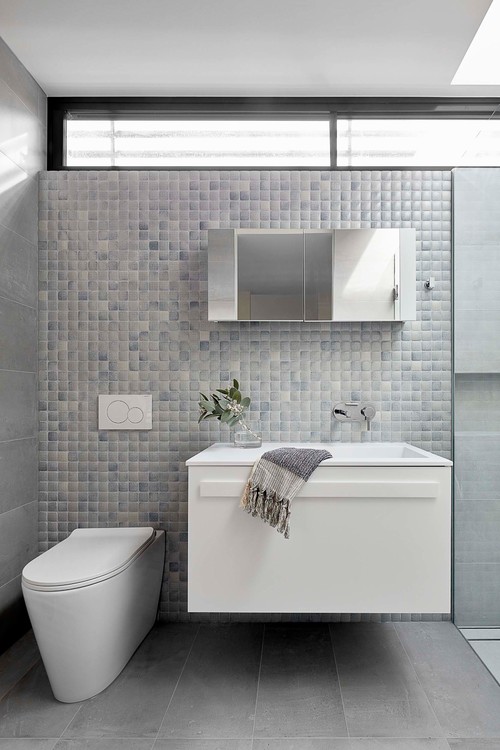 ID# 170926 | Houzz.com – Credit | © Jane Cameron Architects
---
Gray and White Bathroom Design with Marble Wall Tiles
The long-established relationship between white and gray finds embodiment in this transitional bathroom. The gray marble backsplash brings a sophisticated touch to complement the white vanity. They provide a neutral shade and material rich in texture, continuing on the shower side and enveloping the shower walls. Likewise, the floors are clad in large-format tiles that create a continuous look with the marble tiles. This material coordination, even though the tile formats differ, helps bring the space together. Another important detail to mention is that keeping the floor tiles larger brings more traction, making the ground less slippery and safer.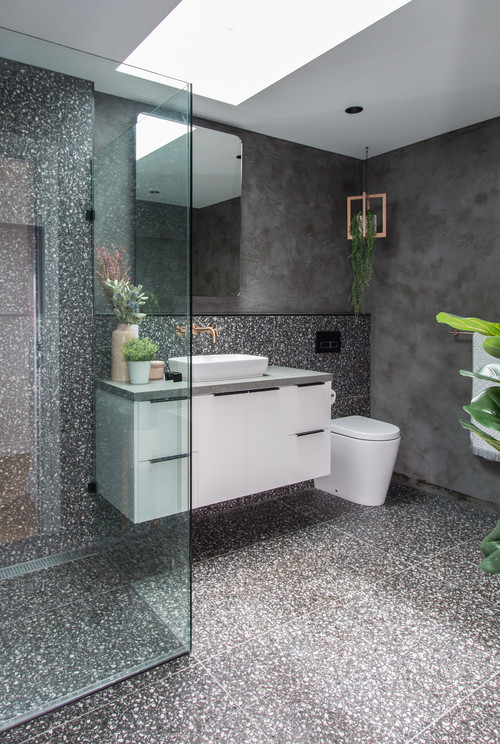 ID# 170927 | Houzz.com – Credit | © Zou Build Pty Ltd
---
Dark Gray Terrazzo Backsplash for White Bathroom Vanity and Brass Faucet
In this beautiful bathroom, patterns, textures, and natural accents work harmoniously to make for a unique look! On close inspection, one of the key features in the space is the terrazzo tiles that make a statement. The large-format gray terrazzo tiles serve as the backsplash, also cladding the floors while the gray plastered walls create a cohesive look with the tiles. The white floating vanity topped with a concrete countertop brings a bright appeal, supported by a brass faucet. Lastly, though fake, the spoilt plant adds a splash of color, energizing the space.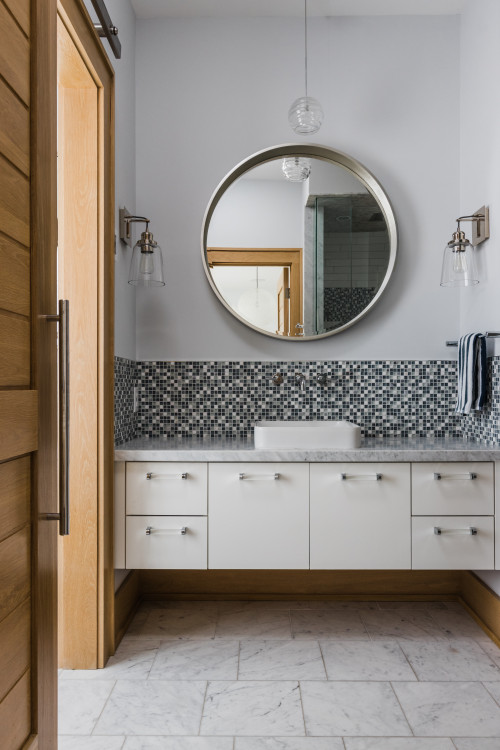 ID# 170928 | Houzz.com – Credit | © Sider Bros. Builders Ltd
---
Glass Mosaic Tile Backsplash with Marble Countertop
The gray glass tiles with geometric designs creates a neutral backdrop in this tiny beach-style bathroom! The gray tone adds flexibility while the white floating vanity with a marble countertop illuminates the area. Two chrome sconces flank the circular mirror to create a stylish and elegant scene as a whole.
ID# 170929 | Houzz.com – Credit | © The Little Brick Studio
---
Patchwork Patterned Backsplash for White Bathroom Vanity with Gray Countertop
In all designs, keeping your bathroom vanity white and uncomplicated pays off well. However, occasionally you need a variation from all-white attire. For instance, this modern bathroom chooses a dramatic backsplash. It is full-height and has subtle patterns and colors. The double vanity is complemented by gray quartz counters with chrome tapware and frameless circular mirrors. Overall, the finished result has a striking, immersive, and modern vibe.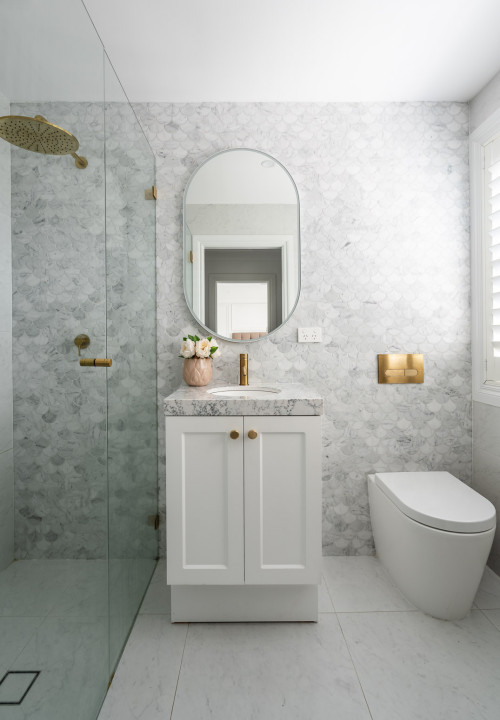 ID# 170930 | Houzz.com – Credit | © Coastal Hamptons Design Studio
---
Beach-Style Bathroom with Full-Height Backsplash and Small Vanity
Because of the marble backsplash, this beach-themed bathroom is brimming with elegance and peace. This marble fish scale tile backsplash wraps around the room for a unified appearance and quickly elevates the bathroom's style. The round edge mirror and the marble countertop intensify the design's creative feel. Brass hardware adds warmth by standing out against a neutral background, from showerheads to cabinet knobs. While keeping the vanity area and shower room visually connected, the glass partition expertly separates them. Last but not least, a charming white shaker-panel vanity with an integrated sink is positioned.
ID# 170931 | Houzz.com – Credit | © Studio Black Interiors
---
Modern Ensuite Bathroom with Dark Gray Chevron Tiles
Dark colors don't always take up too much room. Instead, as this contemporary bathroom shows, they may also pause time and promote calm. Here, the backsplash is made of dark gray chevron tiles that reach the ceiling. The marble-effect finish makes it the focal point of the design and lends it a touch of refinement. While the concrete-look floor tiles add an industrial touch, the white floating vanity brightens the room. The addition of plants and flowers, which add freshness and an outdoor vibe indoors, is also rejuvenating the design.