35+ Modern Bathroom Vanity Ideas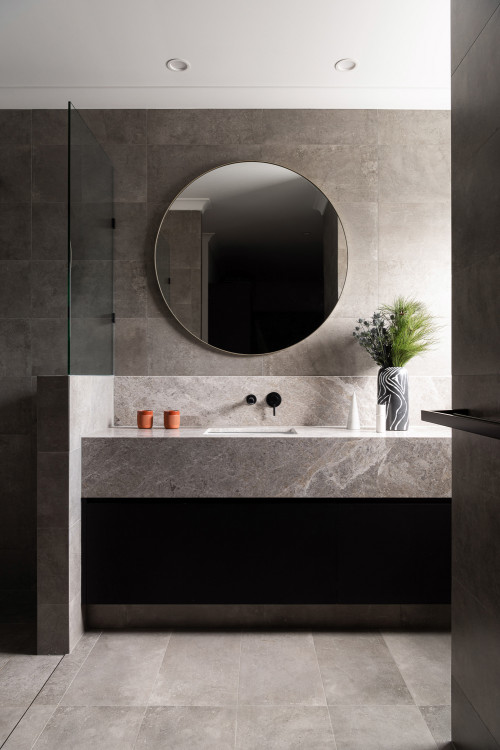 ID# 152215 | Houzz.com – Credit | © Limitless Building
---
An Effective Modern Vanity Design with one Material
The vanity design, consisting of gray marble and integrating with the sink, catches the eye with its elegance and stance. While creating the design of the bathroom alone, a mystical atmosphere is created with the gray backsplash and floor. It shows that a material can create an effective design!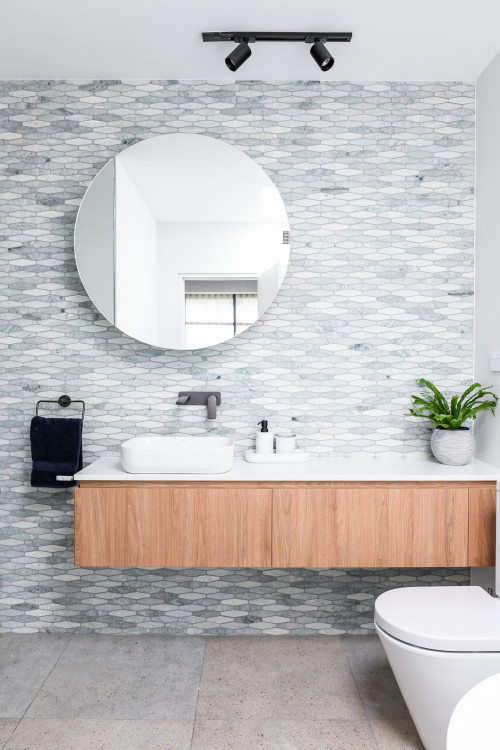 ID# 152224 | Houzz.com – Credit | © Improva
---
Modern Wood Vanity in front of a Stunning Gray Backsplash
The star of this bathroom is definitely the gray backsplash with its texture and shine. However, in front of this glow, the modern vanity looks great with its natural wood texture and minimal dimensions. The contrast with the white countertop also creates a fresh finish.
Modern Bathroom Vanity Ideas
When it comes to modern bathroom design, minimalist decors, sharp shapes, simple surfaces, and basic color schemes come to mind first. If you're looking for Modern Bathroom Vanity Ideas, you'll be inspired by some of these examples!
Bathrooms are one of the important areas of our house, and it can be advantageous if this place is calm and relaxing. Modern bathrooms provide this environment with a stylish appearance. When it comes to bathroom design, vanities are fundamental pieces that define the overall character of the design. Luckily, in today's market, there are endless colors, styles, and material options for bathroom vanities. In this article, we gather modern bathroom vanity ideas that can help you to find the right one for your bathroom renovation project!
Color Options for Modern Bathroom Vanity Ideas
There are many colors to choose from for the modern bathroom vanity. When you think of modern, the first thing that comes to mind may be white, black, gray, or blue. These colors can be used on glossy flat surfaces as well as on matte surfaces. You can decide according to the style and design of your bathroom, according to the backsplash or floor tile you will use. For color options for modern bathroom vanity ideas, you can take a look at the following examples.
Modern White Bathroom Vanity Ideas
White symbolizes cleanliness and purity, so it is highly preferred for bathrooms. The modern white bathroom vanity is the perfect option to add a sense of lightness to your bathrooms. The white vanity can easily take its place in a design. For example, it can stand out in front of a colorful backsplash, or it can take place in a simple and elegant design in completely white areas. It can also be paired with brass, gold, black, or wood accents to add warmth to the interior.
Where to buy modern bathroom vanities?
Nowadays, we usually do our shopping online because it is more convenient and comfortable. Thats why don't forget to check our store. Here you can find stunning vanity designs that can suit your taste!
Modern Black Bathroom Vanity Ideas
With the modern black bathroom vanity, you can add sophistication, elegance, and depth to your bathroom. Although using black is a bit of a concern, it adds character to the space. When combined with the right elements and colors, a black bathroom vanity easily elevates the overall look of the bathroom. You can use it in combination with light tones to subdue black, or you can lighten its harshness with light wood accents.
Modern Gray Bathroom Vanity Ideas
The two contrasting colors, black and white, represent extremes, while gray, which is a mixture of these two colors, symbolizes moderation and finding the middle way. Very stylish spaces emerge with gray and its tones, which we often come across in modern designs. Great designs can be made with the modern gray bathroom vanity. It can be combined with a colorful backsplash to create a lively space or to create softer and brighter spaces with white.
Modern Blue Bathroom Vanity Ideas
Blue evokes freshness and water. Blue is also used extensively in bathrooms, as it brings a feeling of freshness and calmness that envelops the bathroom wonderfully. We can also say that blue is the color of freedom. You can combine the blue bathroom vanity with marble or quartz countertops that perfectly complement the blue. Thus, a very modern and stylish result can be achieved. In addition, the harmony of wood and blue is indisputable. So you can create great designs with the modern blue bathroom vanity.
Modern Wood Bathroom Vanity Ideas
Wooden bathroom vanity is one of the most used materials to add a feeling of warmth to the space. With its natural texture, wood adds warmth and naturalness to the environment it enters. Dark wood visually creates drama, while light wood creates a soothing and airy feel. Even though wood is a natural material, it is also indispensable for modern designs.
What is the modern height for a bathroom vanity?
Formerly vanities were about 32 inches tall and now they are 36 inches to match the height of kitchen counters. This additional height looks more modern and offers extra storage space. This is also typically, the comfortable height for the vanity.
Modern Farmhouse Bathroom Vanity Ideas
Modern farmhouse design takes the comfortable, cozy farmhouse style and adds modern touches. It's less rustic, and more sophisticated, and uses contemporary design elements like stainless steel appliances, granite countertops, and stylish lighting. Floating bathroom vanities, which have recently become more and more popular due to their minimalist aesthetics, are mostly preferred in modern farmhouse designs. This type of vanity not only provides an advantage in terms of cleaning but also has the advantage of making the space look more spacious.
How do you modernize an old vanity?
One of the easiest and cheapest ways to modernize a vanity is to choose and replace modern handles or paint it, also plumbing fixtures can be replaced. A coat of matte black paint, for example, modernizes the wood cabinetry and provides a striking backdrop for the glossy brass handles.
Modern Rustic Bathroom Vanity Ideas
Rustic bathrooms embrace the beauty of the outdoors using cozy textiles, natural materials, and organic accents. It is the perfect place to combine natural stone floors, rough-hewn beams, wood cabinetry, and earthy color palettes. You can combine sparkling backsplash with modern rustic vanities and create stylish and natural environments.
Modern Small Bathroom Vanity Ideas
If you have limited space in your bathroom, a modern style will be a great choice to create a more spacious and sleek atmosphere. Whether you want to use an earthy color scheme and natural materials or create an all white interior, there is the right modern small bathroom vanity for your taste. Scroll down and find these creative vanity designs that can maximize the functionality of small bathrooms!
What type of vanity is best for a small bathroom?
Small spaces require smart solutions. The most suitable option for this may be the floating bathroom vanity. It can be a great solution for small spaces by taking up less space. You can highlight the vanities you will use minimally with the color you choose.
Midcentury Modern Bathroom Vanity Ideas
Midcentury modern design refers to the resurgence of design trends spanning from roughly the late 1930s through to the early 1960s but in a fresh, modern way. It is a style known for juxtaposing sleek lines with organic shapes and mixing different materials. Plain wood surfaces and white backsplash can perfectly reflect the modern midcentury vibes.
How much does it cost to update a bathroom vanity?
The cost of bathroom vanities ranges anywhere between $500-$3800 which may or may not include the installation costs ranging from $200-$1000 per unit. Further, if you're going with a stock bathroom vanity, it may come under $2600. And if the same vanity is customized to your taste, the final cost may fall between $500-$280.